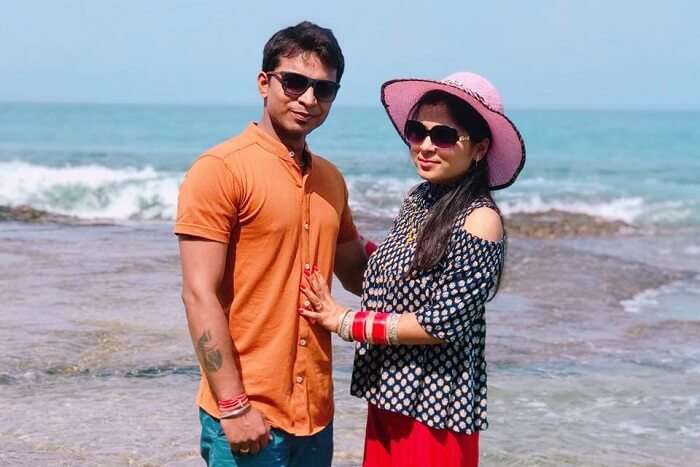 Located at the juncture of the Bay of Bengal and the Andaman Sea, Andaman Island is an amazing and captivating holiday destination. With some of the best attractions in Andaman like Port Blair, Neil Island and Havelock Island, the place invites a lot of couples and honeymoon travelers to experience the most of the place. The island not only offers a stunning backdrop for some amazing pictures but also provides thrilling water activities like snorkeling and banana ride. Scuba diving is one of the best experiences one can indulge in while spending an awesome vacation on the island. An Andaman tourism guide will surely help you plan your trip better, here is how we planned our 5 days Andaman tour itinerary.
Because we wanted to experience something special on our honeymoon, there was no better place than Andamans that we could think of and we felt that it was the best decision of our lives. With an awesome weather and serenity around, Andaman made our honeymoon experience all the more romantic and fun and it was one of the best Andaman tour itineraries one could ever have.
Table Of Content
Details Of Our 5 Days Andaman Tour Itinerary
Trip Type: Honeymoon Trip
Cost: INR 28,098.14
No. Of People: 2 Adults
Duration: 5 Days
Inclusions: Breakfast, Airport Transfers, Ferry Transfers, Airfare, Sightseeing
Exclusions: Lunch, Dinner, Water Sports
Our Andaman Tour Itinerary
Day 1: Arrival, Transfer to Havelock Island
Day 2: Sightseeing
Day 3: Transfer to Neil Island
Day 4: Transfer to Port Blair
Day 5: Departure
Andaman Weather In February
We visited the Andaman in the month of May. Featuring a tropical climate, Andaman was a mixed bag of weather. Though the temperature was around 30 to 34 degrees Celsius, we explored the island with pretty ease. The turquoise blue waters and the sandy beaches made us feel comfortable all through our stay.
Best Things To Do In Andaman Honeymoon
Besides the scenic wonders and pleasant weather, Andaman is also about its marine life and various adventure activities that travelers can indulge in. Here are some of the things that were included in our 5 days Andaman tour itinerary.
1. Relaxing On The Radha Nagar Beach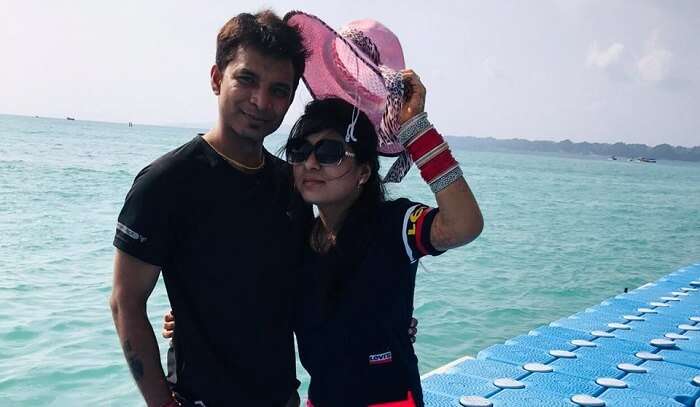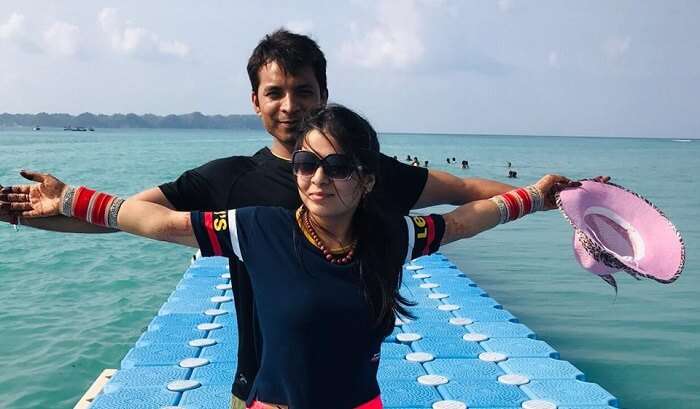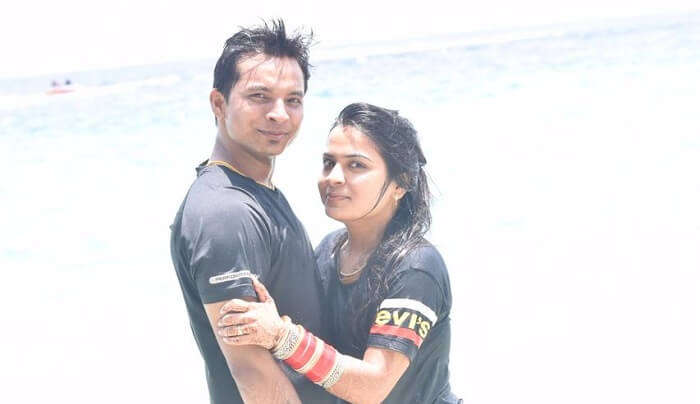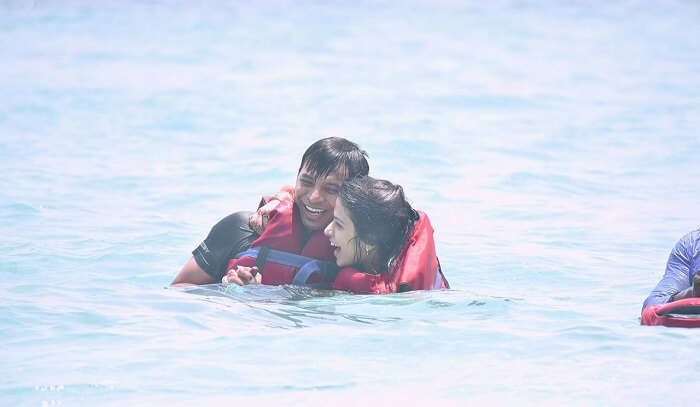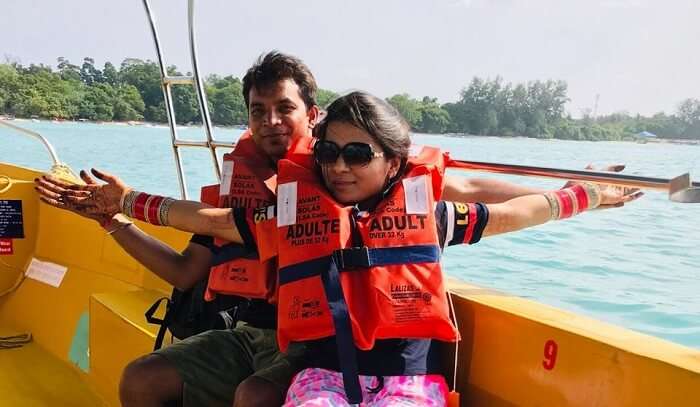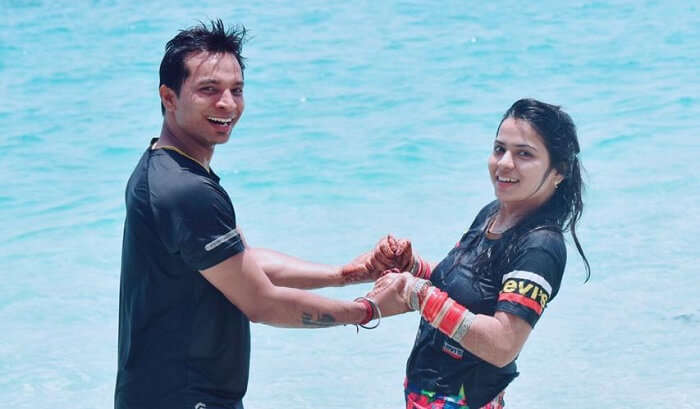 On one of the days of our trip, we visited the Radha Nagar Beach. This place is an unforgettable curve of white sand with perfectly colored waters and believe me it is a spectacular and romantic spot and a must-visit place for all the couples. The beach has the best fruit seller, behl puri, cheap restaurants and a lot of activities for the travelers to indulge in. We clicked plenty of amazing pictures and spent quality time with my beloved.
Which Network Is Best In Andaman? Doesn't Matter, Manas' Andaman Trip With Family Was All About Disconnecting!
2. Indulging In Thrilling And Adventurous Water Sports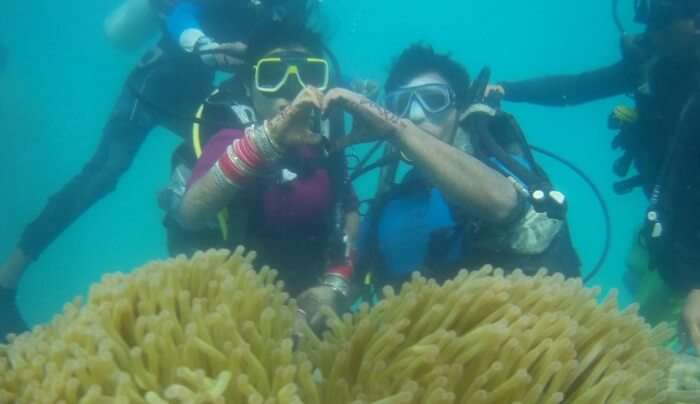 One of the days of our 5 days Andaman tour itinerary included a day on the island began with a fantastic scuba diving experience. The early morning fresh air and the cool waters gave a kick-start to our day. Our scuba diving expert was very friendly and helped us understand how to go about the whole thing. I and my wife had never done something like this before and getting close to the beautiful underwater marine life left us awestruck. Next we visited the Elephant Beach and it is no less than a "Heaven On Earth" as well as one of the best attractions in Andamans. The beach offers a lot of activities like snorkeling, jet skiing and banana ride. Besides unlimited fun, one can also experience forest life. There is a good arrangement for travelers along with changing rooms and food kiosk. If we ever happen to visit Andaman again, we will surely come back to this place.
Andaman In September: 15 Thrilling Experiences On The Island For Monsoons In 2022
3. Go For Sightseeing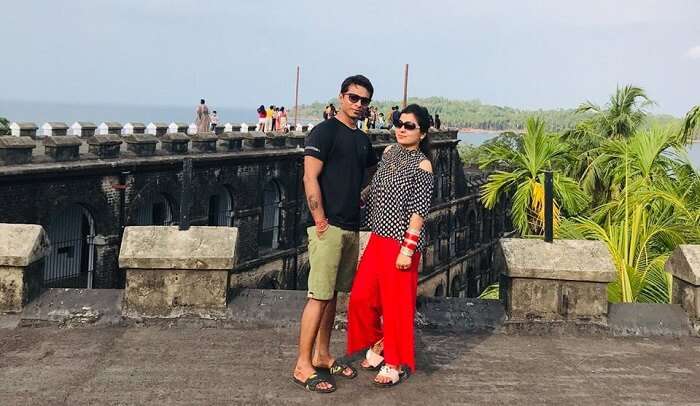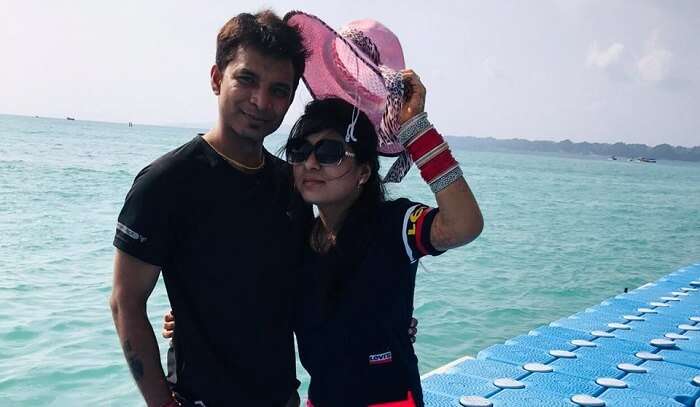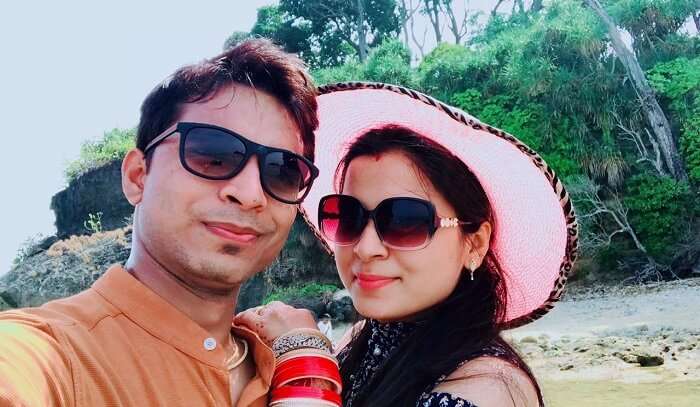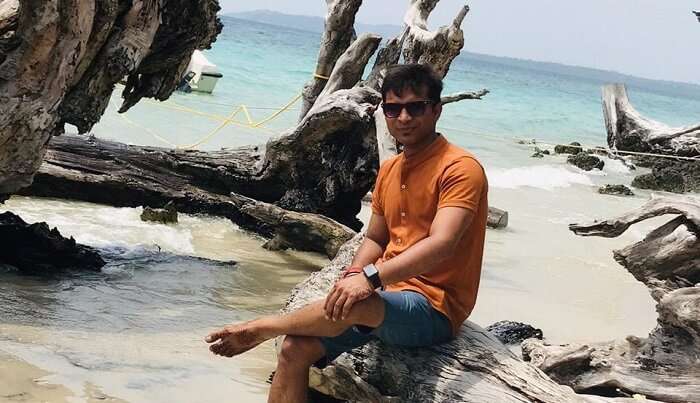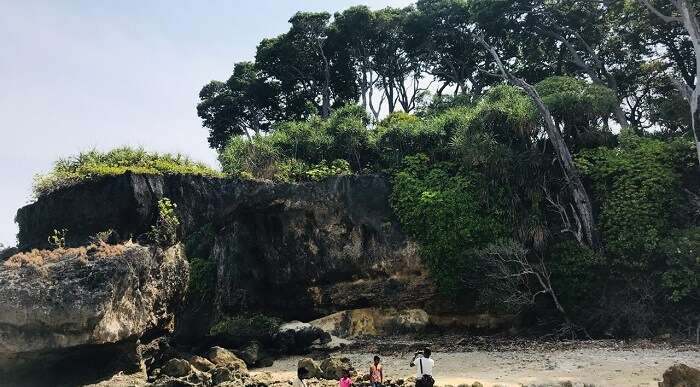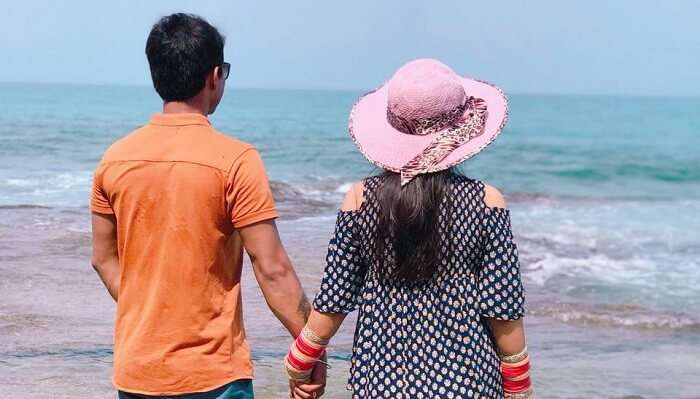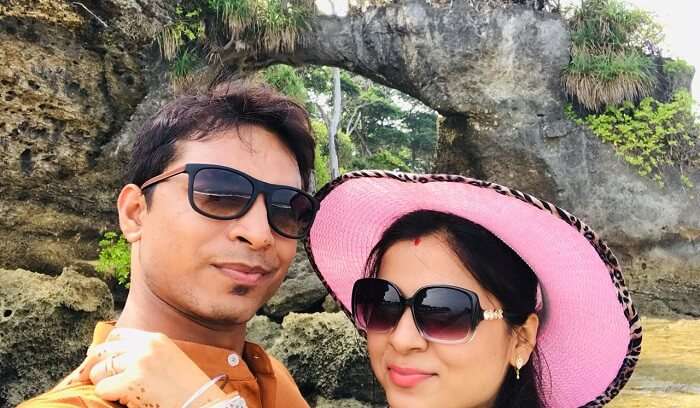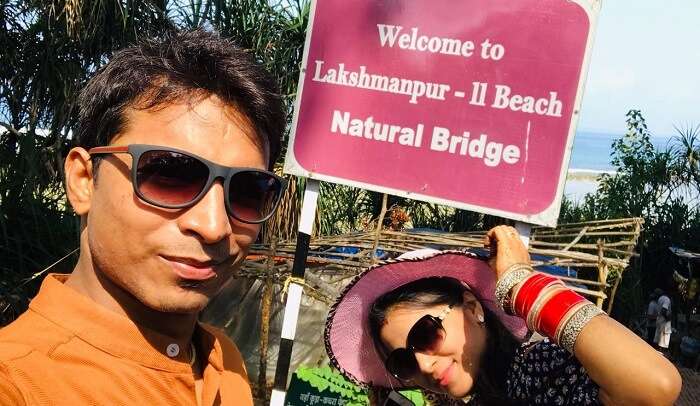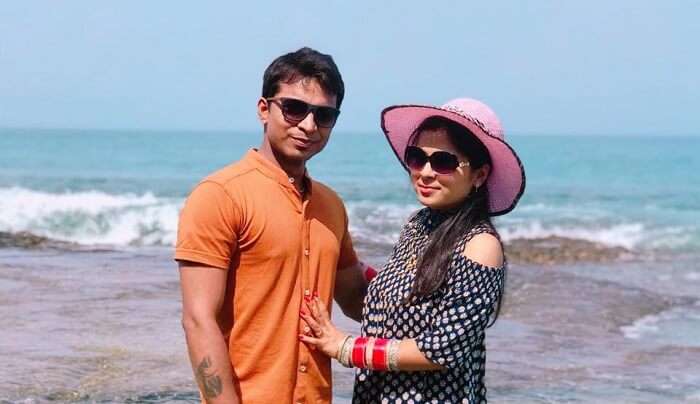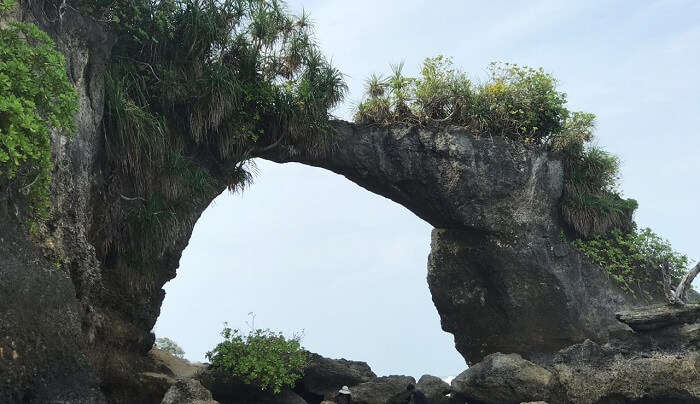 The beauty of Andaman cannot be ignored. We visited the Bharatpur beach which is undoubtedly the best beach of Andaman. However, the place is clearly underrated but we were mesmerized to enjoy views of the crystal clear water and we could also spot turtles swimming. One can go for jet skiing while visiting the island. In the second half we visited laxmanpur beach, with its natural beauty and white sands, it's very quiet and serene and one can enjoy a peaceful walk down to the sunset point. The walk was one of the best memories of our honeymoon in Andaman.
His Super Adventurous Trip To Andaman With Kids Will Give You Awesome Tips To Plan Yours
Places To Stay In Andaman
Andaman is full of a lot of exquisite properties to stay at and our 5 days Andaman tour itinerary included some of the best accommodations. On our trip, our first destination was the Havelock Island and we stayed there for two days. We stayed at the Havelock Island beach resort and truly it was one of the best accommodations. The resort enjoys proximity to the important attractions of the place. We enjoyed a lot at the private beach area of the hotel. While spending time on the Neil Island, we stayed at the Reef Valley Resort. The resort also offers a variety of water activities like scuba diving, sea walking, jet skiing, and parasailing. These were truly some of the good places to stay in Andaman. At Port Blair, due to last minute confusion, we stayed at some other property which was a little below our expectations.
Guide To Radhanagar Beach 2022: Explore The Most Stunning Beach Of Andaman
Street Shopping In Andaman
While on the island, one must not worry about where to shop in Andaman since there are plenty of options available around. However, most of the things are very costly. We recommend travelers to go for some street shopping and buy some amazing souvenirs like small ships and shankhas. Some cheap clothing options are also available around the place.
Some Andaman Travel Tips
Please confirm your hotels or resort twice with your Travel Agency.
It's better to book your air tickets before 5-6months.
Have a good amount of cash because there are very less ATMs.
Have BSNL connection for better communication and it is also very common in Andaman.
Suggested Read: Andaman In August 2022: See What Makes It A Great Time To Visit
Our Experience With Travel Triangle
The travel agency that Travel Triangle connected to was GSK Travels and the team did a fantastic job. Water sports activities at elephant beach, scuba diving at Havelock and the visit to the Cellular Jail were all well-planned. The cab drivers were punctual but the only thing that did not meet our expectations was the accommodation at Port Blair. Rest everything went well and it was the best Andaman tour itinerary we could ever plan.
Further Read: Visit Andaman In December 2022 To Experience An Adventure Of A Lifetime!
Andaman with its serene beaches and picturesque views is a great place for a romantic getaway. The 5 days Andaman tour itinerary planned for this couple turned out to be an amazing experience. For an offbeat honeymoon experience, and some thrill on your honeymoon, let TravelTriangle help you plan a unique honeymoon trip to Andaman.
Some Common Questions
How much does it cost for a trip to Andaman?
If travelers are planning to go to the Andamans for a vacation of 4 nights, then it might cost them not more than INR 50,000 per head based on the type of accommodation they opt to stay at and the activities they wish to indulge in.
Is Andaman good for honeymoon?
Andaman is the best combination of wildlife, peace and nature. Many couples opt for their honeymoon in Andaman as the island not only offer a bundle of scenic sights and lovely accommodations but also a hub for a lot of water activities.
What should travelers not miss in Andaman?
Andamans offers a lot of adventure activities to indulge in. When in Andmans, one must gather experiences like witness the light show at the cellular jail, go scuba diving in the Havelock Islands, swimming with the elephants at the Radha Nagar beach, and sea walking at the North Bay Beach.
What should we carry to Andaman?
Some of the things that one must carry while visiting the Andamans are sunglasses, hats, caps, sun dresses, lights shorts and shirts, slides and comfortable shoes. Also, one must carry a raincoat along as well.
People Also Read:
Andaman With Kids Andaman Trip With Family Friends Trip To Andaman