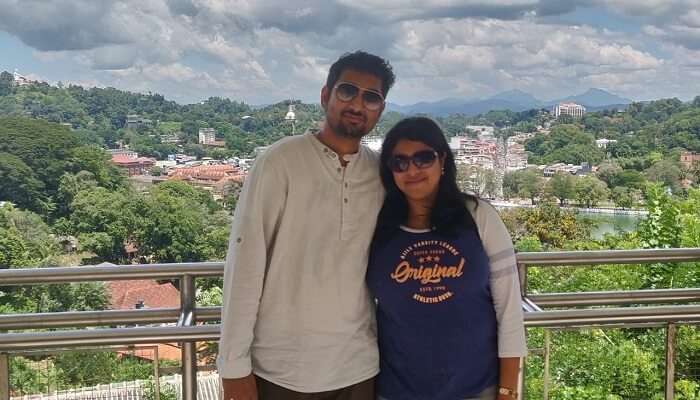 Sri Lanka is one of the most picturesque destinations in the world. From temples and beaches to national parks and ancient ruins, it has got everything to satiate the curious traveler in you. And when it comes to honeymoon, it is always recommended as it is such a blissful place to spend quality time with your partner. Imagine being together amidst the serene tea plantations or exploring the ruins together. Sounds so interesting, right? Well, Vaibhav and his wife chose Sri Lanka as their honeymoon destination and had the most soul-stirring experience. Their 7 days Sri Lanka trip from Chennai was a journey of finding love all over again and exploring the country together in a whole new way. Give a read to the story of this cute couple pampering themselves amidst the serenity and tranquility that Sri Lanka offers.
I had been to Sri Lanka earlier and had a remarkable experience. It is a gorgeous place that has so much to offer that I was left spoilt for choice. The reason that we chose October was that it is an off-season and so we got the best deals and less crowd. We had the place all for ourselves. We indulged in all thrilling experiences with a nice budget. October is a good time to visit Sri Lanka if you are looking for a budget vacation. And the best part was that we didn't experience much rain which really helped us. Here are some of the details of our experiences that might interest you and help you out for your next escapade to Sri Lanka.
Details Of Our 7 Days Sri Lanka Trip From Chennai
Trip Type: Couple
Cost: INR 27000 – INR 31000
No Of People: 2 Adults
Duration: 7 Days
Inclusions: Breakfast, Airport Transfer
Exclusions: Lunch, Dinner, Airfare, Travel Insurance
Itinerary Of Our Sri Lanka Trip From Chennai
Day 1: Arrival in Kandy
Day 2: Transfer to Nuwara Eliya, Sightseeing
Day 3: Transfer to Ella, Sightseeing
Day 4: Transfer to Hikkaduwa, Sightseeing
Day 5: Transfer to Galle, Sightseeing
Day 6: Transfer to Colombo, Sightseeing
Day 7: Departure
Must Read: 22 Places To Visit In Nuwara Eliya In 2022: The Mini London Of Sri Lanka!
Sri Lanka Weather In October
Sri Lanka experiences a rainy season in the month of October. The average temperatures of Sri Lanka in October are 24 degree celsius to 30 degree celsius. Apart from the fact that it's raining usually, it is a good time to explore the country especially the tea plantations because they look the most green after rains! So, if you are looking for an offbeat experience, then October is the best time for you.
Best Experiences Of Our 7 Days Sri Lanka Trip From Chennai
Take a sneak peek into the details of our vacation of 7 days in Sri Lanka in October where we will tell you about our best experiences.
1. Kandy – A Day Spent With Nature



As soon as we landed in Kandy, we got ready to explore this gem in Sri Lanka. Kandy is home to some nice places and offers picturesque views that will win your heart. We went to Pinnawala elephant orphanage wherein we feed the elephants which was a unique experience for us. Later in the evening, we headed to Kandy temple which is a very beautiful place and offers peace and tranquility. The temple is in fact a historical landmark for people like us. And since I am interested in knowing about the history of the Kings who ruled there, it was one of the best places to visit during our 7 days in Sri Lanka in October.
Suggested Read: 30 Best Beaches In Sri Lanka To Visit In 2022 That Will Make You Go 'Wow'!
2. Nuwara Eliya – Home Of Tea Plantations



The fact that Sri Lanka is a potpourri of various heartwarming experiences is what attracted us the most. Amongst all, the tea plantations of Nuwara Eliya were our favorites. The town gives British vibes. Visiting the tea plantations in Nuwara Eliya was a soul-soothing experience. The lush greenery in the surroundings make our hearts skip a beat. Apart from that, we visited the waterfall and Gregory lake. The next day, we explored the adventurous Ella wherein we visited caves. It was an eye-opening experience as we got to know a lot about it. Ella is also a good place for those who are looking for some thrill.
3. Hikkaduwa – A Plunge Into Real Thrill


Our most awaited day finally came. When I had been to Sri Lanka alone, I had indulged in various water sports which thrilled me up from head to toe. I shared it with my wife and we decided that we will together try water activities. So, we did scuba diving in Hikkaduwa which was one of the most memorable experiences in our 7 days Sri Lanka trip from Chennai. We'd love to go back to that moment! There are so many beaches in Hikkaduwa that we jumped for joy. It was like a beach vacation for us and we had turned kids for sometime.
Suggested Read: 45 Best Places To Visit In Colombo In 2022 That Will Spice Up Your Sri Lankan Sojourn
4. Galle – A Visit To The Past




Galle is one of the most cultural and historical places to visit in Sri Lanka. Since I always had an interest in history, it fascinated me to a great extent. Home to ruins and forts, it is a World heritage site that should not be missed. We visited the Dutch fort, lighthouse, beaches and more. And it was as if we stepped back in time. The next day we went to Colombo and pampered ourselves. The city is home to various places that are very unique and interesting.
Hotels In Sri Lanka

We stayed for 7 days in Sri Lanka in October and our accommodations were really nice. The hotels we stayed in provided all the amenities. The rooms were clean and comfy. We also stayed in an accommodation amidst the tea plantations which was a blissful experience. No doubt, Sri Lanka offers amazing places to stay on a budget.
Suggested Read: Be A Part Of These 16 Festivals In Sri Lanka In 2022 That Showcase Its Culturally Vibrant Side
Sri Lanka Travel Tips

1. Before planning your trip to Sri Lanka, check out the deals and offers the best trip.
2. Try to take out as much cash as you can in one transaction from the ATMs in Sri Lanka instead of going again and again.
3. Try to get customization in the guided tours.
4. Do buy tea leaves and spices because the country is famous for it.
5. You will find some good Indian restaurants in Colombo if you want to have complete Indian food.
6. While visiting Buddhist temples in Sri Lanka, avoid showing your back as it is not entertained.
7. Carry mosquito repellent creams with you as you might find mosquitoes in some areas.
Our Experience With TravelTriangle

Our experience with TravelTriangle was good. From accommodations to itinerary, everything was well-planned and provided to us as promised. Though, they need some improvements but in all, it was a good decision to vacay via TravelTriangle.
Further Read: 20 Honeymoon Places In Sri Lanka In 2022 That Will Sweep You Off Your Feet
So, this was Sri Lanka through Vaibhav's eyes. The experience becomes even more fascinating if it's coming from a person who is well-versed with the pros and cons of the destination. And the best part is that he had a budget vacation. So, you can learn from him to have the best experiences in a budget. Are you game? Well, we'd say, plan your honeymoon in Sri Lanka and keep Vaibhav's tips in mind for a dreamy experience.
Frequently Asked Questions About Sri Lanka
What is the best time to visit Sri Lanka?
Though you can visit Sri Lanka anytime of the year, the best time to visit it is from December to March and April to September.
How can I spend 5 days in Sri Lanka?
You can plan your 5 days in Sri Lanka at the different cities it offers. Here are some of them: 1. Kandy 2. Nuwara Eliya 3. Galle 4. Colombo 5. Hikkaduwa
Is visa required for Sri Lanka?
Yes, a visa is required to visit Sri Lanka. Along with your passport, you need to carry a visa to holiday in Sri Lanka.
Is Sri Lanka good to visit in June?
Yes, June is a good time to visit Sri Lanka. You can indulge in various activities during the month of June.