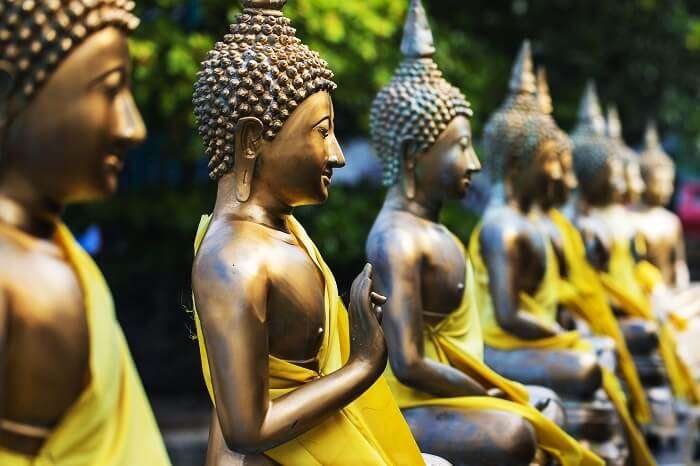 For those who've been thinking of sojourning the enchanting land of Sri Lanka, be sure to know that one trip is not going to be enough to soak in the goodness of the glorious Pearl of the Indian Ocean. From the warm hospitality to the ever-welcoming people, from the temples to the charming weather, from the blessed nature to the urban parks and beaches, these best places to visit in Colombo will treat you to the essence of the country on your next trip to Sri Lanka.
24 Best Places To Visit In Colombo
Confused about places to visit in Colombo, Sri Lanka? Check out the perfect list of places that you should definitely explore on your trip. Keep scrolling down and read more!
24. Beddagana Wetland Park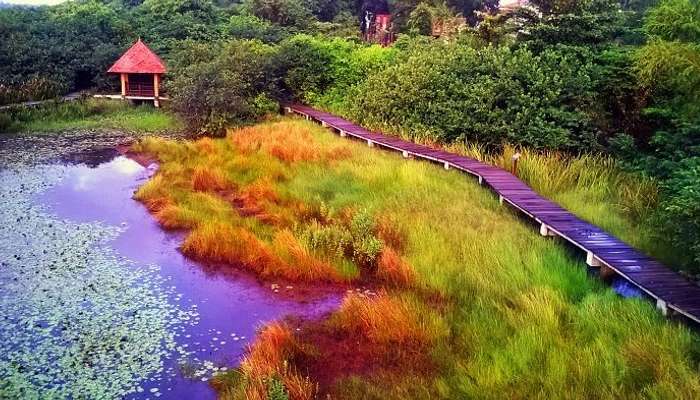 Of all the tourist places in Colombo, Beddagana Wetland Park is considerably a new addition which is aimed to protect the land from floods and improve the locals' quality of life by the Government of Sri Lanka. Apart from being one of the best places to visit in Colombo, strolling around Beddagana also happens to be one of the most romantic things to do in Sri Lanka that surrounds the travelers with lush grasslands, impressive vegetation, and wildlife.
Location: 139 Rampart Road, Sri Jayawardenepura Kotte, Colombo
Timings: Monday to Sunday – 6 am to 6 pm
Entry Fee: INR 50 per person
Suggested Read: Colombo In May 2019: What It Is Like To Explore Sri Lanka During This Time Of The Year
23. Diyatha Uyana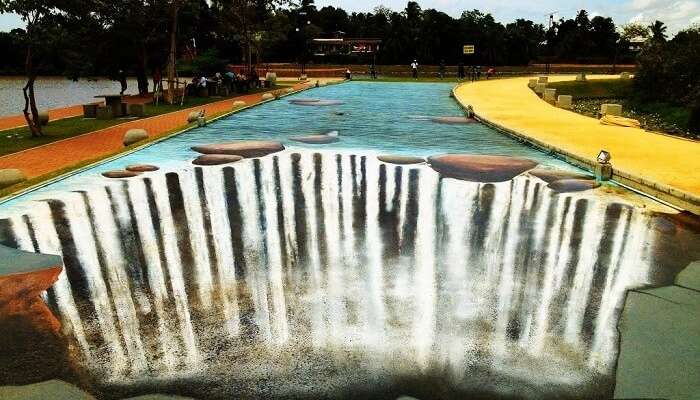 Image Source
Ever heard of bringing the dead back to life? Don't be scared but the transformation of Diyatha Uyana from a wasteland to one of the most attractive Colombo tourist places, has been nothing less than phenomenal. Housing an incredible lake, an aquarium, local eateries, and few handicrafts stalls, the place now is graced by the unique 3D art implemented by local artists.
Location: Kaduwela Road, Sri Jayawardenepura Kotte, Colombo
Timings: Monday to Sunday – 24 Hours
Entry Fee: Free
Suggested Read: 17 Best Things To Do In Colombo On A Delightful Trip To Sri Lanka In 2019
22. Bellanwila Rajamaha Viharaya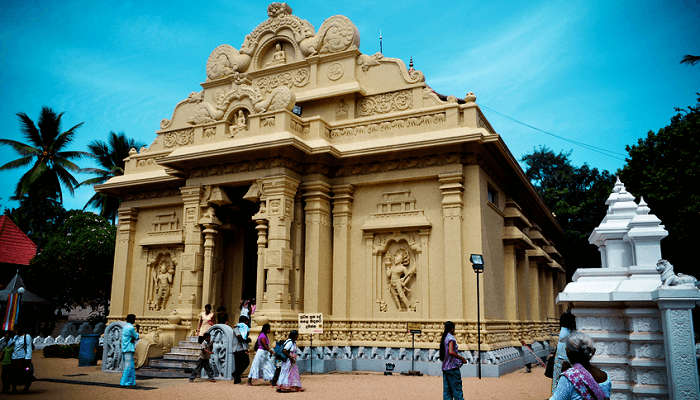 Image Source
In a land full of temples and famous for its enchanting environs, the temple of Bellanwila Rajamaha Viharaya is one of the highly-valued Colombo points of interest. Home to the famous and sacred Bodhi-tree, it is believed that the tree ages back to 3rd century B.C.E. and is a crucial part of the 32 saplings that grew out of the holy Bodhi-tree located in Anuradhapura. Thousands of travelers visit this temple from all over the world.
Location: Dehiwala Road, Boralesgamuwa, Colombo
Timings: Monday to Sunday – 24 hours
Entry Fee: Free
Suggested Read: 6 Unique Museums In Colombo That Let You Live Its History
21. Kelaniya Raja Maha Vihara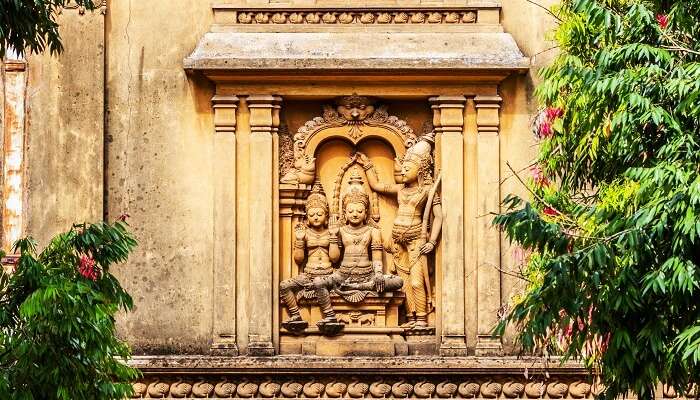 Standing tall despite being destroyed twice by Indian and Portugese invaders, it is said that Lord Buddha visited the current site of the temple when he visited the continent for the third time. Restored by the Dutch during the 18th century, this grand temple of Kelaniya Raja Maha Vihara today stands as a landmark of cultural charm amongst all the other tourist attractions in Colombo city.
Location: Biyagama Road, Kelaniya, Colombo
Timings: Monday to Sunday – 24 hours
Entry Fee: Free
20. Seema Malaka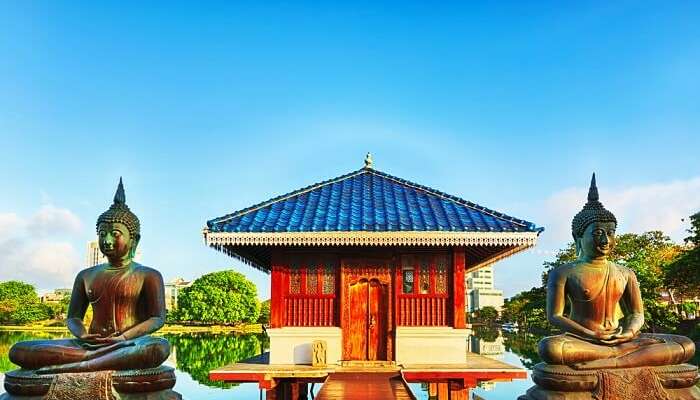 Ever heard of an island temple? Offering the perfect respite from the hustle and bustle of the city, Seema Malaka is one of the few places to visit in Colombo for couples which exudes tropical charm. Designed by the renowned architect of Sri Lanka – Geoffrey Bawa, Seema Malaka temple strikes a perfect balance between Indian, Chinese, Thai, and Sri Lankan architecture, that holds a greater significance in maintaining peace amongst all the cultures.
Location: Sir James Pieris Mawatha, Colombo
Timings: Monday to Sunday – 24 hours
Entry Fee: Free
Suggested Read: 7 Cottages In Colombo For A Refreshing Holiday Experience
19. Bally's Casino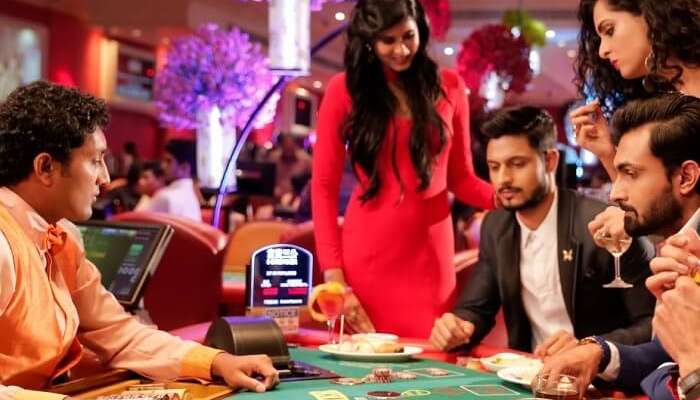 Be it fine dining, accommodation & spa, table games, live betting, or non-stop entertainment, Bally's Casino is the place to be for those who want to enjoy the best of nightlife in Sri Lanka. From live concerts to DJ nights, play poker through the night at the one and only Bally's Casino.
Location: 34 D. R. Wijewardena Mawatha, Colombo
Timings: Monday to Sunday – 24 hours
Entry Fee: No entry fees.
Playing Conditions:
Minimum duration for playing poker and table games is 8 hours per day
Minimum 750 Hands
Minimum bet of US $80 or INR 5,200
Maximum bet of US $400 or INR 26,000
18. Colombo Dutch Museum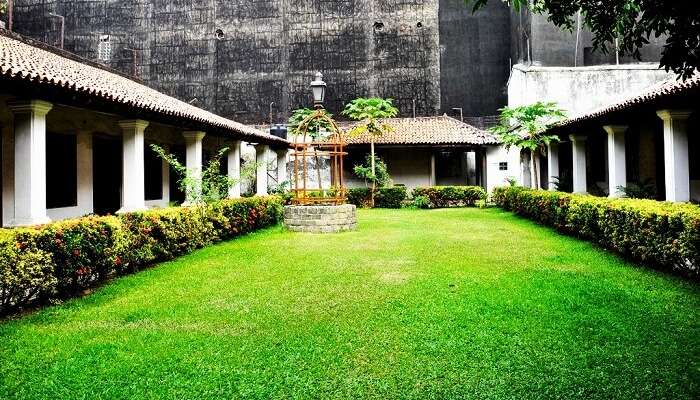 Image Source
Located right in the heart of Pettah market which is known for the best local shopping in Sri Lanka, the unique, and unusual-looking Dutch Museum, does come as a surprise to many travelers in Colombo. Having served as the mansion for the Dutch governor in the late 17th century, this is by far one of the best buildings that has been best preserved to showcase the charm of Dutch architecture.
Location: Prince Street, Pettah, Colombo
Timings: Tuesday to Saturday – 9 am to 5 pm; Closed on Sunday & Monday
Entry Fee:
INR 300 per child
INR 500 per adult
Suggested Read: Spend Just 5 Days In Sri Lanka To Explore The Tropical Paradise That It Is!
17. St. Lucia's Cathedral
Image Source
With a capacity of accommodating about 6000 people, St. Lucia's Cathedral is one of the main parishes in the entire Sri Lanka which consists of only fifteen cathedrals. Dedicated to the patron saint of St. Lucy, St. Lucia's Cathedral happens to be one of the oldest, and the largest church that makes it one of the best places to visit in Colombo for every traveler.
Location: Kotahena, Colombo
Timings: Monday to Sunday – 5.30 am to 12 noon and 2 pm to 7 pm
Entry Fee: Free
16. Galle Face Green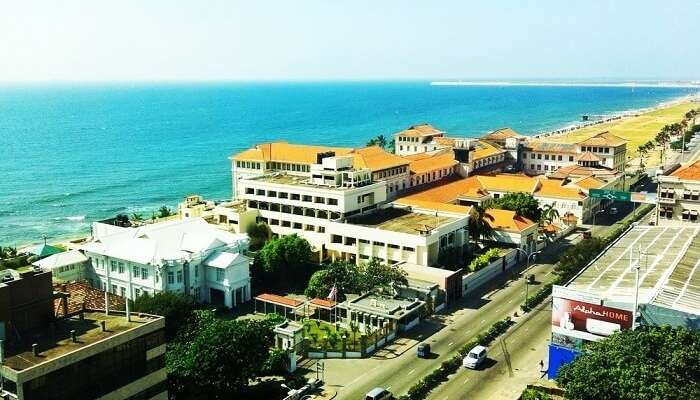 Once a line of fire for the army of Dutch, Galle Face Green is a marvellous open space and an urban park that allows the travelers to enjoy a massive space of the 12 acres, and a shimmering coastline of about 500 metres. Just like the Marine Drive in Mumbai and Kochi, this promenade is one of the best places to visit in Colombo for couples, friends, and families alike. Stroll on the beach, soak the goodness of the sun, meet new people, relish the local Sri Lankan cuisine, and much more at Galle Face Green.
Location: Galle Road, Colombo
Timings: Monday to Sunday – 24 Hours
Suggested Read: 10 Reasons Why Sri Lanka Should be Your Next Holiday Destination
15. The Independence Square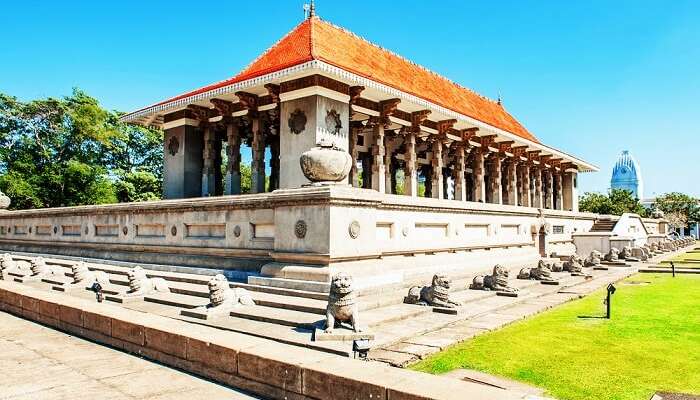 A historical landmark that witnesses the independence celebration of the Sri Lankan citizens from the British rule, Independence Memorial Hall or Independence Square is a must visit for every traveler when in Sri Lanka. Located right in the heart of Cinnamon Gardens, cherish the importance of the Independence Square which is where, a new beginning of self-rule was embarked upon by the Government of Sri Lanka.
Location: 7, Independence Avenue, Colombo
Timings: Monday to Sunday – Open 24 Hours; Preferred Timings – 11 am to 7 pm
14. Jami Ul-Alfar Mosque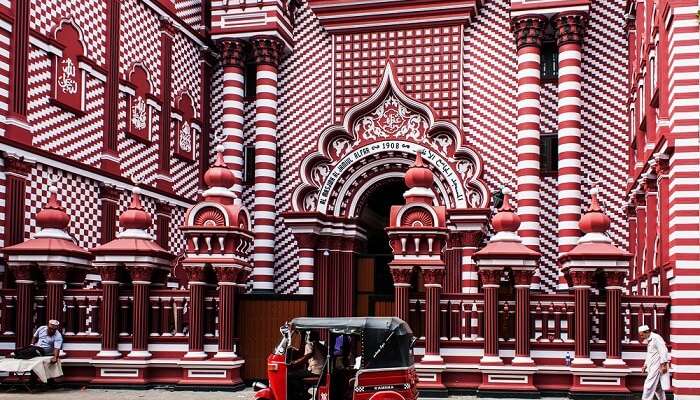 The first thing that you will notice about the grand mosque of Jami Ul-Alfar is that of its candy-like red and white striped exterior. Designed and constructed by Habibu Labbe Saibu Labbe, Jami Ul-Alfar Mosque stands tall as a witness to the cultural gems of Sri Lanka, and as a perfect amalgamation of four unique styles of architecture – Indian, Gothic, Neo-classical, and Indo-Islamic architecture.
most beautiful places in Sri Lanka
Location: No.228, Second Cross Street, 11, Colombo
Timings: Saturday to Thursday – 9 am to 5 pm
Suggested Read: My Solo Honeymoon Trip To Sri Lanka And Maldives
13. National Museum Of Colombo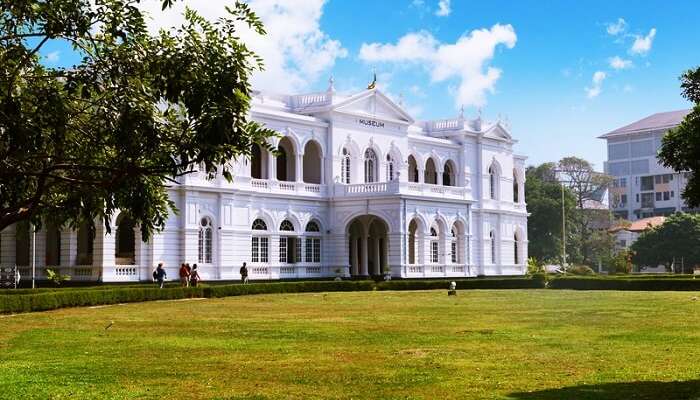 Founded by the former British Governor Sir William Henry Gregory of Ceylon which is how Sri Lanka was popularly known, the National Museum of Colombo showcases the works of renowned artists that portrays the cultural heritage of the emerald nation. The museum exhibits 18th-century galleries which are full of intricate carvings, unique masks of demons, swords of the knights, and other art collection of local artists from the colonial era.
Location: Sir Marcus Fernando Mawatha, Colombo
Timings: Monday to Sunday – 9 am to 5 pm
Entry Fee:
For Locals
INR 15 per child
INR 25 per adult
For Foreigners
INR 300 per child
INR 500 per adult
12. Beira Lake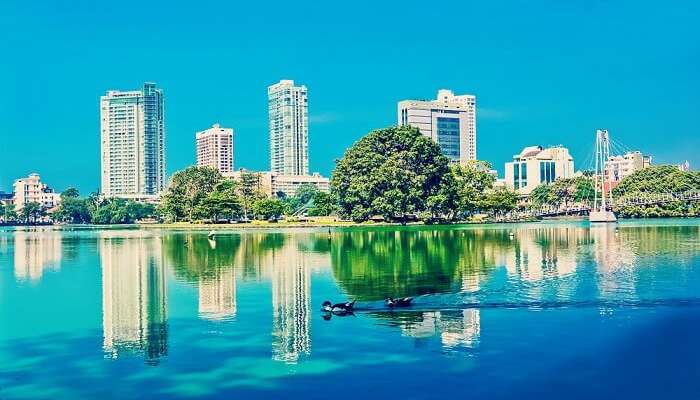 Literally located in the heart of Colombo's city centre, the Beira Lake stretches for about 1 mile and covers a good amount of about 160 acres of surface area. Once a reservoir and source of transport to trade goods within the country, Beira Lake today, is one of the most fascinating and fun places to visit in Colombo. Serving as a proud home for more than 140 years to the Colombo rowing club, travelers can very well indulge in birdwatching, boating, watching romantic sunsets, and more activities at the Beira Lake, on their next trip to Sri Lanka.
Location: 02 Colombo, Near Seema Malaka, Colombo
Timings: Monday to Sunday – 24 Hours
Entry Fee:
300 SLR or INR 125 per person
No need to pay in case you've paid for the entry of Gangaramaya temple as the temple leads to the lake.
Suggested Read: Scuba Diving In Colombo: 10 Places For Witnessing The Beauty Of Marine Life Like Never Before
11. Viharamahadevi Park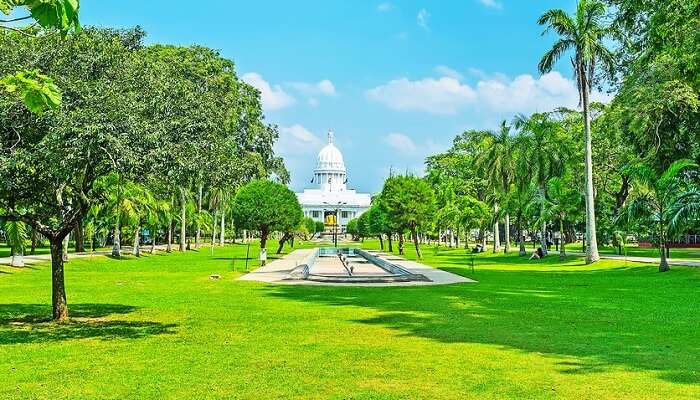 Comprising of a park, a zoo, waterfalls, picnic hotspots, walking trails, thrilling rides, and an unruffled statue of Buddha, Viharamahadevi Park is one of the must visit places in Colombo for every traveler. Other than all the aforementioned activities, the park also features a library for travelers to relax and be all by themselves. Treating families, couples, and friends alike, make sure you don't miss out on this one when in Sri Lanka.
Location: Colombo, Sri Lanka
Timings: Monday to Sunday – 7 am to 6 pm
Entry Fee:
INR 10 per adult
INR 5 per child
10. Gangaramaya Buddhist Temple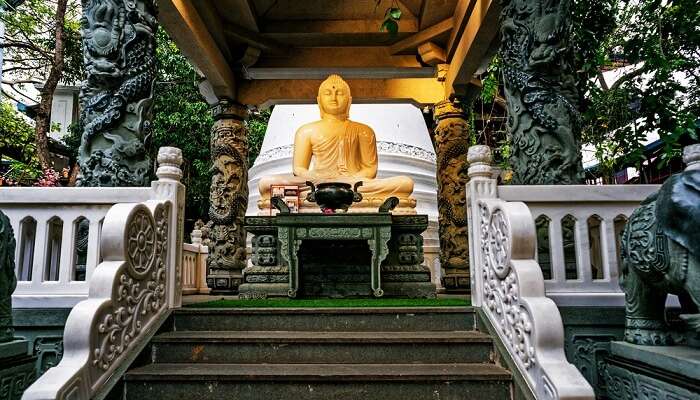 Your visit to Sri Lanka is not a complete one if you miss out on the great Gangaramaya Buddhist Temple. A sacred and a site of great significance to all the travelers and locals alike, this temple is an epitome of architectural brilliance. Featuring the intricacy of Thai, Indian, and Chinese architecture in its design, the temple also houses a museum, and a library within the premises and is one of the top tourist places in Colombo.
Location: 61 Sri Jinarathana Road, Colombo
Timings: Monday to Sunday – 8 am to 8 pm
Entry Fee: 100 SLR or INR 42 per person
Suggested Read: 10 Best Beach Resorts In Colombo Where You Can Experience The True Sri Lankan Culture
9. Attidiya Bird Sanctuary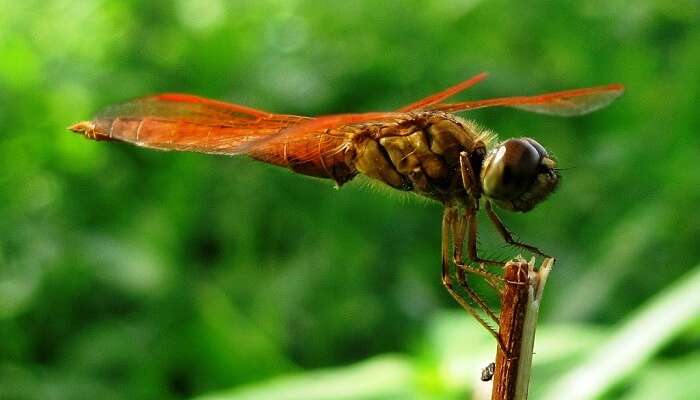 Image Source
This is one of the only place in the entire city that is known for providing shelter to a minimum of 50 different species of birds. This includes both migratory and local birds. Here you will be able to witness a large number of butterflies, water monitors, insects and other types of birds. But what is sure to get your attention is the mud strewn paths of the sanctuary which adds to the rustic but natural charm of the place. You should also keep in mind that while the biodiversity of this place by any place near it but this place is complete with tonnes of mosquitoes so make sure to cover yourself up while visiting this place.
Location: At Boralesgamuwa in Colombo.
Timings: 9 pm throughout the day but early mornings and evenings are best to visit migratory birds. Visit between December and January to see the beautiful migratory birds.
Price: Entry is free.
8. Mount Lavinia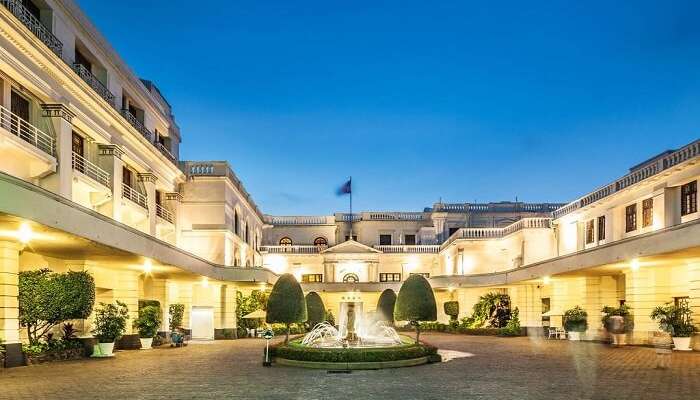 Image Source
Mount Lavinia is a famous heritage hotel there and it was a famous place in 1806. There are many different types of rooms available there but the ones with the ocean view are the best, although you will have to book early if you want the best of the lot. There are many wedding packages, sunset deals, national holiday deals and more which are offered as promotional deals but the hotel. Try to grab one of these to get them most out of this place.
Location: Offering beautiful views of the Laccadive Sea, Mount Lavinia is located in close vicinity to the National Zoological Gardens.
Timings: Open Everyday
Price: Approximate price begins from 1000 LKR
Suggested Read: Snorkeling In Colombo: 10 Best Places To Witness The Beautiful Life Beneath Water
7. Dehiwala Zoo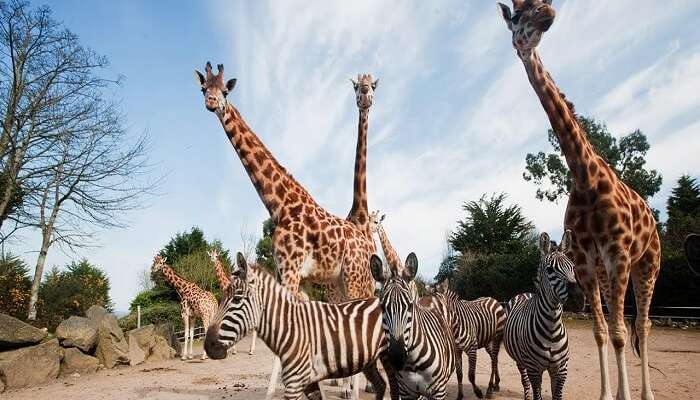 Image Source
Operating since 1963, this Zoo is also known as the National Zoological Gardens of Sri Lanka. The zoo was established with an aim to provide protection and shelter to a wide range of wild animals and birds. While here don't miss out of the amazing performances by the sea lions, chimpanzees and elephants. There are also some of the most exotic varieties of fish, mammals, birds, reptiles and more.
The Zoo has been an active member of World Association of Zoos and Aquariums and it contributes breeding for being a part of animal exchange programs. It is certainly one of the most impressive places to visit in Sri Lanka as well. Try not to keep any other engagements when visiting this zoo.
Location: It is located at Anagarika Dharmapala Mawatha, Dehiwala.
Timings: It is open from 8.30 AM to 6:00 PM on all days.
Price: Starting from 100 LKR (For adults), 30 LKR (for Children), 500 LKR (For foreigner adults) and 100 LKR (for foreign children)
6. Old Galle Buck Lighthouse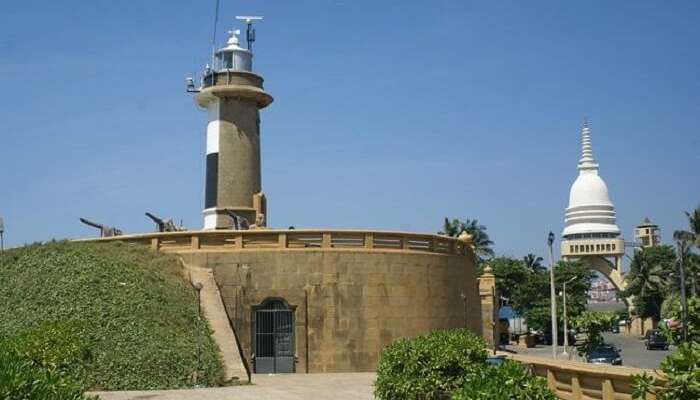 Image Source
Old Galle buck lighthouse is situated in close proximity to the Galle Face Green within the area of the Sri Lankan Navy. It offers solitude to those who want it and you can climb up to the rustic lighthouse and take in the panoramic visions of the crashing Indian Ocean as you feel the wind in your hair. Always head over here after 5 PM to get the best views as this place works its magic after sunset.
Location: In close vicinity to the Galle Face Green, a popular seaface in Colombo.
Timings: The place is open to the public throughout the year.
Price: Entry is free of cost.
Suggested Read: Colombo In January: A Detailed Guide To Explore The City Like Never Before!
5. Traditional Puppet Art Museum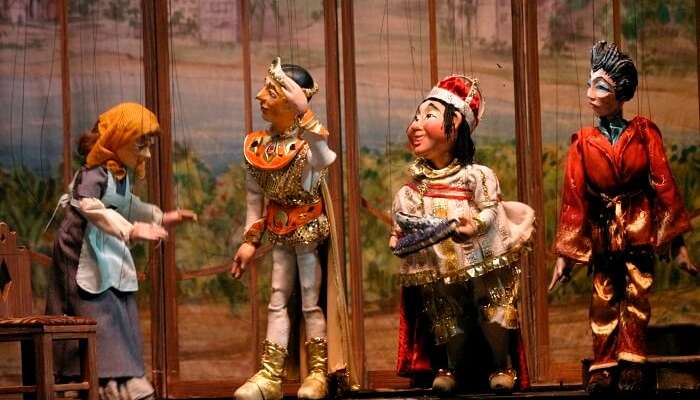 Image Source
Puppet shows hold a lot of meaning and importance in Sri Lankan culture. So this museum is single handedly responsible for upholding a lot of the fold tradition and values of the island country even to this day. Keep note that the demand for these places is really high and so it is better to just book your seats as early as you can. Perfect for all age groups, it is sure to bring entertainment and joy to many. The way the artists manage to flaunt and work with their attractive and multi colored puppets is a sight to behold in itself.
Location: It is located at Dehiwala, in close proximity to the Galle.
Timings: The museum is open from 9:00 AM to 5:00 PM, all days of the week.
Price: Approximate price begins from 50LKR per adult.
4. Arugam Bay Beach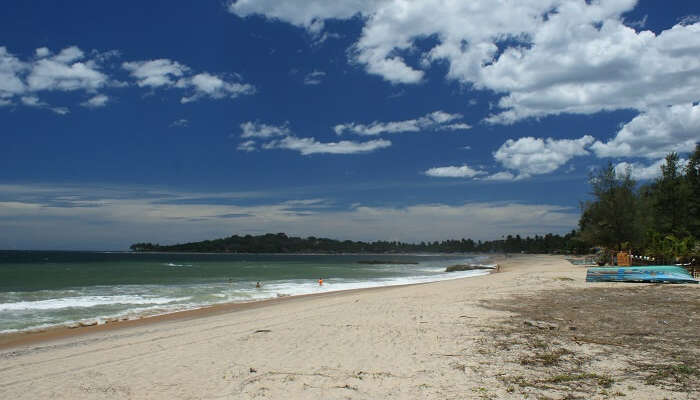 Image Source
Located 320 km from Colombo, the Arugam Bay Beach will let you unleash your wild side. This is the best place to let go of the mundane and engage in the adventure. A major surging point here is the surfing point called 'Main Point' which is located towards the South of the Bay. This thrilling adventurous spot is also a relaxing place which will allow you to just lay back. The place is relatively free from inhabitation and is a great place to visit for those who want some peace and quiet. If you are hungry after your thrill-seeking activities, you can head over to the tsunami hotel for some amazing rice and curries or check out the Kumana National Park which is located nearby if you have some time on your hands.
Location: Arugram
Timings: All day
Price: Entry is free of cost.
Suggested Read: Galle Face Green- An Urban Park In Sri Lanka's Colombo With a Historical Past
3. Day Tour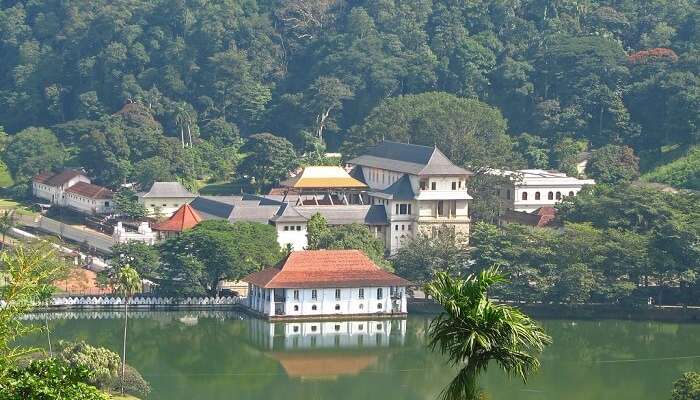 Image Source
This amazing tour will take you to the beautiful Highlands of the country and that includes Kandy, Pinnawala and Peradeniya. Get ready at 6 AM to be picked up from your hotels and explore the Pinnawala Elephant Orphanage, which will be your first stop. These majestic creatures are a sight to behold but apart from just seeing them, you will also get to know about them. Then head over to the Royal botanical garden of Peradeniya to see the diverse flora which includes decorative, ornamental and medicinal flora as well. At Kandy, visit the Kandy View Point which will offer you a cultural show to enjoy. End with an exploration of the Sri Lankan Highlands and come back to your hotels by 5 PM itself. Also, while in Kandy, don't forget to visit the popular Temple of the Tooth Relic.
Location: Pinnawala, Peradeniya, and Kandy from Colombo
Timings: Approximately 6 AM to 5 PM
2. Old Dutch Hospital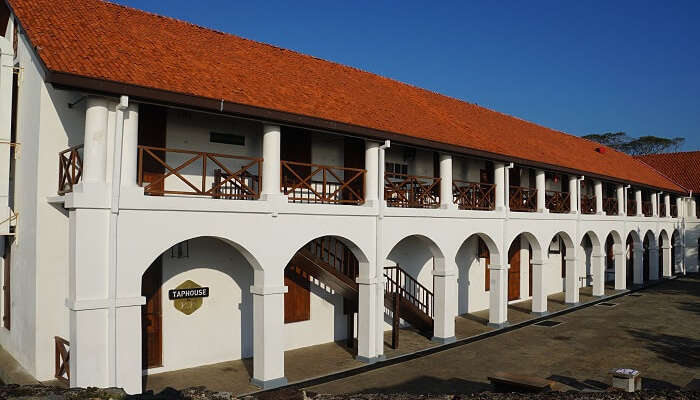 Image Source
Built during the years 1681, this building is one of those which have persevered their charm for the centuries that have followed it. Originally it was constructed for the main purpose of giving medical help to the people who worked for the Dutch East India Company. Currently, a shopping complex but it served as a lot of places before being what it is today. Don't miss out on visiting the Odels which are one of the most decent joints that sell high quality clothed and souvenirs.
Location: This shopping arcade is located in the Galle Fort area, at Hospital Street.
Timings: It is open from 10:00 AM to 10:00 PM on all days of the week.
Price: Entry is free.
Suggested Read: Colombo Honeymoon: 10 Best Places To Visit With Your Love
1. Casino Marina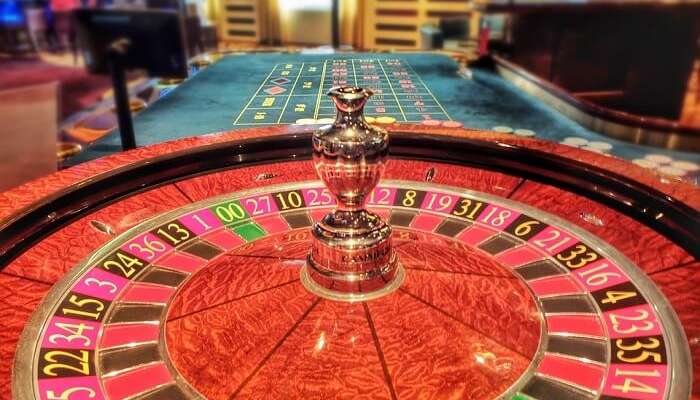 Image Source
Opened in the year 2013, Casino Marina brought a revolution with it and has been getting great reviews since. It is said to be the first casino in Colombo, which has floors that are dedicated to particular sections of players. Like, out of the 4 floors, each is dedicated to different people like travelers, private parties, roulette sessions and also for regular card sessions. While playing in the place said to be a paradise for all gaming enthusiasts, you can also enjoy the beautiful views of the Indian Ocean. Casino Marina offers unlimited high-quality complimentary drinks and food during the whole day at the tables.
Location: It is located in the Marine Drive in Colombo.
Timings: Open 24/7
Further Read: Ramayana Tour In Sri Lanka: Exploring The Religious Trail In The Island Nation
This gorgeous island country may seem to be of a tear-drop size, but there is a lot more to this country than what meets the eye. Hence, without wasting anymore of your time, customize enticing Sri Lanka holiday packages with TravelTriangle and gear up to explore the best that this magical land has to offer!
So many places to see, so little time. Few places have as many Unesco World Heritage Sites as Colombo does. Watch our Sri Lanka travel video and get an up-close look at some of the best places to visit in Colombo.
Comments
comments