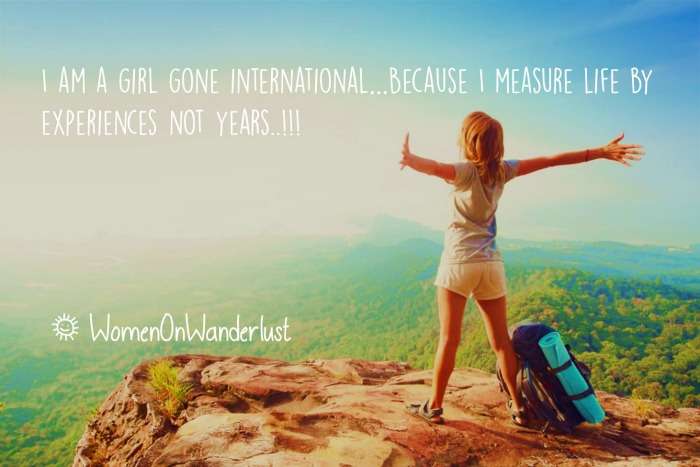 It's a man's world! Really? Here are the stories of 8 passionate female travellers who not only quit jobs to explore the world but went out of their way to travel solo, run a family and earn all while they were on the nomadic spree.
Wouldn't it be fun to explore the world on your own terms? If your answer is a yes, it's time you marvel at the lives of these crazy, motivated women travellers coming your way.
1. Women on Wanderlust – Shivya Nath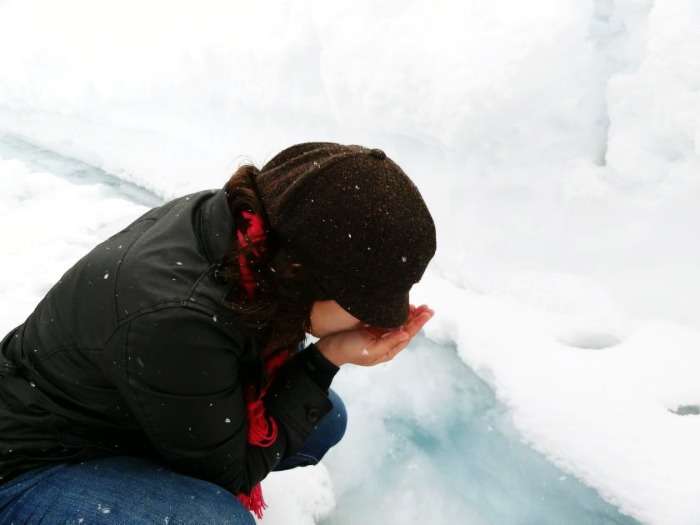 Image Source
Independent, adventurous, simple and passionate describe this avid young traveller. She is on a mission to discover hidden gems across the world, and writes about them on her award-winning travel blog The Shooting Star, and in Indian and international publications like BBC Travel, Conde Nast Traveller India and The Hindu. She has been featured on Femina's "35 Under 35" Power List of Indian Women and interviewed for her unconventional career as a travel blogger on NDTV.
At 23, she quit her first and only corporate job to follow her heart and live by her belief: Work.Earn.Travel.Repeat. Then in August 2013, she gave up her apartment, sold most of her belongings and set out with her backpack for a truly nomadic life – slow traveling without a home to go back to.
What will you never travel without?
An open mind.
What are your preferred hideouts?
Remote villages where I can experience the traditional way of life.
How should one start their journey?
Everyone likes the idea of travel, but it is only when you spend time on the road, getting under the skin of a place, experiencing the way the locals live, beyond just a luxury holiday, can you understand if long term travel is for you.
2. Women on Wanderlust – Elita Almeida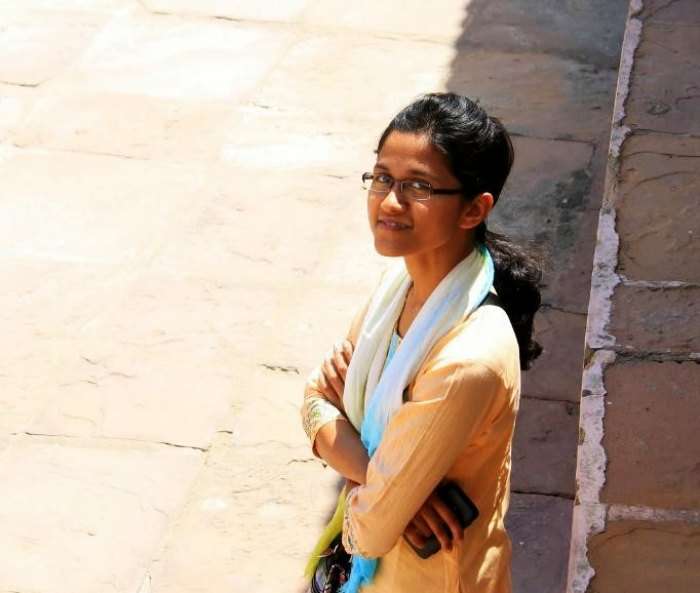 Ever let the winds carry you? Elita's story is quite interesting. The travel bug bit her quite early but the city life and her busy schedule enveloped her until her second visit to Ladakh. And then started the series of her posts on her blog Nomadic Thunker.
Elita quit her 9 to 5 job, is a Himsagar Fellow for six months and has spent a month on her own in Bihar taking technology to the grassroots. She lives by her adage – Have Feet Will Travel and wants to take her travel stories further than her journeys. Humbled by the kindness of strangers in the most unexpected of ways, Elita points that a little awareness about your surroundings goes a long way and a no-nonsense-poker-face can make all the difference to stay safe.
What will you never travel without?
A diary and pen though I can do without a camera.
What are your preferred hideouts?
A remote beach with books and seafood as great accompaniments. The memory from my first solo trip to the relatively unknown Trasi beach in Karnataka has stayed with me not because it was my first but because I had the whole beach to myself.
How should one start their journey?
Spend time exploring your city or home town on your own to acquaint yourself and ease into the idea of solo travel. If you want to notch that up, try and include a meal too. Gauge how comfortable you are being by yourself as well as with being noticeable to the people around you – both need to be balanced out. Solo travel is as much a journey into the outside world as it is a journey within. Not everyone who travels solo is a misanthrope or an introvert. Solo travel is a great way to meet new people. And then again not every solo traveller is gregarious and outgoing or an extrovert. I have also learnt that a no-nonsense-poker-face can make all the difference.
3. Women on Wanderlust – Renuka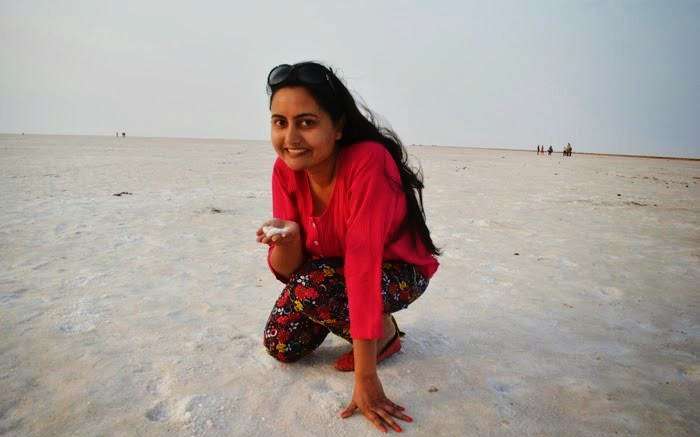 Image Source
The real meaning of travel is to discover, learn and grow. Renuka believes more than money one needs courage to travel, and more than destinations she counts experiences. She is an avid traveller, and a passionate writer/photographer.
There was a time when Renuka was stuck in the 9-5 job turmoil. She left her not-so-interesting job in Delhi, escaped to Mumbai (to join another company) and hence began her travel expeditions. Her blog Voyager for life takes you through her journey as a common woman who discovered the travel bug in her.
What will you never travel without?
My Camera!
What are your preferred hideouts?
Near the mountains. I am a mountain girl.
How should one start their journey?
Well, one should just set out. Don't waste too much of time in thinking and analysing things. Read a lot of travel blogs, research, get inspired and plan your trip properly.
4. Women on Wanderlust – Amrita Das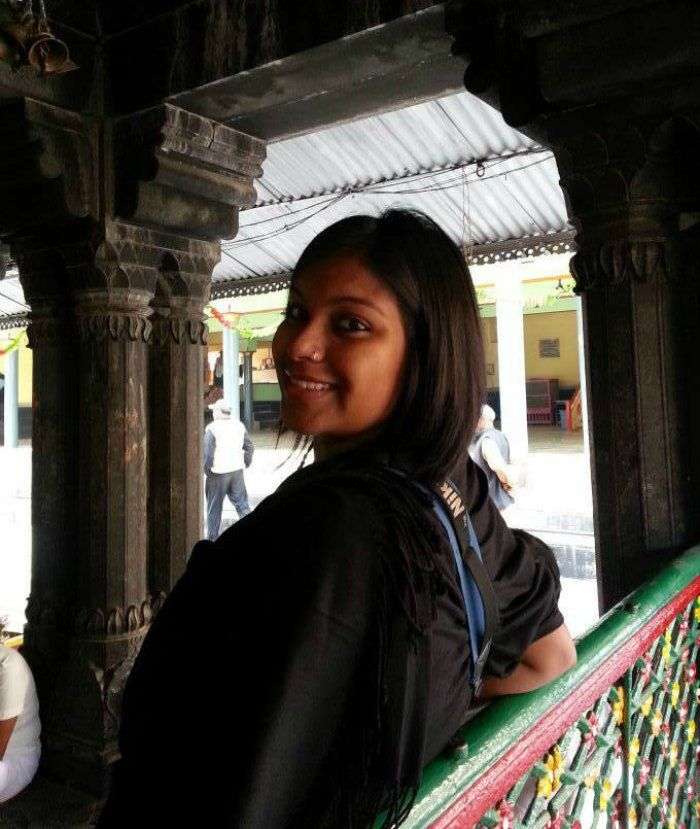 Image Source
Life is too short and there are too many stories to hear! This is what the fervent solo traveller Amrita feels likes. She travels to offbeat destinations to understand sustainability. Amrita travels for memories and her aim is fill her passport with stamps from various destinations.
She quit her job to become a full time traveller and to write about her experiential journeys. Here's how she is inspiring you to travel solo.
What will you never travel without?
A journal and writing material. (Really just one??) My top 5 necessities also include my phone, Swiss Army knife, water bottle & chocolate, camera and lip gloss.
What are your preferred hideouts?
Any mountain state blessed by the Himalayas
How should one start their journey?
Travelling alone isn't tough at all. We just magnify it in our heads. Find a destination you're passionate and curious about, make necessary bookings, don't think much and just head out. It's that first step that counts and trust me, there will be no looking back.
---
Planning your holiday but confused about where to go? These travel stories help you find your best trip ever!
Real travel stories. Real stays. Handy tips to help you make the right choice.
---
5. Women on Wanderlust- Supriya Sehgal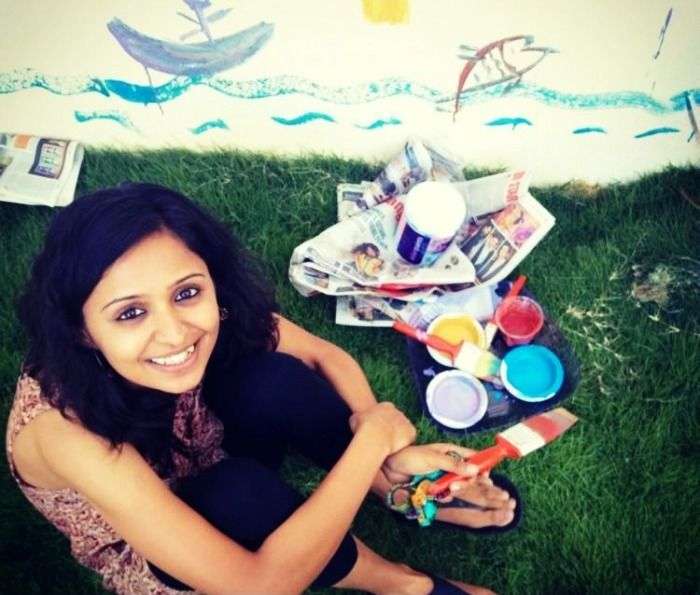 Image Source
What started as a journey to explore her own company and to not rely on others' plans became an addiction for Supriya. Travelling since past 10 years, Supriya believes travel has given her confidence a massive boost and deeper understanding of India. She travels for more than 250 days in a year and scribbles tons of her travel stories in her blog Tea for Travel, writing guide books for Lonely Planet and searching for stories from across the world. Her commissioned work lies on www.supriyasehgal.com
What will you never travel without?
My Crocs and a sweatshirt
What are your preferred hideouts?
There is no one favourite hideout. I do love the Nilgiris in India.
How should one start their journey?
There is no two ways of doing this. You just have to start. Just go. I started with heading out each weekend by just arriving at the bus stop and taking it from there – you could add your own filters as per your travel taste; festivals, historical places, budget places, only adventure and more. But once you have made up your mind, it's a good idea to document your thoughts in writing and pictures to remember each journey. Ensure that you make yourself available to local experiences and food. It could be watching the catch come in in a coastal town or watching how a dhobi ghat operates in a small town. More than anything, trust your instinct and people, and watching out for your safety!
6. Women on Wanderlust – Aparna aka Backpacking Ninja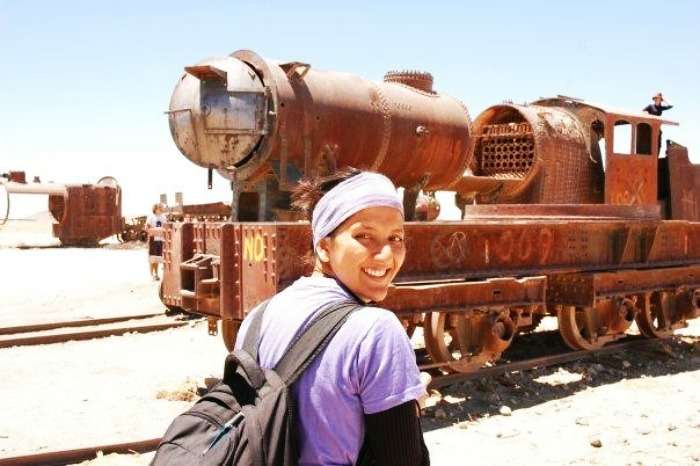 Image Source
Crazy, wild, backpacker, couch surfer, coffee addict and an avid traveller. The Ninja aka No-Income-No-Job-Aparna, the name she got when she quit her job to trip around South America. But that's not it. She still works full time and manages to take weeks off to hit the road whenever she feels like. You can read more about her adventurous journeys on her blog Backpacking Ninja.
What will you never travel without?
My small diary. Not an i-phone. Not a computer. It's just a small little book I can write about the weird and funny things I saw, the people I met or even doodle during a long bus ride.
What are your preferred hideouts?
Brazil all the way. When I need to get away from the crazy world and work, I head to Brazil and try and hit a small town beach.
How should one start their journey?
Even if it is a weekend trip by bus to a town not more than an hour away, start there. When I lived in Chennai, I went to Pondicherry for a day to walk around. When I lived in Pune, I would hike up Singhad fort. When I lived in Mumbai, I made a weekend trip to Ajanta caves. You have to start somewhere… may as well be closeby. And then, you will realize that the travel bug will bite you so hard that you would want to travel more than just a few hours away and all the way across the world. My last trip was to the Galapagos Islands (Ecuador) – far removed from civilization.
7. Women on Wanderlust – Lakshmi Sharath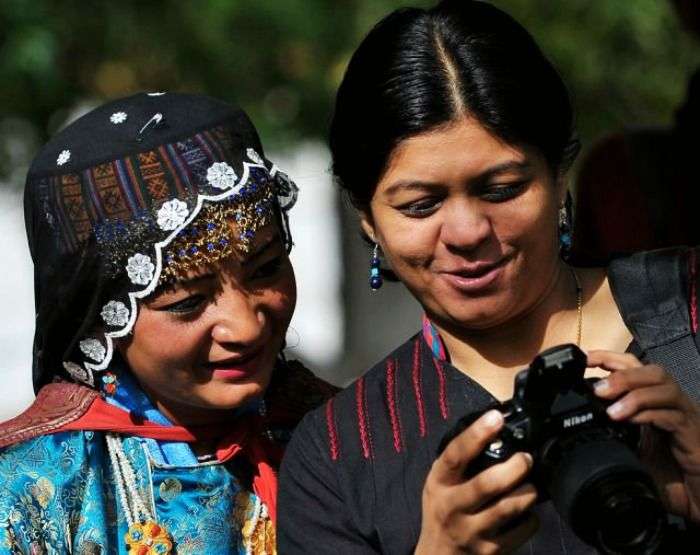 Image Source
After 15 years of desk job in various media organizations, Lakshmi decided to tame her restless cubicle-bound soul by travelling. She explored over 25 countries across five continents and the wanderlust hasn't ended yet.
Her passion now lies in exploring the corners of India. A photographer, a writer, a traveller and a media professional, Lakshmi is always looking for challenges and new quests. Read about here inspiring travelogues on her blog Lakshmi Sharath.
What will you never travel without?
Practically speaking – my medicines .. Else – a good pair of jeans
What are your preferred hideouts?
Nothing specific..Wherever the mood takes me!
How should one start their journey?
Start with your own backyard, your own city, your state and you never know what you'll end up exploring.
8. Women on Wanderlust – Ankita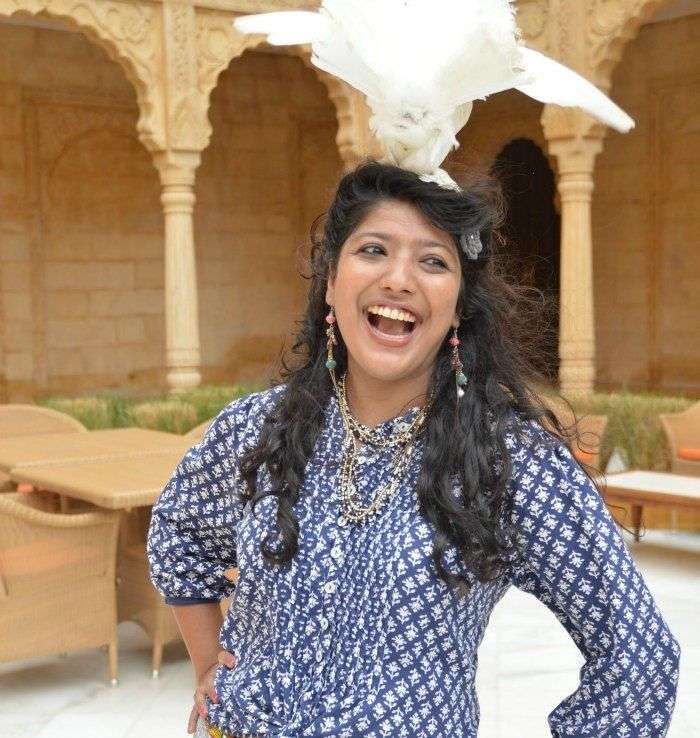 Ankionthemove or Ankita Sinha dreamt of exploring herself through the eyes of people she never knew. And she made it happen. Went out of her way quitting the IT job, travelled crazily across 24 Indian states, 17 countries trying many adventure sports on the go.
She travels to discover the place in and out. Name an adventure sport you'd wish to try and Ankita is game for it. And that's not it. She loves video-blogging her travels, writing about fashion, interviews and modelling.
What will you never travel without?
Till date,I have never travelled without my cellphone.I think It's the most important gadget I carry which teams up as all in one with internet when needed camera when I don't feel like carrying bulky dslrs stored data and maps when I feel like accessing them and contacts for calls.
What are your preffered hideouts?
My idea of an hideout isn't a secluded gateway but a place which is buzz with activity ,culture,interesting people and possibly rugged.The more colors the festivities bring out,the more attracted I am to a place..I am more of a beach bum than a mountain person and the different shades of blue seduce me more than the rolling hills.So for me,my idea of an hideout is either driving down somewhere in unpredictable Oman or dancing in the local islands in Maldives or even carelessly having fun in the most cliche' Goa.
How should one start their journey?
Creativity is intellegence having fun.Having said so,starting a blog comes out of passion to inspire others to follow the path you have taken.My advice to starters on how they must start is first figure out if you want to carve a career out of passion or let your hobby remain a hobby y. Initially manage your current career with your passion until you find a stable platform so that letting go is easy.Quitting your job isn't the only option.If you write out of hobby than an intent to make it a career,write passionately.There are no shortcut to starts or success.As every other job,blogging has its own perks ups and down.But once you tread on each stumbling block with a desire to success there is no looking back.Keep that spirit high and your toes wandering.
There is nothing in the world a girl can not do. All it needs is some passion, some courage, a few inspiring stories and the first step!
Do you have a story too? Mail us your travelogue on social@traveltriangle.com and we'd love to share it with the world on our blog – Stories of Indian Women Who Traveled Solo.
---
Looking To Book An International Holiday?
Book memorable holidays on TravelTriangle with 650+ verified travel agents for 65+ domestic and international destinations.
---