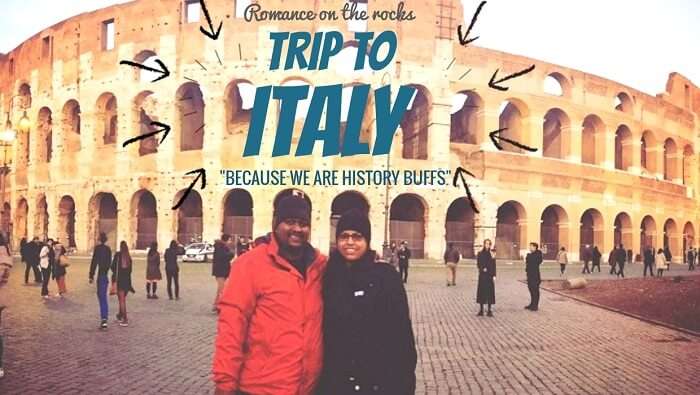 They held their travels close to their hearts and in some ways it showed during their majestic honeymoon trip to Italy. Read on as Aaditya describes his sojourns with his better half inItaly that elaborate its beauty and glory. Their package cost them a total of INR 1,85,000 and it included their flights, transfers, accommodation, meals, and sightseeing.
We planned our honeymoon package to Italy with same enthusiasm and attention to detail as we planned our entire wedding ceremony. Since we were big on making a memorable honeymoon, we narrowed down our options to Greece, Turkey, and Italy, so that we could relate our time spent together with the rich history of the locales. We finally settled on Italy and began a frantic search for the right package.
The Travel Account Of His Trip To Italy Is A Real Inspiration For Travelers #MustRead
I stumbled upon a TravelTriangle ad on Google and inquired about a honeymoon package to Italy. Prabhakar from TravelTriangle called back and understood our specific requirements and connected me to various agents providing multiple offers.We finally settled on Travel Funda agency who were very accommodating in building our package.
Why I am especially thankful of going through TravelTriangle and working with the agency Travel Funda is because of one incident the day that we were flying out.
My wife and I were doing the web check in for our Lufthansa flights and were shocked to see that the flight had been cancelled! We did not get a notification from the airlines and they just cancelled it! We panicked a bit and called Niraj from Travel Funda who immediately booked us alternative flights with the focus being on as minimal impact as possible on the itinerary. With that sorted, we began our dream honeymoon in style!
Day 1: A royal welcome
We took our flight from Bengaluru and landed in Rome at around 7 pm local time. We were received at the airport by a chauffeur for a private transfer to the hotel, which happened to be in a Jaguar. That dash of luxury kind of set the tone for us for the entire trip. We arrived in Rome with a bit of a jetlag so we decided to eat and sleep it off for our big days to follow in our trip to Italy.
Day 2: Witness Rome in all it's glory
Dolce Vita : A Gracious, Enjoyable and Scenic Family Vacation to Italy
We woke up to a sunny morning and got ready for our sightseeing in Rome. Travel Funda had planned our travel to Vatican City and also booked the no-queue entry passes into St Peter's Basilica, the Vatican Museum, and the Sistine Chapel for us.
With a ton of photo opportunities and being that close to so much of history, we have memories that will be etched into our minds for a very long time. We took our time wandering through the tour and absorbing the richness of the artistry. After almost 4 hours, we wandered out to the Piazza (huge courtyard) outside to begin souvenir shopping in Italy!
We had tickets for the hop on, hop off tour so we made use of that to get around the town and see the Colosseum, the Pantheon and Circus Maximus. Having covered most of the prominent places to visit in Rome, we disembarked and stopped at a local pizza shop and had a couple slices of pizza for dinner and retired to the hotel for the night.
Day 3: The Flourishing Florentines
After having a delicious breakfast, we checked out of the hotel in Rome and headed to the Roma Termini for the fast train to Florence. We arrived in Florence at noon and checked into the hotel. After dropping our bags and settling in, we took another train to Pisa to see the Leaning tower of Pisa.
Travel Funda had us booked for all the trains and entry passes, so all we had to do was be there and walk in. After the tour of the complex, we walked out and had lunch at a family owned restaurant for some authentic Italian food in lasagna and crepes! Best. Food. Ever!
Why Sabyasachi's Trip to Europe Is The Mother Of All Vacations For Art, Culture and Luxury!
We took the train back to Florence in the evening and walked over to the banks of the Arno River. Afterwards, we headed to the Ponte Vecchio to take in the sights and begin round 2 of shopping in Italy! We walked back thru the Piazza Del Repubblica, the Cattedrale di Santa Maria del Fiore, the Basilica Santa Maria di Novella. After ending another memorable day in our trip to Italy, we made it back to our hotel room and rested for the night.
Day 4: The art jewels of Italy
One of the most renowned things to do in Italy is to witness the artistic marvels of the bygone era. We set out to see Michelangelo's David and walked over to the Galleria Dell'Accademia, while crossing the Leonardo da Vinci Museum. The sculpture is a sight to behold! The details on the sculpture, the flawless texture, and the way it towers over the rest of the exhibits, is amazing!
After that tour, we walked out to the market and bought some amazing Firenze leather bags and notebooks which had delicate workmanship. After walking through the city, for a while in the cold, we decided to call it a day and headed back to the hotel for dinner and rest.
Day 5: Romantic gondola ride in Venice!
Honeymoon In Europe: We Wanted To Go Back In Time Without Compromising On Comfort & Luxury
The next day, we checked out of Florence and took the train to Venice. We arrived in Venice yet again at noon. We checked into, The Carlton on the Grand Canal, which was overlooking the station. The rooms were amazing and beautifully detailed. This was probably one of the classier places to stay in Italy.
We dropped our luggage and took the waterbus to Santa Maria del Giglio and visited to the Piazza San Marco and Basilica di San Marco. Next up, was the romantic highlight of our trip- in a Gondola ride around the canals of Venice. We stopped over at Rialto on our way back to see the Rialto bridge and do some shopping. We came back to the hotel late in the night after and called it a day.
Day 6: Checking into the international fashion capital!
After an excellent breakfast at the hotel, we bid farewell to Venice and took the train to Milan. The final destination on our trip to Italy was upon us in the afternoon. After checking into the hotel in Milan, we walked to the famous Sheraton Four Points complex and resumed our binge shopping in Italy!
After having an early dinner, on a streetside restaurant in the Piazza del Duomo, we returned back to the hotel and rested for the night.
Day 7: Farewell Italia
Europe Tour: The True Essence Of Europe Captured In A Span Of 8 Days
The next day, we got a chance to see the famous Milan Cathedral which is also the biggest church in Italy. The huge architectural marvels and places to see in Italy just kept on surprising and amazing us.
After having lunch, we headed back to our hotel to check out and to catch the shuttle bus to Malpensa Airport for our flight back to India. Whoever said that travel and sightseeing in Italy is unlike any other place in the world was definitely correct. A country that has successfully managed to maintain its charm even after thousands of years of its golden era, deserves special plaudits.
High Points:
Gondola ride in Venice was absolutely magical and romantic.
Witness the artistic marvels like Michelangelo's David was truly a special moment.
Low Points:
Flight cancellation at the last moment from Lufthansa caused a bit of a panic but Travel Funda handled it very well.
Tips To Travelers:
Ideal time to explore and capture the essence of Italy needs at least 7 days.
Think you need a lavish shopping break? Book your package to Italy now and experience the true flavour of the Italian culture.
Frequently Asked Questions About Honeymoon Trip To Italy
Can one drink tap water in Italy?
Yes, tap water in Italy is generally safe for drinking. However, the water in rural areas is not safe fro drinking and hence you are advised to carry along bottled water.
What are the best honeymoon places for travelers to visit in Italy?
Some of the best places for travelers to visit in Italy on a honeymoon are:
– Positano, Campania
– Chianti Country
– Positano, Campania
– Villa Rufolo, Ravello
– St. Peter's Basilica at night, Rome
– Fonte Gaia, Siena
What are some romantic restaurants in Italy for couples?
Some of the romantic restaurants in Italy for couples include:
– Grotta Palazzese – Poligano al Mare
– Solo Per Due – Vacone
– La Sponda at Le Sirenuse – Positano
– The Library – Rome
– Locanda Rosa Rosae – Treviso
What are some romantic things to do in Italy for couples?
Romantic things that couples can do together in Italy are:
– Jump on a boat in Venice
– Walking along the canals in Milan
– Watch the sunset in Florence or Bergamo
– Take a wedding photo in Rome
– Have a romantic seaside meal in Sicily
What are the top getaways in Italy for couples?
Some of the top romantic getaways for couples in Italy are:
– Florence
– Monterosso al Mare
– Positano
– Lucca
– San Gimignano
How many days does one need to spend in Rome?
Rome is one of the best cities in Europe where honeymoon travelers love to visit. A minimum of 3 days is required by couples to explore the best of Rome.
What are the best areas for couples to stay in Florence?
Some of the best areas for couples to stay in Florence are:
– Fortezza da Basso
– Piazza Beccaria
– Porta al Prato
– Oltrarno
– Piazza della Libertà
– Poggio Imperiale