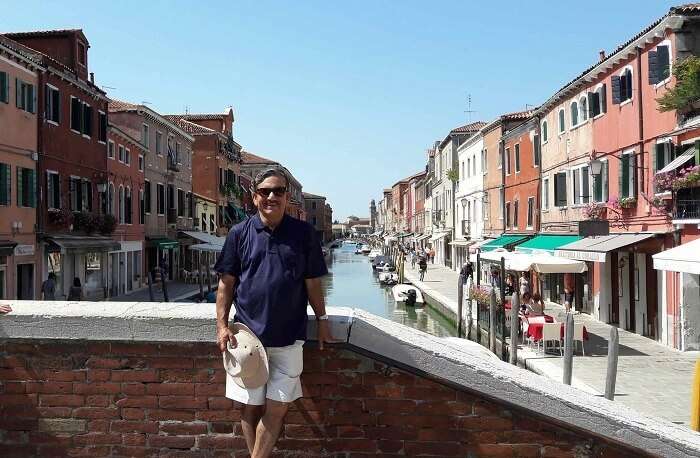 Read the extraordinary adventures of Mr. Abhishek Mukherjee and his wife as they fly to Italy for a date with history, culture and stunning landscape. As they explore the rich and well-preserved history, the culture of Italy takes them into a completely different era frozen in time. Mr. Abhishek booked a 12-day package via TravelTriangle costing INR 147000 which included their flights, breakfast, transfers and museum tours.
Italy as a travel destination has always been at the top of my places-to-go list. My wife and I are big fans of architecture, art, and history. So, our choice came down to South Africa and Italy, from which we chose Italy due to our love for art and history.
I saw an advertisement of TravelTriangle on the internet and after seeing that I visited their website. Upon researching further, I found out that the founder of TravelTriangle is from my Alma Mater- IIM-Bangalore. So, there was a nostalgic factor involved while booking with TravelTriangle. Soon after, I requested for quotes from TravelTriangle, I was contacted by a travel representative who linked me with various agents who provided me with competitive deals.
We finally chose a package we liked from Travel Troop Global that gave us options to customize our vacation according to our specific needs concentrating on art and history.
After some extensive research and help from TravelTriangle, we put all of the pieces to our Italian vacation puzzle together. This was surely one family vacation to Italy that I believed to be unique.
ROME
Day 1: Arrival
We boarded the Turkish Airlines from New Delhi which took us to Istanbul. From there, we changed our flight that took us to Rome. It was a nice experience with the Airlines as they made every effort to make the flight journey a comfortable experience.
We landed in Rome at around 2.30 pm. After checking-in the hotel, we decided to rest for the day, and get up fresh next day to begin our travel inside Italy.
Day 2: Visiting Vatican City
Suggested Read: Dolce Vita : A Gracious, Enjoyable and Scenic Family Vacation to Italy
Our first morning in Rome, began with a hearty Italian breakfast to get our energy levels up for the day. We visited the Vatican City, by starting off with a visit to St. Peters Basilica. The immense St. Peter's Square, leading up to the Basilica and the Pope's residence, gives you a feeling of being in a surreal surrounding.
Although, the scorching heat of June and July turned out to be a bit taxing for us. Standing in the line, to get inside the Basilica was physically draining for old-age people like us as there was also no shade whatsoever in the entire St. Peter's Square. I found the Vatican Museum really fascinating and spent a few hours over there admiring the rare artifacts and collections.
Day 3&4: Colosseum and Roman Forum
The next morning after having breakfast, we got ready for our visits to the other monuments in Rome which form a crucial part in the history of Rome. Our tour wasn't led by any tour guide, in fact, we had arranged some of our tours ourselves tailored to our needs, through TravelTriangle.
My wife had downloaded this application on her mobile called Pocket Guide which turned out to be very useful for us. Although, it cost us around INR 700, the comfort of having audio commentary and important facts about any world monument you are close to, was priceless.We thoroughly enjoyed our visit to the Colosseum and the Roman Forum.
The next morning we got up, ate some traditional breakfast and moved to visit the Piazza de Espana to see the 'Spanish Steps'. To our disappointment and bad luck, the Spanish steps were closed for approximately a month a half for some renovation.
MONTECATINI TERME
Day 5: Train ride to Montecatini, Tuscany.
On the fifth morning, we took a train from Rome train station to Montecatini Terme. The city is located as a base for all the tours of Tuscany. Being only a forty-minute train ride from Florence, this was a good option to have instead of going to stay in mainstream Florence.
What's unique about Montecatini was that the city was a lot less bustling with tourists, hotels were very good, despite being half the price of what they were in Florence. The city also boasts nice cafes around city square with a happening nightlife.
Having been placed right in the midst of the picturesque Tuscan hills, the city was overlooked by over a thousand-year-old village, called Montecatini Alto which was barely a 15-minute uphill train ride (also known as a funicular) to the village.
One very nice feature about the cafes in this quaint and scenic village on top of the hill was the fact that each and everyone had an outside seating arrangement. It makes for an incredible fine Italian dining experience around twilight time in the hills of Tuscany. The weather, food, and the people combine to make a perfect experience for travelers to remember for a long time to come.
As night descended, we headed back to Montecatini city and proceeded to the hotel where we retired for the night.
Day 6: Lucca and Leaning Tower of Pisa
After an unforgettable day spent at Montecatini Alto, we got ready the next day to discover what else these Tuscan hills have in store for us. We began with a visit to Leaning Tower of Pisa which was around 2 hours away from Montecatini Terme.
We spent our morning time in Pisa exploring the city center, market and then ultimately having lunch over there. After lunch, we took another train ride to the city of Lucca. Another medieval town nestled in the heart of Tuscany, Lucca is a beautiful city stuck in the era, you wish never comes to an end.
The entire city of Lucca is surrounded and protected by a twenty-feet high wall built in the medieval times. Another very interesting feature about the city was that along the wall within the city, there was an elevated road almost equal to the height of the wall.
In the evening, we decided to take a stroll to the city center and absorb the vibe and the essence of the city. Later on in the night, we returned to Montecatini Terme and called it a day.
Day 7: Siena and San Gimignano
The town of San Gimignano was another very old town which is renowned for its architecture and well-preserved tower houses. Entering the city gave us a complete feeling of going 800 years back into time with us being welcomed by people standing in the city center wearing old age clothes.
One thing I admire about the city was that despite the fact that, there were no KFC, no McDonald's or Pizza Huts one could never feel the absence of these outlets due to the authentic food it offered. Next, we were scheduled to visit a vineyard for a wine tasting tour in the Chianti area. Having tasted the finest wine in Italy with my life and along with it enjoying a traditional Italian lunch was a truly remarkable experience.
After lunch, we proceeded towards Siena. Another city very similar to San Gimignano in terms of structure and culture. Siena is famous for having attempted to build the biggest cathedral in Italy and failing after the roof collapsed.
FLORENCE
Day 8&9: Visiting Florence
On the eighth day, we checked out from Montecatini Terme and moved on towards the city of Florence. We started with a visit to the palace of the Medicis- Vecchio Palace. Arguably, Vecchio was the most famous palace in Florence, built more than 800 years ago to house royalty. Learning about how the palace has evolved over the years, despite being subjected to many changes made by many artists, was very fascinating and insightful.
Our next and final day in Florence included us going and visiting famous monuments like Piazza di Michelangelo, Academia and the biggest cathedral in Italy- Cathedral Duomo. The art and the enthusiasm related to everything Italian can be observed in abundance among the Florentines.
VENICE
Day 10&11 : Departure to Venice and a nostalgic city tour
Having been to Venice 20 years ago, we wanted to return that same place to recreate the magic once again. After boarding a train from Florence to Venice, we reached our destination in almost 3 hours.
We visited the major tourist attractions of Venice like San Marco Basilica, Murano and Burano island. Every step of our time spent in Venice reminded me of our time spent there two decades ago. Buying glass samples from the glass-making workshops of Murano Island was fascinating.
If I compare on the culinary side, I would feel that the taste of the food in Venice has become even better than what I experienced earlier. Our final day in Italy, we spent relaxing and unwinding in Venice. Experiencing the sunset at the Lido Pier was a very pleasant and memorable experience.
I also feel that the sunset in Venice was very symbolic of our time coming to an end in this wonderful country set in the Mediterranean heartland.
Day 12: Departure from Venice
Suggested Read: Honeymoon In Europe: We Wanted To Go Back In Time Without Compromising On Comfort & Luxury
On our final morning in Italy, a boat taxi came to pick us up in Venice outside our hotel at the Grand Canal. Afterward, we were transferred to the airport from where we had a connecting flight to Istanbul and then ultimately back to Delhi.
I feel after all these years I have traveled a fair portion of the world to realize the true essence of traveling with a purpose. Looking back at this family vacation to Italy, it leaves me with immense satisfaction and joy to have traveled on this lovely family vacation to Italy with my wife. At the end of the day, we got what we were looking for in a travel vacation. In fact, in some places we were very pleasantly surprised at how beautiful the places in our bucket list turned out to be.
High Points :
The amazing food and accommodation experience at Montecatini Terme.

Visiting all the various art and history museums in Rome.
Low Points :
Due to excessive crowd in St Peter's Square, could not go inside the Cathedral

Missed the Villa Borghese in Rome.
Tips to Travelers :
Always advisable for tourists in the summer to visit St Paul's Cathedral at 7.30 in the morning to avoid extremely long queues.

Try local delicacies in restaurants that are a bit distant from the historical and famous monuments as those restaurants tend to tweak their food according to the preference of the customers.
Witness an amalgamation of history and art ina beautiful country. For an experience unlike no other, Book your package to Italy now!