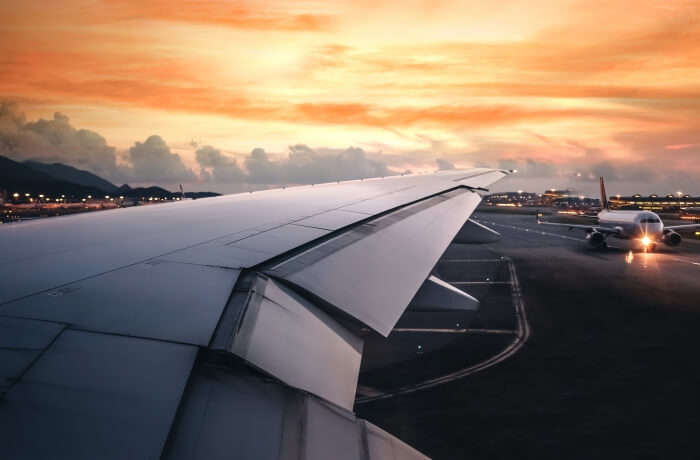 Australia is a large country in the southern hemisphere. The country includes the mainland of the entire continent of Australia and also some islands around the mainland. Many times the distance between cities is so large in Australia that air travel is the best mode of transport. Also, Australia is an island so traveling to different countries, thus, it is at these times these airports in Australia come to the rescue.
5 Top Airports In Australia
There are some great airports in Australia with fabulously creative design and architecture and great facilities. The following are some of the best you will find:
1. Sydney Airport
Sydney is the most populated city in the country with over five million people. The Sydney International Airport is the primary airport in Australia. There are three terminals at the airport, many great car parks for passengers, and this airport has international first class lounges, shops, and restaurants. The airport has connecting transportation facilities that include bus services, taxi services and also the airport has an underground airline that connects the airport to the city. It is a hub for major airlines like Qantas, Regional Express Airlines, Virgin Australia, TigerAir Australia, and Jetstar Airways. This airport was first used in 1919 and today this is a very modern airport with a great design, and this airport keeps implementing new expansion plans.
Must Read: New Year In Australia 2022: Welcome The Upcoming Year Before Anyone Else Only Here!
---
Australia Honeymoon Packages On TravelTriangle
Go on a luxurious honeymoon trip to Australia and witness the best of marine life at the Great Barrier Reef. Indulge in Australia's aquatic experiences, go for nature walks, and get the best of food & wine. Find best honeymoon deals offered only on TravelTriangle.
---
2. Melbourne International Airport
Melbourne is consistently ranked as one of the best cities to live in the world. The Melbourne Airport which is also known as Tullamarine Airport is one of the busiest airports in Australia, second only to the Sydney airport. Over 35 million passengers pass through this airport and this includes both domestic travelers in Australia as well as international passengers. Many international airlines like Qantas, Cathay Pacific, Malaysian Airlines, Etihad, Emirates, Singapore Airlines, and Air New Zealand have luxurious airline lounges at the terminals at Melbourne Airport. In the list of international airports in Australia, Melbourne Airport ranks high. There are 4 Terminals at this airport and extensive freight operations are carried out at the airport. Hotels like Parkroyal, Hilton, Holiday Inn, Ibis Budget are all located in the vicinity of the airport which is extremely convenient for the tourists.
Suggested Read: 9 Best Australian Cafes For Those Big Time Foodie Travellers
3. Adelaide Airport
One of the busiest airports in the country is the Adelaide Airport. This airport as the name suggests is a primary airport in Adelaide and it has won numerous awards for being one of the best airports in the world. Millions of domestic and international passengers use this airport as it is one of the main airports in the region and caters to the entire state of South Australia. Adelaide Airport has a multi-storey car park, has many stores, duty-free shopping, various restaurants including fine dining options, and the Atura Hotel caters to the passengers at the airport. This is a great airport with major departmental stores, great ancillary transport services like car parks, bus and taxi terminals, and even car rental services. This airport is a great hub for many airlines, and air freight services in the area.
Suggested Read: Snorkeling in Australia: 10 Best Spots For Enjoying The Aussie Snorkeling
4. Brisbane Airport
Brisbane is the capital city of Queensland. When it comes to airports in Australia, Queensland, and Brisbane Airport is the largest airport in the state as Brisbane is a major destination in Australia. Brisbane Airport caters to over 20 million tourists each year making it important to all that what it has. Brisbane Airport has many dining options and great restaurants. It is a modern airport because it got 45 million dollars facelift making it more functional and stylish. There are luxurious airline lounges including Emirates lounge, Singapore Airlines lounge, Virgin Australia lounge, Qantas Airlines lounge, and Air New Zealand lounge. The airports in Australia on the east coast, like this airport, cater to freight cargo and it is also used for military transportation purposes.
Suggested Read: Drop Everything And Head To These 9 Islands Near Australia Now
5. Perth International Airport
Perth is the capital of Western Australia. Western Australia is very far from many of the major cities and towns in Australia and Perth is the only major city for thousands of miles radius and so the primary airport in Perth is very important to Western Australia. There are four terminals that are located at this airport for domestic and international travel. There is great connectivity at the airport and it is a major cargo center in Western Australia as it is a hub between Asia and the Pacific regions and the many countries in the region. Over ten million people use this airport every year, and a new commuter train link is being built to connect the airport to the city. The airport has duty free shopping, foreign currency exchange center, restaurants, bars, and even fine dining options available at the airport. Perth Airport is one of the best international airports in Australia
Suggested Read: Scuba Diving In Australia: 10 Best Spots For Indulging In Diving Activities
Other Airports
There is a list of domestic airports in Australia as well as airports that cater to international travel. Some of the key airports in Australia, besides the ones mentioned above, include Gold Coast Airport, Cairns Airport, Canberra Airport, Hobart International Airport, and Darwin International Airport. There are many small airports and airfields in all major towns and cities in Australia that help take the load off the major airports in Australia. Australia is a developed economy, and it is a relatively rich country. The air travel infrastructure in Australia is very advanced in the country. There are rich Australians that own their own private jets and flying is a major passion in the country.
Major Towns And Cities In Australia
The capital city of Australia is Canberra and there are many major towns and cities in Australia. Some of the major towns and cities in the country include Sydney, Brisbane, Perth, Adelaide, Melbourne, the Gold Coast, Hobart, Darwin, and Newcastle among other cities. Millions of tourists visit Australia every year and Australia is part of the developed world.
There are great airports in all the major towns and cities in Australia. These cities have great infrastructure, transport facilities and are modern cities that have a great culture and millions of people in Australia call these cities their home. Millions of tourists and business people visit these cities every year.
Further Read: Paragliding In Australia: 10 Best Places For Touring The Australian Sky
The above-mentioned airports in Australia have a professional staff; great ground operations that run smoothly and on schedule and most airports have modernized and recently got facelifts to provide those who are traveling to Australia with a perfect experience.
Frequently Asked Questions About Airports In Australia
How many airports are there in Australia?
Australia has 613 airports, including all the International Airports, Private Airports, Domestic Airports, and Military Airports.
Which airports receive maximum traffic in Australia?
The airports which receive maximum traffic in Australia are:
1. Kingsford Smith Airport in Sydney
2. Melbourne Airport
3. Brisbane Airport
4. Perth Airport
5. Adelaide Airport
6. Gold Coast Airport
7. Cairns Airport
Which are the famous airlines flying to Australia?
The famous airlines flying to Australia are:
1. Etihad Airways
2. Emirates
3. Qantas Airlines
4. British Airways
5. Virgin Atlantic
6. Cathay Pacific
Which months are considered being the cheapest to fly to Australia?
The cheapest months to fly to Australia are from mid of April till the end of June. During these months schools don't have any holidays and there are no festivals which push the airfares down.
Which are the cheapest airlines flying to Australia?
The cheapest airlines flying to Australia have one or more layovers and these are:
1. China Eastern
2. China Sothern
3. Asiana Airlines
4. Korean Air
5. Royal Brunei
When is the best time to travel to Australia?
The best time to travel to Australia is from September to November and from March to May. The weather is cool, neither too hot nor too cold, perfect for outdoor activities.
---
Looking To Book An International Honeymoon?
Book memorable honeymoon on TravelTriangle with 650+ verified travel agents for 65+ domestic and international destinations.
---