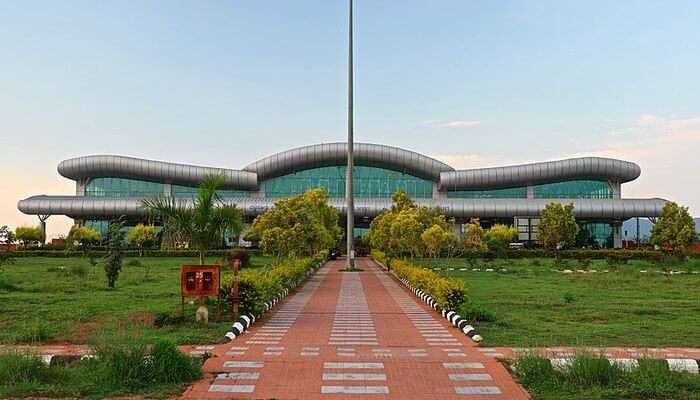 Cover Image Credit: Wikipedia
Famous for its ancient ruins, beaches, hill stations, Carnatic music, sandalwood and silk, Karnataka is located in the South-Western area of India and is a perfect holiday destination. The airports in Karnataka facilitate tourism in the region.
Being a land of diverse features, Karnataka have everything to explore right from beaches of Gokarna to gardens of Bangalore. Ranked the fourth popular tourist destination of the country, Karnataka has a bunch of excellent places to explore. These airports in karnataka will take you places in the state and make your vacation in the state a hassle-free affair. 
7 Airports In Karnataka
Are you fascinated about air travel? Wondering how many air routes are available while travelling to and from Karnataka? To ease your search, here are some well known Airports in Karnataka dotted down for you.
1. Kempegowda International Airport, Bengaluru
Bnagalore houses one of the international airports in Karnataka named Kempegowda International Airport. After Delhi and Mumbai, this airport is termed as third busiest airport and has managed over 22.2 million passengers last year.
Sprawling a massive area of 400 acres, Kempegowda International Airport is situated 40km north of the city with Devanahalli village nearby. It has availability of perpetual international flights for Mauritius, Dubai, London and Hong Kong. Also, domestic flights for Nagpur, Delhi, Kolkata, Goa and Mumbai are accessible.
For the convenience of the passengers, a shuttle service is operated by Bangalore Metropolitan Transport Corporation which is running from nine different locations of the city to the airport. At a regular interval of 30 minutes, a bus boards passengers. Moreover, this airport caters to every single thing with services like 3 different lounges, buggy service, wheelchair for senior citizens and many more.
Location: KIAL Rd, Devanahalli, Bengaluru, Karnataka 560300
Airport Code: BLR
Must Read: 15 Hill Stations In Karnataka To Rejuvenate Yourself
---
South Weekend Holiday Packages On TravelTriangle
A trip to South India has a lot to offer – from tranquillity of forests to charm of sizzling beaches and from lost kingdoms to chills of a hill station. Visit Kerala, Coorg, Ooty, Mysore, or Kodaikanal. Book holiday packages inclusive of airport transfers, cab, resort, sightseeing, and meals.
---
2. Mangalore Airport
Also known as Bajpe Airport, Mangalore airport serves Mangalore which is a coastal city of Karnataka. It is the second most international airport in Karnataka and is positioned 13kms northeast of Mangalore.
Positioned 16km away from central railway station makes your travel mobile and fast. This is the first airport which encompasses two runways with one of them being a table top runway. Kadri Manjunath Temple, Kudroli Gokarnath Temple, Tannirbhavi Beach, Panambur Beach and Manasa Amusement & Water Park are few hotspots you can visit nearby.
Mangalore Airport is one of the finest airports in Karnataka which is well connected to various transportation mediums. Also, a bus service from the airport to the Central Railway Station is provided by Karnataka State Road Transportation Corporation. You can find many taxis available 24X7 including Ola, and Uber cars. In addition, you can also book your cabs.
Location: Bajpe Main Rd, Kenjar HC, Karnataka 574142
Airport Code: IXE
Suggested Read: Karnataka Cuisine: 22 Popular Karnataka Dishes For A Flavorful Culinary Journey
3. Hubballi Airport
To travel to and fro from Hubli via air, Hubballi Airport is one of the domestic airports in Karnataka. It is positioned 8 km west of Hubballi on Gokul Road. Whopping an area of 369-acres, Hubballi Airport serves Dharwad and Hubli which are known as the twin cities.
Chandramouleshwara Temple, Indira Gandhi Glass House Garden, Unkal Lake and Banashankari Temple are few tourists' attractions in the neighbourhood. Known as Hubli Air Force Base, Hubballi Airport is one of the outstanding airports in Karnataka. Upgraded to international standards, this operational Hubballi airport has availability of direct flights from Hyderabad, Mumbai, Bangalore and Chennai.
Adding to your knowledge, 700 acres of land is allotted by Airports Authority of India for the expansion project which enables operation of larger aircrafts. Planning is in process to make Hubli airport a logistics hub by providing all the warehousing facilities.
Location: Gokul Rd, Gandhi Nagar, Hubli-Dharwad, Karnataka 580030
Airport Code: HBX
Suggested Read: This Private Island Homestay In Karnataka Is A Treasure & You Won't Doubt It!
4. Belgaum Airport
As Belgaum is a proposed smart city, there is immense development in the overall infrastructure. Belgaum Airport witnessed one of the recent makeovers and is situated 10 km east of Belgaum city near Sambra Village. Well known as Sambra Airport, this is a domestic airport in Karnataka which incorporates three check in desks, one VIP lounge, and the other is a boarding gate. There is availability of frequent flights to Mumbai, Mangalore and Bangalore. However, flights associated with SpiceJet land in this airport. This Belgaum Airport is one of the excellent airports in Karnataka with passenger terminal spanning over 1,160 square meters of area.
Location: Bagalkot-Belgaum Rd, Sambra, Karnataka 591124
Airport Code: IXG
Suggested Read: 14 Itineraries Including Best Honeymoon Places In & Around Karnataka
5. Bellary Airport
Serving Bellary city with its domestic flights, Bellary airport is one of the excellent domestic airports in Karnataka. Established during the British rule, trading and importing goods are the main activities carried out in the airport.
Further, this Bellary airport in Karnataka was transformed into a public airport during the British rule. Air India took the first initiative to utilize this airport for connecting Goa and Bangalore. As time passed by, Air Deccan also joined the troop by availing flights to major cities of India.
Location: Bellary, Karnataka, India
Airport Code: BEP
Suggested Read: Ecotourism Found New Meaning As Karnataka Unveiled 30 Foot Tall Canopy Walk
6. Shimoga Airport
There is no airport in Shimoga at the moment. A greenfield project is proposed in the state of Karnataka to build an airport in Shimoga to facilitate tourism and trade in the region. Sogane Village has been assigned as the site for Shimoga Airport. It was to be built under the Public-Private Partnership (PPP) but due to delays, the project got terminated in 2015.
Location: Karnataka 577302
Airport Code: SML
Suggested Read: Monsoon In Karnataka: Fabulous Experiences That Will Cast A Spell On You!
7. Mysore Airport
Mysore Airport is one of the fabulous airports in Karnataka which houses exclusively charter or VIP flights. It is positioned 10km away from Mysore city and is 15 minutes away from the Central railway station. It encompasses a passenger terminal spanning over an area of 3,250 square meters with 150 traveller's capacity. Also, there are a number of hotspots in the vicinity such as Mysore Airport and Palace of Maharaja Jaganmohan Palace. Moreover, it enjoys direct connectivity to Mysore Ring Road and National Highway 766.
Location: Kozhikode-Mysore-Kollegal Hwy, Mysuru, Karnataka 571311
Airport Code: MYQ
Karnataka is blessed with excellent connectivity via road, rail, and air connectivity. So, if you're planning a tour to Karnataka, then you can choose to book your flight to any of these airports in Karnataka. While transport in terms of the rail and buses are quite economical, one can opt for travelling via air for hassle free commuting. 
Further Read: 20 Fascinating Temples In Karnataka That Are All About Architectural Grandeur!
Frequently Asked Questions About Airports In Karnataka
How many international airports are available in Karnataka?
There are two international airports in Karnataka named Kempegowda International Airport and Mangalore International Airport positioned in Karnataka.
Which is the second largest airport in Karnataka?
Mangalore Airport also called Bhape Airport is the second largest airport positioned in Karnataka.
How many airports are there in Karnataka?
Apparently, there is a total of five functional airports named Bangalore, Mysore, Hubli, Belgaum, and Mangalore. Mangalore and Bangalore are international airports while the other airports are domestic.
Which is the cleanest airport in India?
Mangalore International Airport is one of the well maintained and cleanest airports of Karnataka. Moreover, it is the second international airport located in Karnataka. Also, it is the first airport to have two runways in India.
How many terminals are there at Bangalore Airport?
There is a total of two terminals, wherein one terminal is dedicated to Bangalore airport (Kempegowda international airport) while the other can be utilized for domestic and a part of it is used for international arrival/ departures.
What is the name of the airport in Bangalore?
The Bangalore airport is termed as Kempegowda International Airport which is an international airport operating flights in the capital city of Karnataka.
How many airports are there in Bangalore?
Bangalore houses only one airport named Kempegowda International Airport.
Is Hubli airport operational?
Hubli airport is completely operational with direct flights available from Hyderabad, Mumbai, and Chennai. However, this airport is upgraded to international standards.
Is there free Wi-Fi at airports?
Free Wi-Fi is available at many airports which are considered as a facility for travelers. However, the availability of Wi-Fi is not the complete area as few airports offer limited access to specific terminals or waiting areas.
How can I get to Hubli airport?
Hubli airport is 18km away from the city and you can avail direct flights from Goa, Belgaum, Bangalore, Mumbai, and Hyderabad.
---