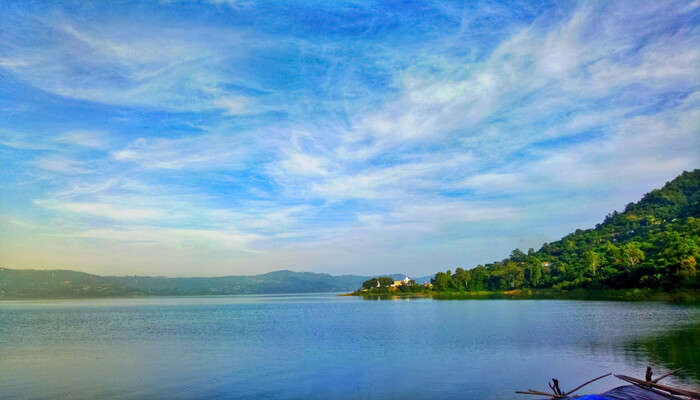 Ever heard of Bhakra Nangal Dam? It is located in Nangal, a town in the Rupnagar district of Punjab. The gigantic dam is the iconic attraction in Nangal that puts this place on the map but that's not all. There are a few more exciting places to visit in Nangal that will make your trip to this town worthwhile. Nestled in the foot of Shivalik Hills, Nangal is also known for its innovative culture, traditional diversities, and interest in sports. In Nangal, you are bound to experience the most memorable trip of your lifetime
Nangal is an offbeat place that can be conveniently reached from Chandigarh. This flourishing township attracts numerous visitors due to the mesmerizing Nangal Lake and Bhakra Dam Project. Nestled on the foothills of Shivalik ranges, this town is divided into Naya Nangal and Nangal Township. Moreover, Naya Nangal is known for its cleanliness, amenities and scenic beauty.
Top 2 Places To Visit In Nangal, Punjab
Are you still figuring out how to make the most of this place? Get ready to explore the beauty of these heavenly places. Take a look at the most famous places to visit in Nangal in Punjab and don't forget to add them on your itinerary!
Bhakra Nangal Dam: Relax Amidst Nature
Nangal Wetlands: Soothe Your Soul And Body
1. Bhakra Nangal Dam: Relax Amidst Nature
The brilliant architecture of this monstrous dam will make your jaw drop in single instance. This beautiful place is absolutely ideal to spend some fun time with your family and friends. It is one of the best places to see in Nangal for those looking forward to experiencing the bliss of nature. Being the second-largest dam in Asia, Bhakra Nangal Dam is indeed an important landmark in the history of India. One of the largest man-made wonders, this place attracts plenty of tourists who love to rejuvenate amidst nature. You and your friends can indulge in some of the recreational activities and water sports during your day out. The stunning view offered by this magnificent dam is absolutely fascinating.
Location: Nangal, Punjab
Timings: 8 AM – 5 PM
Best time to visit: One can visit the Bhakra Nangal Dam anytime from October to November when the flow of water is not very voluminous and the weather is amazing.
Must Read: 12 Places To Visit In Punjab To Witness The True Beauty Of The State
2. Nangal Wetlands: Soothe Your Soul And Body
Surrounded by canals, beautiful hills and Sutlej river, Nangal wetlands is one of the most famous places to visit in Nangal. This place is very famous due to the establishment of the bhakra dam on the Sutlej river. The 6-km long Nangal lake is absolutely ideal to soothe your mind, body, and soul. You also get to witness various beautiful birds during the winter season. So, this place is kind of a heaven for birdwatchers. Spot birds like yellow-eyed babbler, Indian parakeet, Saras crans, and bunting.
Location: Nagal, Punjab
Timings: None.
Best time to visit: These wetlands can be explored anytime between November to March as this place is very pleasant during winter and spring.
Suggested Read: Nightlife In Chandigarh: 25 Best Places To Experience Night Scenes Of The City
3 Places To Visit Near Nangal, Punjab
Nangal is quite bear to Una and Bilaspur in Himachal Pradesh. If you are already visiting Nangal, you could take a detour to these places to make your vacation in Punjab worthwhile. These attractions hold a lot of importance anyway. Take a glance.
Virasat-E-Khalsa: Know About Sikhism
Sheetla Devi Temple: Seek Blessings
Mata Naina Devi Ropeway: The Stunning Marble Structure
3. Virasat-E-Khalsa: Know About Sikhism
If you are eager to explore the rich history of Sikhism, then Virasat-e-Khalsa is definitely worth your precious time. This museum is located in the holy town of Anandpur Sahib near Nangal and is one of the best tourist places in Nangal. The attractive museum was built in 1999 by architect Moshe Safdie. It celebrates and honors 300 years of the birth of Khalsa and 500 years of Sikh history. The two complexes in this museum are interconnected by a majestic bridge. This museum features a creative fortress style design that makes it stand out. The two complexes in this museum are interconnected by a majestic bridge. The smaller complex located on the west consists of a huge auditorium, exhibition galleries, and a double-story library. The spacious auditorium can accommodate around 400 people.
The classic honey-colored stoned walls and the stainless steel structured ceiling are some of the charming features of this museum. The reflection of the skylight from the rooftops enhances the visual appeal of the interiors. Strategically located amidst valleys and dams, this museum offers amazing views at night. Moreover, the verdant ambiance and the tranquility of this place will definitely take your breath away. You can visit this museum free of charge. However, if you wish to explore the architectural details and spend an entire day, you can avail the full day passes at INR 100. You can easily access this place via car, bus, train or flights.
Location: Anandgarh – Kesgarh Road, Near Qila, Khalsa Heritage Memorial Complex, Anandpur Sahib, Punjab 140118
Timings: 10 AM – 4:30 PM, Monday closed
Entry Fee: Free. Full day passes at INR 100
Suggested Read: 10 Festivals Of Punjab You Must Experience To Get The Real Essence Of The Rich Culture
4. Sheetla Devi Temple: Seek Blessings
This beautiful temple is situated quite close to Chintpurni. This religious shrine is absolutely famous and attracts many visitors due to its divinity and elegant structure. When you visit Chintpurni temple, you cannot miss out on visiting Sheetla Devi Temple and seek blessings of Sheetla Mata. It is just 10 km from Chintpurni, and you can easily reach here via taxis or autos available right outside the Chintpurni temple. Furthermore, Chintpurni temple can be reached via a state transport bus. Located on the hill right behind Chintpurni, this temple is indeed one of the 9 important temples of Goddess Durga which represents different avatars of Goddess Durga.
Apart from visiting this temple, you can explore various things in the vicinity. You can bask under the sun and enjoy the serenity of the Beas river which is just 25 km away. You can shop at the Sangra shopping complex, Jeevan market, Heer market and Gagret market located nearby. The other places of interest located nearby are Pir Nigaha, Kutlehar Forts, shiva Bari, Hanuman Mandir, Trishna Picnic Spot, and Dera Baba Bharbhag Singh. Foodies can indulge in some sumptuous Punjabi food at the nearby restaurants such as Sharma Dabha, Dayal Sweetshop, and Sethi juice bar. While at Nangal, one can experience divinity and positivity by visiting this ancient temple.
Location: Takka Rd, Una, Himachal Pradesh 174303
Timings: 4 AM – 10 PM
Entry Fee: None
Best time to visit: Except summer and monsoon, any time is the best time.
Suggested Read: 30 Places To Visit In India In April: Beat The Heat This Summer Like A Pro
---
Planning your holiday but confused about where to go? These travel stories help you find your best trip ever!
---
5. Mata Naina Devi Ropeway: The Stunning Marble Structure
Shri Naina Devi Ji Temple is again one of the amazing places to visit in Nangal. This magnificent temple is created from marble that lends an alluring look and feel to it. Furthermore, the silvered doors are carved with elegant figures of the deities. The main door of this temple features pictures of Lord Sun and various other Gods. Among the three stone statues, one of them represents Shri Naina Bhagwati in the form of Pindi with two beautiful eyes. Furthermore, the second statue is established by the Pandavas in Dwapar Yug. The left side features a statue of Lord Ganesh. The two statues of lions enhance the appeal of the main entrance.
The Mata Naina Devi Ropeway is established by "Rajju Marg" – a company from Kolkata. You can experience the joy of riding cable cars to reach Bhavan. Usually, people used to trek down for 1.25 km to reach this temple. However, the availability of cable cars has eased the journey. Approximately 20 cable cars are available here. The approximate fare of this ropeway ride is Rs. 35 for one way, while the return fare is approximately Rs. 55. Free car pick-up service to ropeway is also available free of cost. Free car pick-up and drop facility to and from the nearest bus stand is provided by the ropeway company. Furthermore, ample reserved parking space is also available on this premise. You can even visit the cave of Shri Naina Devi Ji that is located near the main shrine. Additionally, Khappar Mahishasur is a sacred place where the worshippers take bath before visiting the temple. Similarly, Kaulan Wala Toba also boasts a sacred pool of water with blooming lotuses.
Location: NH-21, Nangal, Punjab
Timings: 12:00 AM – 11:59 PM
Best time to visit: Except monsoons, any time is the best time.
Suggested Read: Shopping In Prague: 13 Places Where You Can Indulge In Shopping Therapy
Other Places To Visit In Nangal
Additionally, you can also explore the nearby sightseeing spots such as Kila Holgarh Sahib, Naina Devi Temple, Kila Fatehgarh Sahib, Gurudwara Singh Sabha, Gurudwara Gurpartap, Gurudwara Tahli Sahib and Kirpal Sagar. You can enjoy shopping at some of the famous shopping spots in Nangal, for example, Mahavir Market, Gole Market, and sector 4 market. You can easily commute to these areas via taxis.
Where To Stay In Nangal
In case you plan to stay here, there are many considerable options to choose from like Hotel Alitus, Hotel Solitaire, Manan Hotel, and Hotel Budha. The visitors can also take advantage of the free accommodation located on the bank of Satluj river, i.e. Shri Balbahadur Mal Kuthiala Dharamshala.
Suggested Read: 7 Impeccable Things To Do In Bathinda That Will Take You Down The Punjabi Lanes!
How To Reach Nangal
Chandigarh Airport is accessible at a distance 105 km while Nangal railway station connects to Chandigarh and New Delhi. You will also find a number of buses running from Chandigarh and various cities in Punjab with a high frequency. The best way, however, is to take a road trip so that you can easily cover the attractions in and near Nangal.
Further Read: Nehru Garden In Jalandhar: A Smart Guide To Explore Hidden Beauty In The Punjab City!
The gigantic hills, clear skies and the blue waters make it a heavenly paradise to experience a blissful vacation in Punjab. Apart from visiting these beautiful destinations in Nangal, you can discover various other aspects of Punjab. Indulge in some famous dhabas, shop your favorite items, or enjoy Bhangra dance. A trip to Nangal is sure to offer you a marvelous experience.
For our editorial codes of conduct and copyright disclaimer, please click here.
Frequently asked questions About Places To Visit In Nangal
Why is Nangal famous?
Nangal wetlands are one of the most popular sites to visit in Nangal, surrounded by canals, magnificent hills, and the Sutlej river. The construction of the Bhakra Dam on the Sutlej river made this location renowned. Nangal Lake, which stretches over 6 kilometres, is the perfect place to relax your mind, body, and spirit.
Is it safe to visit Bhakra Nangal during Covid times?
Though intrastate travel is not restricted, all travellers coming to Himachal Pradesh from neighbouring states are encouraged to download the Aarogya Setu app and use a face mask to protect themselves and others while maintaining social distance.
Can we visit the Nangal dam?
Nangal is a lesser-known destination that is accessible from Chandigarh. If you want to see the Bhakra-Nangal Dam, you must travel to Nangal You must report to the PRO office, where a white permit will be issued. You may go, but you must first obtain a red permit from Chandigarh if you want to view the power plant and other attractions.
Where is the Nangal dam situated?
The Bhakra-Nangal Dam, located near Bilaspur, on the border of Punjab and Himachal Pradesh, is a concrete gravity dam on the Sutlej River.
What is the Nangal PIN code?
Nangal is a city and municipal council in Punjab's Rupnagar district. The pin codes of this region are 140124 and 140125.
Which is the most beautiful place in Punjab?
Some of the beautiful places to visit in Punjab are Golden Temple, Patiala, Jallianwala Bagh, Kila Raipur, Wagah Border, Sheesh Mahal, Anandpur Sahib, and Goindwal Sahib.
What is the importance of the Bhakra Nangal Dam?
The main objective of the Bhakra Nangal Dam Project was to prevent floods in the Satluj-Beas river valley. Also, its aim was to provide hydroelectricity and irrigation to the adjoining states. Bhakra dam was a part of this large multipurpose project.
On which river Nangal dam is built?
The Bhakra-Nangal dam is built on the Sutlej river. However, Bhakra and Nangal are two different dams that are situated approximately 14 km apart. Both are situated near the boundary between Punjab and Himachal Pradesh. Furthermore, the Bhakra-Nangal dam is Asia's second tallest dam.
How can you get to Nangal Dam?
The most convenient and quick mode to travel from Mumbai to Nangal is to catch a flight from Mumbai to Chandigarh. You can then travel from Chandigarh to Nangal via Indica. You cannot travel directly from Mumbai to Nangal through trains, buses or flights.
---
Looking To Book An International Holiday?
Book memorable holidays on TravelTriangle with 650+ verified travel agents for 65+ domestic and international destinations.
---
People Also Read:
Places To Visit Bathinda Places To Visit In Jalandhar Places To Visit In Kapurthala