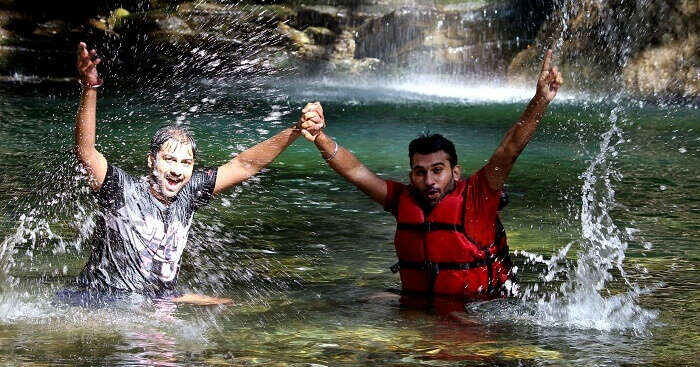 Short breaks from a hectic life are like an oasis in a desert. And in one such short break, Aishwarya's quest for adventure got a more than satisfactory call with paragliding, rock climbing, ziplining, and waterfalls. Aishwarya had booked himself a 1 night 2 days Mukteshwar tour package which cost him a total of INR 3,500 (per person) and included his transfers, accommodation, adventure sports, and meals. Read on as he replenished his mind, body, and soul in a thrilling trip to Mukteshwar.
I was looking for a travel getaway for the weekend that could prove to be a welcome change from my daily routine. What better than to look in the company you work in for a perfect holiday solution. A weekend getaway arranged by TravelTriangle to Mukteshwar sounded like a nice idea. My team and I signed up for the weekend trip to Mukteshwar.
The booking process went by very smoothly and pretty soon I was done with the formalities and looking forward to the wide variety of adventure sports in Mukteshwar that we had lined up.
Day 1: Stunning waterfalls and picturesque mountains
19 Amazing Places To Visit In Uttarakhand In Winter Of 2021
We took an overnight journey from New Delhi and crossed a scenic Bhimtal at sunrise, eventually arriving at Mukteshwar at 8 am. Our bus dropped us off at Camp Purple, an eco-friendly resort camp-site that was supposed be our home for the night.
Our first camp briefing was pretty interesting, as we got to know about the uniqueness and the rules of Camp Purple. In an effort to keep it an eco-friendly, the place is completely off the grid. They don't allow visitors to use artificial lights, play music on any electronic devices, and they use only mud utensils for cooking.
Post breakfast, we headed towards the Mukteshwar waterfall. The bus dropped us off at a point from where we trekked through the jungle for 2 km, and then arrived at this magical hideout with refreshing, scenic surroundings. Since it was November, the water was cold, but too irresistible at the same time. I gathered every ounce of courage and decided to take a dip in the near freezing water. Luckily, I made it through safe and sound. After spending time at the waterfall, we returned to the camp and proceeded for lunch.
19 Enchanting Lakes In Uttarakhand: Pick From Daring Treks And Soothing Getaways In 2022!
Post lunch, we proceeded for ziplining. Another adventure sport in Mukteshwar that had us zipped across two cliffs and gave us a nice view of the valley. Once we finished ziplining, we had a chance to view the sunset from beautiful cliff we were on. It was the most serene ending to a thrilling day.
We arrived back at the campsite at 7 pm and had some snacks and tea offered by the camp staff. To enhance our experience, Camp Purple arranged a bonfire for us so that we could enjoy the crisp November weather. We enjoyed our evening sitting around the bonfire playing musical instruments, singing songs, and gorging on sumptuous food and drinks.
Day 2: Climbing down rocky cliffs and flying over the mountains
8 Fun Things To Do In Mukteshwar In 2022 For A Kickass Weekend Retreat
The next morning, we woke up as early as 5.30 am to catch the sunrise. We trekked out a kilometer to reach a cliff from where we could watch the sunrise perfectly. Post breakfast, we moved for rock climbing and rappelling. It was pretty challenging as we were supposed to climb down a near-vertical 80-foot long cliff and somewhere in the middle was our guide who would stop us and make us climb back up. Climbing that rock with the realization that there was no other way to reach the ground safely gave us an instant adrenaline rush.
Afterwards, we returned to the campsite and had a full meal to compensate for the hard graft we had put in for rock climbing. At noon, we checked out of Camp Purple while also expressing our gratitude to the camp staff who made our stay so enjoyable. On our way back to Delhi, we crossed Bhimtal and saw some paragliders flying overhead. The mood in the bus instantly changed and everybody was charged up to indulge in some more adventure. We stopped and were able to negotiate a great deal for our totally spontaneous session of paragliding.
For a mere INR 1,300, we got a paragliding session with photos. The experience of soaring over the mountains was simply fantastic. Our adventurous and skilled guide entertained us with different stunts mid-air and it was a sight to behold! At 6 pm, we left from Bhimtal and departed to Delhi by bus.
Top 44 Amazing Places To Visit In Uttarakhand In 2022
My adventure trip to Mukteshwar made me feel like Captain America on steroids. I was flying, swimming, climbing, lighting fires, and doing pretty much everything a superhero does. A special thanks to TravelTriangle for making this trip possible.
High Points:
The sense of accomplishment I felt when I plunged into that icy cold waterfall despite being terribly scared. It was the ultimate 'Dar Ke Aage Jeet Hai' moment for me!
My totally thrilling paragliding session and the flexibility of the itinerary which enabled us to make on-the-spot plans and engage in this sport
Tips To Travelers:
Don't miss out on any of the adventures Mukteshwar offers. Challenge your limits and you'll be surprised!
Dreaming of your own adventurous escapade? Pick from our range of weekend getaways and book yourself a thrilling holiday like no other!
---
Long Weekend Trips Starting @ Rs 3499/-
Take a trip to spend the upcoming long weekend with your buddies.
✓ Stay at 4 star rating hotels with local sightseeing, meals and transfers.
✓ Travel in AC coach round trip (from Delhi).
✓ All Inclusive Deal– Camping, Jeep Safari & Trekking as per itinerary
✓ Sign up NOW to celebrate the long weekend out of town!
---