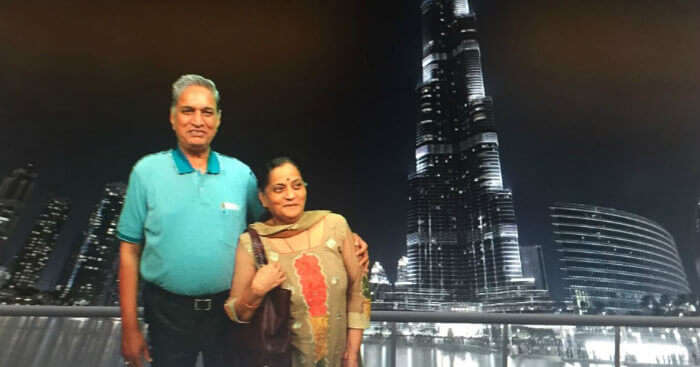 Having traveled to varied places on the globe and experienced diverse cultures, Anand decided it was time for a trip to the Middle East next. So he booked himself and his wife a Dubai tour package for 5 nights 6 days that included his flight, accommodation, meals and sightseeing, and set off to weave memories in the deserts of Arabia. Post a fascinating trip to Dubai, Anand talks about the memorable experience he had there.

Trip type: A couple's escape to the Middle East!
Duration: 5 nights 6 days
Budget: INR 1,08,500/-
Destination: Dubai
Inclusions: Flights, accommodation, meals (breakfast & dinner), sightseeing
We have always been fascinated by the Middle East. And though we have visited many places in the world, nothing could diminish our longing to visit those dazzling deserts & posh streets of the Emirates. After checking out different parts of the globe like Cambodia, Singapore, England, and USA, we were now all set to step into an utterly different culture of this one! My few hours of search on the internet led me to TravelTriangle, a platform that offered us exactly what we needed at an affordable price. We zeroed in on the deal offered by Bhramanti Tourism, and after a swift booking process, we were off on an exciting trip to Dubai.
Day 1: Getting gracefully welcomed to the Middle East & sailing on luxurious cruise boats on the Dubai Creek

Upon our arrival at Dubai airport, we were greeted by our friendly agent representative. He escorted us to our hotel where a sumptuous meal was waiting for us, post which we took some rest in our lavish rooms. In the evening, we engaged in the magnificent Dhow Cruise experience, a traditional cruise boat decorated with a zillion lights which sailed over the glistening waters of the Dubai Creek and through shimmering skyscrapers of Dubai on either side.

To top it up, the cruise staff treated us extremely well and we witnessed various cultural performances onboard, before settling down for some delicious dinner. After our amazing experience aboard the boat, we returned to our hotel and retired for the night.
Day 2: A day in Abu Dhabi: Wandering in Sheik Zayed Mosque's interiors & riding mini Ferraris in Ferrari World

Abhinav's Memorable Family Trip To Dubai Had Him Wishing He Could Stay There Forever!
We proceeded for an Abu Dhabi city tour and Ferrari World, the two parts of the trip we had been really excited about. While in Abu Dhabi, we engaged in various unique and thrilling experiences, like driving by the Jebel Ali Port– world's largest man-made port, stopped by for getting clicked at Breakwater Road, saw the architectural marvels Marina Mall and Emirates Palace Hotel, and drove over the famous stretch of Abu Dhabi Corniche.

Next, we enjoyed numerous rides at Ferrari World, which brought back joyful memories of our childhood. After reliving our childhood at the theme park, we were taken to Sheik Zayed Mosque, or Grand Mosque, as they call it.

This huge, pale mosque with its breathtaking architecture, beautiful hangings and elaborately designed carpets was nothing less than a wonder.

Strolling in its milky white interiors felt divine and utterly fascinating. Later, we had dinner and returned to our hotel post an absolutely delightful day in Abu Dhabi.
Day 3: Stepping into history at Dubai Museum, relaxing on the Jumeirah Beach, and riding land cruisers on the velvety sands of Arabia

Post a hearty breakfast, we proceeded for sightseeing in Dubai as planned. We first visited the Jumeirah Mosque, another architectural stunner that stands out in the glossy skyline of Dubai. Next, we visited the insightful and informative Dubai Museum, followed by Dubai Mall and Mall of Emirates, and later rode over to the charming Palm Island to witness the grand Atlantis Hotel.

After catching eye warming (and neck craning!) glimpses of the towering Burj Khalifa, we took some respite on the cool sands of Jumeirah Beach, which houses one of Dubai's most opulent structures- the Burj Al Arab hotel.

We spent our evening in the Arabian deserts, engaging in a sprightly Desert Safari tour. Indulging in various activities on the sand, including Dune Bashing, was a totally out-of-the-world experience for us. At first I felt my wife wouldn't enjoy such 'back-breaking' activities, but to my surprise, she was absolutely thrilled!

Ankesh's Trip To Dubai Had Everything A Couple Needs For A Grand Time In The Middle East!
Later we watched some entertaining cultural performances like the Tanura Dance, Belly Dance, and Fire Show, before we were treated to a fine dinner. Riding beastly land cruisers on the desert and dining on the cool sands under a blanket of stars was not just a unique, but perhaps the most special aspect of our trip to Dubai.
Day 4: Playing in the snow, meeting peculiar sea creatures, & gazing at aerial views of Dubai from 1,400 ft

We enjoyed a lovely breakfast at the hotel and proceeded to the Mall of Emirates. Apart from various posh restaurants, cafes, shopping arenas and entertainment options, the mall is also famous for its Snow Park. Stepping into that vast hall of Ski Dubai was like stepping into a winter wonderland. Me and my wife indulged in various rides at this terrific attraction which also provided as a short-lived escape from the scorching heat of the city.

After around 2 pm, we unwillingly dragged ourselves out of this magical snowland and headed to Dubai Mall to witness marine wonders at Dubai Aquarium & Underwater Zoo. This was unlike any 'aquarium' or 'zoo' we had ever visited. Offering a totally eccentric experience to visitors, this attraction not only let us witness eels, sting rays, sharks, and other marine animals, but also allowed a close interaction with otters, iguanas, penguins, and octopuses!

An Unexpected Surprise For A Shopaholic Wife: Trip To Dubai
From under the water, we then went over the clouds! The observation deck located on the 124th floor of Burj Khalifa– the tallest building in the world, provides dazzling panoramic views of Dubai, stretching far into the horizon. Tired, yet euphoric, we returned to our hotel to feed ourselves and sleep.
Day 5: Indulging in fun water rides and shopping for traditional Dubai merchandise

We spent half the day at the Atlantis Hotel, enjoying their inbuilt attractions- the Lost Chambers and Aquaventure Waterpark. First, we wandered in the enchanting corridors of Lost Chambers, where we again saw various marine creatures like the day before. Next, we relaxed at Aquaventure waterpark that had endless number of rides for people of different age groups.

Dubai Trip: A Perfect Tour Guide For Families Traveling To Dubai
After a scintillating time on these two marvelous attractions of Palm Island, we decided to go for a bit of shopping at the Gold Souk in Deira and Meena Bazaar. After wandering about in the lively markets all evening, we returned to our hotel for dinner and some rest.
Day 6: Bidding adieu to the Middle East

Post breakfast, we left for the airport. We boarded our plane in the afternoon and merrily babbled away about our fun holiday in Dubai all the way home.

Riding Ferraris, cruising deserts, playing in the snow and witnessing belly dances…our outstanding trip to Dubai had us reliving our youth. And all of this was possible only because our vacation was excellently planned and people in TravelTriangle were hell bent on making sure it stayed that way!
Our WOW moments on the trip: The Dhow Cruise, Ski Dubai, Sheik Zayed Mosque, Jumeirah Mosque, Desert Safari, watching the city from atop Burj Khalifa, Ferrari World, Underwater Zoo, shopping in Deira, the food, making friends with all the fun loving and caring people in our group…which means basically everything!
Our Not-So-WOW moments: Thanks to our group coordinator and agent, we had no negative experiences on the trip whatsoever.
Tips for future travelers: Book Dubai packages only with TravelTriangle for a smooth, hassle-free trip and a memorable experience.
Fancy a holiday in Dubai? Book yourself a thrilling Dubai tour package and indulge in a magical vacation in Arabia with your loved ones!