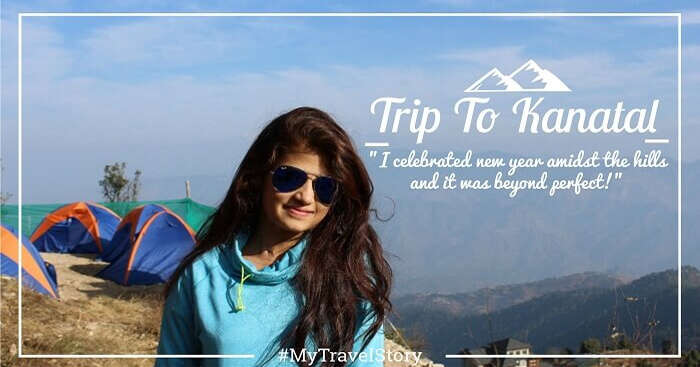 New Year is a time when one can make a fresh start in life! It  is one of those days where we let go of the past and hop into a new future in the hope bright beginnings and I too wanted the same.
So that is how I began my plannings for a New Year's trip to the mountains. Things like treks, snowfall, sightseeing, and camping were kept in mind for I wanted to end my year at an awesome place.
Thankfully, my friends (4 college buddies!) acted as saviors when they asked me to join their trip to Kanatal that was organized by TravelTriangle. Although initially reluctant, I later gave in to their plans when I heard about the fully packed Kanatal itinerary!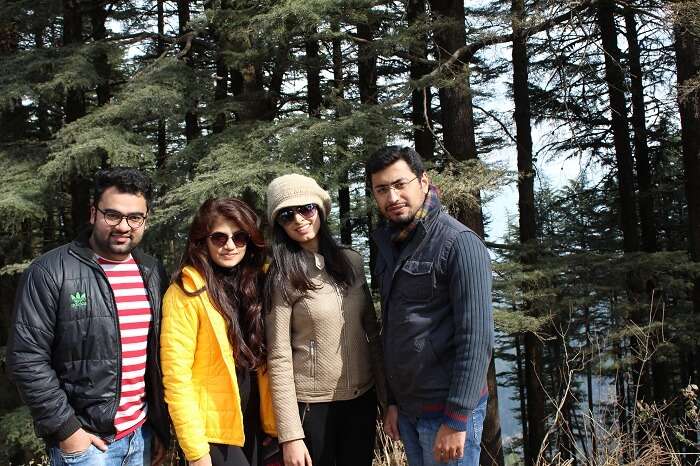 So there I was, with my college group, traveling to Kanatal, and going on a snow camping adventure, hoping that my New Year outing lived up to my expectations, and it more than did!
Trip Type: New Year Weekend Getaway!
Cost: INR 3600 per person (double sharing basis)
Camp type: Dome shaped (like you see in those fancy photos!)
Trip inclusions: 1 breakfast, lunch, and dinner, transport (mini bus), accommodation (camps), adventure activities (ziplining, valley crossing, rock climbing, & rappelling), temple trek, and sightseeing. Phew!
Fast forward, our bags were packed and with a spirited heart, we began our journey.
Our pickup point was Akshardham Metro Station and we were supposed to reach there between 7:30 – 8 pm with a planned departure at 9. We met our coordinator Aakash at the station gate and on our very first interaction, we found him to be a jovial cool guy who would certainly strive to take care of all those on the trip.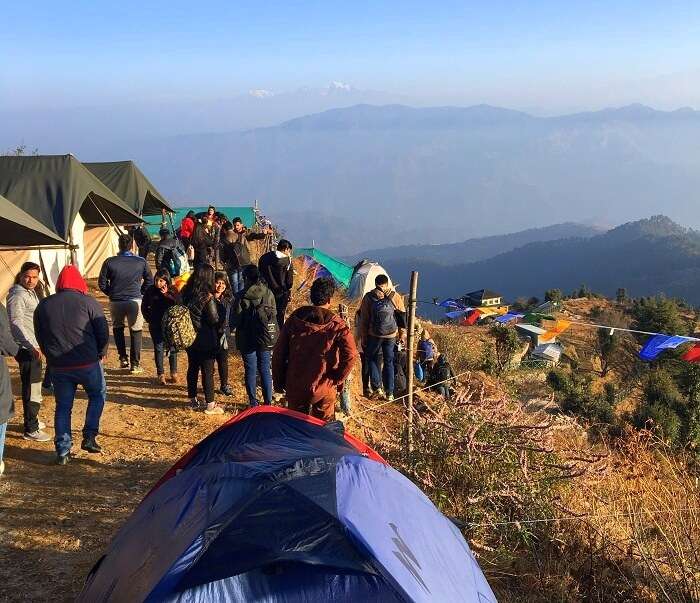 For The Love Of Mountains And Nature: Young, Wild, And Free In Spiti Valley
Soon people started to arrive and we departed as per the scheduled time. There were around 50 people in our group and we had two buses for transportation. Aakash was in our bus and once everyone had settled, he began the introductions round. This was a fun part where everyone spoke a little about themselves and gave us a peek into their lives. I was glad to find mostly young people in our group who gelled well with everyone and strived to make everyone comfortable. My friends and I also opened up with them and the rest of the night journey went comfortably. PS – there was only one major stop on the way for dinner!
Day 1: Hello Kanatal, you beauty!
We reached Kanatal in the morning at 7 am and our camp was called "Living Kanatal". We had to walk or shall we call trek downstairs to reach the site and boy, it was totally worth it.
"The camping site was absolutely amazing and was situated on the edge of a cliff. The magnificent view of the mountain ranges that it offered will forever be etched in my mind."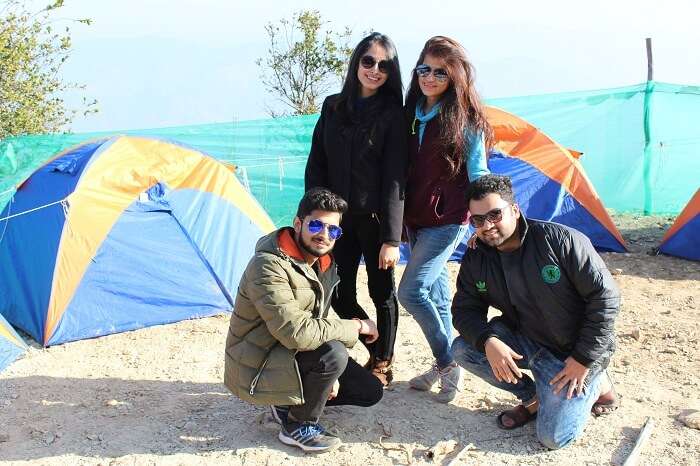 Soon after checking in, Aakash allocated us our tents (dome shaped) and I was already excited to stay in it! It was perfect!
Post this, my friends and I chilled for a while, clicked photos, soaked in the view, and then proceeded on for the breakfast.
Breakfast although a little late was nice and consisted of puri sabzi, bread & butter, scrambled eggs, and tea. Considering this to be a camping site, the arrangement was good!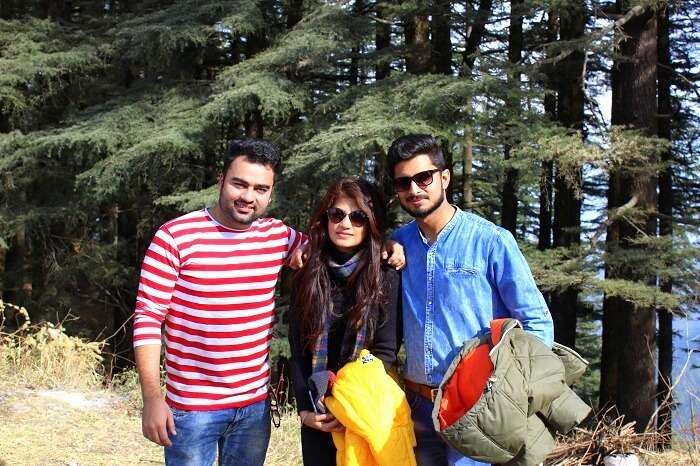 Next, we proceeded on to the adventure activities site that was basically inside a forest (yayy, excited again!). The climb down to the spot where we would do rock climbing and rappelling was also an adventurous one. Also on our way to this place, we had to walk around 1 km and that is where our trip photographer, Yash came into action.
Anyway, coming back to rock climbing and rappelling, I was one of the first ones to do it and felt really good when I completed it in lesser time than before.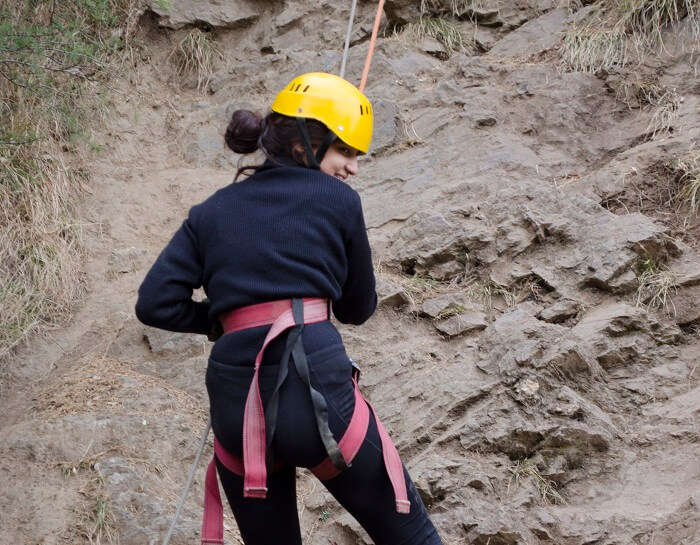 Avneet's Incredible Solo Trip To Spiti Valley: Tale Of The Mountains From The Eyes Of A Traveler
My friends also tried both the activities and in conclusion, I would say we had a lot of FUN! Our walk back to the camp was also an adventure on its own since the path that we took back was connected via the forest only.
At the camp once again, we were served a delicious lunch.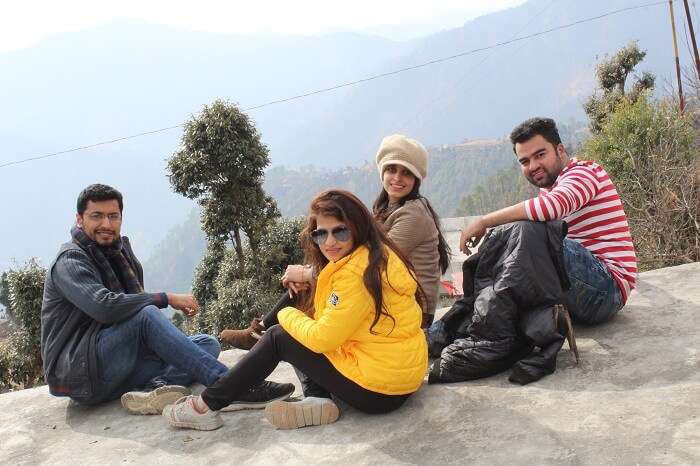 Tired, we were about to rest for a while when Aakash announced that our morning temple trek was rescheduled and that we were doing it now. I got excited at this prospect and was even successful in motivating my fellow mates for another adventure (no time for rest when you're tripping!).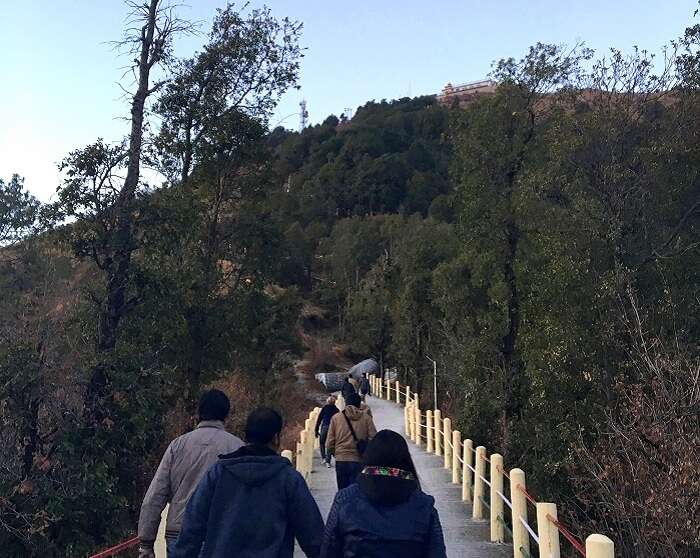 Our temple trek wasn't anything like we were expecting! The climb was steep and long but the sunset amidst the mountains from here was worth every step that we took. It almost felt like I was doing the Vaishno Devi trek again but this time with a better path! On our way, there were many shortcuts and we took them at the cost of some rock climbing (more adventure yayy!).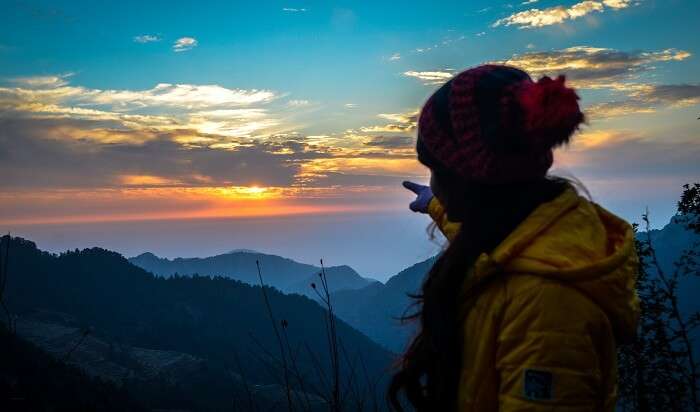 19 Amazing Places To Visit In Uttarakhand In Winter Of 2021
Finally after climbing for almost 45 mins, we reached the temple on the top and it truly felt like an achievement. After taking the blessings and some photos, we began our descent in complete darkness since there were no lights on the path (crazy!). Thankfully our smartphone torches came to our rescue and we were able to climb down easily!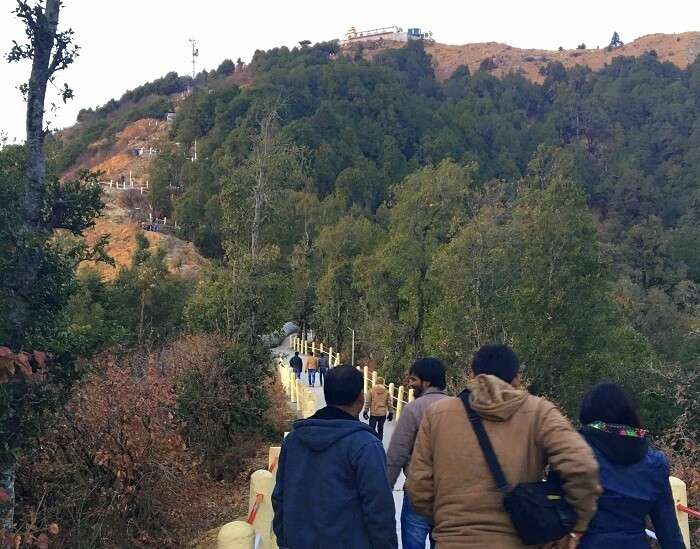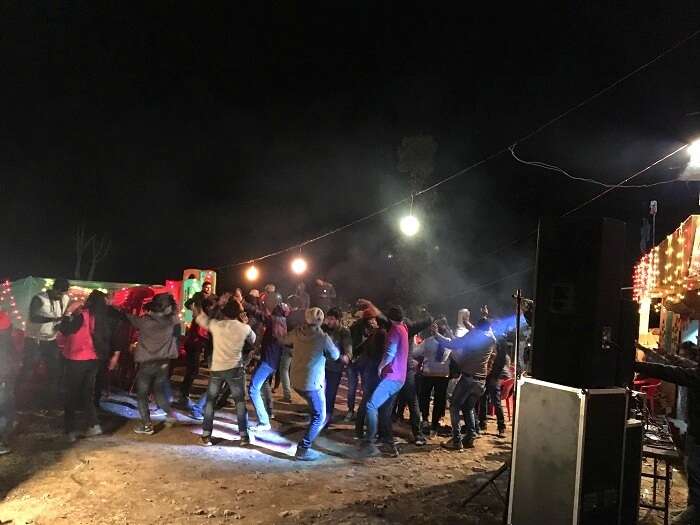 Back at the camp, we were greeted by loud Bollywood beats since the New Year Eve party had already begun and the DJ was already in the house. Excited to join the peppy beats, everyone soon freshened up and came out. We all had our drinks with us and were soon in high spirits (literally) and dancing like crazy! The energy at the party was palpable and even the non dancers were dancing to the Bollywood cum Haryanvi cum Punjabi music.
"Yes, we had more fun than we ever imagined!"
Post the party, which went on till 12:30 am (thanks Aakash for increasing the time limit!), we spoke to the Dj for a while and then went to our tents. However before sleeping, I had a wonderful date with the stars (stargazing!) which was for lack of better words, a mesmerizing experience.
---
Planning your holiday but confused about where to go? These travel stories help you find your best trip ever!
Real travel stories. Real stays. Handy tips to help you make the right choice.
---
---
Day 2: Adventure in the woods followed by more in the water!
In the morning, we woke up early at 9am to a beautiful sunrise and after freshening up, proceeded on to finish our remaining adventure activities in the woods (valley crossing and zip lining).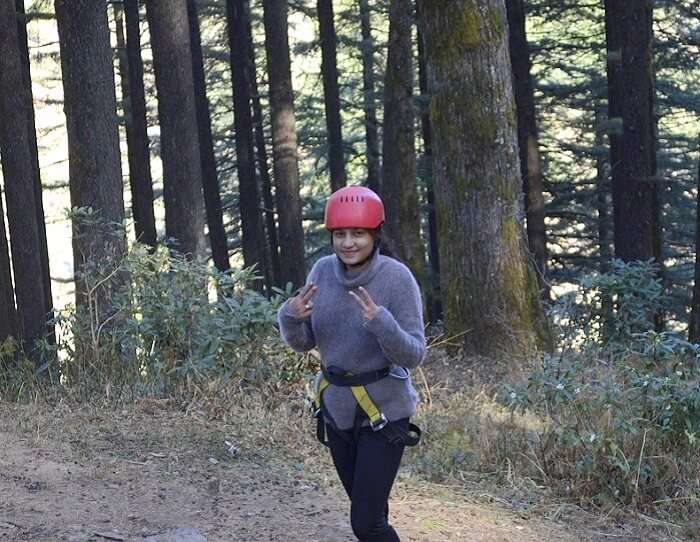 This time even more deep in the woods, we did ziplining and valley crossing which was once again too much fun! Post this, we returned to our camp, had the most amazing breakfast consisting of tandoori paranthas, curd, bread butter, and tea.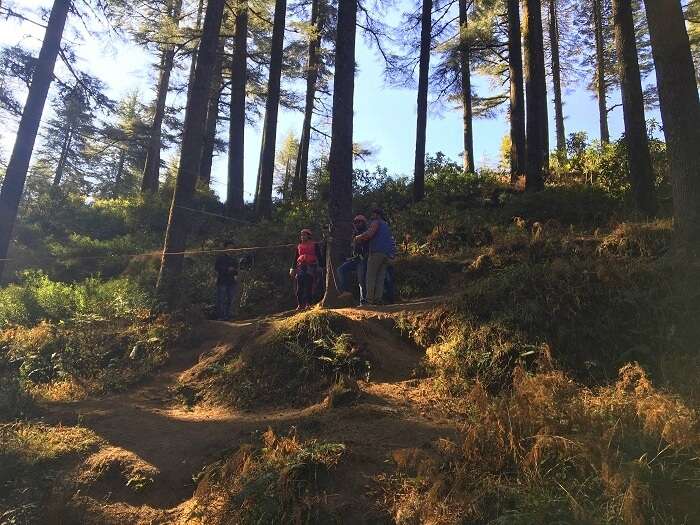 At around 3 pm, we left for a visit to the Tehri Lake as per the itinerary and it was some 15 km from our camp. Frankly speaking, I have seen a lot of lakes in my life and wasn't expecting much from this one but boy when I saw it, I was taken aback by the sheer beauty of it and grand scale of it. Here I was looking at a clean water lake overlooking the hills and the whole view was simply magical – all thanks to the Tehri Dam (one of the highest in the world).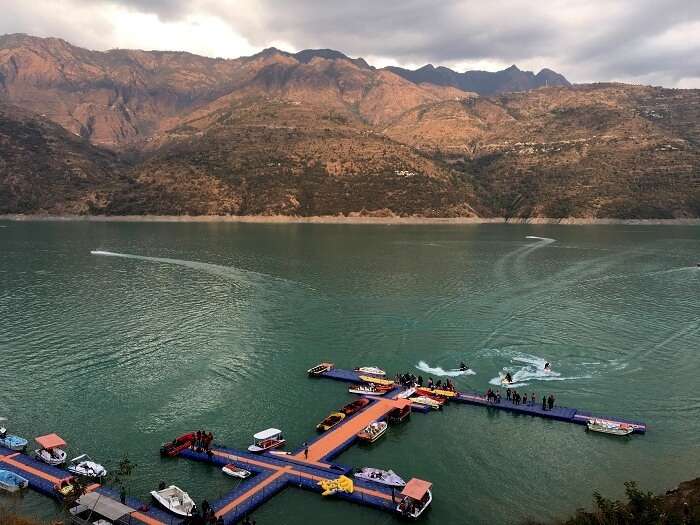 16 Photogenic Valleys In India That Every Traveler Must Visit
It was unbelievably beautiful and what was more exciting was that it even offered water activities which I was more than interested to do. There were local food stalls in the vicinity and after promising myself to come back to those, I went in for the Jet ski ride.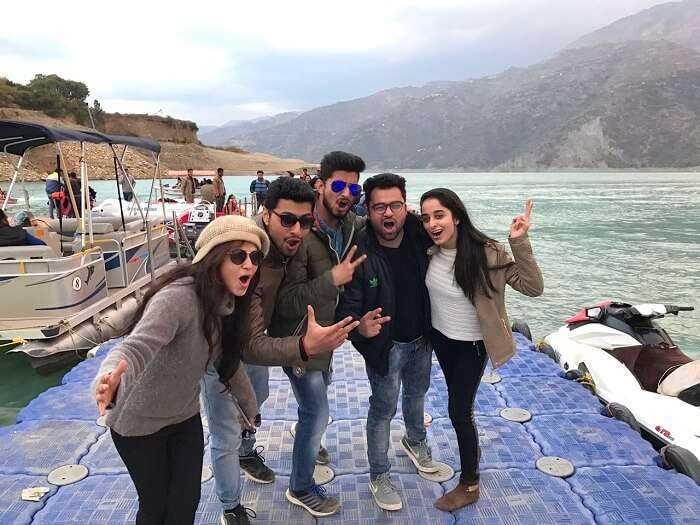 The ride was amazing and the view of the mountains and the lake was even better while doing it. Post this, we had some light snacks and finally began our journey back to Delhi. I was happy and content with my trip now for the lake had given it a perfect ending. It had completed my journey.
Things I loved about the trip:
The overall trip was amazing and very well managed. I am glad to have spent my New Year's eve dancing like crazy and having the time of my life rather than sitting at home and watching iifa awards!
Camping site and facilities, activities in the woods, food, party, and Tehri lake with its water activities were some of the things I really enjoyed.
Also, the DJ was spectacular and engaging with the crowd. Loved it!
Things that could have been better:
It would have been better had we also been introduced to people from the other groups because I feel this would have acted as an ice breaker for everyone.
Tips for travelers:
Kanatal is a wonderful destination for all those who want an offbeat experience near Delhi. It is a must visit for those who want a camping experience without going too far. Also once you're here, don't forget to visit the Tehri lake.
Kanatal camping on the New Year's eve turned out to be a spectacular affair for Anchal and her friends! And you too can do the same. Find your perfect weekend destination here.
---
Long Weekend Trips Starting @ Rs 3499/-
Take a trip to spend the upcoming long weekend with your buddies.
✓ Stay at 4 star rating hotels with local sightseeing, meals and transfers.
✓ Travel in AC coach round trip (from Delhi).
✓ All Inclusive Deal– Camping, Jeep Safari & Trekking as per itinerary
✓ Sign up NOW to celebrate the long weekend out of town!
---
Comments
comments