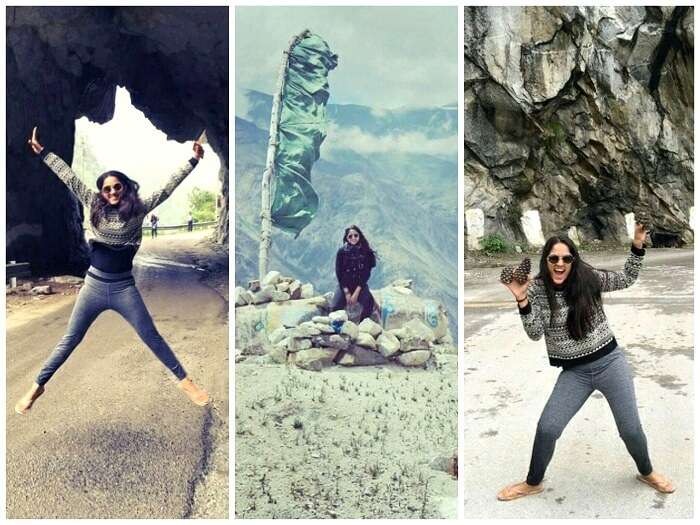 Lehan Devadhia talks about her incredible trip to Spiti Valley that she took with TravelTriangle. Being a solo traveler, she elaborates on her experiences at the wonderful places that she visited and also tells us about her encounter with the amazing kind hearted people of the hills. Her 9-day trip was a group one and it cost her INR 13,999 per person. It included her transfers, stays, meals, treks, and sightseeing.
Trip type: Tripping solo but in a group! (Get it?)
Duration: 8 nights 9 days (More than a week of adventure, yay!!)
Budget: INR 13,999 per person + a little extra money for miscellaneous expenses
Destination: Spiti Valley and all the charming places that come before it (Delhi-Shimla- Kinnaur- Spiti- Manali-Delhi)
Distance from Delhi to Spiti: 734 km
Travel time: 16 hours (the trip was planned in intervals, though!)
Inclusions: Accommodation, meals (breakfast and dinner at all hotel camps), transfers (tempo/Xylo/Innova), treks and walks, and bonfire dinner at select places
I am a solo traveler and it gives me great joy to interact with people, make new friends but most importantly, explore new places! And this trip to Spiti Valley gave me all of it and more!
I had a very positive experience throughout my journey to the hills mainly because the arrangements by TravelTriangle team were excellent.  The organizer from TravelTriangle – Mukesh kept our comfort and convenience on priority and was always patient with us. Apart from this, I was also able to witness amazing hospitality and kindness from the local people – something which affected me deeply.

During this trip, I met my old friends from older trips and also made new ones like our guide – Manu bhaiya who turned out to be both amazing as a person and also as a guide. Together he and Mukesh were partners in crime with me!
How did you come across TravelTriangle?
I discovered TT (TravelTriangle) via Facebook when one of my friends tagged me in a post and suggested me to go on this trip. Finding it value for money, I got in touch with their representative and inquired about a zillion things before finally deciding to go on it.
Just to let you know, all of my queries were duly answered by the representative from TravelTriangle – Sumit, who was patient, calm, and available both before and during the trip. Thank you Sumit! :)

Preparations..
My preparations for the journey happened in a jiffy. I read a few posts about the do's and dont's in the hills, took account of the temperature and topography of the place post which I packed my bags and was done with all my travel essentials.
The BIG Day!
Finally, the day of the trip arrived and I reached Kashmiri Gate to board our bus at 8 PM. During this time, I was constantly in touch with Sumit, posting query after query and I am glad to say that he was very patient and understanding. (Way tooo patient!)

Day 1: Start of something beautiful
(Friday) 12th August: Delhi to Shimla (360 kms/ 10 hrs)
I boarded the Volvo from Kashmiri Gate at around 8 pm and the overnight journey began. We only stopped once during the trip at around 4 AM for food and tea and the rest of the journey was relatively smooth.
Venturing Into The Mountains Hand In Hand: A Couple Adventure In The Magical Spiti Valley
Day 2: Feeling the charm of the hills
(Saturday) 13th August: Shimla to Sarahan (165 km / 6 hrs)
Upon our arrival in Shimla, we checked into a really nice hotel to change and get ready for our subsequent trip to Sarahan. During this time, we also had a sumptuous breakfast at the hotel and it was yummm!
We soon boarded our tempo traveler and the road trip to Sarahan began. On our way, we passed by many picturesque towns including Kufri and later on also stopped at Narkanda for lunch. At Narkanda, we saw the Hatu temple and also the Tani Jubbar Lake followed by the Padam Palace in Rampur.



Apart from above, we also visited Apple orchards, lakes and many more interesting places as part of the itinerary. Each and every experience at these places was awesome and all the credit for it goes to our AWESOME guide, Manu bhaiya –  who incidentally was also a soldier apart from our one stop solution provider for EVERYTHING. Together he and Mukesh were an unstoppable force that tackled all our requests with great enthusiasm and fervour. No Seriously!
Upon our arrival in Saharan, we checked into our hotel for the night which was once again a very nice one! Thanks TravelTriangle!



 Explore The Himalayas: 48 Best Places To Visit In Himachal Pradesh In 2022!
Day 3: Enchanting valleys and more!
(Sunday) 14th August: Sarahan to Sangla (95 km / 3 Hrs)
I got up early this morning and after taking in some fresh air, got ready to visit the famous Bhimakali temple. This temple was situated at a very pretty place and post our visit here,  we all came back to our hotel, picked up our bags, and proceeded for our next destination – Sangla.
This time, we drove past some of the most treacherous roads on our way to Sangla including Taranda Dhank (Rock cut road) and it was both a scary and exciting experience.
Upon our arrival in Sangla, we did quite a bit of sightseeing and visited Rakcham village which was a beautiful experience. We later went to Baspa river side which overlooked the beautiful mountains and valleys. It was beautiful beyond words and it truly felt as if I was in heaven!



In the evening, we went to Chitkul village where we were introduced to a local drink called lumri (apple wine) courtesy TravelTriangle. Since I had been here previously, I wanted to visit my friends and so I went searching for them. Fortunately, I was accompanied by Mukesh and Manu bhaiya who were sweet enough to help me find them.
We soon found my friends and I was truly ecstatic seeing them! We spent quite a while here and later on, returned to our hotel in Sangla. Chitkul was an amazing nostalgic experience for me and I loved my time there.
Our hotel in Sangla was once again an awesome one and even had a nice lounge to chill in.



Test Your Grit, Take The Spiti Valley Trek In 2022!
Day 4: Feeling the freedom in hills
(Monday) 15th August: Sangla – Chitkul – Kalpa (50 km/2 hrs)
This day, I got up early and along with others, went to see the Kamru Fort. We trekked till the fort and although it was a long walk, I found it refreshing. Later on, we had a delicious breakfast at the hotel (Food for life!)
Also today (Independence Day), Mukesh had arranged a visit for us to a local school for the flag hosting ceremony. It was really exciting and the time spent here with adorable children was simply the BEST!



Later on, we left for Kalpa and on our way were taken to really cool places like suicide point (I know!).
One good thing that I noticed throughout the trip was that both the driver, guide, and trip organizers were extremely cooperative if anyone wanted to stop midway, explore something, or just take a break from the journey. This was something which was really nice since they were thinking from the perspective of a traveler.
Our hotel in Kalpa was the best in the whole trip since the rooms were really nice, facilities were awesome, and there was even 24/7 running hot water available (wow!) – something which I hadn't experienced during my last trip.
Later on, we had a bonfire dinner where snacks and everything were taken care by the hotel. It was awesome and I loved the whole party ambience in the hills. This day
18 Secret Places In Himachal Tourists Haven't Discovered Yet In 2022
Day 5: Wonderous sightseeing!
(Tuesday) 16th August: Kalpa – Nako – Tabo – Kaza (210 km/7 hrs)
This day, post breakfast we left for Kaza and on our way also saw the villages of Nako and Tabo.
All the three places were fabulous and we did a lot of sightseeing here, however, the most memorable places that we saw was the lake in Nako and the monastery in Tabo which were really beautiful.
Manu bhaiya showed us around these places and it was awesome. In the evening, we reached Kazo and the food here, was hands down, the best! (Food is life/love!)



Know How You Can Pull Off The Perfect Spiti Valley Road Trip On A Budget
---
Planning your holiday but confused about where to go? These travel stories help you find your best trip ever!
Real travel stories. Real stays. Handy tips to help you make the right choice.
---
Day 6: Exploring Kaza
(Wednesday) 17th August: Local Kaza sightseeing
This was the day we were to do sightseeing in and around Kaza. Our first point was Ki Monastery which was a great experience and so after grabbing some insight on the early life and times of monks, we headed to the highest village in Spiti Valley – Kibber. We spent a lot of time here exploring the village and post a sumptuous lunch, headed for the highest village in the world – Komic (4600ft.). On our way back, we also saw the highest post office in the world and it was once again a delightful experience. By the end of it, everyone was truly HIGH (on life!)



Later on, we went back to our hotel and visited the local market there which also had a festival going on. On my return, I was surprised with a cake by TravelTriangle and other people since it was my birthday today. (So sweet!)
Overjoyed, my day was made!
19 Photos That Will Make You Want To Leave For Himachal NOW!
Day 7: The trek of a lifetime!
(Thursday) 18th August: Kaza – Kunzum Pass- Chandratal Lake (Trekking 5-6 hr)
This day post breakfast, we headed towards Chandratal Lake via the Kunzum la Pass. Upon reaching Batal, we began our 16 km trek towards the Chandratal lake and it was a long trek of about 5-6 hours. And although my friend and I were walking at a really slow pace, Mukesh never fretted and waited for us wherever necessary.



We finally reached the lake and as usual clicked a lot of pictures. We even saw the ibex and I on a personal level interacted with a lot of villagers here. It was a really cool session since it gave me an insight on their lifestyle.
Later on, we went to our tents which were camped near the lake offering us wonderful views. Food here consisted of simple dal chawal but mind you, it was still delicious! (Food = Love)


 Couldn't Get Leh'd During The Summer? Ride To Lahaul And Spiti This September-October!
Day 8: Bidding farewell
(Friday) 19th August: Chandra Tal – Batal – Rohtang Pass – Manali – Delhi (125 km/4 hrs)
This day was mostly spent in travel. Post breakfast, we left for Manali and on our way stopped for a while at Batal, to bid our farewell to Spiti valley. We also passed by the Rohtang Pass on our way back and finally in the evening reached Manali. We freshened up here for a while and after 2-3 hours left for Delhi in the bus.

My solo trip to Spiti was an awesome one! It had adventure, leisure, nature, culture, history, and more. I met kind people, I met not so kind ones too but all in all, it was an experience of a lifetime. The excellent hospitality I witnessed on this trip cannot be described in words but can only be felt from the heart. I loved every bit of the journey, from the apple wine to the food to the arrangements to my old friends and the trek – there was magic in everything.
In the end,  I would like to thank TravelTriangle and their team especially Mukesh, Manu bhaiya, and Sumit for making sure we all had a blast during the trip!
And no I am not done with the hills yet for I know it will be a lifelong journey.  A journey that I would be happy to undertake again and again! Till next time..



High Points: Food, accommodation, and everything else on the trip was top notch. The driver, guide, organizers -all of them were cooperative and patient. Everything was being done in the spirit of travel thus resulting in an excellent experience!
Tips for future travelers: The hills have something in store for everyone. Visit them if you want to know who you are and also if you want to rejuvenate your mind, body, and soul.
 An 8 Days Spiti Valley Trip In 2022 Is The Mother Of All Mountain Escapes In India
Experience amazing mountain adventures! Discover exciting trips that offer peace, adventure, nature, and much more! You will have the time of your life in Spiti and will not be disappointed by the bevy of adventurous activities you can pursue here. Book your Spiti trip with TravelTriangle to avail exciting deals and discounts.
People Also Read:
Spiti Valley In May Spiti Valley Road Trip
---
Looking To Book An International Holiday?
Book memorable holidays on TravelTriangle with 650+ verified travel agents for 65+ domestic and international destinations.
---