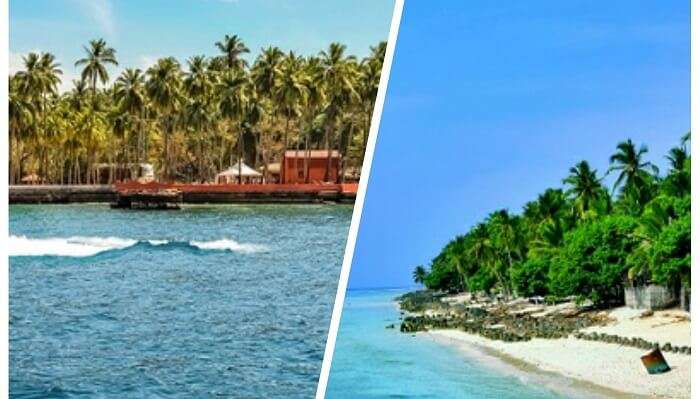 India is rightly said to be the land of varied geographical features. Just like there are mountains, plateaus, valleys, and plains, there are coastal plains and beaches in abundance. Andaman and Nicobar Islands and Lakshadweep are often pitched against each other since they exhibit similar forms of scenic beauty and landscapes around. Both these destinations have emerged to be top tourist destinations among travellers. Often people get stuck between the two while choosing which one to visit. To assist you in the process, scroll up and go through the bit by bit comparison and see what happens when we pitch Andaman vs Lakshadweep, virtually.
Blessed with coconut groves and pristine beaches, mainly popular for the cellular jail, the graph of Andaman and Nicobar islands have greatly changed since it has become a flourishing tourist spot in recent years offering scope for thrilling activities to be indulged in.
Beat described in the phrase " blue sea and unspoiled beaches" Lakshadweep has few but some of the most beautiful beaches and exotic locations of the Indian subcontinent. It means " hundred thousand Islands". The island offers a unique blend of the beautiful and mystical to travellers.
Natural Landscape: Andaman Vs Lakshadweep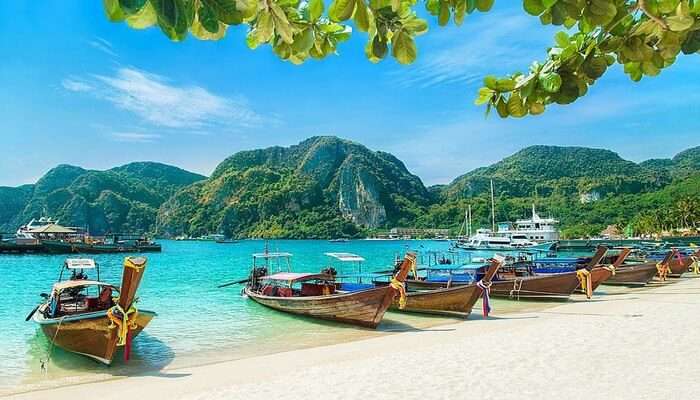 One of the Union territories of India, Andaman, and Nicobar islands, comprises two different groups of Island, located at the southeastern end of the Bay of Bengal. The Andaman Islands are the peaks of a submerged mountain range, and the Nicobar island is an arch that stretches between Myanmar and Sumatra island, Indonesia. The capital city of the Andaman and Nicobar islands is port, Blair. The place has gathered importance in recent times, mostly due to cellular jail being located there. Apart from being historically important, it offers a myriad of adventure sports like kayaking, scuba diving, parasailing.
The smallest of all union territories in India, Lakshadweep is a group of amazing islands, located off the west coast of India in the Arabian sea. It comprises 36 total islands and is made up of atolls, reefs and submerged banks. The charm of Lakshadweep is in its remoteness. It is equally beautiful and mystical and provides a unique blend of the tourists. Water activities are equally prevalent here, to enable people to relax and enjoy.
Must Read: 12 Places To Visit In Lakshadweep That Are Ideal For An Exotic Vacation In 2022
Climate: Andaman Vs Lakshadweep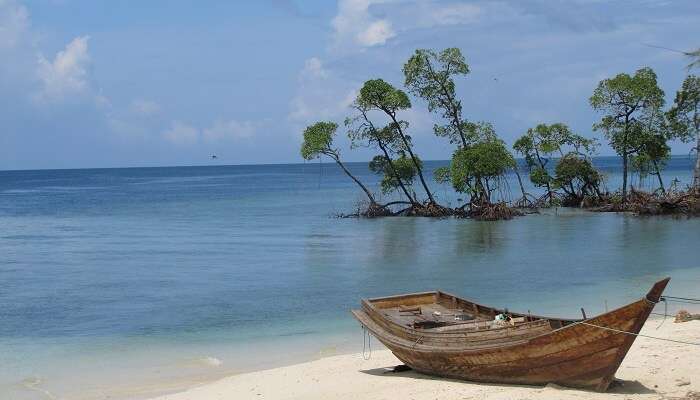 The weather experienced in Andaman and Nicobar islands is tropical. It is generally warm, humid, accompanied by cool sea breezes at night. The place receives considerable rainfall from the south-west monsoons, from May to September and from the tropical cyclones in October and November. The ideal time to visit Andaman and Nicobar Islands is from November to May. One should avoid visiting during the monsoons because of high tides, strong winds accompanied by incessant rains.
The weather experienced in the Lakshadweep island is tropical. It's hot all through the year with months between December to April being the dry ones. The rainy season starts from May and continues till November. The ideal time to visit the place is again from October to mid-may. It's advisable to avoid visiting the place during monsoons since the place becomes difficult to be accessed during monsoons.
Suggested Read: 7 Amazing Lakshadweep Hotels For An Amazing Stay Amidst The Islands
Places To Visit: Andaman Vs Lakshadweep
Replete with colonial history and striking architectural monuments, let's have a look at the best places that one should not miss visiting in Andaman and Nicobar islands.
Places To Visit In Andaman & Nicobar Islands

Ross Island: This island is just 2 km away from port Blair. It was once the administrative center of the British and had everything, such as a hospital, school, bazaar, stores, bakeries, tennis court, etc. Today, it is an uninhabited land that is visited solely for its beauty and scenic views. There are a few remains of a church, swimming pool. The place has a thick dense forests. There is a sense of nostalgia that prevails on this Island and takes back the visitors back in time.
Cellular Jail: Also called the Kala Pani, the cellular jail is an ancient colonial prison, built-in port Blair by the British. All freedom fighters were put in exile here and had to face many atrocities at the hands of the British. The aura of the cellular jail will make anyone feel charged with a strong patriotic fervour. The jail reflects on the darkest and horrifying history that India experienced. This secluded island was chosen to send fighters in exile since its detached from the Indian mainland. This cellular jail reminds us that our freedom fighters fought a tough battle against the British, to bring independence to India. It is an imperative part of Indian history that ought to be upheld.
Havelock Island: One of the largest islands in Andaman and Nicobar is Havelock, spreading over 113.98 sq. Kilometers. Situated northeast of port Blair, it is a paradise of crystal clear waters, silky white sandy beaches, rich corals and lush green forests. It is a perfect place for adventure lovers to indulge in deep-sea diving, scuba diving and snorkelling. Travellers also visit Kalapathar Beach and the Elephant beach to watch divine sunsets. A long walk along the shore of Havelock Island will be a perfect way to discover the island.
Places To Visit In Lakshadweep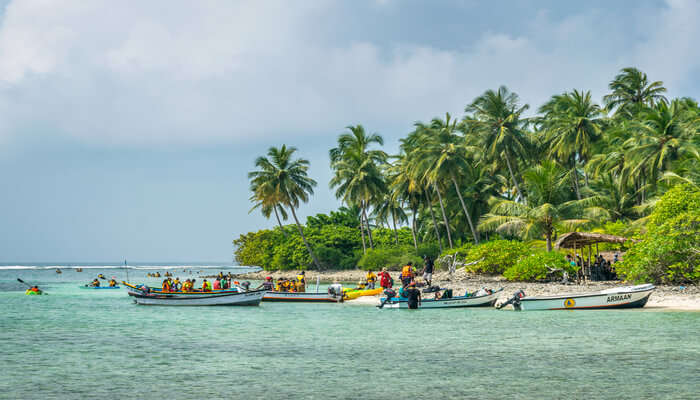 With the places of the Andaman islands having covered, let's see the beautiful places that Lakshadweep has to offer.
Minicoy Island: The second-largest island of the entire Lakshadweep, this Island is inhabited and is well known for its expensive beach resorts that provide solace to travellers who seek tranquillity. This place is also ideal for couples to enjoy a romantic getaway with their loved ones. The waters of the ocean are crystal clean and the beaches are clean. People visit this island, not to explore the place, but to feel the beauty of nature in its truest and unexploited form. This picturesque island has not yet been commercialised, but is slowly emerging to be a popular tourist spot due to water activities like tuna fishing, tuna canning.
Agatti Island: The scenic Agatti island is sparsely populated, spanning over 8 kilometers. It has around 8000 inhabitants. There is absolutely no dearth of nature on this island. Every corner of this island is replete with natural vegetation and quaint palm and coconut trees and other geographical formations. The island is small enough to be explored on foot or visitors can rent a two-wheeler for commuting.
Kavaratti: This island is again one of the precious gems that comprise the Lakshadweep islands. This island besides being the capital of Lakshadweep is famous for its splendid sea views, accompanied by the pristine sandy white beaches. Needless to say, there is no dearth of natural beauty. This island is home to 5 submerged banks, 12 atolls, and 3 coral reefs. This island offers spectacular views of the Arabian sea, sparkling white sand beaches amidst tranquil nature.
Suggested Read: Andaman Travel Tips: Know About The Do's And Don'ts Before Planning Your Vacation In 2022!
Ideal Trip Duration: Andaman Vs Lakshadweep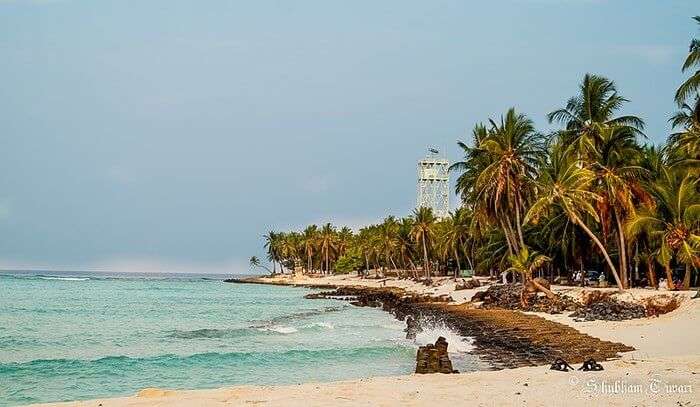 The duration of your stay depends on what you want to do in Andaman and Nicobar islands. If you wish to indulge in adventure sports like scuba diving, it takes more than 7 days. If you simply wish to explore the various places and do sightseeing, 5 to 6 days will be enough. Again, a duration of 6 days' stay in Lakshadweep is sufficient for exploring the main places.
Suggested Read: 53 Best Places To Visit In Andaman In 2022 For A Mesmerizing Holiday Experience
Average Budget: Andaman Vs Lakshadweep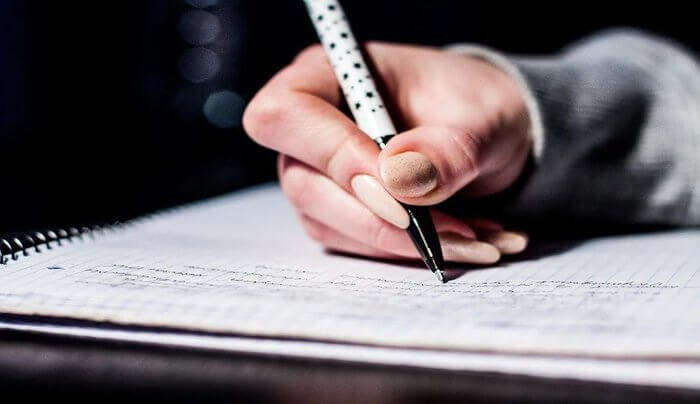 So,if you wish to know how much on average would you be spending on your trip to both these destinations then here is a gist..
Transportation – INR 4000-7000 in flight
Accommodation – INR 1500-2000 per night
Miscellaneous – INR 2000-3000 per day
Transportation – INR 8000 to 11000 flight and helicopter
Accommodation – INR 1500-2000 per night
Miscellaneous – INR 2000-3000 per day
Suggested Read: 15 Places To Visit In Havelock In 2022 That Make Andaman The Ideal Tourist Destination
Shopping: Andaman Vs Lakshadweep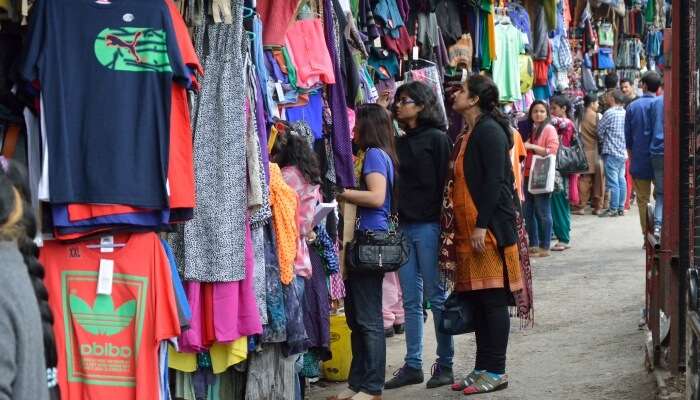 Besides exhibiting history, Andaman and Nicobar islands offer a load of things to be bought for all kinds of travellers. Handicrafts in Andaman are great memorabilia and souvenirs and gifts. Also, the handmade goods prove to be good home decor items. Andaman is famous for items like pearls, spices, fishbone articles, timber crafts, shells, jute items, coconut handicrafts, Nicobar mats, and cane goods.
Lakshadweep is famous for oils and coconut powder. Visitors generally buy a lot of packaged products like frozen fish can, fish oil, fish biscuits, etc. Mostly the markets are on the beachside. The prime Islands popular for shopping are Agatti, Kavaratti, and Minicoy.
Further Read: 38 Romantic Honeymoon Places In South India For 2022 That Cast Utter Magic
Both Andaman and Lakshadweep are islands and famous for their beauty and different things. Both reflect the natural beauty at its best with diverse water sports to indulged in. Taking a trip to these islands will be an experience in itself, but if you want to make a choice among them and have the pitching Andaman Vs Lakshadweep here is all you need to know. So, take your pick and plan a vacay in Andaman or take a leisure trip to Lakshadweep and get going!
Disclaimer: TravelTriangle claims no credit for images featured on our blog site unless otherwise noted. All visual content is copyrighted to its respectful owners. We try to link back to original sources whenever possible. If you own rights to any of the images, and do not wish them to appear on TravelTriangle, please contact us and they will be promptly removed. We believe in providing proper attribution to the original author, artist or photographer.
Please Note: Any information published by TravelTriangle in any form of content is not intended to be a substitute for any kind of medical advice, and one must not take any action before consulting a professional medical expert of their own choice.
Frequently Asked Questions About Andaman Vs Lakshadweep
Is Andaman and Nicobar islands safe to be visited?
Presently, the Island is safe enough even for solo travellers. We would recommend you to use reputed accommodations, even with all the repertoire. Always be well alert to keep yourself safe and secure.
Are packaged tours are a better option for exploring Andaman and Lakshadweep Islands?
If you like travelling within a fixed budget, without causing extra expenses, you can go through the companies that offer package tours to the places. But going with them involves limitations, like limited options for sightseeing and even maintaining a restricted time for everything. People often regret this later. You will not be able to enjoy and stay according to your wishes.
Which of the two Islands, is a better place for couples?
If you are planning to go on a romantic getaway, Lakshadweep is the better of the two. It has several pristine sandy beaches with crystal clear waters. Also, it brings you closer to nature and allows you to relax in the tranquil atmosphere. Andaman is a historical place, remains filled with tourists throughout the year.
Is necessary to book months before visiting the place?
It is sometimes helpful to visit the tickets, irrespective of the island you have chosen to visit, ahead of time. This helps keep your deals in range and you can even avoid the last-minute rush with everything.
Are there cab facilities in Andaman?
Andaman has not yet become so digitalised. App-based cab services like Uber and ola are not available. Talk to the locals, take their suggestions and know what's the best way to get around the place.
---
Looking To Book A Holiday Package?
---