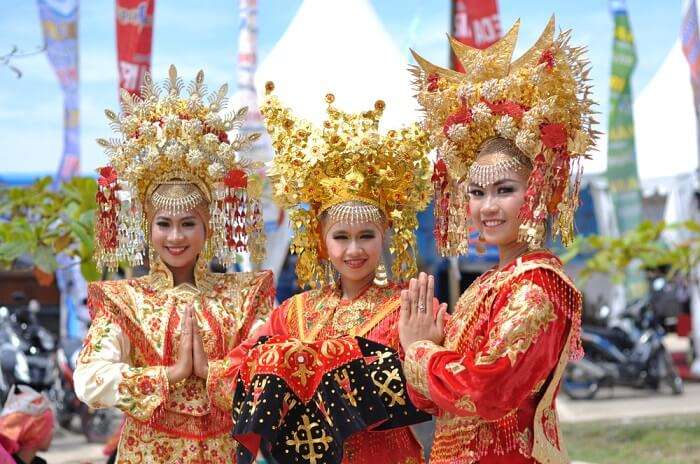 Sure, you have heard the name of Sumatra Island before, but have you ever considered it as a travel destination for your next holiday?
Even though Sumatra Island is the sixth largest island in the world, the captivating beauty and bountiful of nature of the island make it worth traveling to. Sumatra island is the part of the Indonesian archipelago, popularly known for its rugged tropical terrain and numerous active volcanoes. The secluded beaches and opulent natural wealth are a great pull for Sumatra Island Tourism.
It is a country of indestructible strength and beauty that even numerous volcanic eruptions, cyclones, and Tsunami could not decapitate its charm. What also makes it unique is its vibrant Saman culture. Sumatran weddings, its colorful dresses, and famous Saman dances are a few of the most interesting experiences to cherish on the island.
Sumatra Travel Guide
Suggested Read: A Tour Guide To The Java Island in Indonesia

The oblong-shaped Sumatra Island in Indonesia is so huge (after all, it is the sixth largest island in the world) that it is divided into seven provinces, but broadly into North, West, and South provinces. While North Sumatra attracts most travelers because of Lake Toba and the city of Medan, West Sumatra comes second in the race. Here is all you need to know before planning your trip to Sumatra Island:
Best time to visit
Sumatra is located close to the equator which means you will enjoy tropical climate almost all throughout the year. It is always hot and humid in Sumatra Island. If one minute it is all sunshine and hay on the island, the nest moment you can expect a rainfall.
However, the best time to travel to Sumatra Island is from April to October. It is a dry season, therefore, you will experience lesser rainfalls, pleasant weather, and a plenty of sunshine. Avoid months of November to March since it is a wet season on the island. The heavy rainfalls make cities in Sumatra congested and chaotic.
Places to visit in Sumatra
1. Lake Toba, North Sumatra
The largest volcanic lake in the world, Lake Toba is the jewel in the crown of Sumatra places of attraction. Formed by a gigantic volcanic eruption some 70,000 years ago, the vast and calm lake provides an atmosphere of tranquility where you can spend hours admiring the scenery in silence. There is even a tiny island in the middle of the lake called Samosir where you can learn a lot about the Batak tribe and its culture. Take a boat out on water or go for a cool swim while you are dilly-dallying at the lake.
Keep in mind: The weather here is always chilly. Make sure you pack a sweater with you so that you can snuggle up and enjoy the views.
2. Gunung Leuser National Park, Aceh Province
One of the richest rainforests in Southeast Asia, Gunung Leuser has become tourists favorite for its immense biodiversity and unique ecosystem. It is the last place on earth where you will find critically endangered orangutans swinging around the branches of the trees. While you are there also have an encounter with Sumatran tiger and Sumatran rhinoceros. If you please, you can also join a number of tours and adventure activities organized for the tourists inside the park.
Note: While the Aceh section of the park is less-trickled with visitors who want to take the paths less taken, the entrance of Bukit Lawang is preferred more by the masses. There are well-laid paths and trails in this side of the park.
Suggested Read: 10 Holiday Homes In Indonesia For A Laid Back Island Vacation

3. Air Manis Beach, Padang
A little getaway in the western province of Sumatra, Air Manis Beach will sweep you right off your feet with its enchanting scenery. Enjoy the cool sea breeze and the calm views of the ocean with the composed Mount Padang in the backdrop. A favorite spot of locals and tourists alike, the distinct stone structures will make you stop and ponder the inspiration behind constructing them. Just 15 minutes away from here is the Pisang Kecil Island where you can enjoy sitting under the gazebos on its white sandy beaches and watch the tangerine sunset.
How to reach: The beach is 15 km from Padang. Public transportation is available on Padang-Bungus route which can be used to reach Air Manis Beach.
4. Fort Marlborough in Bengkulu City
Fort Marlborough in Bengkulu is an English Fort built in the 18th century. One can easily see the influence of British rule on the island in this part of the country. The fort is one of the few testaments of the East India Company and comprises of historical cannons and gravestones. Built as a defensive fort by the sea, even the Tsunami had no effect on the fort. Enjoy the spectacular coastline from the fort and wandering around the surrounding towns.
Address: Jl. Benteng, Kebun Keling, Tlk. Segara, Kota Bengkulu, Bengkulu 38119, Indonesia
Timings: 8 AM – 6 PM
5. Maimun Palace in Medan City
Medan is the largest city in Sumatra and the royal Maimun Palace sprawls over the whole city. The palace which once belonged to the Sultanate of Deli has now been turned to a museum. Though only the main room where the throne resides is open to the public, it is sufficient for you to know what a lavish lifestyle the king of Medan had. One can find great influences of Italian, Malay, and Mughal architectures in the palace with a golden exterior. Check out the cool golden dagger collection and get your photos clicked in raditional Malay costumes.
Address: Jalan Sultan Ma'moen Al Rasyid, No.66, A U R, Medan Maimun, Kota Medan, Sumatera Utara 20151, Indonesia
Timings: 8 AM – 6 PM
Entrance Fee: INR 23
Suggested Read: Top 10 Things To Do In Indonesia For An Unforgettable Holiday Experience!

6. Lake Kerinci in Jambi Province
Jambi is one of the seven provinces of Sumatra and the most popular reason why tourist travel to this region is for the mesmerizing beauty of Lake Kerinchi. It only comes second after Lake Toba in size, beauty, and tranquility. While you can enjoy the peaceful surroundings and the sweep the panoramic views, there are also other things to do around here. Visit the Selema Village to experience the local Sumatran culture and admire the traditional houses in the village called Laheilk Kerinci. While you are at it, also put Keramat Pulau Tengah Mosque and Dolmen Baturaja on your list.
How to reach: Lake is located in Sungai Penuh which is 10 hours journey from the city of Jambi. You can use public transportation or use a rental car.
7. Bintan Island in Riau Province
Bintan Island in Riau archipelago of Sumatra Island is known for the white powdery beaches, turquoise waters, and tranquility. The photogenic beaches are perfect for laying back in the sun and soaking in the endless views of the ocean. Its secluded beaches, diverse watersports, and sprawling golf course are the main reasons why tourists travel all the way to this part of Sumatra. It also located very close to Singapore and Malaysia. SO if you have spare time
How to reach: Ferry rides from the coasts of Sumatra, Singapore, and Johor Bahru in Malaysia are available at a very reasonable cost.
Things to do on Sumatra Island
1. Climb the volcano of Gunung Sibayak
Because Aaj kuch toofani karte hain. Gunung Sibayak is one of the friendliest and most easily accessible of all 120 volcanoes in Sumatra. Overlooking the town of Berastagi, this is where locals and tourists come to watch the breathtaking panoramas and gushing fumaroles spewing out gases near the mouth of the volcano. Pitch a tent and spend a night by the volcano (yes, do that) to watch the alluring sunrise the next morning. Believe you me! It is going to be one of the unforgettable moments of your life.
Suggested Read: The 30-Day Free Visa For Indonesian Citizens & Indian Expats Will Make Way For The New India

2. Visit the Tsunami Memorial Museum in Banda Aceh
Sumatra was one of the places which were drastically hit by the havoc of Tsunami. Yet the island survived the damage caused by the calamity. The wreckage sites have now been turned into a memorial and is open for tourists and travelers to visit. While one cannot even fathom the pain caused by the loss of life, the memorial site will evoke empathy for the survivors and the people who lost their lives.
hr />
Planning your holiday in Bali but confused about what to do? These Bali travel stories help you find your best trip ever!
Real travel stories. Real stays. Handy tips to help you make the right choice.
---
3. Watch bull-racing in Batusangkar
Sumatra Islands are full of unique experiences that you wont get to see anywhere else. One of which is bull racing in the town of Batusangkar. If Spain has bullfighting, Sumatra has bull racing or Pacu Jawi as locals call it. Enjoy watching the 400-year old tradition with bulls attached to a harness competing against each other in the waterlogged muddy fields. Watch out for yourself if you see bulls coming your way lest you should be dragged in the mud.
4.Have a sip of the most expensive coffee in the world
This one is a must recommendation for the coffee lovers and caffeine addicts. If you are a coffee connoisseur, you must already be aware how Kopi Luwak is produced exclusively on the islands of Sumatra. In case you didnt know the coffee is produced from partially digested coffee cherries by Asian palm civet, a kind of cat. If you think it is poop, you are mistaken because a cup of Kopi Luwak costs around $35. This is why you ought to try it at least once and if you like, you may even buy a pouch back from your trip.
Suggested Read: 28 Indonesian Landscapes So Marvellous That It Hurts

5. Musi River Cruise in Palembang
The ancient city of Palembang is located by the banks of Musi River which is 750 km long. The mighty river is one of the main reasons why you should come to the South Province of Palembang. The cruise will take you on a joyous ride showcasing the splendid views of the city and its rich history and culture. The marvelous Ampera bridge over the Musi River looks spectacular when it is lit in the night. The river is also dotted with several boats which are actually restaurants serving delectable local cuisine. No wonder the Dutch called Palembang the Venice of the East.
Recommended: While you are cruising on the river, it is also worth making a stop by Kemarau Islands and tomb of Ratu Bagus Kuning to learn the interesting local legends and archaeology of this place.
What to eat
1. Ikan Bakar
If you enjoy eating fish, you must enjoy the Sumatran version of barbequed fish called Ikan Bakar. It is a famous delicacy served in Berastagi restaurants served along the sauteed vegetables and steamed rice. The aroma of charred fish in the air is tempting enough to lure you to the restaurant and order one for yourself.
2. Tumis Bunga Betik
A delight for vegetarians, Tumis Bunga Betik is made from papaya flower. Papaya a versatile fruits and Sumatrans have found interesting ways to cook it in various forms. The sauteed papaya flowers taste svoury and bitter and provide relief from hypertension and high blood pressure. Sumatran food is an acquired taste so it may not be everyones cup of tea.
Suggested Read: Yoga In Indonesia: The New Found Love Of Indian Travelers

3. Pempek
Pempek is a popular street food in Sumatra island made from fish paste. Spanish Mackerel is churned out and then mixed with tapioca flour and spices to form fish cakes which are then boiled, grilled, or fried. Pempek comes in different shapes and sizes and may be known as different names in different regions of Sumatra. There is no better place than Palembang to find these fiery fish balls served with a hot sauce.
4. Ketan Duren
It is a popular sweet dish in Sumatra made with durian, rice, coconut milk, and sweetened condensed milk. The dessert can be sticky, chewy, with hints of salt but if you have a sweet tooth you ought to try this Sumatran delicacy on your trip.
Where to stay: Sumatra Island Resorts
1. Grand Elty Krakatoa Resort
Grand Elty Krakatoa Resort in Medan is located in picturesque settings and boundless peace. Situated just 12-minute walk from the beach, you can wake up to spectacular sunrises and scintillating views of the ocean from your balcony. If you want your stay away from the hustle-bustle of the Medan City, this humble abode should be your nest.
Address: Jalan Trans Sumatera KM. 45, Merak Belantung, Kalianda, Merak Belantung, Kalianda, Kabupaten Lampung Selatan, Lampung 35551, Indonesia
Tariff: INR 4,500 onwards
Suggested Read: Beyond Bali: 21 Places To Visit In Indonesia For Your Honeymoon

2. Batu Rundung Surf Resort
The lovely sea-facing bungalows of Batu Rundung Surf Resort in Aceh province is the best place to pamper yourself and have a relaxing holiday. The signature elements of the resort are its exotic sand beach and natural rocks. Enjoy the beautiful scenery of Laayon Angkeo Mountain and stunning views of the sun setting in the Indian Ocean.
Address: Naibos, West Teupah, Simeulue Regency, Aceh 24786, Indonesia
Tariff: INR 8,000 onwards
Aloita Resort & Spa
If you have chosen to stay in Aloita Resort & Spa on Mentawai Island, you wouldnt need to go anywhere else. The place itself offers a bouquet of experience which will give you a good taste of Sumatran beauty and culture. The harmonious resort is an asylum for anyone who wants to break free and enjoy solitude. Surf on the blue waters or have a rejuvenating spa in the hotel. The magical place is perfect to create endless memories on your trip.
Address: Mentawai Silabok Aloita Resort, Tuapejat, Sipora Utara, Kabupaten Kepulauan Mentawai, Sumatera Barat 25932, Indonesia
Tariff: Available on request
How to reach
By air
Medan is your touchdown point in Sumatra if you are flying internationally. Direct flights to Medan Airport are easily available from Jakarta, Singapore, Kuala Lumpur, Johor Bahru are available. The cheapest one-side airfare to Medan will cost you around INR 20,000.
Pedang Airport has direct flights from India and other foreign countries but is quite expensive.
The other airports in Sumatra are Pekanbaru Airport, Batam Airport, Palembang Airport (south province). And Banda Aceh airport (Province of Aceh). These airports can be used for inter-city connectivity.
In case you want to connect to other parts of Indonesia from Sumatra, you can have a connecting flight via Jakarta.
By Ferry
Another way to reach Sumatra Island is on water. There are five seaports in Sumatra which allow you entry on the island. This includes Medan, Padang, Dumai, Banda Aceh, and Sibolga. Ferry routes to Sumatra are easily available from Singapore and Malaysia. The one-way fare from Singapore to Batam Islands cost around $25 (INR 1700 approximately).
Sumatra Island on World Map
Suggested Read: 5 Best Gili Island Resorts For A Perfect Vacation Amidst Nature

Miscellaneous: Sumatra Island Facts
The cities in Sumatra like Medan, Padang, are congested and can be tryintravelersellers to adjust on the road.
It is one of the only two places in the world where you can see wild orangutans.
Since Sumatra is a part of Indonesia, Indian passport holders need not apply for a visa and can obtain on arrival.
The primary religions in Sumatra are Muslim and Christianity with two-thirds of the population being Catholic.
Indonesian Rupiah is the only accepted currency on the island. Indian rupee is not acceptable.
While a holiday in Bali is already popular among honeymooners and families, Sumatra is no less in terms of enchanting beauty and overwhelming experiences. Hope this guide has enticed you enough to consider Sumatra as your next holiday destination.
---
Looking To Book An International Holiday?
Book memorable holidays on TravelTriangle with 650+ verified travel agents for 65+ domestic and international destinations.
---
Comments
comments