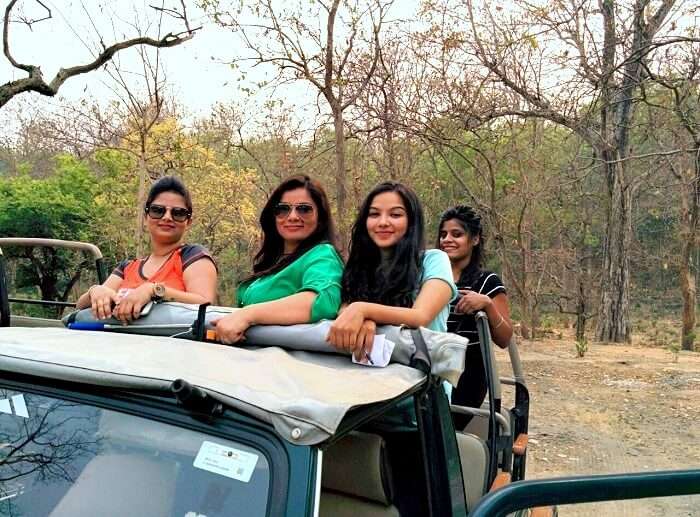 Anu Singh talks about her all-girls weekend escape to Jim Corbett that she took with her friend Payal. She elaborates on her amazing forest getaway and tells us why Jim Corbett is one of the best destinations for a short exciting adventure.
Her all-girls weekend getaway to Jim Corbett was booked from TravelTriangle for INR 3499/- and it included their transfers, accommodation, safari, and meals. Let us hear her story!
Trip type: Wanted to catch up with a friend, took the perfect weekend getaway!
Duration: 2 days
Budget: 3499/-
Destination: Jim Corbett
Distance to Jim Corbett from Delhi: 260 Kms
Travel Time: 6 hours
Inclusions: Accommodation (Leisure Vacations Myrica Resort), meals, transfers, jungle safari
Activities: pool, night party, jungle safari, leisure natural walks

I had always underestimated the power of social media until I went to Jim Corbett. For it was only through Facebook that I had found out about one of the best trips of my life.
My close friend, Payal, who I had not met in a long time had tagged me in a trip post from TravelTriangle for Jim Corbett (asking me to join her).
Since, the trip was value for money, and most importantly an All Girls one!, we decided to go for it! Also, it was high time for us to catch up on life and rekindle the bond of friendship we shared. (ahem ahem!)

"It was going to be the perfect reunion!"
In short, our bags were packed, the trip was booked, and soon we were ready for our weekend escapade!
Day 1: Best of the resort – comfort, pool, luxury, & party & Jungle Safari
We boarded the bus from Akshardham and were met by the representatives from TravelTriangle who took in our details.


The trip started shortly, as soon as everyone had arrived and settled down! Since this was a night journey, we stopped for dinner at one of the peaceful yet active dhabas on the way and indulged in some delicious paranthas ( extra butter please!)
Post the refreshments, we continued the journey and reached Jim Corbett in the early hours of the morning.
Our resort 'Leisure Vacations Myrica Resort' was really nice and had mango trees all around. We were welcomed with drinks and refreshments and this was the moment, we truly felt that our holiday had officially begun!
Later, our trip managers explained the day's plan after which we went to check out our rooms, explore the resort and relax.
 An Adventurous 2-Day Weekend Retreat To Jim Corbett

There was a grand pool at the resort and this was our next stop. And so, the whole group proceeded to the pool for some crazy fun! (more like a splash!).
The time we spent at the pool was awesome and all of us clicked many selfies! (selfie queens for life). It was a great feeling, talking to each other, making new friends, and enjoying ourselves to the core without any distraction!
 30 Resorts In Jim Corbett For 2022 That Are Definitely A Class Apart




My friend and I spoke to a lot of people from the group here and it was fascinating to hear their stories of travel and life. The group was a mixed one (married women, single, mothers, and solo travelers) and it was amazing to hear tales from them.
The best part of the whole experience was that there was a small child with us also. Although earlier when I got to know about it, I was a bit apprehensive since this was an "All Girls Trip" but soon all of my worries (and everyone else's) faded when we saw how adorable the kid was.
15 Best Wildlife Resorts In India For A Thrilling Experience

"The little kid was the hero of our trip"
Later, we went for the lunch and it was a delicious affair! Everyone enjoyed the meal including me and my friend (non-vegetarians for life!)
Next was the famous jungle safari (yayy!)
The Jungle Safari was an awesome experience and the whole feeling of going into the forest, passing by the river, and spotting animals on the way was mindblowing.
"The forest vibe was incredible and refreshing"
I had taken this trip just for the heck of going out and spending time with my friend but the whole incredible experience of the resort, safari, and nature, just exceeded my expectations!
We saw an elephant herd, deer, and other animals and it was a truly fascinating experience.
Later on our way back to the resort, we stopped at a local market and indulged in some street food festivities (jalebi, Pahari sweets, tea, and more!).




Dinner was again an exciting affair since we had a party planned in the lawns. So like all girls, we dressed up our best and went out to the lawn for a night full of merriment. There was already provision for music and snacks and we also had our own drinks to enjoy (ahem ahem!).
Needless to say, the party was a huge success and we had a great time dancing to groovy music. It was amazing to be part of something so good and that too amidst lush greenery and of course, mango trees!
 Glamping In India: 12 Places For A New Experience In 2022!



Day 2: The best of nature – all in one day!
This day we all woke up early morning and went to the nearby river for an early morning nature trek. It was a refreshing natural experience and we loved the rejuvenating vibe of the area.

Also, since we all had a lot of selfie sticks (thanks to TravelTriangle), we girls again indulged in a candid photography session! (Instagram, Facebook duh!)
Some of best pictures were clicked here (thanks to excellent lighting) and we thoroughly enjoyed the refreshing morning experience.




Later we returned to the resort, rested for a while, and then had our breakfast.
"The food throughout the trip was delicious"
Post this, we checked out of the resort and boarded the bus for Delhi, as per schedule. We reached Delhi in the night and the trip ended on a happy note!
This weekend getaway was a therapeutic experience for me and my friend. It was an escape from all the bustles of daily life and an exciting invitation to the much needed 'girl time' trip.
Since all the arrangements were being taken care by the trip organizers, we had really had nothing to worry about and could enjoy to our fullest.
 22 Super Awesome Places To Visit Near Delhi In Monsoon (2022)
I made many new friends on this trip and I am in touch with most of them. They even contact me (vice versa) for upcoming trips and it feels incredible to see so all of them trying to break the monotony of their daily lives and indulge in weekend adventures.


High Points:
The resort property was incredible
Food arrangements throughout the trip were good
We had a lot of fun at the pool and also had a great time at the night party
River side walk was a refreshing experience and so was the Jungle Safari
Low Points: The night party on day 1 was supposed to be accompanied by a bonfire, but since there was a small forest fire nearby, we were prohibited to light one at the resort.
Tips For Future Travelers: Jim Corbett is a great weekend destination for anyone looking to spend some quality time near nature. It offers a therapeutic natural experience that simply cannot be achieved in a city.
Amidst Majestic Palaces & Vibrant Culture, Our Family Trip To Rajasthan Was A Royal Retreat
Are you also craving for an adventurous trip to Jim Corbett with your gang? Take down tips from Anu's fascinating getaway to the woods and experience the perfect setup of nature and wildlife in Jim Corbett. But before that make sure to plan your Rajasthan trip with TravelTriangle and enjoy a fascinating weekend getaway!
---
Long Weekend Trips Starting @ Rs 3499/-
Take a trip to spend the upcoming long weekend with your buddies.
✓ Stay at 4 star rating hotels with local sightseeing, meals and transfers.
✓ Travel in AC coach round trip (from Delhi).
✓ All Inclusive Deal– Camping, Jeep Safari & Trekking as per itinerary
✓ Sign up NOW to celebrate the long weekend out of town!
---