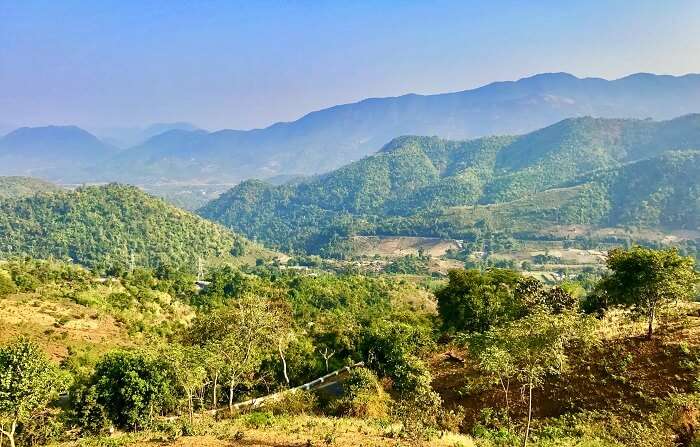 Home to amazing beaches, enchanting temples, and mesmerizing hill stations, there is no dearth for many explored gems in South India that portray the ancient traditions, and rich cultural heritage. And of all the unexplored and untouched places, Araku Valley in the heart of Andhra Pradesh is undoubtedly a stunner.Yet to be explored to its fullest potential, Araku Valley is one of the most spectacular vacation spots in the state of Andhra Pradesh. Surrounded by high mountains, lush green forests, foggy clouds, and a pleasing climate, Araku Valley is a perfect escape for those who are tired of living the monotonous life. The serene and tranquil environs not only calm your soul but also make your inner soul happy.
Quick Links To Navigate The Guide
About Araku Valley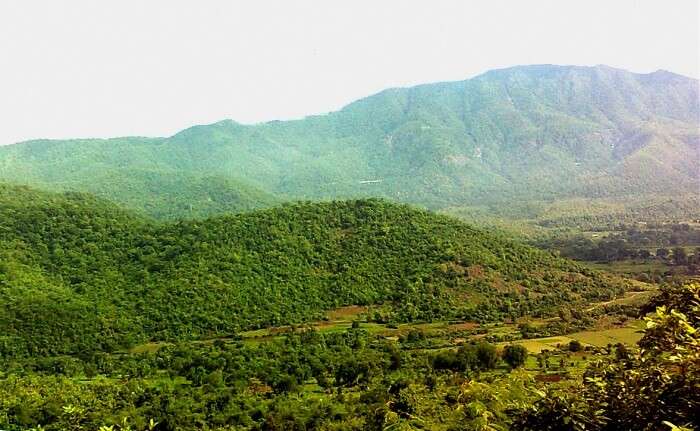 Araku Valley is located in Vishakhapatnam district, Andhra Pradesh and being surrounded by the magnificent Eastern Ghats the place hosts refreshing breaks for nature lovers. The valley is known for its exquisite biodiversity and features lush green tea and coffee plantations.
Ideal Duration: 1 to 2 Days
Nearest City: Vizag or Visakhapatnam
Distance From Vizag: 112 Kms
Peak Season: September to May
State: Andhra Pradesh
Must Read: 9 Remarkable Araku Valley Resorts For A Sumptuous Stay In The Valley
Best Time To Visit Araku Valley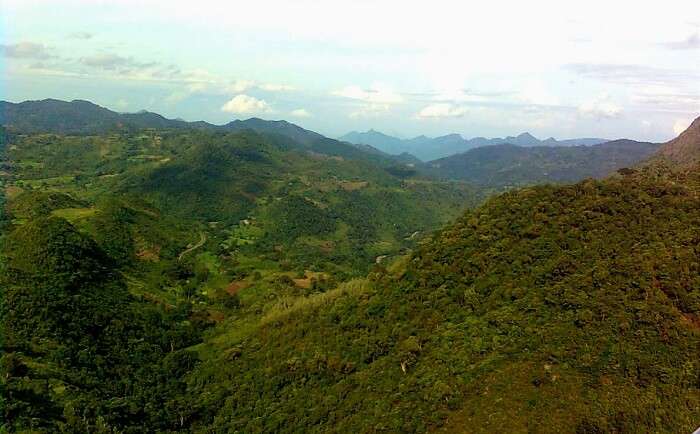 Majority of the travelers and locals prefer visiting Araku Valley during winters which is from the months of December to February. One can enjoy the best of sightseeing despite the fact that Araku Valley looks stunning in freezing temperatures that goes down to about 5-degree Celsius.
However, perfect for activities like trekking, caving, and sightseeing, weather in Araku Valley turns balmy and pleasant to travel and explore during September to May which happens to be the best time to visit this paradise.
Suggested Read: Snowfall In Lambasingi In Winter 2022: Your Handy Guide
Route Map From Vizag To Araku Valley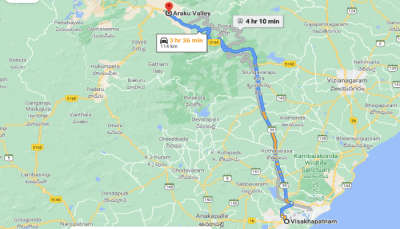 From Vizag continue towards Mindi for 2.8 km and then take Araku-Visakhapatnam Toad to reach Araku Valley. You will be driving nearly 111 km on this road to reach your destination. The road connectivity is comfortable and you can hire a taxi or board a bus to reach Araku Valley.
6 Best Experiences To Have In Araku Valley
An ideal getaway for nature lovers and adventure enthusiasts, Araku Valley will leave you encircled by the mountain ranges of Eastern Ghats at a height of 2,990 ft. Nonetheless, in case you are visiting this paradise for the first time, make sure you keep this guide handy in order not to miss out on any of the must experiences on your next trip to Araku Valley with your loved ones.
1. Chaparai Waterfalls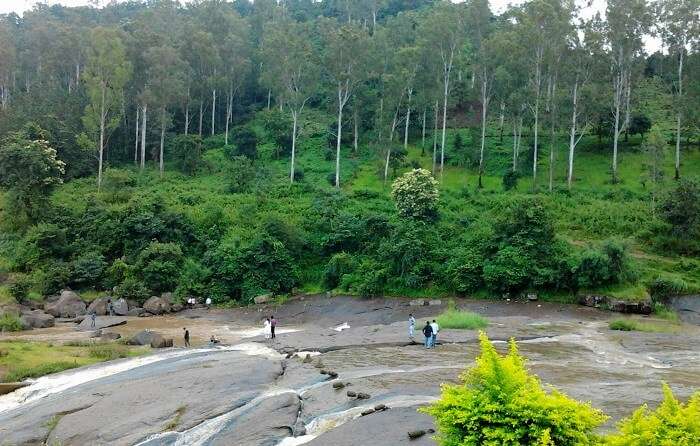 Image Courtesy: Famous Places In India
Also known as the Dumbriguda Falls, it is one of the most breathtaking places to visit in Araku Valley which is encircled by green forests on all sides. Located at a distance of about five kilometers from the valley, Chaparai waterfalls is an ideal place for those who are planning on a fun day out with family, and friends. This is amongst the best places to visit in Araku. This is known for offering refreshing experiences in Araku during summer.
Location: Way to Araku Valley,dumbriguda, mandalam, Araku Valley, Andhra Pradesh
Timings: 8 am – 6 pm
Prices: INR 10/-
Famous For: Scenic beauty
Suggested Read: An All-Inclusive Post-Covid Travel Guide To Andhra Pradesh: India's Best Cultural Expedition Awaits
---
Planning your holiday but confused about where to go? These travel stories help you find your best trip ever!
---
2. Ananthagiri Hills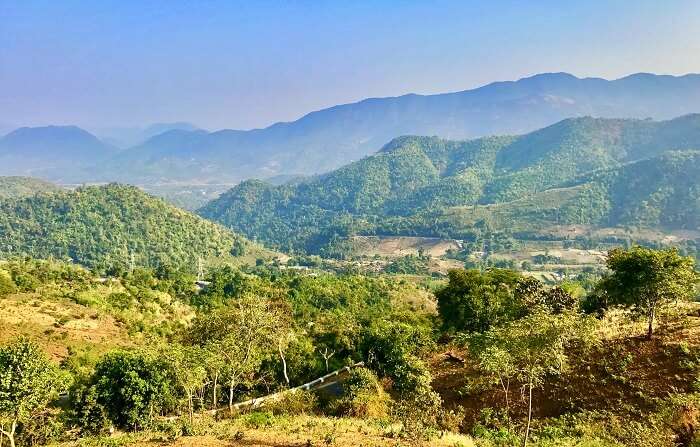 Image Source
Located at a distance of 26 km from Araku Valley, Ananthagiri hills is a small hill station that is nestled between Araku and Vizag. Being one of the most beautiful and important hill stations of Andhra Pradesh, one will find coffee plantations and waterfalls which looks so gorgeous together. The site is amongst the best attractions of the Araku valley tourism.
Location: Telangana, South India
Timings: Anytime of the day
Prices: NA
Famous For: Scenic beauty
Suggested Read: 101 Places To Visit In India Before You Turn 30
3. Padmapuram Botanical Garden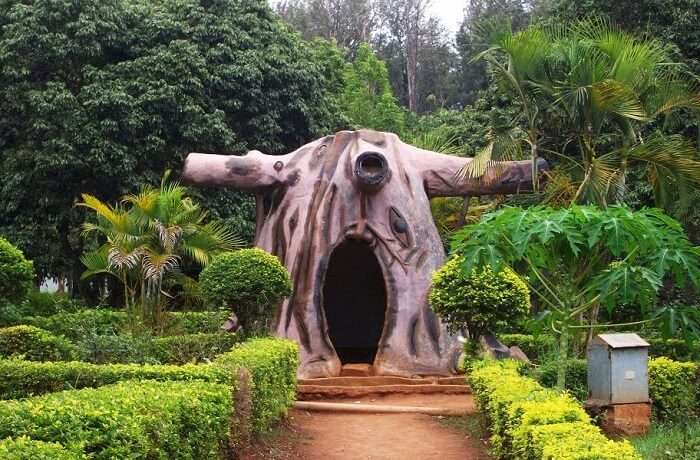 Being one of the most significant parts of Araku Valley's historical past, one can witness the most rare flowers and trees at Padmapuram Botanical Garden that are hard to find anywhere else. Not just that, during World War II, this is the place from where the soldiers got their vegetable supplies. However, the garden was later turned into a fully-fledged botanical garden that also featured beautiful tree huts.
Location: Padmapuram village, Arakuvalley, ITDA Paderu, Araku Valley, Andhra Pradesh 531151
Timings: 8:30 am – 6 pm
Prices: INR 40/- for adults; INR 20/- for kids
Famous For: Exquisite flore and fauna
Suggested Read: Visit These 26 Tourist Places In South India During Summer To Escape The Scorching Heat
4. Araku Tribal Museum
Image Source
For the culture vultures whose quench for learning more about new cultures and traditions is never ending, the Araku Tribal Museum is an ideal place for them. Tribal Museum is one of the most popular stops as the place is created for making people aware of the Araku Valley's lifestyle and culture by taking them through its historical past.
Location: Araku Valley, Andhra Pradesh
Timings: 9 am – 7 pm
Prices: INR 40/- for adults; INR 20/- for kids
Famous For: Interesting collections and significant artefacts
Suggested Read: 25 Mesmerizing Hill Stations in South India That Have Their Own Charm
5. Borra Caves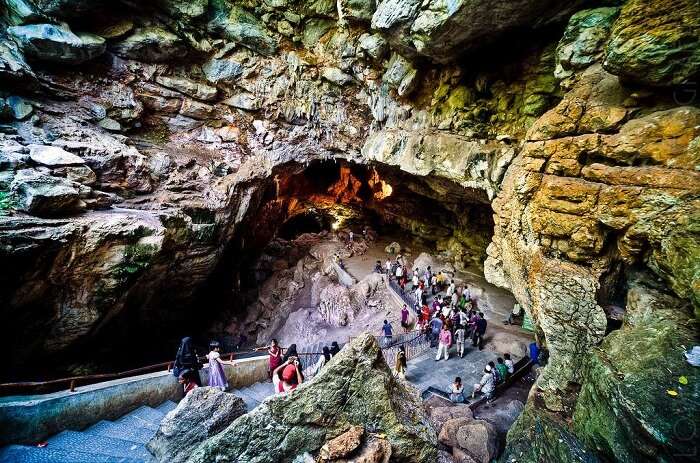 Image Courtesy: Famous Places In India
Considered to be one of the best experiences to indulge in during one's visit to Vizag, Borra Caves are the largest caves in the country that are located at a height of around 705 meters. Dating back to 1807, these caves are made of karstic limestone whose real beauty can be witnessed in natural skylight.
Location: Andhra Pradesh 531149
Timings: 10:00 am – 5:00 pm
Prices: INR 40/- for adults; INR 30/- for kids; additional INR 25/- for those with camera
Famous For: Prominent tourist site
Suggested Read: 15 Temples In Andhra Pradesh You Cannot Afford To Miss In 2022!
6. Bongulo Chicken
Image Source
Go to Araku Valley and not try the local delicacy? No way! The popular getaway also happens to be an ideal place for those who like to taste the best Bongulo Chicken – the famous dish of Araku Valley. Famous for being prepared with a unique cooking method, one can also try Madugula Halwa, and Teepi Avakaya too!
Location: anywhere in Andhra Pradesh
Timings:
Prices: around INR 500/-
Famous For: Delicious food
Suggested Read: 38 Romantic Honeymoon Places In South India For 2022 That Cast Utter Magic
Where To Stay In Araku Valley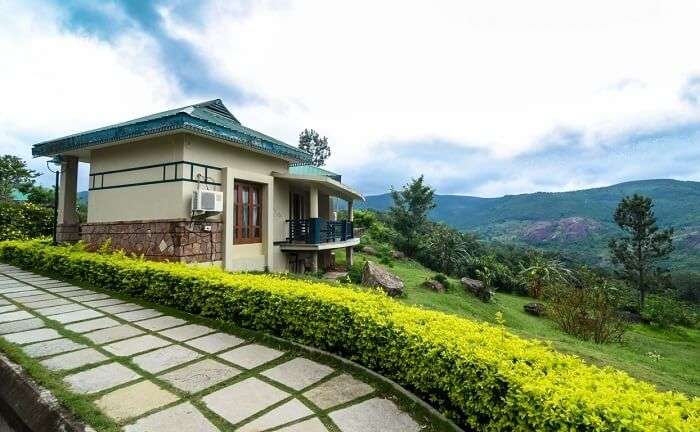 Image Source
Wondering where to stay on your trip to Araku Valley? There are a number of resorts, inns, lodges, and Araku Valley hotels that offer the best accommodation options that fit under every budget.
Balaji Hotel: An easy, budget-friendly, and convenient option located near the Garden road.
Haritha Valley Resort: Considered to be one of the best resorts in Araku Valley, this resort provides the perfect blend of greenery, infrastructure, and is located close to attractions like Borra Caves, Katika Waterfalls, and Tyda Park.
Ananthagiri Haritha Hill Resort: Surrounded by green meadows and captive mountains, this resort is an ideal place for those looking forward to a laid-back vacation.
Punnami Yatri Niwas: Facing the beach, Punnami offers all the modern amenities at an affordable price to all their guests. The Niwas also offer services like doctor on call, car parking, and car rental, and more.
Further Read: 55 Fascinating Places To Visit In Hyderabad Of Rich History, And Everlasting Glory!
Falling in love with the landscape of Araku Valley already? Pack your bags, and get going to witness the charm of this gem set in the heart of Eastern Ghats by planning a tour to this exotic realm. Happy tripping!
Frequently Asked Questions About Araku Valley
What is special about Araku Valley?
Located in the beautiful eastern ghats, Araku Valley is famous for scenic beauty, lush valleys, gorgeous waterfalls, and sparkling streams. Araku valley is known for its scenic beauty and serves as a refreshing getaway for travelers staying in nearby cities.
Which is the best time to visit Araku Valley?
December to February is the best time to visit Araku Valley. In fact, it's one of the most beautiful places to visit in South India in December. However, the place is known for its impeccable beauty and can be visited throughout the year.
How do I get to Ananthagiri Hills?
Ananthagiri Hills is one of the best hill stations near Hyderabad and you can reach Ananthagiri Hills from its nearest railway station of Vikarabad. The place is well-connected by road and you can hire a taxi or board a bus to reach here.
How do I get to Araku Valley?
You can take a train from Visakhapatnam to Araku Station and get there in about 3 hours. Or you can take a flight to Vishakhapatnam Airport and travel the rest of the way by car. Araku Valley is connected to all major and minor cities and towns in South India by a smooth road network.
How can I go to Araku Valley from Visakhapatnam?
You can hire a vehicle or book a taxi to get from Vizag to Araku Valley. You can also take a train from Visakhapatnam to Araku Station which will get you there in 3 hours.Q. How do I get from Araku to Borra Caves?A. You can take Kirandul Train from Visakhapatnam which will leave you borra station. The caves are around 1 kilometer away from the station which is a walkable distance.
How long does it take to see Borra caves?
It usually takes 2 to 3 hours to explore the borra caves.
What are the opening hours of Padmapuram Botanical Garden?
Padmapuram Botanical Garden usually opens at 8: 30 am and closes at 6:00 pm all seven days a week.
---
People Also Read:
Spiti Valley Guide Haa Valley Guide Barossa Valley Guide