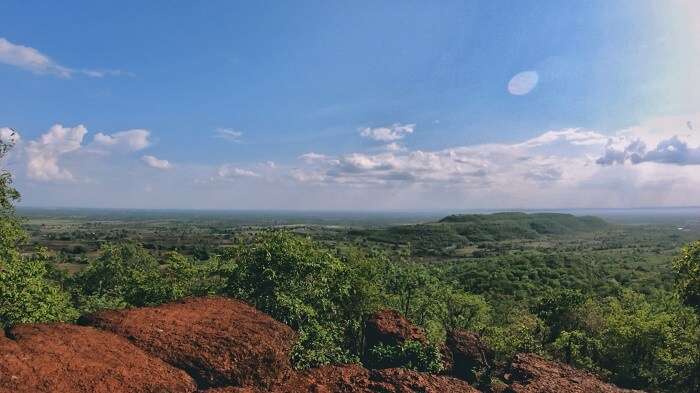 Consider of dreaming under a star-studded moon, or waking up to a vision of open clear sky and listening to bird chirping. Isn't that something we can't imagine in towns and cities? Surreal nights with a percussion of enthusiasm reflect a journey along the spiral roads that lead to Hyderabad, Ananthagiri Hills is one of the most beautiful places in the area. During the afternoon, interesting coffee plantations make the whole hill look painted in light and dark green shades. The spectacular view is combined with the clouds over the valley, as the climb reaches Telangana. The source of the Musi River flowing into Hyderabad and the river flows further raises the light.
In Ananthagiri tour it comes as no surprise when these hills surrounded by Eastern Ghats amaze visitors so much. Ananthagiri Hills are known to be the oldest location of forested civilisation at an altitude of 1168 in the Ranga Reddy district in the vicinity of Vikarabad. The location offers some of the best trekking routes, making it a trekking paradise. The city oozes beautifully stunning and utterly scintillating elegance combined with the scent of coffee taste and exotic flora beauty. It is a perfect place for honeymooners as well as family vacationers with surrealism in every aspect of the city.
Quick Links To Navigate Ananthagiri Hills
A Trip To Ananthagiri Hills And Araku

Ananthagiri is generally associated with an Araku Valley trip and the two are one for most visitors as they are located only 26 kilometers away, wherein the hills are nestled amidst Araku and Vizag. Both the hills and the valley are named for their beauty, but these are linked to other locations as well. If in case you are planning a trip to Ananthagiri, do make sure to explore the nearby tourist attractions in Araku Valley as well. 
11 Places To See In Ananthagiri Hills And Around It 
There are a great number of attractions that tourists can visit in the Ananthagiri Hills and around it. Here is a list of attractions that must be included in your trip to the Ananthagiri Hills and Araku Valley.
1. Ananthagiri Temple

Also known as the Sri Anantha Padmanabha Swamy Temple, it is dedicated to the protector, Lord Vishnu. One of India's best examples of religious harmony, the temple was built some 400 years ago by Nawab of Hyderabad and its a prominent structure around the places. Thousands of devotees visit this temple every year and seek blessings of Lord Vishnu.
Location: Ananthagiri, Ranga Reddy District, Vikarabad, Telangana, India
Must Read: 23 New Year Eve Parties In Hyderabad 2022 You Should Not Miss!
2. Ananthagiri Hills Viewpoint

Also known as Godamguda Viewpoint, this is one of the best spots for tourists to visit and witness the scintillating beauty of the hills from a bird's eye view. Furthermore, trekking or reaching up to the point is not difficult at all. Upon reaching, you can spend quality time together, capture memories against the lush green backdrop of Ananthagiri, and embrace the breezy weather.
Location: Godamguda, Telangana, India
Suggested: 6 Adventure Sports In Kochi That Will Let You Challenge Your Fears In 2022!
3. Kotipally Reservoir

For those who are into adventures, Kotipally is a great spot to visit near the hills. You can indulge in experiences such a camping by the lakeside, kayaking, and boating here for prices as low as starting INR 150 per person. Of course, the cost of the activities keep changing with time and the type you pick.
Location: Tandur – Mominpet Rd, Kotpalli, Telangana, India
Suggested Read: 8 Gorgeous Beaches In Lebanon That Promise A Refreshing Vacay In 2022
4. Tyda Park

This place is great to begin with for a milder introduction to the wilderness. For visitors and campers to see, birds and animals roam freely here. In fact, some fun games and camping makes the visit to this place worthwhile. The park is a great refuge for all the adventure lovers also seeking peace from the rest of the world.
Location: Araku Valley, Vizag, India
Suggested Read: 13 Best Beaches Near Hyderabad For A Relaxing 2022 Vacation With Your Loved Ones
5. Bhavanasi Lake

Considered sacred and as a southern Badrinath, the lake originated from Nallamala Hillas and thought of enhancing God's faith by holy immersion. The holy bath is performed in this lake and many people visit this place to take a dip into the holy waters.
Location: Ananthagiri, Andhra Pradesh, India
Suggested Read: 10 Honeymoon Places Near Hyderabad For A Short Romantic Escape In 2022
6. Musi River

These hills near Vikarabad are credited with this river's birth which is also a lifeline to Hyderabad's region. Also known as the Muchukunda River on a sage's name, it is a tributary to the mightier river of Krishna that flows through the hills and the whole state of Telangana. If you are willing to visit sacred river then you must opt to visit Musi river which is definitely one of the places to visit in Ananthagiri Hills.
Suggested Read: 10 Haunted Places In Hyderabad With Real Ghost Stories For Spooky Trips In 2022
7. The Borra Hills And Caves

Found on India's east coast, the Borra Caves are found in Visakhapatnam district's Araku Valley Ananthagiri Hills. This million-year-old cave was discovered by British geologist William King in 1807 and has since been a tourist attraction. Awesome hilly terrain, beautiful scenery, semi-evergreen moist deciduous forests, and the Borra Caves ' wild fauna are a visual feast for the visitors. The caves are created as a wonderful creation of nature as flood flows pass through a calcareous environment and the calcium carbonate transforms into calcium bicarbonate, which is easily washed out by running water. How about paying a visit to one of the places in Ananthagiri Hills which is dark yet exciting? We are talking about Borra Hills and Caves.
Location: Araku Valley, Vizag, India
Suggested Read: Our Hyderabad To Andaman Trip Was All About Our Lovely Honeymoon On The Island
8. Coffee Plantations

High standing trees supporting the pepper vines and shading the berries-loaded coffee shrubs are something some visitors may never have a chance to look at. What better option than spending your vacation in Ananthagiri. One of the finest places to see in Ananthagiri Hills is the coffee plantations and experiencing the aroma and flavour of authentic coffee.
Location: Ananthagiri Hills – Araku Valley, Andhra Pradesh, India
Suggested Read: Delve Into The Nightlife In Hyderabad At These 21 Exquisite Clubs And Bars
9. Galikonda Viewpoint

The valley wouldn't look better than from here. The breathtaking views from 3,800 ft are amazing. There are a lot of attractions nearby that you can visit during this tour like the Katiki Waterfalls, Araku Waterfalls, and Tadimada Waterfalls. Enjoy the serene views and let go of all the stress on this holiday while enjoying scenic views from this elevated spot. Witness the glory of nature by doing one of the exciting things in Ananthagiri Hills that is pleasing your eyes with the spectacular views at Galikonda viewpoint.
Location: Araku Valley, Andhra Pradesh, India
Suggested Read: 39 Charming Tourist Places Near Hyderabad To Visit On A Weekend In 2022!
10. Katiki Waterfalls

With 2 km of trekking you will enjoy the water stream falling from 50 ft of height near Borra Caves. The waterfall offers elegant views and is a major tourist spot. You can click amazing pictures on your tour and also enjoy coffee watching the beautiful sight. One of the things to do in Ananthagiri Hills is trekking which is super fun and adventurous.
Location: Araku Valley, Vizag, India
Suggested Read: 20 Famous Temples In Hyderabad To Visit In 2022 For Peace And Spiritual Quest
11. Tribal Museum

This interactive tour in Araku will introduce visitors to the other facets of the places and sell things made there that can be bought as souvenirs. It could also be attempted for fun to fire tribal style. Araku Tribal Museum is a treasure-holding place that exhibits the Eastern hat tribes ' history, arts, fine art and tradition. The museum contains tools that once belonged to the tribal people and one can witness the local natives ' lifestyle when going through their other belongings. Tourists can also purchase handicraft products made by members of the local tribe. Want to witness the history and traditions of Ananthagiri Hills? One of the places to see in Ananthagiri Hills is Tribal Museum which is the storehouse of handicraft products.
Location: Araku Valley, Andhra Pradesh, India
Suggested Read: Camping Near Hyderabad: 7 Spots To Reconnect With Yourself In 2022!
How To Reach Ananthagiri?

By Air
Nearest airport to the Ananthagiri Hills is located in Hyderabad which is linked to major cities such as Delhi, Mumbai, Kolkata, etc. from where a cab can be hired to cover Ananthagiri for the rest of the 100 km.
By Rail
Rail travel takes you through the scintillating Eastern Ghats, one of the highest long gage tracks in the country, from Srikakulam to Anantgiri.
By Road
Hyderabad bikers sometimes take these roads for a different kind of fun and stop where they're told by heart. Persons on family vacations can take bus or cab according to the group's size need.
Suggested Read: 26 Free Things To Do In Dubai And Experience Over The Top Luxury Without Spending A Penny In 2022
Best Time To Visit Ananthagiri Hills

Ananthagiri enjoys pleasant weather all year round, with winter temperature in Ananthagiri Hills ranges from 16 to 22 degrees Celsius. Therefore, between the months of October and March, the perfect time to pack your back and take a trip to this fascinating place. During this period of time, the weather is extremely pleasant and the entire place looks spectacular in lush greenery. The scent of fresh coffee beans in the air adds to the splendor
July – October: Ananthagiri's monsoon season begins in July, and the precipitation continues to drop until October. During this time the weather is perfect. The entire place is under the rain spell and looks lush and stunning. The hills are lined with vegetation and lush green trees. The flora's iridescence is the perfect picture. The waterfalls bubble with water that makes the entire site appear beautiful. Rains also brings some love and romance with it, making it an ideal time for honeymooners or anyone who decides to rekindle their relationship with their loved one.
This is the perfect season of cuddling with your loved one surrounded by green trees and breathtaking panoramic views. Since it is a hilly area, a tad bit of slush is also produced by precipitation. If for the sole purpose you want to visit Ananthagiri Hills because just dreaming about the adventure events makes your heart beat faster, it's not the right time for you. Around this time, outdoor sports such as trekking, hill hiking, fishing, rappelling and scaling are all restricted.
April – June: The Ananthagiri Hills summer season starts from April and lasts until June. The temperature reaches up to 40 ° C during this time period, which makes the place hot. The sun shines brightly throughout the day and a tad bit of humidity is in the air. Ananthagiri Hills in summer can be visited only for enjoying the natural beauty of the place.
The waterfalls and other water bodies do not flood with water during this time of year. Instead, with little room for boating or diving, they are almost dried up. Because of the humidity and intense heat, trekking and exploring the Ananthagiri Hills during this period would be tiring and boring activity. Often, you won't be able to see a huge number of animals and birds because they disappear and cover themselves in the dense forests. But if you're planning to stay in and enjoy nature's glory, you can now fly here.
Top 3 Restaurants for you in Ananthagiri Hills
Ananthagiri Hills doesn't have many options for you when you are thinking of food. You can even carry some packaged food with yourself when visiting the town. Other than that, you can explore the following List of restaurants while visiting there in Ananthagiri Hills.
1. Muntaz Restaurant

Image Credits: Wikimedia commons
When you are in Ananthagiri Hills you must try some of the amazing food in some of the restaurants out there. If you want to relish on some Indian cuisine then you must visit Muntaz restaurant where you will enjoy the meal at around 500 INR. One of the delicacies of the restaurant is Biryani which you must not forget to try. The timings of the restaurant are from 11 AM in the morning to 11 PM in the evening.
Location: Beside Hero Honda Showroom, Araku – Visakhapatnam Road, Srungavarapu kota, Andhra Pradesh 535145
Suggested  Read: Visit Turkey In July To Explore The Ancient Ruins And Turquoise Beaches
2. Flying Spaghetti Monster

Image Credits: Wikimedia commons
Heading for a weekend getaway in Ananthagiri Hills? Flying Spaghetti Monster can be your top pick as it is regarded as one of the top restaurants in Ananthagiri Hills. The restaurant serves Italian cuisine at its best and will cost you approx. INR 1500 for your meal. The timings of the restaurant are from 12 PM in the afternoon till 10:30 PM in the night. The travellers and tourists enjoy the ambience and mouth-watering food out here.
Location: G2, Sai Dakshita Complex, Waltair Uplands, Waltair Main Road, Opposite Waltair Club, Visakhapatnam, Andhra Pradesh 530003
Suggested  Read: 10 Guest Houses In Nainital: Perfect Vacationing Avenues For A Wonderful Stay In 2022
3. Fortune Inn Sree Kanya

Image Credits: Wikimedia commons
Confused where to dine when in Ananthagiri Hills? We have a solution for you. Fortune Inn Sree Kanya is one of the top restaurants in Ananthagiri Hills that will surely serve your purpose without costing you much that is around 1000 INR approx. You can enjoy with your friends as this is a nice place to spend an evening. You may notice that prices may be somewhat higher as compared to other restaurants but you can be sure of relishing Indian food.
Location: 47-10-34 & 35, Diamond Park – Sreekanya Road, Dwaraka Nagar, Visakhapatnam, Andhra Pradesh 530016
Suggested Read: 20 Romantic Places To Visit In Singapore For Honeymoon In 2022
Some of the finest staying options in Ananthagiri Hills
If you are in a dilemma of where to stay in Ananthagiri Hills then here we list before you some of the best staying options. Some of the popular hotels in Ananthagiri Hills are as follows:
1. Hotel Prabha

One of the popular staying options in Ananthagiri Hills can be Hotel Prabha which also has a restaurant. You can enjoy amazing food in the hotel itself as it serves the cuisines from all across the country. The timings of the restaurant are from 11:00 AM to 10:00 PM and the best cuisine loved by all the travellers is Indian cuisine.
Location: Ground Floor, PML Complex Marripalem Main Rd Nad Junction, Dungalavanipalem Visakhapatnam, Andhra Pradesh 530027
Suggested Read: 11 Fascinating Things To Do In Malappuram For An Exciting 2022 Trip!
2. Haritha Resort

The resort is one of the fascinating options for the travellers from the perspective of sightseeing, dining, recreation and getting around the place. There are many popular attractions like Ananthagiri Hills, Ananthagiri Temple. The resort is well connected as the nearest airport is Rajiv Gandhi International airport. There is transit in point of railways as well like Vikarabad Junction and Godamgura junction.
Location: Ananthagiri Down Rd, Vikarabad, Telangana 501101
3. Hills & Valley Adventure Resort

Hills & Valley Adventure Resort is a perfect resort for relaxation with family and friends as it has many amenities like pool, cottages, zip lining and dirt karts. This countryside resort is encompassed with meadows and fields which is located at a distance of 2 kms from Godamgura Railway station. You can even visit Ananthagiri Hills View Point which will offer you beautiful sunrise and sunset of Araku Valley.  You can even visit Ananthagiri Hills and Ananthagiri Temple.
Location: Anantagiri Hills, Vikarabad Road, Godamguda, Vikarabad, Hyderabad, Telangana 500038
Interesting Facts About Ananthagiri Hills
One of the stimulating places in Ananthagiri Hills which is perfect for the religious tourists from all across India is Anantha Padmanabha Swamy Temple.

If you are ready for some adventure then you can plan out for trekking in the hills. You will be crossing the forests while in trails while trekking where you can even get a close look at diverse species.

The most sacred river in Ananthagiri Hills is the Musi river located in the Himalayas which is a holy stream attracting religious people and tourists from all across India.
Further Read: 7 Resorts In Hyderabad Where You Can Plan You Lavish Getaway This Year!
Now that you know everything about the places to visit in Ananthagiri Hills and around it, think no more and plan your Hyderabad trip right away. While visiting Ananthagiri and Araku, you will surely see a side of South India's beauty like never before and be left amazed!
Disclaimer: TravelTriangle claims no credit for images featured on our blog site unless otherwise noted. All visual content is copyrighted to its respectful owners. We try to link back to original sources whenever possible. If you own the rights to any of the images, and do not wish them to appear on TravelTriangle, please contact us and they will be promptly removed. We believe in providing proper attribution to the original author, artist or photographer. Also, please note, some images are for representation purposes only. 
Frequently Asked Questions About Ananthagiri Hills
What are some of the things to do in Ananthagiri Hills?

You can visit coffee plantations which will give you aroma and fragrance of original coffee or mango groves, orchards or you can opt for going to waterfalls and be close to nature. Carry a camera and capture some of the spectacular views of the Ananthagiri Hills. You can go for trekking, water sports and other adventure activities in Ananthagiri Hills.

What are the basic tips for travelers?

Before you travel to Ananthagiri, keep the following things in mind: 1. Make sure you carry a camera to capture the essence of nature`s bounty oozing out of the city. 2. Avoid traveling to the city during summer owing to hot and dry weather. 3. Carry a pair of sports shoes for there is a lot of walking and trekking around the town.

What are the highlights of Ananthagiri?

The major highlights of Ananthagiri are: 1. Many aromatic coffee plantations that are perfect to get those Instagram-worthy pictures. 2. Gorgeous waterfalls and vintage viewpoints to get the best of nature. 3. Several mango groves and orchards that wrap the entire place in the shade. 4. Swift streams, flowing through the hills which are a part of the glistening river Musi. 5. Enthralling views that help to capture the best of this place.

What is the average temperature of the place the entire year?

The minimum temperature of Ananthagiri falls to 13 degrees Celsius and the maximum temperature is 33 degrees Celsius.

What is Vikarabad famous for?

Vikarabad is famous for higher education institutes such as Sri Anantha Padmanabha College and Osmania University College Vikarabad for Self Finance.

How to reach Nagasamudram Lake?

It seems that the Nagasamudram Lake is listed in Google Maps as Kotpally Reservoir and it appears as Nagasamudra, Telangana. You should follow this chart to enter the Nagasamudram Lake or Kotpally Reservoir, from Haritha Resort to Nagasamudram Lake.
People Also Read:
Places to visit in Chengdu Places to visit in South Goa Places to visit in Chandigarh