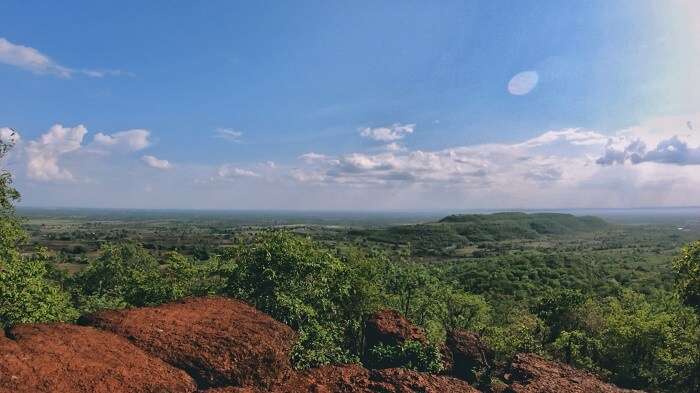 Consider of dreaming under a star-studded moon, or waking up to a vision of open clear sky and listening to bird chirping. Isn't that something we can't imagine in towns and cities? Spiny nights with a percussion of enthusiasm combined with tiny bits of danger reflect a journey along the spiral roads that lead to Hyderabad, Ananthagiri Hills is one of the most beautiful places in the area. During the afternoon, interesting coffee plantations make the whole hill look painted in light and dark green shades. The spectacular view is combined with the clouds over the valley, as the climb reaches Telangana. The source of the Musi River flowing into Hyderabad and the river flows further raises the light.
In Ananthagiri tour it comes as no surprise when these hills surrounded by Eastern Ghats never-ending amaze visitors. Ananthagiri Hills are known to be the oldest location of forested civilisation at an altitude of 1168 in the Ranga Reddy district in the vicinity of Vikarabad. The location offers some of the best trekking routes, making it a trekking paradise. The city oozes beautifully stunning and utterly scintillating elegance combined with the scent of coffee taste and exotic flora beauty. It is a perfect place for honeymooners as well as family vacationers with surrealism in every aspect of the city.
Top Tourist Attractions in Ananthagiri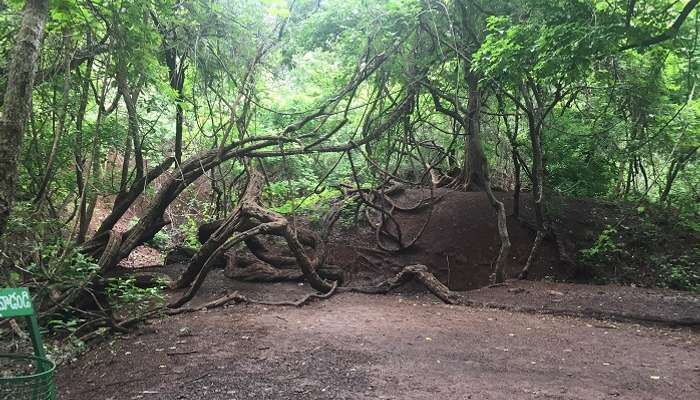 Anatagiti is generally associated with an Araku valley trip and the two are one for most visitors. The hills and the valley are named for their beauty, but these are linked to other locations that also encourage a saint's commitment to sin. High-standing gods watching over pure deaths and the wide temple entrance in the lush forest are welcoming.
Places To Visit In Ananthagiri Hills
There are a great number of attractions that tourists can visit in the Ananthagiri Hills. Here is a list of attractions that must be included in your trip to the Ananthagiri Hills.
1. Ananthagiri Temple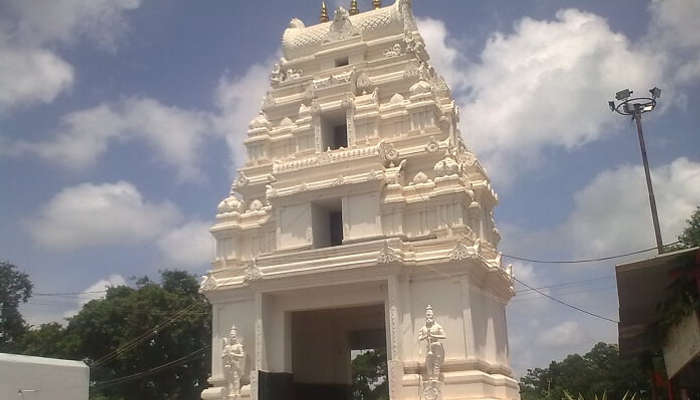 Also known as the Sri Anantha Padmanabha Swamy Temple, it is dedicated to the protector, Lord Vishnu. One of India's best examples of religious harmony, the temple was built some 400 years ago by Nawab of Hyderabad and its a prominent structure around the places. Thousands of devotees visit this temple every year and seek blessings of Lord Vishnu.
Must Read: 15 New Year Eve Parties In Hyderabad 2020 You Should Not Miss!
2. Tyda Park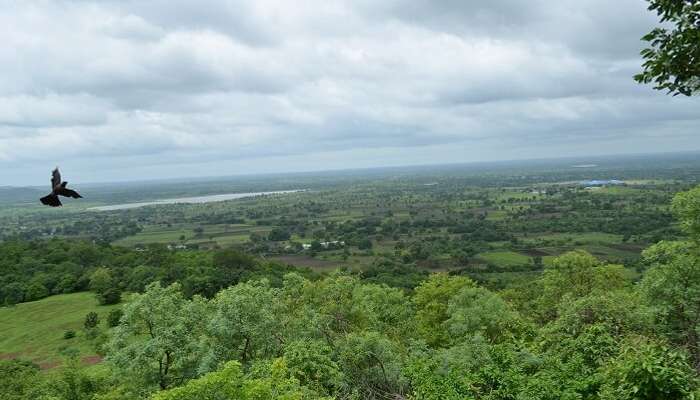 This place is great to begin with for a milder introduction to the wilderness. For visitors and campers to see, birds and animals roam freely here. In fact, some fun games and camping makes the visit to this place worthwhile. The park is a great refuge for all the adventure lovers also seeking peace from the rest of the world.
Suggested Read: 10 Best Beaches Near Hyderabad For A Relaxing Vacation With Your Loved Ones
3. Bhavanasi Lake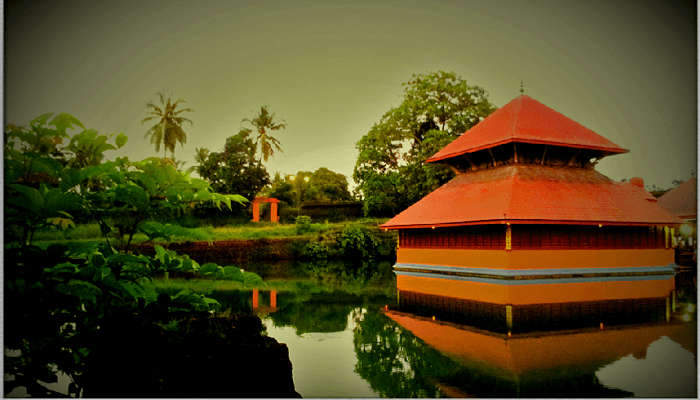 Considered sacred and as a southern Badrinath, the lake originated from Nallamala Hillas and thought of enhancing God's faith by holy immersion. The holy bath is performed in this lake and many people visit this place to take a dip into the holy waters.
Suggested Read: 9 Honeymoon Places Near Hyderabad For A Short Romantic Escape In 2019
4. Musi River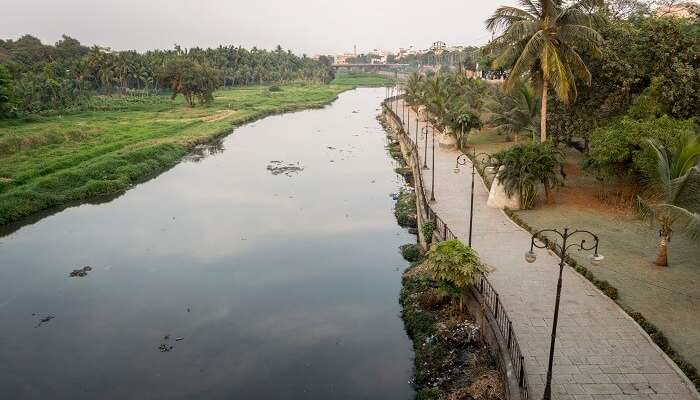 These hills near Vikarabad are credited with this river's birth which is also a lifeline to Hyderabad's region. Also known as the Muchukunda River on a sage's name, it is a tributary to the mightier river of Krishna.
Suggested Read: 6 Haunted Places In Hyderabad With Real Ghost Stories For Spooky Trips In 2020
5. The Borra Hills and Caves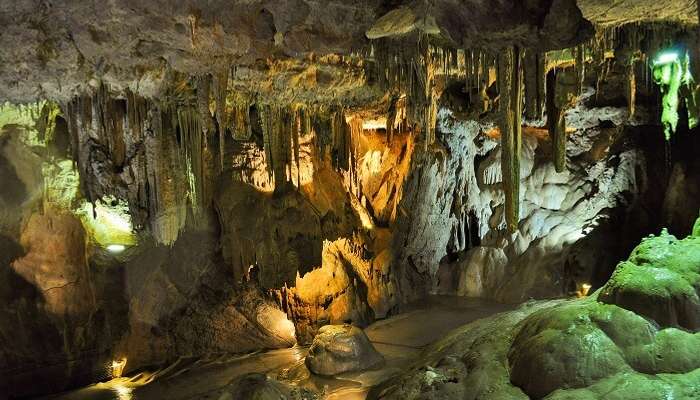 Found on India's east coast, the Borra Caves are found in Visakhapatnam district's Araku Valley Ananthagiri Hills. This million-year-old cave was discovered by British geologist William King in 1807 and has since been a tourist attraction. Awesome hilly terrain, beautiful scenery, semi-evergreen moist deciduous forests, and the Borra Caves ' wild fauna are a visual feast for the visitors. The caves are created as a wonderful creation of nature as flood flows pass through a calcareous environment and the calcium carbonate transforms into calcium bicarbonate, which is easily washed out by running water.
Suggested Read: Our Hyderabad To Andaman Trip Was All About Our Lovely Honeymoon On The Island
6. Dolphin's Nose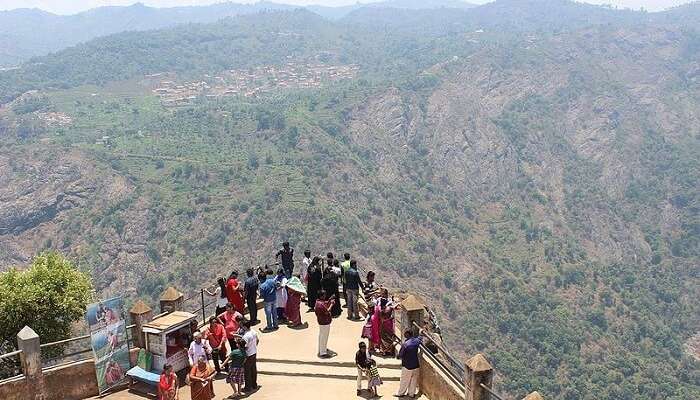 A broad rock about 357 m high that looks like a dolphin's nose is given the name to reflect the resemblance. Also among the tourist attractions that come for is a lighthouse on the hill.
Suggested Read: 5 Amazing Experiences To Encounter On Sikkim Trip From Hyderabad
7. Coffee Plantation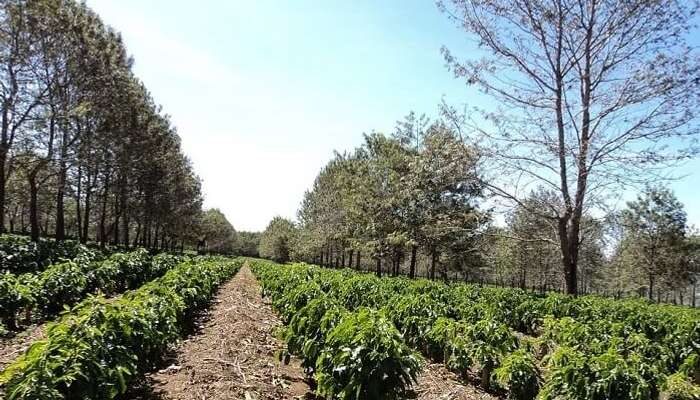 High standing trees supporting the pepper vines and shading the berries-loaded coffee shrubs are something some visitors may never have a chance to look at. What better option than spending your vacation in Ananthagiri.
Suggested Read: Delve Into The Nightlife In Hyderabad At These 13 Exquisite Clubs And Bars
8. Galikonda Viewpoint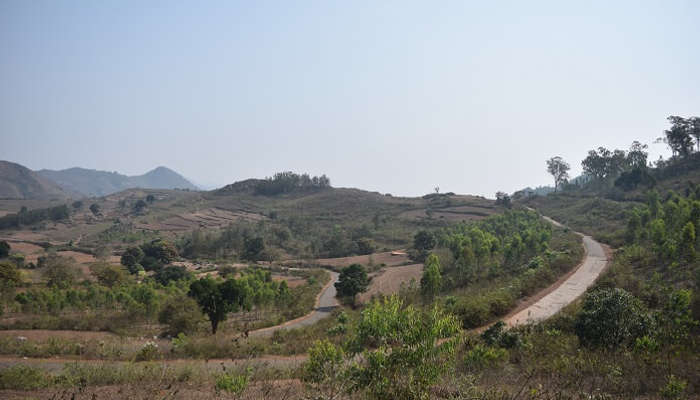 The Valley wouldn't look better than here. The breathtaking views from 3,800 ft are amazing. There are a lot of attractions nearby that you can visit during this tour likeThe Katiki Waterfalls, Araku Waterfalls, And Tadimada Waterfalls. Enjoy the serene views and let go of all the stress on this holiday.
Suggested Read: 13 Charming Tourist Places Near Hyderabad To Visit On A Weekend In 2020
9. Katiki Waterfalls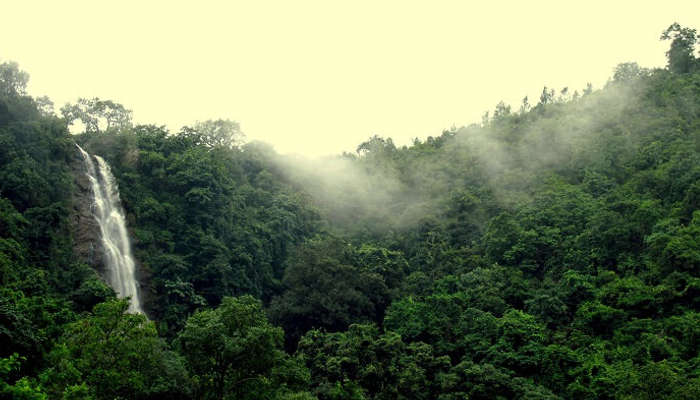 With 2 km of trekking you will enjoy the water stream falling from 50 ft of height near Borra Caves. The waterfall offers elegant views and is a major tourist spot. You can click amazing pictures on your tour and also enjoy coffee watching the beautiful sight.
Suggested Read: 10 Famous Temples In Hyderabad To Visit In 2020 For Peace And Spiritual Quest
10. Tribal Museum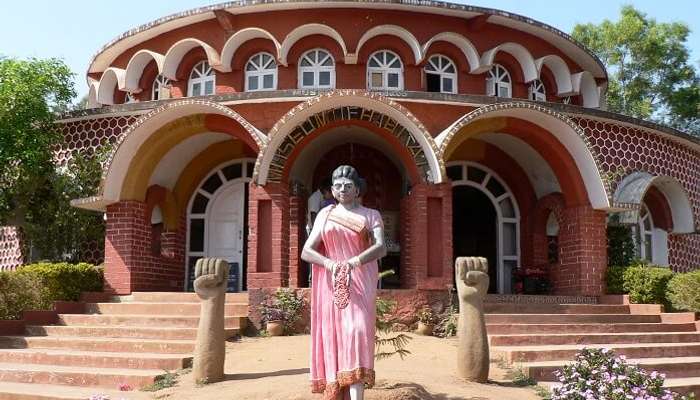 This interactive tour in Araku will introduce visitors to the other facets of the places and sell things made there that can be bought as souvenirs. It could also be attempted for fun to fire tribal style. Araku Tribal Museum is a treasure-holding place that exhibits the Eastern hat tribes ' history, arts, fine art and tradition. The museum contains tools that once belonged to the tribal people and one can witness the local natives ' lifestyle when going through their other belongings. Tourists can also purchase handicraft products made by members of the local tribe.
Suggested Read: Camping Near Hyderabad: 7 Spots To Reconnect With Yourself In 2020!
How To Reach Ananthagiri?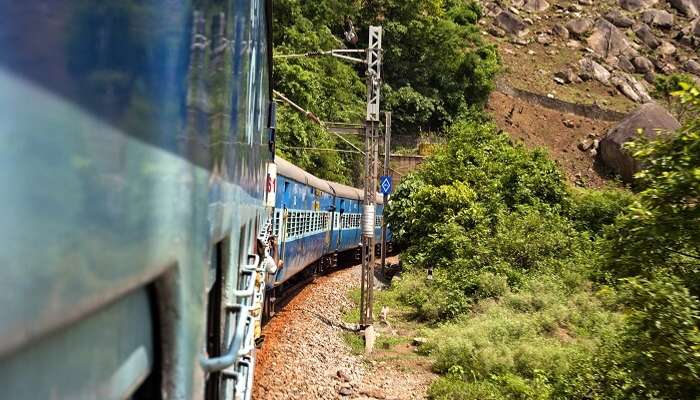 By air
Nearest airport to the Ananthagiri Hills is located in Hyderabad which is linked to major cities such as Delhi, Mumbai, Kolkata, etc. from where a cab can be hired to cover Ananthagiri for the rest of the 100 km.
By rail
Rail travel takes you through the scintillating Eastern Ghats, one of the highest long gage tracks in the country, from Srikakulam to Anantgiri.
By road
Hyderabad bikers sometimes take these roads for a different kind of fun and stop where they're told by heart. Persons on family vacations can take bus or cab according to the group's size need.T
Best Time To Visit Ananthagiri Hills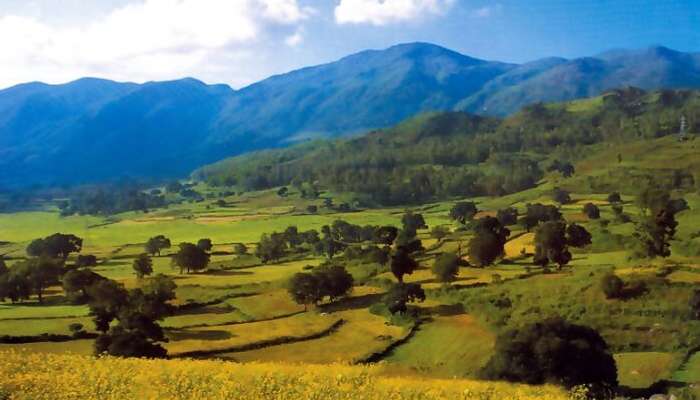 Ananthagiri enjoys pleasant weather all year round, with winter temperature in Ananthagiri Hills ranges from 16 to 22 degrees Celsius. Therefore, between the months of October and March, the perfect time to pack your back and take a trip to this fascinating place. During this period of time, the weather is extremely pleasant and the entire place looks spectacular in lush greenery. The scent of fresh coffee beans in the air adds to the splendor
July- October-Ananthagiri's monsoon season begins in July, and the precipitation continues to drop until October. During this time the weather is perfect. The entire place is under the rain spell and looks lush and stunning. The hills are lined with vegetation and lush green trees. The flora's iridescence is the perfect picture. The waterfalls bubble with water that makes the entire site appear beautiful. Rains also brings some love and romance with it, making it an ideal time for honeymooners or anyone who decides to rekindle their relationship with their loved one. This is the perfect season of cuddling with your loved one surrounded by green trees and breathtaking panoramic views. Since it is a hilly area, a tad bit of slush is also produced by precipitation. If for the sole purpose you want to visit Ananthagiri Hills because just dreaming about the adventure events makes your heart beat faster, it's not the right time for you. Around this time, outdoor sports such as trekking, hill hiking, fishing, rappelling and scaling are all restricted.
April- june-The Ananthagiri Hills summer season starts from April and lasts until June. The temperature reaches up to 40 ° C during this time period, which makes the place hot. The sun shines brightly throughout the day and a tad bit of humidity is in the air. Ananthagiri Hills in summer can be visited only for enjoying the natural beauty of the place. The waterfalls and other water bodies do not flood with water during this time of year. Instead, with little room for boating or diving, they are almost dried up. Because of the humidity and intense heat, trekking and exploring the Ananthagiri Hills during this period would be tiring and boring activity. Often, you won't be able to see a huge number of animals and birds because they disappear and cover themselves in the dense forests. But if you're planning to stay in and enjoy nature's glory, you can now fly here.
Further Read: 7 Resorts In Hyderabad Where You Can Plan You Lavish Getaway This Year!
The history and culture of madinaguda is an intriguing one indeed! There are lots of places to visit in madinaguda where you can have your fill of history and culture. Some of the most interesting places to see in madinaguda in this genre include forts, monuments, museums, and archaeological sites. So, walk back in time by discovering the richness of history and culture in madinaguda. You can do Hyderabad Vikarabad trip in a day but I like to stay for a night and wake up to the chirping of birds in the morning. Once we reached Ananthagiri we went for hiking in the woods nearby till the edge of the valley and later drove to the Nagasamudram lake also which is a few kilometer away. The water in the lake is very clean and some of the kids actually went for a swim in the lake.
Frequently Asked Questions About Ananthagiri Hills
Q. What are the basic tips for travelers?
A. Before you travel to Ananthagiri, keep the following things in mind:
1. Make sure you carry a camera to capture the essence of nature's bounty oozing out of the city.
2. Avoid travelling to the city during summer owing to hot and dry weather.
3. Carry a pair of sport shoes for there is lot of walking and trekking around the town.
Q. What are the highlights of Ananthagiri waterfalls?
A. The major highlights of Ananthagiri are:
1. Many aromatic coffee plantations that is perfect to get those Instagram-worthy pictures.
2. Gorgeous waterfalls and vintage viewpoints to get the best of nature.
3. Several mango groves and orchards that wrap the entire place in the shade.
4. Swift streams, flowing through the hills which are a part of the glistening river Musi.
5. Enthralling views that help to capture the best of this place.
Q. What is the average temperature of the place entire year?
A. The minimum temperature of Ananthagiri falls upto is 13 degree Celsius and the maximum temperature is 33 degree Celsius.
Q. What is Vikarabad famous for?
A. Vikarabad is famous for higher education institutes such as Sri Anantha Padmanabha College and Osmania University College Vikarabad for Self Finance.
Q. How to reach Nagasamudram Lake?
A. It seems that the Nagasamudram Lake is listed in Google Maps as Kotpally Reservoir and it appears as Nagasamudra, Telangana, based on a reader's request. You should follow this chart to enter the Nagasamudram Lake or Kotpally Reservoir, from Haritha Resort to Nagasamudram Lake.
Comments
comments