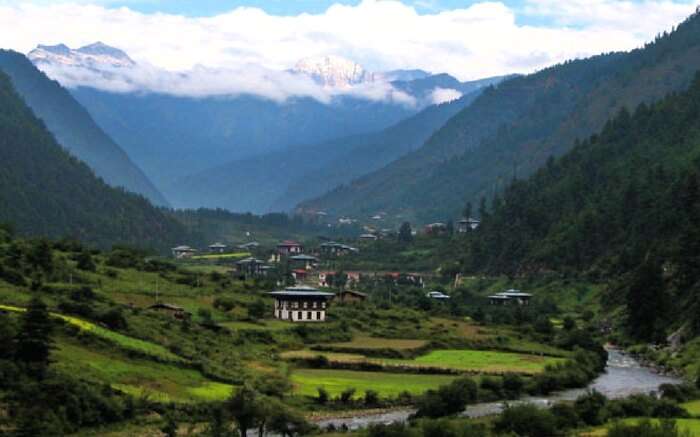 Mountains guard, mountains keep, mountains whisper secrets to the closest acquaintance! But to listen to them you must walk into their embrace. It is here that you go chasing angels or fleeing demons, and when you are there already you wake up to some of the most surreal views ever. Haa Valley, nestled in the Himalayan land in Bhutan, is where nature looks its incredible best.
The Valley is a nestled paradise connecting Paro, Chhukha, and Samtse districts of Bhutan. Located at a mere 13 miles distance from the disputed India-China border in Doklam, this place holds a strategic position stretching over 1700 sq km. It was in 2002 when it was made available to the public, yet the valley still doesn't have too many conveyances. It can be reached from the nearest town of Paro most efficiently. Truly a cut above the rest, the Haa Valley takes you through to the magical place beyond mountains in Bhutan where the world is so serene and light is pristine.
About Haa Valley Bhutan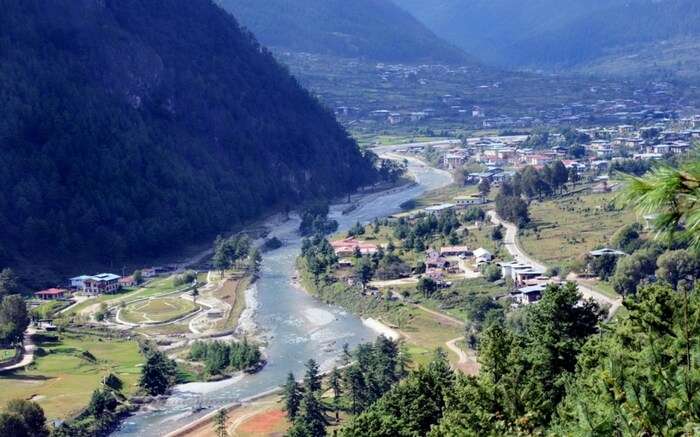 Haa town is known for its ancient traditions and rituals, and with its thinly populated valley region, this place gives you the tranquilizing feel like a fewer place in the ever would. Lhakhang Karpo (White temple) and Lhakhang Nagpo (Black temple) from the 7th century lie nestled in the foothills of the Meri Puensum mountains.
The valley is located in close proximity to Doklam or Zhoglam – a plateau enveloped by Tibet's Chumbi Valley to the north, Bhutan's Haa Valley to the east and India's Sikkim state to the west. This place is of strategic importance to India and China and the armies of both the nation were in news because of the 73-day-long military standoff in Doklam. Talking about the way of life, the valley and surroundings follow the Shamanistic rituals.
To reach the valley by road one has to traverse Chele-la Pass at 3988 meters. It is from the valley that you get to feast on the magnificent views of Mount. Chomolhari & Jichu Drakey. Haa is strategically important for India because of its close presence near the Indo-Tibet border and the IMTRAT (Indian Military Training Teams) has its base in the Haa town which is a critical position for India.
Must Read: Dochula Pass, Bhutan: 3 Reasons You Must Visit It
Best Time To Visit Haa Valley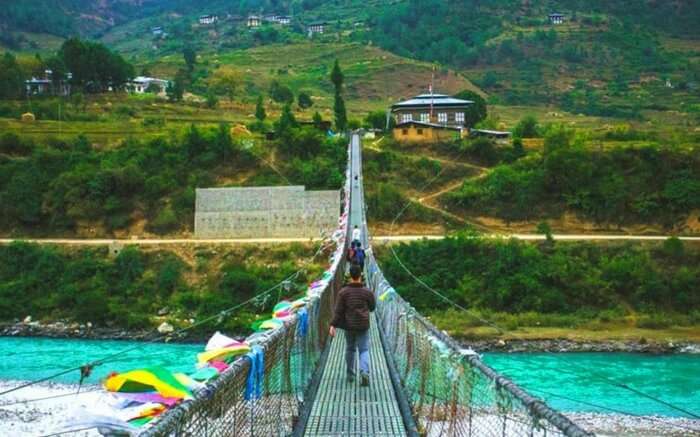 October  to November is the best time to visit Haa Valley. Autumn is the time when Mt. Jomolhari and the snow-covered surroundings look the finest. The weather is moderate and perfect for a hike in the valley. You will have the time of your life here and will not be disappointed by the bevy of activities that you'll come across in this region. A bevy of seasonal adventures await you.
Suggested Read: 10 Best Resorts In Bhutan For Luxury And Budget Travelers
How To Reach Haa Valley
There are various means by which you can reach Haa Valley. A few of them are listed below. Take a brief look and make up your mind whether you want to take a flight or travel by road:
By air: Paro Airport is the nearest you can reach Haa Valley by plane. Paro international airport is 65 km far from the valley. Cabs are easily available from the airport, which take around 1 hour 50 minutes to reach Haa Valley by road.
By bus: Direct cabs are available from Phuentsholing to Haa Valley. The valley can also be reached by cab or private vehicle from Thimpu in 4 hours approximately. There are local buses plying from Thimpu and Paro to Haa Valley on fixed days. Thimpu is around 114 km from Haa Valley.
Suggested Read: 9 Soul-Satisfying Things To Do In Paro On Your Bhutan Getaway
Things To Do In Haa Valley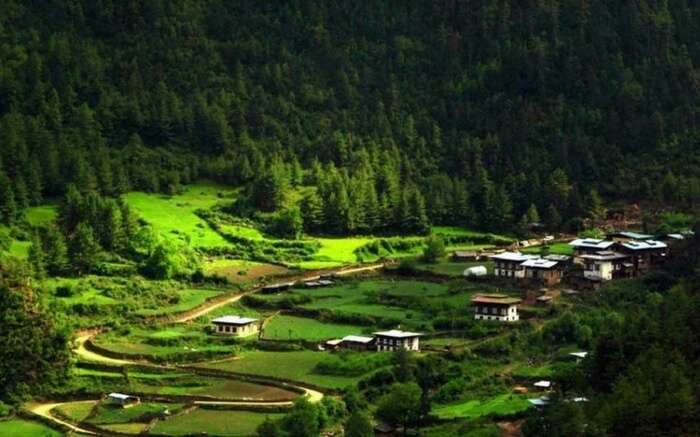 Image Source
Haa valley is popular for its stunning outdoors which makes it a hikers delight. The lush green surroundings and architectures from the medieval times are just too good to marvel. Go on a Poppy trail, live in a homestay, pray at a monastery, or taste some of the most delectable local cuisines, Haa Valley has a lot to offer to the nomad:
Go hiking to the Buddhist temples
Take a hike to Haa Chu Riverside
Experience the rich Bhutan culture
Go on a Poppy trail in the valley
Suggested Read: Crash At These 12 Best Hotels In Bhutan: Staying At The Dragon Kingdom
Places To Visit Near Haa Valley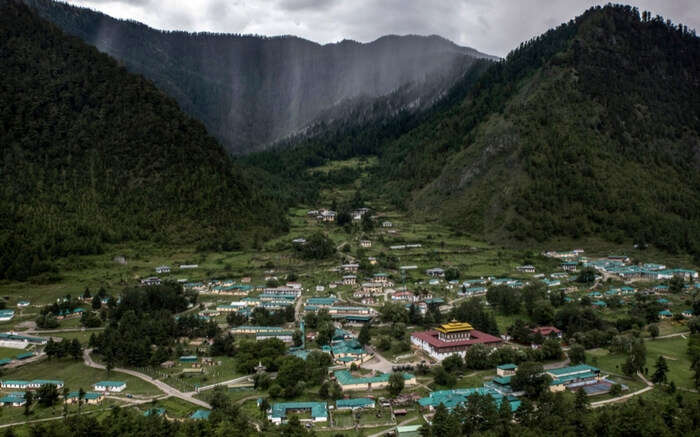 Image Source
With the kind of serenity that Haa Valley is surrounded with one can't just get over its enthralling beauty. The place is bestowed with stunning nature and a lot of tiny temples and gompas from the prehistoric times. It is here in the valley that you can expect simple joys of life in the seamless trace farms:
Haa Gompa
The Black and White Temple Temples (Lhakhang Karpo and Lhakhang Ngapo)
Dumchung Dzong
Has Samarpudung
Yangthong Gompa (7 km from Haa)
Gyechu Lhakhang/ Chhundu Lhakhang (3 km from Yangthong Gompa)
Juneydrak Hermitage
Katsho Gompa – below the Hermitage, Katsho Village
Suggested Read: 12 Old Yet Charming Monasteries In BhutanEvery Traveler Must Explore
4 Places To Stay In Haa Valley
Haa Valley Bhutan has limited stay options! Therefore you must plan a stay in advance before heading there. These stays are special because of their picture-postcard location, stunning outdoors, and comfy feel. Don't forget to check them out:
1. Risum Resort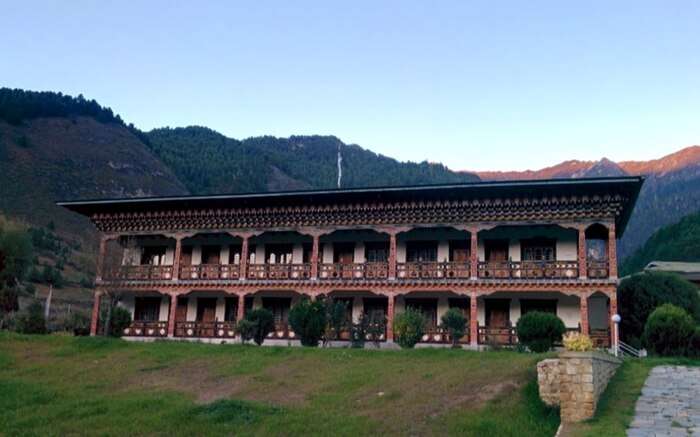 Risum Resort is located near a quaint village called Wangtsa at an elevattion of 2,700 metres (8856 feet) above the sea Level. It has a magnificent view of Haa Wangchuk Lo Dzong and the sacred site with its three ridges known as Meri Puensum. The name, which means "The Three Brothers of the Hills" in local legend, represents the three great Bodhisattva (Manjusri, Avalokitesvara and Vajrapani).
2. Soednam Zingkha Heritage Lodge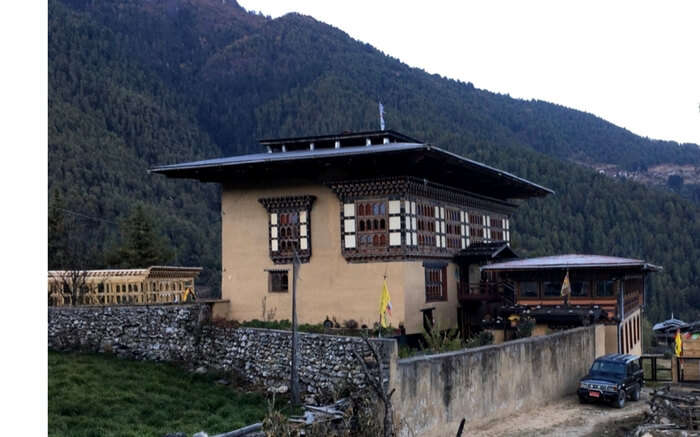 Soednam Zingkha Heritage Lodge is a stunning and immaculately restored farm house. It is nestled in the village of Hatey. The lodge combines heritage with modern comfort. Customary paintings, earthen walls, and ancient timber complement the comfortable bedding, heated rooms, and modern bathrooms to create an unforgettable atmosphere for all our guests. The staff is known to be hospitably warm.
3. Lechuna Heritage Lodge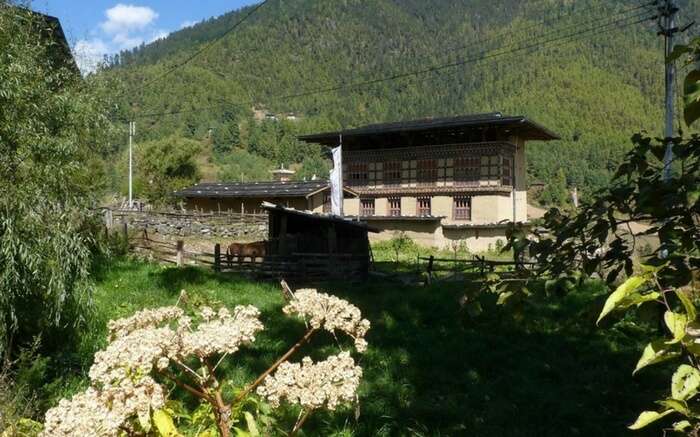 Lechuna Heritage Lodge is the most beautiful farmhouses in Bhutan. It located in the smallest district of Bhutan with a population of just twenty thousand. It is situated at an altitude of 2960m. It is immersed in history. The farmhouse is located in the picturesque village of Lechu. The village has a cluster of two-storey traditional houses. The staff is pleasant to talk to here.
4. Nguyen Homestay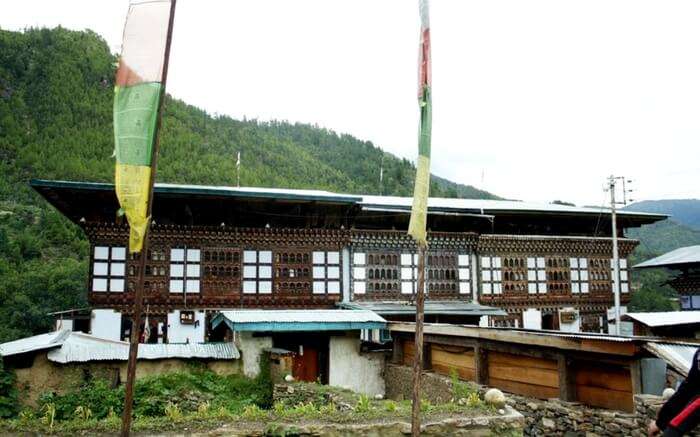 Staying at Nguyen Homestay will provide you a truly memorable experience. It is one of the best homestays in Bhutan in terms of cleanliness and amenities offered by the accommodation. Butter tea and biscuits will undoubtedly be served, in addition to many local delicacies such as dumplings. The guests are treated with the utmost warmth at this place.
Further Read: Bhutan In December: A Quintessential Travel Guide For An Exquisite Vacation!
Mountains are nature's most incredible creation! For they welcome you to grand views and incomparable sights. Haa Valley must be on your itinerary when you are planning a getaway to Bhutan. You will have a rocking time there. Make sure to tell us about your experiences on your trip in the comment section below. 
---
Looking To Book A Holiday Package?
Book memorable holidays on TravelTriangle with 650+ verified travel agents for 65+ domestic and international destinations.
---