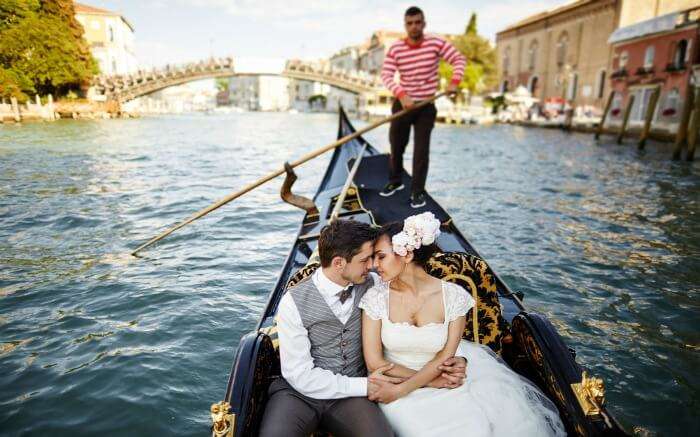 Since you're getting hitched in summers, you can heat up your romantic escape a little more. Your mind must be getting boggled with zillion summer honeymoon ideas, but this is right where you need to stop.
Before you book a honeymoon package, it's always a good idea to explore options. Whether you want to kayak under the starry sky with your partner, or skydive above Mount Everest, or maybe you want to go for an underwater date in the Andamans; just prepare for a flood of honeymoon ideas that you can adopt for a melodious escapade with the one.
Summer honeymoon ideas in Asia
1. Enjoy Hundred Candles Dinner alongside the Ayung River in The Samaya, Bali, Indonesia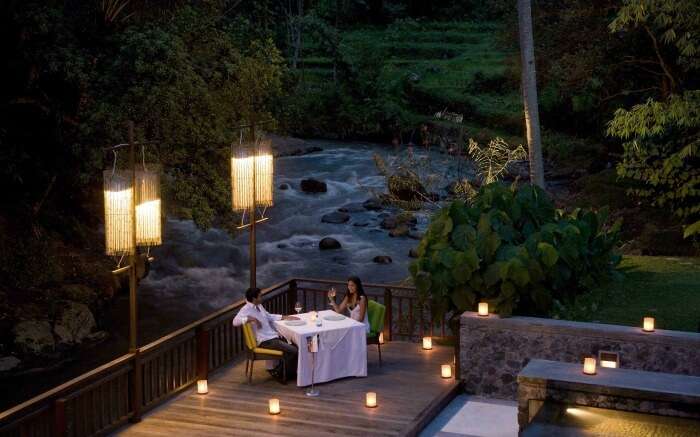 The private Hundred Candles Dinner does total justice to its name. A hundred candles, fresh flower petals, pristine Balinese naturescape, delicious food and your love by your side; this is the perfect romantic night you two have been looking for.
This special dinner date is organized in Hotel Samaya in Ubud, one of the best places in Bali for honeymoon, and you can book this experience here.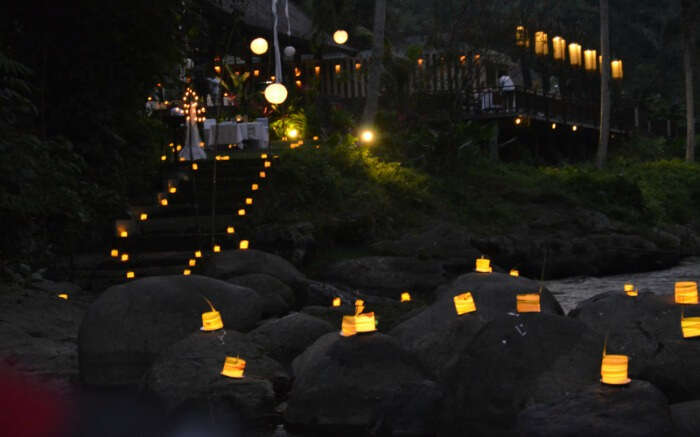 Suggested Read: Fantasy Escapes: 10 Best Honeymoon Resorts in Bali
2. Live the fairytale onboard a private cruise in Langkawi, Malaysia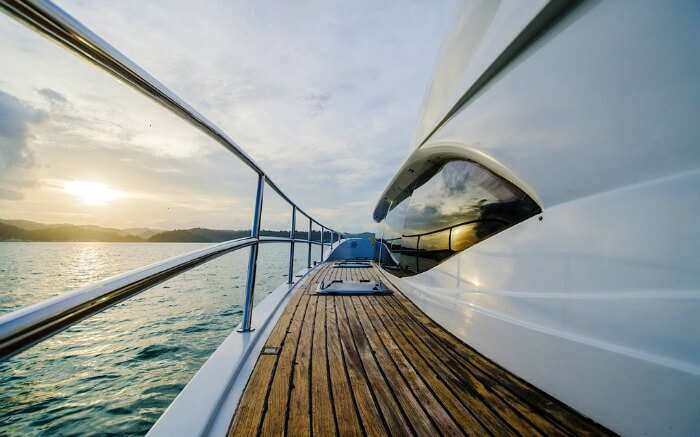 There are a number of exotic places to visit in Langkawi, but a private catamaran upon the emerald sea is something that adds uniqueness to your romantic honeymoon ideas. There are various choices for the cruise – you can opt for full day, half day, or a special sunset cruise.
There are many cruise companies such as Naam Adventure that arrange private cruises. While on it you get to sail past the top landmarks of Langkawi.
Must Read: 25 Honeymoon Destinations In Malaysia To Visit In 2022 That Will Surprise Your Partner
3. Go on an underwater date in Andaman and Nicobar Islands, India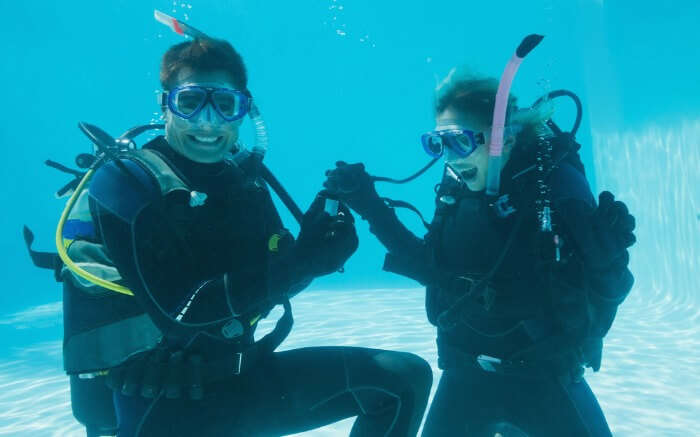 There's no wonder Andaman and Nicobar Island is considered among the best places for scuba diving in the world. The crystal clear ocean waters and an incredible marine life with colorful corals and myriads of fish species call for a date in the ocean. Havelock Island and Neil Island are ideal spots for scuba diving in Andaman.
Get in touch with India Scuba Explorers, Sinclairs Bayview Hotel, and Barefoot Scuba Resort to book this experience.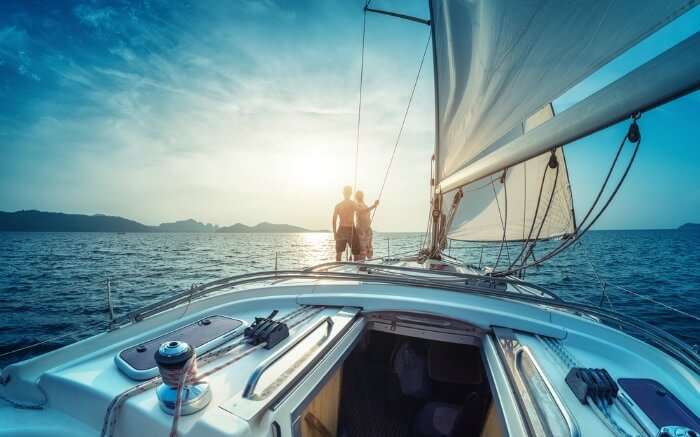 Suggested Read: 25 Best Beaches In Andaman And Nicobar Islands Water Babies Must Visit In 2022!
4. Spend the night away in the traditionally crafted houseboats in Srinagar, India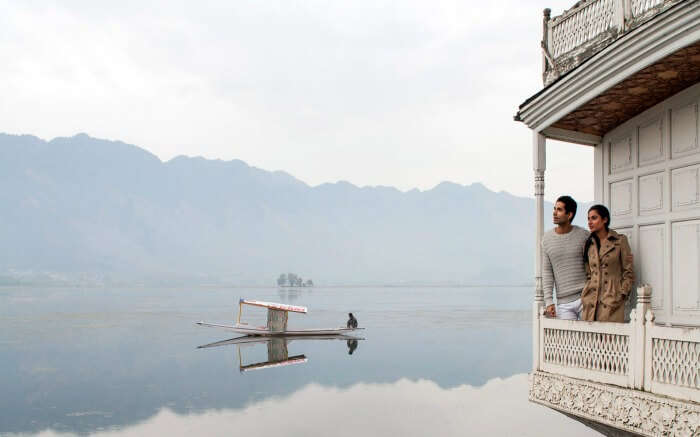 Dal Lake is the pride of Kashmir, and its magic becomes a bit more heavenly with the anchored houseboat havens. Crafted with traditional crafts and offering warm hospitality, along with a great Himalayan view, a stay in the houseboats in Srinagar is as romantic as it gets. It is also one of the best honeymoon ideas on a budget and among the top best things to do in Kashmir.
Butt's Clermont Houseboats and WelcomHeritage Gurkha Houseboats are two of best houseboat hotels in Srinagar that you must consider.
Suggested Read: 21 Honeymoon Places In India In May In 2022 That Bloom With Love & Fervent Charm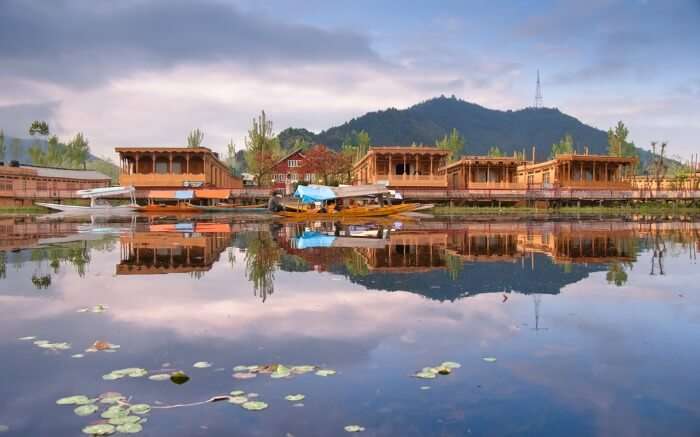 Must Read: 19 Places To Visit In Kashmir For Honeymoon In Paradise In 2022
5. Go skydiving above the highest peak on earth, Mount Everest, Nepal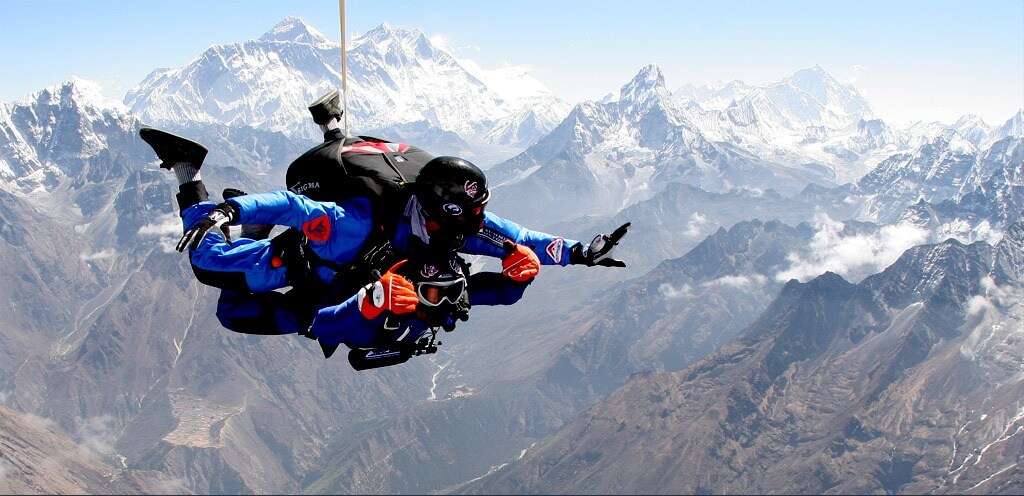 If you are a couple who aren't afraid of extreme adventures, this is for you! Your wedding marks the beginning of new life and that's the reason enough to start it with something as crazy as the Everest Skydive! Fly above the highest peak on Earth, Mount Everest exploring the breathtaking wonders of nature.
Must Read: 11 Fantasy-Filled Places To Visit In Nepal For Honeymoon In 2022
Summer honeymoon ideas in Europe
6. Get serenaded onboard your gondola in Venice, Italy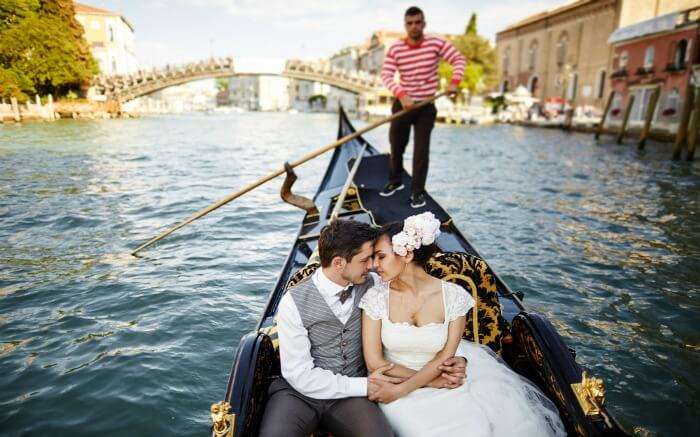 This 35 minute ride starts from a famed attraction of Venice, The Grand Canal. As you sail past, romantic and folk melodies are sung by a singer to make your venetian experience unforgettable. The Gondola Serenade arranges this ride all through the year, cruising you through the inner canals, flaunting the old world charm of Venice.
Must Read: 10 Tourist Places In Italy That Are Sinfully Gorgeous
7. Wander through the whitewashed village of Oia, Greece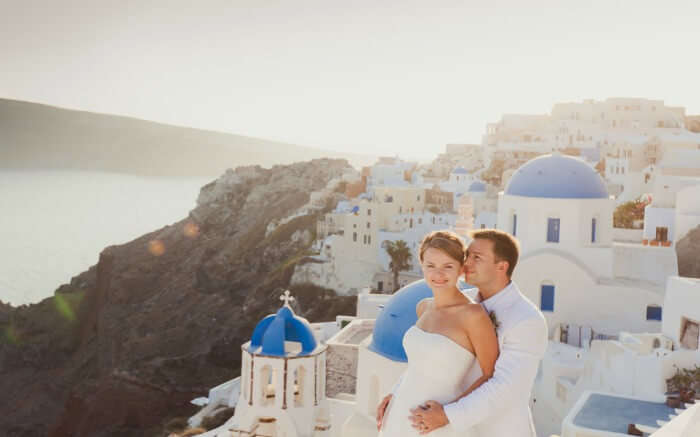 Oia is among the magnificent places in Greece, and that picture-perfect spot for all the newly-weds. This stunning white village in Santorini is where you should head for a summer honeymoon. The warm days are just perfect to enjoy finger-licking Greek food, click the lovely buildings, and enjoy the gorgeous sunset from the Northern ends of this village; it will make you both weak in the knees.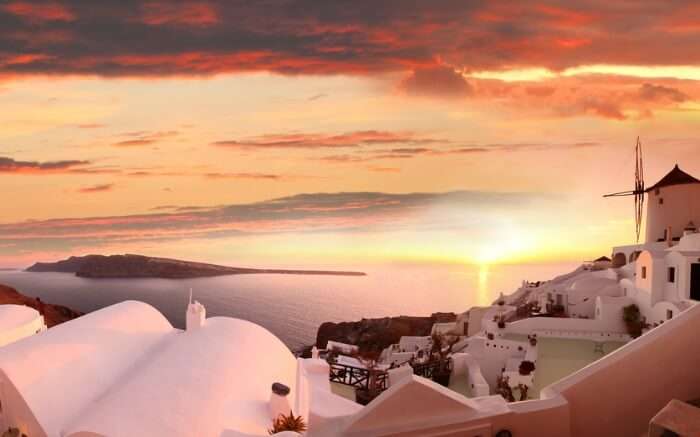 8. Tour the Game of Thrones locations in Dubrovnik, Croatia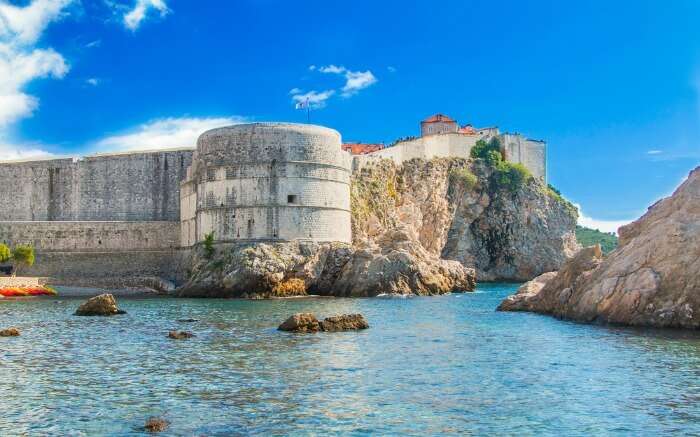 This is among amazing summer honeymoon ideas for GOT lovers! The most talked-about series, Game of Thrones, is shot in different locations of Croatia; Dubrovnik being one of those. Fortress of Kliss, Fort Lovrijenac, and Baroque Staircase are the spots that have been featured in GOT.
You can either design your own tour or go for GOT tour organizers like Elite Travel and Viator.
9. Dwell into traditional Spanish magic aboard horse-carriages in Seville, Spain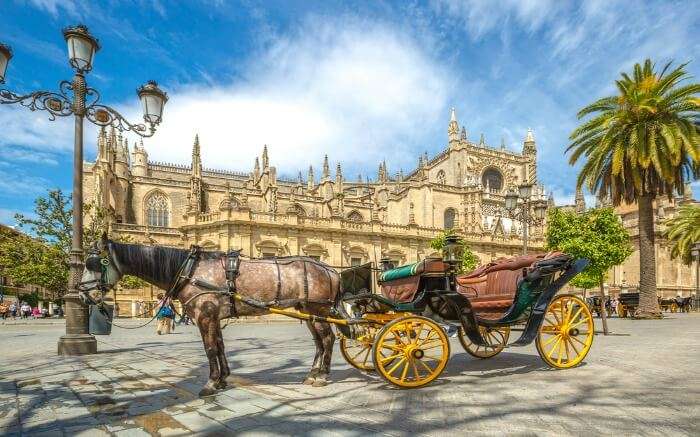 If you've been looking for fairytale kind of honeymoon vacation ideas, this is a good bet. As you go through streets of Seville on a horse-carriage, your private guide will weave pictures of history with his words. With this tour you also visit the major attractions of the city, like Tower of Gold and Palace of Saint Telmo. Seville's well-preserved heritage and architecture make it one of the most beautiful cities in Spain.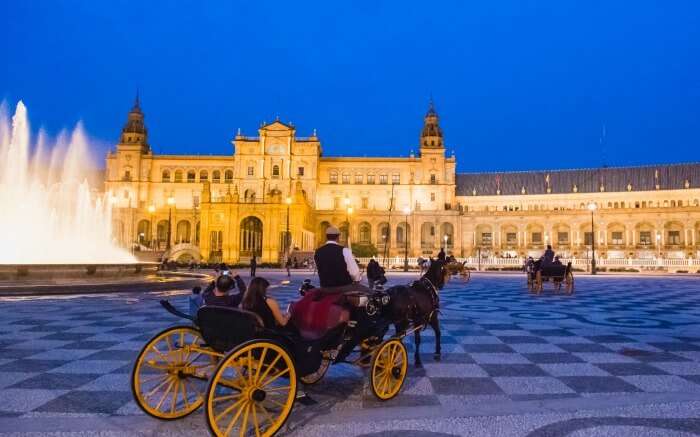 Must Read: Honeymoon In Spain: 18 Best Places For A Romantic Español Vacation In 2022
10. Lose yourself in the festivities of Edinburgh International Festival, Scotland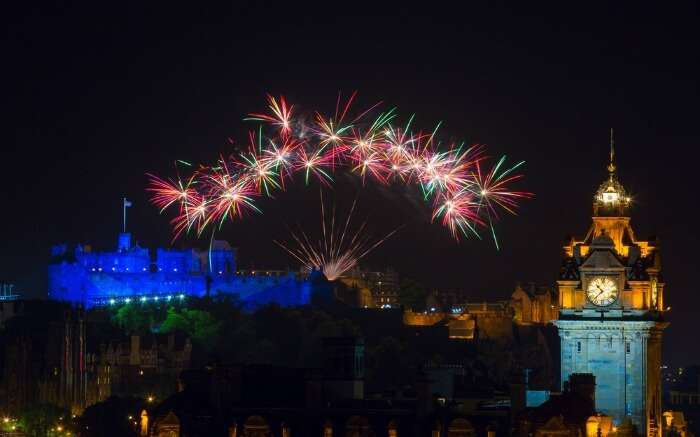 Every year in August, the much-awaited event of the country, Edinburgh International Festival is organized. The fiesta is about music, dance, opera, talks, theater and a lot more. The festival continues for about 25 days, and each day you get to encounter performances and works by the professionals that have mastered their skills to another dimension. This has got to be one of most exciting honeymoon ideas for August!
11. Clink your wine glasses while gazing at the sunset in Tuscany, France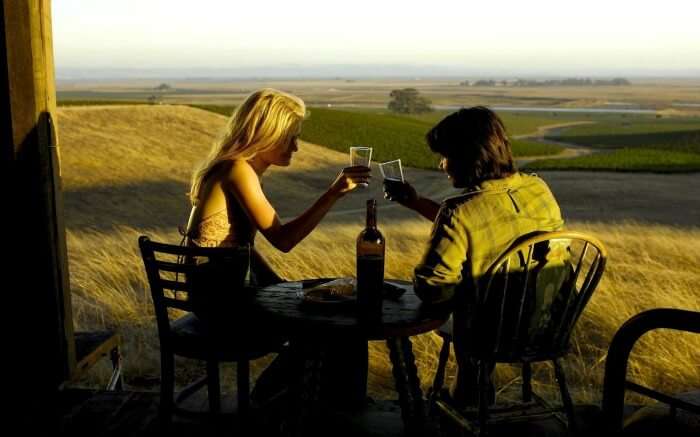 Who doesn't treasure French wine?! Tuscany in France is that paradisaical spot for wine-loving couples looking for honeymoon ideas. The private wine tours organized by different organizers, combine wine (of course!), gastronomical delights, and views of lush wineries across acres of land. Hold up for the sunset, and watch the landscape turn golden. Now that's a dreamy European honeymoon!

Must Read: 27 Incredibly Charming Places To Visit In France In 2022
12. Wake up in the open at Null Stern Hotel, Switzerland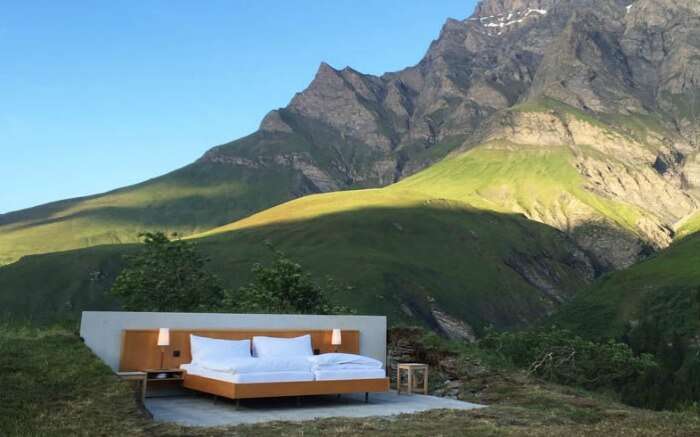 Going off the beaten track in your list of romantic honeymoon ideas? Then Null Stern Hotel is all for you both! This hotel without walls is nestled in the Swiss Alps, neighboring nothing but a big wide field of untouched nature.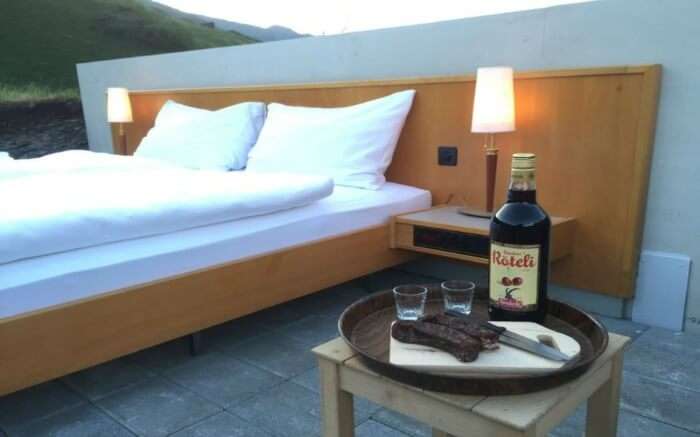 Suggested Read: 35 Unusual Honeymoon Destinations Not Meant For Ordinary Couples In 2022
13. Pamper yourselves in the luxuriant and traditional Turkish Baths of Istanbul, Turkey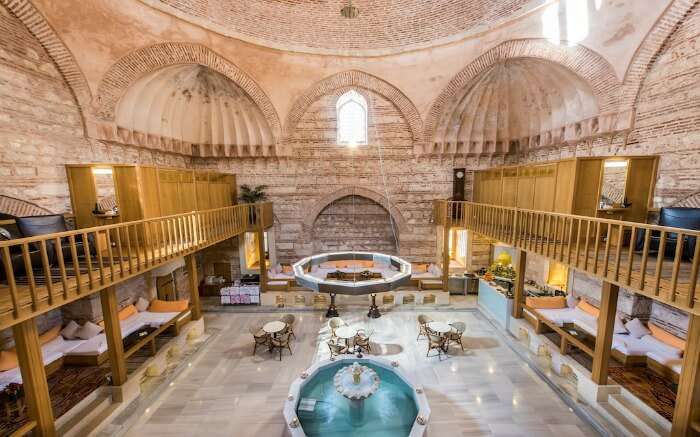 One of the perfect honeymoon ideas for July is to visit the Hamams of Istanbul, and pamper yourselves with the massage and steam bath. These Turkish Baths showcases the local artistry at its best and spark the best ideas for honeymoon. Ayasofya Hurrem Sultan Hamam, Cemberlitas Hamami, and Cemberlitas Hamami are some of the best Hammams in Istanbul.
Summer honeymoon ideas in American continent
14. Explore the barren yet enchanting Arenal Volcano National Park, Costa Rica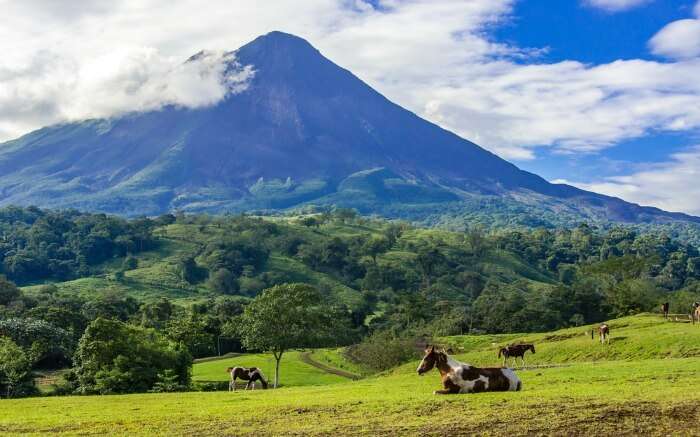 Arenal Volcano was once the most active volcano of Costa Rica. Today Arenal Volcano National Park is a birder's paradise, with some well-equipped and beautifully-designed hotels around. There are waterfalls and hotsprings, making for a stupendous hike with your love.
15. Take love above all at Skylodge Adventure Suites, Peru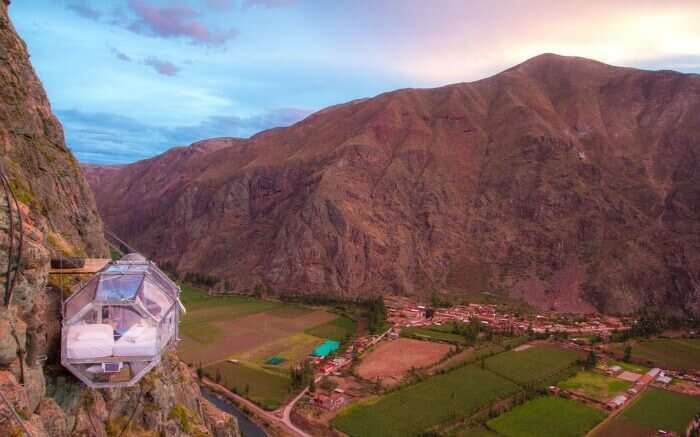 If adrenaline rush is something you both live for, then here comes the most ultimate of all honeymoon vacation ideas! The Skylodge Adventure Suites hangs off a cliff at a height of 1,200 feet. One needs to rock climb or zip in order to reach the lodge. The interior is all cozy and comfy with soft pillows, mattress, and quilts. There's a separate dining area on the roof; so skylodging in Peru makes a perfect honeymoon for the adrenaline-junkies!
16. Sunbathe on the beaches of Harbour Islands, Bahamas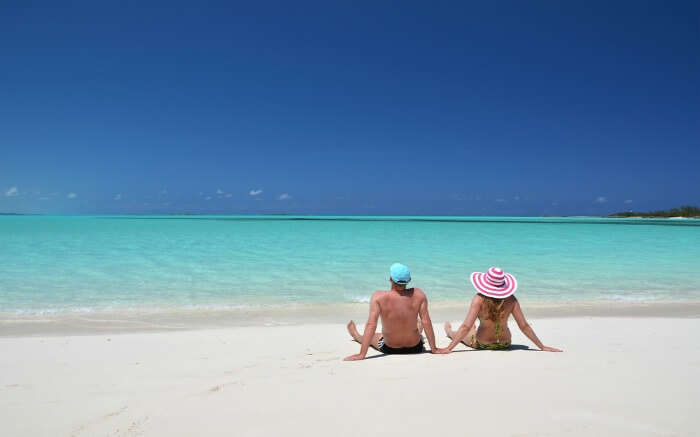 Hunting for honeymoon ideas when you're a unapologetically in love with white sands beach? Bahamas is the answer. Soaking up the sun is one thing, you two have a number of other things to do; kayaking, fishing, snorkeling, scuba, golfing, and hiking are just a few of them.
17. Kayak under the night sky on LED-Lit paddleboard Trip in St. Thomas, U.S Virgin Islands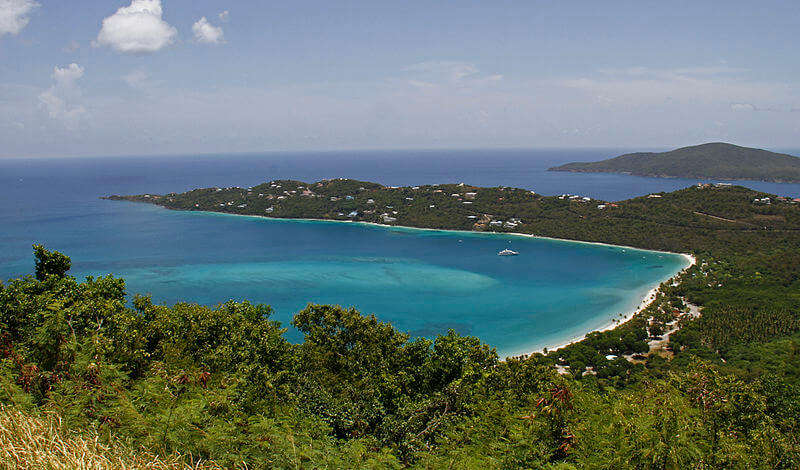 Kayaking the crystal clear waters, aboard a transparent-bottom kayak lit with LED lights at night is an experience that makes it one among the best ideas for honeymoon for the summers! Explore the Mangrove Lagoon Wildlife Sanctuary and Marine Preserve in the darkness of night. The guide will narrate you stories, and there will be flock of birds along the way too.
Summer honeymoon ideas in Australia
18. Sleepover with the animals in Roar and Snore in Sydney's Taronga Zoo, Australia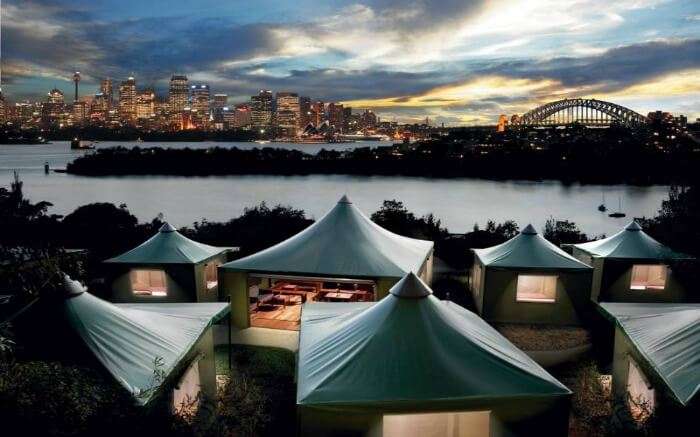 The Taronga Zoo of Sydney does not only accommodate exotic species of animals and birds, the hospitality extends to the luxury of people as well with Roar and Snore. The luxe tents overlooks Sydney Harbour. After a sumptuous buffet dinner the guests are taken for a one-and-half hour night safari. Your honeymoon in Australia cannot get better than this!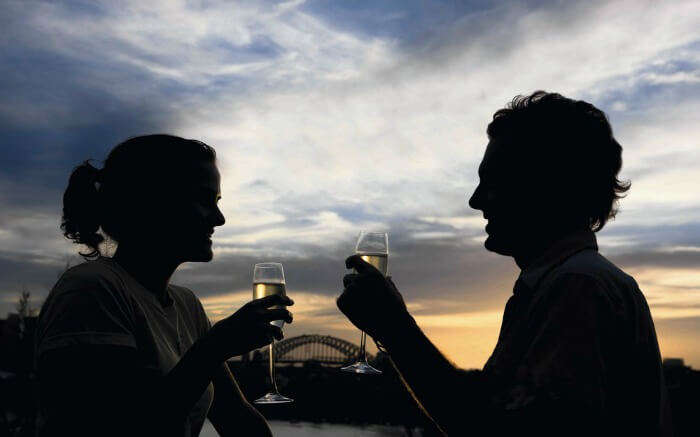 Must Read: 17 Dreamy Australia Honeymoon Destinations In 2022 That Define A Romantic Vacation
Summer honeymoon ideas in Africa
19. Go on a coastal road trip in Mauritius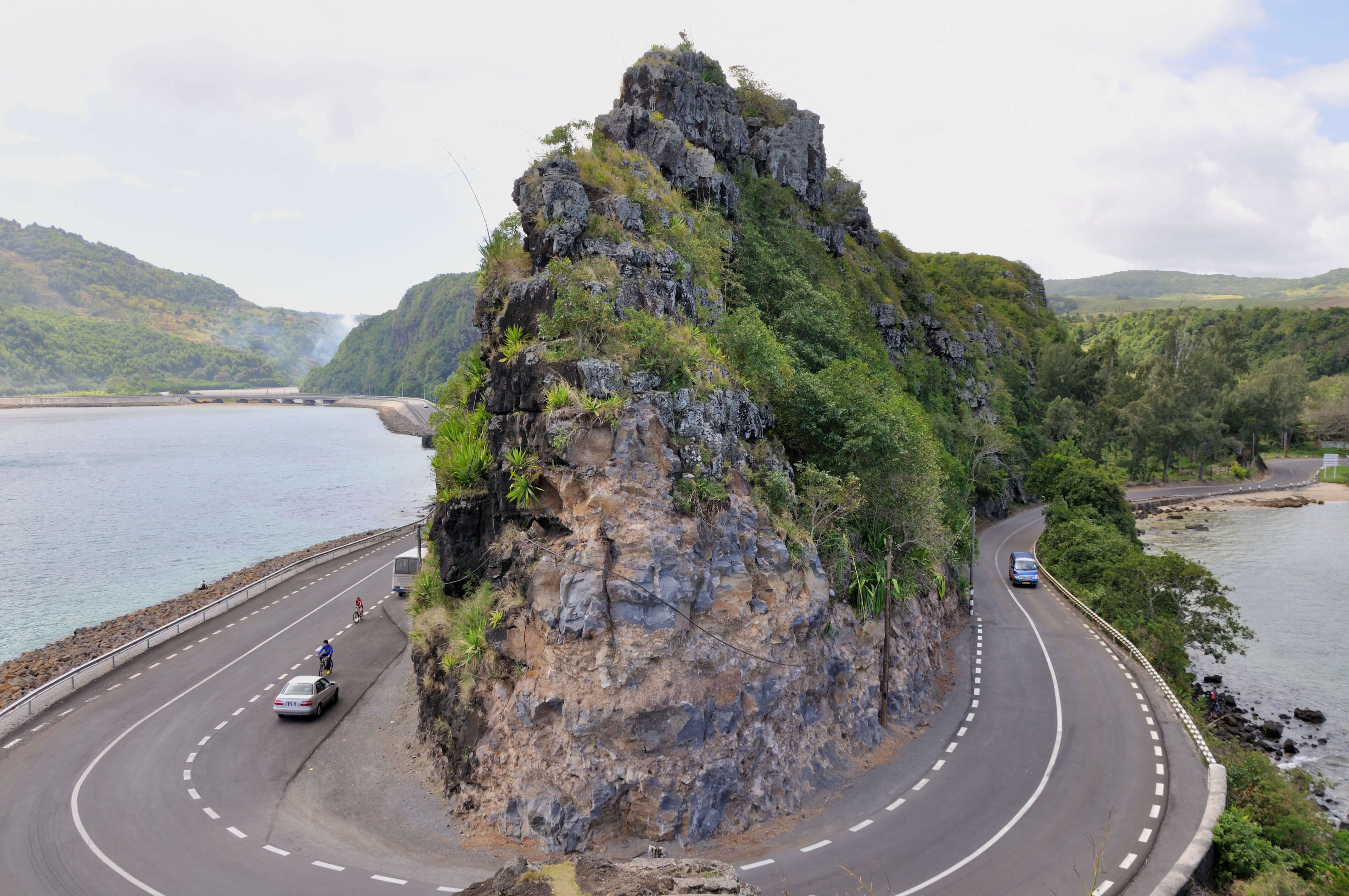 A honeymoon in Mauritius is about cruises, watersports, nature parks, and island hopping. If your honeymoon vacation ideas is about hitting the road, then you definitely should hit the scenic coastal routes of Mauritius. You can hire a driver or go exploring on your own. Yes! This is among the countries that let you drive with Indian driving license.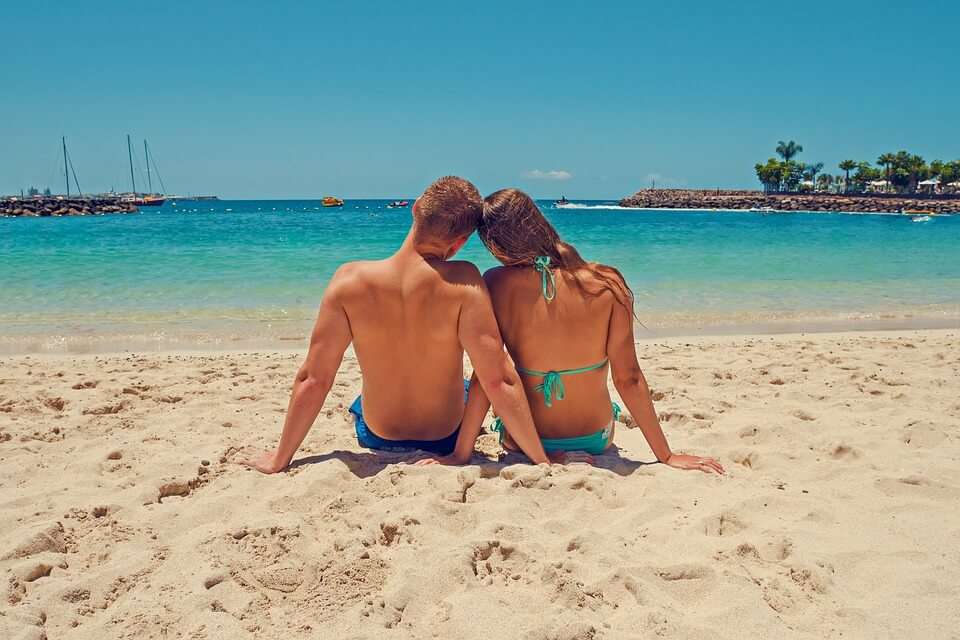 Must Read: Mauritius Honeymoon Guide: Here's All You Need To Plan The Romantic Vacation
20. Find romance in the wild as you get on a hot air balloon above Masai Mara, Kenya

Thinking of the best ideas for honeymoon? Masai Mara is a paradise for wildlife-enthusiasts. You cannot ask for more when this, a renowned nature reserve with zebras, lions and leopards, also happens to spark romance. Alongside opulent resorts, Masai Mara's landscape is beautified with colorful hot air balloons, arranged by different organizers.
The hot air balloon safari lets you sway above the rivers, woods, and plains of Masai Mara. This one-hour experience concludes with freshly cooked champagne breakfast in your landing area.
Excited, aren't you? What are you deciding on finally?
Further Read: 16 Things To Do On Honeymoon In 2022: Travel Tips And How To Make It Special
Frequently Asked Questions About Summer Honeymoon Ideas
What are the best things to try in Europe on a honeymoon?
Enjoy a gondola boat ride in Venice, a wonderful time in the whitewashed Santorini with your partner, exploring the Game of Thrones locations in Dubrovnik, Croatia, and horse-carriages in Seville, Spain. Fall in love with the sunset in Tuscany, and Turkish Baths of Istanbul.
What are the best honeymoon spots in India for a summer honeymoon?
The best honeymoon spots in India for a Summer honeymoon are Andaman and Nicobar Islands, Shimla, Kasauli, Jammu And Kashmir, Ladakh etc.
What are the best experiences for an adventurous honeymoon in India?
You can try some of the best adventurous experiences being here in India such as white water rafting in Rishikesh, trying paragliding in Bir Billing, Scuba diving in Andaman and Nicobar, Heli skiing in Gulmarg, snorkelling in Goa etc.
What is the best time to visit Bali?
We would suggest you plan your Bali trip from April to October, this is a wonderful time to be in Bali as it is mostly dry.
Why is Croatia becoming a famous holiday destination?
Croatia is turning out to be a famous honeymoon destination because of the shooting of Game of Thrones, which is a world famous television show that was shot in this exotic location.