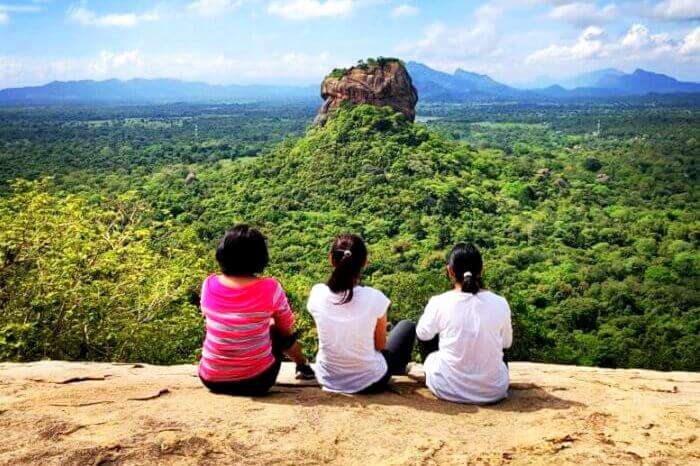 Travel to me is all about rejuvenation and learning. It is taking a break and exploring how the life and times and gain some perspective. Every place has a different story to tell and as a traveler, a researcher, and a teacher, I feel it attracts me even more. So this time, when my friends and I were planning a trip, Sri Lanka was already decided for we had heard a great deal about the place. All that was left now was a good Sri Lanka package and that too was taken care by TravelTriangle which my friends had recommended me.
After connecting with them and raising a request, we chose a customized package that we wanted and were now all set for the big holiday to Lanka! Here are a few details of our all girls trip to Sri Lanka –
Trip Type: Friends
Cost: 763 Dollars
Duration: 5 nights 6 Days
Inclusions: Hotels, Breakfast, Airport Transfer, Private Cab, Sightseeing, English Speaking Driver
Exclusions: Airfare, Lunch, Dinner, Personal Expenses, Visa, Entry Fee charges of places not included in sightseeing
 43 Most Beautiful Places In Sri Lanka You Must Visit In 2022
Day 1: Elephants, Temples, and a whole lot of good things






We were warmly welcomed at the Airport and then proceeded onward to Pinnawala Elephant Orphanage to see the elephants. It was a beautiful view seeing the elephants especially to see the baby elephants doing really well. We later went to see the village life, ate the local village food and rode a bullock cart as part of the village life experience. Thereafter we went to the UNESCO Heritage Site at Dambulla to explore the famous Golden Rock cave temple. The view was spectacular and climbing up the stairs to the top was a task on the day of arrival. Later we went to Sigiriya for a night stay at Grand Kalundawa Waterfront Resort. The stay was relaxing and the food was very traditional and it was a really good experience. Overall, our first day in Sri Lanka was well spent.
Day 2: The might rock fortress in Sigiriya and more







On the second day we climbed the Pidurangala rock for the majestic view of the rock fortress of Sigiriya – the lion rock. En route we visited the spice garden, batik factory, and the sacred Temple of the Tooth Relic which was a beautiful and peaceful site. Thereafter we enjoyed the Kandyan Cultural show. Our overnight stay was at Hotel Travellers Nest, Kandy.
Scuba Diving In Sri Lanka 2022: 12 Places For An Adventurous Underwater Experience!
Day 3: A laid-back day!



Today post breakfast, we first visited the gem museum which was a pleasant sight to see and learn about how Sri Lanka is a harbour of gems. Thereafter proceeded to Bentota where the evening was for our pleasure.
Day 4: The many charms of Bentota





The day was spent in exploring Bentota and different activities such as visiting the turtle hatchery, river safari, paramotoring. Overall, it was a refreshing experience and we felt really good seeing the turtle conservation efforts by the harchers. It was also a wonderful experience to hold them. A day spent in nature is truly well spent indeed!
 45 Best Places To Visit In Colombo In 2022 That Will Spice Up Your Sri Lankan Sojourn
Day 5: Blending into the many flavours of Colombo





We left for Colombo in the morning and upon arrival, went for exploring and sightseeing. The places we visited today included National Museum, Independence square, Gangarama Temple, and many more. Overall, it was great to be a part of a vibrant and clean city that is wrapped in a colonial yet modern vibe.
Day 6: Till we meet again, Sri Lanka
Today was our last day in Sri Lanka and after one last breakfast, we once again went on to explore Sri Lanka before departing to the airport for our flight back home.
Our best moments from the trip
I had never thought Sri Lanka is that beautiful but as it turned out, I returned home mesmerized. The city is beautiful, the food is delicious (but that would depend on each person), and the beaches are amazingly serene. I really enjoyed seeing the turtles especially the baby turtles. They are really beautiful creatures. And another beautiful thing to see around Sri Lanka is the Buddhist temple. It is warm and a place for peace and serenity. Needless to say, our all girls trip to Sri Lanka was super successful and fun!
Tips for future travelers
Always research a place before travelling. Get all the information needed and every detail of everything that you need to. Select a place of your choice and what suits and needs you best thereby you will enjoy the whole travelling experience.
 20 Honeymoon Places In Sri Lanka In 2022 That Will Sweep You Off Your Feet
Loved their holiday? If you too would like your very own enchanting trip to Sri Lanka with your loved ones. Simply choose a Sri Lanka Tour Package and leave the planning on TravelTriangle.