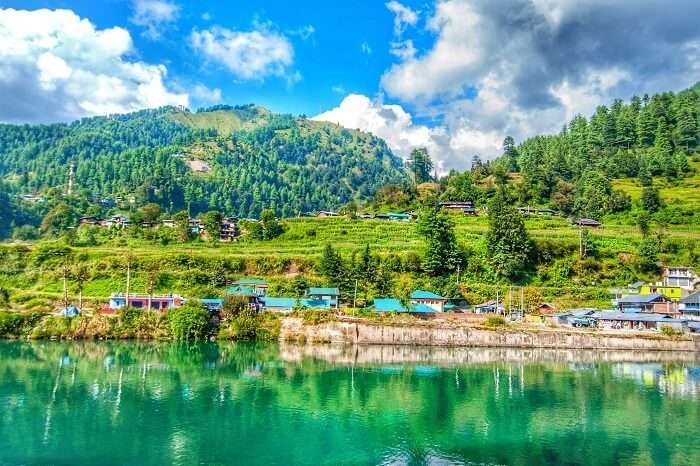 Barot, a part of the Uhl river valley, is a small village situated in the Mandi district of Himachal Pradesh. Considered to be a diamond among the rough terrains, Barot Valley was initially developed for a hydel project over the Uhl river that has now become a rising tourist spot for travellers who have a longing for mountains. Barot Valley offers great opportunities to travellers who want to quench their thirst for adventure. Barot Valley trek, camping, and fishing are some of the popular activities of this area. Plan a trip to Himachal and include this hidden gem in your itinerary for a stimulating experience amidst the Shivaliks.
Location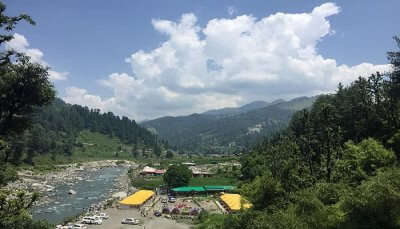 Also known as, "a trekker's paradise", Barot Valley is situated in the Mandi district of Himachal Pradesh at an altitude of 6,000 feet above sea level.
 18 Secret Places In Himachal That Tourists Haven't Discovered Yet
Best Time To Visit Barot Valley
Th temperature in Barot Valley is fairly moderate, i.e., neither too hot in summers nor too cold in winters. The average annual temperature is close to 16°C. Barot valley can be visited at any time of the year except for monsoons because the area receives heavy rainfall due to surrounding dense forests.
Ideal Duration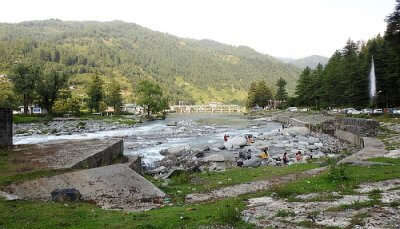 The ideal duration for staying in Barot Valley is 3 days. Barot is a perfect weekend getaway but one can also incorporate this place in their itinerary for a Himachal tour.
Mashobra Hotels: 5 Properties For A Memorable Escapade
---
Himachal Holiday Packages On TravelTriangle
---
Best Suitable For
Barot Valley is not only a backpacker's paradise but also invites other types of tourists such as families, couples, and friends. Barot is slowly evolving into a popular picnic spot where people can plan a comfortable stay and rejuvenate with their friends, family and partners.
Best Places To Visit In Barot Valley
There are many places to visit near Barot Valley and the following spots are considered to be the best ones if you are staying near Barot Valley. Though Barot Valley is a small place, it has a lot to offer when it comes to local sightseeing.
1. Uhl River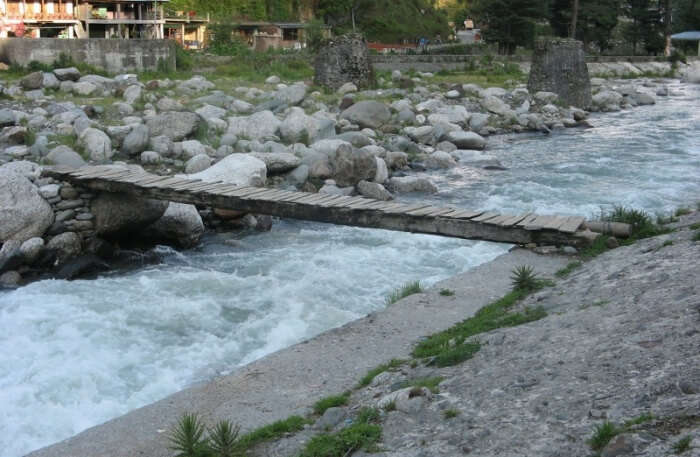 Uhl river is the only natural water body of the valley which originates at the Thamsar Glacier in the Dhauladhar range of the Himalayas. It is a major attraction of the area as it allows travellers to indulge in various outdoor activities such as camping, and fishing and so one of the best places to visit in Barot.
 5 Types Of Offbeat Stays In Himachal You've Been Missing All This While
2. Nargu Wildlife Sanctuary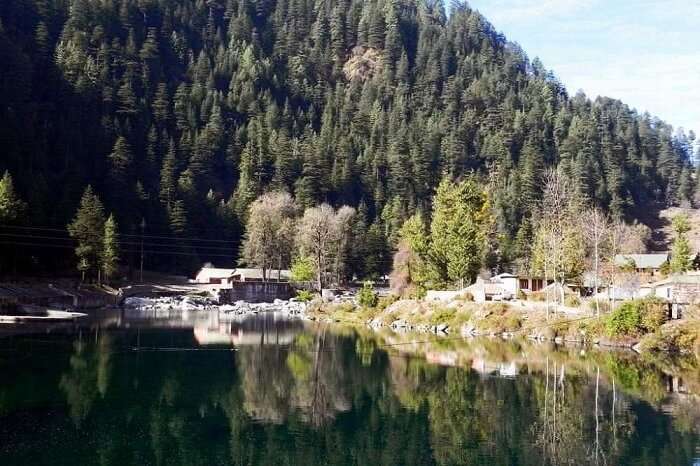 Situated on the other side of the Uhl river is another major attraction of the valley, Nargu Wildlife Sanctuary. It is a habitat of various animal species like the Himalayan Monal, Black Bear, and Ghoral. The route for the trek to Kullu passes through the dense forests of this wildlife sanctuary.
3. Barot Temple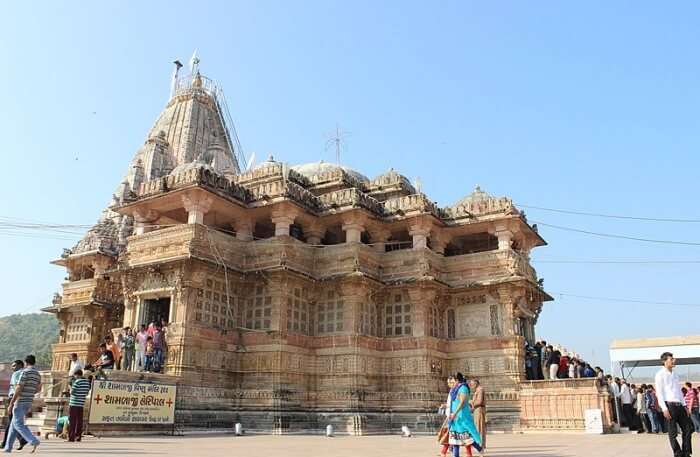 Situated on the Banks of Uhl river is a temple of the local deity known as Dev Pashakot temple. The temple is situated at the bottom of a hill, therefore, one has to complete a downhill trek of around 15 minutes to visit the temple.
10 Terribly Overrated Destinations In Himachal & Where To Travel Instead
4. Chuhar Valley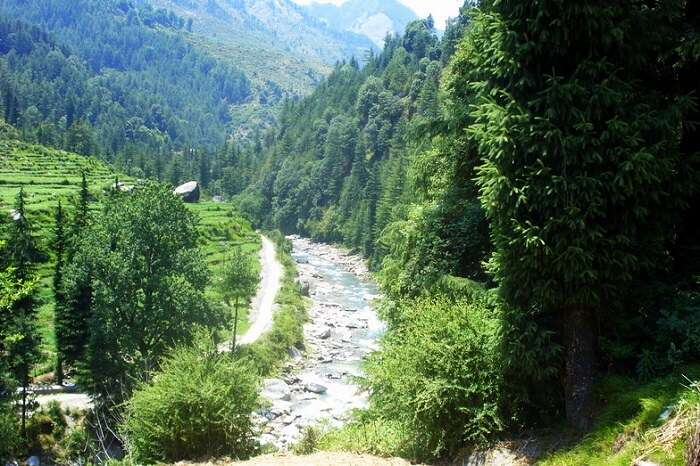 Chuhar valley is situated in the Mandi district of Himachal Pradesh. Barot is a part of this valley and other major attractions of this valley include Jhatingri village and Hurang Narayan temple. Another major attraction of this place is the International festival of Mandi Shivratri which is celebrated annually by the locals of the valley.
5. Shanan Hydel Project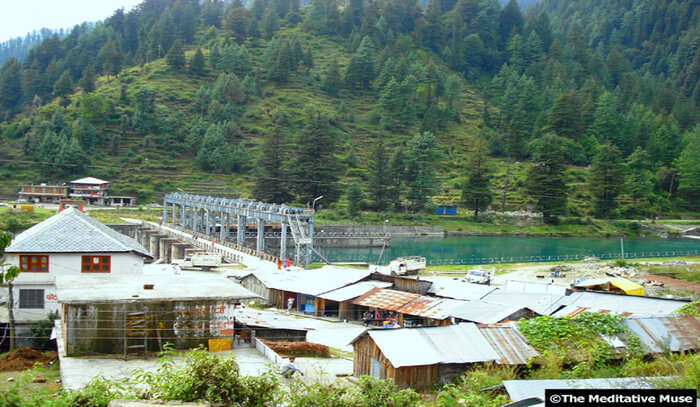 The primary reason for the development of the Barot Valley was the Shanan Hydel project. It was the first ever hydro project in India in Megawatt capacity. It was created by the Britishers in collaboration with the king of Jogindernagar and is now under the control of the Punjab State Electricity Board.
20 Tirthan Valley Hotels And Resorts That Are Synonymous With Comfort And Luxury
Best Things To Do In Barot Valley
Adventure activities are the must things to do in Barot Valley for those who love to explore thrilling experiences of adventure. Barot Valley offers a lot of adventure activities to explore and gives a chance to discover the adventures as a lifetime experience. This small valley provides an opportunity to its visitors to indulge in some of the most thrilling outdoor activities such as:
1. Trout Fishing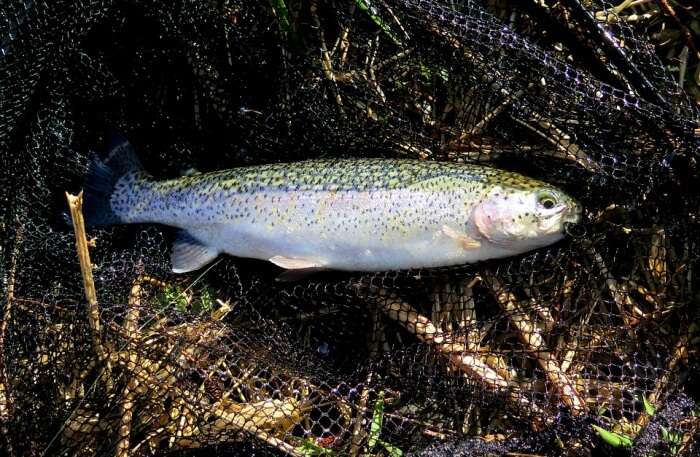 Trout fishing is the most popular activity in Barot Valley and attracts a large number of anglers to this place. One has to take prior permission from the Trout farm office for indulging in this activity. Tourists can also visit the trout farm to witness the sight of numerous trouts kept in storage tanks and artificial fish ponds.
2. Trekking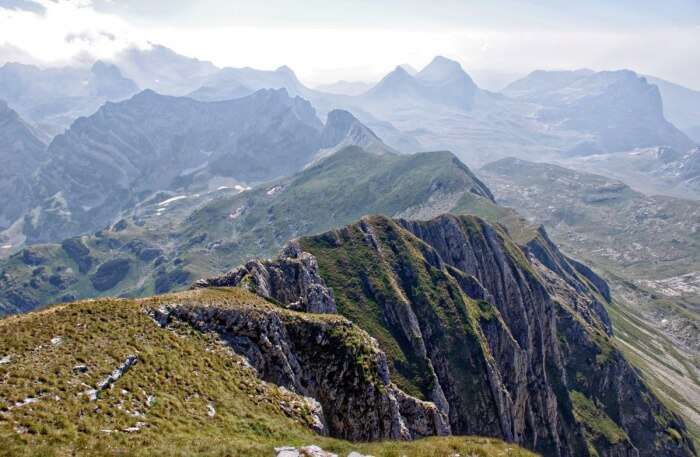 Barot Valley is the hub of trekkers as a number of trekking trails pass through this valley. These trekking trails include treks to Bada Bhangal, Kullu, Manali, Billing, and Kothi.
Best Trail In Barot Valley: Barot to Kothi trek is a 13-kilometer trek passing through the cedar and pine forests with such serene surroundings that make travelers forget the complications of life and witness the true colours of nature.
Camping In Manali: A Guide For An Adventurous Experience Beyond The Call Of Mountains
3. Nature Camping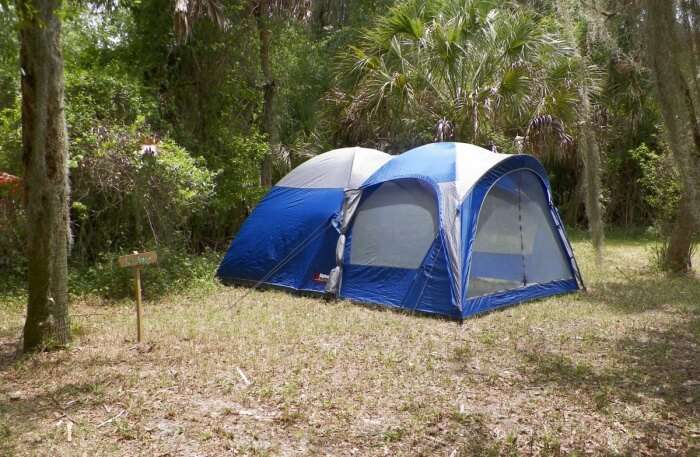 Barot Valley camping is another major outdoor activity which tourists can indulge into. Thandi Golai camping site is situated 1.5 kilometers away from the main market of Barot. It feels like the most tranquil and undisturbed place where one feels like resting in the arms of nature away from the muddles of the world.
How To Reach Barot Valley
Barot Valley, Himachal Pradesh is easily accessible from major Indian cities such as Delhi and Chandigarh via all means of transport, i.e, road, railway and air. The nearest airport to Barot is Kullu airport while Jogindernagar railway station is the nearest rail connection to this place.
7 Best Places To Visit In Keylong
Where To Stay In Barot Valley
There are a lot of places to stay near Barot Valley if you are looking for a comfortable yet affordable stay near Barot Valley. These are some of the best hotels to stay in near Barot Valley.
1. KK Negi Homestay Barot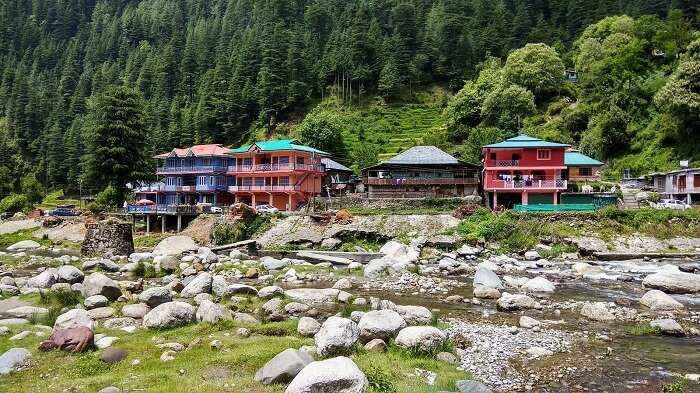 KK Negi Homestay is a popular Barot Valley guest house that provides comfortable rooms at nominal prices and is situated right next to the river that allows customers to cherish the views of the valley alongside the Uhl river.
Address: Jharwar Road, Barot
Average Price/Night: Starting from INR (double-sharing basis & tax excluded)
Ratings: 4.4/5 |
Reviews
2. Hotel Lake Paradise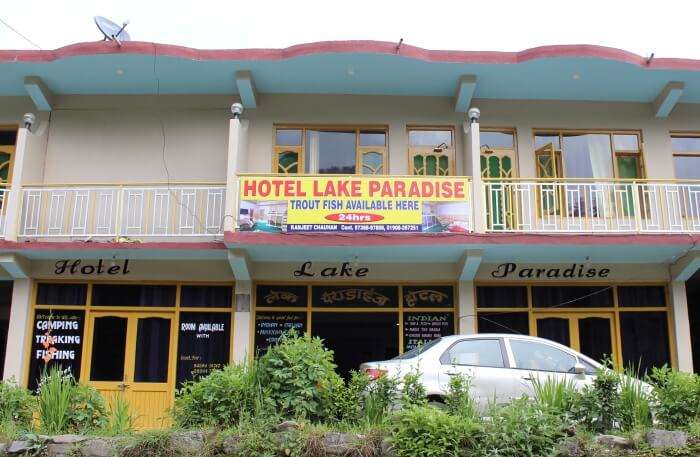 Situated at the Ghatasani-Barot road, Hotel lake Paradise is one of the best places to stay in Barot valley at pocket-friendly prices. It provides other services like a fine dining restaurant, 24×7 room service, and taxi booking from the hotel itself.
Address: Ghatasani-Barot Road, Mandi, Barot
Average Price/Night: Starting from INR 1,050 (double-sharing basis & tax excluded)
Ratings: 4.3/5 
Reviews | Website
15 Best Places To Visit In Himachal Pradesh In December For A Snowy Retreat!
3. Tatva Bir Tents And Hotels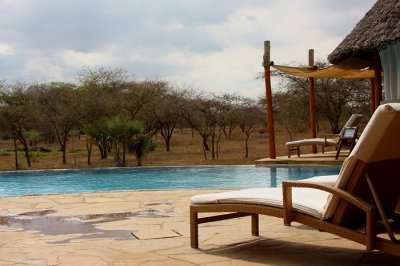 Image Credit: 17902 for Pixabay
The hotel is quite popular among travellers who want to get a close view of the valley from the place they are staying in. The property is located in an amazing spot and it will give you a clear view of the hills and a few activities such as paragliding and many other organised nearby to the hotel.
Address: Tehsil, Village & PO – Bir, Baijnath, Himachal Pradesh 176077•098107 76401
Price/Night:INR 1000 (approx)
Ratings: 5/5
Website | Reviews
4. Hotel Shobla Royal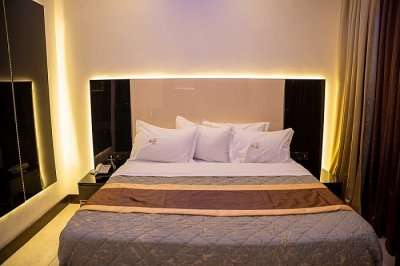 Image Credit: MrKunmee for Wikimedia Commons
One of the best Barot valley hotels, this property is located 26 kms away from the Barot Valley this property is perfect for those who want a break from their daily mundane routine and looking for an ideal holiday trip during Dussehra. The hotel has a fine dining facility which amuses the travel folks coming to this property.
Address: Ground, next to Dusseha, Dhalpur, Kullu, Himachal Pradesh 175101
Price/Night: INR 2,000(approx)
Ratings: 4/5
Reviews
20 Best Cottages In Manali For Peace And Seclusion On Your Much-Needed Hilly Escape
5. Regenta Inn Blossoms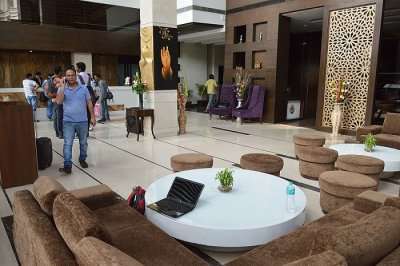 Image Credit: Biswarup Ganguly for Wikimedia Commons
If you are searching for a short weekend trip, this property would be the perfect choice if you are considering the places to stay near Barot Valley. The hotel is situated 27 kilometres away from the valley, in the Kullu district. You will be getting a warm welcome from the staff and their availability for 24 hours, cordial behaviour and super attentiveness will impress you and provide you a comfortable stay in this property.
Address: NH3, Bandrol, Himachal Pradesh 175128
Price/Night: INR 2,000
Ratings: 5/5
Website | Reviews
Travel Tips
Make sure you book your tickets, and hotels well in advance for better savings.
Always pack a few warm woolen clothes even if you are traveling in summer, as the weather becomes chilly at night.
Carry necessary medicines if you suffer from motion sickness.
Top 12 Summer Festivals In India You Shouldn't Miss In 2023
Yearning to go on a trip to Barot valley? Then book a customizable Himachal tour package with TravelTriangle to explore this hidden gem of the himalayan mountains.
For our editorial codes of conduct and copyright disclaimer, please click here
Frequently Asked Questions About Barot Valley
How far is Barot from Mandi?
Barot is located 65 kilometres away from Mandi.
Where is Barot located?
The valley is situated in the Mandi district, the northern state of Himachal Pradesh.
Can we experience snowfall in Barot valley?
Yes, you might experience snowfall in Bada Gram which is the half an hour ride from Barot Valley.
Is it necessary to hire a local guide while going for a trek from Barot Valley?
It is not necessary to hire a guide but it is recommended to hire one as they have better knowledge of the routes, and also because emergency forces might not be able to reach on time for rescue.
Are ATMs available in Barot Valley?
ATMs are not abundantly available in Barot Valley, therefore it is advisable to carry enough cash with you while travelling to Barot.
What is the fees for getting a trout fishing license in Barot Valley?
A nominal fees of INR 100 is charged for a single day license for trout fishing in Barot Valley.
Are outdoor activities, like paragliding, performed under expert supervision?
Yes, an expert will always ride with you while paragliding or in any other outdoor activity which involves special training.
---
Looking To Book A Holiday Package?
---
People Also Read