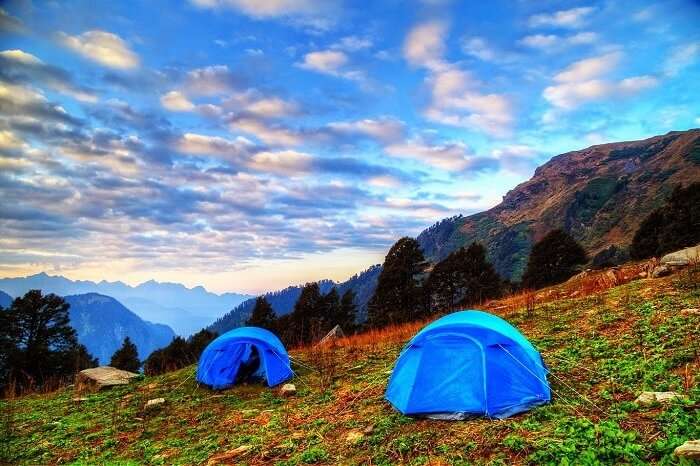 From being a favorite getaway for families, to a paradise for couples, and from being an abode to adventure seekers, to a favorite hangout spot for short escapades with friends, there's a lot more than what meets the eye when it comes to camping in Manali.
Being a lot more than just a popular hill station, this awe-inspiring hill station has risen above the status of the summer capital ever since the trend of Manali camping trips has been on the rise. And for those who're yet to tick this experience off their bucket list on their next trip to Offbeat destinations in Himachal Pradesh, here's a guide to camping in Manali which is where you should get started.
About Camping In Manali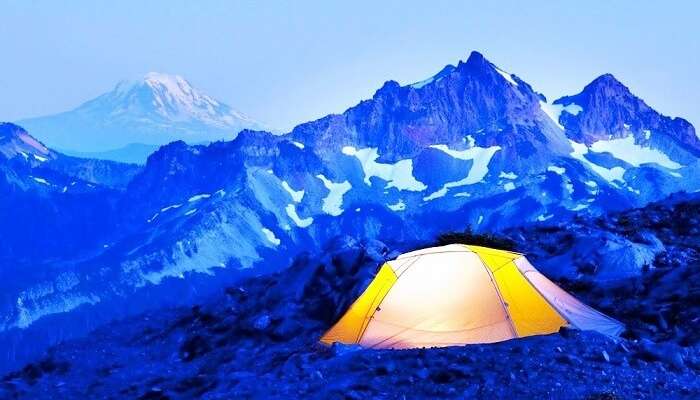 Gone are the days when camping was only about pitching a tent, and witnessing a sunrise on top of a mountain. Though that practice still has a charm of its own, camping in Manali has a lot more to offer than one can imagine. From the adventures of night camping amidst the snow capped mountains, to the thrills of peaceful camping in Manali near river, this hill station offers an experience full of surprises at every step. With various types of camps like that of Manali trekking camps, riverside camps, night camps, and Manali adventure camps, one can never fall short on adventurous encounters especially while camping in Manali in December. So if a Manali camping trip has been on your mind for a while, this would be the right time for you to start planning a perfect getaway in winters.
Must Read: 15 Popular Places To Visit In Manali & Its Precincts
Weather In Manali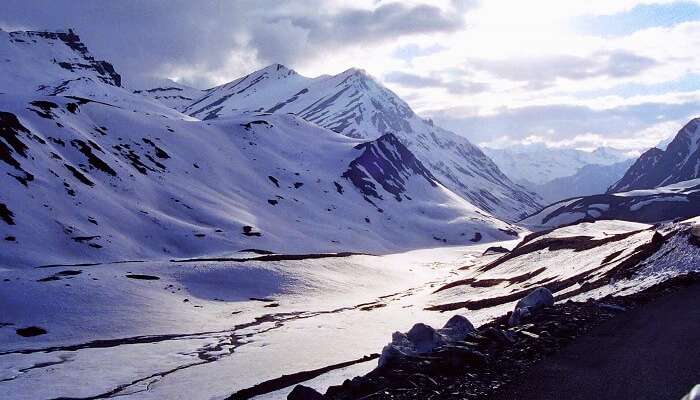 Manali's weather does not come as a surprise to the travelers of all kinds. Serving the backpackers all round the year with a pleasant climate, weather in the hills has the ability of changing in no time. Though this aspect of the weather in Manali may not suit the requisites of families, but for those who love to find their way out with tents in Manali, any weather proves to be just right!
Summers: Starts from March to June – Average temperature ranges from 10°C to 25°C
Monsoon: Starts from July to mid-September – Average temperature ranges from 11°C to 15°C
Winters: Starts from October to February – Average temperature ranges from -15°C to 12°C
Best Time For Camping In Manali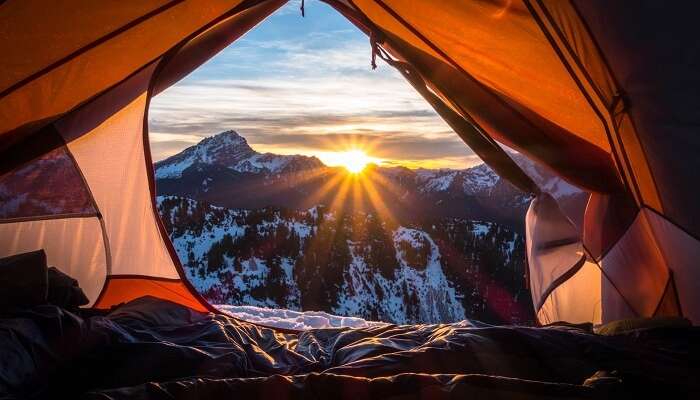 The months from May to June happens to be the best time to visit Manali for everyone. Narrowing down an ideal for camping, the trekking camps in Manali in December are at its best. Not only you get to cherish the wonders of nature, but also get to make the most of the magical snowfall, witness soul-stirring sunrises, and soak in the enchanting views of the great Himalayas.
---
Himachal Holiday Packages On TravelTriangle
---
Average Budget For Camping In Manali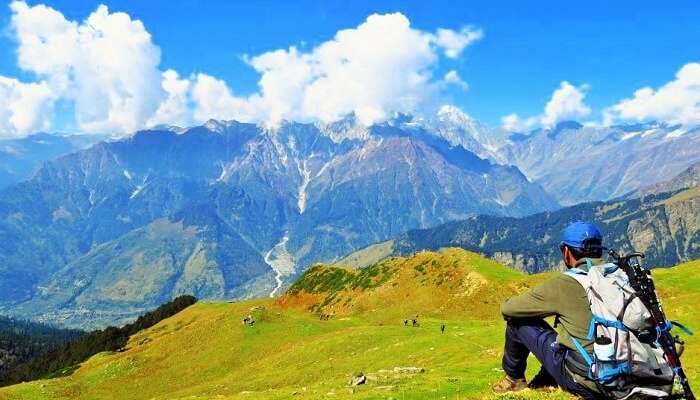 There are various packages that are available online for camping in Manali which depends on a lot of factors like season, duration, inclusions, and exclusions. At an average, the basic package cost of camping in Manali for 1 day, starts from INR 1,500 to INR 2,000 per person, which includes:
Accommodation (based on double or triple sharing & taxes excluded)
Meals (Breakfast, Lunch, & Dinner)
A minimum of three to four adventure activities like rappelling, rock climbing, flying fox, valley crossing, and so on.
Other than this, reaching Manali from the nearest city of Delhi can incur varied cost depending upon the mode of transport chosen by the traveler.
Flights from New Delhi to Kullu Manali Airport can cost upto INR 5,000 per person for a round trip. (Based on bookings done 45 days prior to departure)
Trains can only reach upto the nearest railhead of Jogindernagar Railway Station. Since there is no direct train from Delhi to Jogindernagar as well, the cost can reach upto an amount of INR 2,000 per person for one way journey.
Buses are the cheapest, convenient, and the best way to reach Manali from Delhi. At an average, a one-way bus journey can cost upto INR 1000 per person via HRTC state-run and private volvo buses.
Suggested Read: 15 Places Near Manali That Are Perfect For A Dreamy Holiday In The Hills
Best Places For Camping In Manali
Manali is studded with numerous gems, but when it comes to camping, nothing beats the charm of the top three attractions of Beas River, Solang Valley, and Kothi.
1. Beas River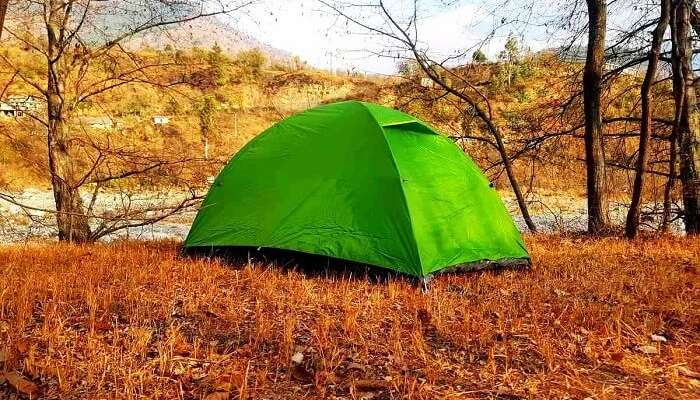 Being a perfect blend of lush nature, majestic hills, gushing streams, and postcard-like views of the Himalayas, camping in Manali doesn't get better anywhere else other than the campsites near the Beas River. Originating from the Beas Kund region nestled amidst Himalayas, Beas river cascades down till the Sutlej Basin in the state of Punjab. Stretching for about 470 kilometers, Beas River serves as one of the best sites in Manali for riverside camping.
Best Camps Near Beas River: Into Wild Himalaya Camps, Rock Zone Adventure, Campaign in Manali, and more.
2. Solang Valley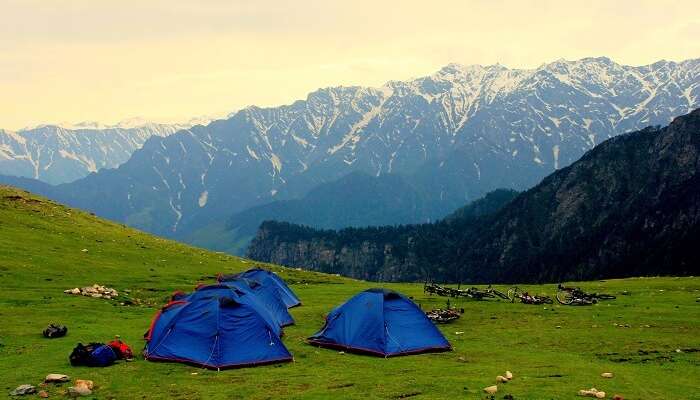 Perched above the mesmerizing valley of Kullu, the marvelous Solang Valley serves as yet another stunning campsite near which is located at the distance of about 14 kilometers from the city center. Named after the nearby village of Solang, this valley is the perfect combination of scenic vistas, and snow. Undoubtedly an abode for the adventure souls, camping in Solang Valley serves as the picturesque paradise for skiing, cable-car rides, paragliding, and other adventure sports other than camping in Manali.
Best Camps Near Solang Valley: Solang Valley Camp Retreat, Adventure Valley, Campground Camp21, and more.
Suggested Read: 15 Best Restaurants In Manali: Extraordinary Treats For Your Eyes And Taste Buds
3. Bhuntar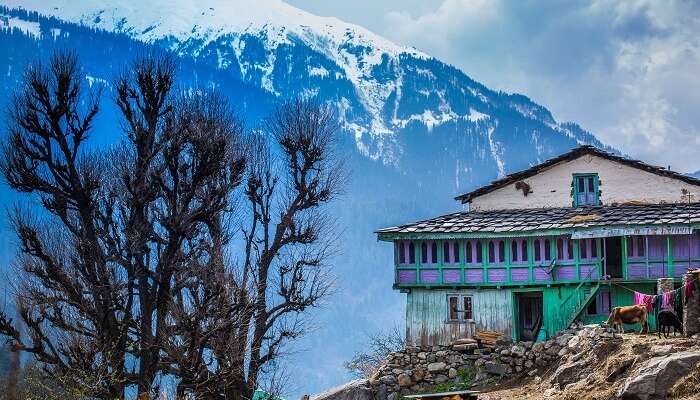 People looking out for a less crowded place can head to Bhuntar which is situated in the isolated regions of Manali. This place ensures an adventurous camping adventure like never before. It has a very basic campsite which is equipped with majorly all the facilities which are required to survive in the woods. Located just right next to the river, this campsite offers a unique camping experience.
4. Tirthan Valley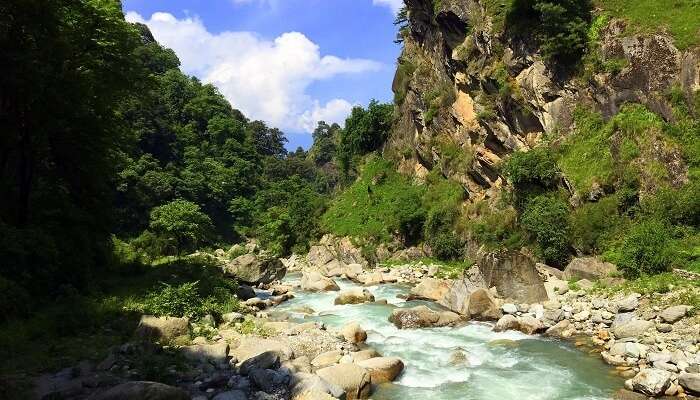 Tirthan valley is considered the Himachal's best kept secret which is adorned with picturesque view of the landscape. Resting at an altitude of 1600 ft., Tirthan valley is a perfect escape to enjoy the finest views of nature while experiencing some adventure. This place is also famous for camping where adventure junkies take a break from the hustle-bustle and trek up to witness the beauty of this untouched place while staying amidst the woods.
Best Camps Near Tirthan Valley: Tirthan Jibhi Camp
5. Kothi Village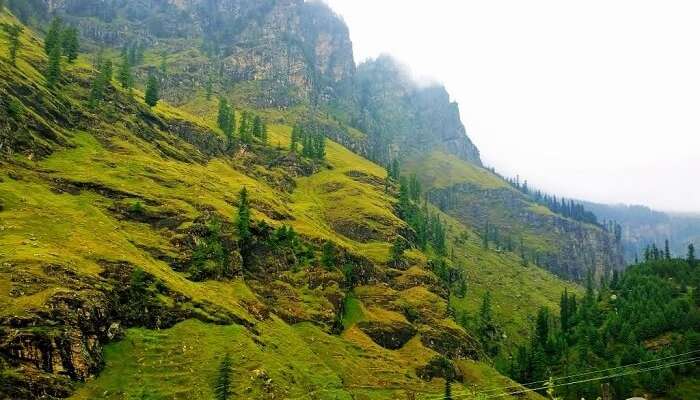 Enjoying its close proximity to the highway of Lahaul, Spiti, and Leh, camping in Manali needs no introduction, especially when it happens to be in the quaint little town of Kothi. Located at the distance of about 16 kilometers from the city center of Manali, the village of Kothi is pretty famous for offering enthralling views of the gorge. River Beas can be witnessed gushing through the gorge that also serves as the perfect base to enjoy paragliding at its best.
Best Camps Near Kothi: Backwoods Mountain Camp Hamta, Himalayan Frontiers Adventure Camps, Camp Exotica Manali, and more.
6. Sethan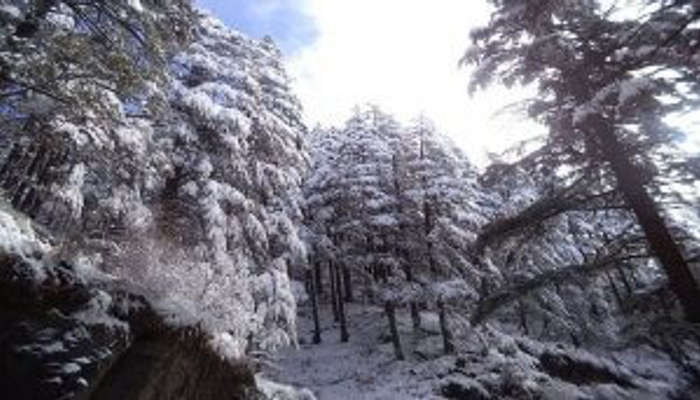 If offbeat travelling is your forte, then this campsite in Sethan is the perfect place for you. Lying in the midst of the restricted zone in Manali, this place is an amazing option to stay clear of the crowd and enjoy your vacation during Manali camping. This place is 800m above Manali and offers a breathtaking view of the entire Kullu valley.
The camp is located at a distance of 15kms from Manali, and is surrounded by organic apple farms. The location is not known by many, thus making it an untouched place that is bound to offer you an unparalleled experience.
7. Village Sarsai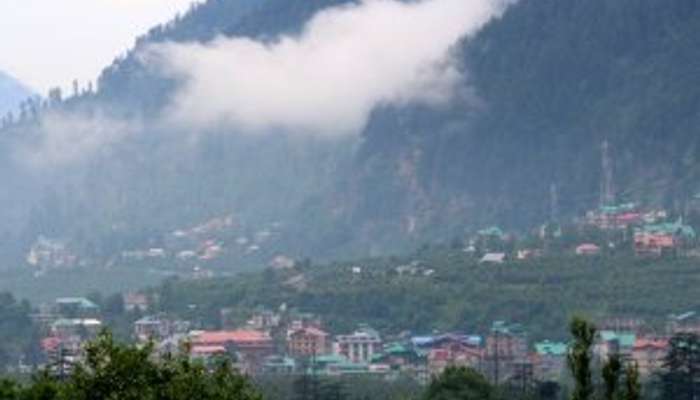 This village is located in the district of Sarsai, and is an untouched and pristine place to camp in Manali. This campsite is located on the Kullu-Manali bypass, just a 20 minute drive from Manali. The campsite houses luxury tents amidst lush green lawns. The campsite is known for its peaceful environment, greenery, and view of the snowy mountains.
8. Tentsville Camping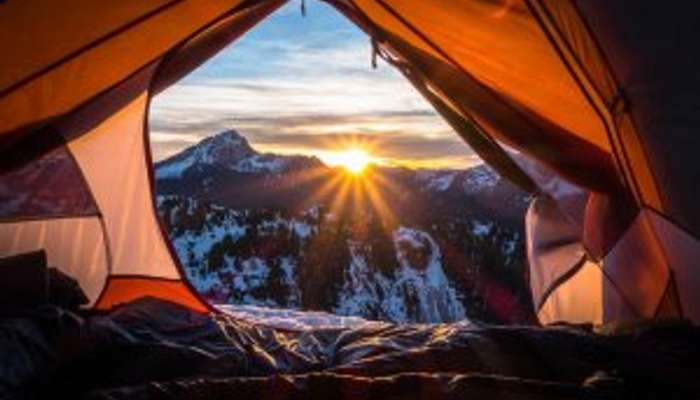 Tentsville camping is located in the Bhanupal district in Kullu, and is one of the best places to enjoy camps in Manali. This campsite is the best mix of adventure and luxury. Located in the middle of breathtaking mountains, the campsite is a place that is shadowed by wildlife, waterfalls, tall pine trees, and valleys. The night is as lively as the day owing to the bonfire paired with twinkling stars on your head during this Manali camping.
Activities To Do In Manali Adventure Camp
Apart from the pristine sightseeing make sure to indulge into these adventurous activities in Manali Adventure camp.
1. Trekking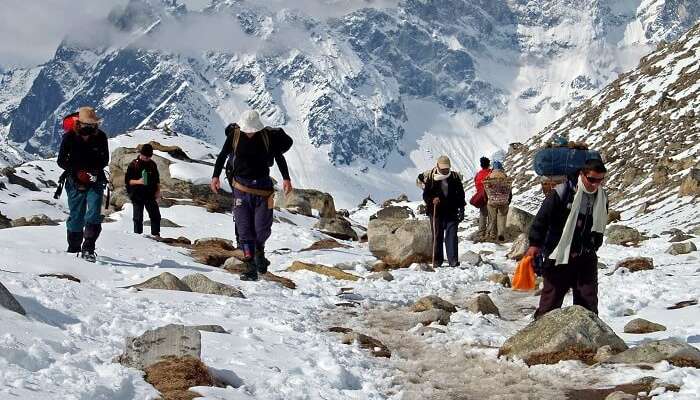 Comprising of all levels of easy, moderate, and difficult treks, and varied terrains, camping in Manali can be best combined with the adventures of trekking tours in Manali. From Beas Kund, to Hampta Pass, and from Chandratal to Bhrigu Lake, Manali is a treasure chest that never runs out on trekking trails.
Suggested Read: Snowfall In Manali: 8 Intoxicating Things To Do During Your Visit
2. Skiing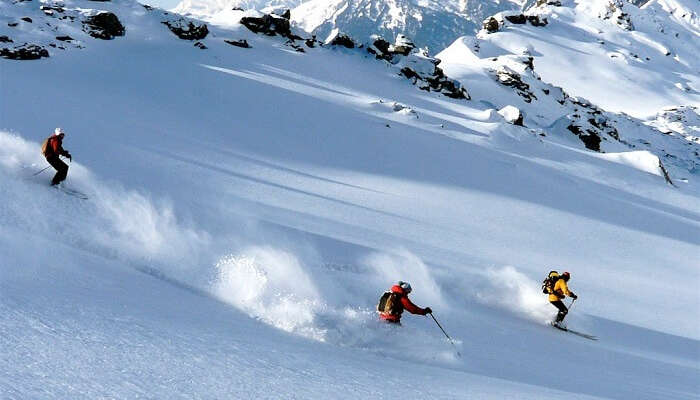 Solang Valley which has off-lately gained much fame as the adventure capital of Himachal Pradesh, also happens to be the best place to experience skiing in Manali. Though only amateur skiing is practiced in the Solang region, there are various skiing programmes that will teach you how to enjoy skiing like a pro.
3. River Rafting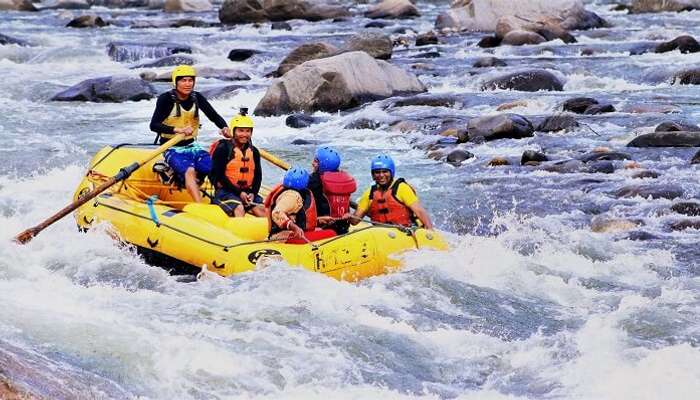 Other than trekking, skiing, and camping in Manali, another adventure which is famous for quenching the adrenaline junkies is that of the river rafting in Manali. Best experienced on the gushing waters of River Beas, river rafting is one of the must things to do in Manali for all the travelers.
4. Paragliding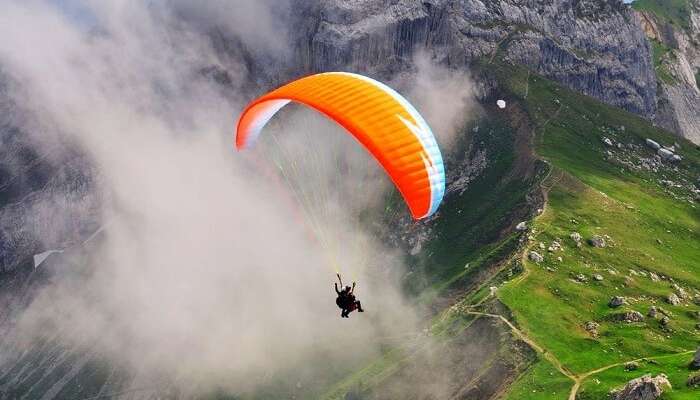 As mentioned earlier, the gorge of Kothi Village, and the forever stunning landscape of Solang Valley are the top attractions in Manali that offer the best paragliding experiences. From a short duration of one minute to a long stretch of 20 minutes, enjoy the bird's-eye view of the hilly paradise as you fly high in the clear skies of Manali.
Other Adventure Activities In Manali: Cable-car rides, zorbing, rock climbing, rappelling, mountain biking, snow scooters, quad biking, and helicopter rides, are few other adventures to try your hands at while camping in Manali.
Suggested Read: 8 Extreme Adventure Sports In Manali That Will Get Your Heart Racing
Tips For Camping In Manali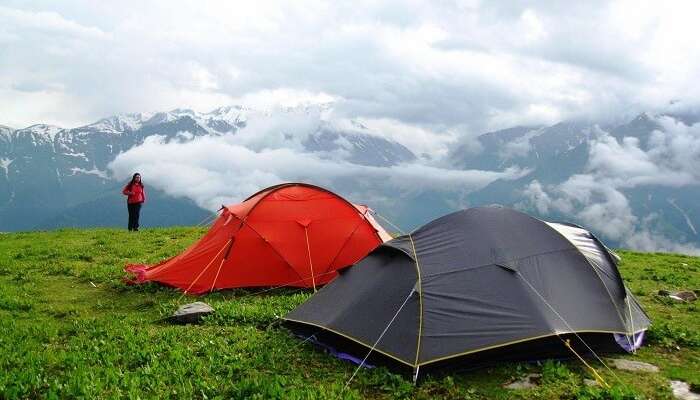 A minimum of 3 days is an ideal duration to enjoy the best of camping in Manali.
Combine your camping trip with other adventure activities.
Customize your Himachal tour package for better value for money.
Pack light while trekking, and camping, and take only the basic necessities.
Wear sturdy shoes while camping in Manali.
Try to explore Rohtang Pass, Old Manali, Manu Temple, and Naggar Castle if time allows.
Make sure you treat your taste buds at Café 1947 which happens to be Manali's first and the oldest music cafe.
Camping is not advised for those who are traveling with family and kids.
Plan well in advance in order to avoid any sort of inconveniences on your trip.
Further Read: 20 Best Cottages In Manali For Peace And Seclusion On Your Much-Needed Hilly Escape
Can't wait to experience the Manali trance? Enjoy  camping in Manali when you customize your own high-on-adventure Himachal tour with TravelTriangle, and experience the best of Manali on a hassle-free holiday!
Frequently Asked Questions About Camping In Manali
Q. What are the different types of camping?
A. There are five types of camping which are Tent Camping, Backpacking/Hiking, Survivalist Camping, Canoe Camping, and RV And Van Camping.
Q. Is solo camping safe?
A. Yes. Solo camping can be safe, fulfilling, and a darn good time. Camping alone gives you time to recharge, gather your thoughts, and learn how to be by yourself. Here are a few places where you can go solo camping in India.
Q. What are the 10 essentials for camping?
A. Some of the absolutely necessary items for camping are sleeping bag, tent, packaged water, fire starter, first aid kit, a pocket knife, a navigation tool, rain jacket, and some warm clothes.
Q. What handy gear do I need for camping?
A. Camping pillow, headlamps or flashlights with extra batteries, camp chairs, fire starters, bug repellent, and rope are a few additional stuff that can come very handy while you are out camping.
Q. Can you camp in public parks?
A. Yes. You can literally camp anywhere in India and its quite acceptable.
Q. What do I need to know before camping?
A. Some of the things that you should know about camping are as follows. Plan for rain regardless of the weather forecast, do bring an air mattress with you, plan your meals, always carry some dry food with you, try to camp close to your car, bring a pie iron or a pan, bring your toiletries, always carry some medications with you.
Q. Are tent footprints waterproof?
A. Yes. Footprints or a groundsheet is a waterproof sheet that is placed in between the floor of your tent and the forest floor.
Q. What should you not do while camping?
A. Some of the things that you should totally avoid during camping are choosing the wrong sized tent, cooking inside the tent, not bringing sufficient lighting equipment, choosing a bad location, Camping on lower ground, and not trying your kit out beforehand.
---
Looking To Book A Holiday Package?
---
People Also Read:
Camping In Rajasthan Camping In Maharashtra Camping In Dhanaulti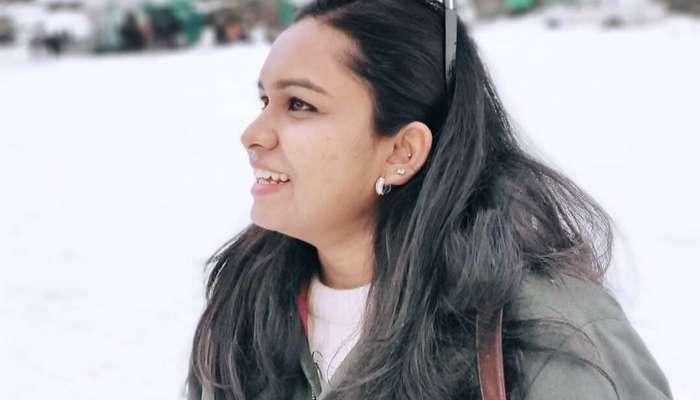 Comments
comments