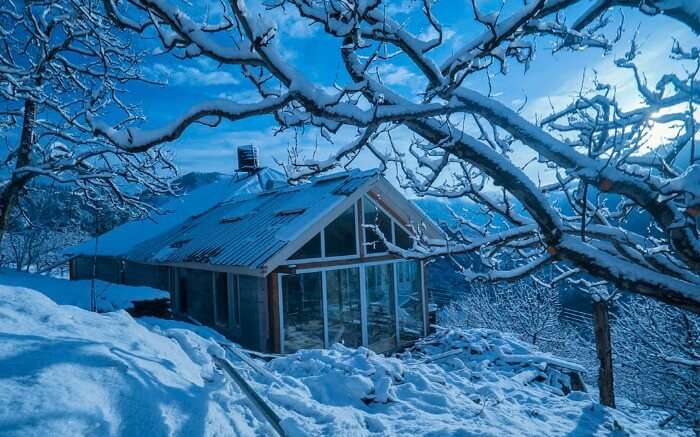 For adventurous urban population, Himachal is about paragliding, trekking, rafting, camping, skiing, and similar experiences. But to feel the beat of this beautiful state you need stay here. It's time we ditch hotels and resorts, and for once look at different kinds of offbeat stays in Himachal.
If you'd be as excited about low-on-amenities kind of offbeat stays in Himachal as about a plush secret hideout, this is a going to be a good read! For we have unconventional accommodation for travelers and ardent explorers as well. And the good part is, the list sees beyond homestays in Manali and heritage hotels in Shimla!
Why choose offbeat stays in Himachal?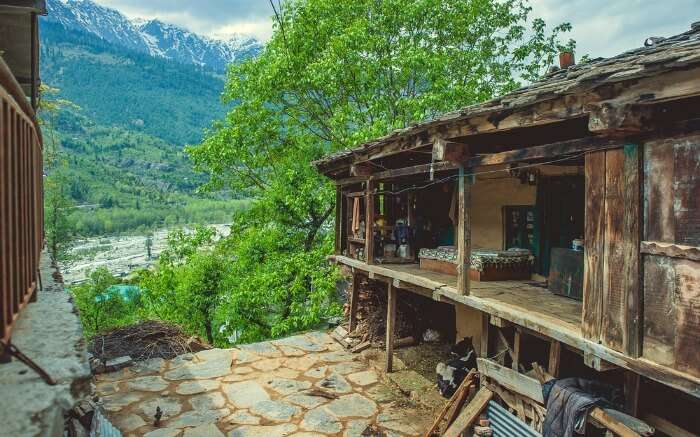 A traditional Himachali house in a Kullu with a beautiful view
For the community of wanderlusts, idea of travel isn't restricted to visiting top attractions of a destination. Ticking destinations off the map doesn't define them. They look for experiences that can be cherished lifelong. They want vacations – a lot of them – that allow insights into life, culture, and traditions of the mountains.
Turning vacations into enriching experiences lies largely on your choice of stay (one of the factors). While most luxury hotels and resorts are offered in Himachal tour packages, there are few guides for homestays, orchard farms, tea estate properties, Buddhist monasteries, and heritage hotels. This post is an attempt to put spotlight on these unique accommodations and help the community of experience seekers bucketlist the most unconventional and offbeat stays in Himachal.
Top offbeat stays in Himachal
1. Homestays – Hospitality of the locals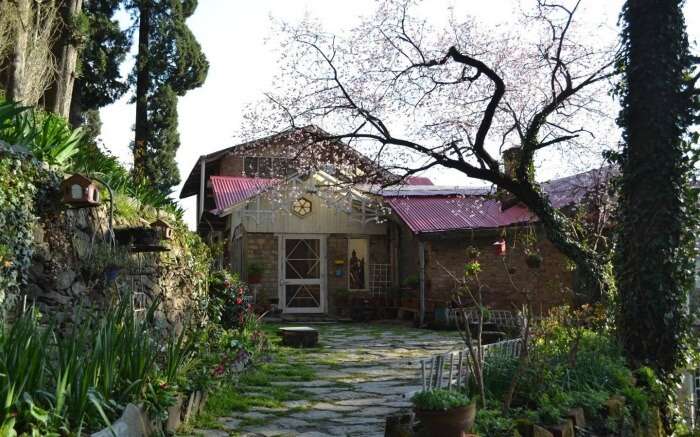 Aira Holme Retreat in Shimla
Not hotels and resorts in Manali, Shimla, Dalhousie, and Dharamshala, the best way to experience Himachal is to find a homestay. And trust me there is a wide wide choice. There are fancy and well maintained houses in top tourist destinations and smaller village accommodations in lesser known places.
RECOMMENDED HOMESTAYS IN HIMACHAL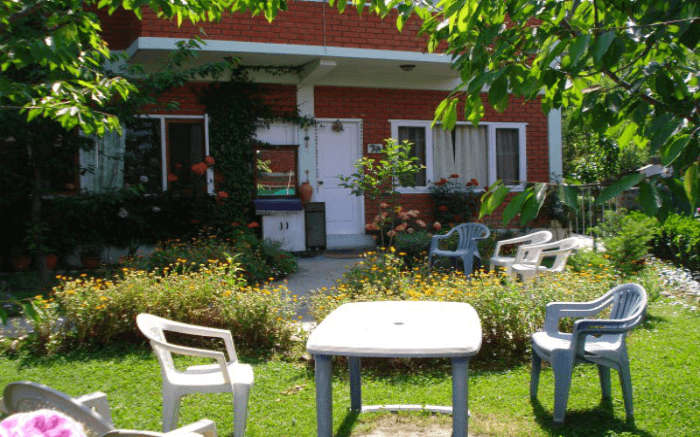 Garden area at Manali Meadows Homestay
Manali Meadows, the winner of Himachal Pradesh Best Homestay Award 2010 is where hosts Sanjay and Sunita Dutta make you feel welcomed and at home. The lovely accommodation is 13 km away from the main town and offers activities like rafting and skiing. See reviews.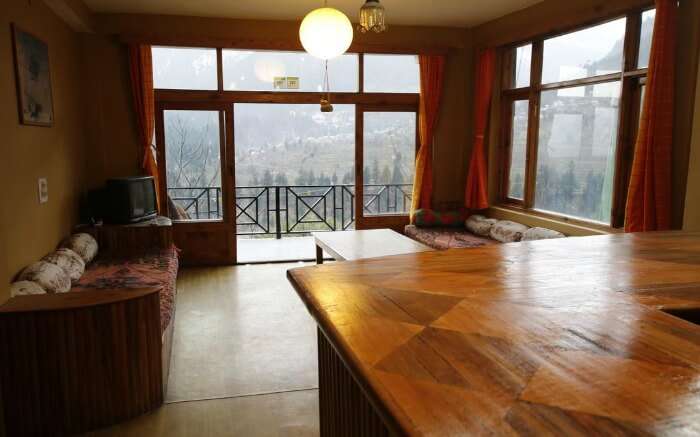 Views from Vashisht Homestay & Cafe in Manali
Boasting of mindblowing reviews on TripAdvisor is another gem – Vashisht Homestay in Manali is best known for its serenity and quietude. Tucked in the hills, the homestay is run and managed by Mala Banerjee who charms her guests with her hospitality, food, and conversations. See reviews.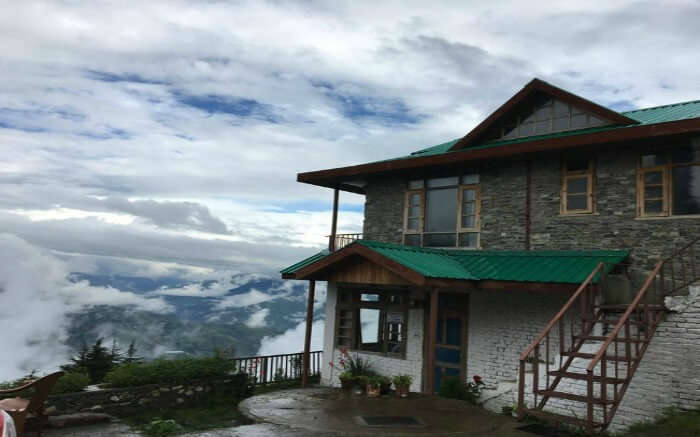 A cloudy morning at Aastha Homestay in Fagu in Himachal
Among many homestays in Himachal, Aira Holme in Shimla, Birds and Chirps in Dalhousie, Aastha Homestay Cottage in Fagu, Lato The Hut in Jibhi, Raju's Guest House in Gushaini, Khem Bharti Guest House in Banjar, and Narayan Guest Houses 1 & 2 in Kandi and Banjar, respectively are a few mention-worthy places that are brimming with good reviews. You can find many more on AirBnB and TripAdvisor. For some hidden ones in Kalpa and Sangla, Himachal NIC shares a list on its website.
THINGS TO KEEP IN MIND – Options are many, so make sure you pick a place as per your preferences (read luxury vs village living). Go for recommended stays to avoid unpleasant surprises.
Must Read: 30 Best Hill Stations In Himachal To Experience Pure Bliss
2. Farm Stays & Orchard Retreats – The colorful lap of nature

Raju's Orchard Hut in Tirthan valley
Homestays, farmstays, and orchard retreats are distinguished by thin lines in Himachal. Most of the homestays are surrounded by apple orchards and private farms. Besides Peepal Farm in Dharamshala, all other recommendations are orchard stays. Peepal Farm is a rustic farmstay that also allows you to do volunteer work. While you enjoy a stay close to nature, you can contribute to their animal rescue and welfare work. Website.
RECOMMENDED FARM AND ORCHARD STAYS IN HIMACHAL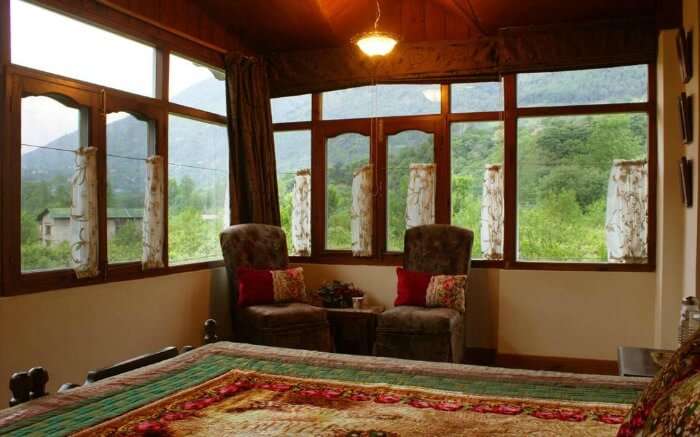 A cozy room with windows in Our Place Himalayas – a popular farmstay in Manali
Owned and managed by Anita – wife of a renowned orchardist Ashok Khullar, Our Place Himalayas offers an exciting stay in Raison, Kullu. You can stroll the gardens, read by the pond, go for hikes, try fishing, camp, go on a safari, raft in river Beas, and go sightseeing. But the most amazing thing to do here is to savour local Kullu delicacies, including a seven course dhaam meal. TA rating – 5 stars. See reviews.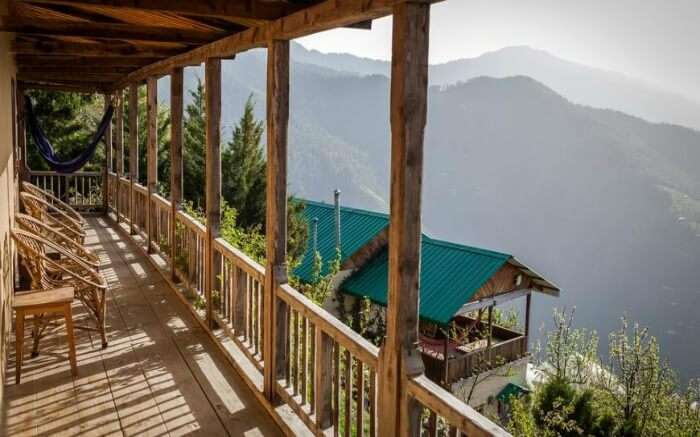 Scenic views from the balcony of Seetalvan Orchard Resort in Kotgarh Shimla
In Shimla, Seetalvan Orchard (Kotgarh) invites you to its luxury cottages and orchards comprising apples, pears, plums, cherries and more. Also, there is Spirits Unplugged! in Karyali village with large windows, a long verandah, and a lovely patio offering views of snow capped mountains.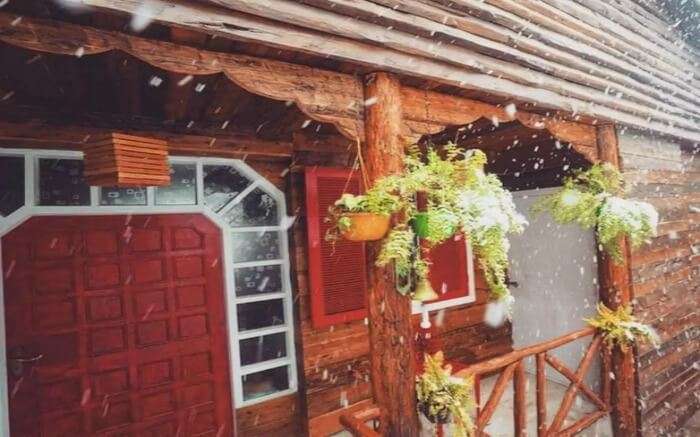 Snowfall views of MeenaBagh Resorts Shimla
Other awesome orchard stays in Shimla are Banjara Orchard Retreat in Thanedar, Krish Rauni Resort in Matiana, Himalayan Orchard in Rukhla, Meena Bagh Ratnari, and Apple Orchard Cottages (Kotgarh), owned by Meenakshi Jhina.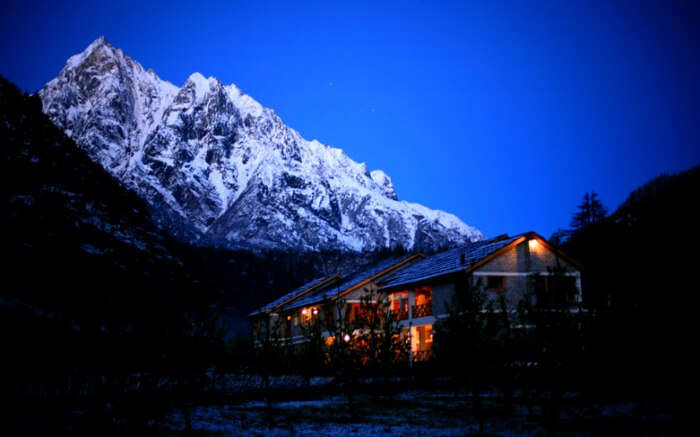 Night view of Banjara Retreat in Sangla overlooking snow clad peaks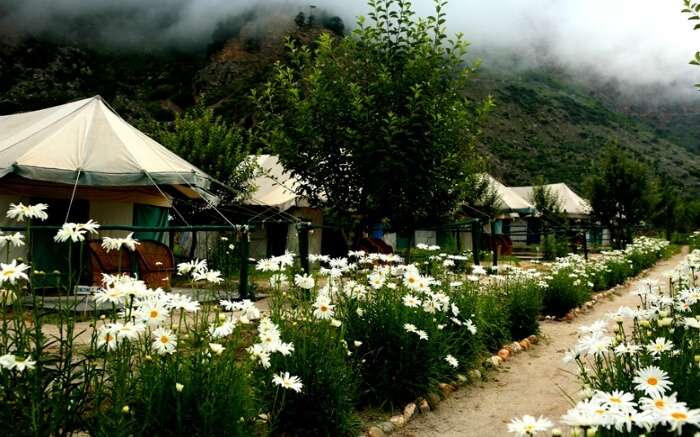 Mornings at the Banjara Camp in Sangla
Moving beyond the capital, some of the lovely orchard heavens in Himachal are Aamod Orchard House in Manali, Himalayan Orchard Huts in Chamba, The Monk-Kalpa in Roghi, Apple Orchard Farm & Camping and Banjara Camp & Retreat in Sangla, Kinnaur. There are many more in the lesser explored valley of Tirthan.
THINGS TO KEEP IN MIND – The apple plucking season in Himachal is from June to September. It lasts till July-August in Shimla, September in Narkanda, and October in Kalpa.
Suggested Read: 10 Terribly Overrated Destinations In Himachal & Where To Travel Instead
3. Tea estates of Kangra – Away from mad city rush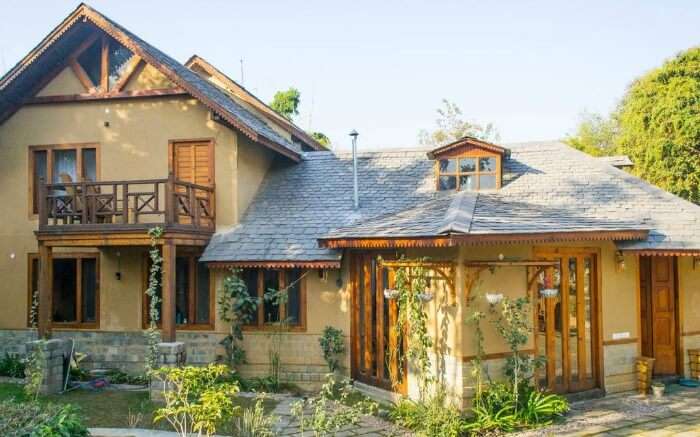 The Lodge At Wah in Palampur
Even though there is abundant greenery in all of Himachal, the serenity of tea estates is beyond comparison. Waking up to mist in the air and birds making cacophony is one of the most amazing experiences one can have in Himachal. With two cups of aromatic Kangra tea on the table and scenic views outside the window, the dream of a hill station vacation seems perfect.
RECOMMENDED TEA ESTATE STAYS IN HIMACHAL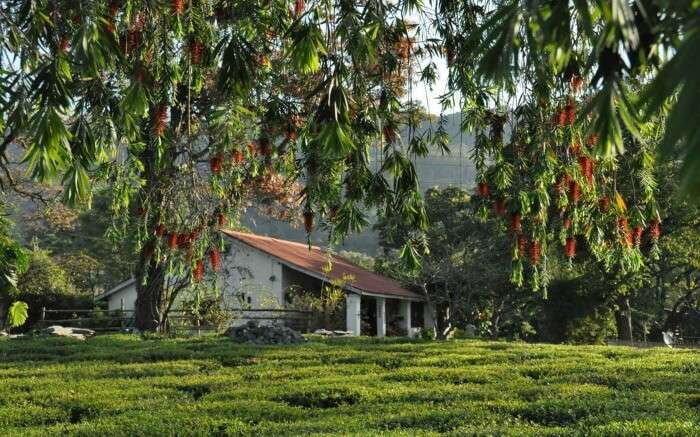 Lush greenery around Darang Tea Estate in Kangra
With water streams running through lush gardens, Darang Tea Estate is a slice of paradise where your body, mind, and soul meditate in unison. It is managed by 'Naveen Uncle' and 'Neeru Aunty' (as happy reviewers call them), who are more like family. Everything from food to stay to surroundings is perfect for a much awaited family break.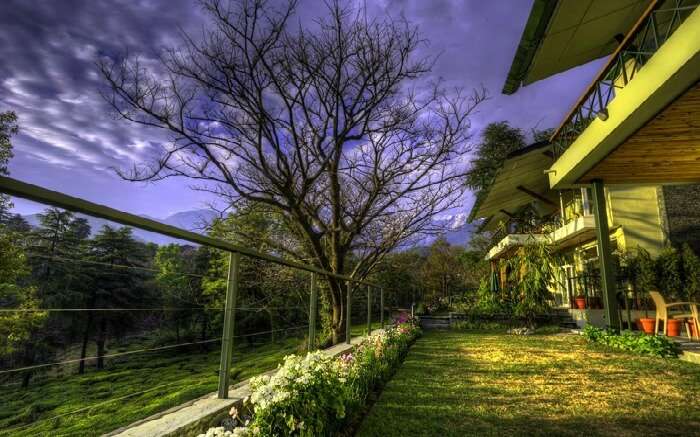 Striking morning hues as seen in Norwood Green homestay in Bundla tea estate Palampur
Bundla Tea Estate in Palampur is a comparatively less explored hideout, and that's precisely why it is all the more lucrative for solo travelers and peace seekers. It is a good pick for couples as well. The most popular homestay in this estate is Norwood Green, which rose to fame after it featured in NDTV Good Times show Highway on my Plate hosted by Rocky and Mayur.
It is 100 reviews strong on TripAdvisor and rated a startling 5 on 5. Excellent cottages, homemade food, impeccable service, fabulous settings, splendid views – there is everything you need to forget the world and gaze at the beautiful panorama. See reviews.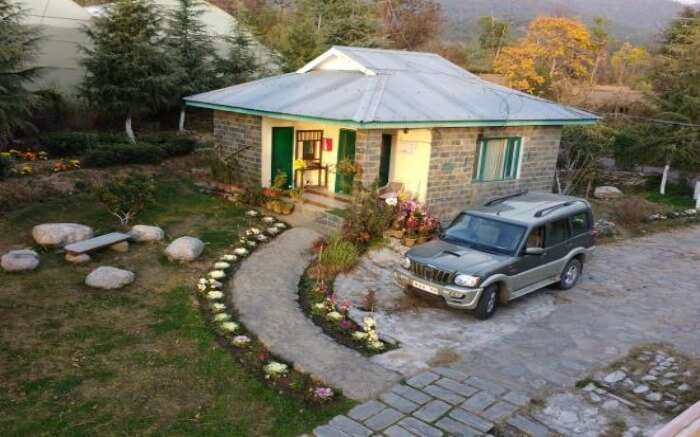 Nagri Resort in Palampur
Other homestays in Bundla Tea Estate are Bundla Tea Estate Homestay, The Tea Bud, Nagri Resort, Sai Gardens, Hotel White Haven Palace Estate, and Country Cottage – a Tea Garden Resort.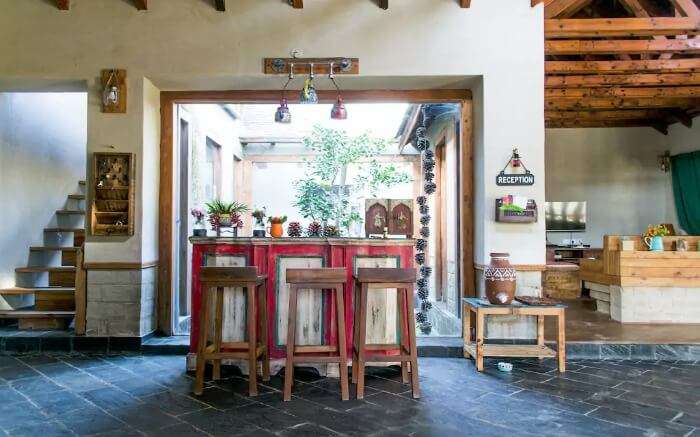 Reception at The Lodge at Wah in Kangra
Also, there is The Lodge At Wah: a retreat stay in Palampur. The delicious organic meals are not to missed here.
THINGS TO KEEP IN MIND – Make your booking beforehand as you are planning an experience and even a single mistake can ruin it.
Suggested Read: Top 12 Resorts In Himachal For A Truly Spoiling Holiday
4. Monasteries – Peace lovers' haven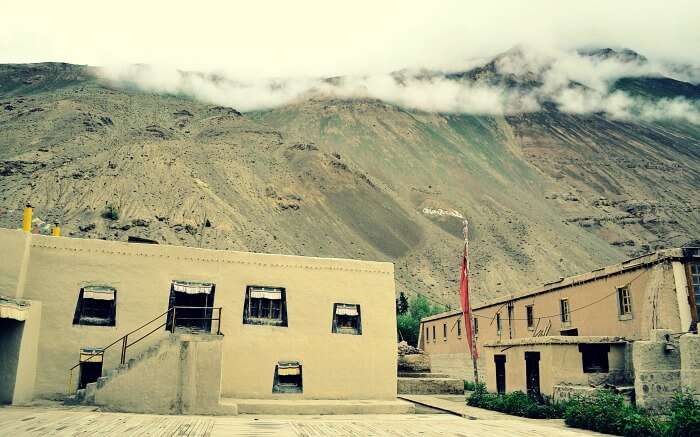 Inside Tabo monastery in Spiti along with barren mountains background
If the city seems crowded most of the times but you can still hear hills calling you through the Monday to Friday chaos, trust me – a short stay at any of the monasteries in Himachal will keep you calm for a long time.
Being light on the pocket is not the key highlight of the stay. It's the aura, the vibe, the experience. Situated in the middle of nowhere, these monasteries are spiritual havens where even non-religious and atheists find peace. Happy monks, happier localites, warm chai, simple food, humbling peaks, and the rustic accommodation are all the beauty you see here. Capture it in your heart and camera and keep them as souvenirs.
But a major concern here is that there is a lot of confusion with respect to which monasteries welcome tourists for a stay. Going through a few forums and travelogues online, I could figure out 3 to 4 monasteries where you can stay.
RECOMMENDED MONASTERY ACCOMMODATIONS IN HIMACHAL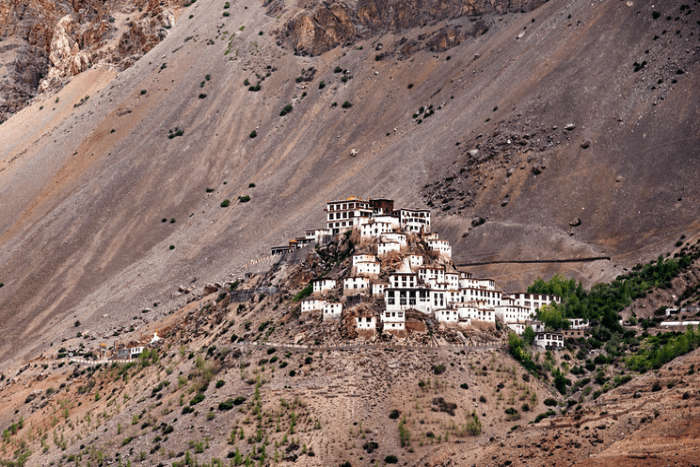 A distant view of Kye monastery and surrounding landscape
Kye or Ki monastery in Spiti is certainly open to guests. It is about 12 km from Kaza, which is an important stop in the Spiti Trek route. The charges are minimal (around INR 250 – 300), the rooms are basic, and the three included meals are simple and tasty.

Rooms in Key Monastery in Himachal Pradesh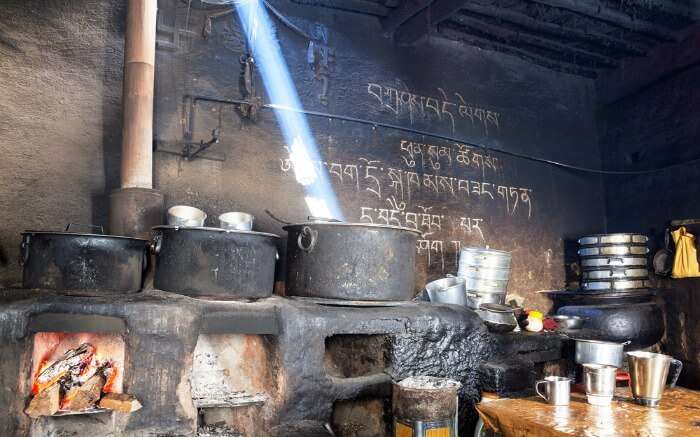 Kitchen inside Key Monastery in Spiti
Other monasteries in Spiti that welcome tourists are Tabo and Nako monasteries. Nyingmapa monastery in Rewalsar is a good pick if you are not planning a tour to Spiti.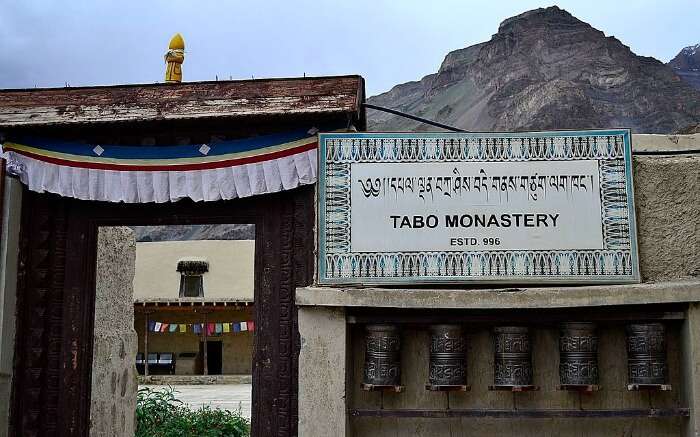 Entrance to Tabo monastery in Spiti
THINGS TO KEEP IN MIND – Before you head out, read recent reviews and travelogues; do not trust old travelogues or forums. When with monks, be like monks – make sure you do not disturb them. Do not expect mobile phone connectivity in these remote areas of Himachal.
5. Heritage hotels – Tryst with historic beauties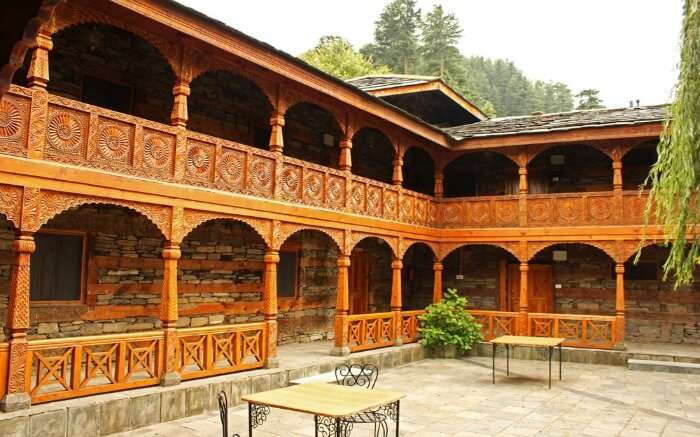 Hotel Castle Naggar in Kullu
Himachal was a princely state before it came under British rule. Various rulers over the centuries built exceptional properties in HP. Shimla, the summer capital during the British rule was home to the best of British constructions. Heritage value of these properties makes them elite stays that are currently maintained either by the state or private groups of hotels.
RECOMMENDED HERITAGE HOTELS IN HIMACHAL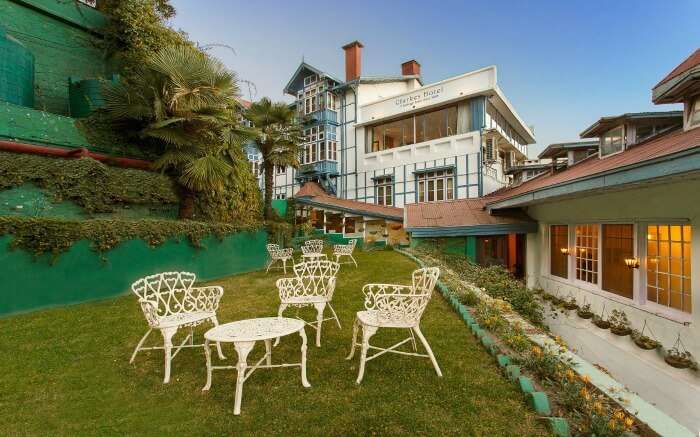 Sitting area at Clarkes Hotel in Shimla
The most popular heritage hotels in HP are Oberoi Wildflower Hall, The Oberoi Cecil, Woodville Palace and Clarkes Hotel in Shimla, WelcomHeritage Grace Hotel in Dharamshala, and HPTDC The Chail Palace in Chail. Barring the last one, all of these are luxury properties that extend unmatched hospitality to their guests. They are perfect for honeymoon as well as family vacations.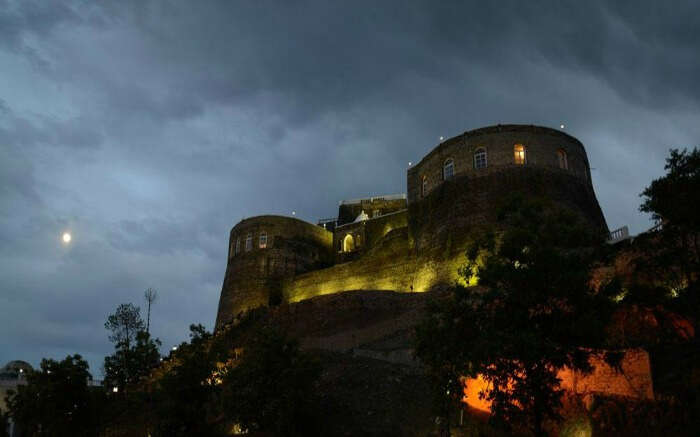 Ramsheher Heritage resort in Solan
But the good news is that our list of lesser-known heritage properties in Himachal runs long! Located atop a hillock in Solan, Ramshehar Fort was built by Raja Ram Chander in 1540 AD. It is a wedding destination as well as relaxing retreat however Beli Bagh Camping steals all the limelight at this fort resort.
On the same lines is Fort Nalagarh heritage resort, which greets you with a scenic view of Shivalik hills and Sirsa. At 300 km from North Delhi, it is one of the best stays for recreation. See reviews.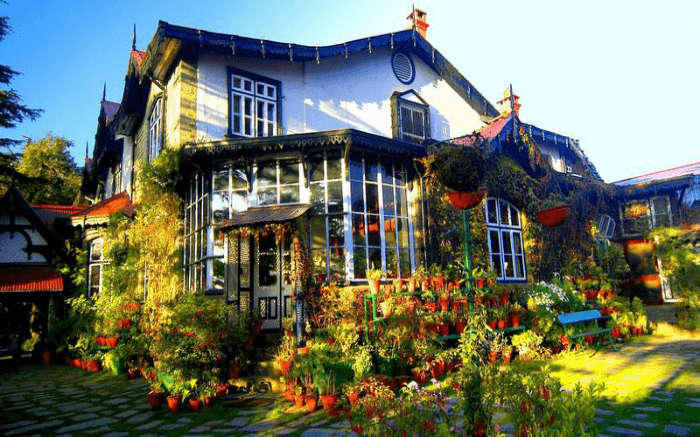 Boutique hotel Chapslee in Shimla
Judge's Court by WelcomHeritage in Pragpur, Kangra is a 300 years old country manor built in 1918 for Justice Sir Jai Lal. It is surrounded by 12 acres of orchard land, which makes it an awesome summer vacations destination in HP. See reviews See reviews. Then there is boutique hotel Chapslee in Shimla – the former summer residence of Raja Charanjit Singh of Kapurthala is picturesque beyond words!
Competing neck and neck are Kangra's Taragarh Palace – a European-style summer residence built in 1937; Hotel Castle Naggar – overlooking the bewitching Kullu Valley; Ros Common Kasauli – a leisure paradise oozing colonial charm; and Rajmahal Palace Mandi – a scenic luxury resort. Also, Ramgarh Heritage Villa totally nails it with a 5 star rating on TripAdvisor.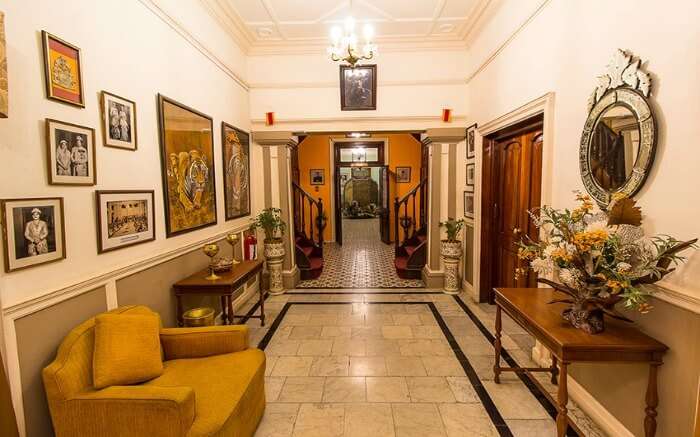 Interiors of Taragarh Palace in Kangra
THINGS TO KEEP IN MIND – History of these vintage stays is very interesting, make sometime to sit with the hosts to know about it.
Further Read: 18 Secret Places In Himachal That Tourists Haven't Discovered Yet
Honestly, had you heard of these places before? If you like the list, do plan a stay at one of these lovely abodes. Or if you know of more such places, please share with us in the comments below.
For our editorial codes of conduct and copyright disclaimer, please click here.
Frequently Asked Questions About Offbeat Stays In Himachal
What is the best time to visit Himachal Pradesh?
The ideal time to visit the Indian state of Himachal Pradesh is during the summer season. Therefore, if you are planning a trip to Himachal Pradesh, then consider the time period between March and June for a great travel experience.
How can I plan a trip to Himachal Pradesh?
If you prefer traveling by flight, then take one to Chandigarh and from there you can call a cab or book a bus. If you are traveling via train, then you can take one that connects Kalka to Shimla or the one that links Pathankot and Kangra.
Which is the coolest place in Himachal Pradesh?
There are various cool places to visit in Himachal Pradesh where you can beat the summer heat and spend peaceful time. Some of the hill stations that are worth a visit are Spiti Valley, Dalhousie, McLeodganj, and Manali.
What should I pack for Himachal Pradesh?
Some of the things that you must pack for your Himachal trip are – warm clothes, ID proofs, medicines, charger/power bank, sports shoes, sunscreen, and moisturising lotion.
How many airports are there in Himachal Pradesh?
You'll find three domestic airports in the Indian state of Himachal Pradesh. The three of them are located in the towns of Gaggal, Bhuntar, and Jubbarhatti. There's no international airport in the state as yet.
How many railway stations are there in Himachal Pradesh?
Himachal Pradesh has 15 railway stations in total in towns like Shimla, Taradevi, Una, Dharampur, Barog, and more.
Is Himachal Pradesh safe?
Since the state of Himachal Pradesh is considered to be the hub of tourism in India, travelers can spend quality time here without thinking too much about the safety. Women solo travelers can have a great time here without any hassle.
What is special in Himachal Pradesh?
Himachal Pradesh is known for its picturesque setting as well as vibrant local culture. Because of its beautiful natural setting as well as welcoming people, every hill station of Himachal Pradesh is a must visit.
---