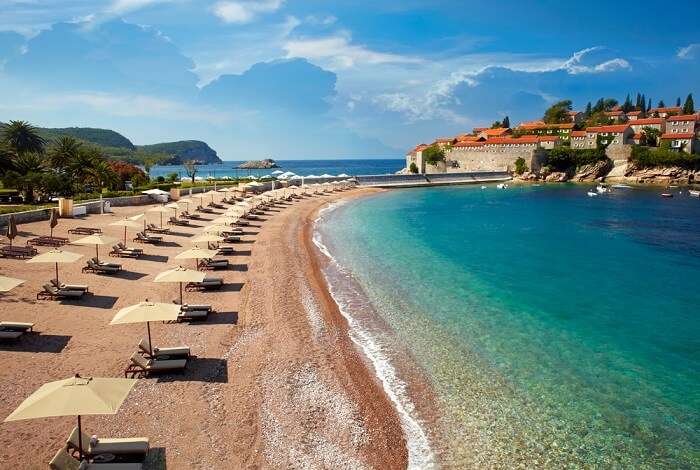 There surely couldn't have been a more befitting destination to earn the title of 'Pearl of the Mediterranean' than Montenegro, a tiny country that packs a powerful punch of travel experiences. Prepare to get bowled over by a melange of breathtakingly beautiful sights and allow the magic of Montenegro to fill up your senses with awe and admiration. Steeped in European history and home to nature's best-kept secrets, Montenegro is as much a dream destination for culture enthusiasts as for adventure junkies.
Charming medieval fort towns & pretty seaside churches beckon history buffs and culture lovers for a truly immersive experience, while the dramatic coastline and pristine beaches in Montenegro hold the promise of turquoise waters and unbridled tranquility. It's amazing how Montenegro's 295 Km-long coastline is bedecked with some of the most picturesque beaches in the world. Let's trot along the soft sandy stretches to explore some of the top Montenegro beaches along the way.
10 Top Beaches In Montenegro
These 10 beaches to visit in Montenegro are the perfect places to sunbathe, indulge in an adventure, take a stroll with your loved one, and capture memories that'll last for a lifetime.
Mogren Beach
Jaz Beach
Sveti Stefan Beach
Becici Beach
Dobrec Beach
Velika Plaza
Lucice Beach
Drobni Pijesak
Murici
Plavi Horizonti
1. Mogren Beach

This beautiful cliff-sheltered sandy beach close to the old town of Budva is a huge favourite with locals and a top contender for best beaches in Montenegro. Easily accessible by a coastal road, the picturesque beach is split into two sections by charmingly rugged mountains. The beautiful yet busy Mogren beach in Montenegro offers perfect seascape photo opportunities as well as pretty sheltered coves to unwind and stretch out near the sparkling clean ocean. The two sandy stretches are connected by a tunnel, while adventure lovers can choose to hike up the cliffs for some crazy jumps and a brush with adrenaline rush. The restaurant at the top is nice for a quick bite, while numerous bars and restaurants are just a stone's throw away in Budva.
Location: Cape Mogren to Vidikovac Hotel, Budva, Budva Municipality, Montenegro
2. Jaz Beach

Just a couple of kilometres away from Mogren towards the Bay of Kotor is one of Montenegro's longest and most attractive beaches that offers something for all age groups and interests. Surrounded by lush Mediterranean flora, this lively beach has been voted amongst the top beaches of Europe. The annual Sea Dance Festival every summer also draws hordes of music aficionados from across the world and has had a big hand in making Jaz amongst the most loved beaches in Montenegro. The clean pebbly beach is also one of the best places for indulging in fun water sports including surfing, kayaking and waterskiing. The numerous restaurants along the beach make it the perfect destination to relax, unwind and rejuvenate with friends and family.
Location: Budva, Budva Municipality, Montenegro
Suggested Read: 10 Cafes In Malta Where You Can Satiate Your Caffeine Cravings In A European Way
3. Sveti Stefan Beach

While Marilyn Monroe had played a huge role in making this stunning beach an internationally renowned leisure spot, the picturesque setting and outstanding facilities have kept it at the top spot amongst Montenegro beaches map. The tiny peninsula attached to the coast is an oasis of tranquillity and haven of luxury with one of best beachside resorts in the country. While resort guests can enjoy the entire stretch of this gorgeous beach, others can indulge in swimming and sunbathing at the southern part with pretty pinkish sand and the perfect conditions for a refreshing dip in the cerulean waters. The stunning Queens beach in Montenegro (also part of Aman resorts) is close by too, but accessible only on shelling out 70 euros.
Location: Sveti Stefan Beach, Montenegro
4. Becici Beach

Connected to the town of Budva through a tunnel, and easily accessible by a cab or bus from the old town, Becici Beach offers an endless stretch of sand surrounded by crystal clear turquoise waters. The wide & clean beach not only offers a range of water sports like surfing & kayaking, but also a variety of restaurants and bars for delicious meals and drinks by the sea. Beach bums can simply sit back & relax on a rented sun bed to the sound of the ocean and soak in the picturesque setting. The many-hued sand and perfectly shaped pebbles add to the beauty of gorgeous Becici beach in Montenegro. Don't forget to sample the mouth-watering ice-creams at the numerous parlours along the promenade!
Location: Becici, Budva Municipality, Montenegro
Suggested Read: Denmark Nightlife: Get Ready To Party Hard At These 10 Places In The Dairy Of Northern Europe
5. Dobrec Beach

This secluded beach offers the perfect escape from the hustle-bustle of the busy promenade at Herceg Novi. Accessible only through a shuttle boat ride, Dobrec beach promises a day in paradise with crystal clear waters, great seafood and lesser crowds. The sheltered cove with a lovely pebbly beach has a beachfront restaurant serving freshly caught fish and other traditional Montenegron dishes. You can plan for a rejuvenating day break here by hiring comfortable beach beds or hammocks where you can sip your wine and immerse in the beauty of the wooded hills around and the endlessly stretching glittering blue ocean in front of you. This private slice of heaven at the mouth of Bay of Kotor surely is one of the top places for your Montenegro beach holidays.
Location: Herceg-Novi, Herceg-Novi Municipality, Montenegro
6. Velika Plaza

Literally meaning 'Big Beach' this tops the list of longest beaches in Montenegro with an impressive 12 Km-long stretch of powdered sand. Lying to the south-east of Ulcinj, the shallow clear waters allow superb splashing opportunities with young kids too. Owing to favourable wind conditions, the beach is also popular as an ideal water sports destination with a variety of options to choose from. There are excellent bars and seafood restaurants all along the stretch of beach making it a great choice for a day out on the sea. With a kitesurfing school and perfect weather for the sports, kite-surfers are sure to have a rollicking time at this beautiful beach. Ada Bojana next door also features amongst the popular beaches in Montenegro for its pristine environs and nudist sections.
Location: Ulcinj, Montenegro
Suggested Read: 10 Extraordinary Things To Do During Your Summer Holidays In Europe
7. Lucice Beach

Tucked away on a small cove away from the busy main beach of Petrovac, lies this charming stretch of sand amidst a perfectly picturesque Mediterranean setting. Cypress trees on one side and pretty-hued water on the other make Lucice one of the most blissful beaches in Montenegro. The perfect symphony of green and blue can be admired at leisure on a rented beach bed or you can simply lounge on your beach towel along the free area. It's a great idea to bring along your snorkeling mask for a peek into the marine world in the crystal clear waters along the beach. You can enjoy a hearty meal and a refreshing drink or take the children for some splash and fun at the water slide on the far end.
Location: Petrovac, Budva Municipality, Montenegro
8. Drobni Pijesak

This cozy cove nestled between Sveti Stefan and Rezevici has a picture perfect small beach endowed with fine yellow-white sand and clear blue waters. Considered amongst the prettiest beaches of Montenegro, this secluded oasis offers the perfect tranquil getaway with just the right ingredients for an ideal day in the lap of pristine nature. The stone pontoon is a great spot for quiet contemplation and fish watching, while the clear sparkling water offers good snorkelling opportunities. The lone restaurant and bar offer decent grub and the comfortable chaise-lounges are perfect for sunbathing. Head down the steep and twisty trail from the main road to spend some unforgettable moments by this 250-m stretch of paradise.
Location: Budva, Montenegro
Suggested Read: 13 Frolicsome Beaches In Europe For All The Excited Beach Bums Across The Globe
9. Murici

Some of the inland top beaches in Montenegro are just as pristine and strikingly beautiful as those along the Adriatic coastline, and Murici tops that list with elan. Located along the UNESCO world heritage listed Lake Skadar, the peaceful beach offers the perfect countryside escape amidst bountiful nature and dramatic mountain ranges. You can relax by the tranquil lake, take a boat ride or enjoy a hearty meal of fish specialities and famous Montenegro wines. The lovely 500-m beach is one of the best bets for a quiet day in the company of scuttling fish and unadulterated nature.
Location: Skadarsko Jezero, Montenegro
10. Plavi Horizonti

Nestled on a natural cove on the Lustica peninsula, the picture perfect crescent shaped Plavi Horizonti is one of the finest sandy beaches in Montenegro. The calm attractive beach bordered by pine trees offers shallow clear waters, making it a great spot for a tryst with the colourful marine life along the rocky coves. The placid waters are extremely safe for children, who can merrily swim or glide around in their floats. This blue flag family beach is a favourite amongst locals for its peaceful atmosphere and heavenly natural surroundings. You can hire a pedalo for drifting away on the sea and savour a delicious meal at the charming restaurant with tables amidst the trees.
Location: Radovici, Tivat Municipality, Montenegro
Further Read: 10 Hostels In Montenegro To Enjoy The Delights Of The Adriatic Sea And The Balkan Highlands
With many more alluring beaches in Montenegro vying for your attention with their picturesque locations and world-class facilities, the country makes for a perfect sojourn by the gleaming ocean. So, don't wait and plan your international trip with TravelTriangle right away!
Frequently Asked Questions About Beaches In Montenegro
Q. Does Montenegro has sandy beaches?
A. Yes, there are sandy beaches in Montenegro.
Q. Is Montenegro cheaper than Croatia?
A. Yes, Montenegro is cheaper than Croatia.
Q. What sea is Montenegro on?
A. Montenegro is situated on the Adriatic sea.
---