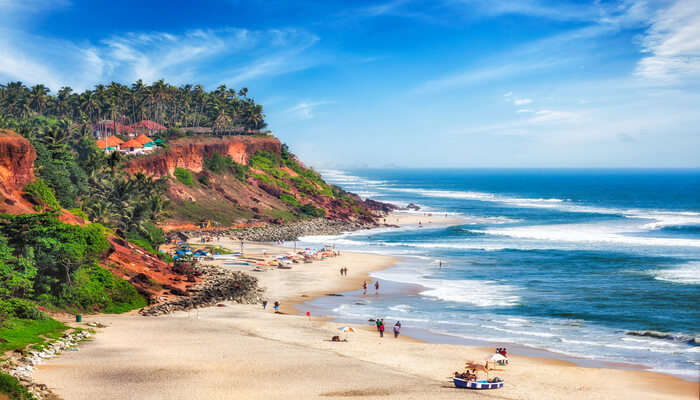 Coimbatore is popular for its spices and the food taste. The people there still believe that the way to a person's heart passes through the tongue. And hence, they take care to keep the way evergreen. Besides food, the culture of Coimbatore is worth witnessing. You can find several well-architectured temples that are worth noticing by even modern architecture and engineering. However, Coimbatore doesn't have any beach of its own. So you can hit nearby beaches near Coimbatore which are known for their beautiful locations and of course gives a reason to the travelers to explore some of the best views of the state.
18 Best Beaches Near Coimbatore
Here's the list of amazing, turquoise and peaceful beaches near Coimbatore which one must visit when they are planning a vacation in Tamil Nadu. All of these beaches offer the perfect escape for those who wish to embrace serenity and tranquility. These beaches near Coimbatore are truly marvelous.
Kozhikode Beach
Kochi Beach
Ponnani Beach
Alleppey Beach
Kannur Beach
Bekal Beach
Kasargod Beach
Tuticorin Beach
Kovalam Beach
Poovar Beach
Mangalore Beach
Velankanni Beach
Chavakkad Beach
Snehatheeram Beach
Nattika Beach
Vadanappally Beach
Periyambalam Beach
Munakkal Beach
1. Kozhikode Beach

Kozhikode, aka Calicut, is popular for its spices and is known as national spice capital and is among the beautiful beaches near Coimbatore. The northern district of Kerala is known as the culinary and cultural capital of the region. Kozhikode began trading spices such as cardamom and black pepper, due to the significant influence of Arab, Jewish and Portuguese culture over 500 years ago. Vasco Da Gama, the first European to land on the Indian coast, landed on the sand of Kappad beach in Kozhikode. Kozhikode is often considered a symbol of the Malabar nutritional scenario. There are enough items in the restaurant to lighten your lips. Many festivals take place here throughout the year, including culinary festivals, to celebrate the diversity and pride of Kozhikode residents. The city is also very friendly and famous for the warmth that people receive. A visit to Kozhikode will certainly awaken the senses, soul, and stomach.
Distance From Coimbatore: 131 kilometers from Coimbatore
Attractions: Lion's Park, Tai Temple
Must Read: 50 Best Tourist Places In Tamil Nadu Ensuring The Most Awesome 2022 Vacay!
2. Kochi Beach

Fort Kochi is the oldest part of the city with Dutch and Portuguese traces. Gujaratis and Konkanis, who traveled here at a time when port cities were occupied. This is beach is one of the most stunning beaches near Coimbatore. It is decorated with a spice market, which is one of the main attractions of Fort Kochi. This street is lined with magazines that are found in rural areas and there you can find authentic Indian spices known all over the world. A newer terrain of the city, is called the city of Ernakulam, is a place where one can find an aspect of metropolitan development. In the new Kochi metro, urban forms are layered to facilitate travel and access to different parts of the city. Even in urban language through development, you will be surprised by the beauty of the characteristic architecture in the form of castles, temples, and even beaches. Discover the normal life of the city and find hidden treasures that are in sight.
Distance From Coimbatore: 142 kilometers from Coimbatore
Attractions: Jew Town, Hall Palace, Fort Kochi
Suggested Read: Mahabalipuram In Tamil Nadu: Explore The Unique Culture Of Southern India In 2022
3. Ponnani Beach

Ponnani, a city with a variety of mosques, is the smallest taluk in local Malappuram in Kerala. This is a closed community in the Arabian Sea in the west and is an important fishing center. Ponnani has the main tidal harbor of the Bharathapuzha River. The population here is a fair mix between Hindus and Muslims. Ponnani is called a small "Mecca" in southern India, and this place is also Ponnani, depending on the important focal point of teaching Islamic lessons. The best time to visit Ponnani is from October to February. Among the temples here, Thrikkavu, the Saraswati temple, praises the nine-day celebration of Navratri with majesty and majesty. Similarly, the festivities were held at the nearby Kandurampankavu Pooram Temple, which attracted many people from neighboring cities. The Mookkuthala Bhavathi Temple about 10 km from Ponnani is one of the oldest Durga Mandir in Kerala.
Distance From Coimbatore: 116 kilometers from Coimbatore
Attractions: Masjids, Temples, and Ponnani Lighthouse
Suggested Read: Monsoon In Tamil Nadu 2022: See The 8 Most Wonderful Places To Explore
4. Alleppey Beach

Luxurious green landscapes with swaying coconut plantations, endless rice fields, winding rivers, and large puddles, this place is a paradise for tourists in the center of Kerala and surely one of the best beaches near Coimbatore. Not only the beauty of nature, culture, and architecture has moved here. The famous boat trips, delicious food, and sweet nature are every traveler's dream. Alappuzha is a place of all times, but there are high and low points for each season. Winter from November to February is the best time to enjoy a cool and fresh climate, free from heavy rain and cannabis. The famous boat races with Nehru's trophies take place when the rainy season reaches its peak; from June to September an event that brings together thousands of fans on the shores of Lake Vembanad to witness this exciting and unique race. Summer starts in March and lasts until May. This year is less preferred due to high temperatures and humidity.
Distance From Coimbatore: 182 kilometers from Coimbatore
Attractions: Bay Island Museum, House Boats, and bird Sanctuary
Suggested Read: 12 Honeymoon Places In Tamil Nadu For A Romantic Getaway In 2022!
5. Kannur Beach

Kannur is one of the northernmost regions of the province of Kerala in southwestern India. The old name "Cannanore" is a species in the Malay word in Kannur that gives the form in English letters. Kannur probably took its name from one of the Hindus, Kannan, and Ur which symbolizes this place, making it the place in Lord Krishna. The temple god Katalayi Sreekrishna finds the southeast of the Kannur cat. With the western Ghat and the east and the sea of ​​Lakshadweep to the west, the Kannur region offers many general advantages. The same region is a big supporter of the country's social, political and mechanical heritage. In addition, Kannur values ​​the credit worthiness of Kerala. Kannur is a place that you will find sprinkled with splendor. Known as Cannanore, this beautiful city is rich in tourist attractions such as beaches, monuments, temples and alluring places.
Distance From Coimbatore: 197 kilometers from Coimbatore
Attractions: Shopping in Kannur
Suggested Read: 9 Best Hotels In Tirupati For A Tranquil Retreat In The Heart Of Tamil Nadu!
6. Bekal Beach

Bekal is a city in the district of Kasaragod. The core attraction of this city is the fortress of Bekal, which is shaped like a keyhole and is one of the largest large fortresses in Kerala. Kasaragod is a large city near Bekal. The completeness of this beach is famous for its remote causes and beauty. Tourists usually gather on the beach after sunset to enjoy the beautiful scenery while walking on the path or practicing water sports. People can also enjoy the sunset and sunrise on the beach. Traveling to Kettuvallam, a traditional houseboat in Kerala, which helps people experience remote areas, is also one of the main tourist attractions. Bekal is famous for steamed and fried dishes. Steamed foods include Puttu, Iddali, Idiyappam, and Ada. Among fried dishes, popular dishes are fried fish, fried bananas and pakodas.
Distance From Coimbatore: 262 kilometers from Coimbatore
Attractions: Valiyaparamba Backwaters, Bekal Fort
Suggested Read: 5 Homestays In Chennai For A True Tamilian Hospitality
7. Kasargod Beach

The northernmost region of Kerala located on the sea coast bordering the slopes of Kodagu and the Mangalore region of Karnataka in the east and north. However, it has many attractive coastlines, fortifications, nature reserves, trails, and many other important places. Kasaragod is located on the edge of the Arabian Sea and was once the entrance to Malabar beach. You can see a long coastline with several pristine coasts surrounded by palm trees bathed by the beautiful tropical sun and lightning waves. It is a magnificent place, rich in history and favored by natural abundance. Other tourist destinations included in the Kasargod include the Govinda Pai monument, the Madiyan Kulam temple, and the Malik Deenar mosque, and the nearest tourist destinations include Bekal, Kannur, Thalassery, and Payyoli. The city of Kasargod meets the peaceful atmosphere of the proximity of the sea.
Distance From Coimbatore: 271 kilometers from Coimbatore
Attractions: Kottancheri Hills, Shopping
Suggested Read: Bookmark These 8 Romantic Things To Do In Kodaikanal For A Blissful Trip In Tamil Nadu!
8. Tuticorin Beach

Tuticorin, aka Thoothukudi, is a port and industrial city in Thoothukudi district of Tamil Nadu, India. This cool and peaceful city is located on Coromandel beach in the Bay of Bengal and is a popular tourist destination, especially among sea lovers. This beautiful coastal city, which is said to have the busiest port, is also used for nature reserves, family parks, sandy beaches, numerous temples, churches, and monuments. The port city was ruled by many dynasties and was later inhabited by the Portuguese, and was later used by the British East India Company, which gave it a rich cultural heritage in places of art and architecture. The Mannar Bay National Marine Park has about 36,000 species of flora and fauna, this port is also famous for the capture of pearls, which makes it a major tourist attraction.
Distance From Coimbatore: 282 kilometers from Coimbatore
Attractions: Tuticorin port, Kulakkad Wildlife Sanctuary.
Suggested Read: 14 Exciting Things To Do In Mahabalipuram On Your Next Vacay In Tamil Nadu!
9. Kovalam Beach

Kovalam lies in the state of Kerala. The term Kovalam means grooves in a coconut tree. This village is full of Coco strawberries. This place has three beaches: Lighthouse Beach, Hawah Beach and Samudra Beach. In addition to beaches, Kovalam also has other places to visit, such as the Karamana River, Lake Vellayani, Halcyon Castle, Kovalam Art Gallery, Valiyathura Pier, Neyyar Dam, Aruvikkara Dam, Casio Halcyon, Kovalam Art Gallery, Dam World, World of Neyy Vali in Thiruvallam Parasurama and Vizhinjam cave temple. Most people visiting coastal cities are from Europe and Israel. The beaches in Kovalam are suitable for swimming and there are many delicious dishes near the beach. There are many water sports that are also recommended on the beach, such as surfing, wooden boat trips, speedboat rides, diving, paragliding, windsurfing and more.
Distance From Coimbatore: 291 kilometers from Coimbatore
Attractions: Lighthouse beach
Suggested Read: 14 Things To Do In Madurai For An Interesting Experience During Tamil Nadu Vacation
10. Poovar Beach

Poovar is a city in Neyyattinkara, in Kerala. He falls in love with the district of Thiruvananthapuram. The lake and the sea meet the earth. It is a paradise to discover in Kerala. Pozhiyoor, which means the end of Kerala. It is a small village located on this beach that was visited in Kerala. This place is near Vizhinjam, in a natural harbor. The Neyyar River connects to the Arabian Sea near Poovar. Initially, Poovar was an important trading center for wood, sandalwood, ivory, and spices. Poovar Beach, Golden Sand Beach, Poovar Paddle, Aazhimala Siva Temple, Neyyar, North Poovar Beach, City Mosque, Arjuna Backwaters, Pozhiyoor Gold Beach and many other places. Poovar is one of the places where Ayurveda is practiced; Ayurvedic therapies such as neck and shoulder massage, head massage, steam bath, Elakizhi, inhalation, and synchronized general massage.
Distance From Coimbatore: 300 kilometers from Coimbatore
Attractions: Boat Race, Poovar beach
Suggested Read: 7 Airports In Tamil Nadu For An Awesome Flying Experience In 2022
11. Mangalore Beach

The Mangalore Gate, which is the gateway to the Konkan coast and Kodagu District, combines modern complexity and ethnic events in the coastal region. Mangalore, known as one of the cleanest cities in India, is located between the Arabian Sea on one side and West Ghat on the other in the state of Karnataka. This lively city is a tourist destination known for its rich cultural diversity and natural beauty. The beautiful city of Mangalore offers exotic beaches and majestic mountains, ancient temples, and architecture. Tourists love to visit this famous 14th-century port city and discover the Mangaladevi temple, Kadri Manjunatha temple, and the chapel of St. Aloysius, Someshwara beach and Tannirbavi beach. Today, Mangalore is an important commercial, industrial and educational center for the state of Karnataka.
Distance From Coimbatore: 311 kilometers from Coimbatore
Attractions: Sultan Battery, Shopping.
Suggested Read: 9 Best Hotels In Tirupati For A Tranquil Retreat In The Heart Of Tamil Nadu!
12. Velankanni Beach

Though it is quite far from Coimbatore unless you are willing to travel in this direction, you ought to think over choosing this as a beach destination. Velankanni is located on the coast of the Bay of Bengal, in the state of Tamil Nadu. It is a small, charming and quiet city known as a Roman Catholic pilgrimage site. Millions of devotees from India and abroad come here every year to receive the blessing of "Our Lady" in the temple of "Our Lady of Good Health". This magnificent church is an example of French Gothic architecture and seems to be inspired by France from Lourdes. A beautiful city is a colonial experience with art and culture dispersed in every architectural way. The city has beaches and museums that you can visit and spend the day relaxing. Velankanni was chosen as a heritage city under the Indian Government's HRIDAY program. The best time to visit this place is winter from October to March.
Distance From Coimbatore: 318 kilometers from Coimbatore
Attractions: Church and Museum
Suggested Read: 10 Hotels In Coonoor Amid The Lush Valleys Of Tamil Nadu
13. Chavakkad Beach

Image Credits: Mohamed rizwan rasheed for Wikimedia Commons
Just a couple of hours away from Coimbatore and Bangalore is a serene getaway that is just waiting to get unraveled. One of the famous beaches near Coimbatore, Chavakkad Beach is a destination that exhibits an impeccable phenomenon for one to cherish. Known as Azhimukam, this phenomenon is the merging of a river with the vast stretches of the sea that takes away the breath of many. Apart from this delightful natural wonder, this beach is also a great place to swim, sit back, and relax to gather energy for the upcoming weeks. Right opposite Chavakad is Ramachapadam, a huge farmland, known for its Ayurvedic herb named Ramacham. This beach is perfect for one to just sit, watch the bustling fish market, listen to the sounds of waves, and enjoy the surreal outing.
Distance From Coimbatore: 140 kilometers from Coimbatore
Attractions: Ramachapadam. Flea Market
Suggested Read: Onam Festival: An Absolute 2022 Guide To Celebrate The Harvesting Season In Kerala
14. Snehatheeram Beach

Image Credits: Drdurlabh for Wikimedia Commons
If the panoramic landscapes and the scenic views are what gets you going, Snehatheeram Beach is the place to be. One of the most beautiful beaches near Coimbatore, your vacation to the southern part of the complete is truly incomplete without paying a visit to this beach. From the cerulean colored waters of the Arabian Sea, hues of the sun changing as it rises and sets, and the long stretches of sand, Snehatheeram Beach is a nature lover's paradise. Sitting in Thrissur, this beach is often an escape for families and couples who wish to spend some time together. Away from the bustling city life, this beach situated near Coimbatore is truly magical.
Distance From Coimbatore: 138 kilometers from Coimbatore
Attractions: Triprayar Sri Rama Temple, Peringottukara Devasthanam
Suggested Read: 7 Churches In Alleppey You Must Visit During Your Kerala Trip
15. Nattika Beach

Image Credits: Pradeep937 for Wikimedia Commons
Nattika Beach is one the nearest beaches to Coimbatore that has a perfect blend of serenity and luxury to offer to travelers. This beach was initially an escape for those who wished to get away from the crowds and get off the beaten path. But the beach became quite popular over time, for all the right reasons and thanks to the Malayalam blockbuster named Chemmeen that was shot here. Apart from being an escape for nature lovers and thrill-seekers, this beach is also home to an Ayurvedic resort that exudes opulence from every nook and offers a true southern experience. From cruising along backwaters to engaging in various adventure sports, this beach surely has plenty to do.
Distance From Coimbatore: 142 kilometers from Coimbatore
Attractions: Ayurvedic Resort, Adventure Sports
Suggested Read: 13 Weekend Getaways From Kerala That Are Worth The Views And Your Time!
16. Vadanappally Beach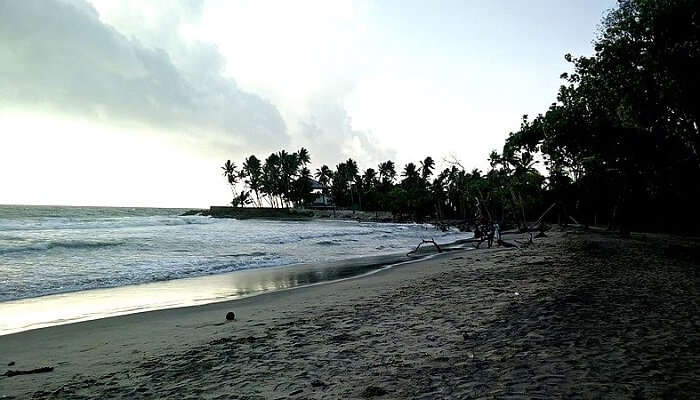 Image Credits: Athulvis for Wikimedia Commons
There is no dearth of fishermen villages located in Kerala and Vadanappally is among those. This tiny coastal village is among the nearest beaches in Coimbatore and has a true beach experience awaiting for one and all. The nodding palm trees, glittering stretches of sand, and the calm azure waters combine to offer a stellar landscape for one to behold. The magnificence of these views is such that they do not fail to inspire awe for many. This beach is also the place where one can witness the vibrant and colorful coral reefs covering the underwater world of southern India. Kerala is famed for its backwaters that are also linked to this location to an extent.
Distance From Coimbatore: 135 kilometers from Coimbatore
Attractions: Valigan Kunnu, Francis Church
Suggested Read: 15 Churches In Kottayam You Should Plan To Visit When In Kerala
17. Periyambalam Beach

Image Credits: Jaseem Hamza for Wikimedia Commons
Located a few kilometers away, Periyambalam Beach is among the nearest beaches in Coimbatore that exudes serenity and tranquility. Apart from offering the picturesque views, this beach is also famed for being one of the cleanest and well-maintained beaches in the southern country. From young couples to families, Periyambalam is an escape for all. It is a great spot to visit if you are seeking to take a road trip, away from city life. If you wish to seek solace and visit a destination that is secluded, this is your best bet in Kerala. The calming sounds of waves, the aroma of various herbs, and the granules of soft sand under your feet are enough to make your experience memorable and cherishable.
Distance From Coimbatore: 151 kilometers from Coimbatore
Attractions: NA
Suggested Read: Trekking In Kerala: A Short Guide For Beginners!
18. Munakkal Beach

Image Credits: Haribhagirath for Wikimedia Commons 
Sitting on the banks of Azhikode, Munakkal Beach is perhaps the biggest shoreline on the banks of the Arabian Sea that one can visit in Thrissur, near Coimbatore. Just a few kilometers from the Kodungallur town, this shoreline was actually produced by the Harbor Engineering Department under the tidal wave restoration project. From outdoor theaters, walkways, skateboarding spots, rain shield, and nourishment courts are the major highlights of this man-made beach. This is not only perfect for families looking to spend some time together, but also those who wish to go on a road trip with their buddies!
Distance From Coimbatore: 160 kilometers from Coimbatore
Attractions: Kodungallur Bhagavathy Temple, Cheraman Juma Masjid Mosque
Further Read: 8 Churches In Ernakulam That Are Popular All Around Kerala
These are some of the best beaches in Coimbatore which will definitely give you a closure to a relaxing vacation away from the hustle-bustle. With the pleasant views to enjoy and surreal vibes surrounding the atmosphere, there is a long list of reasons to visit these beaches. If you're planning a vacation to Tamil Nadu, then don't miss the chance to explore these beautiful beaches near Coimbatore.
Disclaimer: TravelTriangle claims no credit for images featured on our blog site unless otherwise noted. All visual content is copyrighted to its respectful owners. We try to link back to original sources whenever possible. If you own rights to any of the images and do not wish them to appear on TravelTriangle, please contact us and they will be promptly removed. We believe in providing proper attribution to the original author, artist or photographer.
Frequently Asked Questions About Beaches In Coimbatore
Is there any beach in Coimbatore?
Not really. The nearest one is Kozhikode beaches are surrounded by the Wayanad Hills to the east and Arabian Sea to the west.
What is Coimbatore famous for shopping?
Brookfield's Mall. Shree Devi Textile. Nalli Silk Sarees. Agarwal Sweet Palace. Grocery Raja. S K Pearl & Crafts. Shantiniketan Silks.
Which beach is near to Coimbatore for a one day trip?
Ponnani, Kozhikode and Kochi beaches are near to Coimbatore.
Which beach is good for family?
Alleppey Beach. There are house boats also where you can stay.
Which beach is good for adventurous minds?
Turicorin, Poovar and Kozhikode beach have a wildlife sanctuary nearby to pursue advent.
Which beach has easy access to modern city life?
Kannur and Mangalore beach.
Which beach near Coimbatore is the best one for couples?
Kovalam beach. It is a lighthouse beach.
What is the best time to visit Coimbatore?
The best time to visit Coimbatore is between July to March.
---
People Also Read:
Beaches Near Palakkad Beaches Near Hyderabad Beaches Near Margao