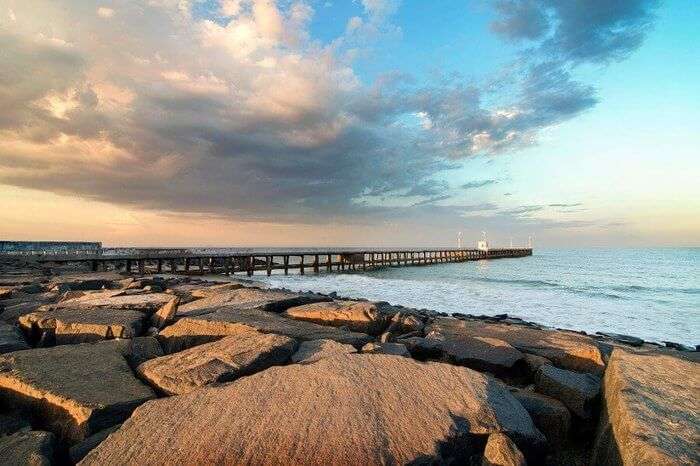 Whether you're someone looking for solitude or a party environment, the happening and best beaches in Pondicherry will surely entice you. You can relax on the soft sand, party by the waters, walk along the shores, watch beautiful sunsets, do some swimming, build sand castle, try adventurous water sports, or spend a romantic evening with your partner. Woo! We know there's so much to do. Get ready to be blown away by the coastal charm of Pondicherry!
8 Best Beaches In Pondicherry
Pondicherry is best known for its Portuguese style architectural buildings and streets. The place has an old school vibe and the beaches are simply incomparable. Here are some of the best beaches in Pondicherry.
Auroville Beach
Promenade Beach
Paradise Beach
Serenity Beach
Mahe Beach
Karaikal Beach
Quiet Beach
Reppo Beach
1. Auroville Beach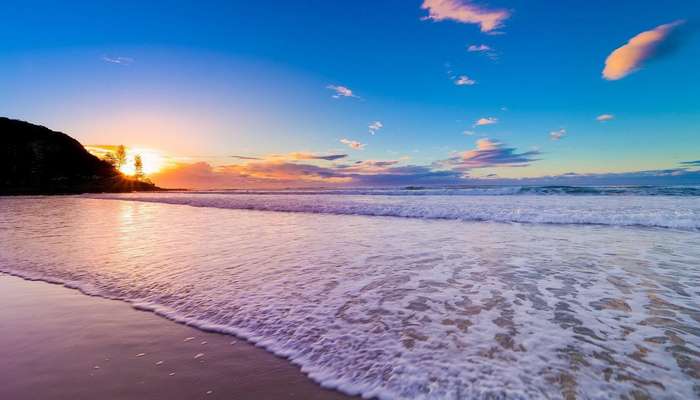 Auroville Beach or Auro Beach is one of the best beaches in Pondicherry located near Auroville. It is popular for beautiful seashells, shallow and crystal clear water, and sun-kissed shores. The beach is perfect for swimming and surfing, one can spot surfers, both novices and professionals on the beach early in the morning. Auroville Beach also has some of the best beach resorts in Pondicherry. And it among those few beaches in Pondicherry with shacks.
Things to do at Auroville Beach: Swimming, surfing, strolling, and enjoying the view of Pondicherry lighthouse at night.
---
South Weekend Holiday Packages On TravelTriangle
A trip to South India has a lot to offer – from the tranquillity of forests to charm of sizzling beaches and from lost kingdoms to chills of a hill station. Visit Kerala, Coorg, Ooty, Mysore, or Kodaikanal. Book holiday packages inclusive of airport transfers, cab, resort, sightseeing, and meals.
---
2. Promenade Beach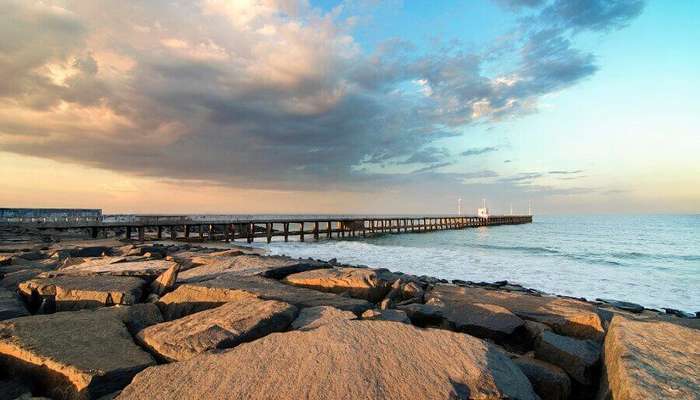 A typical rocky beach, Promenade Beach in Pondicherry is one of the most famous beaches in Pondicherry. It is a 1.5 km long beach, bordered by a long walkway. Tourists, as well as the locals, come here for a morning walk, jogging, and strolling. Vehicle entry is banned on the beach front area during the evening, which allows people to chill out and relax in peace. Also, the seashore, beach shacks, food cart, and sea-facing cafes and restaurants that enhance the charm of the beach.
Things to do at Promenade Beach: Visit War Memorial and Dupleix Park. You can also enjoy beach yoga, skating and try fresh seafood on the beach.
Must Read: 9 Fabulous Pondicherry Resorts Near Beach Where One Can Experience A Lavish Stay In 2020!
3. Paradise Beach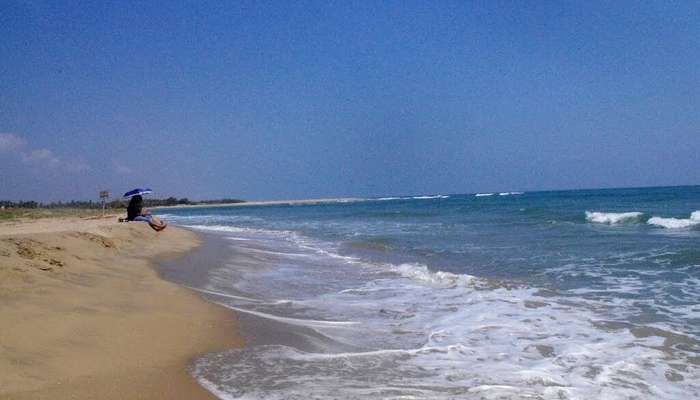 Paradise Beach, Pondicherry offers utmost charm and tranquility to every sea lover. The beach has utterly gorgeous views with some interesting water sports to try. The beach has shower rooms and changing rooms for those who want to swim. Also, this is one of the cleanest and best beaches in Pondicherry, maintained by Chunnambar Resort. The beach can be accessed from Chunnambar boathouse in boats and kayaks.
Boat operating time: Between 9:00 am to 5:00 pm
Things to do at Paradise Beach: Beach volleyball, backwater boating, cruising, photography (chargeable) and dolphin spotting
Suggested Read: 9 Amazing Places To Visit In India's French Colony : Pondicherry
4. Serenity Beach
Serenity Beach in Pondicherry one of the top beaches in Pondicherry that guarantee serenity. There is also a surfing training school near the beach where you can learn surfing under professional guidance. You would also love exploring the vibrant beach cafés and the beachside flea markets. This is a place where you can spend a whole day relaxing, strolling, engaging in fun activities and also eating. Make sure you follow the safety instructions if you planning to surf.
Things to do at Serenity Beach: Surfing, sunbathing and chilling out in beach cafes and shacks
Suggested Read: Shopping In Pondicherry: 15 Places To Find The Best Handicrafts And Quirkiest Souvenirs
5. Mahe Beach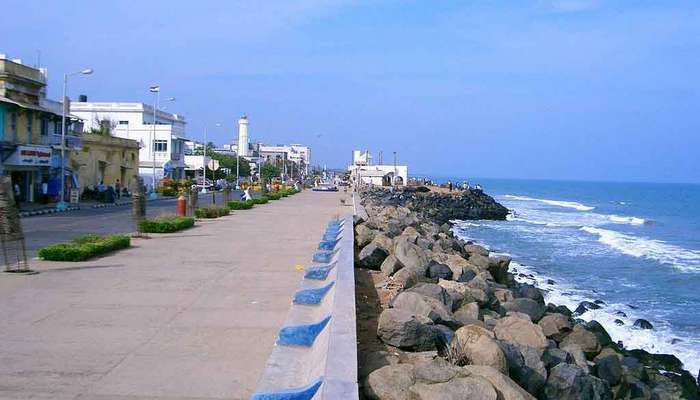 Lined with plush green palm trees, Mahe Beach in Pondicherry is a virgin beach with a pristine shoreline. Mahe Beach is usually visited by peace seekers and photographers. It is one of the secluded and best beaches in Pondicherry to relax and capture stunning views of the ocean and sunset. There are no shacks and food joints, so you must carry food, water and other stuff like beach umbrella and towels if you are planning to swim.
Things to do at Mahe Beach: Enjoy the most photogenic sunset, try fishing, take a trip to the fishing villages and collect sea shells. One of the most thrilling things to do in Pondicherry for you will be hiring a fishing boat and exploring Dharmadam Island with fishermen.
Suggested Read: 16 Things To Do In Pondicherry For A Fulfilling Retreat
6. Karaikal Beach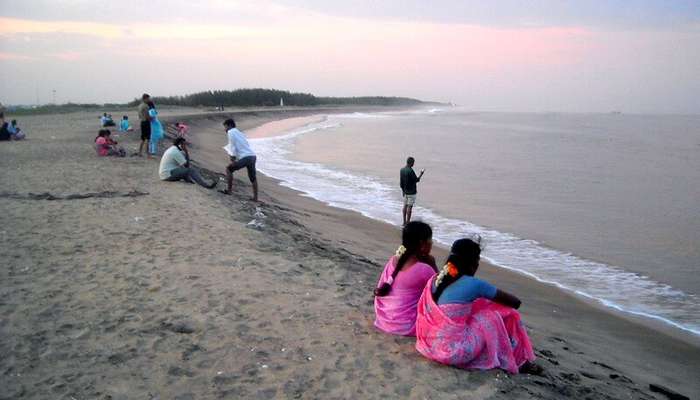 Another name that can be added to the list of unspoiled Pondicherry beaches is Karaikal Beach featuring unmatched vista and ample watersport facilities. With shallow and clean water, it is one of the most splendid beaches of Pondicherry, ideal for swimming and rejuvenating vacation. Spend some time relaxing with your family or partner at the beach and don't be in a rush. The pristine waters and the sun will make it a perfect beaching day for you.
Things to do at Karaikal Beach: Play beach tennis and volleyball, enjoy canoeing, and kayaking.
7. Quiet Beach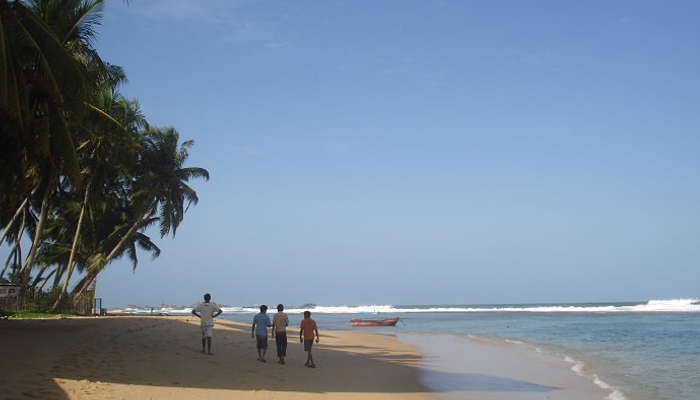 This is one beach location you must not miss on the Pondicherry beaches map. Just as the name suggests, this is a very quiet and peaceful beach in Pondicherry, located 8 km from the city. Enjoy the serene views and soothing sea breeze. Taking a stroll on this beach is one of the most romantic things to do for couples.
8. Reppo Beach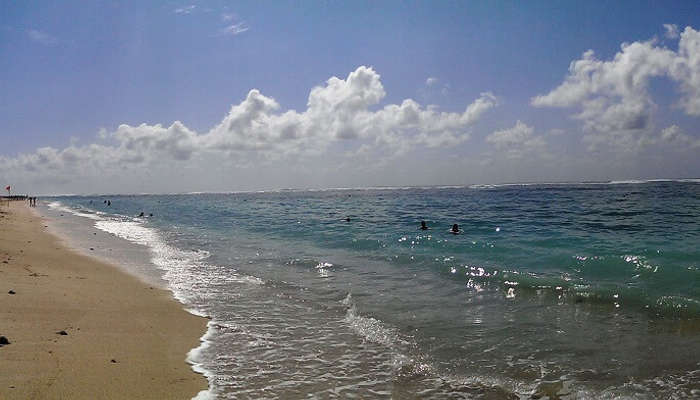 Reppo Beach is one of the most relaxing beaches in Pondicherry at night and even during the day. The surroundings are peaceful and undisturbed by the rush or noise. This is a good place to be visited with family or partner.
Further Read: 15 Unique Beaches That Aren't Just About Building Sandcastles & Collecting Sea Shells
Pondicherry is gifted with natural beauty, and its biggest gifts are Bay of Bengal and Arabian Sea. The seashores are the perfect places to experience and live this city. This is your chance to explore the unbelievingly beautiful beaches in Pondicherry. Don't let it slip away! Plan a trip to Pondicherry and have an amazing time in this "Portugal city" of India. The peaceful beaches and classic architectural building are waiting to embrace you and make you feel being in a different era.
Frequently Asked Questions About Beaches In Pondicherry
Q. How many beaches are there in Pondicherry?
A. Pondicherry has many beautiful beaches out of which 6 are very popular among tourists, including:
1. Auroville Beach
2. Promenade Beach
3. Paradise Beach
4. Serenity Beach
5. Mahe Beach
6. Karaikal Beach
Q. What is the best time to visit Pondicherry?
A. The winter time in Pondicherry i.e. from October to February is the best time to visit this place.
Q. What should I buy in Pondicherry?
A. Some of the things that you can buy from Pondicherry are:
1. ornaments
2. terracotta toys
3. handmade paper products
4. bamboo products
5. idols
6. palm stem paintings
7. coconut shell products
8. kora grass bags
Q. Which is the famous beach in Pondicherry for swimming?
A. Auroville beach or Auro beach is one of the famous beaches in Pondicherry for swimming. The shallow and crystal clear water makes it perfect for swimming and surfing. Also, Paradise beach and Karaikal beach allows one to swim.
Q. What is the boat operating time at the paradise beach?
A. 9.00am to 5.00pm is the boat operating time at paradise beach.
Q. What are the popular things to do at Serenity beach?
A. Surfing, relaxing, strolling, chilling out in beach cafes and exploring beachside flea markets are the fun things to do at Serenity beach.
Q. Which is the famous beach in Pondicherry to enjoy stunning views of sunrise?
A. Mahe Beach and Rock Beach offer mesmerizing views of the sunrise. You can enjoy the most photogenic sunrises on these beaches.
Q. What are the various adventure things to do at Karaikal beach?
A. You can engage in various activities at Karaikal beach like:
1. Playing beach tennis and volleyball
2. Enjoy canoeing
3. Kayaking
Q. Can we drink alcohol in Pondicherry beach?
A. No, you are not allowed to drink alcohol in Pondicherry beach or at any public space.
People Also Read:
Best Beaches In Kochi Best Beaches In Goa Best Beaches In Mangalore
Comments
comments