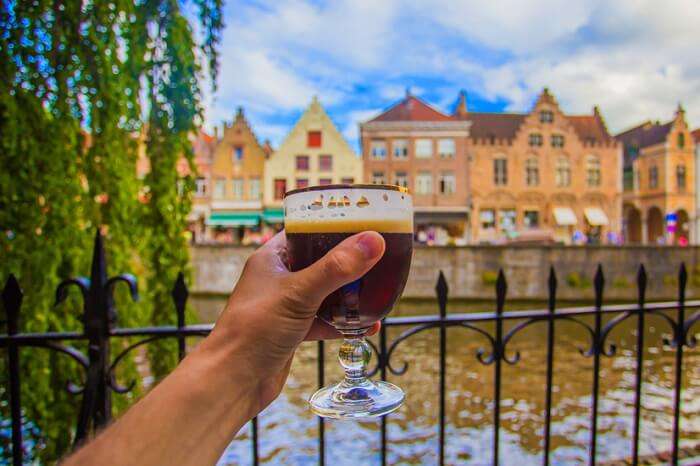 Beer is a pretty common drink in most European countries. It is consumed with food, while socializing, during any time of the day. In some parts of Europe, beer is as cheap as water itself. Ireland, Germany and other countries have varying kinds of beer available in their bars. One of such beer crazed countries thus is Belgium. The capital of this small, but beautiful country neighboring France, is Brussels, which is home to a number of world-class pubs, bars, and cafes. Some of the best craft beer bars in Brussels fall under the misnomer of the cafe, so do not be confused!
Brussel's Best Craft Beer Bars
Here are all the mind-blowing craft-beer bars in Brussels where you can catch up with your friends and share life stories. Scroll down and take your pick:
1. La Porte Noire
Want to share a drink in a historical setting? Head over to this brilliant place, which actually was a kitchen for an Alexian convent back in the day. The colorful crowds, live concerts, and a wide selection of beers makes this place one of the best craft-beer bars in Brussels and a must-visit. Oh, and you can change the scene a little by simply switching to whiskey in the smoking room here. The whole place has a middle-aged vibe to it, which adds to the fun that you and your group can have here!
Location: Rue des Alexiens 67, Brussels, Belgium
Average Cost of Beer: INR 350
Must Read: 10 Best Norway Restaurants To Try All Delicacies On Your Next European Vacation!
2. La Brocante
Another great place to have the best beers in Brussels, La Brocante is located a flea market called Jeu de Balle. There are a number of cafes, pubs and restaurants lining the cobbled streets of the market, however, La Brocante stands out for its collection of craft beer. The music here is livid – traditional jazz and blues melodies taking over the customers. You can also enjoy the food here, which is some of the best in the city. Perfect place for craft beer enthusiasts!
Location: Rue Blaes 170 | 1000 BXL, Brussels, Belgium
Average Cost of Beer: INR 400
3. Moeder Lambic
When it comes to craft beer, it does not get better than Moeder Lambic. The bar has opened a new outlet at Fontainas, which has become the mecca for beer enthusiasts from all over the world. With almost 50 beers on tap and over a hundred different kinds of bottles to choose from, Moeder is the dream come true. The staff is generous enough to help you choose and if you know what you want, they would be prompt in getting it for you. This is definitely one of the best craft-beer bars in Brussels.
Location: Place Fontainas 8, Brussels, Belgium
Average Cost of Beer: INR 550
Suggested Read: 10 Beaches In Sweden That Are Worth Going On A Vacation To Europe
4. A La Mort Subite
If there is one thing A La Mort Subite does best, it is the authentic Belgian beer bar experience. The place has an old family legacy with its founder being Theophile Vossen. Started in the early 1920's, it looks straight out of a movie set with old-timey stalls, sets of photographs and food menus. Do try their cheese sandwich. Gueuze or Lambic – this is the best place to pick craft beer in Brussels.
Location: Warmoesberg 7, Brussels, Belgium
Average Cost of Beer: INR 500
5. The Sister
Located centrally, with the Grand Place a short distance away, this is hands down one of the best pubs in Brussels. Their collection is wide and extensive, and they have tasting options as well, which makes it perfect for a cozy night out. The menu is quite detailed, which will help you choose your choicest of beers at this place. The Sister does beer like some do wine – you will find particular attention given to notes, tastes and flavors. The place is open for breakfast as well, so don't shy away from dropping in early.
Location: Rue Chair et Pain, Grand Place, Brussels, Belgium
Average Cost of Beer: INR 400
Suggested Read: Guess Which European City Gets The Title Of World's Most Liveable City This Year!
6. Delirium
Does not the name say it all? This place has been done so nicely that you truly will feel delirium – in this case, the pink elephants that also are the face of the famous Delirium Tremens Beer, populate this beautiful bar. The place has a beer collection to die for – over three thousand different types of beer can be ordered at their bar. It hands down is the biggest beer bar in the whole wide world. Sold yet? If no, think again, as this bar also lets you order some special Belgian brews in liters, which means all your night woes are taken care of!
Location: Impasse de la Fidélité 4A, Brussels, Belgium
Average Cost of Beer: INR 350
7. Brewdog Brussels
This is an international chain of beer-bars based out of Scotland, Europe. They came to Brussels around two years ago, and have found a special place in the hearts of natives as well as fans of craft-beer internationally. The beers here move from the rich Choco Libre to the fan favorite Elvis Juice and others with much-appreciated ease. The place is grand and you will find an interesting array of people mixing and drinking over here. And for nights you want something to eat as well, they have the tastiest burgers, fries and salads.
Location: Putterie 20, near Central Station, Brussels, Belgium
Average Cost of Beer: INR 500
Suggested Read: A View From This Europe's Tallest Skyscraper Will Leave Your Jaw Dropped!
8. L'Ermitage
A recent addition to the city's ever-growing craft-beer scene, this super hip brewery is located inside a cigarette factory. Interestingly, the three founders collected the funds for the place by crowdfunding. What puts their work aside is the graphic imagery of Krump which is used as labels for the brand. Their beer is a huge hit amidst the locals, you can visit the brewery itself by paying a nominal fee and attend tasting sessions.
Location: Rue Lambert Crickx 24 – 26, Brussels, Belgium
Average Cost of Beer: INR 450
9. Poechenellekelder
Think puppets, and Poechenellekelder becomes the place for you. Lined with these interesting and somewhat creepy toys, this amazing bar should be your place to hang at after strolling around the city. The neighborhood, complete with the famous Peeing Boy statue makes for perfect touristy photographs. Yes, the beer is not dirt cheap here, but you get so much else at this place, which means you definitely need to cover it once!
Location: Rue du Chene 5, Brussels, Belgium
Average Cost of Beer: INR 300
Suggested Read: Top 9 Places To Visit In Zagreb To Savor The Best Of South Europe
10. Brussels Beer Project
One of the best craft-beer bars of Brussels, this is another modern brewery cum bar. Around 15 different beers make this place a must-visit along with the super cute and super innovative tasting glasses here which are specially designed for the occasion. You can organize food-beer pairing sessions. Or have a simple yet effective music with beer session. This is the perfect place to bring your partner to on special nights. They come out with one beer in over five months, which shows the intricacy and dedication they put in their craft!
Location: Rue Antoine Dansaert 188, Brussels, Belgium
Average Cost of Beer: Tours starting at INR 1000
Further Read: 10 Best Airports In Europe For An Enjoyable Journey To Your Dream Destination
These are a few of the best craft-beer bars in Brussels. The city is bustling with places where you can find good beer even for cheaper prices. Planning a Eurotrip? Book using our portal to avail the best offers possible!