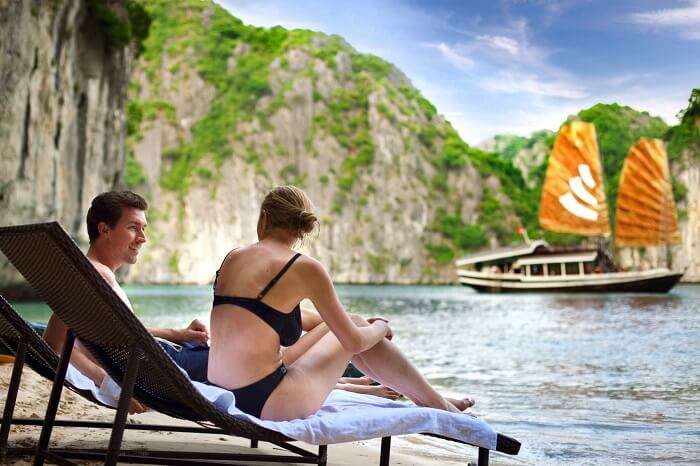 With its natural marvels, old-world charm, vibrant colors, savory cuisines, and inspiring scenery, Vietnam makes itself a recommended place for the honeymooners. And the best honeymoon destinations in Vietnam are sure to provide some unforgettable & meaningful experiences to the couples. Though the complete list is long, we have picked some of the best honeymoon destinations in Vietnam that you might want to include in your honeymoon itinerary.
Valleys: The Most Romantic Destinations In Vietnam
There are numerous places to go in Vietnam on your romantic escapade. Of these, the beautiful valleys top the list. Rice fields, grasslands, and myriad hues of flowers in the various valleys are perfect for a honeymoon in Vietnam.
1. Dalat: The Valley Of Love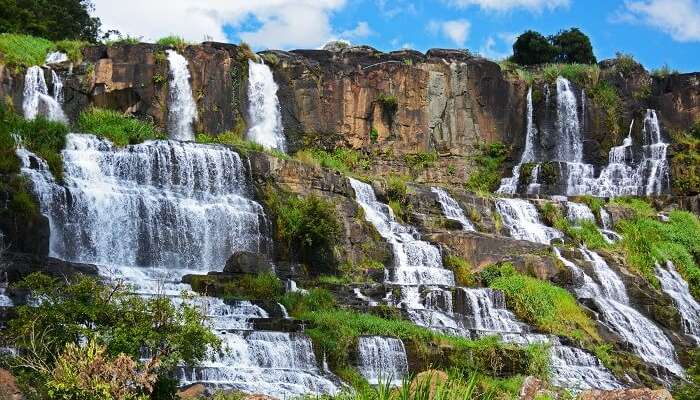 Known for its eternal spring, Dalat is a beautiful valley in the south central highlands of Vietnam, 1500 m above the sea level. Its rolling mountains, covered with pine trees, make it one of the most romantic places in Vietnam in summer and spring.
For that romantic experience: Ride in giant swan-shaped paddle boats in Xuan Huong Lake, walk hand-in-hand through the various flower gardens, or head to some beautiful waterfalls located nearby
Location: NA
Must Read: 7 Temples In Vietnam That Are An Epitome Of Art & Architecture!
2. SaPa: The Rice Roof Of Indochina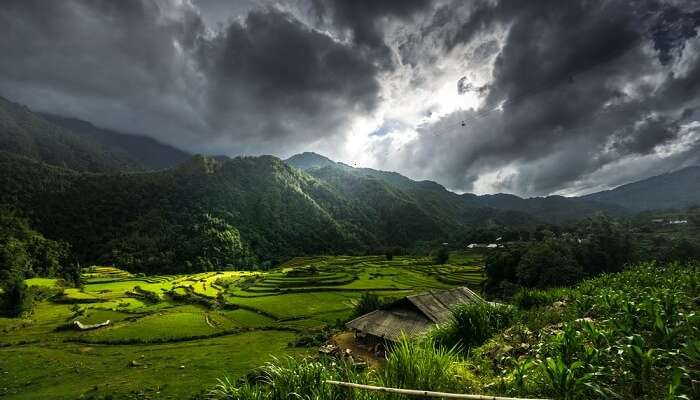 The majestic valley of SaPa is, undoubtedly, among the best honeymoon destinations in Vietnam. Though the colorful destination of terraced rice fields, flowing streams, and 3143-meter high Mount Fansipan also attracts families and solo travelers, it is the honeymooners that will enjoy here the most. One should not miss visiting this honeymoon place in Vietnam.
For that romantic experience: Enjoy scenic views of the Muong Hoa Valley & the Fansipan Mountain, take a dip in the waters of the Love Fountain, and climb the Heaven Gate
Location: NA
Suggested Read: 10 Homestays In Vietnam That Redefine Affordable Luxury
3. Mai Chau: If Not SaPa, Then Here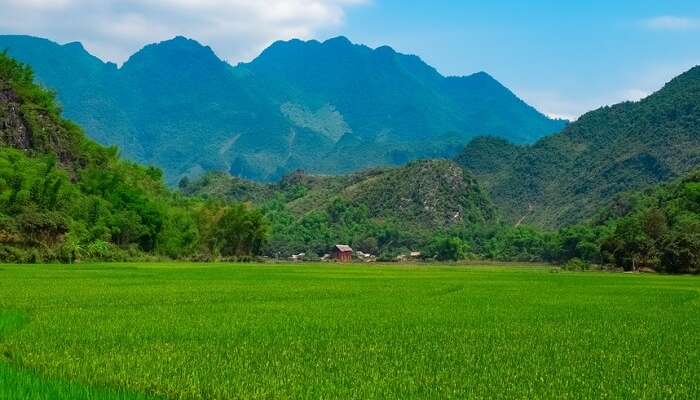 Sa Pa maybe a little too crowded for the couples seeking some private time in a beautiful setting, but Mai Chau isn't. And, hence, it is a wonderful option for the honeymooners. Of all the honeymoon spots in Vietnam, none offers such levels of romance and seclusion together.
For that romantic experience: Take a dip in the waters at the base of the Thác Gò Lào waterfalls, cycle around the rice fields, stay in one of the homestays, or explore the Chieu Cave
Location: NA
Suggested Read: 20 Stunning Places To Visit In Vietnam For A Natural & Historic Retreat
Beaches & Islands: For A Romantic Honeymoon In Vietnam
Those looking for some super romantic Vietnam honeymoon ideas are in luck. There are some amazing beaches and islands in the country that are beautiful, pristine, and undoubtedly romantic. Have a look at these as well before you plan your honeymoon in Vietnam.
4. Con Dao: Mysterious But Romantic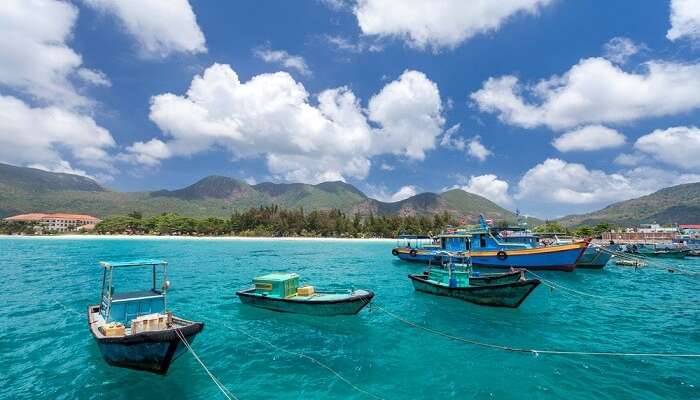 The 16-island archipelago of Con Dao is a hidden gem that rests idyllically in the quiet waters of South China Sea. These islands are among the most romantic places in Vietnam and are famed for their crystal clear blue-green waters, soft golden sand beaches, lush mangrove forests, and beautiful coral reefs.
For that romantic experience: Dive deep into the ocean and explore the beautiful corals
Location: NA
5. Phu Quoc: The Largest Island In Vietnam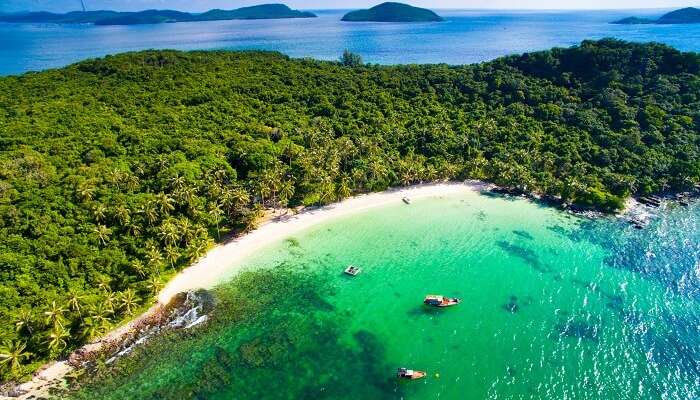 One of the relatively new honeymoon destinations in Vietnam, Phu Quoc boasts of its splendid natural beauty and untouched remote beaches. Floating in the warm turquoise waters of the Gulf of Thailand, the peaceful paradise can be accessed by a boat or a plane. Add it to your honeymoon travel in Vietnam.
For that romantic experience: Enjoy a breathtaking sunset on the beautiful beaches, go on jungle or mountain hikes, or dive into the ocean to explore the corals
Location: NA
Suggested Read: 6 Temples In Vietnam That Are An Epitome Of Art, Architecture, And Excellence!
6. Halong Bay: The Bay Of The Descending Dragon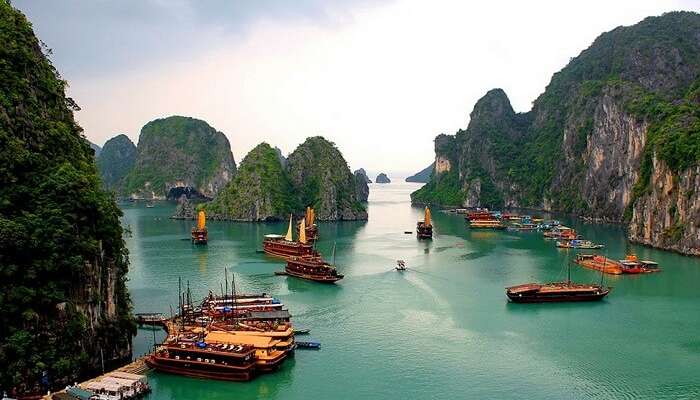 Forested nail-like mountain islands emerging right out of the blue-green waters cast a spell on the tourists. Perhaps, that is why, the region finds its mention in the UNESCO's list of world heritage sites. And that's not all. The beautiful setting here also makes it one of the most sought-after honeymoon places in Vietnam.
For that romantic experience: Cruise past the limestone islands, swim in the glittering waters, enjoy an aerial view as you fly in a seaplane, or try parasiling instead. Oh! And did we mention that you can go for a private dinner in the limestone caves of Halong Bay?
Location: NA
7. Mui Ne: Desert By The Sea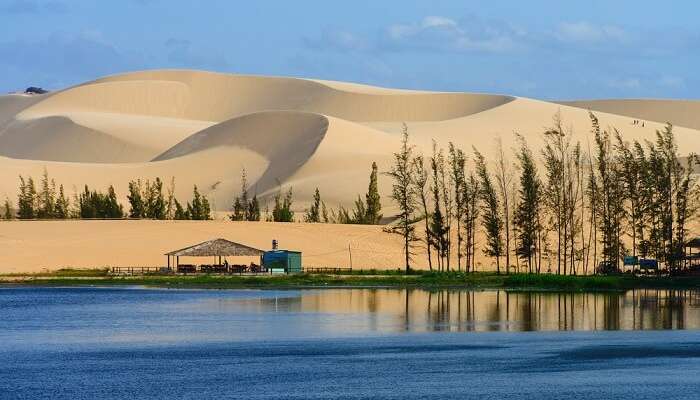 Mui Ne has very conveniently transformed from a quiet fishing village into a major surf & beach destination. The red & white sand dunes formed due to the blowing of oceanic wind over the beaches create a unique appearance of a desert by the sea.
For that romantic experience: Walk directly from the villa onto the sand of the 10-km long beach, take an ostrich ride, climb the sand dunes, or swim in the ocean azures
Location: NA
Other Vietnam Romantic Getaways
There is an endlessly long list of stunning places to visit in Vietnam. And in addition to the ones mentioned above, there are some other noteworthy places to see in Vietnam that could be, no; should be, included in your romantic trip.
8. Phong Nha Ke Bang National Park: For Cave Camping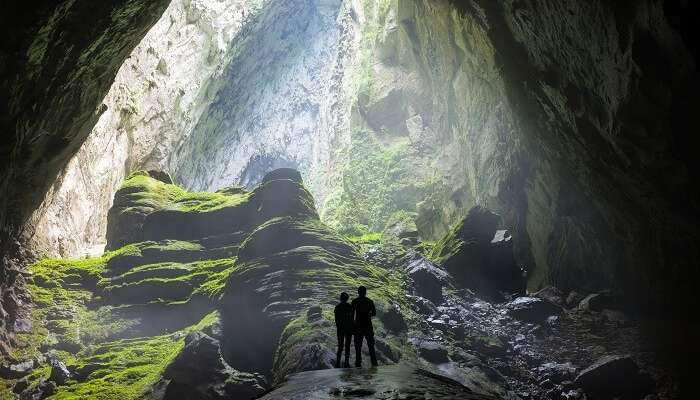 This national park is in the northern central part of Vietnam. It is a beautiful place with mountains, underground rivers, and tropical forests, ideal to visit on a honeymoon. The park is mainly known for the limestone karsts which are quite ancient and the vast network of caves it has. One might also spot elephants and tigers here.
For that romantic experience: Camp by the shores of an underground river in the Son Doong Cave, trek through the forests, or go mountain biking on the Ho Chi Minh Highway
Location: NA
9. Hoi An: For The Old-World Charm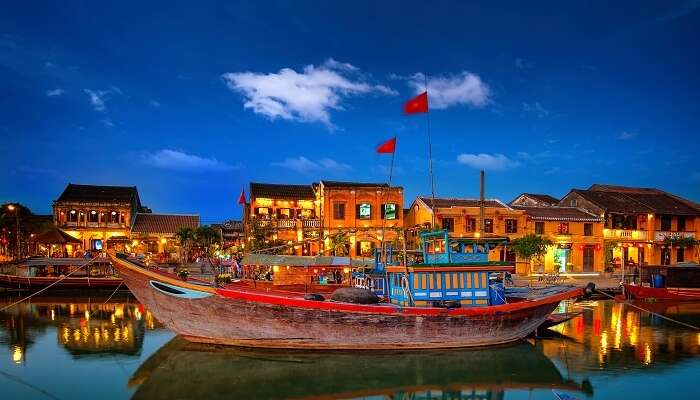 For that romantic experience: Relax on the less crowded beaches like An Bang Beach & Cua Dai Beach, enjoy the nightlife in the riverside cafes, or take romantic strolls by the riverside; enjoying the Chinese temples, Japanese-design bridges, pagodas, old canal, and French colonial houses that reflect the old world charm
Location: NA
10. Hue: For A Royal Romance In The Imperial City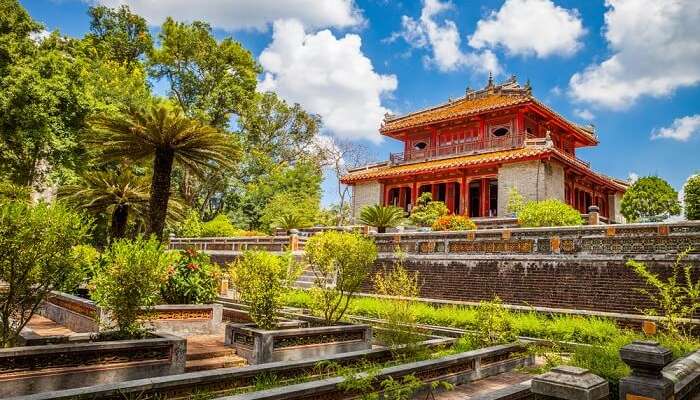 Hue is an interesting city which was the seat of the Nguyen Dynasty emperors. It was also the national capital from 1802 to 1945. The beauty of Hue is that it envelopes the palaces and shrines, and the Imperial City. The Đại Nội Citadel which dates back to the 19th century is another attraction here.
For that romantic experience: Visit the ancient monuments and temples and walk hand-in-hand through the gardens surrounding them
Location: NA
Further Read: 7 Most Romantic Hotels In Vietnam: The Best Of Beach Resorts And Hotels For Couples
Which of these romantic destinations in Vietnam will you choose to send your love to your lover in this new journey of your life? Let us know your choice. And why just us, let the world know as well as you share this article with them. Book a honeymoon trip to Vietnam with TravelTriangle and have a great time with your partner!
Frequently Asked Questions About Honeymoon Destinations In Vietnam
Q. Is Vietnam a good honeymoon destination?
A. Vietnam is a beautiful Southeast Asian country with pristine beaches, sparkling bays, dramatic landscapes, and vibrant culture. All these features with a plethora of activities to do, make honeymoon in Vietnam exciting and thrilling.
Q. When should I go to Vietnam?
A. Spring which is from February to April and autumn which lasts from August to October is a good time to visit Vietnam.
Q. How much money do I need in Vietnam?
A. If one is on a backpacking trip, then per day budget would come up to INR 2,900 and if one is looking for a more comfortable trip then per day expenses in Vietnam can range from INR 4,300 to INR 7,200 per day.
Q. Can I wear shorts in Vietnam?
A. Yes, one can wear shorts in Vietnam except in temples.
Q. What is Vietnam famous for?
A. Vietnam is famous for its natural landscapes, breathtaking views, ancient history, and vibrant culture. Vietnam has also earned worldwide popularity for items such as Vietnamese Coffee, Silk, Brocade and Ao Dai.
Q. Which are the most romantic places to visit in Vietnam?
A. Some of the most utterly romantic places for couples to visit in Vietnam are:
1. Sapa
2. Ha Long Bay
3. Hanoi
4. Hui
5. Hoian
6. Mui Ne
Q. What is there to in Vietnam on a honeymoon?
A. Here are some of the most romantic things to do in Vietnam which will make your honeymoon vacation a dreamy affair:
1. Spend time at Valley of Love cuddles by the romantic scenery
2. Have a romantic date at Nhat Beach or the famous Shark Bay known for its turquoise water and rock rapid.
3. Get to Hon Thom island by cable car to enjoy the panoramic views of the island.
4. Trek to Love Waterfall in Sapa which is surrounded by magnificent natural scenery.
Q. Which is the best place to go shopping in Vietnam?
A. Some of the most popular markets for shopping in Vietnam are:
1. Cai Rang Floating Market
2. Takashimaya Ho Chi Minh City
3. Dinh Cau Night Market
4. Phan Thiet Central Market
Looking To Book An International Honeymoon?
Book memorable honeymoon on TravelTriangle with 650+ verified travel agents for 65+ domestic and international destinations.
People Also Read:
Honeymoon Destinations In North India Honeymoon Destinations In The World Honeymoon Destinations In Italy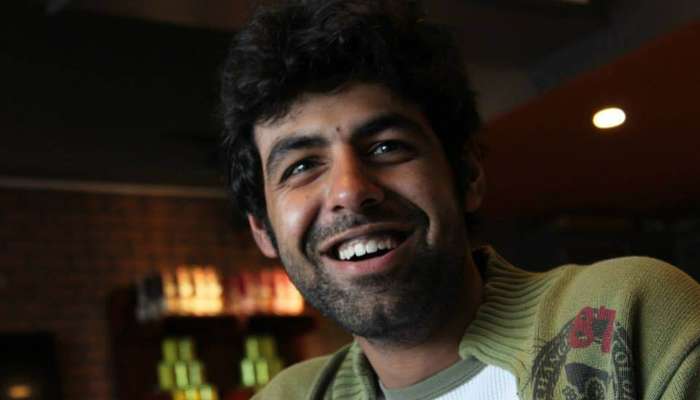 Comments
comments