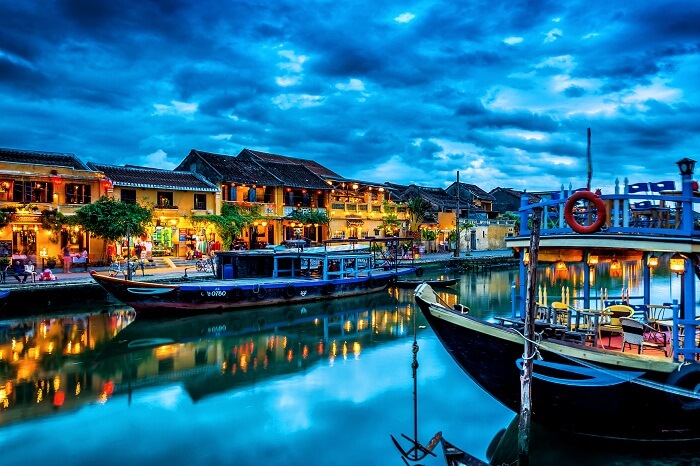 Vietnam is a scenic and spectacular travel destination. With the collage of Vietnam tourist places like mountains & deep valleys, rivers & seas, sparkling white sand beaches, deltaic creeks, sand dunes, monuments, sanctuaries and national park, Vietnam is a complete package.
There are numerous things to see in Vietnam. None should be skipped. Here is a detailed list of the places to visit in Vietnam. Scroll down and pick your choices before planning a holiday to Vietnam.
Hanoi Region
Best time to visit Hanoi: October and November are the best months to visit Hanoi. The days are not too hot. There is little rainfall and plenty of sunshine.
1. Imperial Citadel of Thang Long: Where history comes alive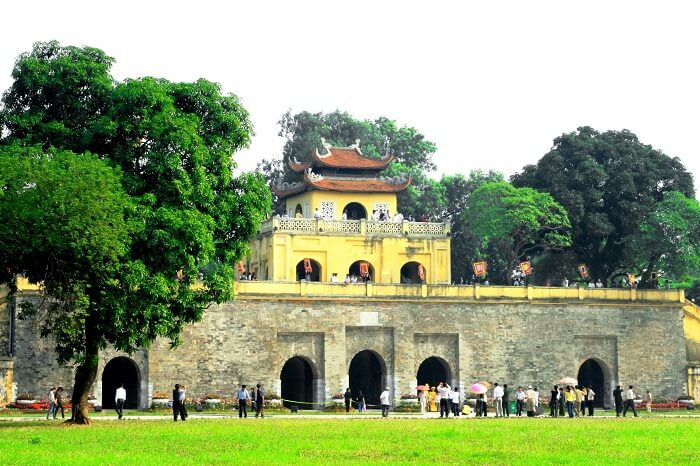 As a place of the former political centre of the country for 13 uninterrupted centuries, Imperial Citadel of Thang Long is one of the most famous Vietnam tourist spots. A World Heritage Site since 2010, this place is a glorious vintage fortress that reflects the remnants of Vietnamese military power. Archaeological expeditions have found out relics of age-old roads, palaces, wells, ponds, potteries, coins, and many other war remnants.
Don't miss: Gallery displaying excavated items like bronze coins from China, communications equipment of renowned Vietnamese General Vo Nguyen Giap, bunkers used in American War, and replica model of the citadel
Opening hours: 8 am – 11:30 am and 1:30 am – 5 pm
Entry fee: VND 30,000*
*1000 VND = INR 3.02
Suggested Read: Ho Chi Minh Shopping: 8 Places To Splurge And Shop At This Vietnamese Hub!
2. Ho Chi Minh's Mausoleum: Sanctity and serenity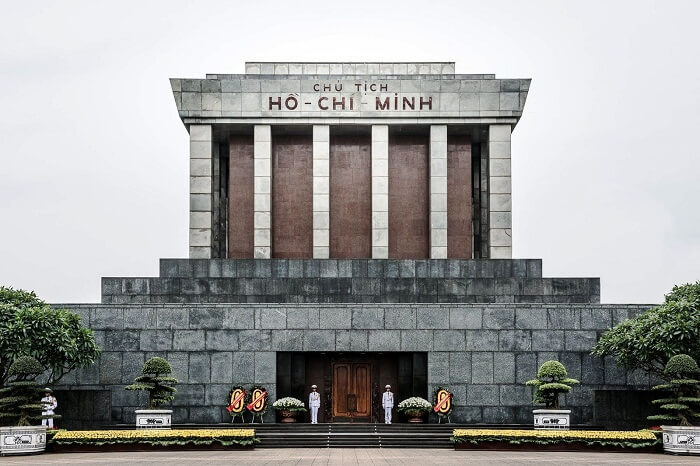 Suggested Read: Honeymoon In Vietnam: Your Guide To This Underrated Romantic Destination
Ho Chi Minh's Mausoleum is a piece of spectacular marble construction, built with materials collected from all over the country. This monumental marble architecture is quite popular and one of the most visited places to visit in Vietnam. Ho Chi Minh's pale body is well-preserved in a glass sarcophagus inside the building.
This place is closed from September 4th to November 4th when Ho Chi Minh's body is taken to Russia for annual maintenance and preservation procedures. People of Vietnam regard this as a sacred place hence there are certain restrictions for visitors.
Note: It is not allowed to wear short clothes, hats, and tank tops inside the premises. Talking on the phone and clicking pictures is strictly prohibited. Also note, nobody is allowed to walk inside keeping his hands inside the pocket.
Don't miss: The ceremony of change of guard outside the mausoleum
Opening hours: 8 am – 11 am; Saturday – Thursday
Entry fee: VND 10,000
Ho Chi Minh City
Best time to visit Ho Chi Minh city: May – November is the best time to visit Ho Chi Minh city. Tropical downpours can be expected during these months. However, travel is seldom affected by rain. The region is lush and green during these months.
3. War Remnants Museum: A Blast from the Past, quite literally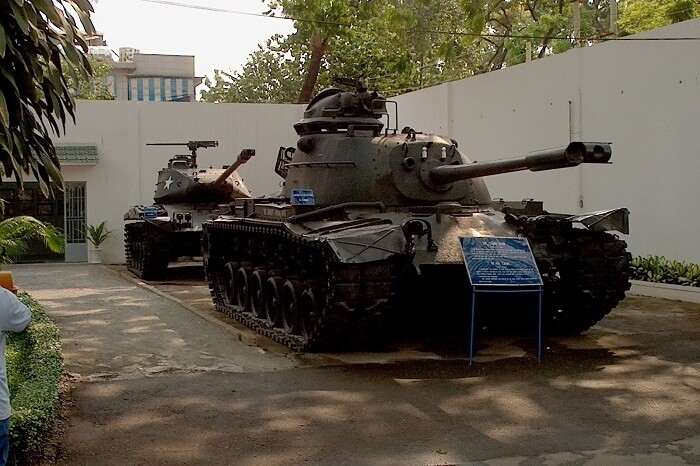 Suggested Read: 12 Things To Do In Ho Chi Minh To Make The Most Of This Bustling City
One of the popular tourist places in Vietnam, the War Remnant Museum displays various items and relics of different wars of the world history. A variety of weapons, armoured vehicles, bombs, bunkers, tanks, infantry weapons, and artillery items are displayed here. Being one of the must visit places in Vietnam, the museum also houses a section dedicated to photographs and posters of different anti-war movements and drives that happened globally.
Don't miss: French weapons and the guillotine tiger cages (used to capture Vietnamese Communist prisoners)
Opening hours: 7 am – 12:30 pm and 1:30 pm – 5 pm
Entry fee: VND 150,000
4. Cu Chi Tunnels: A thrilling experience for the brave hearts
Suggested Read: 10 Best Honeymoon Destinations In Vietnam
Cu Chi is a sub-surface tunnel network created for communication purpose. This 250 km long Cu Chi tunnel network was dug in 1940 as a place to hide during Vietnam War against France and was later used during American war for the same reason. It comprises of meandering tunnels, dark & narrow branches, hidden doors, weapon storerooms, and secret routes for canals and rivers reaching up to the border of Cambodia.
As it is one of the thrilling places to see in Vietnam, some of the tunnels have been widened for visitors. If you are a brave heart, you must try the superb experience.
Don't miss: The two major and most important tunnels – Ben Dinh and Ben Duoc
Opening hours: 7:30 am – 4:30 pm
Entry fee: VND 90,000
5. Mekong Delta: Rustic charm all the way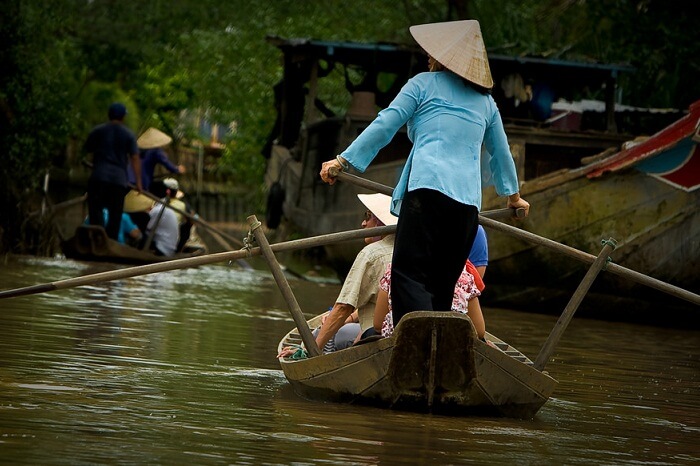 Mekong Delta has a geographical significance, not only because of its deltaic features but also due to the abundance of rice cultivation on the both the banks. It is one of the best places to visit in Vietnam. The most mesmerising feature of this popular tourist destination is that the houseboats and markets float on rivers & canals that intersect the land.
Don't miss: Cruise safari, floating market, and feeding catfish in fish farm
Hoi An
Best time to visit Hoi An: May – July is the best time to visit Hoi An. It is a perfect beach weather. The tourist footfall is low. So, the hotel prices are also low.
6. Hoi An Ancient Town: For those who admire the old world charm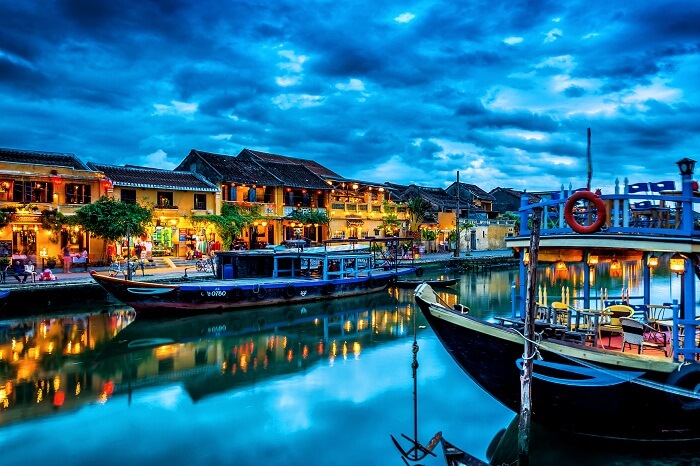 Suggested Read: Vietnam Nightlife Guide: 15 Places For Experiencing The Best Of Nightclubs, Bars, Shopping & More
Hoi An is an ancient coastal town and the former trading post of south-eastern Asia. The vintage town is one of the must see places in Vietnam. The style and architecture of the buildings reflect a perfect amalgamation of the east and the west. Chinese Temples, Japanese Designed Bridge, Pagoda, Old Canal, and French Colonial Houses still reflect the old world charm.
For those who love serenity, Hoi An is an ideal choice where one can relax in their stunning and less crowded beaches or enjoy the nightlife in one of the quaint cafes by the river.
Don't miss: An Bang Beach, Cua Dai Beach, Museum of Ceramics, Fujian Assembly Hall, and Central Market
7. My Son Sanctuary: Live with the Champa Kingdom Days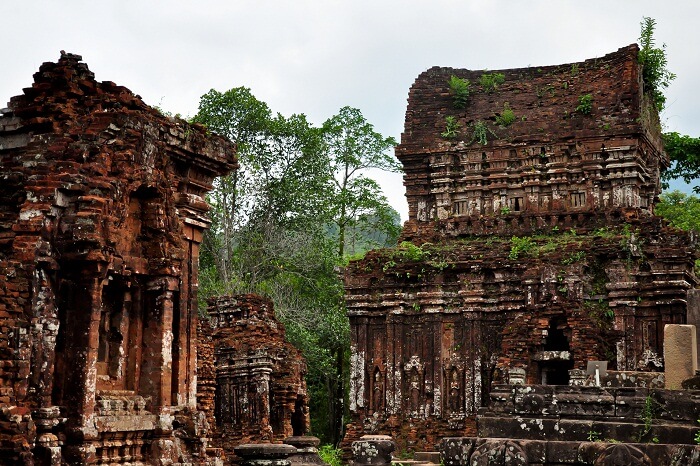 My Son Sanctuary is an ancient site of art and architecture that carries immense historical significance. Located on the coast of present-day central Vietnam, this World Heritage Site was the erstwhile capital of Champa Kingdom. Several partially demolished tower temples dedicated to Lord Shiva make this site one of the most interesting places to see in Vietnam. These spectacular architectural edifices have been raised over a period of 10 centuries (4th to 14th Century AD) and the carvings truly reflect the culture, ethos, history, and heritage of south-east Asia.
Don't miss: Temples of Bhadresvara, Prakash Dharma, and Sambhu Barman
Opening hours: 6:30 am – 4:30 pm
Suggested Read: 7 Festivals In Vietnam That Are All About Glitz, Glam, And Grandeur This 2018-2019!
8. Cham Island: Treat for the eyes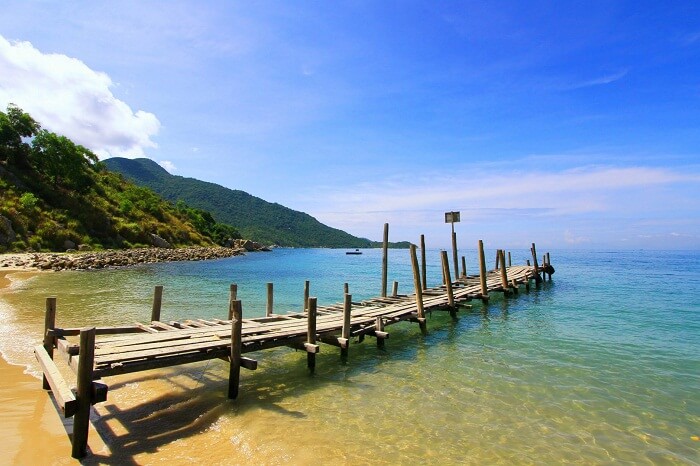 Suggested Read: 15 Exciting Things To Do In Cambodia For A Truly Refreshing Retreat
Locally known as Cu Lao Cham, this is a small pristine island with amazing landscape. One of the upcoming places to see in Vietnam, the island is rich in marine biodiversity and comprises of many endangered species. A 30 minutes' speedboat ride from Hoi An is all it takes to reach this Vietnam tourist attraction. The island is known for coral spotting, swimming, diving, and snorkelling. One should spend overnight in the island to experience the most photogenic sunrise.
Don't miss: Cruising, diving, snorkelling, and underwater photography
Tip: Try sumptuous seafood, pick traditional handicrafts, and visit the museum near the main jetty to see some archaeological remains.
Hue
Best time to visit Hue: January – August is the best time to visit Hue. It is a dry season with light afternoon showers. The temperatures range between mid-twenties and mid-thirties.
9. Complex of Hue Monuments: A display of feudal urban planning methodologies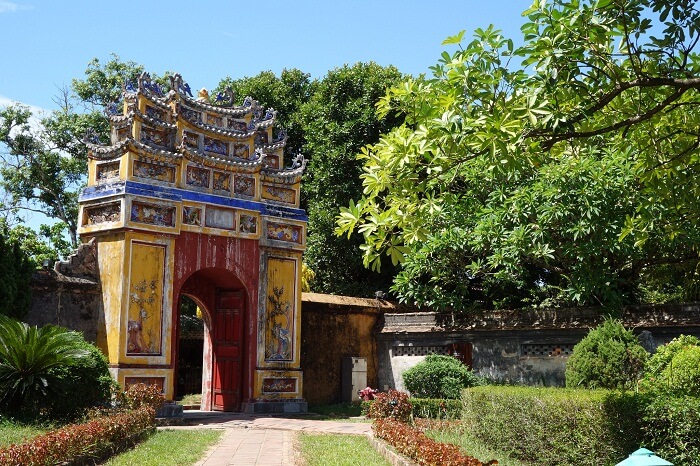 The former political, cultural, and spiritual centre of Nguyen dynasty is another historical site of Vietnam. Located in proximity to the Hue city, this is a collection of age-old monuments set amid the Blue Mountains and the meandering Perfume River. The place comprises of former administrative, defence, and cultural headquarters. Also situated right outside the boundary of the complex are several temples.
The Complex of Hue Monuments showcases the perfect example of planning and building processes of a city in a stipulated time period. The layout and the planning demonstrate the essence of feudal urban planning.
Don't miss: Hue Citadel, Tran Binh Dai, Tran Hai, Tran Hai Thanh, Dan Nam Giao, Van Mieu, Den Voi Re, and Chua Thien Mu
Opening hours: 8 am – 6 pm
Entry fee: VND 150,000
10. Hue: From the Nguyen Legacy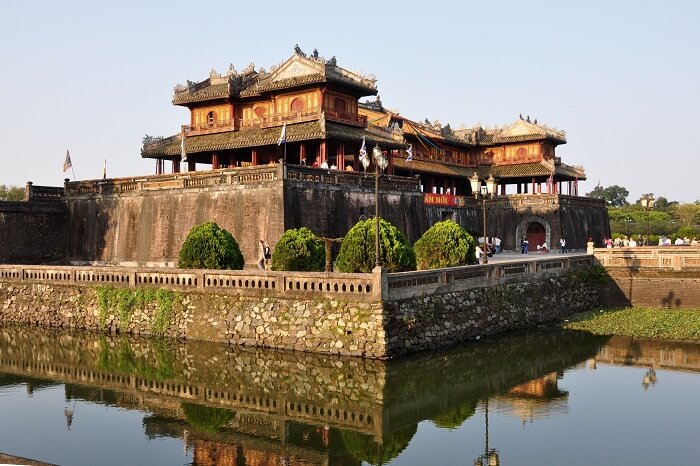 Hue is a historical city that carries the legacy of Nguyen emperors. Located on the banks of Perfume River, Hue is a perfect blend of modern trends and old world charm. The hotels and the other recently raised buildings reflect contemporary style and architecture. The vintage Citadel and the other age old edifices, on the other hand, are true depictions of the ancient world.
Don't miss: Tombs of Emperor, Thien Mu Pagoda, Forbidden City, Japanese Bridge, and Dong Ba Markets
Halong
Best time to visit Halong: October – April is the best time to visit Halong Bay. the days are warm with clear skies. The weather is perfect for cruising, kayaking, and swimming.
11. Halong Bay: Mind blowing karst landscape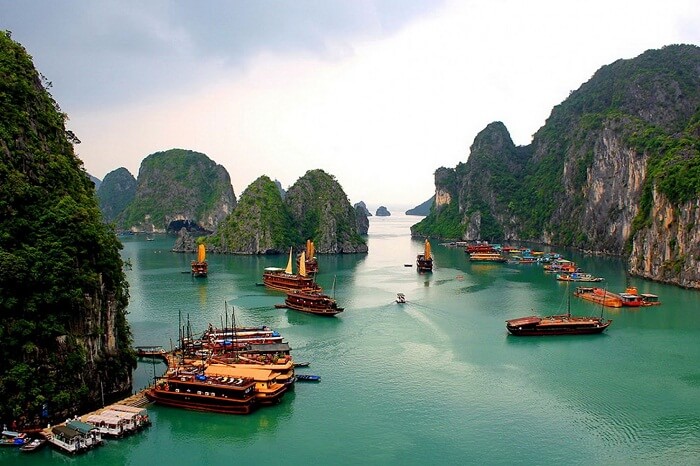 Halong Bay is a picture-postcard destination with its emerald blue water and marine cliffs scattered throughout with magnificent karst topography. Locally known as 'where the dragon descends into the sea', this Halong Bay has numerous wind and wave-eroded limestone caves, sinkhole lakes, and grottoes. Located 182 km east of Hanoi, this spectacular bay was tagged as World Heritage Site in 1994 and is one of the most popular places to visit in Vietnam.
Don't miss: Cruise tours in and around the Bay
Sa Pa
Best time to visit Sa Pa: March – April and October – November are the best months to visit Sa Pa. The weather is not too hot. Rainfall is little and there is plenty of sunshine.
12. Sa Pa: Roof of Indochina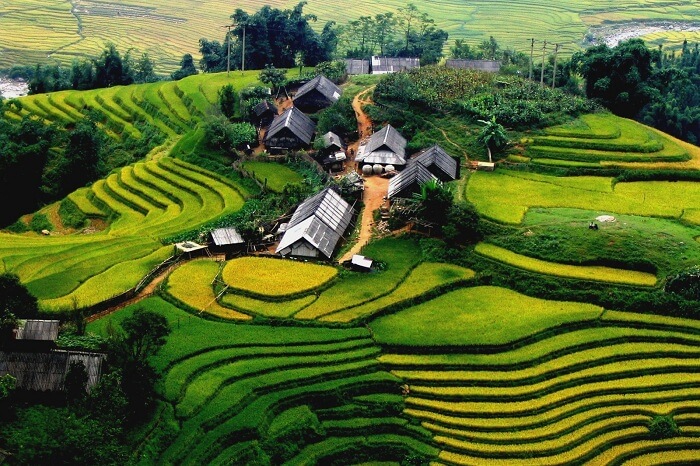 Sapa is one of the best places to visit in North Vietnam. The picturesque destination is surrounded by lofty hills and overlooks the rolling plush green valleys. The topography, the terraced paddy cultivation, and the serene-yet-colourful countryside together has made Sapa an idyllic holiday retreat.
Don't miss: Fansipan Mountain, local market, bike ride through Muong Hoa Valley, and night halt at one of the homestays
Central Coast
Best time to visit Central Coast: February – May is the best time to visit central coast of Vietnam. The weather is in mid-thirties and there is little or no rainfall.
13. Danang: The contemporary urban milieu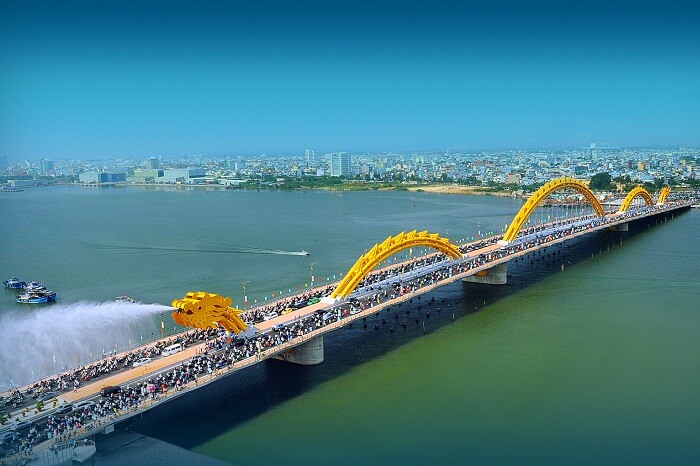 Danang – the fourth largest city of Vietnam – is located halfway between Hanoi and Ho Chi Minh City. The quirky bridge, museum, stunning beaches, fascinating restaurants, and dazzling nightlife are the elements of charm of this lively city.
Don't miss: Lang Co Beach, My Khe Beach, Marble Mountains, Dragon Bridge, and Phap Lam Pagoda
14. Nha Trang: For soul rejuvenation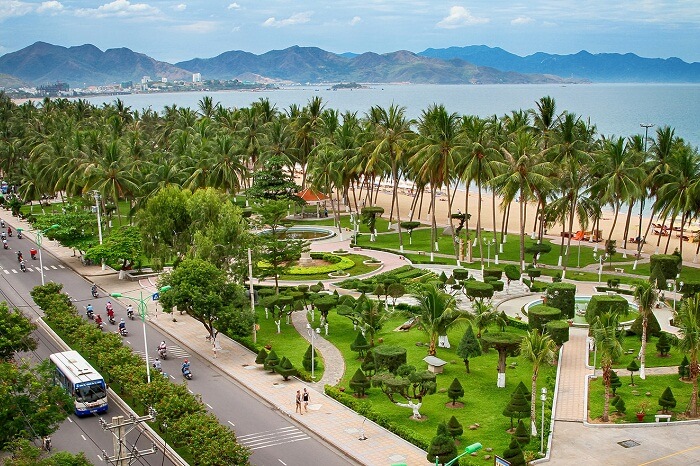 Nha Trang – the capital city of Khánh Hòa Province – is a coastal destination with crescent shaped beach and turquoise bay dotted with small islands and surrounded by a string of hills. This is one of the most popular beach destinations of Vietnam.
One of the best places to visit in South Vietnam, the city is also known for its Po Nagar Tower built by Champa Rulers, scuba diving centre, stunning beaches, pristine landscape, and cool, comfortable climate.
Don't miss: Oceanographic Museum of Vietnam, Po Nagar Tower, Vinpearl Land, and Long Son Pagoda
Other Beautiful Places To Visit In Vietnam15. Dalat: A picture postcard destination
Located on the Lang Biang highlands, around a lake and a golf course, Dalat is a cool and serene place for a perfect holiday retreat. Dalat has pleasant days and soothing cool nights. Therefore, the climate here is rightly tagged as 'eternal spring.' This perfect holiday destination boasts of its stunning lakes, waterfalls, and lush green valleys with vibrant flower beds that have put it among the most amazing places to visit in Vietnam.
Don't miss: Explore the Xuan Huong Lake, Lake of Sorrow, Valley of Love, and Phu Dong Thien Vuong Street
Tip: Visit the local market to pick yummilicious dried fruits, strawberry jam, and avocado.
Best time to visit: December – March is the best time to visit Dalat. The weather is comfortable. There is no rain. This makes it perfect for outdoor activities. The flowers blossom in this spring season, making Dalat all the more vibrant and romantic.
16. Sand Dunes of Mui Ne: The beauty of Desert landscape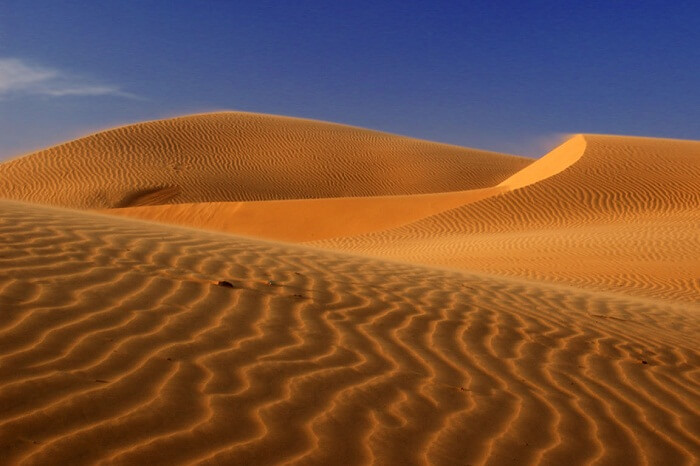 Mui Ne boasts of its spectacular white and red sand dunes, eroded by oceanic wind. The winds have carved out mind-blowing formations, such as Barchans & Sieve, and display amazing desert topography. As one of the most fascinating Vietnam tourist places, it is crowded during the peak season. Yet, it is quite challenging to explore the entire area by trekking. Hence, people need to hire sledge, quad bikes, and buggies or take an ostrich ride.
Don't miss: Quad biking, ostrich ride, sunset, and kite flying
Tip: Visit either during early or late afternoon hours. It can get too hot during daytime.
17. Phu Quoc: Sparkling sand and serene shoreline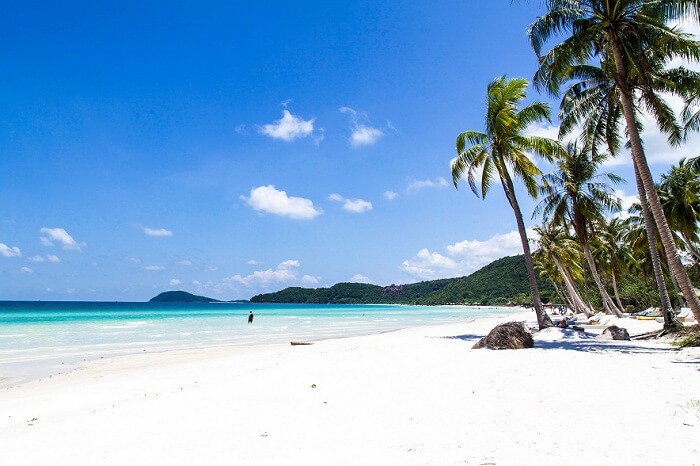 Located about 50 km from the Vietnam mainland, Phu Quoc is a spectacular land on the Gulf of Thailand. One of the most famous places in Vietnam, the island consists of sparkling white sand beaches, nearly transparent crystal clear water, virgin shoreline, bustling shacks, and serene environment. Enjoy the photogenic sunset or take a stroll along the beaches and make the holiday a dream come true one.
Don't miss: Fish Sauce factory, Cau Prison, scuba diving, and snorkeling
18. Ninh Binh: For the love of peace and tranquility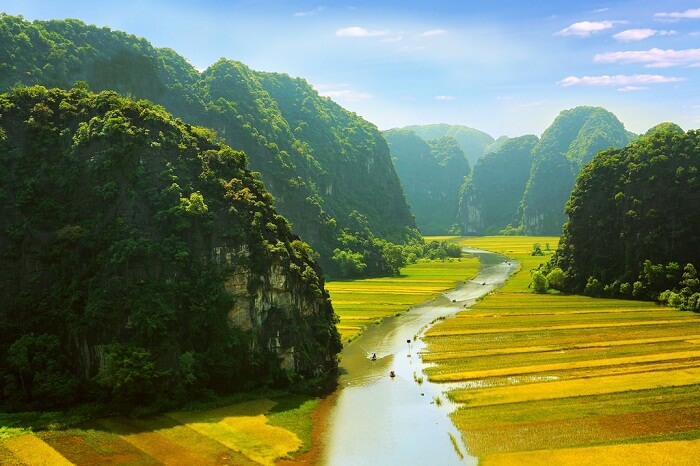 Ninh Binh is another topographical splendour on the southern end of Red River Delta. The place represents a typical Vietnamese rural scene with lush green paddy fields, verdant mountains, and winding river cutting through the village. The former capital of Vietnam, Ninh Binh is one of the popular Vietnam tourist places.
Don't miss: Bai Dinh Pagoda, Phat Diem Stone Cathedral, and Cuc Phuong National Park
19. Phong Nha Ke Bang National Park: The world heritage cave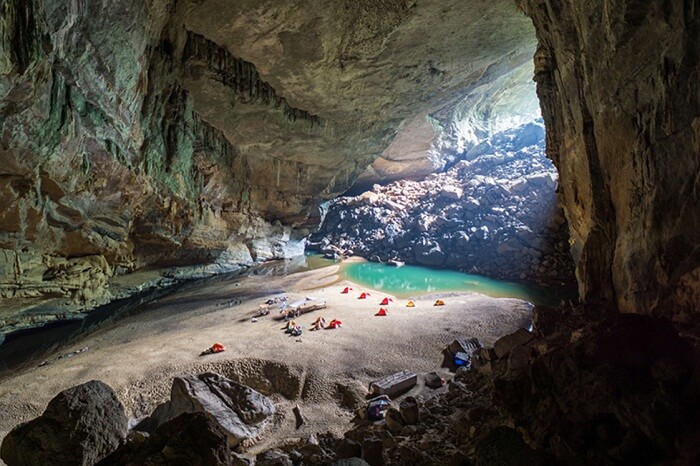 Phong Nha Ke Bang National Park – a world heritage site – is a biosphere reserve that comprises of evergreen forests and more than 100 fauna species. These include tigers, elephants, primate, saola, reptiles, amphibians, and many varieties of birds. The national park – comprising of Asia's largest karst mountains, caves, and underground rivers – is one of the Vietnam famous places among others.
Don't miss: Trekking and mountain biking on Ho Chi Minh Hwy, intersecting the national park
Opening hours: 7 am – 4 pm
Entry fee: VND 80,000
20. Ba Be National Park: Spot the rarest fauna here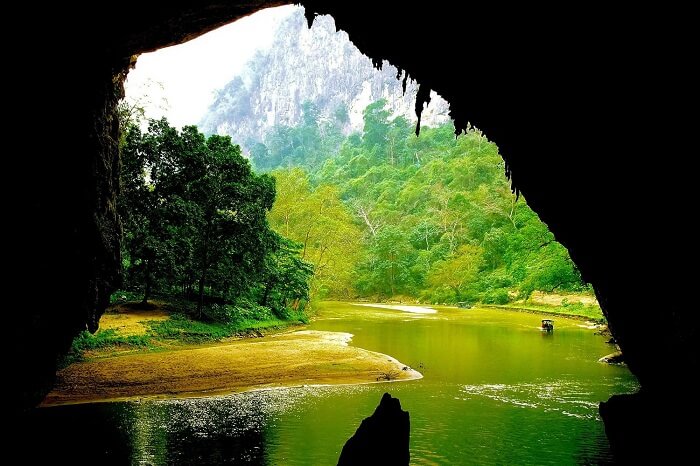 Built in 1992, Ba Be National Park is located in the Bac Kan Province and is considered as one of the mind blowing tourist places in Vietnam. People visit this national park for the superb karst topography, sparkling waterfalls, stunning lake, and amazing wildlife. The rare mammals, butterflies, turtle, and fishes that can be seen here attract nature enthusiasts and photographers from across the world.
Don't miss: Wide range of endangered fauna like Burmese python and nearly extinct Vietnamese salamander
Entry fee: VND 150,000 plus charges for the vehicle
Now that you have a fair idea about the must see places in Vietnam, it is time to pack your bags and plan your holiday in Vietnam right away.
Comments
comments