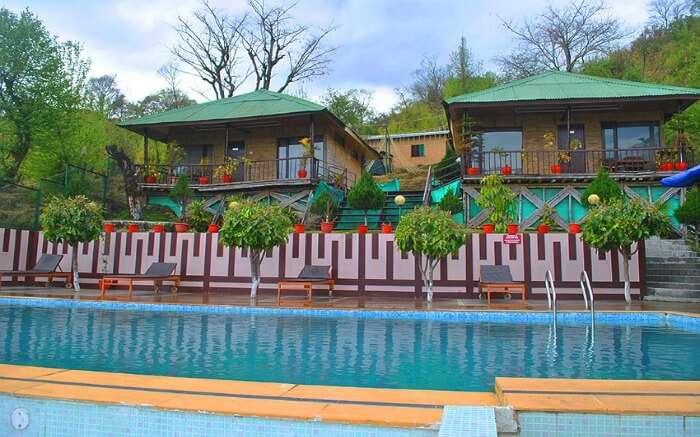 A lovely hill-town for a weekend escape from Delhi, Mcleodganj is flooded with tourists all through the year and thus the best resorts in Mcleodganj are always full. If you wish to book one of these, we suggest advance planning and booking. Most properties offer unbeatable tariff per night and are a great pick for families as well as couples. 
This list of top Mcleodganj resorts lists the best stays for different pockets. They are located in the heart of the town and offer amazing hospitality to make your trip to Himachal Pradesh a memorable one.
1. Gagan Resorts – The best for budget travelers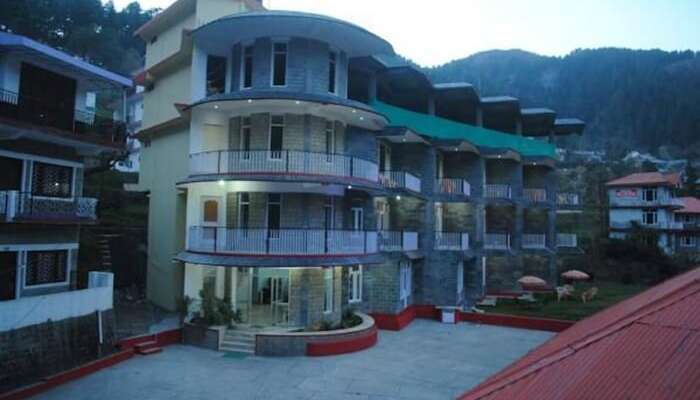 Location: Dharamkot Road
Nestled amidst pine and deodar trees, Gagan Resorts is located in Dharamkot Village. Ample of parking space in the property makes it a good choice for those driving to Mcleodganj to spend a weekend getaway from Delhi. This property offers modern amenities at unbeatable price, and is thus one of the best resorts in Mcleodganj for budget travelers.
The rooms have been recently refurbished to make them aesthetically and comfort-wise more pleasureable. Gagan Resorts also feature a multi-cuisine kitchen that serves delicious food.
What's special: Allows a peaceful stay, away from hustle and bustle.
Tariff: INR 1,350 per night onwards
2. Nishaad Resorts – Perfect for both families and honeymooners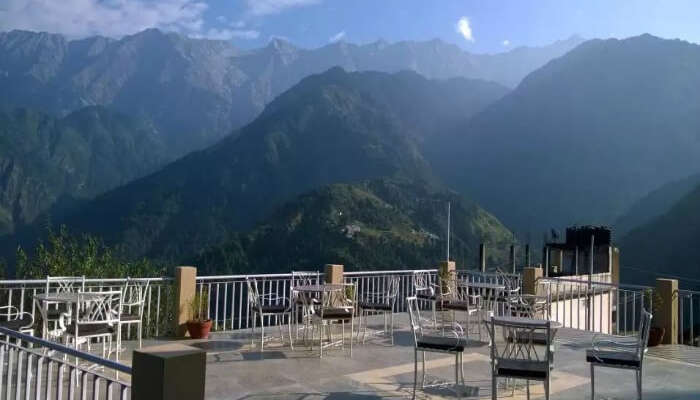 Location: Naddi, Dharamshala Cantt, Upper Mcleodganj
As warm and welcoming as home, Nishaad Resorts is perched near the Sunset Point in Upper Mcleodganj. The resort has 6 deluxe cottages, each one well-furnished and equipped with modern amenities like television, and air conditioner. For a smaller group size, Nishaad offers 4 deluxe rooms, which too are equipped with modern facilities. The peaceful ambience of the property makes it a great choice for honeymooners, and private children's park makes it ideal for families planning a trip to Dharamshala.
What's special: The alfresco restaurant of the property lets you savor delicious flavors as you enjoy the overwhelming views of Himalayas. This, definitely, is loveliest Mcleodganj resorts for those who love to dine amidst nature.
Tariff: INR 2,000 per night onwards
Must Read: 9 Mcleodganj Experiences For Which You Need To Leave, NOW!
3. Dragon I Resorts – More like home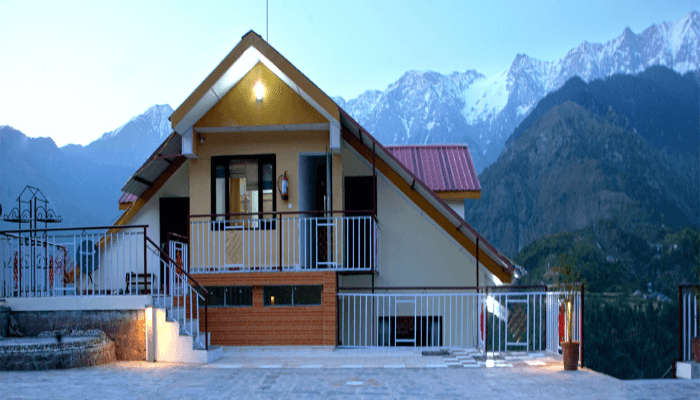 Location: Naddi
The Dragon I authorities like calling it more of a residence than a resort. The property is focused on experiential vacation, providing services like overnight treks, bonfires, and picnic lunches. The alfresco dining area will mesmerize you with spanning views of the hills, cool breeze, and most times, clouds rolling below or beside you. Surely, this was unmissable in this list of best resorts in Mcleodganj.
There are 12 rooms in the resort, in the categories – Diamond, Gold Family, Platinum, and Silver. Most of these rooms allow snow view.
What's special: The resort is more like a family-run home, and every effort is put in to make the guests feel at home, while they're vacationing.
Tariff: INR 2,900 per night onwards
4. Spring Valley Resort – Luxury merged with local culture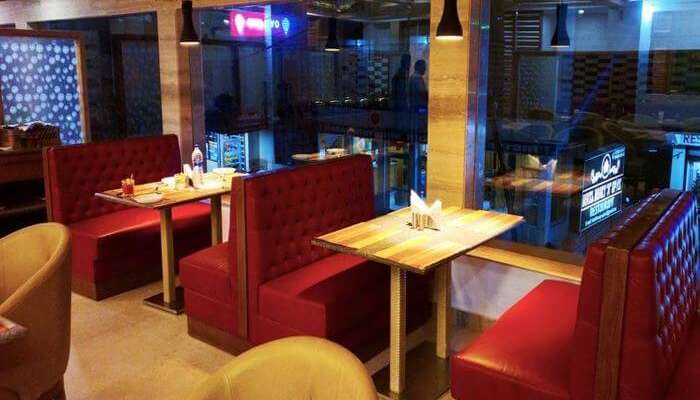 Location: Bhagsu Nag
Experience luxury and comfort amidst the hills, when in Spring Valley Resort. The tasteful interiors of this elegant hotel shows glimpses of local culture, while also blending with modernity, with its rich color theme and plush furniture. The resort features 24 rooms, all with ultimate amenities to assure an unforgettable stay.
There are 6 accommodation categories in the resort – Premium Room, Duplex Room, Honeymoon Room, Junior Suite, VIP Room, and Cottages (single or duplex).
What's special: The multi-cuisine in-house restaurant of the Spring Valley Resort, the Aqua happens to be among fanciest restaurants of the locale, and indeed serves a flavorsome food.
Tariff: INR 3,000 per night onwards
5. Meghavan Holiday Resort – The oldest of all Mcleodganj Resorts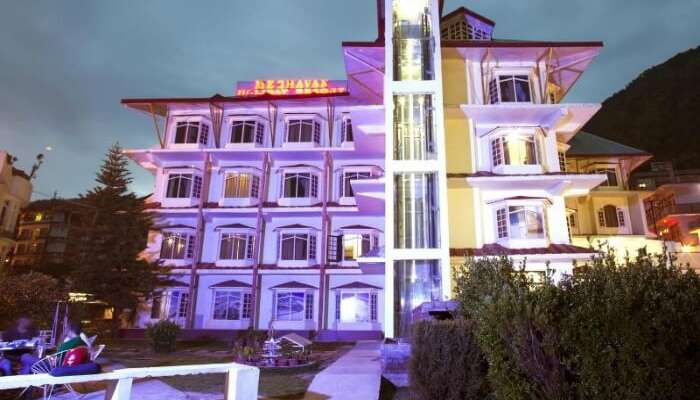 Image Source
Location: Bhagsunag Road
One of the oldest and best resorts in Dharamshala, Meghavan Holiday Resort has still maintained a high standard in terms of amenities, visual appeal, and hospitality. The resort has ample of parking space, and this comes as a bonus for the travelers coming from nearby cities like Delhi for a weekend getaway in their own cars.
There are four room categories in the hotel – Deluxe Room, Super Deluxe Room, Mega Suite, and Classic Suite.
What's special: The rooms in the resort have large glass windows, to ensure that the guests enjoy the Himalayan view right from the comfort of their bed.
Tariff: INR 3,000 per night onwards
6. Great Himalayan Adventure Resort – With tents, cottages, and rooms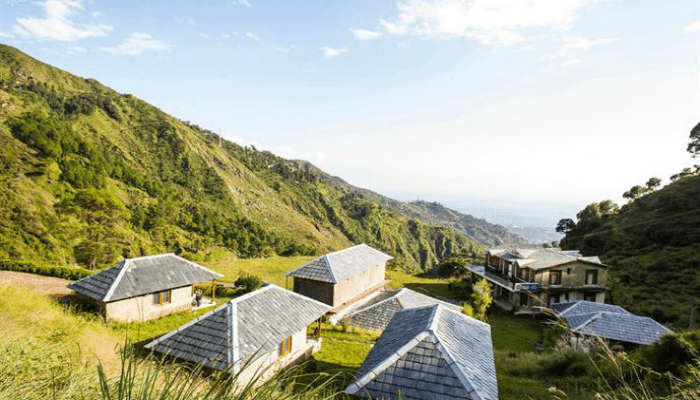 Location: Mcleodganj, Bhagsu Road
Yet another property in our list of best resorts in Mcleodganj is the Una Comfort Great Himalayan Adventure Resort. Having tents and cottages spread out in a spacious field surrounding Deodar trees, this resort is a comfortable retreat where you can enjoy basking in the sun, and spending nights around bonfire, or stargazing. Attractions like Bhagsu Nag Temple are located just a short trek away. And after you're back and tired from sightseeing, you can relax your nerves by indulging in Ayurvedic treatments.
The hotel has private cottages, Swiss luxury tents, and rooms to offer the guests. Comfort is an aspect specially taken care of in all the mentioned accommodation categories.
What's special: The in-house restaurant of the resort is multi-cuisine, where dishes are purely organic.
Tariff: INR 3,000 per night onwards
Suggested Read: Top Things To Do In Dharamshala: A Mix Bag Of 10 Popular And Offbeat Activities
7. Royal Palace Resort – As royal as its name, still close to town's heart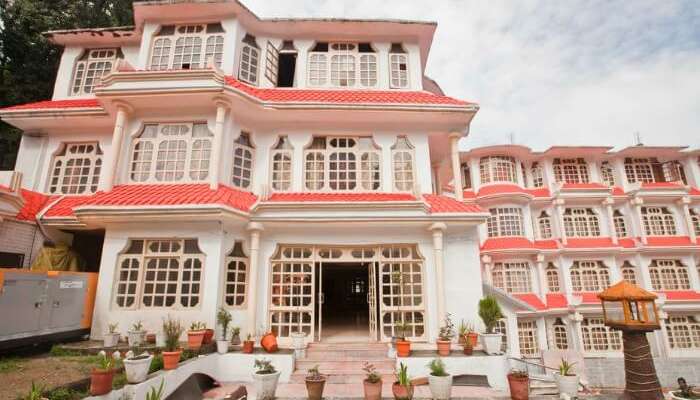 Location: Bhagsu Nag
Merging local culture, with modernity and royalty, Royal Palace Resort is recommended especially for those who're looking for a peaceful stay, away from hustle bustle but still close enough for a fun holiday.
The resort has well-furnished 45 rooms, in different categories, as – Royal Family Suite, Luxury Suite, Suite Room, Suite Room (Non Ac), Deluxe Room, and Standard Room.
What's special: The resort arranges barbeque in lawn and terrace area on request. This is great if you're planning a getaway with group of friends. There's a special hall for dancing, with disco lights and latest groovy music.
Tariff: INR 3,800 per night onwards
8. Pride Surya Mountain Resort – Classy property with spa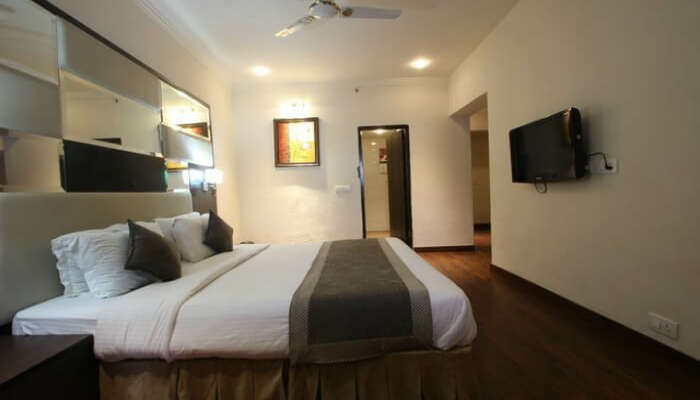 Location: H.H. Dalai Lama Temple Road
The location of Pride Surya Mountain Resort, near Bhagsunag Temple and Waterfall, makes it one of best resorts in Mcleodganj, especially for those who prefer staying close to the buzz. In this resort, supreme luxury meets the soulful mountainscape to make your escape to Dharamshala even more enchanting.
Pride Surya features 53 rooms and suites, in category – Deluxe, Premium, Superior Rooms and Suites.
What's special: The Spa and Health Club of the property offers the best in class treatments, by professionals and ensure complete indulgence and rejuvenation.
Tariff: INR 4,700 per night onwards
9. Asia Health Resorts & Spa – For those who're into absolute indulgence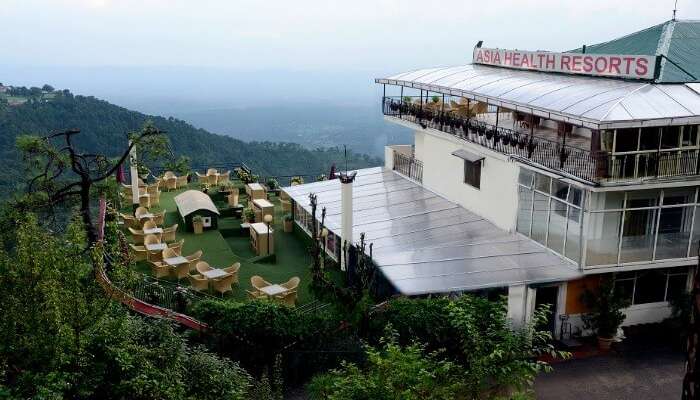 Location: Strawberry Hills, Near Dal Lake
Asia Health Resort & Spa offers ultimate comfort, with four- star amenities, and thus it is among the best resorts in Mcleodganj with swimming pool. The resort features five accommodation category – Super Deluxe Room, Super Deluxe Twin Room, Junior Suite, Family Suite, and Quadruple Room. The resort is comfortably located near many tourist attractions of Dharamshala like Dalai Lama Monastery (15 min drive), and Gaggal Airport (30 min drive).
What's special: The property features an exclusive spa with temperature-controlled outdoor pool. The spa offers an expansive variety of treatments following traditional Ayurvedic approach. There's a steam and sauna bath as well in the spa, and you can request Yoga sessions as per your availability.
Tariff: INR 6,500 per night onwards
10. The Exotica – Making your visit to Dharamshala exotic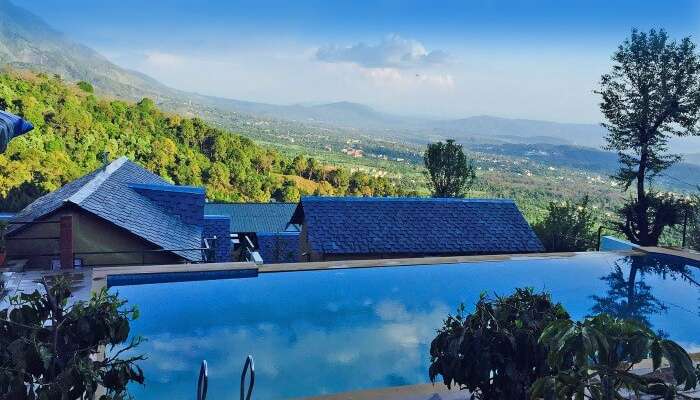 Location: Village Tohu, Indru Nag Road
Standing up to its name, the Exotica in Dharamshala is among the finest luxury resorts in Mcleodganj. There are four accommodation types in the property – Elite Cottages, Concept Cottages, Deluxe Luxury Rooms, and Luxury Rooms. Each of the rooms are elegantly decorated to match international standards of luxury. The resort features a multi-cuisine fine dining restaurant that overlooks the Himalayan landscape. The location of the property is serene, making you feel closer to nature.
What's special: The outdoor pool of the Exotica lets you enjoy the views of the hills, as you take a dip inside.
Tariff: INR 7,500 per night onwards
Further Read: 5 Best Places To Visit Near Dharamshala That Make For Lovely Detours
We hope this list of best resorts in Mcleodganj came out to be helpful for you. Know of any other lovely property in Dharamshala? We'd love to know.
Frequently Asked Questions About Best Resorts In Mcleodganj
Q. Is there any snowfall in Mcleodganj?
A. Yes. McLeodganj sees an annual snowfall between the months of December and February. McLeodganj can be an amazing place to visit during the snowfall when the beautiful valley looks even more stunning.
Q. Which are the famous places to visit near Mcleodganj?
A. Masroor Temple, Triund, Bhagsu Falls, Nichung Monastery, Sunset Point, St. John's Church are to name just a few of the  best places to visit near Mcleodganj.
Q. What are the things to do in Mcleodganj?
A. If you are looking for exciting things to do in Mcleodgang, here are a few things that you will definitely make your vacation more exciting. Go sightseeing, or take a boat ride in Dal Lake, go shopping at local markets, go trekking, camping, and hiking on the mountain trails, or go stargazing at the observatory. You can also enjoy cultural shows at the Tibetan Institute of Performing Arts.
Q. Why is Mcleodganj famous?
A. Mecleodganj is famous for its Namgyal Monastery which is well known for being one the biggest Tibetan sanctuary outside Tibet. It is also the residence of the Dalai Lama.
Q. Is Mcleodganj a hill station?
A. Yes. Mcleodganj is a beautiful hill station near Dharamshala, which is quite popular among trekkers and campers. Its culture is a beautiful fusion of Tibetan with some British influence.
Q. How far is Mcleodganj from Delhi?
A. The distance between Delhi and Mcleodganj is about 478km. If you are travelling by car, it will take around 9-10 hours to reach Mcleodganj.
Q. Which is the best area to stay in Mcleodganj?
A. Naddi village is a great place to stay with beautiful views of nature. Bhagsunagn Temple road area is again a nice place but its a bit crowded. If you are looking for peaceful places to stay, Dharamkot could be a good choice.
Q. When is the best time to visit Mcleodganj?
A. The best time of the year for visiting Mcleod Ganj is between October and February, as well as between March and June. Monsoon is not a very suitable time to visit Mcleodganj.
Comments
comments