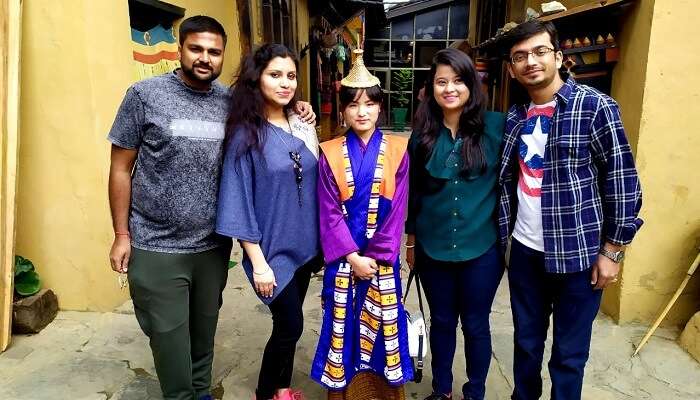 Bhutan, a name that is not just a destination but is magic in itself, exhibits a fine amalgamation of natural wonders, alluring architecture, tranquil monasteries, lively locals, exciting adventures, and artistic vibes. With a mysterious aura encircling the atmosphere of this Himalayan kingdom, Bhutan is a nation like no other. The deeply rooted Buddhist culture of this kingdom, entrancing Himalayan landscapes, and floors covered with royal dzongs are bound to make travelers fall in love with this country at first sight itself. The tranquility whizzing around in the air is what made Ritika Das take a Bhutan city tour to escape the monotonous city life.
Tired of our busy schedules and monotonous office lives, me, my husband, and our friends decided that it was time to take some time off from our work. That was when we sat and started brainstorming about the places we could travel to in order to rejuvenate and recharge. After going through a list of places, we narrowed down to Bhutan, the happiest destination in this world. Although it was a sudden plan to travel to Bhutan in May, all of our planning, bookings, and itineraries were taken care of without any hindrances by TravelTriangle. Upon reaching Bhutan, we realized how welcoming the locals were in that country. None of them treated us as outsiders and all of them seemed content with whatever they have. Moreover, the vibes of the country were so great that we roamed around the city at night, without feeling any sense of danger!
Table Of Content
Details Of Our Bhutan City Tour
Trip Type: Family Trip
Cost: INR 27,000 to INR 29,000 per person
No. Of People: 4 Adults
Duration: 5 Nights and 6 Days
Inclusions: One-way Airfare, Airport Transfers, Accommodation, Private Cab, Sightseeing, Taxes, Immigration Formalities, Breakfast
Exclusions: Travel Insurance, Lunch & Dinner, Tips, Additional Expenses
Itinerary Summary Of Our Bhutan City Tour
Day 1: Arrival in Paro, transfer to Thimphu, sightseeing, overnight stay in Thimphu
Day 2: Sightseeing in Punakha, overnight stay in Thimphu
Day 3: Sightseeing in Thimphu, drive to Paro, sightseeing in Paro, overnight stay in Paro
Day 4: Drive to Tiger's nest, hiking, overnight stay in Paro
Day 5: Drive to Phuntsholing, sightseeing, overnight stay in Phuntsholing
Day 6: Departure
Bhutan In October 2022: Take A Trip To Bhutan For A Magical Holiday
Weather In Bhutan
Bhutan experiences pleasant and breezy weather during the month of May. Even though it was summer season, we still had to put on our jackets as the atmosphere was a little chilly. Bhutan weather in May also witnesses a little bit of rain but not enough to cancel our plans. The temperature during the day must have been around 20 degrees Celsius with a little bit of sunshine soaking in our skins. During the nights, the temperature dropped down to around 10 degrees Celsius which made us thankful for carrying our winter clothing along. We were confused about what to pack for Bhutan trip in May by virtue of high temperatures of Delhi, but packing along our winter essentials was definitely a great decision. For us, May was actually the best month to visit this last standing Himalayan kingdom!
Beautiful Places We Visited In Bhutan
The whole country in itself is one of the most enchanting and charming destinations that we have ever been to. But there were still certain places that we visited on our Bhutan city tour that took our hearts away in an instant! Take a look at this list of places that we would surely cherish throughout our lifetime.
1. Chimi Lhakhang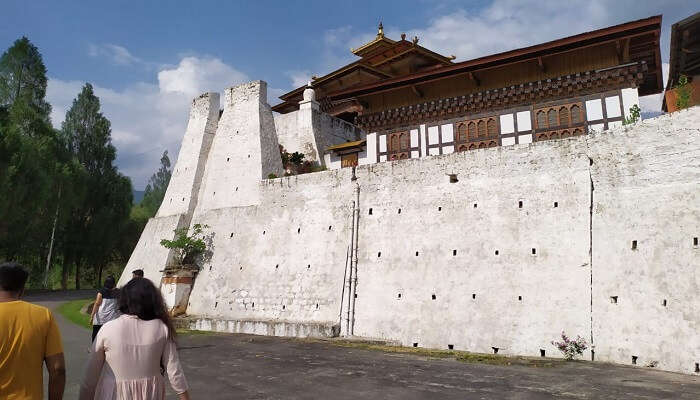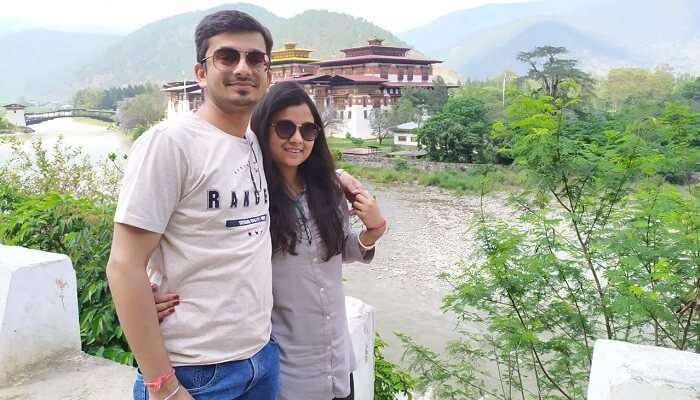 A temple with a deeply rooted belief latched to it, Chimi Lhakhang is a monastery sitting in the Punakha District of Bhutan. Also known as the fertility temple, it is believed that the childless couples that visit this place of worship and pray are usually blessed with a baby very soon. Nestled on a round hillock, this temple is one of the popular and most visited locations in Bhutan that attracts flocks of tourists from all across the world.
               Bhutan Visa For Indians: Explore The Land Of The Thunder Dragon With Family
2. Dzong, Punakha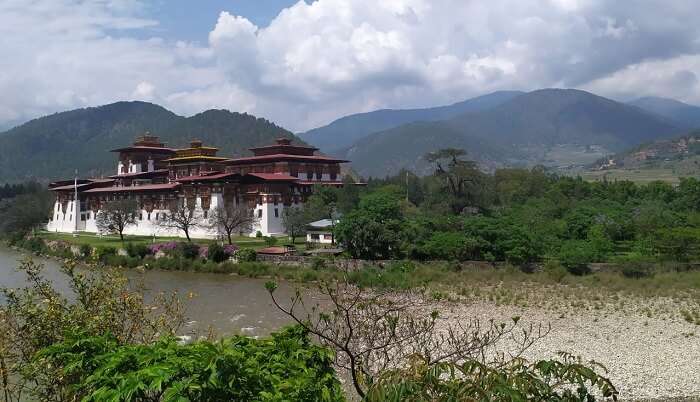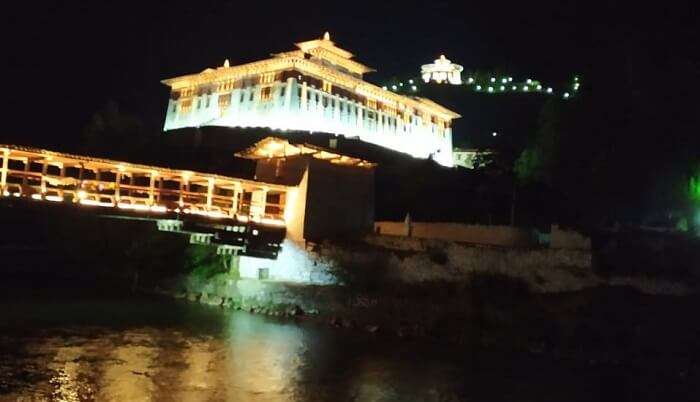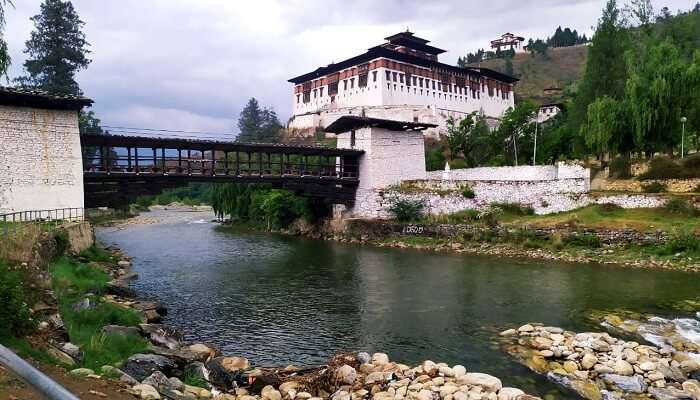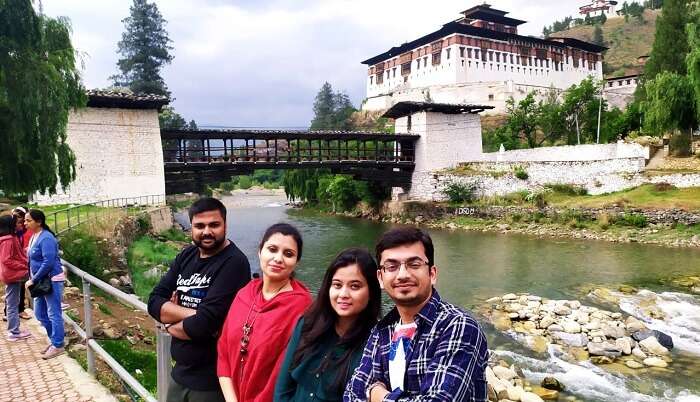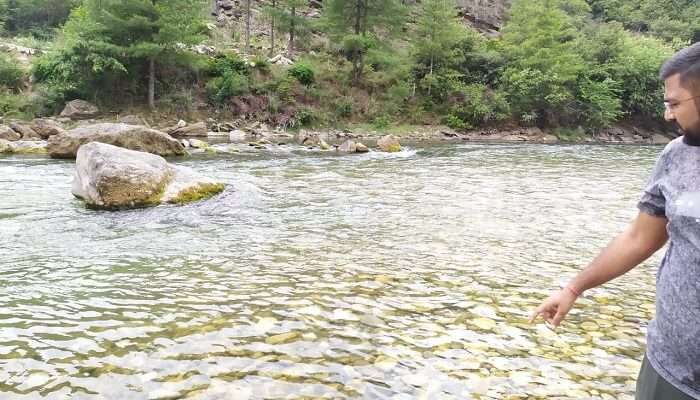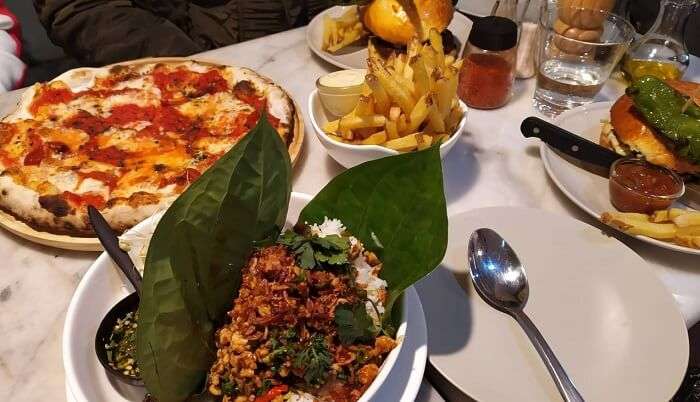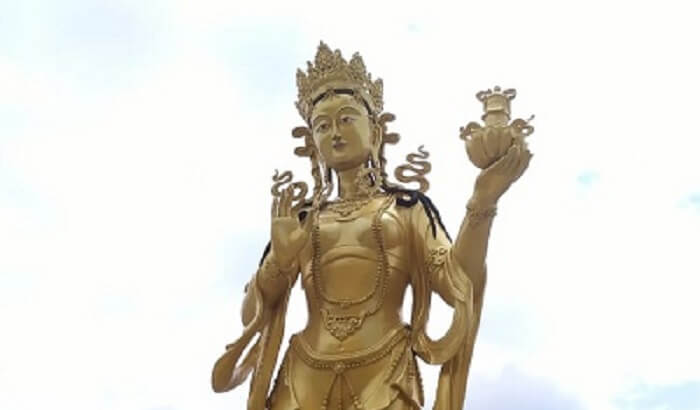 With a clear river flowing next to this beautiful palace, Punakha Dzong took our breaths away. When we were planning our friends trip to Bhutan, this palace was one of our most awaited destinations to pay a visit to. The greatest Dzong in Bhutan, this palace in Punakha was extremely beautiful and the tranquility surrounding this location helped us relax our minds, bodies, and souls like no other place.
3. Simply Bhutan Museum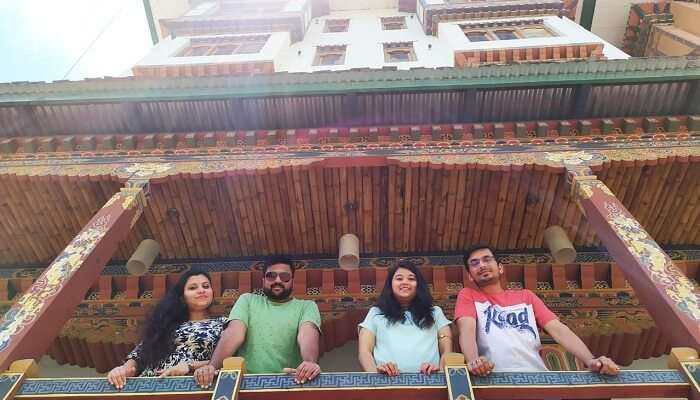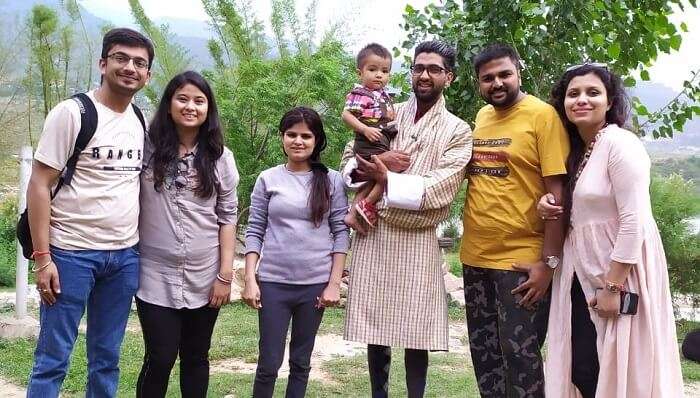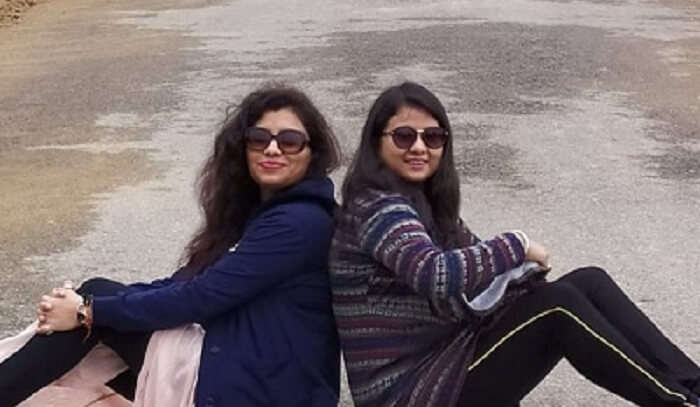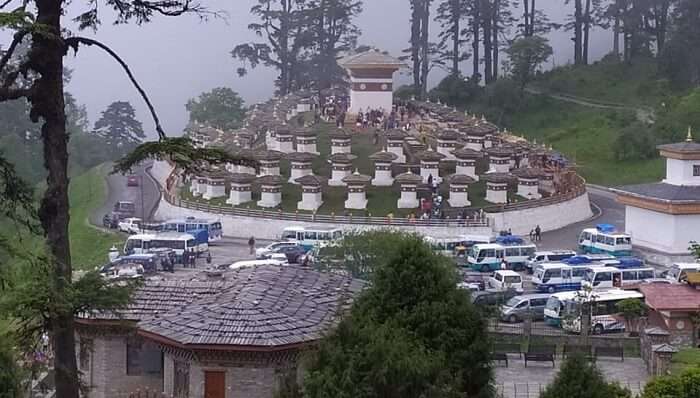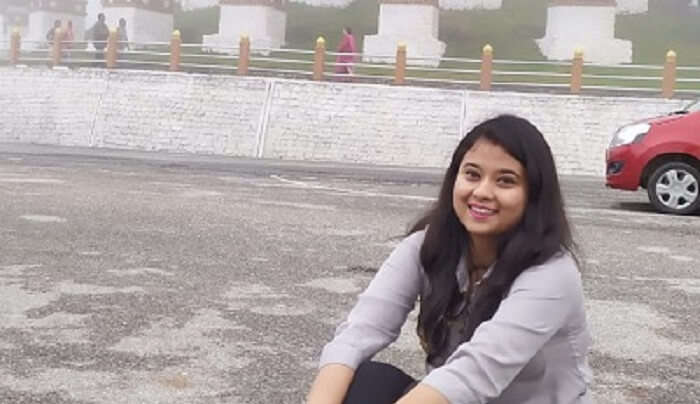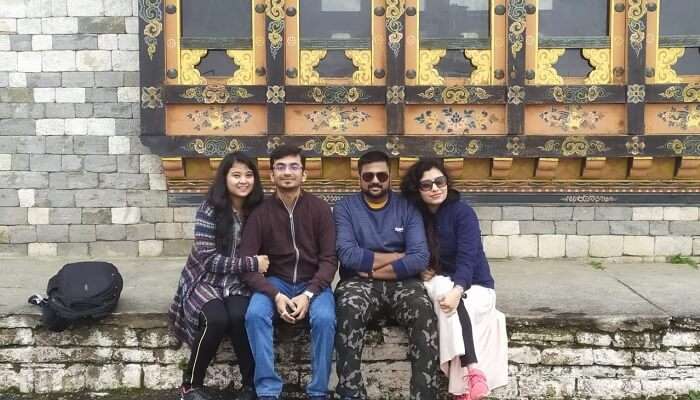 One of the most entertaining places we visited on our Bhutan city tour, this museum was packed with numerous activities along with each and every information about the country. Located in Thimphu, Simply Bhutan Museum gave us an opportunity to encounter some of the most fun-filled experiences such as wine tasting, folk dance sessions, bow and arrow sessions, and much more!
12 Charming Monasteries In Bhutan Every Traveler Must Explore
4. Buddha Point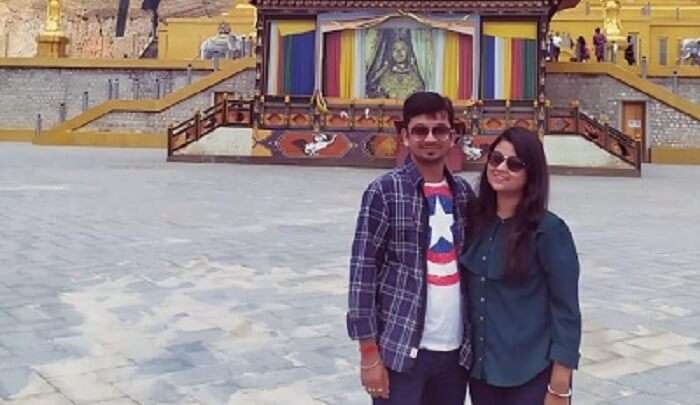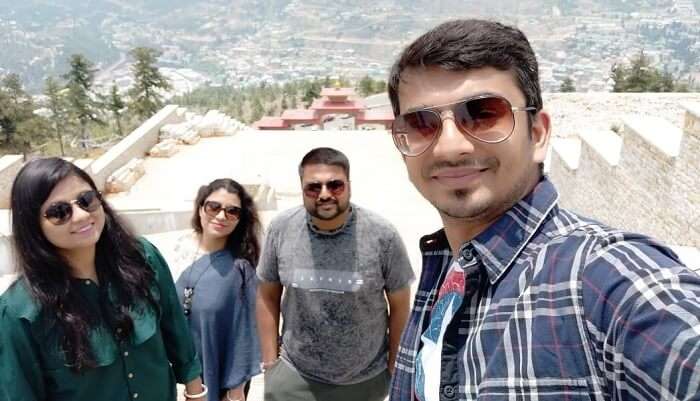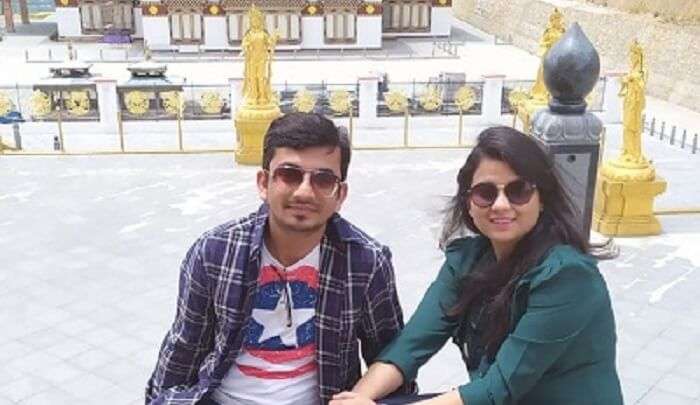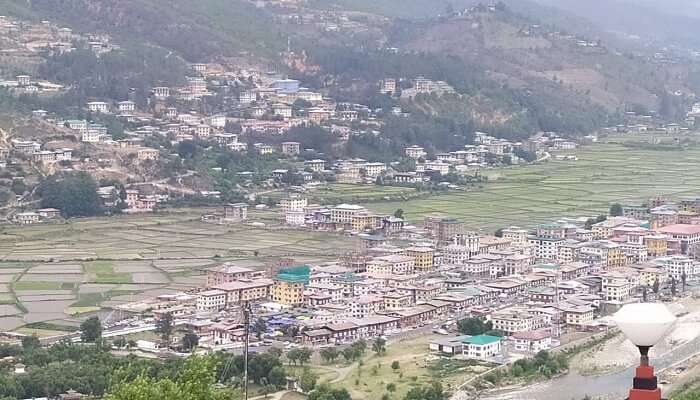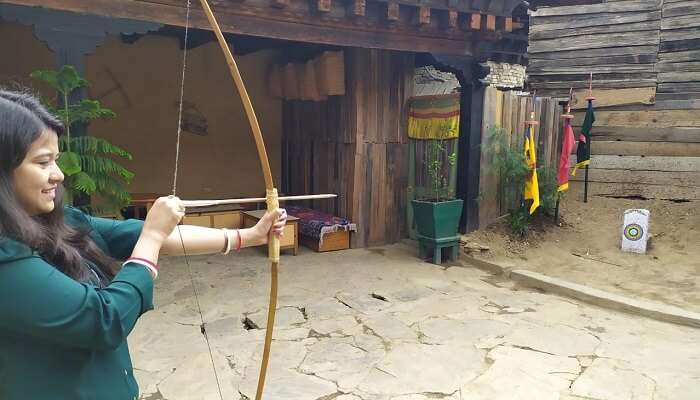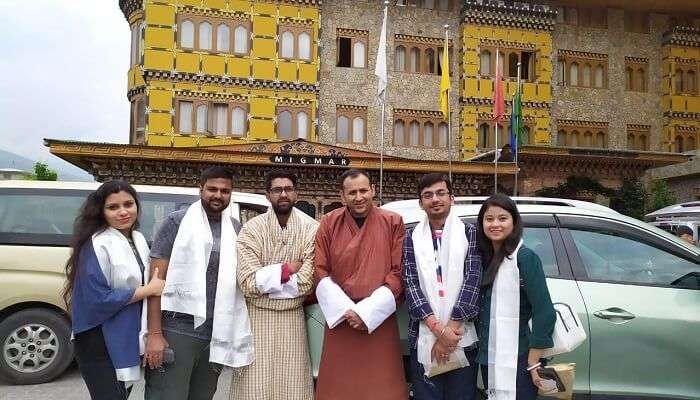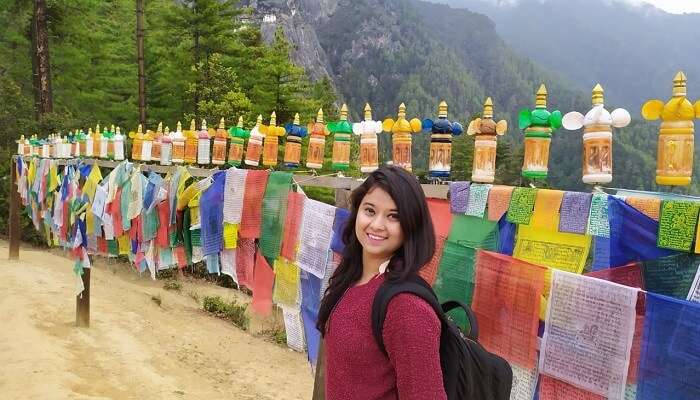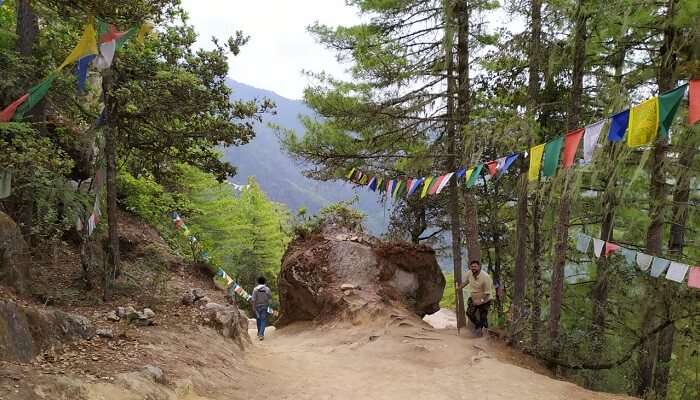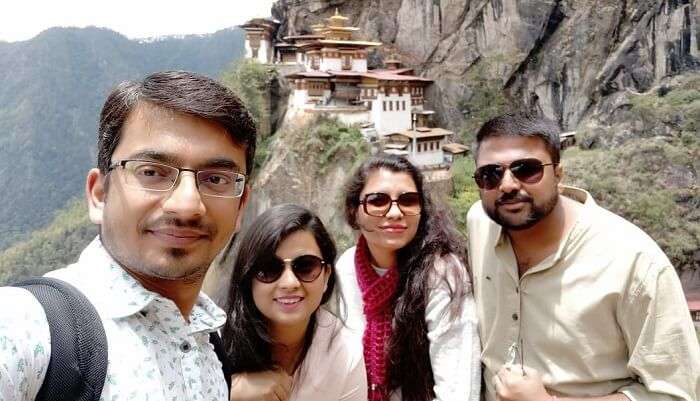 One of the main attractions of Bhutan, Buddha point is famous for all the right reasons. The well crafted and gigantic statue of Buddha was extremely surreal and enchanting. With a mountain as a backdrop, the picturesque and scenic landscape formed by this statue as the center of attention was enough to make this trip to Bhutan totally worthwhile for us.
 My 7 Days Bhutan Cultural Tour With Family Was All That I Hoped For!
Our Hotels In Bhutan
Being at our utmost comfort and embracing the homely vibes away from home has always been a prime focus for us whenever we go for a vacation. The hotels in Bhutan offered exactly this and much more! We stayed in different hotels when we were in Bhutan. Go through this list of hotels that we resided in when we were in Bhutan.
One of the beautiful properties of Thimphu, this hotel houses an extremely welcoming and courteous staff that was simply a cherry on top for us. The rooms in the hotel were extremely clean and very relaxing, catering to our purpose of this vacation. The local Bhutanese cuisine served in this hotel was lip-smacking and made our tongues tingle for more.
Location: Olakha, Thimphu Bhutan
Spending 6 days in Bhutan did seem a lot initially but when we came across this property, we couldn't help but wish for more days to spend in the country. Sitting next to a flowing river, with sounds of waves gushing falling in our ears, the Hotel Khamsum was definitely worth every penny spent. The windows of the rooms exhibited mesmerizing river views that definitely took our breath away.
Location: Town, 12001 Paro, Bhutan
 Our 5 Days In Bhutan Were All About Bliss, Adventure And Tranquility!
Food In Bhutan
Although one can easily find Indian food in Bhutan, we were personally more inclined towards the local and other international cuisines. The local and authentic Bhutanese food not only tasted impeccable but the fragrance of aromatic spices and main ingredients that was oozing out of the food was in itself mind-boggling. We strongly recommend paying a visit to the Thija cafe in Thimphu. The European touch to the interiors, massive theme-based menu, pocket-friendly rates, and mouthwatering dishes of this restaurant is something we would definitely remember. There were many tiny and quaint eateries located in the nooks of the country that served a wide variety of delicious momos and maggie. One should definitely give these a try. When in Bhutan, one should also give a try to the local Bhutanese wine that is mainly recommended by the locals residing in the country.
Shopping In Bhutan
One can find anything and everything on their Bhutan city tour. There is no dearth of places to go shopping in Bhutan. Thimphu is home to some of the most magnificent handicraft stores that are located on a single street. Ranging from magnets and bottle covers to dolls and souvenirs for friends and family back home, the items sold in the markets in Bhutan are beautiful. To add to this, the prices at which the items are available are extremely feasible and one can also bargain to bring down the rates very easily. All one needs are some bargaining skills and an eye for details when going for a shopping spree in Bhutan.
Travel Tips
Although this place is one of the most wholesome and happiest destinations in the world, here is a list of some Bhutan travel tips that one should keep in mind when going on a Bhutanese holiday!
Always carry as much cash as one can. Finding working ATMs in Bhutan can sometimes be a task.
Bhutan is located at a higher altitude. So, if one cannot handle heights, it is best to avoid traveling to this destination.
One can find Dzongs in almost every town of Bhutan. Instead of paying a visit to all of them, it is better to visit the famous ones.
Carry rain essentials, either an umbrella or a raincoat, as the rains in Bhutan are unpredictable.
Pack full-sleeved clothes if one has plans of visiting the places of worship in order to show respect and follow the rules.
How To Reach Bhutan
Paro International Airport is the only international airport in Bhutan and welcomes flights from Kolkata, Dhaka, Delhi, Gaya, Bangkok, and Kathmandu. The best way to reach Bhutan is via a flight. From Paro International Airport you can head through a taxi or cab to your desired destination.
DO'S And DON'TS In Bhutan Trip
You need to take permission before clicking photographs in Bhutan

Shorts and miniskirts are not allowed in Bhutan

You need to take permissions before entering into temples and monasteries

Remove your shoes before entering the temples

Avoid using your finger to point out something, rather you can use your palm
What To Pack For Bhutan Trip
The following are the items you must surely pack before heading to Bhutan for a trip:
Shirts

Long pants

Sweater

Windbreaker

Jacket

Rain Jacket

Swimsuit, if you are planning to visit a hot stone bath
Our Experience With TravelTriangle
From planning to bookings, everything was taken care of by TravelTriangle. Since it was a sudden plan, we were expecting this trip to cross our budgets but the company made sure that every important place was covered, without any of it getting too heavy on our pockets. Our experience was good and hassle-free. The agents, hotels, guides, and drivers assigned to us were all very welcoming and friendly, simply adding to an already extravagant experience. Our trip to Bhutan was definitely worth every money we spent.
 Visit These 53 Tourist Places In Bhutan In 2022 To Change Your Worldview
One of the happiest places in the world, Bhutan is one of the best places to visit if one wants to escape from their frustrating monotonous life. Taking a Bhutan city tour, witnessing the tranquil monasteries, magnificent landscapes, unique architecture, and the wonderful marvels of mother nature will certainly make everything seem worth it. Plan a vacation to Bhutan and get ready to get your minds blown away with the positivity surrounding this country!
Frequently Asked Questions About Bhutan City Tour
Is the passport required to travel to Bhutan from India?
Yes, one needs to carry a passport when traveling to Bhutan from India. One might not need a visa but a passport is an important document to carry.
Is It expensive to visit Bhutan?
No, Bhutan is one of the least expensive countries in the world. Moreover, food and shopping in Bhutan are extremely feasible.
Is alcohol allowed in Bhutan?
Yes, alcohol is allowed in Bhutan. Although, one needs to visit the licensed places in order to consume alcohol. It is illegal to drink on the roads or non-certified cafes.
How much does a food cost in Bhutan?
Food in Bhutan is not at all expensive. On average, for a full meal that would fill up the stomach to the brim, it will cost around a thousand Indian rupees.
Can you use Indian rupees in Bhutan?
Yes, one can use Indian rupees in Bhutan. It is, in fact, advised to carry as much cash as possible.
Comments
comments