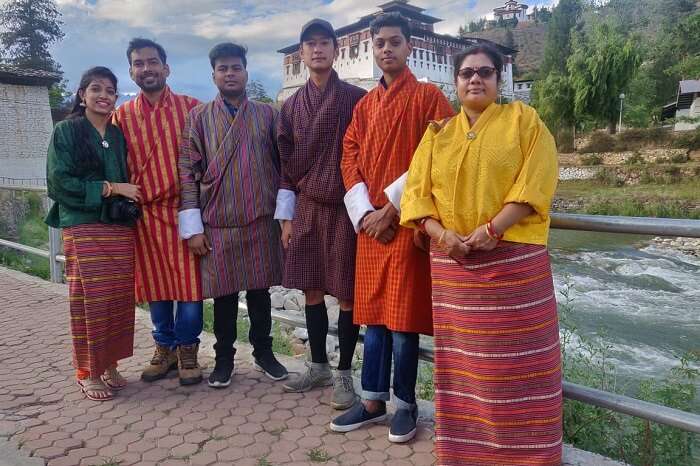 We were wanting to go to a place that offers beautiful landscape and is rich is culture. We did a lot of research and realized that Bhutan is the place where we want to go. We started searching and came across TravelTriangle and decided to plan our vacation with them. The agent asked us everything and how we wanted our trip to be. We told them everything and then started preparing our Bhutan cultural tour with family.
A Look At Our Bhutan Holiday Package
Cost: INR 70500
Duration: 7 Days
No. of people: 5 Adults
Inclusions: Transfers, Immigration, sightseeing as mentioned in itinerary, driver, guide, breakfast, Dinner
Exclusions: Travel Insurance. Lunch, medical insurance, entrance fees, specialized guide
Travel Agent from TravelTriangle: Resort Life Travel Pvt Ltd
7 Days Bhutan Itinerary
Day 1: Arrival along with hotel transfer. Meal at the hotel
Day 2: Leisure Day
Day 3: Leisure Day
Day 4: Departure
Bhutan Hill Stations: A Ride Into The Most Picturesque Landscapes
Weather In Bhutan
Weather in Bhutan in June was great. It was an amazing time to visit this amazing country. It wasn't very hot and it wasn't very cold. We did everything that we wanted to without getting affected by the weather. It truly was a surreal experience.
How To Reach Bhutan
Our trip was from Howrah. To reach Bhutan from our hometown (Howrah) we boarded a train from Howrah station to Jaigaon, from Jaigaon our Bhutanese driver Keshan took us to Bhutan in his car. People coming from different parts of India can go to Bhutan either by airplane from Delhi or Kolkata. The other way is to enter the country from West Bengal in a bus.
 7 Bhutan Villages That Are Best To Explore The Country Side Of Druk Yul In 2022
Visiting Places In Bhutan
During this Bhutan cultural tour we visited a lot of places during these 7 days. We went to some of the most popular tourist places.
1. Buddha Doredama Staute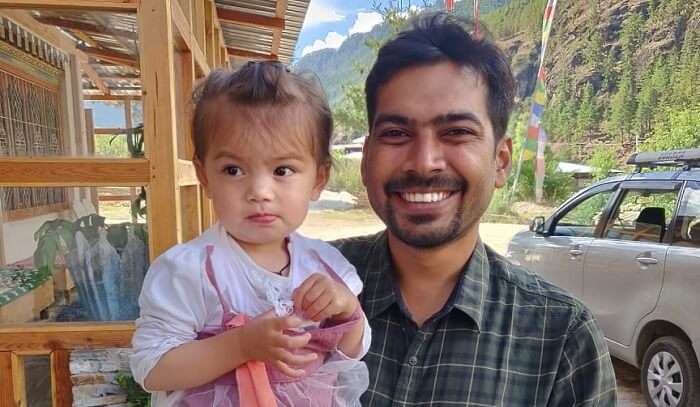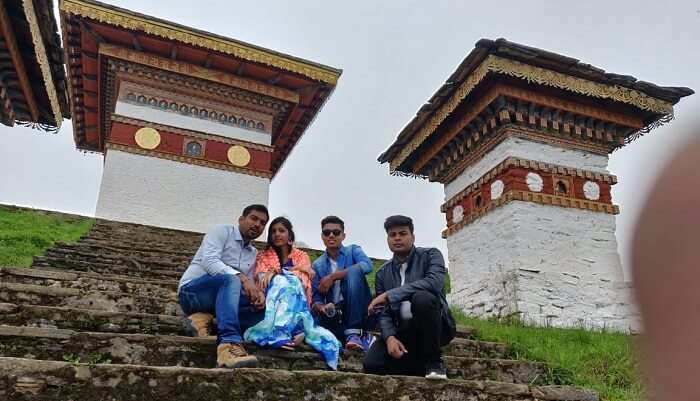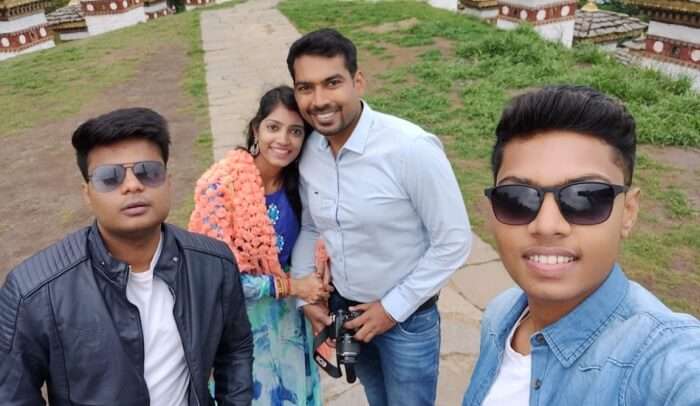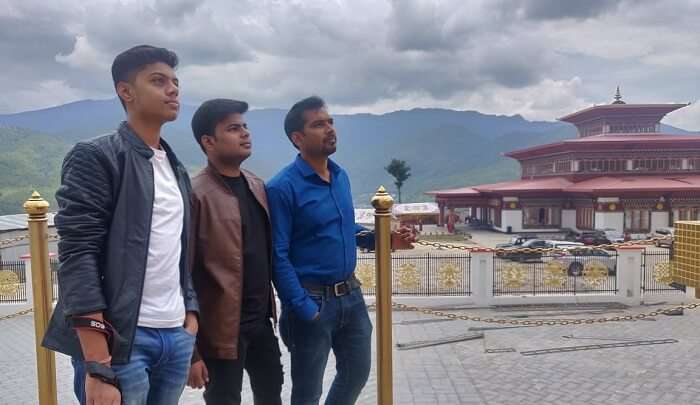 When we reached Thimpu we were really excited to start exploring this place already. There was way too much to see here. Post the hotel check-in we stepped out and started the exploration right away. The main highlight of this day was Buddha Diredama Statue. It was amazing to see this place in person what we had always seen in pictures. We explored places like Tango Cheri monastery, Buddha point, Folk Heritage Museum, Farmers Market and many more. We were really happy to see these famous places of Thimpu.
2. Dochula Pass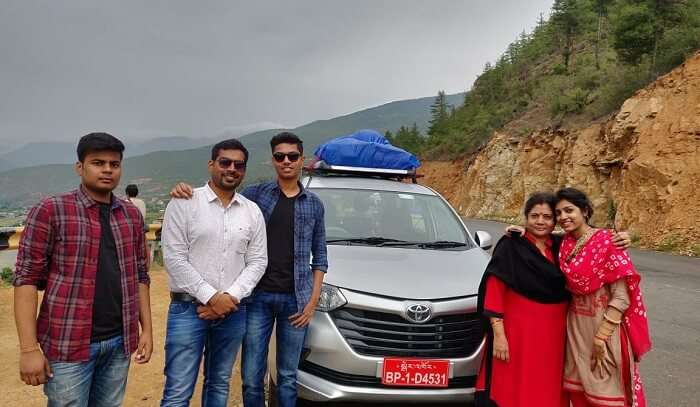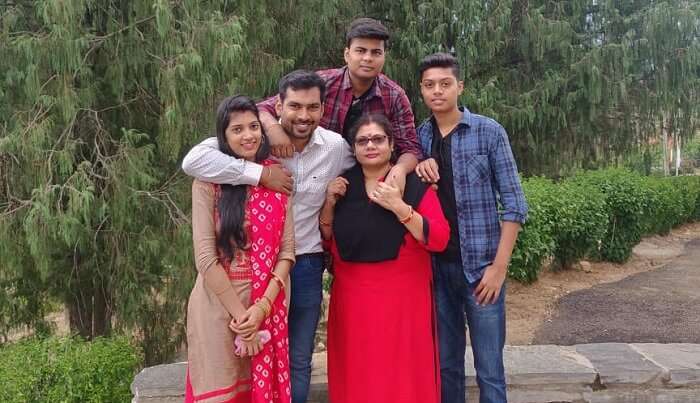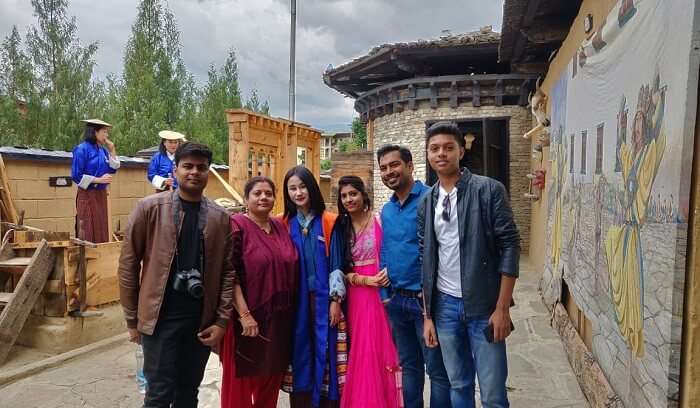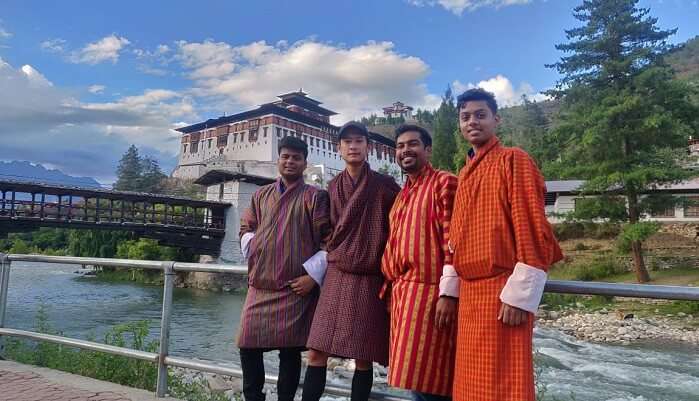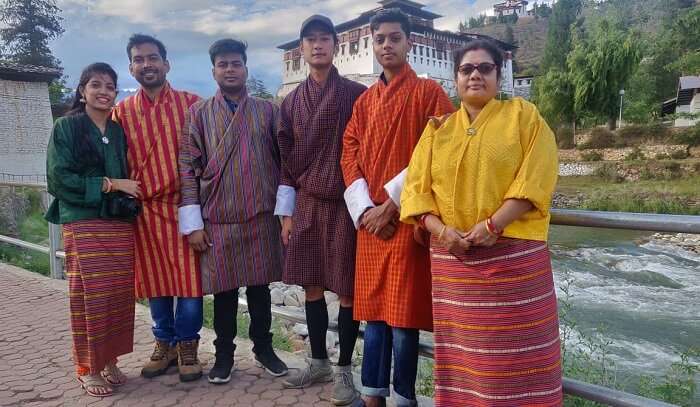 Visiting Bhutan means trekking a lot. Many of the popular places are located at great distances where going by a vehicle is not possible. We visited a lot of places in these 7 days that required us to trek but the reward was amazing. We trekked to places like Dochula Pass which was the highlight of our second day. This place is a must visit as you can see the entire Himalayan range from here. Other than this we went to Chimi Ihakang, Punakha Dzong, Punakha Suspension bridge and more.
3. Paro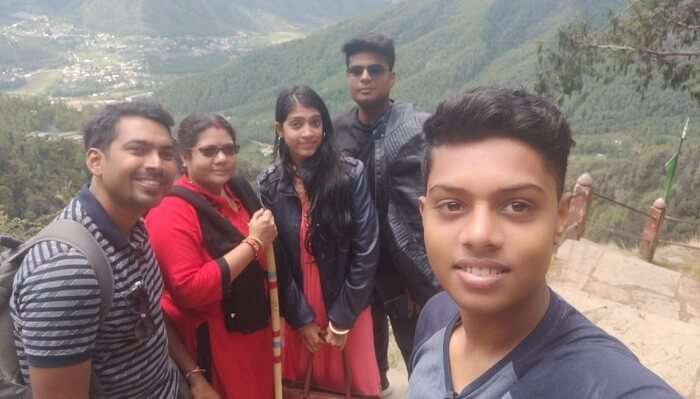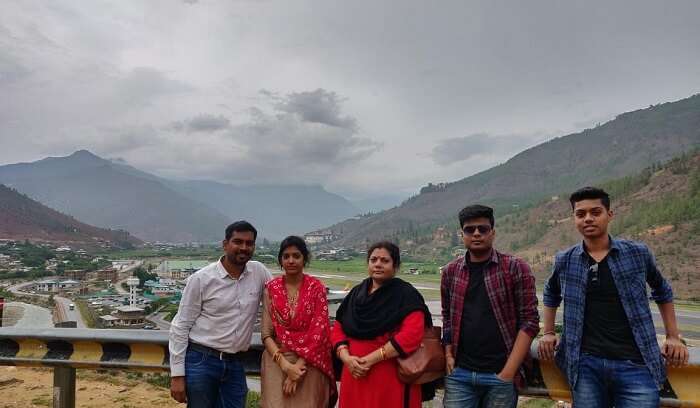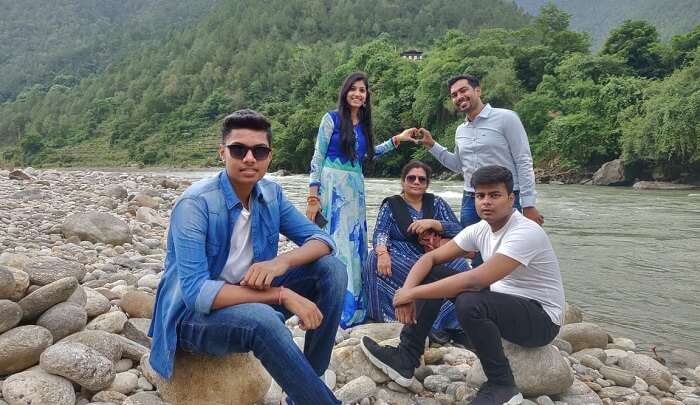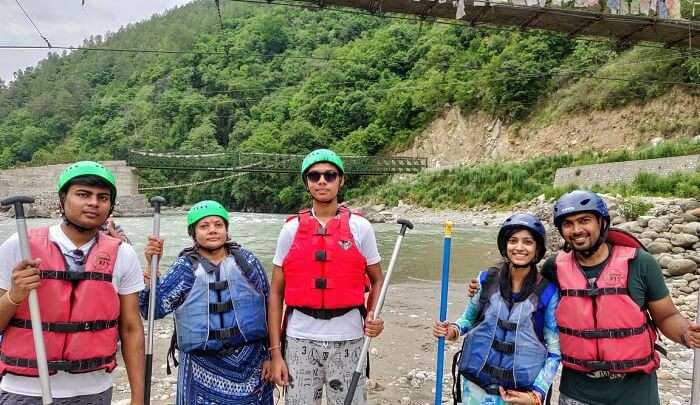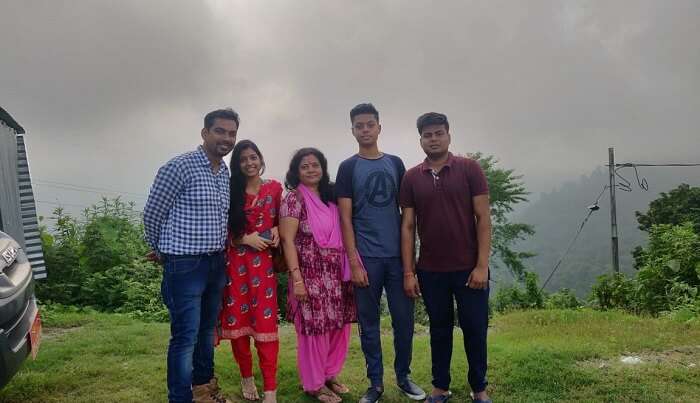 Our 7 days trip also has Paro in the itinerary. Post the check in our cosy hotel we stepped out to see some of the popular tourist destinations. During our stay in Paro we checked places like Ta Dzong, Rinpung Dzong, Nemi Zam. These places were absolutely magical. We were awestruck by the beauty of them.
 Visit These 53 Tourist Places In Bhutan In 2022 To Change Your Worldview
4. Tiger's Nest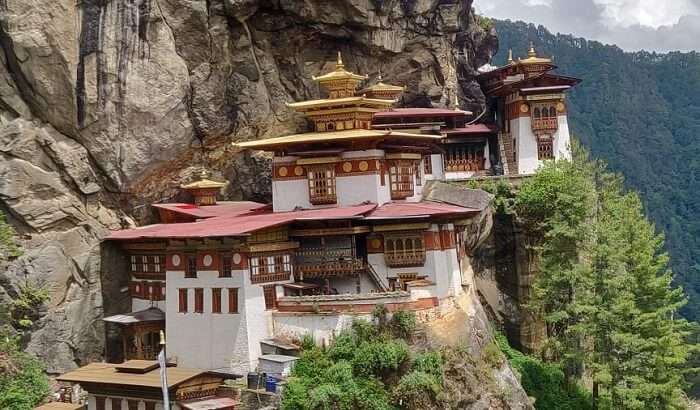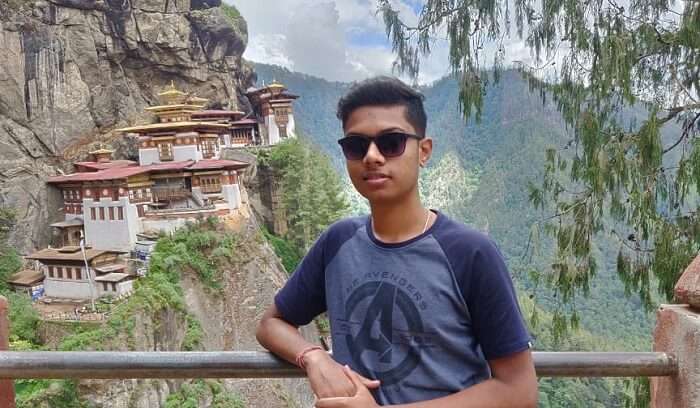 Visiting Tigers Nest once one of the main highlights of this trip. All of us had been waiting to hike to this world famous place. We trekked for hours to finally reach this place which was completely worth it. No Bhutan trip is complete without visiting Tiger's Nest. The view from here is absolutely spectacular.
Bhutan On Budget: Our Personal Expenses
Bhutan is not that expensive. Every possible expense was covered in our itinerary. Other than this we spent somewhere around INR 2500 to 3000 on our personal experiences.
Shopping In Bhutan
The shopping experience in Bhutan was quite different as we came across many organic items which was the specialty of Bhutan. There were so many things that we wanted to purchase from here. We did many souvenirs too. But If anyone is going to Bhutan I will recommend them to get the organic soaps and bathing stuff.
Food In Bhutan
Dining in bhutan was great. We really enjoyed the food there. But what caught our attention was the very famous butter tea which is widely popular here. We loved sipping on this amazing hot beverage. I recommend anybody who is going to Bhutan to try it.
 Our 5 Days In Bhutan Were All About Bliss, Adventure And Tranquility!
What To Pack For Bhutan Trip
If planning to go in the some time, do not pack many woolens but just a jacket or sweater as it doesn't get that cold
Pack comfortable shoes was you would be walking a lot
Pack a warmer just in case of emergency
Pack your sunscreen
Keep all your first aid with you just in case of emergency
Bhutan Travel Tips
The traffic rules in Bhutan are way more strict when compared to India, one must not violate any traffic rules or like not taking zebra crossing to cross the road. Respect their culture they are proud of it, never disrespect their attire.
Do not miss river rafting experience
There are a lot of things to see in Bhutan, do your research and plan your trip accordingly
Our Experience With TravelTriangle
Our overall experience with travel triangle and their agent was outstanding their planning was awesome. They took care of the entire holiday and gave us the best of memories for life. We loved how it fitted our budget without compromising on the experience. We are looking forward to consider them for our future trips as well.
Bhutan Visa For Indians: Explore The Land Of The Thunder Dragon With Family
Bhutan is a great place and we feel blessed to have visited this place. Our Bhutan Cultural Tour With Family was magical and is filled with moments that are going to stay with us forever. TravelTriangle team really made sure that we see the best of Bhutan and made an itinerary that had all the iconic places and was still under our budget. If you too want a similar experience for yourself the plan you Bhutan trip with TravelTriangle and enjoy.
Frequently Asked Questions about Bhutan Cultural Tour with Family
Is the Bhutan expensive?
No bhutan is not really that expensive. People can have a budget holiday here.
What is the best month to visit the Maldives?
October to December to visit Bhutan as the beauty of this place is in full bloom. Other than this Spring is also a great time to visit it.
What currency is accepted in the Bhutan?
Bhutanese Ngulthrum is the currency of Bhutan.
How many days are enough for the Bhutan?
A week is enough to experience all that Bhutan has to offer.
Is traveling to Bhutan safe?
Bhutan is a safe country. People can travel here solo and even female travelers do not have anything to worry about.