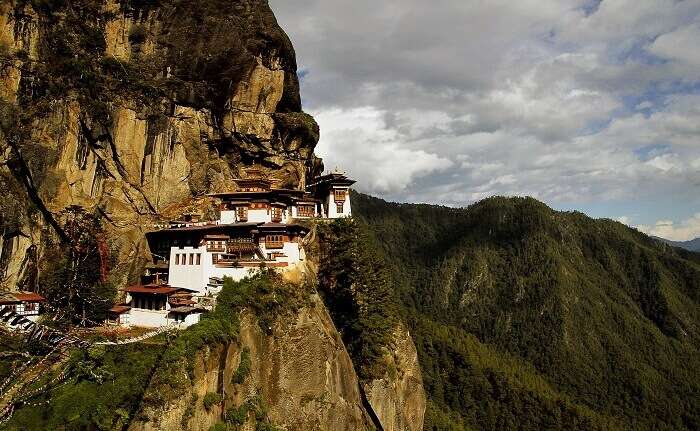 Bhutan "The Land of Thunderbolt" is still one of the least heard or traveled destinations, even by the young travel enthusiasts of its neighboring country – India. But it's long list of forts, monasteries, and other Buddhist relics, trekking spots, and shopping areas are surely worth a visit. Known as the Last Shangri-La, the entire country comprises of panoramic valleys, majestic Himalayas, and abundance of rare fauna and flora. The rivers, arising from the Himalayas, meander through the valleys and mesmerize with their beauty. Offering a kaleidoscope of sceneries and experiences, the best tourist places in Bhutan must feature on your itinerary while visiting the Land of the Thunder Dragon. If not all, at least a few of them.
About Bhutan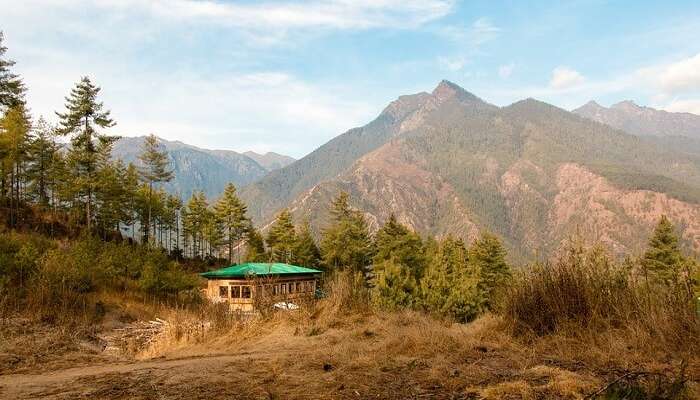 Bhutan is a small country located in the southern foothills of the Himalaya mountains. The country is in between the Republic of China and the Republic of India. The elevation level is here 38,394 km² and the population is 735553. Southern Bhutan is respectively hot and has a humid atmosphere, but the climate always varies from 15 to 30 degrees. In the northern areas, the temperature is low and cold, as it is near the mountains. In this region the mountains tops usually stay covered in snow thus, the lower parts stay cool.
Bhutan is rich with precious culture and diversity. There are so many celebrations that are held here from time to time. Every single village in this country have their own celebration and one of the well-known is the annual Tshechu and it's a very religious festival of this place. In Tshechu the people dress up in colorful clothes and join at the nearest monastery or temple. This celebration is usually done to pray to the second Buddha, the Guru Rimpoche. The people gather to have their traditional dance, they share meals which includes, red rice, spicy pork, ema datshi and momos which is generally made by pork or beef. They also drink the traditional rice wine known as Ara. This is the celebration where families gather and catch up with everyone.
Must Read: 10 Fascinating Places To Visit In Phuentsholing In 2020 On Your Trip To Bhutan
Top 37 Tourist Places In Bhutan
Knowing about some of the tourist places in Bhutan that one should visit on their trip to Bhutan will surely benefit you on your next vacay. So, scroll down to know what all Bhutan tourist places you can cover with your friends and family:
Rinpung Dzong
Chele La Pass
Punakha Dzong
Buddha Dordenma Statue
Dochula Pass
Tiger's Nest
Phobjikha Valley
Chomolhari
Norzin Lam Street
Main Street
Tashichho Dzong
Drukgyel Dzong
Motithang Takin Preserve
National Museum of Bhutan
Simply Bhutan
Punakha Suspension Bridge
Haa Valley
Jangtsa Dumtseg Lhakhang Temple
Namgay Artisanal Brewery
Zuri Dzong Fort
Drukgyel Dzong Monastery
Samdrup Jongkhar
Lhuentse
Gasa Tshachu
ThrumshingLa National Park
Gangtey Monastery
The Folk Heritage Museum
Jigme Dorji National Park
Simtokha Dzong
Tango Buddhist Institute
Talo Village
Dagala Thousand Lakes
Royal Manas National Park
Choki Traditional Art School
Jungshi Handmade Paper Factory
Royal Textile Academy of Bhutan
Trashi Chhoe Dzong
1. Rinpung Dzong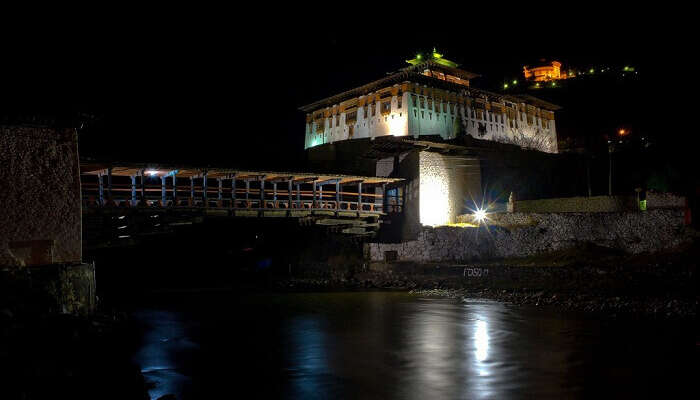 Rinpung Dzong is a beautiful dzong (fort), with towering walls, built in the 16th century. Known as the Fortress on a Heap of Jewels, Rinpung Dzong is among the best tourist places to visit in Bhutan and a classic example of Bhutanese architecture and deep rooted traditions. You can look at the Bhutan tourist places map for its exact location.
The entire area is filled with various temples and shrines. Some of the shrines are, Kungarwa, Monk's assembly hall, Sandalwood stupa, protector's shrine and so on. Every year there is an annual festival of tshechu and it is held in Rinpung Dzong and it starts from the eleventh day to the fifteenth day and the day is marked in Bhutan's lunar calendar. If you want to know the months properly then it's the months of March to April.
In this festival holy images are carried in a procession, and this very thing is followed by the mask dances which tells many stories and these are performed by the monks for many days. On the fifteenth day before the dawn breaks a sacred banner which consists of eight manifestations of Padmasambhava is showed for the public in those early hours and the tradition is that there will be no sunlight to fall on the banner.
Key attractions: Beautiful temple and wall paintings related to Buddhism
Opening hours: 9 am – 5 pm
Suggested Read: Reasons Why You Lose A Lot If You Miss Out On Bhutan Travel Experience!
---
Looking To Book A Holiday Package?
---
2. Chele La Pass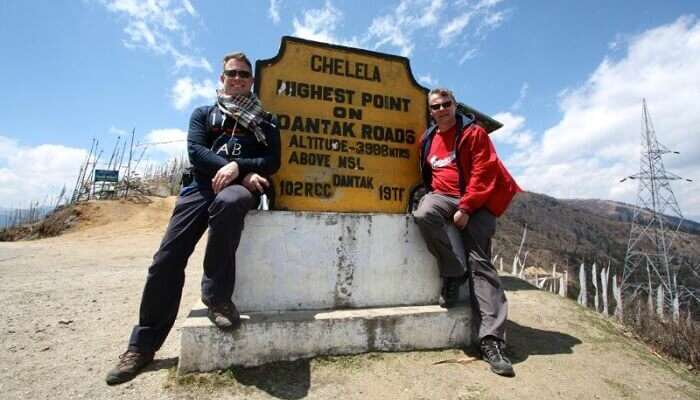 Located at an altitude of about 3,989 meters, Chele La pass is among the popular tourist places in Bhutan. The magnificent pass is en-route the Haa Valley in Paro. On a nice and clear day, you can experience the Jomolhari mountain from here and the adjacent peaks from the northwest side and can view the valleys of Haa and Paro as well.
This pass is located at the 13,000 feet above in the west from the Paro valley, it is the highest road pass of Bhutan and is surrounded with amazing views of the Himalayan range, and the Mount Jomolhari, which is this country's most sacred mountain and it's over 22,000 feet. To reach this Bhutan tourist attraction you have to take one and a half hour drive from the valley floor of Paro.
Another attraction of this place is the Haa summer festival, and this is the symbol of the rich culture of the nomadic heaps. You can have a small excursion, which will take only 2 and a half hours, as many tourists visit this place for the excursion in here.
Key attractions: Magnificent panoramic view of the valleys, gushing waterfalls, alpine flowers, and clouds drifting above the hills
Suggested Read: 9 Best Hotels In Thimphu That'll Make You Want To Stay In The Happy Land, Forever!
3. Punakha Dzong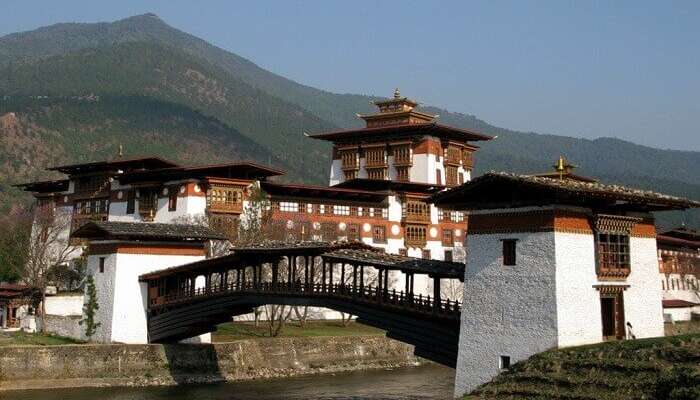 Punakha Dzong is the second largest dzong in Bhutan(The Land of Thunderbolt) and is known for its brilliant structure. Among the best tourist places in Bhutan, the dzong speaks volumes about the beautiful stories and traditions of the Buddhist culture. Do not miss this on your Bhutan sightseeing tour.
Punakha is the winter capital of this country and the head clergy of Bhutan spends the winter in this popular Dzong. The Punakha Dzong is situated on the 1,200 meters and on this height no one ever suffers from height sickness or oxygen shortage, so if you are thinking about hiking in Bhutan, then you can aim for the higher place such as Paro Taktsang or tiger's nest and it's a very ideal place for beginners.
This dzong is considered the most beautiful one in the country and the very first national assembly was held here in 1953. This is the second largest fortress in Bhutan and most popular one as well. To finish the building of this dzong took a year and the most interesting fact is that this building has no usage of nails. Almost every national treasure of the country is kept here, and in here the king of Bhutan Jigme Khesar Namgyel Wangchuck got married to the Queen Jetsun Pema in 2011.
Key attractions: The intricate paintings and the architecture of the fort, sacred relics of the southern Drukpa Lineage of Kagyu school of Tibetan Buddhism, and the sacred remains of Ngawang Namgyal and the tertön Pema Lingpa.
Opening hours: 8 am – 5 pm
Suggested Read: 6 Picturesque Destinations For Honeymoon In Bhutan
4. Buddha Dordenma Statue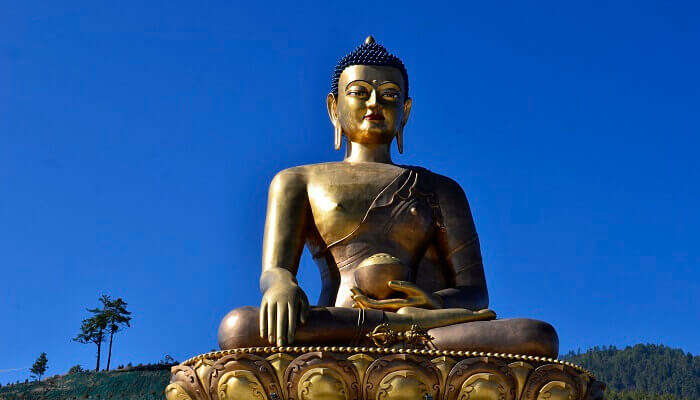 The Buddha Dordenma Statue is a 169 feet tall statue of Buddha, built at the foot of the hills in Thimphu. This iconic gold and bronze statue is visible from almost anywhere in Thimphu and is among the best tourist places in Bhutan.
This is a statue of Buddha and it's a giant one at the top of the mountains in Thimpu and it's also known as the Kunzang Phodrang. The presence of this giant statue of Buddha symbolizes the dominant religion of Bhutan. This very religion plays a solid part in this country and in the everyday life of the country people. You will see the string of flags at the roadsides and the several praying wheels around the clock tower, which is at the midst of the town.
There are small temples and the various paintings that adorn the walls that are made of cement and rock. Buddha dordenma is the largest statue and it's 52.5 meters tall and made of bronze. Inside this figure, there are 125,000 small figurines of the same. There are 25,000 and 12 inches ones and 100,000 8 inches one.
Key attractions: The 169 feet tall Buddha statue, thousands of smaller bronze and gold statues of Lord Buddha, and the surrounding Kuensel Phodrang nature park
Suggested Read: Top 10 Indian Restaurants In Bhutan You Need To Visit In 2020!
---
Planning your holiday but confused about where to go? These travel stories help you find your best trip ever!
---
5. Dochula Pass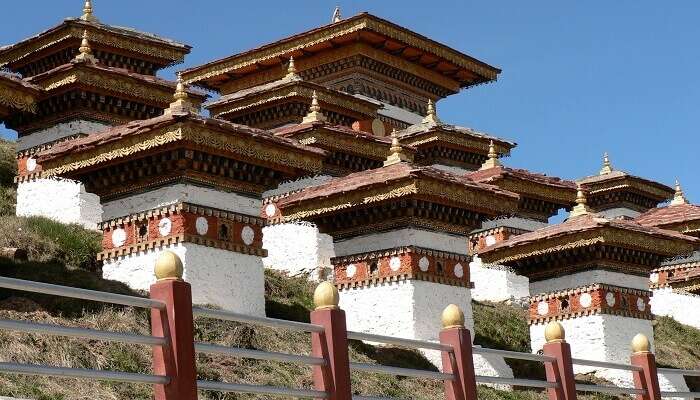 Dochula Pass is a beautiful pass consisting of 108 Chortens or Stupas, built in the memory of the Bhutanese soldiers who died in a war against the insurgents from India. The beautifully built temple and stupas, with the picturesque Gangkar Puensum peak in the background, makes the Dochula Pass one of the most beautiful tourist places in Bhutan. Dochula pass is situated at on the way to Punakha and Thimpu.
This very pass is a popular location for every tourist who visits the country. From the pass, you can have a panoramic view of the Himalayan mountain range, and you must know the view is very beautiful from the top. You will get to see the snow covered mountains and the amazing backdrop of the place. So many Bhutanese families enjoy their holidays in this area, they have small picnics, and some just come here to enjoy the view. You can have pack your lunch and have tea in a flask and come here to enjoy the food and hot tea.
Key attractions: Panoramic view that gives a glimpse of the peak of the sacred Himalayan mountain – Chomolhari, Druk Wangyal Lhakhang temple, and the fusion paintings on the temple walls
Suggested Read: Our 5 Days In Bhutan Were All About Bliss, Adventure And Tranquility!
6. Tiger's Nest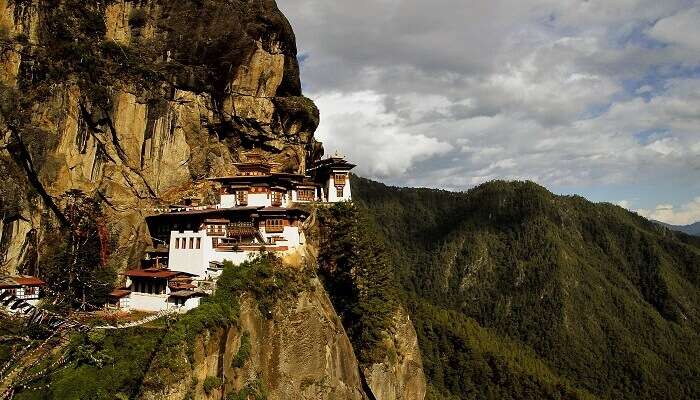 Tiger's Nest or Taktsang Monastery is one of the must visit places in Bhutan. It is known for the beautiful and the sacred monastery of Guru Rinpoche. It is considered as a place of pilgrimage and is an easy half trek, which gives you the panoramic views of the Paro valleys.
According to the legends, Guru Rinpoche also considered as the second Buddha rode to this place on a tigress's back to suppress a local demon and thus he meditated here for 3 months. This place is Bhutan's most religious site and it hangs on the cliff as it stands above the lush forest of thousands of species of rhododendrons and blue pine. Due to this, it is counted in the list of places to visit in Bhutan.
Tourists can come to this monastery by standard permits which your guide will arrange for you. Also, you have to register your at the entrance deposit your cameras and bags because photography is prohibited inside of the temple. If you are backpacking in Bhutan, then you must consider visiting this place.
Key attractions: The tiger's nest, the cave temple inside the monastery, the majestic views, and the many small temples inside the premises of the monastery.
Suggested Read: 15 Places To Visit In Paro That Will Leave You Enchanted
7. Phobjikha Valley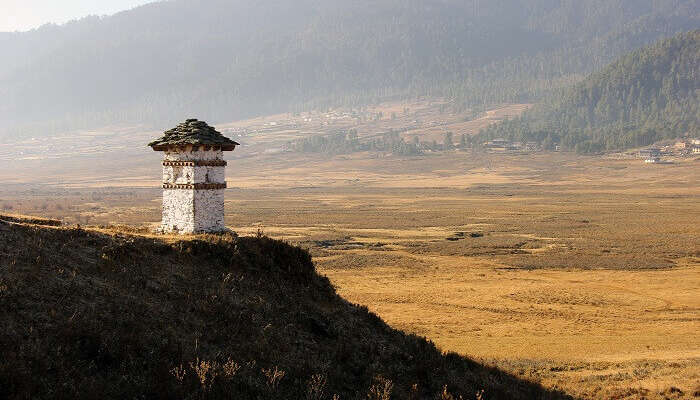 Phobjikha is a small town in the central part of Bhutan(The Land of Thunderbolt). Like many other beautiful places to see in Bhutan, Phobjikha is bestowed with valleys and is surrounded by mountains and lush greenery making it one of the top Bhutan attractions. The place is known for its beautiful landscapes and passes and a day's hike will take you through the town and the woods.
Phobjikha valley is about 3000-meter elevation and the place is in the shape of a bowl, and it's on the western slopes of the mountains. The place is at the border of the Jigme Singye Wangchuck National Park. If you are visiting Bhutan then this is the most famous place and you must visit this place. One cannot afford to miss a visit to the best tourist place in Bhutan, that is, Phobjikha Valley.
Get to experience the big flock of black-necked cranes at the winter time and as it is at the side of the crucial wildlife sanctuary in the country, you might also see some barking deer nearby as well or hear their voice. To heighten your excitement you must know that there are leopards, wild boars, red foxes, Himalayan black bears and so many other species in the forest.
Key attractions: Black-necked cranes migrate to Phobjikha from November, and the hike through the valleys to witness spectacular views of the birds and the amazing greenery.
Suggested Read: Bhutan In December: A Quintessential Travel Guide For An Exquisite Vacation!
8. Chomolhari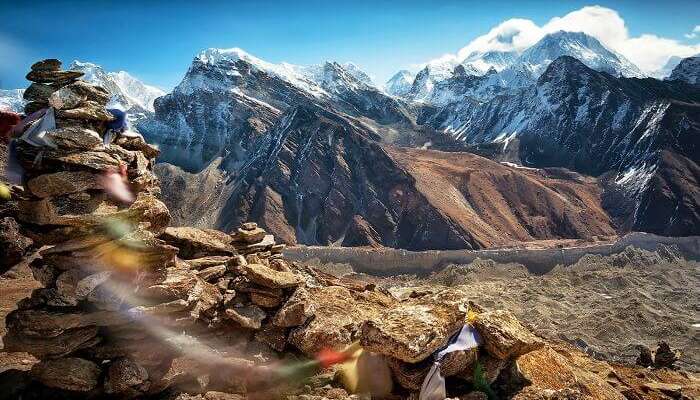 Chomolhari is among the popular Bhutan tourist spots, most popular for its treks. Chomolhari trek, starting at Paro, is one of the most challenging treks of Bhutan. With the altitude going about 5,000 meters, it is enchanting and rewards the trekkers with blissful views after a difficult trek. The trek is truly for the adventure enthusiasts and spans between 7 – 15 days on average.
If you love small treks then this is one of the ideal ones for you. Chomolhari or Jomolhari is one of the well-known tourist spots in here, and if you are here for the trip then you must be acclimatized in the Haa Valley first then begin the trek. This entire valley will offer you eye-searing beauty of the monasteries and the small villages. Get to see the beautiful alpine forests and experience the most untouched parts of the country. If you are a nature lover then make sure that you include this place in your list as it is one of the most amazing places to see in Bhutan.
The perfect time for the trek is from late March to the middle of June, also, September to November is a good time as well. However, the ideal time for the trek is April to May. Also, the entire trek is mildly strenuous but not tough.
Key attractions: The glacial lakes, the snow capped mountains and splendid views of the landscapes are a treat to the eyes
Suggested Read: 10 Invigorating Adventure Sports In Bhutan You Must Try In 2020
9. Norzin Lam Street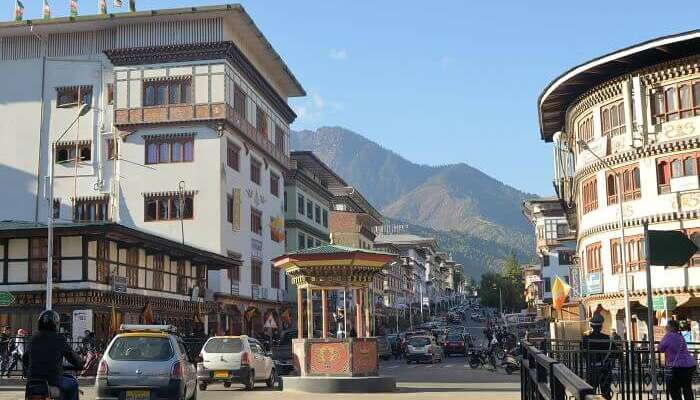 The capital city is probably the most beautiful tourist places in Bhutan. The main street of Norzin Lam is filled with shops selling various items – souvenirs, woolen clothes, crafts, and local wine. Although slightly expensive, some things are worth buying there if you're not going further till Bumthang.
This is the artery of Thimpu and is a very popular place here as well. Although the place is always crowded you will get to see some artifacts and so many other shops which are perfect for shopping. If you live at a hotel near this street, you might get to see the football stadium from there and if lucky you can enjoy a match on the ground too!
You can find the beautiful wood items here and carpets, clothing anything that symbolizes Bhutan, you will get from the shops at the site of the street. Have the taste of local food from the restaurants here and you might not forget the taste of those tasty cuisines.
Key attractions: Textile building and the textile shops in the middle lane of Norzin Lam for buying some of the best handmade textiles, including Gho and Kira – the traditional attire of Bhutan for men and women respectively
Suggested Read: Solo Bike Trip To Bhutan: A Journey Of A Lifetime That Helped Me Overcome Depression!
10. Main Street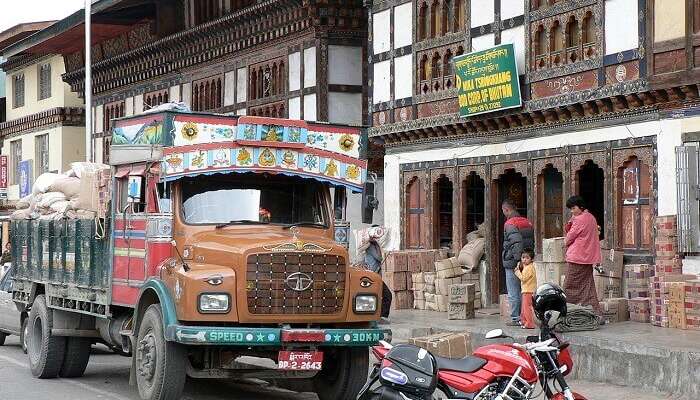 The main street of Paro, stretching across two lanes, is known for its antique Buddhist souvenirs and prayer related materials. Some of the unique souvenirs can be shopped here. Have a walk on this Main street of Paro for admiring the numerous shops and the mountain ahead. If you are a tourist then you must buy something as the souvenir, then you will get every necessary thing for the same purpose only. Try visiting the market on this street on Sunday, and you will see how many delightful things the Bhutanese sell in their respective shops.
From Kiran which is the traditional dress of the country to Bhutanese stamps, all are available here. You can check the handcrafts here, handmade Bhutanese boots, dried Yak cheese, amazing embroidery, weavings at various shops. Take note of the expensive jewelry from the shops as well, as there are pricey silver amulets and other types of traditional wearables are sold. Make sure that you inlcude this place in your list as it is one of the top Bhutan tourist places. 
Key attractions: Scrumptious local food, wonderful bounty of nature, lots of tourist attractions in the vicinity, and the welcoming locals
Suggested Read: Paragliding In Bhutan: Get All The Information You Need
11. Tashichho Dzong
Located at the northern end of the city, Tashichho Dzong is one of the most beautiful tourist places in Bhutan. A popular fortress set on the edge of the city's border, this monastery is a delight to watch as it is set on the western banks of River Wang Chu.
This is one of the famous Dzong in the country and regarded as the largest landmark of Thimphu. The dzong is situated two kilometers away from the actual town and holds huge importance as it is the main secretariat and its houses are the office of the throne room and the King as well.
Some of the central monastic bodies and some people from the ministry live here and this is the summer residence of the monks too. If you have a plan to visit this place then try not to miss the 5 pm changing of the flag, as it's very important to watch and it begins in the courtyard and ends outside in the front.
Key attractions: It has not only served as the summer capital of the country but also as the royal seat of Druk Desi who is also called the Dharma Raja.
Timings: Monday to Friday – 9 AM to 5 PM, and 5:30 PM to 6 PM; Saturday & Sunday – 9 AM to 5 PM
Suggested Read: The Groovy Nightlife In Bhutan And 10 Popular Places To Taste It
12. Drukgyel Dzong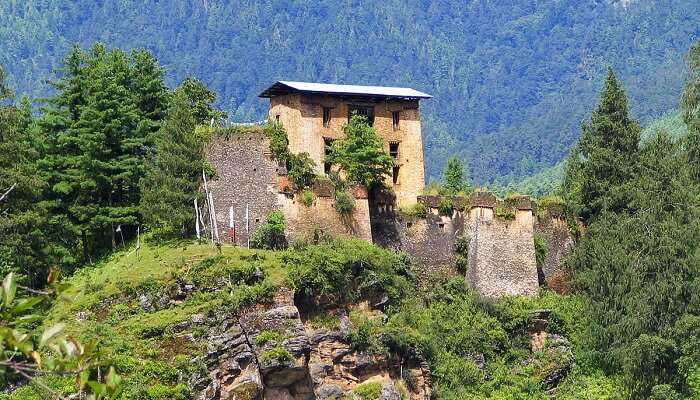 Once a massive fortress that stood tall and served as one of the greatest Buddhist monasteries, only ruins remain on the site of the famous Drukgyel Dzong. Located in the upper district of Paro, this monastery was established in 1649 by the famous Tenzin Drukdra after they were triumphant over Tibet's invasion.
This is one of the famous Dzong in the country and regarded as the largest landmark of Thimphu. The dzong is situated two kilometers away from the actual town and holds huge importance as it is the main secretariat and its houses are the office of the throne room and the King as well.
Some of the central monastic bodies and some people from the ministry live here and this is the summer residence of the monks too. If you have a plan to visit one of the best tourist places in Bhutan, then try not to miss the 5 pm changing of the flag, as it's very important to watch and it begins in the courtyard and ends outside in the front.
Location: Paro District 11001, Bhutan
Timings: Monday to Sunday – 7 AM to 6 PM
13. Motithang Takin Preserve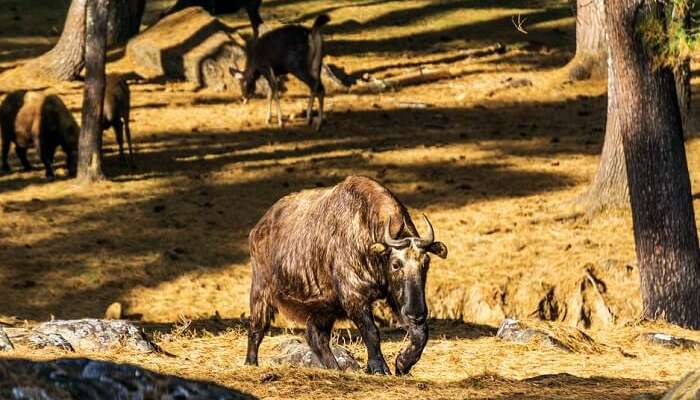 Did you know about the national animal of Bhutan? Well if your answer is no, then you're not alone in that. Located in the district of Motithang in Thimphu, Motithang Takin Preserve serves as the home of the famous species of takin. Many travelers consider visiting this zoo-converted-reserve as one of the best tips while traveling to Bhutan. The Takin is a rare type of animal and falls under the goat species and their actual habitat is the eastern Himalayas. These animals live in the high altitudes of the country, also found in Northwest Myanmar, northwest India as well. These odd-looking animals according to the local legends were assembled by a 15th-century saint who agreed to create a miracle.
This saint joined the head of a goat at the top of a cow's skeleton and brought this new type of animal to life. Apart from myths, this animal is the result of evolution and has a protracted nose, large head, and strong torso provides it a different look. The Takins live around the 8.4 acres from the rainforest and the Bhutan government is taking good care of them by preserving the species and they do not keep the animals in a zoo because they believe in non-confinement of animals in a Buddhist country.
Timings: Tuesday to Sunday – 9 AM to 4 PM; Closed on Mondays
Entry Fee:
Locals: INR 10 per person
SAARC National: INR 30 per person
Foreigners: INR 50 per person
Suggested Read: Trekking In Bhutan: An Experience Like None Other!
14. National Museum Of Bhutan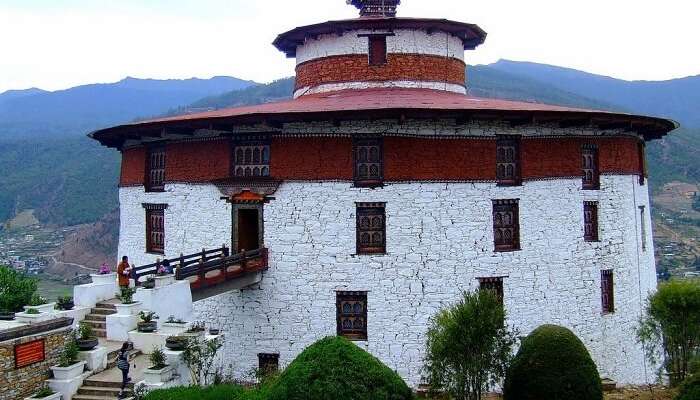 The National Museum of Bhutan tops the list of Bhutan tourist attractions. Built in the year of 1968 and set above the famous Rinpung Dzong, it was constructed to exhibit the famous Bhutanese art. From contemporary paintings to ancient statues, the museum today houses about 3000 masterpieces and exhibits more than 1,500 years of cultural heritage of Bhutan. This place is also the photo gallery of the country and many Bhutanese holds their dance ceremonies in this place as well.
The building is currently under some temporary building but you can visit the other parts of it as the museum is divided into portions for wildlife, masks, and so on. At the evening time the museum lights up and you can visit the place to take amazing photos. Apart from masks and wildlife, you will get to experience the pretty flora and fauna in this place and get to view the brief history of Bhutan as well.
Key attractions: Do not miss out on the bronze statues, galleries, and the ancient paintings.
Timings: Monday to Sunday – 9 AM to 5 PM
Suggested Read: 15 Vibrant And Colorful Festivals In Bhutan One Must Witness In 2020!
15. Simply Bhutan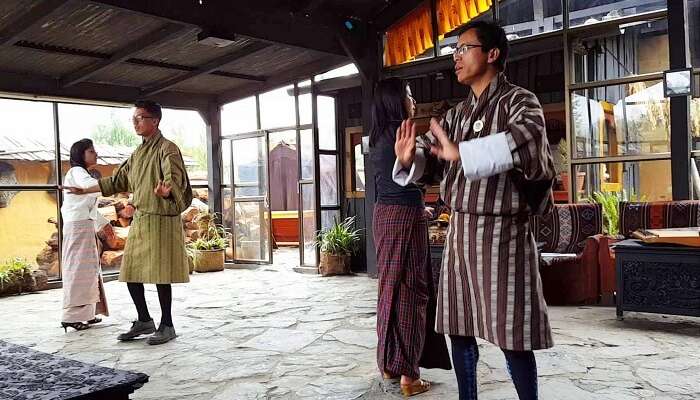 Based on the theme of the villages in Bhutan, Simply Bhutan is a beautiful museum that takes the travelers through the various facets of the country and thus it is one of the best tourist places in Bhutan. From the smiling people to the authentic cuisine, and from the age-old traditions to the live cultural performance, witness the best of Bhutan at this wonderful museum.
Experience the best of Bhutan culture under one roof in this museum. Get to know about the lives of the country people, their traditional clothes, food, mud huts, and so many things. If you like you can always buy some souvenirs from the shops here and have a snack at the little restaurants.
Location: Genyen Lam, Thimphu, Bhutan
Timings: Monday to Sunday – 9 AM to 5 PM
16. Punakha Suspension Bridge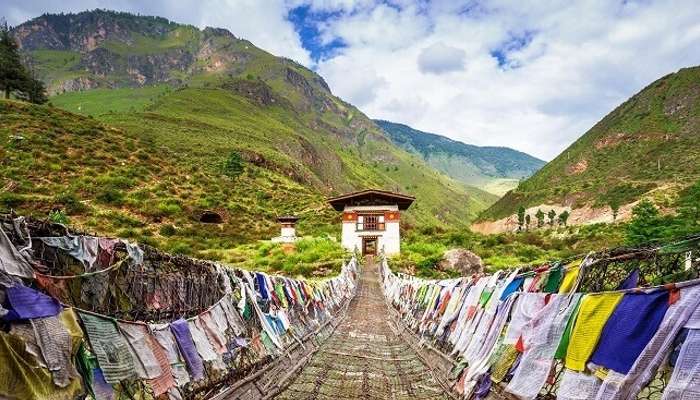 Apart from Punakha Dzong, what makes Punakha a popular tourist attraction is the Punakha suspension bridge. It is built over the Po Chhu river. It is one of the longest suspension bridges in Bhutan, spanning 160 m. It connects Punakha town with Punakha Dzong. Draped with prayer flags, it is a delight for photographers. Walking on it will by far be one of your most adventurous experiences. Make sure to stop by here.
Suggested Read: Bhutan In October: Take A Trip To Bhutan For A Magical Holiday
17. Haa Valley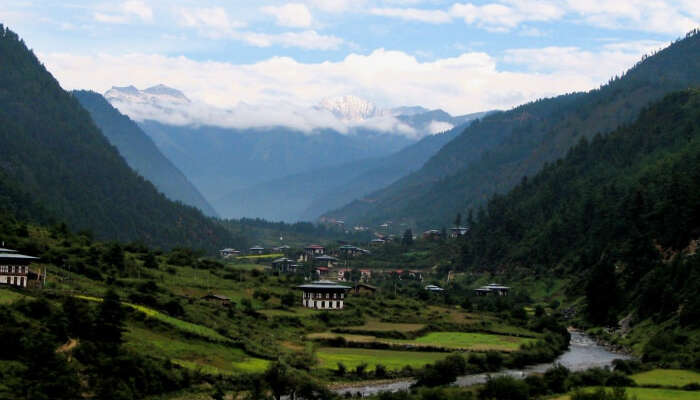 Haa Valley, which is situated only 13 miles away from the India-China border, connects major Bhutanese villages like Chhukha, Paro, and Samtse. It is counted among the top tourist places in Bhutan that you must visit. It stretches over an area of 1700 square kilometres. The valley was opened to the public in 2002. However, do not expect to find any luxury hotels in Haa Valley. You can expect to find basic homestays in the valley. The locals of Haa Valley are hospitably warm. 
Altitude: 2670 metres
18. Jangtsa Dumtseg Lhakhang Temple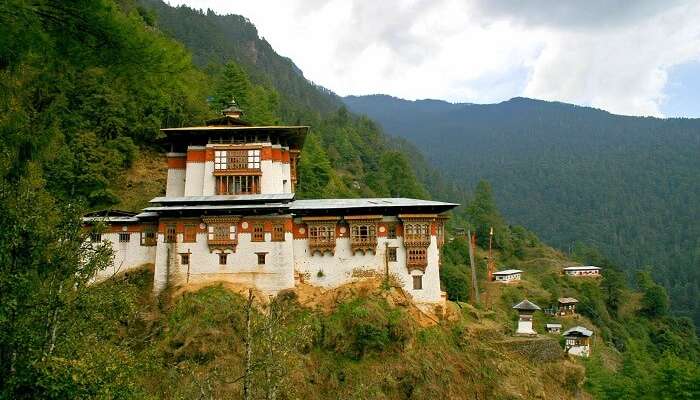 There are numerous folk tales attached to one of the most famous Buddhist temples in Bhutan. Some say that this temple in Bhutan was built on the land where a massive serpent was killed. Another legend is that it was constructed on the head of a demoness. These folk tales add to the rich heritage of the temple. It is one of the best places to visit in Bhutan on your spiritual retreat.
Location: Paro, Bhutan
Best time to visit: September to December
Suggested Read: Bhutan Hill Stations: A Ride Into The Most Picturesque Landscapes
19. Namgay Artisanal Brewery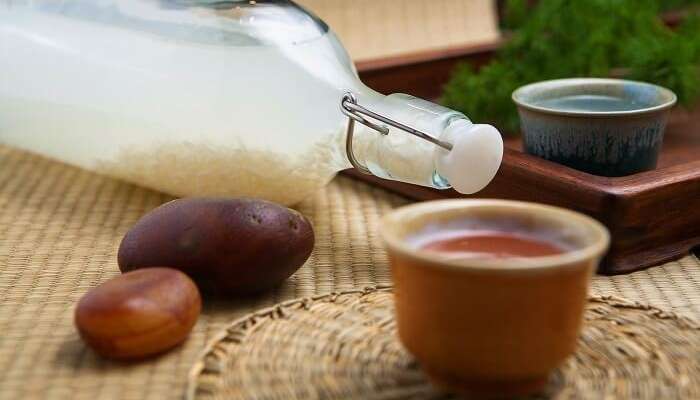 This microbrewery brews local flavours of Bhutan. The zany, rich flavours will tingle your tongue and send you in a coma. Some of the most famous beverages sold here include Bhutan Dark Ale and the Bhutan Red Rice Lager. The latter is brewed from red rice procured from the rice paddies of Paro. It is stronger than the Dark Ale.
Location: Dumsibu, Paro 11001, Bhutan
20. Zuri Dzong Fort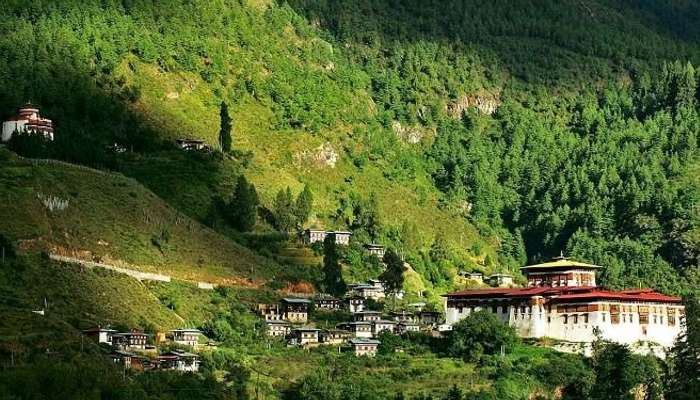 Zuri Dzong Fort is one of Bhutan's oldest dzongs. It was built in the 14th century. The murals in the upper chapels reflect the rich history and heritage of this fort. Locals believe that there used to be a cave here where the fort now stands, and Buddha meditated inside the cave. From the top of the dzong, you can enjoy scenic views of Paro valley. Does it get any better than this?
Location: Paro, Bhutan
Suggested Read: Monsoon In Bhutan: Explore The Himalayan Kingdom This Rainy Season
21. Drukgyel Dzong Monastery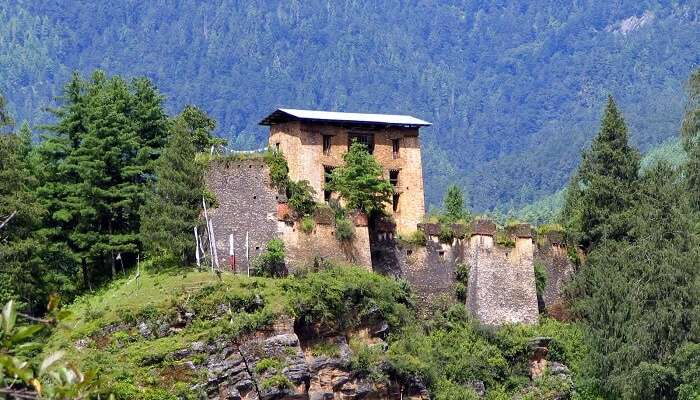 The Buddhist monastery and fortress has been ravaged over time. If you're a fan of natural history and folklore enthusiast, we suggest you visit the ruins. You will learn a lot more about the history of Paro, and by extension Bhutan, here than you will learn anywhere else. Efforts are on to rebuild the monastery and restore it to its original prestige. You can see the Chomolhari mountains from the top of the monastery. No one would like to miss this monastery as it is counted among the list of must-see places in Bhutan.
Location: Paro, Bhutan
Location: 10 minutes away from Punakha Dzong, Punakha
22. Samdrup Jongkhar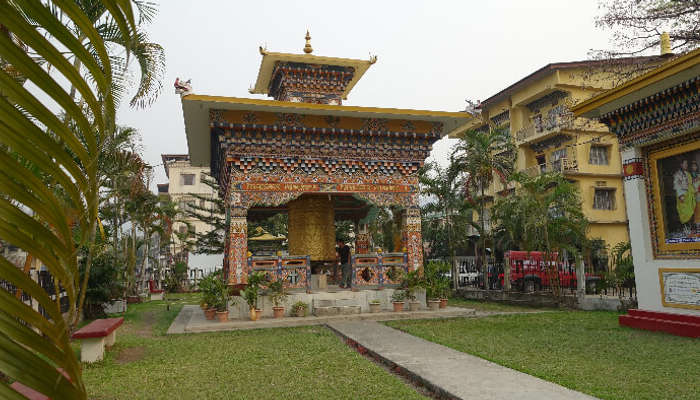 Located on Bhutan's South-Eastern region, Samdrup Jongkhar is a town follig in the district with the same name. It shared the borders with the Indian state of Assam This lush green mountain town is often addressed as the 'salt route'. This place has historical significance and was a major trade centre of Bhutan. It was known for its silk production which was bartered for quality bamboos. Today, travelers can find a bit of every element from its history, including bamboo and silk products. Make sure that you include it in your list as it is one of the top places to visit in Bhutan.
Location: NA
Best time to visit: March to August
23. Lhuentse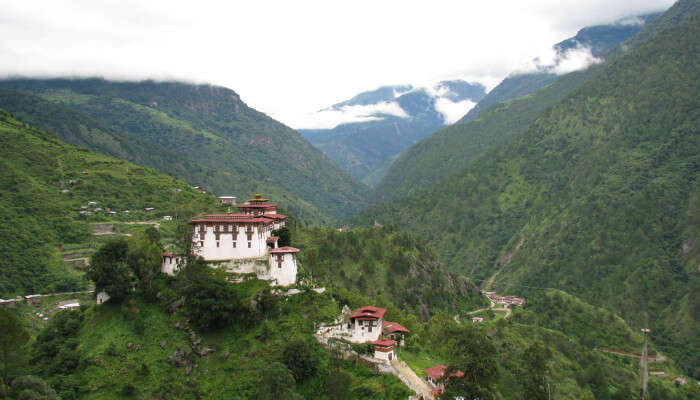 If you want to explore and experience the local and rural side of Bhutan, you must come to Lhuentse. This is one of those districts in the country that has remained untouched by urban developments. Its natural beauty and old culture is still intact. The place holds significance as the Royal family's ancestral home. A highlight of this densely vegetated valley district is Lhuentse Dzong, which is located on the banks of River Kuri. A suspension bridge connects the Dzong to the Chortens.
Location: NA
Best time to visit: Autumn and Spring
Suggested Read: Street Food In Bhutan: 10 Tasty Delicacies To Relish
24. Gasa Tshachu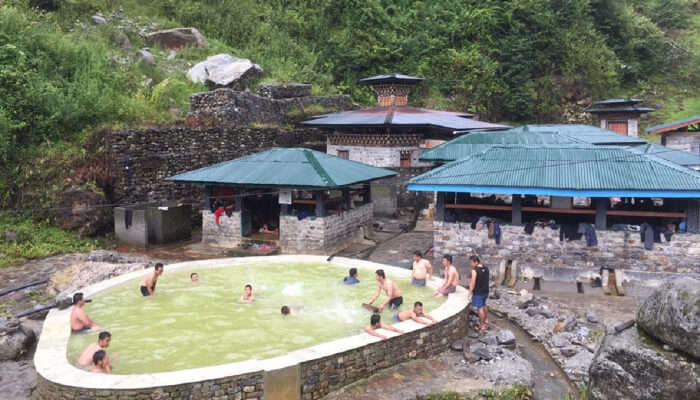 This is one of the most popular tourist places of Bhutan. Gasa Tshachu is located in the Gasa District of Bhutan, which is popular for the Jigme Dorji National Park. Gasa Tshachu is a collection of wonderful natural hot springs. Though the country offers you several refreshing experiences, this one will help you truly relax. This hot spring is one of the best in the country and is visited by large number of travelers.
Location: NA
Best time to visit: Gasa Dzongkhag Administration Gasa, Bhutan
25. ThrumshingLa National Park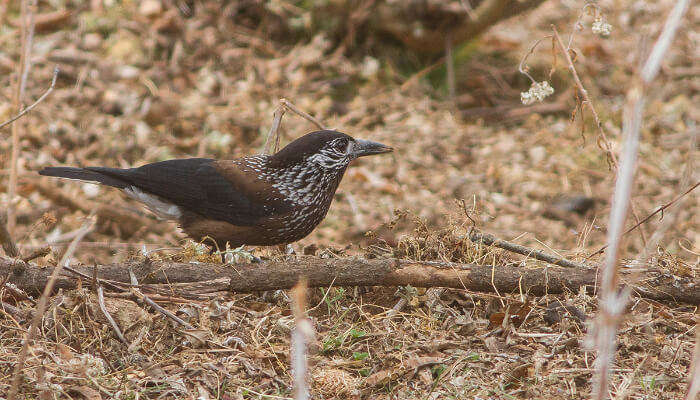 Spanning an area of 786 square km of land ThrumshingLa National Park is a stretch of densely forested land. Surrounded by mountains, this place is home to about 620 different tree and plant species. The Alpines and rhododendrons are spread across this national park, making it a highly breathtaking location. ThrumshingLa National Park also encloses meadows, lakes, waterfalls, and stunning trek sites including Bribdungla and Rhodungla. This is therefore, one of the famous tourist places in Bhutan.
Location: Mongar
Best time to visit: March – May | September – December
Suggested Read: 10 Things To Buy In Bhutan On A Vacation
26. Gangtey Monastery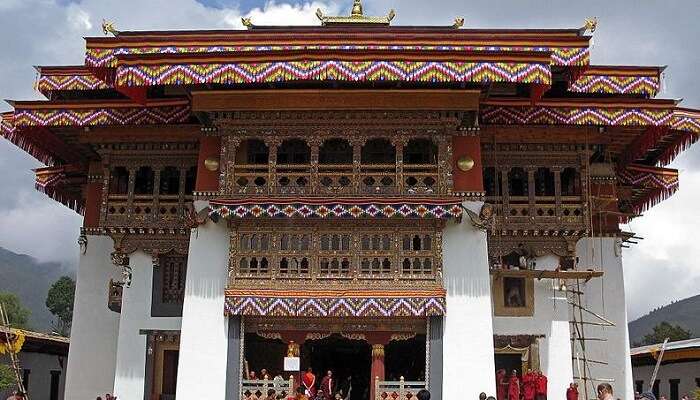 Gangtey Monastery is one of the best places to visit in Bhutan and it has attracted several tourists till now. The monasteries in Bhutan display brilliant architecture that no one can afford to miss on their trip. After visiting this monastery, you will know about the vibrant culture of Bhutan. Since this monastery is located at a height of 16,000 ft., it offers some spectacular views of the valley which is why many people trek to this place. 
Location: Bhutan
Suggested Read: 12 Bhutan Facts: This Traveler's Story Will Leave You With A Longing To Visit This Happy Place!
27. The Folk Heritage Museum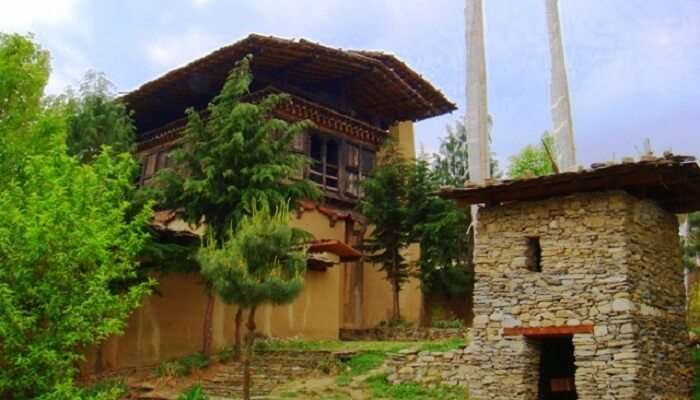 The Folk Heritage Museum displays a local way of life and culture in Bhutan. The most astonishing part about this museum is that it has been opened in a 150-year old wood and mud structure. It was opened for the public in 2001 and since then it has been one of the famous places in Bhutan. The whole house is decorated with colorful banners which is pleasing to the eyes. 
Location: Bhutan
Suggested Read: Top 7 Reasons Why Bhutan In September Make A Solid Case For An Autumn Vacation In 2020!
28. Jigme Dorji National Park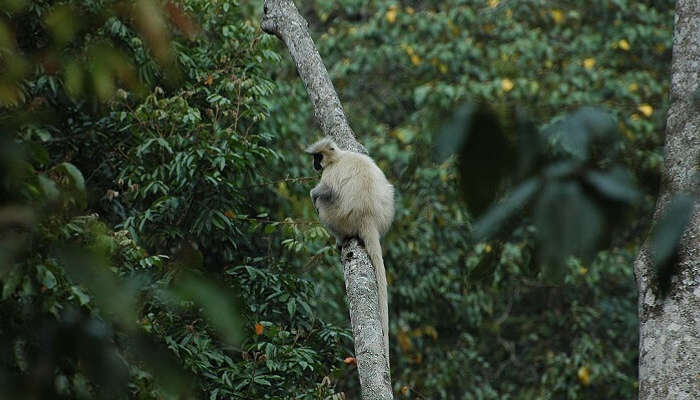 Jigme Dorji National Park is the second largest national park in India and also one of the best places to visit in Bhutan. Stretching to a vast area of 1316 square km, this place is a treat for wildlife enthusiasts. Spot animals like Bengal tiger, snow leopard, Himalayan blue sheep, and black bear. Keep your camera handy because you will get so many beautiful landscapes to capture in your lens.
Location: 9 AM – 5 PM
Timings: Bhutan
Suggested Read: Sakteng Wildlife Sanctuary: Wander Into The Wild In Bhutan
29. Simtokha Dzong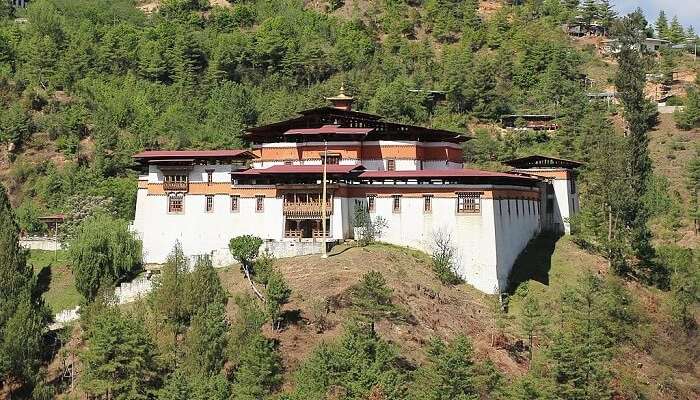 Simtokha Dzong translates too Temple Fortress and it's every bit colossal and alluring. Built in the year 1629, the temple has now been converted to a museum that lures a huge number of visitors every year. If you are a lover of linguistics and wish to learn the local language of Dzongkha, then you can learn the language here. Do not miss this place during your Bhutan sightseeing.
Location: Simtokha, Bhutan
Timings: 9 AM – 5 PM
Suggested Read: Phrumsengla National Park: Spot Rare Flora And Fauna As You Trek In Bhutan
30. Tango Buddhist Institute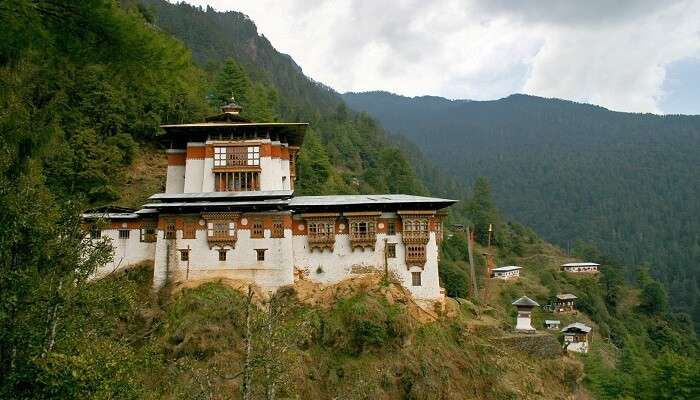 If you are in Bhutan visiting places that are holy and spiritual, then you should consider adding Tango Buddhist Institute to your list. What is interesting about this place is that it's built on a cave now serving as an institution of knowledge and spirituality to Buddhist monks. There are more legends and interesting facts about this place that may pique your interest.
Location: Thimphu, Bhutan
Suggested Read: 10 Best Restaurants In Paro For A Yummy Scrummy Bhutanese Palette
31. Talo Village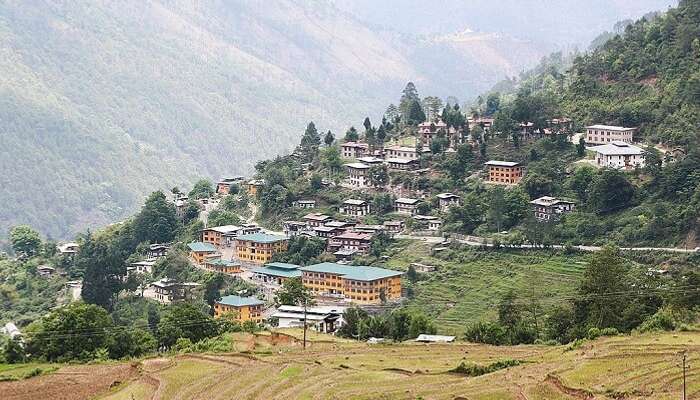 Talo Village is one of the most beautiful places to see in Bhutan. You will agree once you visit. A perfect place for those who seek solace, Talo offers picturesque landscapes decorated with sweet corn and pea fields. AT the very top, you will spot a Buddhist monastery. It is one of the top places to visit in Bhutan frequented by tourists. The landscape is complemented by snow-capped mountains. If you wish to explore Bhutan villages, then put this place on your itinerary.
Location: Punakha, Bhutan
Suggested Read: The Only Guide To Zhemgang In Bhutan You Need Before Your Nepal Trip
32. Dagala Thousand Lakes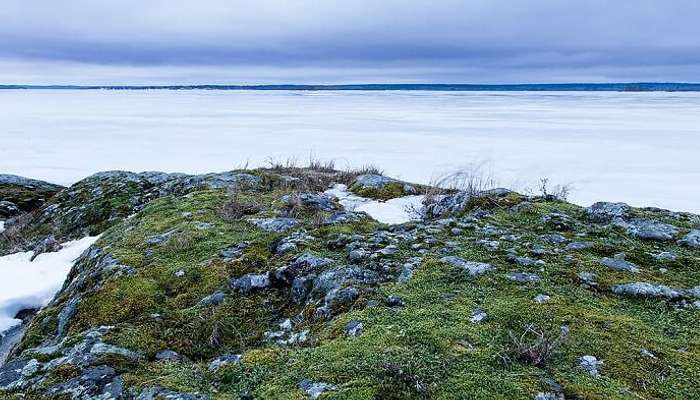 You may not have seen anything surreal and enchanting like Dagala thousand Lakes. It is one of the best places in Bhutan that you should not miss visiting if you love nature and landscapes. Enjoy trekking to this place and quench your thirst for adventure and thrill. The views around will definitely put you in a good mood.
Location: Bhutan
Suggested Read: Bumdeling Wildlife Sanctuary: Your Personal Guide To This Beautiful Attraction In Bhutan
33. Royal Manas National Park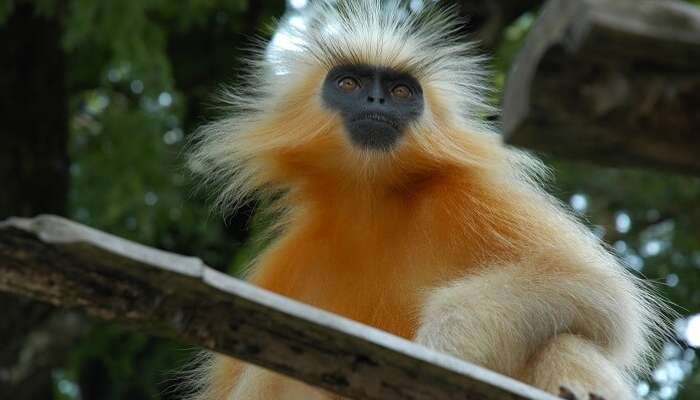 One of the famous Bhutan tourist attractions, Royal Manas National Park is a haven for wildlife lovers. It is the oldest national park in Bhutan and is home to Royal Bengal Tiger, one-horned rhinoceros, clouded leopard, and gangetic dolphins. It gives you all the more reasons to visit this place as you won't find these species anywhere else.
Location: Pemagatshel, Sarpang, Zhemgang, Bhutan
Suggested Read: The Only Guide To Jakar Dzong In Bhutan You Need Before Embarking On Your Trip
34. Choki Traditional Art School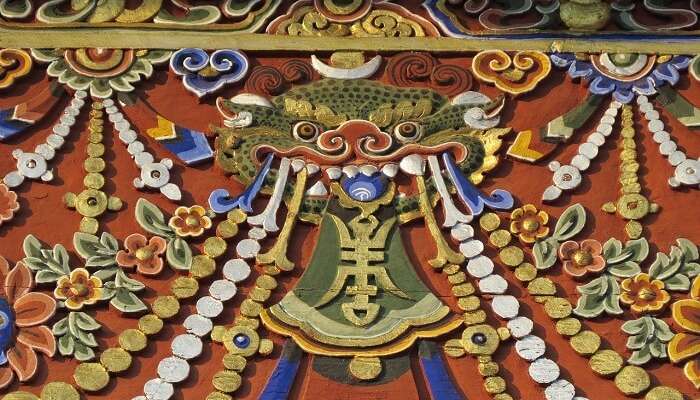 Bhutan is much more than its monasteries and rich flora-fauna. It is also rich in culture which you can learn at Choki Traditional Art School. Visiting this place during Bhutan sightseeing is a unique experience in itself. You can see disadvantaged students being taught painting and traditional arts. Learn so much about the colorful Bhutanese art and bring back a few souvenirs, if possible.
Location: Kabesa Lam, Thimphu, Bhutan
Timings: 8:30 AM – 4:30 PM
Suggested Read: Shopping In Thimphu: 10 Best Places For Buying The Best Of Everything In Bhutan
35. Jungshi Handmade Paper Factory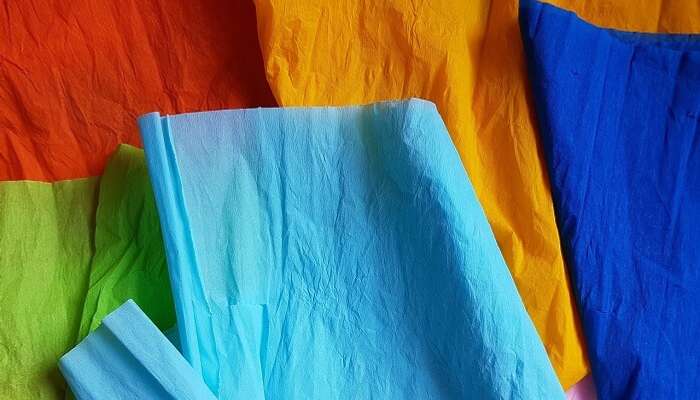 Jungshi Handmade Paper factory may seem like an odd place to visit during sightseeing in Bhutan but it is not. Handmade paper is one of the famous things you can buy in Bhutan as a souvenir. Watch the art of manufacturing handmade paper in action at the factory and get insights about the industry. It can be one of the unique and interesting things to do in Bhutan.
Location: Thimphu, Bhutan
Suggested Read: Chimi Lhakhang: Experience The Peace & Tranquility Of Bhutan's Most Visited Temple
36. Royal Textile Academy of Bhutan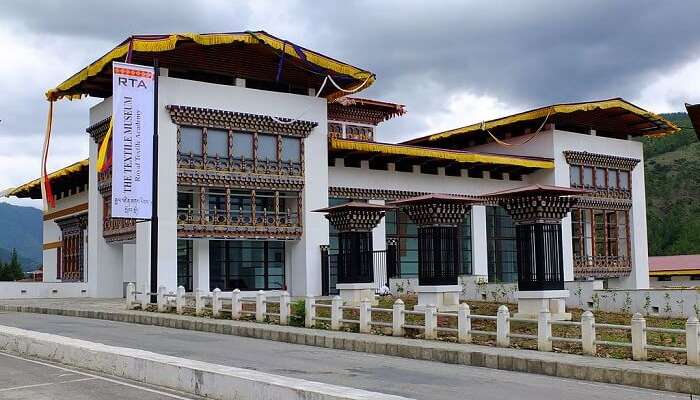 Not just a pedantic institution, Royal Textile Academy of Bhutan is where contemporary architecture meets Bhutanese art and heritage. It is one the most popular Bhutan places to visit and should definitely be on your itinerary. Attend the exhibitions of finest works of handwoven fabric and applique cloth. Also, learn the art of draping and wearing traditional outfits. It is one of the unique tourist places in Bhutan yet it is owrth it.
Location: Thimphu, Bhutan
Timings: 9 AM – 4 PM, Sunday closed
Suggested Read: Bhutanese Food: 10 Best Dishes That Foodies Must Try In The Land Of Thunder Dragon!
37. Trashi Chhoe Dzong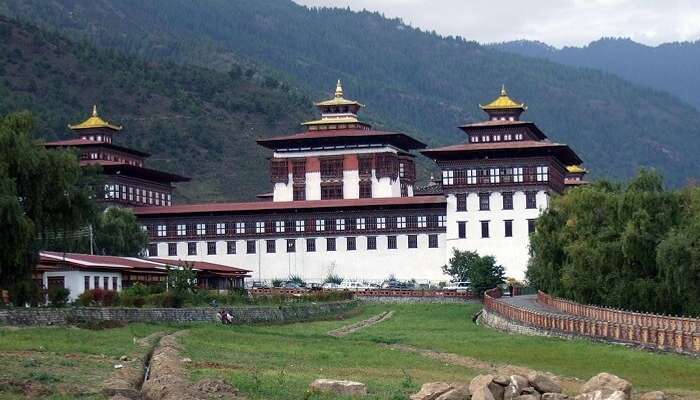 In Bhutan, places to visit like monasteries are plenty. Trashi Chhoe Dzong is where all the festivities and religious events in Thimphu take place. It is the largest monastery in the northern fringe of Thimphu. So, it is kind of hard to miss. Dzongs are anyway important structures and religious institutions in Bhutan. So, you must visit this place on your holiday.
Location: Chhagchhen Lam, Thimphu, Bhutan
Timings: 9 AM – 5:00 PM, 5:30 PM – 6 PM
Further Read: 16 Romantic Honeymoon Destinations In Asia In 2020 For Every Budget
Planning a trip to the happy neighboring country? Just book a trip to Bhutan, and enjoy a wonderful holiday in one of the most beautiful countries of the world. Let us know how was your experience navigating through these top tourist places in Bhutan. We assure you that you'll have a blast and make the most of your time there. Are you ready for an adventure?
Frequently Asked Questions About Tourist Places In Bhutan
Q. When is the best time to visit Bhutan?
A. October to December is one of the best time to visit Bhutan. The weather is sunny during this time with some snow at higher elevations. If you want to see the flowers blooming and the magic of spring months, then plan your visit from March to May.
Q. Do we need a visa for Bhutan?
A. No, there is no need for Bhutan visa for Indian nationals to travel to the country. They only need to carry any one of the two documents:
1) Voter identity Card, issued by the Election Commission Of India; or 2) Indian Passport, with a validity of at least 6 months.
Q. What is Bhutan well known for?
A. Bhutan is well known for its natural beauty, forts, monasteries, trekking spots, great culture and heritage and rich biodiversity.
Q. How can you reach Chele La Pass?
A. Chele La Pass can be reached from Paro or Thimphu by taking a car or a motorbike. It takes approximately one and half hours from Paro and two and a half hours from Thimphu to reach Chele La Pass.
Q. How hard is the Tiger's Nest hike?
A. Tiger's Nest hike difficulty level ranges from moderate to difficult. One can do it if they have an average level of fitness and can complete it between 3 to 5 hours depending upon the pace.
Q. What can you buy in Paro Bhutan?
A. Paro is a major hub for shopping in Bhutan. One can check out the following popular things to buy:
1. Woven bags
2. Traditional jewellery
3. Carpets
4. Handmade paper
5. Thangkas
6. Yak-bone jewellery
Q. How many days do I need in Bhutan?
A. Bhutan is a wonderful country to explore and it involves some within-the-country travelling too. So, at least 5 to 7 days are needed to experience Bhutan.
Q. How much does it cost to visit Bhutan?
A. The cost for a minimum of 3 days and 2 nights in Bhutan starts from INR 12,500. This includes hotel charges, breakfast, and sightseeing.
---
Looking To Book An International Holiday?
Book memorable holidays on TravelTriangle with 650+ verified travel agents for 65+ domestic and international destinations.
---
People Also Read
Tourist Places In Assam Tourist Places In Nepal Tourist Places To Visit In India
Comments
comments