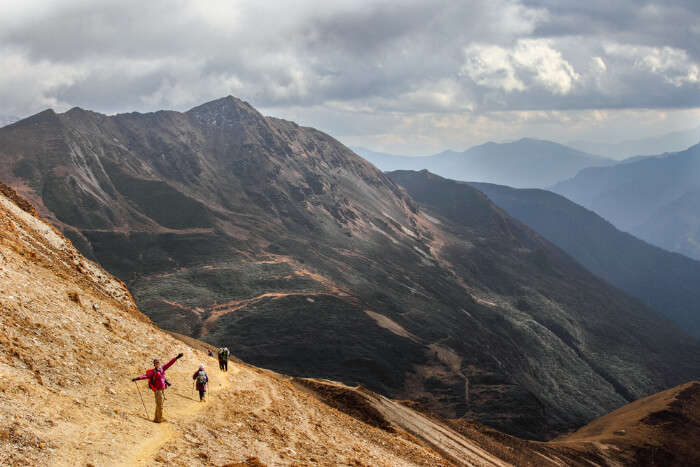 Bhutan is a rather small country but a culturally rich one, lying in the Eastern Himalayas, it is situated between China and India. Bhutan has protected itself from foreign attacks until the late 20th century and that is why the beauty of the land is unhampered. The architecture of Bhutan is traditional and mostly includes stonework and intricate woodwork, with no use of nails or iron bars. A diverse biodiversity and a sincere approach towards conservation by the government has made Bhutan a home for many exotic animals and more than 5400 species of plants.
Best time to visit
Bhutan experiences different weather and seasons throughout the year and therefore, it is smart move to know what time would be best to visit the country so as to manage the temperature in Bhutan mountains. Starting off from January to February, the weather is the coldest and in some regions there are snowfalls. From March until May, the spring season makes the climate favorable and a bit dry with beautiful flowers blooming all over the valley. June and July witness heavy rainfalls and it is recommended not to visit the country during that time period. From September to December, it is ideally the best time to visit Bhutan as the climate serves to be comfortable for staying and trekking, with fresh and clean mountain air to breath in and sunny skies to make the atmosphere favorable.
Must Read: Paragliding In Bhutan: Get All The Information You Need
Best way to plan your visit
Here are some more things to keep in mind while planning your trip to Bhutan Mountains. For residents of India, Bangladesh and Maldives there is no need of Visa but a valid passport. In the case of all other nations, there is a strict requirement of Visa clearance and a fee ranging from the US $200 per day to $250. Thus, it is recommended to book a tour guide for easy movement in the country.
Top 10 Bhutan Mountains
This article will give you an insight of the Bhutan mountains and an overview to make your visit and experience a bit more planned.
1. Gangkhar Puensum
It is the highest unclimbed mountain in the world standing tall at 24836 feet. It is on the border of China and proudly stays in the list of Bhutan high mountains. If you are trekking from Thimphu towards Bamurpa, the gigantic Gangkhar Puensum and the vast valley is visible at Bamurpa base camp and is open for exploring. Bhutan is one among the countries with beautiful landscape and mesmerizing mountains.
2. Jolmolhari
It is situated between the border of Tibet, China, and Thimphu district of Bhutan and is also known as the "Bride of Kangchenjunga". When in Thimphu, you can move towards Jolmolhari after staying and enjoying the scenic beauty of Paro. Jolmolhari is pretty cold, with temperature as freezing as -10℃. Hence, it is advised to bring warm clothes with you and if trekking, warm sleeping bags too.
If you are a mountain person, Jolmolhari might be one of your favorite mountains. As this place is comparatively cold, it's much more adventurous when this mountain snow covered.
Suggested Read: Hiking In Bhutan: 9 Alluring Trails Every Hiking Enthusiast Should Walk On!
3. Kula Kangri
It is situated near the border of China and in the remote area of Northern Bhutan. It is disputed, whether it is a part of Tibet or Bhutan. If you are traveling to Nepal, it would be easy for you to visit Kula Kangri. After completing the sightseeing in Lhasa and nearby areas, you can drive to Kula Kangri base camp which is 350 km far from there. The greatest advantages of traveling to this mountain are that it won't take much time for you to reach as beautiful a valley as Kullu. As you know, Kullu valley is famous for its jaw-dropping natural scenic beauty, thus going to Nepal you should visit Kula Kangri and take Bhutan mountains pictures.
4. Mount Jitchu Drake
You can visit Jitchu Drake from Jolmolhari Mountain as both are companion peaks in Paro. One can easily be driven to the place because of the easy accessibility, transportation, and availability of communication. As Mount Jichu Drake is near Jolmolhari, it's quite obvious that if you plan a trip to one of these mountains, it would be less time consuming and much fun because you can switch from one mountain to another. You could take a travel guide along so as to facilitate the needs that you would be requiring during your trip.
Suggested Read: Top 10 Honeymoon Places In Bhutan To Fall In Love All Over Again!
5. Tongshanjiabu
It is situated between Bhutan and China, has no official climbing accounts and is mostly restricted. Bagging the position of 103 among the world's largest mountains, the mountain has never been officially climbed. The reasons for Tongshanjiabu being mostly restricted are the dangerous steep and most of the time snow covered mountains.
---
Planning your holiday but confused about where to go? These travel stories help you find your best trip ever!
Real travel stories. Real stays. Handy tips to help you make the right choice.
---
6. Black Mountain
It lies between the Mangde river in the east and Sankosh river in the west. If you are traveling via the road between Punakha and Trongsa Dzong, you can enjoy the view of the mountain range. The road cuts across the range at Pele Pass and the mountain range is surrounded by river valleys and mountain trails. Bhutan Black mountains mark the southern spur of the Assam Himalayas in Bhutan. It lies between the Sankosh river, the Mangde River and their tributaries running through deep ravines down its steep slopes. The road between Punakha and Trongsa Dzong cuts across the range at Pele Pass at an elevation of 11,055 feet (3,370 meters).
Suggested Read: 10 Invigorating Adventure Sports In Bhutan You Must Try
7. Kangphu Kang
The peak is situated on the border between China, Bhutan, and Tibet. Form Lhedi, you will have to travel towards Chu Num river. After crossing the river via a bridge, you can see the enormous Kangphu Kang at the head of this big, U-shaped valley. The Kangphu Kang is a location of immense natural beauty and one that you cannot miss on your trip to Bhutan.
8. Gipmochi
Gipmochi or 'the Great Queen' is a mountain in the Lower Himalayas in south-central Asia. It is located between Sikkim and Bhutan and is disputed by the claims of China, as China considers Gipmochi as its tri-junction. It would be easy to travel there if you are along with a Bhutanese guide.
Suggested Read: Airports In Bhutan: 4 Places That Connect The Country To The World
9. Liang Kang Kangri
Image Source
Liangkang Kangri is a mountain peak in the Himalayas at the border between Bhutan and China, as well as at the southeastern end of territory claimed by both countries. Liangkang Kangri is 7,535 meters high securing its place in the list of topmost Bhutan mountains height. To the south, a ridge leads to the 7,570-metre Gangkhar Puensum 2 kilometers to the south-southeast. It is near Gangkhar Puensum and Tangguo and is the second highest unclimbed mountain in the world, after Gangkhar Puensum.
10. Masang Kang
It is situated in the North of Bhutan and is basically located in the Jigme Dorji National Park. Traveling from Punakha Valley towards the riverside of Dzong, you will have to move ahead to Mo River Valley. There you can see the enchanting Masang Kang and visit the beautiful mountain village of Laya. Traveling to this mountain would surely add to a lot of new and cherishable to your trip to Bhutan. Do not forget to visit the Masang Kang while in Bhutan.
Further Read: Bumdeling Wildlife Sanctuary: Your Personal Guide To One Of The Best Attractions In Bhutan
Basically, Bhutan consists of many high and low range mountains and there is a lot to explore, experience, and discover. In order to have a successful and memorable trip to Bhutan mountains, you should have a proper tour guide, a valid passport, and warm clothes. Every scenic beauty here is worth your time and for sure it is a lifetime experience in this beautiful and traditional country.
---