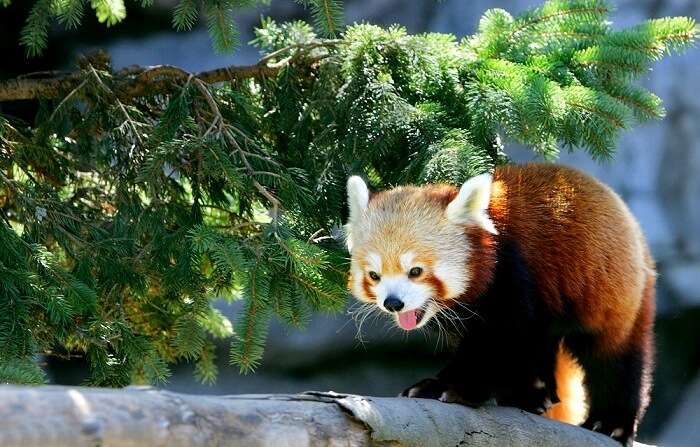 Wildlife sanctuaries aren't just places for animals and plants to be preserved. They also help us appreciate natural life and take us close to it. There are a number of wildlife sanctuaries in Bhutan but some stand out from the rest. Bumdeling Wildlife Sanctuary in Bhutan is one such place. If you're ever in the country, try to include it in your itinerary. It's located in the north eastern part of Bhutan and covers a large 1,520 or so square kilometers.
About Bumdeling Wildlife Sanctuary
Bumdeling Wildlife Sanctuary is home to over around 300 species of birds, 42 types of animals, and more than 700 plants. It was proposed as a UNESCO World Heritage Site back in 2012, and its floodplain which was also declared a Ramsar Site, which is a wetland of international importance.
Weather in Bhutan: Bhutan has a varied climate depending on which part of the country you are. Towards the north, temperature can get very cold in winter and it snows. Towards the east, however, which is where Bumdeling Wildlife Sanctuary is located, the climate is warmer. As you head south, it takes on a tropical temperature in the monsoon.
Best time to visit: The ideal time to visit this sanctuary is from March to October. However, you should avoid the months of June-August if you plan to trek as it's the monsoon season.
How to get there: Take a bus or a car from Paro to Trashigang. Keep in mind that travel time is a couple of days.
Things To Do In Bumdeling Wildlife Sanctuary
While there's a lot that you can do at the Bumdeling Sanctuary, here's a list of the top experiences that you ought to have during your visit there. Take a look!
1. Trekking
One of the best things to do in Bumdeling Wildlife Sanctuary Bhutan is to trek. There are several trekking routes including through Singye Dzong, Phuningla, Risum Gompa and Aja Valley. It's not just towns that you'll be passing by; you'll also get to see monuments like Risum Gompa, one of the most sacred structures this side of Bhutan. You can also trek the Dong La Pass and be rewarded with lovely views of the Himalayas as it is one of the best things to do in Bhutan. Depending on the tour you book, you can also visit families to see traditional weaving techniques. If you're passing through Singye Dzong, do pick up handicraft souvenirs, which the town is known for.
Must Read: Shopping In Thimphu: 10 Best Places For Buying The Best Of Everything In Bhutan
2. Camping
While exploring Bumdeling Wildlife Sanctuary, be sure to extend your visit so that you can camp overnight and wake up to the sounds of nature. You can book a tour to take in all the attractions. There's no doubt that camping is one of the best experiences to have amidst this nature's paradiasical wonder, and at no cost should you miss it!
Suggested Read: Chimi Lhakhang: Experience The Peace & Tranquility Of Bhutan's Most Visited Temple
3. Bird watching
With more than 300 species of birds in Bumdeling Wildlife Sanctuary, bird-watchers will have the time of their lives spotting cranes, Gould's shortwing and other rare birds. Be on the lookout for animals like snow leopards and red pandas too. And oh, don't forget to carry your camera because you will surely be treated with a lot of good photography opportunities.
Suggested Read: Bhutanese Food: 10 Best Dishes That Foodies Must Try In The Land Of Thunder Dragon!
4. Photography
Bhutan has some of the most picturesque topography you'll come across and Bumdeling Wildlife Sanctuary offers a glimpse of some of them. With so many picture-perfect locales, be sure to carry a camera so that you can freeze memories to fondly look back over when you get home. This is undoubedtly a must-do there.
Further Read: 10 Invigorating Adventure Sports In Bhutan You Must Try In 2022
Enticed to visit this place already? Well, there's nothing to blame you. This wildlife sanctuary in Bhutan is certainly a gem worth witnessing. So, make sure that when you plan your trip to Bhutan with TravelTriangle, you add this attraction to your itinerary for an impeccable experience!