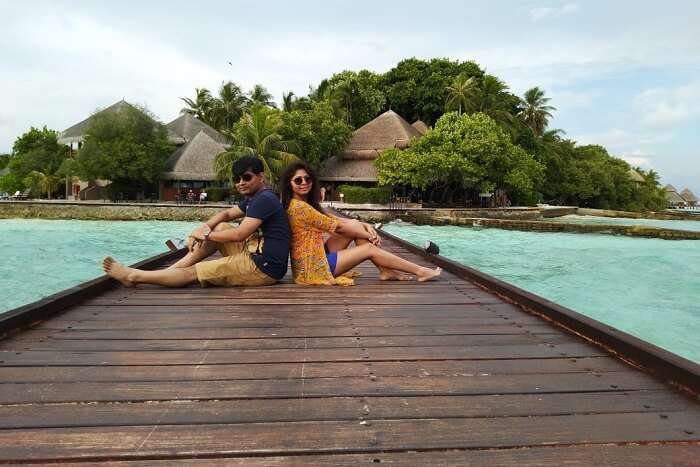 Ask anyone about their dream vacation destinations and the Maldives will surely be one of them! And why won't it be? Super white sand beaches with dazzling cyan-blue water, allures a lot of couples every year to Maldives and its not only the beaches but the all-over romantic vibe which gives them major travel goals! Like many other couples, Maldives was on Abhijit and his wife bucket list also and they ticked it off recently. Want to know how was their budget trip to Maldives from India? Let's see what they have to say about their dreamlike vacation in the Maldives!
Traveling is the best stress buster and also a great way to reconnect with your partner. The Maldives was a dream destination for both, me and my wife and we were planning our vacation for the past 5 months. And finally, with the help of TravelTriangle, we managed to turn our dreams into reality. Besides the luminous beaches, what we most liked about Maldives were the locals who were all very welcoming, helpful and friendly and they greeted us with a smile on their face at all times. All in all our vacation turned out to be truly magical and memorable!
Details Of Our Budget Trip To Maldives From India
Trip Type: Romantic Vacation
Cost: INR 1,10,500
No. Of People: 2
Duration: 5 Days and 4 Nights
Inclusions: Breakfast, Lunch, Dinner, Airport Transfers, Sightseeing
Exclusions: Airfare, Travel insurance, Hotel Security deposit
Our Budget Trip To Maldives From India
Day 1: Arrival in Maldives & Enjoying Maldivian Hospitality
Day 2: Beach Hopping
Day 3: Scuba Diving & Snorkeling
Day 4: Shark Expedition
Day 5: Return Back Home
 Island Hopping In Maldives: A Tryst With The Turquoise Waters In 2022
Weather In Maldives In April
We traveled to Maldives in the month of April and the weather was warm and sunny during day time and evenings were pleasant. At night we experienced heavy rainfall. The average temperature in Maldives in April ranges between 29°C to 31°C. The weather was perfect for lazing around on the beaches and we totally enjoyed our vacation.
Best Experiences On Our Budget Trip To Maldives From India
The entire trip was full of amazing experiences. If we have to choose a few of the best experiences, it would be the 1-night stay at the water villa, the scuba diving experience in the midst of the most beautiful marine life, and not to forget, the jaw-dropping shark expedition. Here are all the details about the experiences which made our vacation special!
1. Adaaran Club Rannalhi: An Exotic Stay!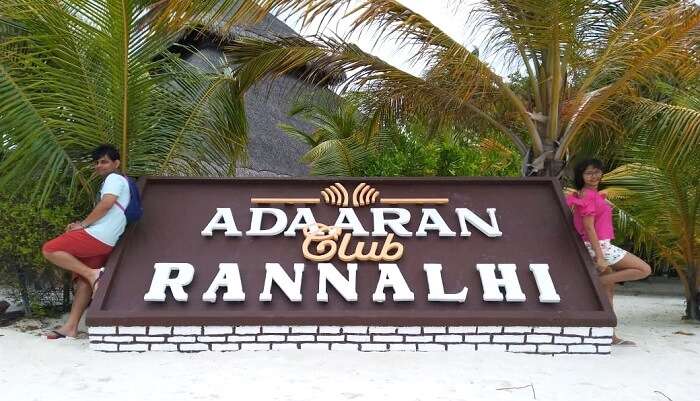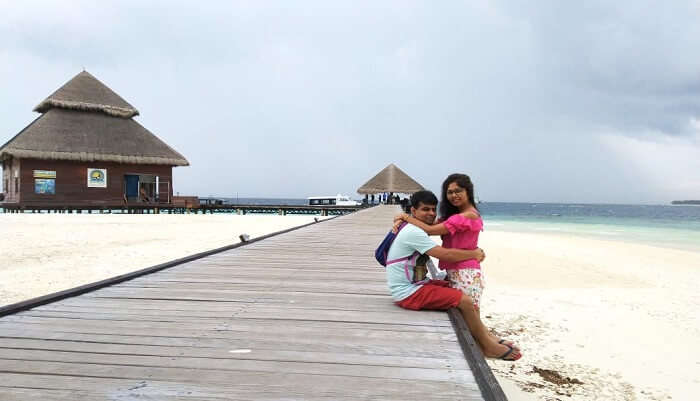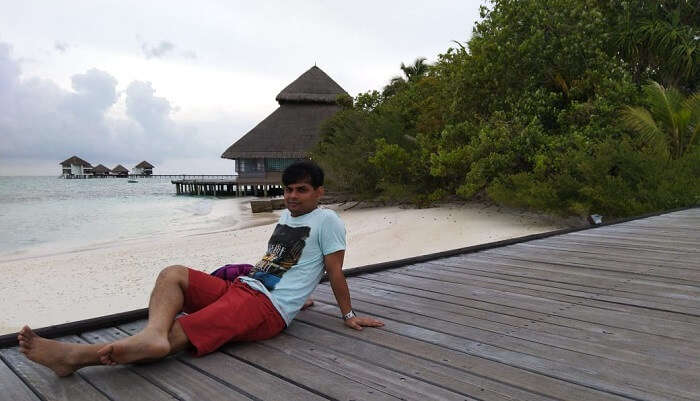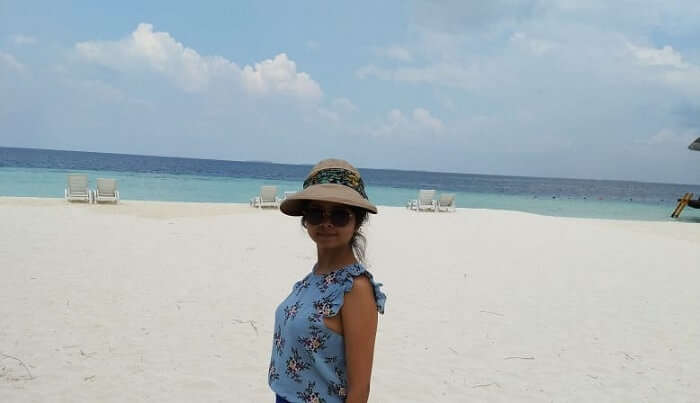 The best part of our vacation was our stay at the stunning Adaaran Club. Our first day started with a smooth transfer from the airport to the resort and the ride through the turquoise blue water was quite fascinating. As soon as we reached the resort we were greeted with a nice cool face towel and a welcome drink of ice tea. The greeting itself was very warm and Adaaran had started winning our hearts already. Adaaran Club gave us a beach facing room which made our stay extra special. As soon as we reached there we wasted no time to get into the beautiful blue waters around, and time went by like never before. In the evening a special cocktail party by the beach was arranged by the Resort team. From the fun activities to great hospitality, Adaaran Club Rannalhi really impressed us and it is one of the best places to stay in Maldives!
Artificial Beach Maldives: All You Need To Know Before You Go
2. Snorkeling, Scuba Diving & Some Beach Clicks!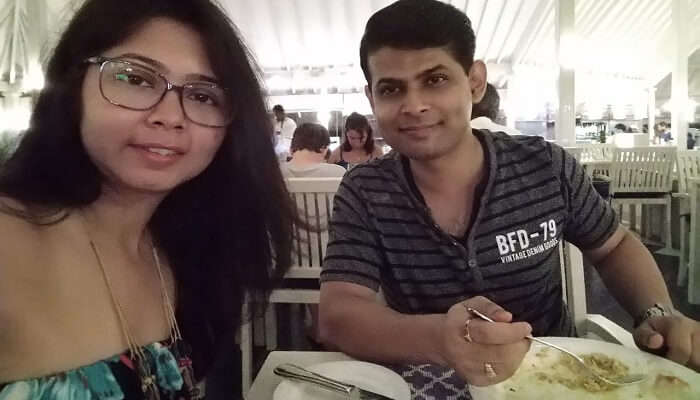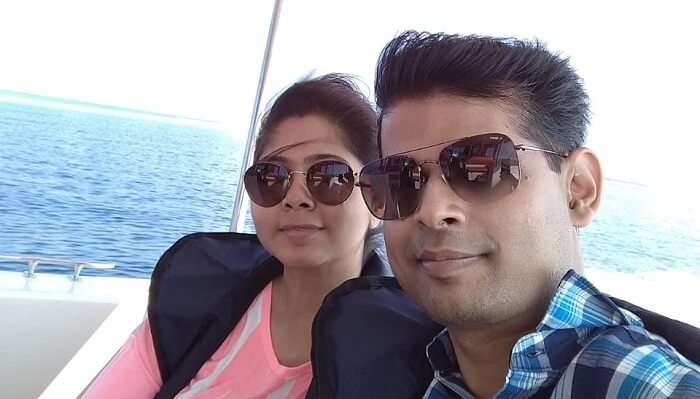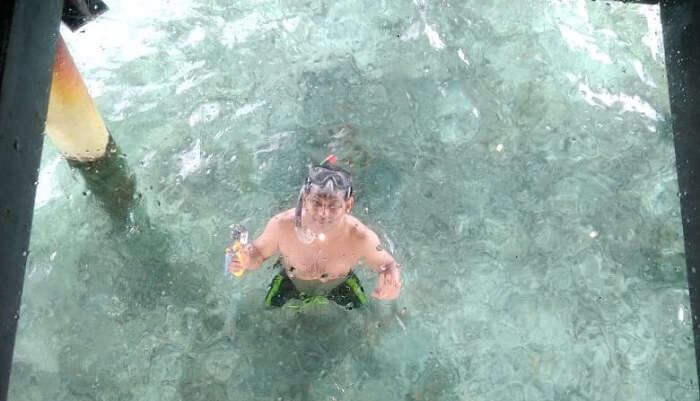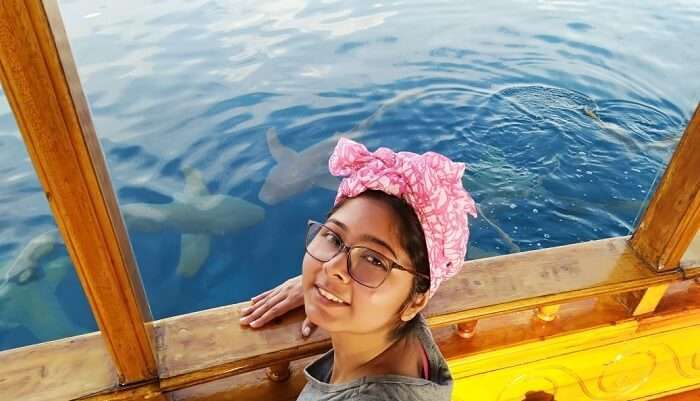 There are ample of things to do in Maldives and among them, the activities which we enjoyed the most were snorkeling and scuba diving. Our thrilling snorkeling sessions started on the second day of our vacation. As soon as we woke up in the morning, the sun was out there in its full glory and within no time we were in the waters, with our snorkeling gear. We spent hours in the water, taking some awesome snaps with our tripod. Post lunch hours, we went to every part of the island taking more and more memorable photos all the way through.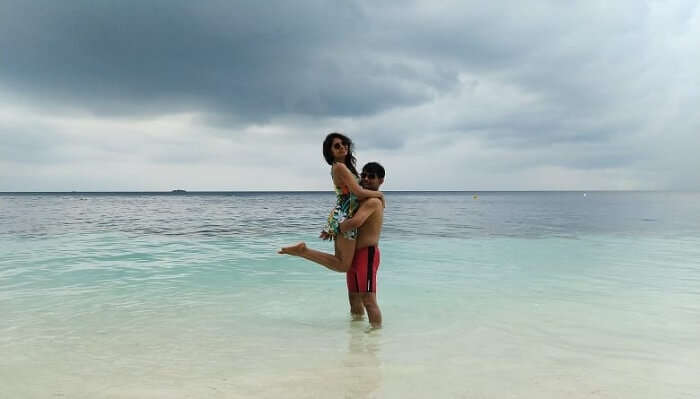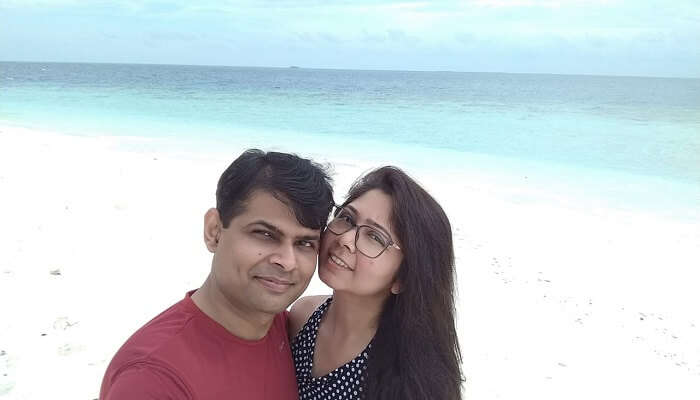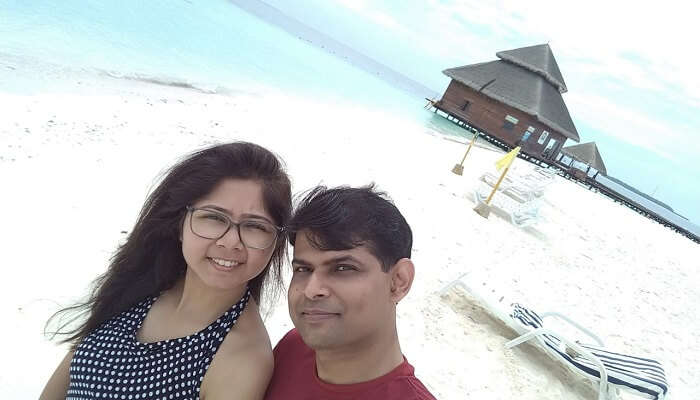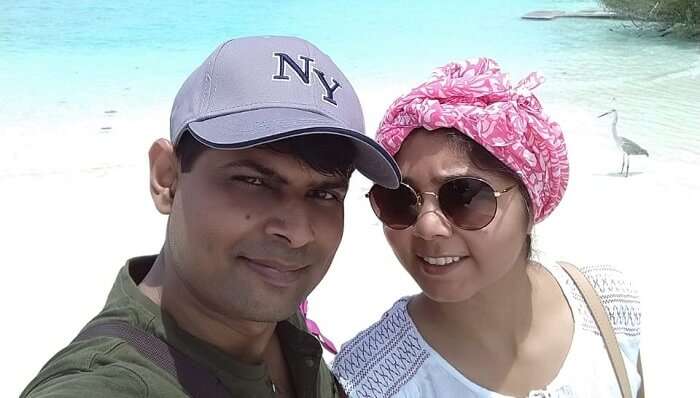 On the third day of our vacation, we went for the free trial scuba diving at The Dive Point. Our diving instructor ensured that my wife, who is usually scared of water, also took the trial. We both were mighty impressed and I enrolled for the one-hour diving session on the next day. Our mornings were all about a sumptuous breakfast, followed by a fun session of snorkeling which had become a morning ritual by then and after that, we also took some scuba diving sessions. After our snorkeling and scuba diving sessions, we took some instaworthy photos and videos of the marine life around with my action camera. Couples who are thinking about what to do in Maldives on honeymoon should definitely try scuba diving and snorkeling if they love adventure and water! Spending time with your loved one while challenging the adventure buff in you, is the perfect idea of a romantic vacation and we truly enjoyed every second of it!
3. Water Villas: A Night Stay In Heaven!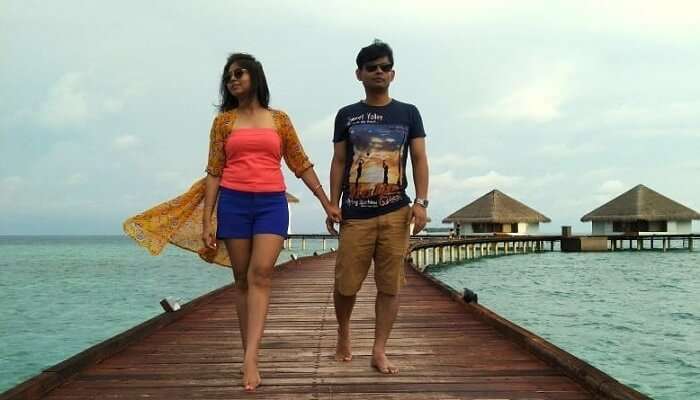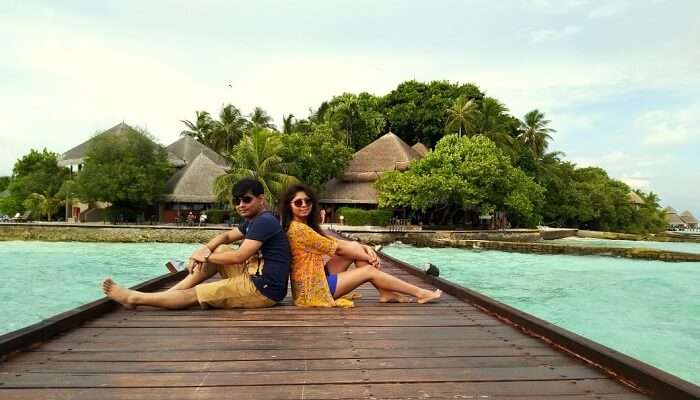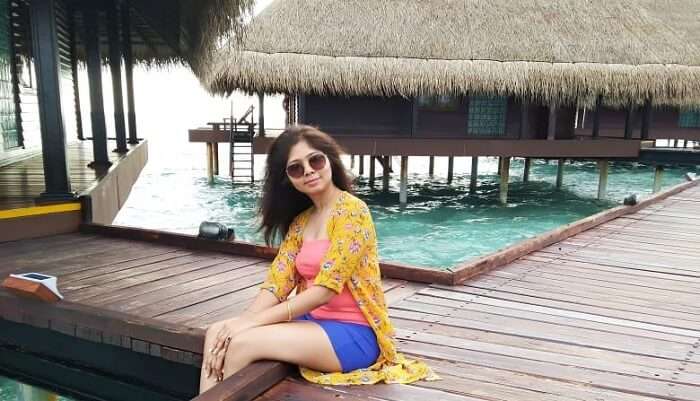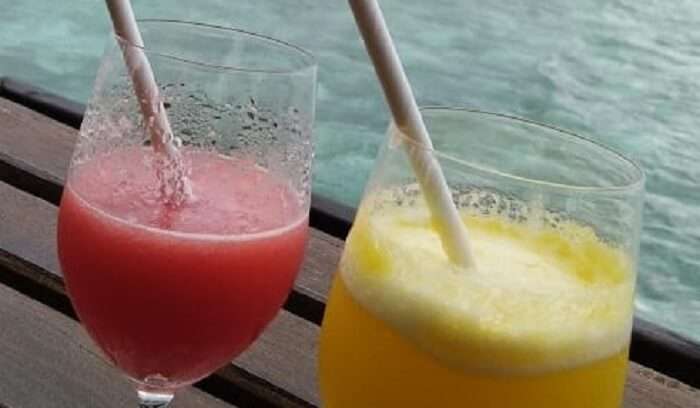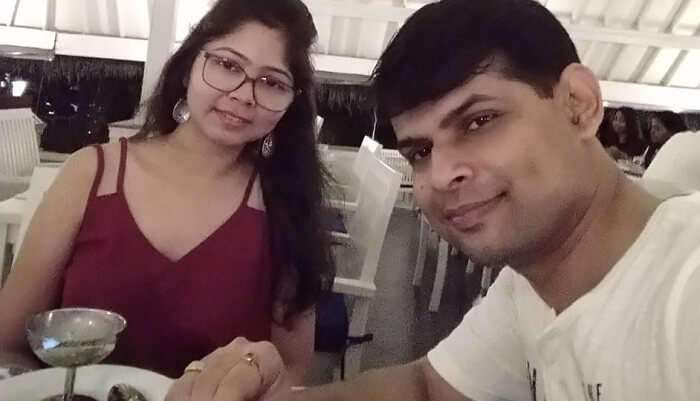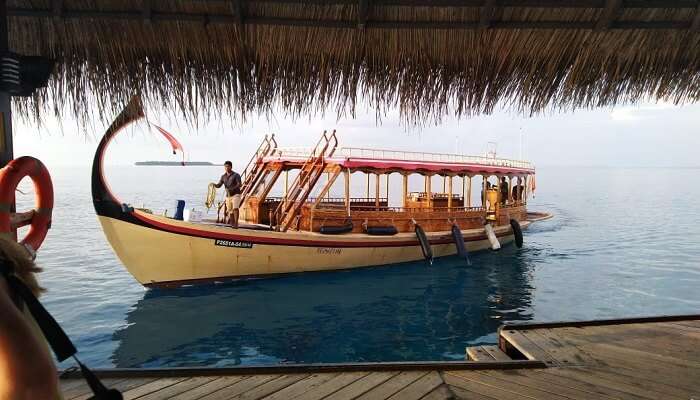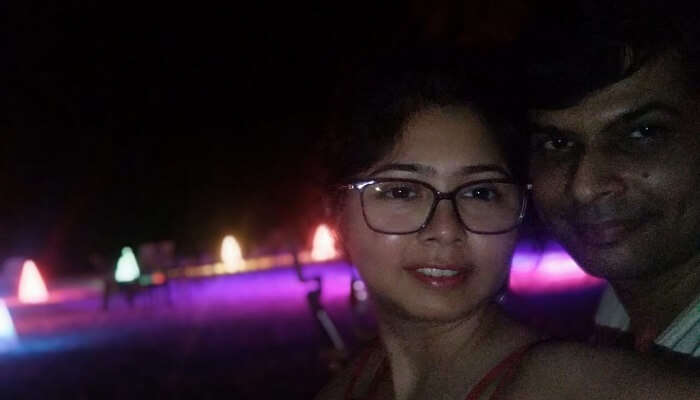 If anyone would ask us, what was the highlight of your vacation? We would say that thē second last day of our vacation was the one which made us fall in love with Maldivian hospitality. On the fourth day of our vacation, we checked in to the jaw-dropping water villa which had a glass floor and the perfect sundecks to enjoy the beautiful sunset. We were welcomed with champagne which added to the level of hospitality which we had been experiencing for the last 3 days. The water villa was an out of the world experience and was surely the highlight of our vacation. The whole experience of living in a water villa made our vacation blissful and magical!
 Intern At This Maldives Resort And Get A Free Two Week Vacation On The Island
Restaurants In Maldives
In Maldives, each island is a resort and there aren't multiple restaurant options available. We had opted for a full board meal, which means breakfast, lunch and dinner buffet. Our resort has a huge restaurant and we had delicious food there 12 times during the 5 days stay. The food was truly electable each time and there was a lot of variety to choose from which pleased the foodie in me. There was a huge spread of non-vegetarian food including fresh seafood and there were multiple vegetarian dishes as well, with few live counters. Our resort also had two Lounge bars with clear endless views of the pristine blue waters. We really enjoyed our meals at the restaurant as they were freshly prepared and scrumptious in taste.
Shopping In Maldives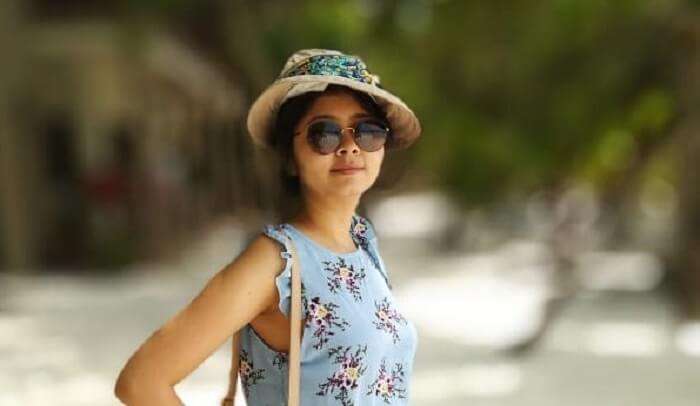 We were so engrossed in adventurous activities that we didn't shop a lot. We bought souvenirs to carry back home, as a sweet memory of the amazing vacation that we had at this paradise island resort. We bought all the souvenirs from a shop within the island itself. The prices were a bit on the higher side, but not extravagant.
Maldives Tips For Travelers
All travelers should do their own research online and through their networks and opt for what suits them.
Do buy a local sim as soon as you reach the Maldives. The international roamings of Vodafone and Airtel do not work too well there on the island and are much costlier. We would suggest all future travelers buy a sim from the Airport!
The Maldives Honeymoon Of This Couple Will Give You Major Travel Goals
Do's And Don'ts In Maldives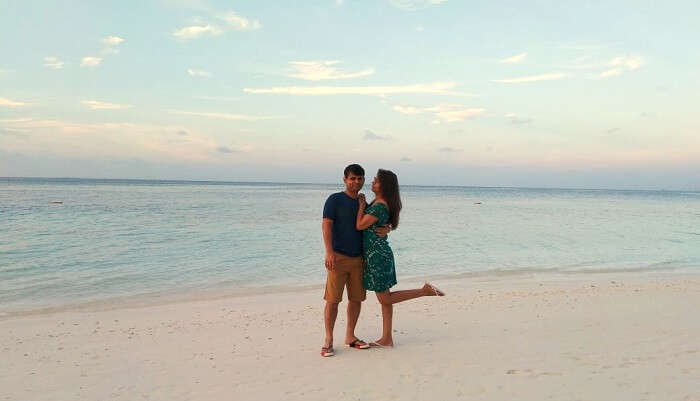 Here is a list of Do's and Don'ts that you should keep in mind on your budget trip to Maldives from India!
Do's
Carry light clothes, as the weather is tropical, and remains mostly unchanged throughout the day.
Carry sunscreen lotions and sunglasses
Carry a big hat, if sunlight on the face bothers you
We carried our own snorkeling gear, an action camera that is waterproof one for underwater shooting, and tripod, for all those amazing couple shots.
It is much cheaper on the pocket. The stuff is available here on rent but at a high cost. People also carry drone cameras. Worth a try, if you want those incredible aerial shots.
US Dollar currency notes are accepted everywhere, apart from international cards. You may still wish to keep some local currency for paying tips.
Carry enough swimwear. There is no better place on earth to flaunt them.
Don'ts
Do not carry extra footwear. A pair of flip-flops or sandals are more than enough.
Don't book the watersports or other activities in advance. The booking can always be done at the resort.
Don't litter. The staff here work really hard to keep the beaches clean and safe for marine life.
Don't pick corals as it is strictly prohibited.
Our Experience With TravelTriangle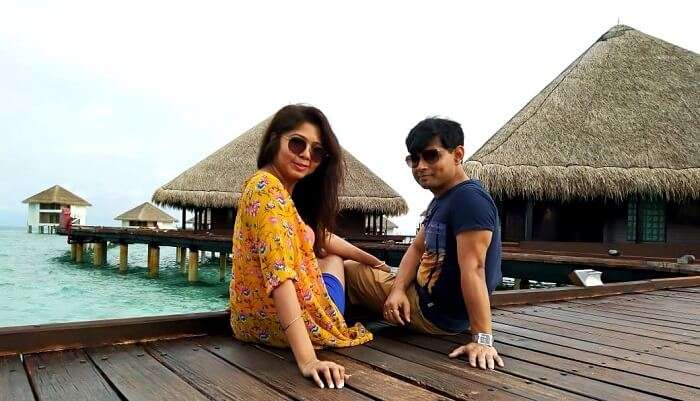 The experience was extremely good and positive. The agents Sarita from the Marketing team and Rajat from operations were both extremely helpful and stuck to their words. The payments through installments helped us manage our finances. Sarita provided us various options within our budget, which ensured we could choose the one which best suited us. Rajat was spot on with the updates on things like rescheduling of flight timings and ensuring we got a ground floor room as per our request. Kudos to the whole team.
Common Questions Asked About Maldives
Q. Is alcohol allowed in Maldives?
Alcohol is banned for the local population in Maldives but nearly all resorts and liveaboard boats are licensed to serve alcohol to the guests.
Q. Does Maldives have all-inclusive resorts?
Yes, Maldives has resorts
Q. How expensive is food in Maldives?
We stayed at Adaaran Club Rannalhi and our meals were included in our package. From our experience food is not that expensive when you are staying at a resort which has buffet options.
Q. Is Maldives cheaper than Bali?
We went to Maldives for our vacation but as far as we know Bali is cheaper then Maldives.
 Fortunate Enough To Visit The Island Nation During These 9 Maldives Festivals In 2022?
Who doesn't want to accomplish their couple travel goals on a budget? Our recent couples went on a budget trip to Maldives from India and they really enjoyed it. We hope after reading all about their enthralling vacation, you are tempted to plan yours soon. And when you have made up your mind, pick your dates, pack all that you can, plan a vacation in Maldives and get ready to spend your days at the shimmering beaches in Maldives!
Comments
comments