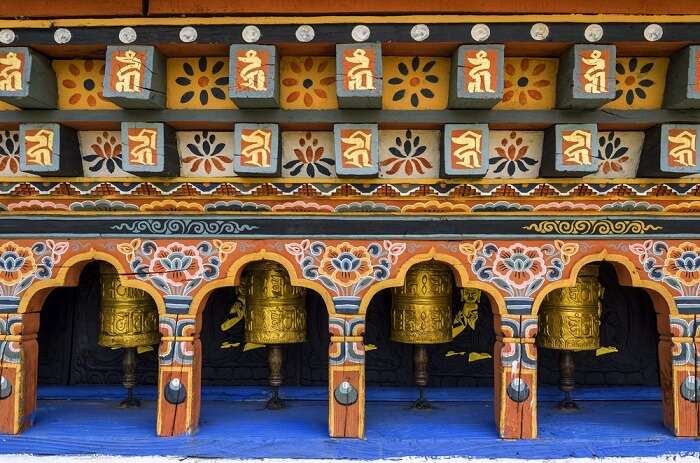 Chimi Lhakhang Temple or Chimi Lhakhang Monastery is the most well-known temple of Bhutan which stands tall on a round hillock in a village called Punakha. It is famously known as the "Fertility Temple" and is mostly visited by several childless couples from in and around Punakha District. It has become a popular tourist destination with visitors flocking in from all across the world to witness the unusual traditional and cultural ceremonies performed here. The monastery is exquisitely built with ancient Thai themed architecture with paintings and carvings of phalluses on all walls.
About The Chimi Lhakhang Monastery

Image Source
This temple or monastery was built by Ngawang Chogyel who is known to be the 14th Drukpa Hierarch. The meditation hall or stupa housed by this monastery was constructed by the eccentric yogi known as the "Divine Madman". It is famous throughout Bhutan as a place which induces fertility for all the visitors who come here wishing for a child. Several pilgrims, including couples with a newly born child, come here to seek the blessings of the saint who is said to have the Magical Thunderbolt Of Wisdom.
Must Read: Our Joyous Bhutan Family Trip Was The Perfect Present For My Parents' 44th Wedding Anniversary
Chimi Lhakhang History

Image Source
The history of Chimi Lhakhang temple dates back to the times when Drukpa Kunley, who was one of the monks who brought Buddhism into Bhutan from Tibet visited this place. He was a well-known figure who was famous for his unusual methods of teachings and his crazy ways of singing songs which displayed absurd humor and sexual connotations. Due to this, he was eventually tagged as the Divine Madman.
The story of Chimi Lhakhang states that Drukpa Kunley landed in Punakha with the aim of driving away a demon from Dochula. The Divine Madman created a "Flaming Thunderbolt Of Wisdom" and struck down the demon who had taken the form of a dog.
The Divine Madman then went on to capture the dead demon in the form of a dog in a stupa and he uttered: "Chi Mi" which means "No Dog". These symbols of Phallus are said to bring luck and prosperity which wards off evil and hence it is carved and painted on almost every building and structure in this village.
Suggested Read: 4 Airports Of Bhutan That Make Traveling To & Within The Country Easy Peasy!
How To Reach Chimi Lhakhang

Image Source
The temple is nestled on a round hillock, in the vibrant village Punakha. To reach Chimi Lhakhang in Punakha Bhutan one must first reach Sopsakha, which is easily accessible via road transport.
In Sopsakha, the temple is at a walkable distance through the vast spread of paddy fields. The hike through this fields is one of the best experiences offered at this place with the cold breeze flowing through the air and wonderful landscapes filled with lush greenery and rolling mountains. After a short hike through these fields, one would reach another village called Lobena, known for their magnificent Bhutanese Thangka Art and Mani Stones.
The village of Punakha looks gorgeous amidst the terraced fields. One can see numerous colorful prayer flags swaying in the breeze along the way. The Chimi Lhakhang Monastery entrance can be found at this village.
Suggested Read: 10 Best Places To Visit in Punakha, The Old Capital Of Bhutan
Chimi Lhakhang Entry Fee And Timings

Image Source
The Chimi Lhakhang timings are 9 AM to 5 PM. It can be visited by anyone on any day of the week. There is no entry fee for this monastery.
Highlights Of Chimi Lhakhang Temple
There are many attributes of this holy shrine in Bhutan that make it popular among locals and tourists alike. Here are some of them:
1. The gigantic prayer wheels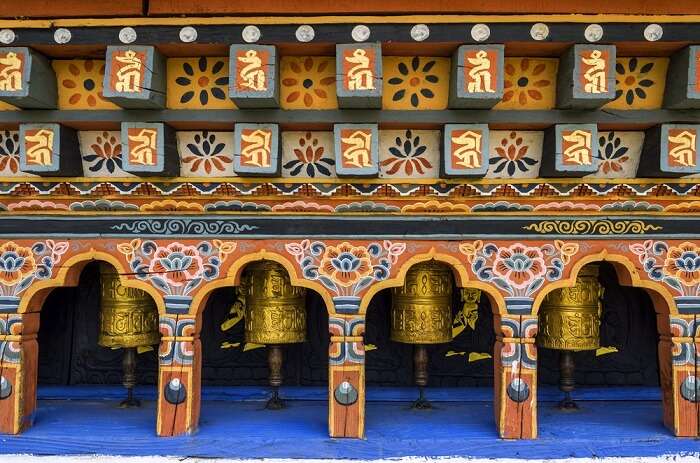 The first thing which the visitors would notice as they climb up the inclined plane of Chimi Lhakhang Temple is a gigantic prayer wheel. Just outside the main temple, one would find a black stupa which is said to be the place where the demon in the form of a dog was captured by the Divine Madman. It's definitely one of the most scenic aspects of the temple that draws people here!
Suggested Read: 17 Spellbinding Places To Visit In Thimphu On Your Next Trip To Bhutan
2. The golden roof

Image Source
The temple of Chimi Lhakhang in Bhutan is elegantly designed with brown and golden roof and the white walls which are adorned with gold medallions. The temple architecture and design depict the perfect blend of beauty and simplicity. The temple is quite small when compared to the other temples of Bhutan but it oozes serenity and peace.
Suggested Read: 8 Homestays In Bhutan To Soak In The Goodness Of The Land Of Thunder Dragon In 2022!
3. The statue of Guru Padmasambhava

Image Source
At the central altar, one can witness an exquisite statue of Guru Padmasambhava along with a reclining statue of the Divine Madman. One can see a lot of childless couples coming here to seek blessings. These couples are then given wooden phallus on a silver stick. It is said that once they have a child, they come back here to name their child and that name is then engraved on a bamboo parchment which is kept at the altar.
Suggested Read: Top 7 Reasons Why Bhutan In September Make A Solid Case For An Autumn Vacation In 2022!
4. Tips For Visiting Chimi Lhakhang Temple

Cameras and tripods are not allowed inside the temple, so be sure to not take it out inside the temple premises.
One should refrain from making fun of the unusual culture of this place, as no matter how weird it may seem, it is still a divine part of their history and it should be respected by all means.
Visitors should not try to hamper the properties of the temple as that would lead to serious consequences.
It is recommended that one should cover up their legs fully inside the temple premises.
Adventure lovers should definitely experience the Chimi Lhakhang hike to reach the temple as the hiking trail offers spectacular landscapes.
Be sure to pick up the unique Bhutanese Thangka Artworks along the way.
Plan to stay the night at one of the Chimi Lhakhang village homestays to experience the hospitality offered by the locals and experience their style of living.
Further Read: 8 Wonderful Wildlife Sanctuaries In Bhutan All Nature Lovers Must Visit
One must definitely visit this unusual but exciting place for a unique experience filled with adventure. Plan a trip to Bhutan with travel triangle right away and get amazed by the beauty and serenity of Chimi Lhakhang Temple!
---
Looking To Book A Holiday Package?
Book memorable holidays on TravelTriangle with 650+ verified travel agents for 65+ domestic and international destinations.
---