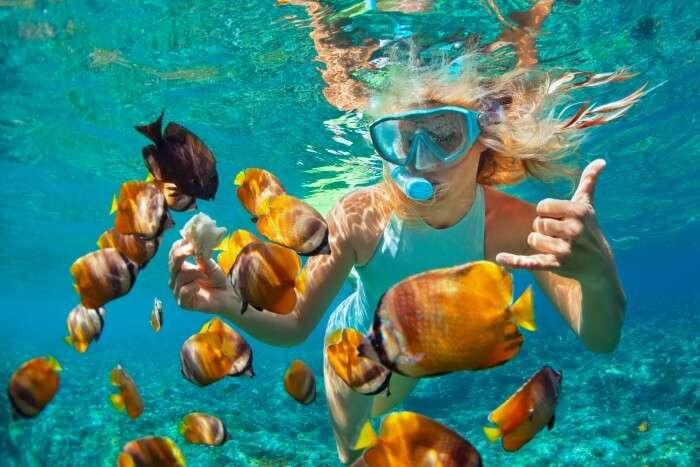 Queensland is one of the best travel destinations in the world and that too for all the right reasons. It is counted amongst the most beautiful states in Australia featuring over 2900 mesmerizing islands with the world's best diving and snorkeling sites. The islands here house some of the most awe-inspiring beaches where you can walk barefooted on the whitest shimmery sands and dive into the turquoise blue sea which is warm all year round. Therefore, snorkeling in Queensland is surely going to be an unprecedented experience!
Queensland is a haven to one of the most legendary living masterpieces in the world – The Great Barrier Reef! In addition to it, the beaches here are indeed a beauty to behold. Come to Queensland and discover the rich aquatic life underwater where you can snorkel with the rainbow fish, enjoy the company of human-sized tortoises, witness the rushing of live sharks (don't worry, it is completely safe!), and watch the whales from nearby.
11 Places For Snorkeling In Queensland
Flood all your social media handles with jaw-dropping selfies with giant tortoises and ravishing aquatic wonders in the backdrop! Here's a list of some of the world's best spots that will make you experience the best snorkeling in Queensland.
1. Moreton Island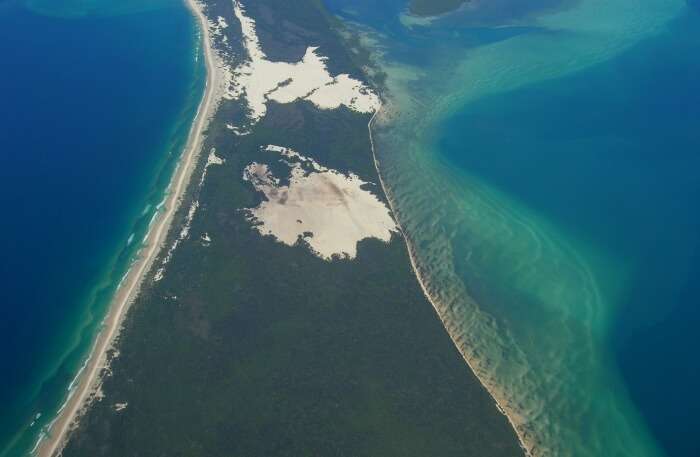 A land of pristine natural wonders and the third largest sand island in the world, this is a place that promises you to have the best snorkeling experience you can ever imagine. The beach here features shimmery white sands and turquoise blue sea that stretches as far as you can see! As you snorkel underwater, you are exposed to 175 different species of reef fish including the lionfish, yellowtail, and the beautiful kingfish as well!
You may even find yourself in the company of tortoise which is easily seen here. The charming dolphins and moral eels are yet other attractions of this place. Also, you may find yourself swimming by the harmless wobbegong sharks or stingrays. The emerald-tinted warm water of this place is so crystal clear that it has also become a popular photo shoot location the pictures of which you will find in every other social media post that is about Queensland. No wonder this place is so popular among the snorkelers from all over the world.
Must Read: Summer In Queensland 2022: See What Makes It The Best Season To Visit
2. Lady Elliot Island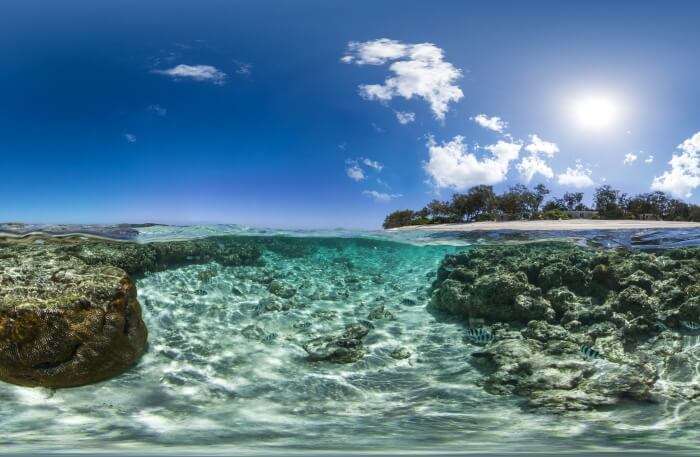 Dwelling in the lap of coray cay, this island is easily accessible from Queensland, as it is located at the southern tip of the Great Barrier Reef. It offers you the best snorkeling experience, featuring a rich awe-striking aquatic life waiting for you to be explored. Located in a marine protected park, this snorkeling site features an underwater garden as well!!
Also, this place is for all types of snorkelers. Those who are less experienced can head over to the eastern sides where the lagoons are comparatively calmer and can enjoy peaceful snorkeling while for those who want some thrilling experience, the western side of the island will be the ideal place.
3. Magnetic Island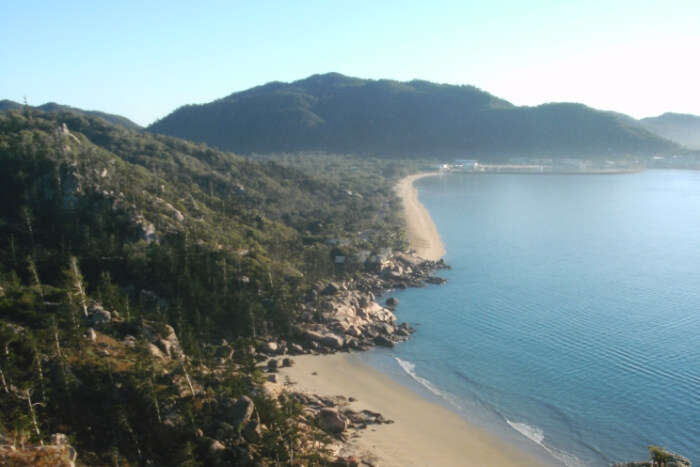 The name itself tells it all! This island in true sense defines the epitome of nature's beauty and is yet another snorkeling destination in the world. It houses two spectacular trails for self-guided snorkeling on the "Maggie". Located just 25 minutes away by a ferry ride from Townsville, it is a gem in all kinds of ways! The white surfaced beaches strike a perfect contrast to the subsurface floats.
You will also find several guides here who are more than happy to help you with discovering the gardens of lettuce, boulders, and corals teems with vibrant clown fish. The best part about snorkeling here is that you get a thrilling view of the remains of the SS molten, fighter planes of World War 2, as well as several shipwrecks along with the abundant aquatic life!
Suggested Read: Queensland In June 2022: A Pocket Guide For Planning A Perfect Vacation!
4. Orpheus Island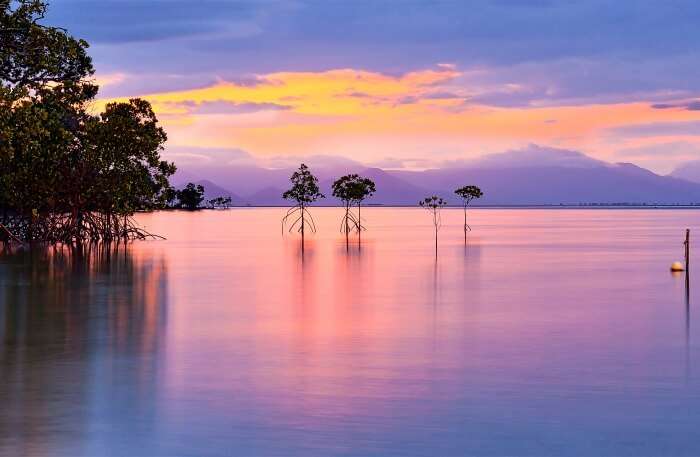 As you snorkel down this place, you will come across the huge fields of giant clams – the ultimate tourist attraction of this place. After reaching underwater, you will come across the vibrantly colored coral outcrops that are rich in over 1000 species of reef fish and 340 different varieties of hard corals. This place also has a collection of the largest soft corals that you will only find on this island. This island is located just an hour away from Townsville.
Be prepared to be accompanied with the giant green turtles, manta rays or bull rays as you are snorkeling. The reef sharks are yet another attraction that will give you chills down your spine!. The best time to visit would be between June and mid-September because that's when this place blossoms at its best!
5. Lady Musgrave Island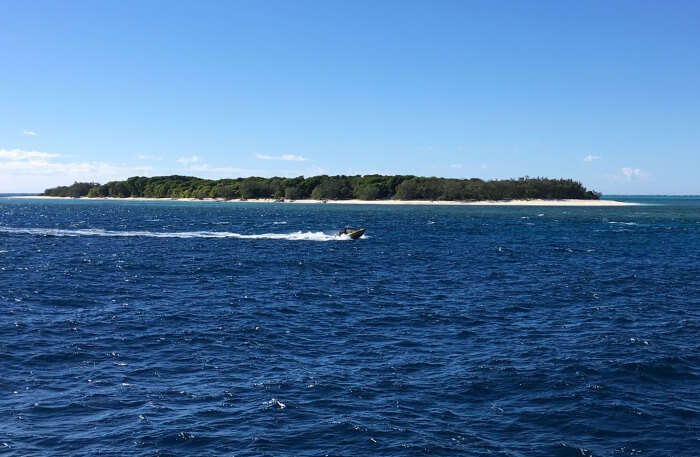 Located on the southern edge of the Great Barrier Reef, this immaculate lagoon spread over an area of 1200 hectares, features the coral cay of this island. It is 90 minutes away from Bundaberg. As you go for snorkeling in this place, you will discover the picturesque views of the underwater life. It features over 350 varieties of corals and over 1300 different species of tropical fish.
You may also end up spotting the triggerfish, goatfish, damsels, and the clownfish. Also, to add more edginess to your snorkeling experience, you may find yourself swimming by the leopard sharks or the white tip reef sharks. Don't worry! They are completely harmless!
Suggested Read: 10 Top Queensland National Parks For A Thrilling Holiday Experience
6. Hayman Island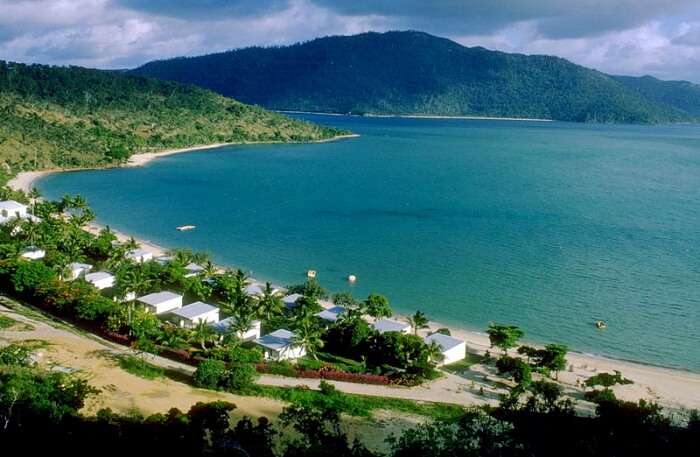 The main hotspot of this island is the Blue Pearl Bay which houses both soft and hard corals and a diverse multitude of breathtaking aquatic life. The magnificent green sea turtles, reef fish, vibrant colorful corals, and giant turtles are just a few of the many creatures that you'll be able to spot easily. Moreover, the Maori wrasse, clownfish, and reef sharks will make the whole experience of snorkeling in Queensland, Australia more enchanting.
7. Green Island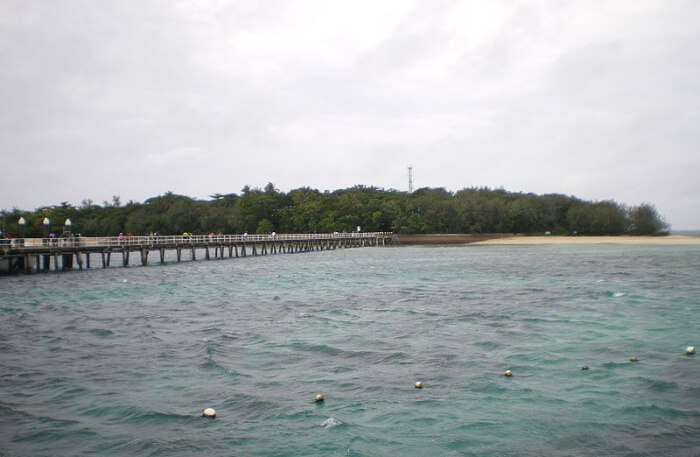 Just take a 45 minute boat ride from Carnis and you will end up having the most happening and memorable day trip of your entire lifetime! When it comes to snorkeling, this place is another level of crazy. As you snorkel down to discover the underwater you will witness the awe-striking giant clams, and an extremely rich diversity of fish like the coral trout, butterfly fish, angelfish, fusiliers, chromis, clownfish, parrotfish, turtles, and reef sharks.
With both proliferated hard and soft corals, these aquatic lives rule the underwater here.
Suggested Read: Private: 13 Queensland Waterfalls That Look Like They Came Straight Out Of A Disney Film
8. Hastings, Saxon and Norman Reefs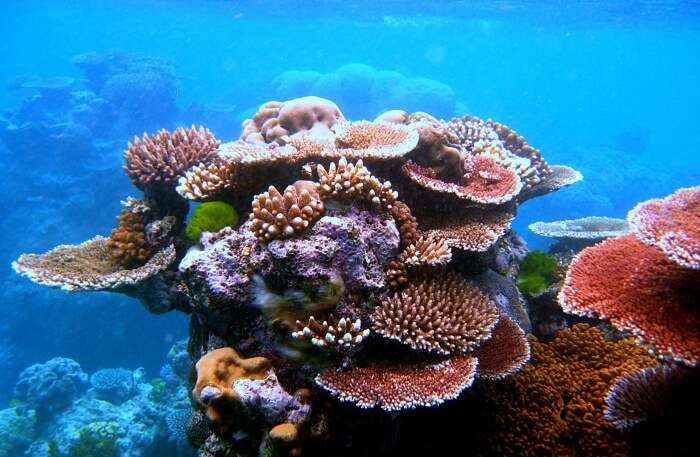 With magnificent crystal clear water and a rich variety of aquatic life, this place is a combination of three coral reefs that feature aquatic lives in abundance. As you snorkel in the warm waters of this island, you will come across colorful corals, damselfish, clownfish, Barney, Maori wrasse, minke whales, fusiliers, etc.
Along with that, if you'll attempt to explore more, you will witness the small reef sharks, giant turtles, and even the brightly colored yellow butterfly fish.
9. Ribbon Reefs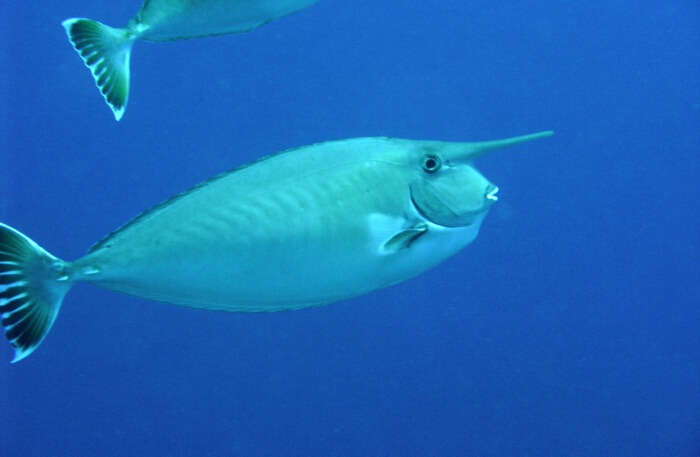 While snorkeling here, you will witness the pristine underwater life that is a haven to kaleidoscope of vibrant aquatic life. You will find the shallow lagoons that are rich in coral growth. Also, the marine life features parrotfish, unicorn fish, triggerfish, damselfish, giant clams and even the blacktip sharks. Also you can take an operator with certified listened with you and have the privilege of swimming by the dwarf minke whales!
Suggested Read: Queensland Travel Guide That Will Ensure A Hassle-Free Vacation In Australia
10. Agincourt Reef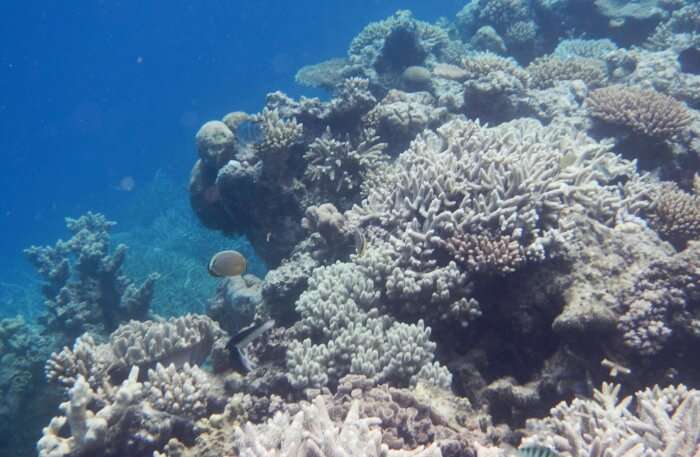 This place is located towards the outer side of the Barrier Reef. Richly teamed up with the marine life, this place in itself is a complete underwater observatory that features friendly ribbon reefs, harmless sharks, parrotfish, unicorn fish, and a lot more.
Here, snorkeling by the blue wonders will take you on a fun-filled exploration of spectacular marine life. By taking a dive, you can enjoy watching the pelagic fish feed at Nursery Bommie. This site will ensure you experience unforgettable diving and snorkelling in Queensland.
11. Hamilton Island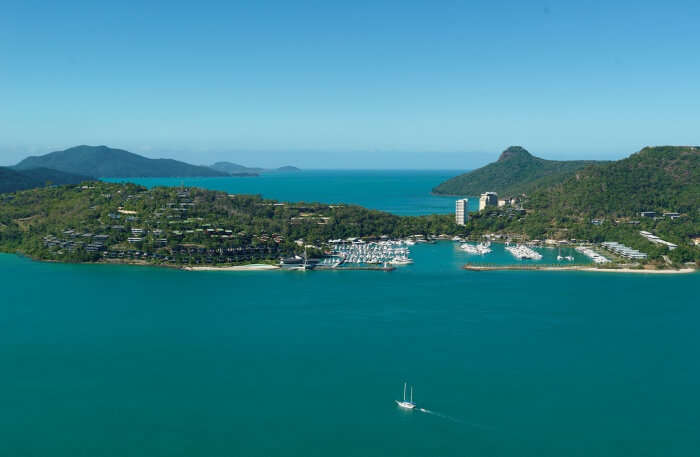 This coral reef island is the ideal destination for snorkeling in Queensland. The white sandy beaches feature the crystal clear water and an aquatic wildlife so rich that it will leave you in awe for days. As you'll be snorkeling, you will see the giant green turtles swimming alongside.
The other attraction of this place is the brightly coloured vibrant fauna of the underwater. With these creatures, you can click the most intriguing selfies of your whole trip. There is a large variety of reef fish, unicorn fish, turtles, clownfish, starfish, and a lot more.
Further Read: 10 Magnificent Islands Near Queensland For Surreal Views And Watersports
Queensland is thus the perfect one-stop destination for all the snorkeling enthusiasts, as it takes you into a world which is nothing less than a dream, effectively encouraging the adventurous spirit in you. So, if you have been planning on to have a great vacation in Australia, snorkeling in Queensland is something you shouldn't forget to experience here!
---
Looking To Book An International Honeymoon?
Book memorable honeymoon on TravelTriangle with 650+ verified travel agents for 65+ domestic and international destinations.
---