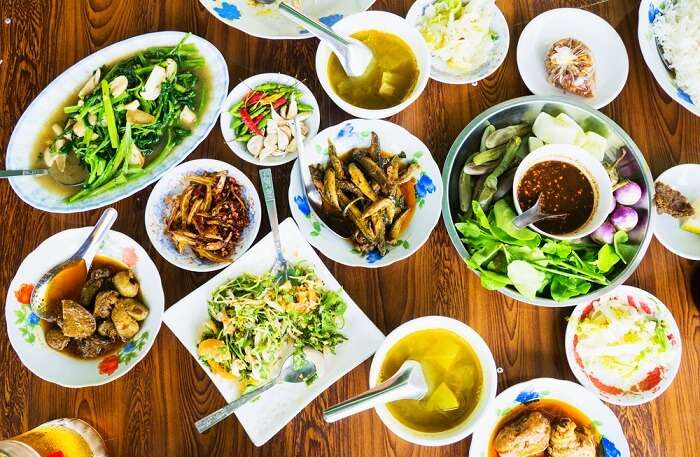 While on a vacation in Myanmar, you might not find the outlets of McDonald's and KFC, but their delectable Burmese cuisine is something you cannot miss. With a blend of Indian and Thai flavors and a pinch of spices, the Burmese food comes out as a delicious Asian delight. Roam in and around the streets of Myanmar, and follow this Burmese food guide to relish the mouth-watering delicacies that this state offers to you.
14 Must Try Burmese Food While In Myanmar
1. Mohinga

A holiday in Myanmar is incomplete without trying this scrumptious Burmese delicacy. It's a bowl of rice noodles with a base of fish soup and topped with crispy fried fitters. A staple breakfast meal for the locals, this dish completes the morning appetite.
Where to eat: Daw Phwa May Mohinga
Location: 27 Thumana Street, Thaketa, Yangon, Myanmar
Must Read: Myanmar Nightlife: 10 Kickass Experiences You Must Have For Enjoying Like The Burmese Do
2. Dan Bauk (Burmese Biryani)

Get to taste the rich Indian flavours while enjoying the Burmese Biryani in Myanmar. With the hint of the typical desi touch of turmeric, saffron, and coconut milk, the Burmese made their own version of Biryani by adding Ambrosia, veggies, and meat. This dish will remind you the taste of your homemade biryani with a Burmese twist.
Where to eat: Nilar Biryani, Yangon
Location: No. 216, Anawrahta Road, Between 31th & 32th, Yangon, Myanmar (Burma)
Suggested Read: Shopping In Myanmar: 10 Best Things To Buy On Your Next Excursion
3. Burmese Fish Curry

Unlike the authentic Indian and Thai curries, the Burmese curry might taste bland but still tastes delicious. Fish curry is quite a fancy delicacy for the locals and the travelers as well, which is served with side dishes like boiled vegetables and dips making it a full meal.
Where to eat: Star Beam
Location: Bagan, Myanmar
Suggested Read: 10 Myanmar Resorts For An Epic Vacation With Family & Friends
4. Khao Suey Thote

Satiate your soul with the delicious taste of chicken noodle soup which is known as Khao Suey in Myanmar. This Burmese food is made up of spicy coconut milk broth and boneless chicken which makes an unusual combination but tastes heavenly.
Where to eat: Taing Yin Thar
Location: No.2/A, Kanbae Road | Yankin Township, Yangon , Myanmar
Suggested Read: 13 Hidden Myanmar Beaches That You Must Visit At Least Once
5. Sticky Rice With Shredded Coconut

Enjoy an unusual blend of coconut and sticky rice while you're in Myanmar. Giving a twist to the basic coconut curry, this Burmese dish is served with a hint of lemon flavor and fried corn sprinkled on sticky rice. And the garlic on the side just makes this dish a tasty treat.
Where to eat: Mingala Bar Myanmar Restaurant
Location: Chan Aye Tharzan Township, Mandalay, Myanmar
Suggested Read: 16 Top Myanmar Festivals 2020 That Reflect The Beautiful Burmese Traditions
6. Grilled Fish

In the streets of Chinatown, the smokey and spicy flavor of the grilled fish will make you crave for it even in your dreams. With a dash of lemon, the seasoning of salt and pepper will just calm down your craving for seafood.
Where to eat: Shwe Mingalar Restaurant
Location: 9th St Chinatown, Yangon, Myanmar
Suggested Read: 37 Places To Visit In Myanmar For Your Fix of History and Adventure
7. Mala Hin

For the vegetarians, this dish will give you the taste of the authentic Burmese cuisine with blend of spices. A platter which serves a perfect blend of delicious gravy filled with veggies along with the spicy flavour will be a delectable meal for you.
Where to eat: Yar Pyi Vegetarian Restaurant
Location: Bagan-Nyaung U Road, Bagan, Myanmar
8. Laphet Thohk (Tea Leaf Salad)

Rejoice the taste of the crushed tea leaves along with crushed peanuts and fish oil while in Myanmar. A very popular local dish, the Laphet Thohk will give you the chance to taste salad in a different way.
Where to eat: Unique Myanmar Restaurant
Location: Corner 27 X 65 street, Mandalay, Myanmar
9. Nga Htamin (Shan-Style Rice)

Relish the taste of the Nga Htamin which is a version of Burmese food served as fried cooked rice with fish and turmeric along with a blend of various herbs and spices. With its spicy flavor, it is sided with garlic and pork rinds to add that crunch.
Where to eat: Shan Yoe Yar Restaurant
Location: 169 War Tan Street, Lanmadaw Township, Yangon, Myanmar., Yan
Suggested Read: Myanmar Travel – Land Of The Golden Pagoda Is Where Every Traveler Should Head To!
10. Nan Gyi Thoke

This delectable dish that is considered as a spaghetti in Myanmar, is served as a breakfast meal. To exuberate the taste of the boiled noodles, it is mixed with chicken curry and garnished with onion, scallions and beans as per the preference.
Where to eat: Father's Office
Location: 291 Boaungkyaw Street | Kyaukta Township, Yangon (Rangoon), Myanmar
Suggested Read: Myanmar Temples: 10 Divine Sanctums In Mystic Landscapes
11. Meeshay

A specialty of the Shan People living at the Eastern side of Myanmar, this Burmese dish is made up of rice noodle and pork. There are many variations to this dish, but the authentic Meeshay is served with pork, soup, and green veggies.
Where to eat: Aye Myit Tar
Location: No. 530, 81'st St. Mandalay, Myanmar
12. Khaut Sew (Shan-style Noodles)

A fuss-free and easy to make Burmese food which is relished by the locals of Myanmar, Khaut Sew is just a simple noodle soup served with either pork or chicken and some spicy pickled vegetables. Despite being such a simple dish, its taste will satiate your soul to the core.
Where to eat: Aung Mingalar Shan Noodle Restaurant
Location: Bo Yar Nyunt Street, Dagon
13. Ngapi Yay

A traditional Burmese food which is made with fermented fish paste and blended with the flavor of dried chilli and garlic. Served along with a platter filled with boiled and raw vegetables, which is used as a delicious dip to compliment the spicy taste.
Where to eat: Feel Myanmar Food
Location: 124 Pyi Htaung Su Yeik Thar Street, Yangon (Rangoon), Myanmar
14. Wet Thar Dote Htoe (Stuffed Pork Skewer)

An all-time evening snacks for the locals of Myanmar, the Wet Thar Dote Htoe (Stuffed Pork Skewer) is one of the most demanded barbeque delicacy. Usually found lined up in the streets, this scrumptious meal can be your good to go food in the city.
Where to eat: 19th Downtown street
Location: Yangon, Myanmar
Further Read: 13 Hidden Myanmar Beaches That You Must Visit At Least Once!
Drooling already? The Burmese Cuisine will leave no chances to surprise you with its lip-smacking taste. And on your next trip to Myanmar, dig into the flavours of these delicious delicacies, and do let us know which of these delicacies was your favorite one.
People Also Read