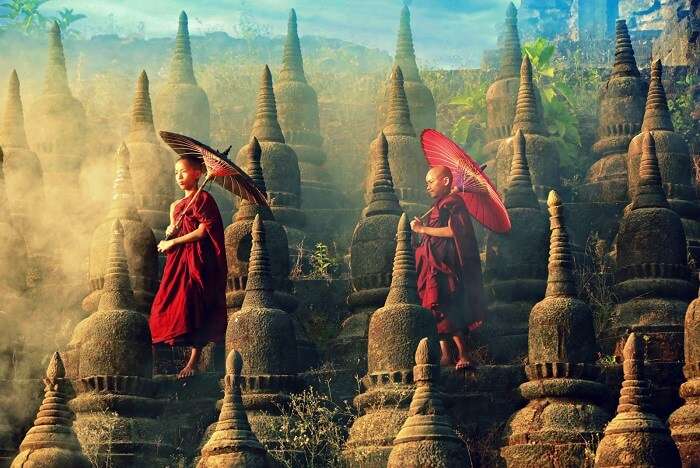 A lifetime is what it would take if you decide to explore all the temples, monasteries, pagodas, and stupas in the spiritual country, Myanmar. Even a month is not enough to explore the spiritual grandeur of Myanmar temples. So, why not instead settle with a shorter (much shorter!) list of temples which can be easily squeezed into your trip!
The Most Fascinating Myanmar Temples
Here are our top picks:
1. Lawkaoushaung Temple, Bagan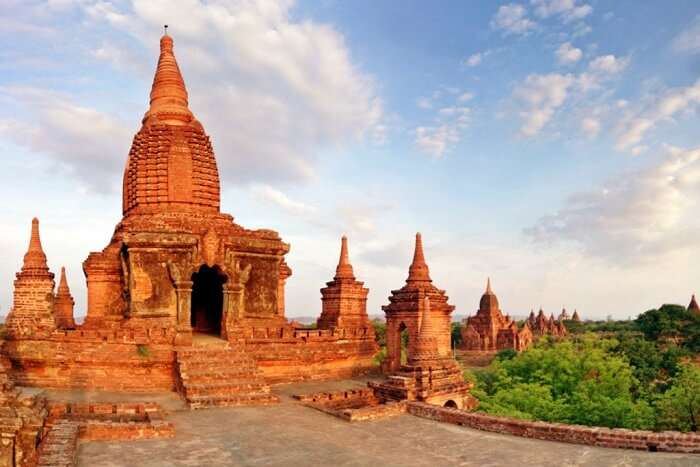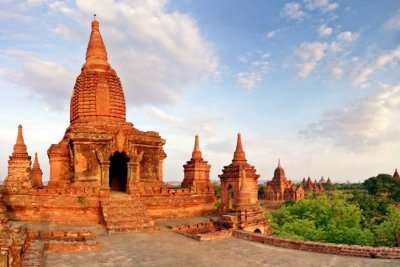 Suggested Read: 37 Places To Visit In Myanmar For Your Fix Of History And Adventure
Beautiful in all aspects, this temple is one among the best Myanmar temples. It has patios at the second and third floors, which hover above the tree line and provide a spectacular 360-degree view of the Myinkaba plain blanketed by the remarkable early morning mist. If you reach the place around 5AM in the morning, you can catch some vibrant sunrise views.
2. Shwedagon Pagoda, Yangon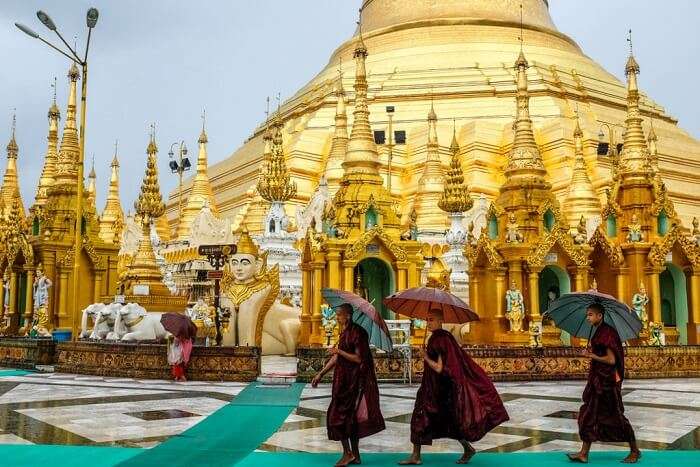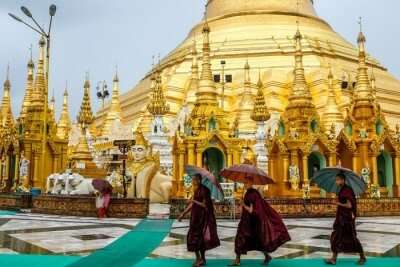 Suggested Read: 23 Best Places To Visit In May In Asia For A Cool And Carefree Vacay
At the impressive Myanmar temple Shwedagon, the shimmering gold pagoda is a magical sight and adorns several hundreds of precious stones. Decorated with diamonds, the top of the stupa offers a spectacular sight at this Myanmar Temple at Yangon. Also, the legends say that the stupa has been sealed with more riches and even includes a hair of Buddha himself.
3. Htukkanthein Temple, Mrauk U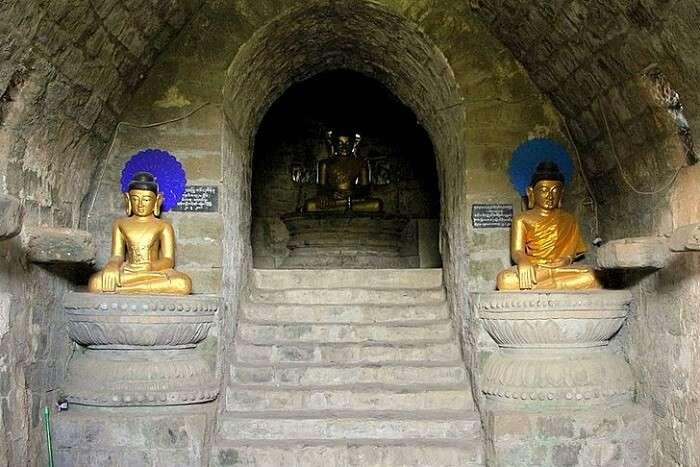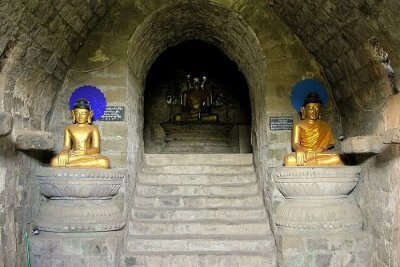 Image Source
A large temple with a maze of its own, the Htukkanthein is a place that says "don't get lost!" Like a snake, the passageway coils around until you reach the central Buddha statue. It is one of the most beautiful Myanmar temples.
4. Ananda Temple and Shwezigon Pagoda, Bagan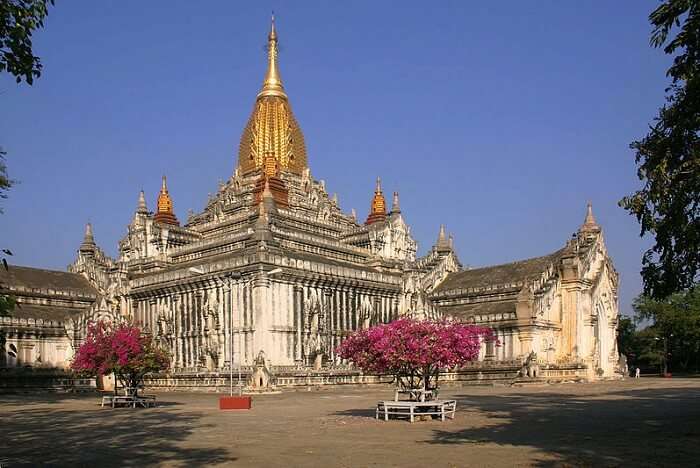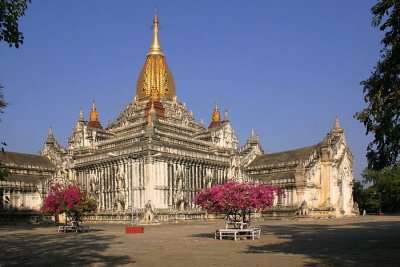 Image Source
The Ananda temple in Bagan is a perfect example of incredible architecture of Myanmar temples with Buddhist imagery and beautiful stone carvings. Here you can see the gold plated dome glittering beautifully in the sun and visit the Shwezigon Pagoda.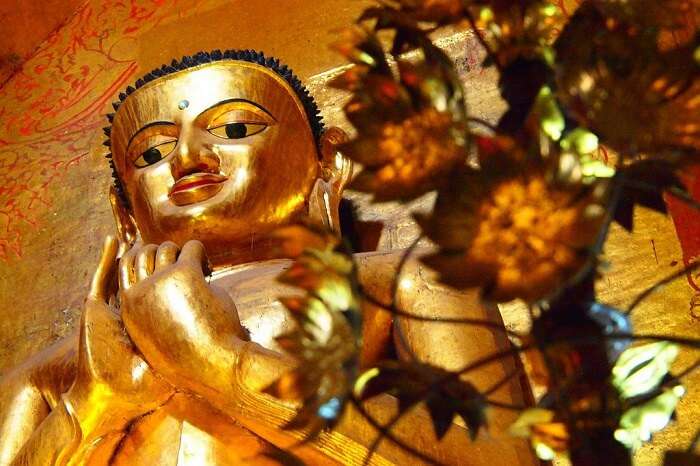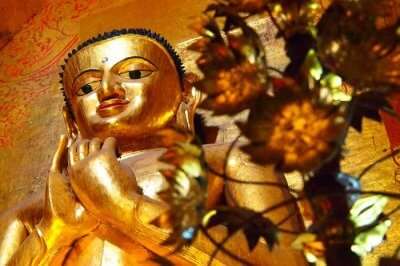 Image Source
It's location next to the river brings a cool breeze to the surroundings, making this Myanmar Buddhist temple a pleasant place to visit.
5. Buangdawgyoke Pagoda, Yangon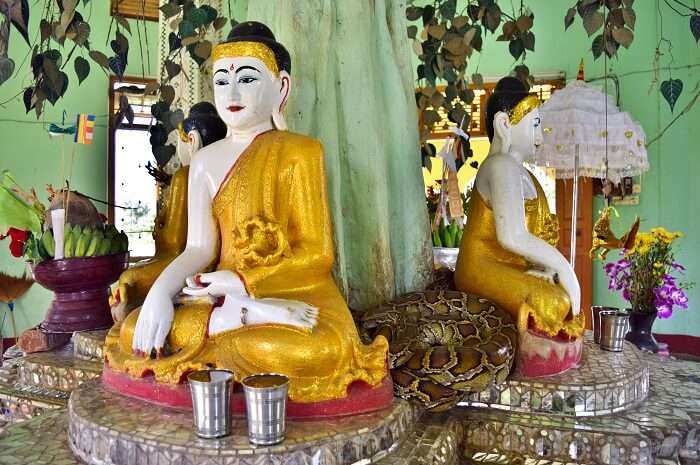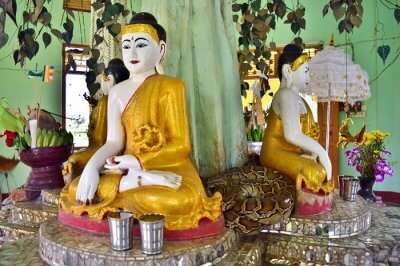 Suggested Read: 23 Romantic Honeymoon Destinations In Asia For Every Budget
Have you heard of the Snake Temple in Myanmar? You must check out the Buangdawgyoke Pagoda by heading off the beaten path. It is indeed a fascinating temple housing more than 50 massive Burmese pythons. They can literally be hiding anywhere and everywhere! Myanmar Hindu temples are no less than a complete package!
6. Atumashi Monastery and Shwenandaw Monastery, Mandalay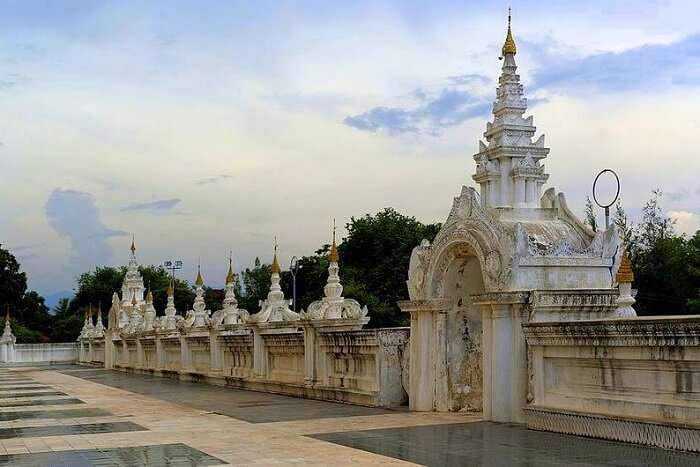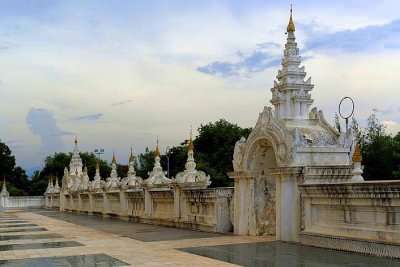 Image Source
Located next to the Mandalay Royal Palace, finely carved teak wood is what makes up the Shwenandaw Monastery. Bursting with intricate and beautiful wood carvings, it is similar to the Atumashi Monastery and one of the best temples in Myanmar.
7. Bayin Nyi Monastery, Hpa An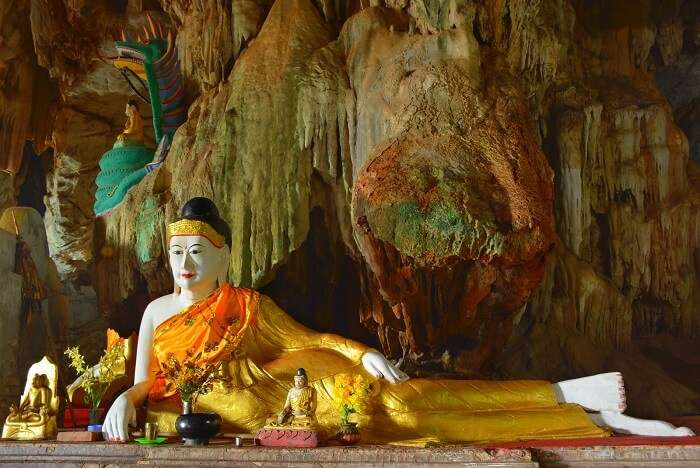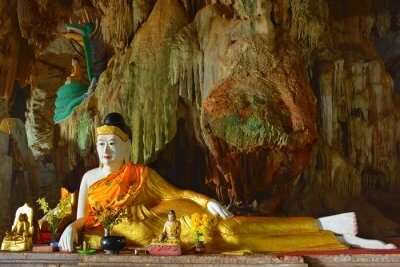 Suggested Read: 11 Festivals Of Nepal To Experience The Country's Heritage
Built into a cave, the particularly captivating Bayin Nyi Monastery has a natural hot spring of its own. Staying at the place is an incredible experience, especially when you wake up to a family of naughty monkeys hanging on the trees. Don't forget to explore the thousands of temples proudly scattered across the plains and enjoy a little peace among the ruins that are sure to make you feel complete!
8. Kawthaung, Mrauk U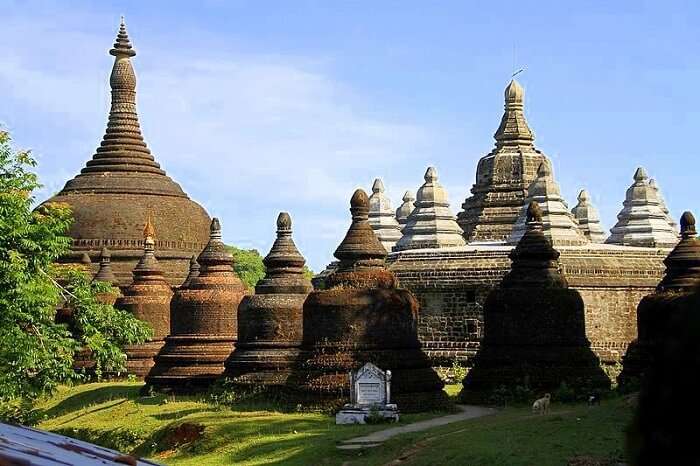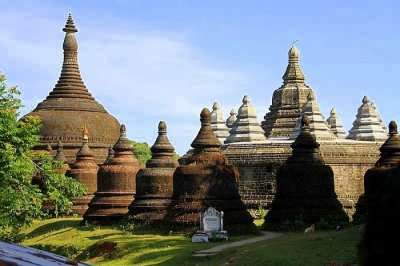 Image Source
One of the best kept secrets of Myanmar is the temple ruins in Mrauk U. One of the underrated ones is the Kothaung which is also known as the 'Myanmar temple having ninety thousand Buddha images'. Virtually no other tourists can be spotted around the complex. It has stone carvings which depict the conquests of Buddha against the demons.
9. Botataung Pagoda, Yangon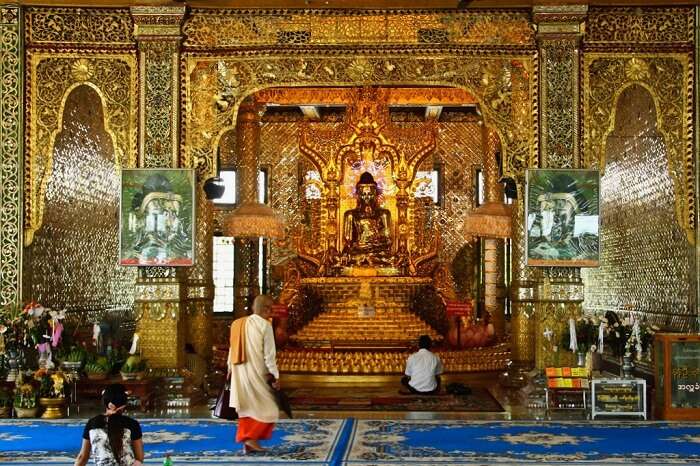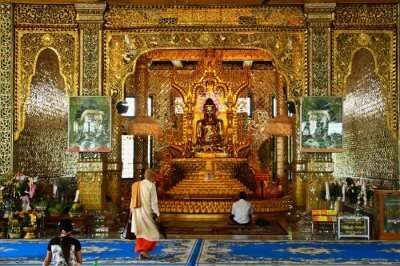 Suggested Read: 15 Holiday Homes In Thailand You'll Never Want To Leave
Overlooking the Yangon River, the Botataung Pagoda is also known to enshrine the sacred hair of Buddha. With an appearance similar to the Shwedagon Pagoda, it is gold plated too. Yet, it is a quitter place and hence apt for some pretty clicks with your camera.
10. Myaw Yit Pagoda, Dawei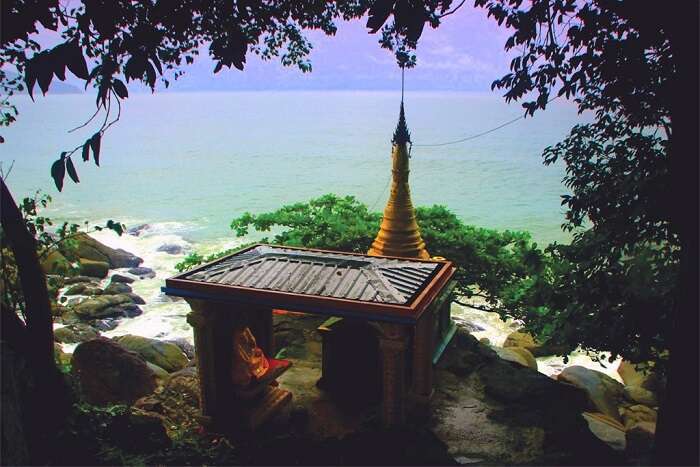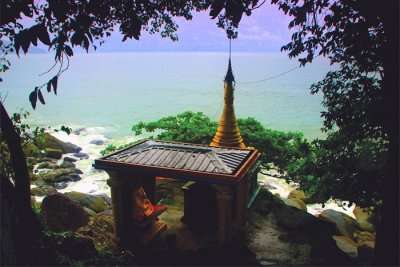 Located at the end of the Dawei's peninsula, the Myaw Yit Pagoda is absolutely breathtaking. It is a working temple where the monks still reside. It offers incredibly spectacular views of the Andaman Sea. If you make it this far, you will most likely be the only travelers there. Unlike other Myanmar Bagan temples, this one is a hidden gem waiting to be discovered by travel-bug-bitten wanderers.
Further Read: 10 Bhutan Travel Tips That Also Unfurl Essential Bits Of Info For Tourists
These were ten of the spectacular, yet less crowded Myanmar temples, monasteries and pagodas that you must check out. Book a vacation and find out what these jewels of Myanmar have to offer!
Comments
comments