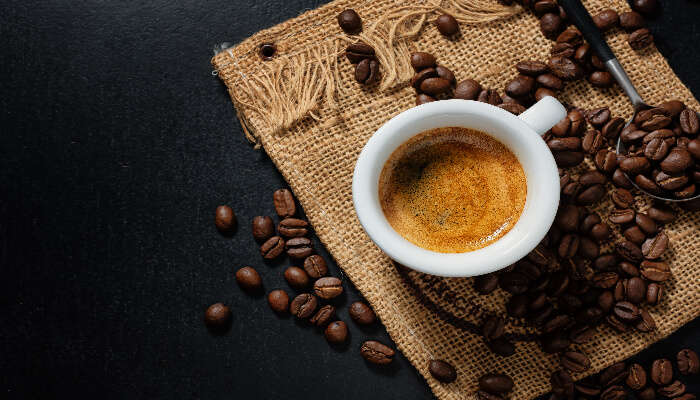 A lot of people are unaware of the must-try foods of Ahmedabad which are Khakra, Dhokla, Paani Puri, Dal Vada, and Kulfi. But these dishes taste better and are utterly authentic when eaten from a local street. However, there are some places in Ahmedabad that manage to keep up the authenticity of the dish, and also provide you the comfort that you look for. It's the cafes in Ahmedabad that fulfill this. 'There is a foodie inside you that needs to be pampered', whenever this thought hits your mind the first thing you do is look for places to eat around. To ease your task and save you some time, we have clubbed a list of cafes in Ahmedabad that the foodie inside you would happily appreciate. The list contains the best cafes you must explore when in Ahmedabad. From aesthetic ambiance, lip-smacking food to chilled out vibes the following list of cafes contain these factors. Scroll below to find out their names and check whether you wish to have the menu they are offering or not! Read on.
7 Grammable Cafes in Ahmedabad
The following list of cafes in Ahmedabad are the most rated, serve the best air and have a diverse menu to treat the foodie in you.
1. Project Cafe

The Project Cafe in Ahmedabad is a busy outlet which is frequently visited by both the natives as well as the tourists. It comes under the list of the most happening cafes in Ahmedabad for couples who wish to cherish a romantic cum fun-filled time with their one and only. Possessing attractive interiors, aesthetic walls, cozy corners, and pleasing decor the place is a go-to place for foodies and coffee lovers. The best part about this cafe is it not just offers you food but things to take home with you. Yes, you can shop here for your dear ones. When here, do not miss the cold beverages like Rose Dragon, Green Garden, and Coco Loco.
Must try:
Kiwi Margarita, Coffee, Nachos, Mocktails, Mint Ice Tea
Cost for two:
Rs. 500
Zomato Rating:
Timings:
10 am to 11 pm
Location:
Ambavadi, Ahmedabad
13 Terrific Weekend Getaways From Ahmedabad For Your Next Road Trip In 2021!
2. Unlocked

A pleasing cafe for foodies and coffee lovers, Cafe Unlocked is one the best cafes in Ahmedabad. Know that Unlocked was the first place to install games inside a food outlet as the motive was to keep the guests indulged in something till the chefs prepare the finger licking food. A perfect place for those travelling with kids and wish to spend some quality time catching up with their peers and co partners. You must add Unlocked to your list of must-visit cafes in Ahmedabad and relish what they have to offer for their customers.
Must try:
Waffles, Pasta, Brownie Shake, Pizza, Mocktails, Aloo Tikki Burger, Peri Peri Chicken
Cost for two:
1100
Zomato Rating:
3.7
Timings:
11 am to 11 pm
Location:
Navrangpura
3. Caffix- The Tech Cafe

Caffix is the first tech cafe in Ahmedabad, providing a unique combination of great food and tech services. What does that mean? Well, here you can get your mobile repaired while sipping on a hot cup of coffee or munching some delicious snacks. It is famous for its selfie thick shakes – an order where you get your photo printed and displayed on the top of the shake. Caffix opens early so it's an ideal place to eat breakfast before heading to work. Do not forget to check out this cafe in Vastrapur if you ever visit this locality!
Must try:
Coffee, Mocktails, Pasta, Chicken Burger, Selfie Thick shakes
Cost for two:
800
Zomato Rating:
4.1
Timings:
8:30 am to 12:30 am
Location:
Vastrapur
7 Wedding Venues In Ahmedabad That Will Make Your Day Grand In Every Way!
4. Zen Cafe

A must stop place to chit-chat with your go-to buddies, Zen Cafe in Ahmedabad definitely has a vibe well suited for youngsters and couples. The best part of this cafe is, in addition to what they serve, their price will not make you break the bank. Add this cafe in Ahmedabad to your Ahemdabad itinerary and enjoy the delish food and ambiance here.
Must try:
Coffee, Chai, Sandwiches, Carrot Cake, Nachos, Mocktails, Chaat
Cost for two:
500
Zomato Rating:
4.3
Timings:
2 pm to 8:30 pm
Location:
Navrangpura
5. Ristretto

Ristretto is a newly opened cafe in Ahmedabad that serves luscious Italian and Mexican food varieties. Hit this cafe on Friday nights and relish a happening evening with the live music night. This cafe aims to offer its customers an environment where they can relish a gala time with their buddies and catch up over sizzling food and mouthwatering desserts. It is one of the best cafes in Ahmedabad for couples so keep this aside when searching for a place to go on a sweet date with your one and only.
Must-Try:
Mexican hot pot, Li-Ching Man-chow soup
Cost for two:
INR 1000
Zomato Rating:
4.2
Timings:
11:00 AM to 12:00 PM
Location:
B/5 Ground Floor, Maharaja Palace, University Road, Near Vijay Cross Roads, Navrangpura
13 Awesome Reasons Why Ahmedabad Will Ruin You For Life
6. Mocha

Cafe Mocha and Bar is a chain of cafes with two outlets in the city of Ahmedabad. Famous for its perfectly blended coffees, bakeries and decadent desserts. Not just a coffee and dessert place, this rooftop cafe in Ahmedabad serves sizzler, freshly pressed juices, panini, pastas and many other food appetizers. If you are a coffee person then pay a visit to this cafe and savour a fine blended cup of coffee with your favourite bunch of people inside its soothing interiors. Brownie points to this place for keeping the option of valet parking.
Must-Try:
Vertigo, Mocha Lava-Lava
Cost for two:
INR 1000
Zomato Rating:
4.1
Timings:
11:00 AM to 1:00 AM
Location:
Multiple Locations- Bodakdev, Gulbai Tekra, Infocity
7. Veranda

One of the best rooftop cafes in Ahmedabad to explore with friends and family during the weekends. Even the weekdays are amazing, but the vibe on the weekends is absolutely mesmerising. With the live music and aesthetic interiors the place is just lit and loved by most of the natives. You must try the North Indian appetizers and continental varieties. The place serves many options for both the alcoholics and non-alcoholics.
Must try:
Continental varieties, mojitos, Bloody Mary
Cost for two:
INR 800
Zomato Rating: 
4.2
Timings: 
11:00 AM – 12 Midnight
Location:
407, Sun Avenue One, Shyamal, Manek Baug Road, Satellite, Ahmedabad
52 Intriguing Tourist Places In Ahmedabad For Your Gujarat Getaway In 2021
Be it a quaint place to catch up with some of your friends, or go on a romantic date with your significant other, the aforementioned cafes in Ahmedabad are just ideal for all. Plan your Ahmedabad vacation with us and add these to your itinerary. After all, a good meal on a holiday is something that every individual craves for! For our editorial codes of conduct and copyright disclaimer, please click here.
Frequently Asked Questions About Cafes in Ahmedabad
Which are the best cafes in Ahmedabad?
Ahmedabad has many amazing cafes for foodies and coffee lovers, still if you need the name then some of the best cafes are: 1 Ristretto 2 Zen Cafe 3 The Green House 4 Caffix
Is it safe to explore cafes in Ahmedabad amid the pandemic?
Gradually everything is opening up and the situation of Covid in Ahmedabad has improved a lot. So yes, it is safe to explore cafes in Ahmedabad but you must follow the set protocols laid by the government. Having said that, you are responsible for your own safety at all times.
Which are the best rooftop cafes in Ahmedabad?
Although there are many rooftop cafes in Ahmedabad, the following three cafes are a must visit with your dear ones. 1 Veranda Rooftop Restro Cafe 2 Pehar- Rooftop Restro Cafe 3 Uptown Dusk Bistro
What are some of the affordable cafes in Ahmedabad?
Some of the most affordable cafes in Ahmedabad are: 1 The Project Cafe 2. Unlocked Cafe 3. High on Chai 4. Chai Hai Na
Are coffee shops open on special holidays in Ahmedabad?
Yes, most of the coffee shops and cafes are open and running in Ahmedabad even on special holidays. But do pre book a table if you don't wish to wait outside for your number.
Are there any vegan cafes in Ahmedabad?
Yes there are vegan cafes open in Ahmedabad, and to name a few: 1 The Vegan Kitchen 2 The Project Cafe 3 Santé Spa Cuisine 4 Lollo Rosso
Which cafe is best for couples in Ahmedabad?
If you wish to go on a sweet-romantic date with your partner then try the following places: 1. VarieTea 2. MoMo Cafe 3. Mocha Cafe 4. Turquoise Villa
Are pre-bookings necessary in cafes in Ahmedabad?
No, it's not necessary to book a table before leaving for a cafe in Ahmedabad. However, with things opening up slowly most of the people have started moving out. Thus, it's better to pre book a place rather than waiting outside for an hour or more.
People Also Read: