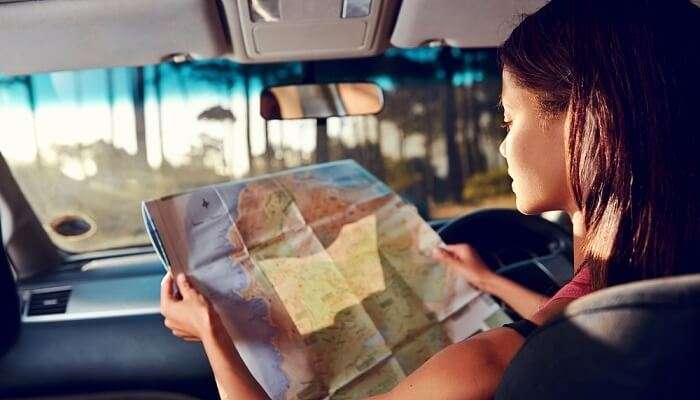 When you are young, you should spend all your weekends exploring what the world has to offer. A tiring week can be easily changed to an enthralling one by spending the weekend right away. For all wanderlust souls, travelling to new destinations can change the boring weekend feels. And if you are one of them then you ought to check out this incredible list of the best weekend getaways from Ahmedabad. Though there is a lot that you can do in this ravishing city, heading out and traversing the nearby places will surely have its perks. The weekend is coming and before it ends, you need to slide away to someplace that appeals to your soul!
Top 15 Weekend Getaways From Ahmedabad
To make the cumbersome act of selecting that perfect spot for your weekend easy, you must go through this list of the most popular weekend getaways from Ahmedabad. Keep scrolling down and read along to know more about them!
1. Vadodara – Home To Architectural Marvels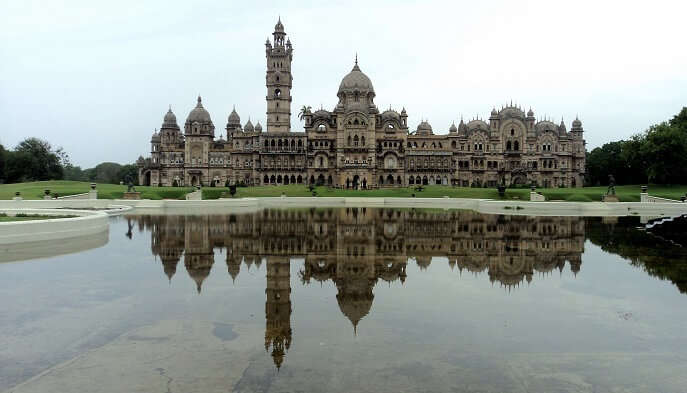 Image Credit: Tanay Bhatt for Wikimedia Commons
Known for its architectural marvels, Vadodara is the best spot if you are looking for short weekend getaways from Ahmedabad. Home to several religious places and ancient palaces, Vadodara is one of the prime cities to visit in Gujarat. You can either drive till Vadodara or take a bus as it is located at a distance of 111 km which can be easily covered in 2 hours.
Distance From Ahmedabad: 111 km
Tourist Attractions: Makarpura Palace, Champaner-Pavagadh Archaeological Park, Vadodara Museum & Picture Gallery, Jambughoda Wildlife Sanctuary
Best Hotels: Vivanta, Vadodara Surya Palace, Welcomhotel Vadodara, Grand Mercure
How to reach: Air travel and railways are the most preferred mode of transportation. Vadodara is well connected to major parts of the country.
Suggested Read:16 Road Trips From Ahmedabad That Prove That Unusual Roads Lead To Beautiful Destinations
2. Rajkot – A City Full Of Attractions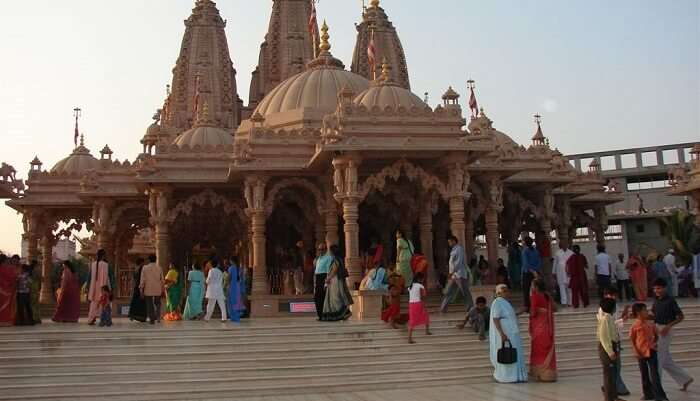 Image Credit: Wikimedia Commons
Tourists are attracted by the spectacular tourist attractions in Rajkot and while they are on a vacation mode in Gujarat they make it a point to explore these places. Rajkot has located 214 km and it is one of the best weekend getaways from Ahmedabad as it is easily reachable. Dams, lakes, temples, museums and many other such spots will keep you busy on your weekend. If you feel like taking a break from exploring the city then you can head to the famous Ishwariya Park. At this park, you can indulge in outdoor activities with your family or relax while reading your favourite book.
Distance From Ahmedabad: 214 km
Tourist Attractions: Kaba Gandhi No Delo, Rotary Dolls Museum, Watson Museum, Prem Mandir, Shri Ranchhoddas Ashram, Ishwariya Temple
Best Hotels: Regenta RPJ Rajkot, Sayaji Hotel Rajkot, Hotel Tirupati, Hotel Nova Boutique
How to reach: Rajkot is a major city and junction in the western railways. So, trains are  a great way to travel to Rajkot. The city also has an airport which is connected to Delhi, Mumbai, Chennai and Kolkata.
3. Mount Abu – The Pleasant Hill Station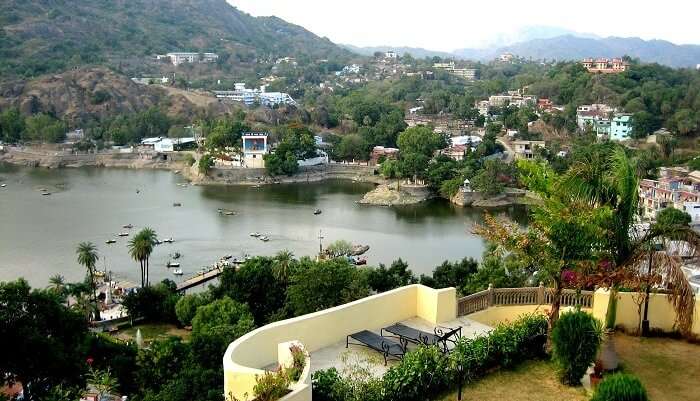 Image Credit: Andreas Kleemann for Wikimedia Commons
Hills, pleasant weather and a relief from the scorching heat, head to Mount Abu and experience all three. Known for its stunning Dilwara Temples, Mount Abu is a ravishing hill station in Rajasthan. From chic restaurants to amazing markets, there is a lot to explore in this city. You can relish delectable Rajasthani food at these restaurants. If you are a shopaholic then you can shop for, like Kota sarees, silver jewels, sandstone idols, Sanganeri block printed fabrics and sandalwood powder.
Distance From Ahmedabad: 226 km
Tourist Attractions: Dilwara Jain Temples, Nakki Lake, Peace Park, Mount Abu Wildlife Sanctuary, Guru Shikhar Peak
Best Hotels: Hotel Lake Palace, Hotel Hillock, Hotel Hilltone, Welcome Heritage Connaught House
How to reach: The most preferred option to visit Mount Abu is via roads. The nearest airport is in Udaipur, about 210 km from Mount Abu. You can avail taxis and bus services from there.
Suggested Read:12 Churches In Ahmedabad For Your Next Tranquil Vacay
4. Udaipur – The Place With Historical Buildings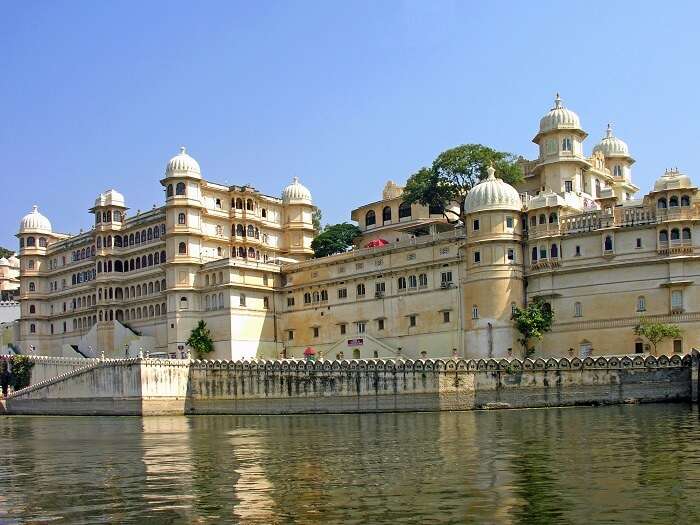 Image Credit: Dennis Jarvis for Wikimedia Commons
Looking for romantic weekend getaways from Ahmedabad? Take your beloved to the royal city and get ready to experience bliss. Remarkable restaurants, luxurious resorts, and fascinating tourist attractions await you in Udaipur. Called the City of Lakes, Udaipur has many ancient palaces, serene lakes, and spectacular forts that you ought to visit on your getaway. While you are in the city you must take a boat ride through the lakes and witness the beauty of this royal city.
Distance From Ahmedabad: 264 km
Tourist Attractions: Lake Palace, City Palace, Jag Mandir, The Monsoon Palace, Fateh Sagar Lake, Vintage Car Museum
Best Hotels: Fateh Vilas, Radisson Blu, Hotel Moustache, Aurika, The Leela Palace
How to reach: Being a historic and tourism-centric city, Udaipur is very well connected to the rest of the country. There is a domestic airport, a railway station and obviously, a wonderful roadway connectivity.
5. Surat – The Diamond City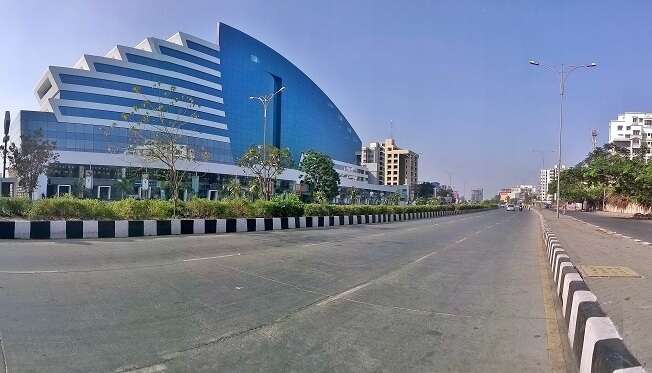 Image Credit: Tarunyadav1989 for Wikimedia Commons
Surat, the Diamond City of India, is an impeccable city for all history enthusiasts. From prestigious temples to ancient historical marvels, the city has it all. Surat will lure you with its medieval charm and as soon as you will start exploring the city, you will be astonished by witnessing the structures which speak volume about the past of this city. Visit the famous temples like Ambika Niketan Temple, ISKCON, Shri Swaminarayan Temple, and Old Ambaji Temple to seek blessings and know about the traditions of Surat.
Distance From Ahmedabad: 265 km
Tourist Attractions: Dutch Garden, Sardar Patel Museum, Sarthana Nature Park, Swaminarayan Temple, Vansda National Park
Best Hotels: Surat Marriott Hotel, Courtyard By Marriott Surat, The Grand Bhagwati, Hotel Sifat International Surat
How to reach: Railways are the most important and preferred mode of transportation with Surat railway station being an important junction in the western railways. There is also an airport in Surat connected with major cities like Delhi, Mumbai and Kolkata.
Suggested Read:52 Intriguing Tourist Places In Ahmedabad For Your Gujarat Getaway
6. Junagadh – The Historic Weekend Getaway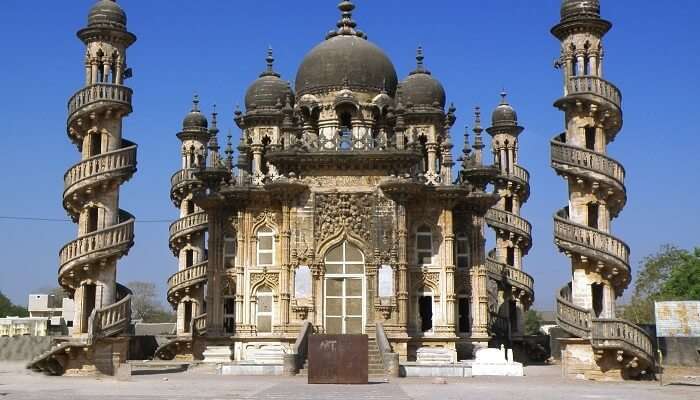 Image Credit: Raveesh Vyas for Wikimedia Commons
From the stunning Sakkarbaug Zoological Garden to the ancient Uperkot Fort, there are a lot of marvellous places to visit in Junagadh. Junagadh is one of the best weekend getaways from Ahmedabad by car. Make your weekend all about getting acquainted with the history of Gujarat by heading to Junagadh. If you want to witness the paragon of gothic and Indo Islamic architecture then you must visit the popular Mohabbat Maqbara and those who are interesting in taking a look at Ashoka's commandments must pay a visit to Ashoka Edicts. For weekend getaways near Ahemdabad, Junagadh serves as a perfect destination with both leisure and cultural experiences awaiting visitors.
Distance From Ahmedabad: 317 km
Tourist Attractions: Wellington Dam, Darbar Hall Museum, Swami Narayan Mandir, Mohabbat Maqbara, Buddhist Caves
Best Hotels: Bellevue Sarovar Portico, Click Hotel, Hotel Sapphire, King's Craft
How to reach: Junagadh can be reached easily via railways and roadways. Trains from major cities like Mumbai, Thiruvananthapuram, Jabalpur, Pune and Ahmedabad pass through the station.
7. Lothal – The Remnants Of Early Civilization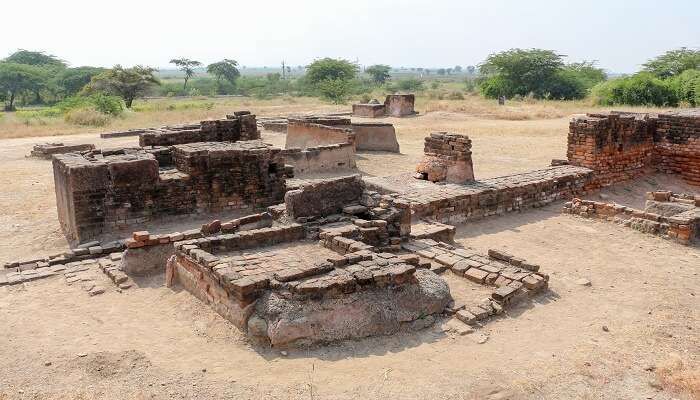 All of us growing up have heard of Lothal in our history classes as it was part of the Indus Valley Civilization. Turns out, it is also one of the finest weekend getaways from Ahmedabad. The archaeological remains of the site are pretty spectacular to watch as it showcases a peek of the lifestyle of early human civilization. It is located in between the Sabarmati river and its tributary Bhogavo in the Saurashtra region.
Distance From Ahmedabad: 78 km
Tourist Attractions: Ganpatpura Temple, Archaeological Site Museum, Mata Boot Bhavani Temple Arnej
Best Hotels: The Palace Utelia, Hotel Darshan, Hotel New Rajmangal
How to reach: Railways, buses, cabs and taxis
Suggested Read:7 Beautiful Waterfalls Near Vadodara That Offer A Blissful Escapade!
8. Patan – The Saree Center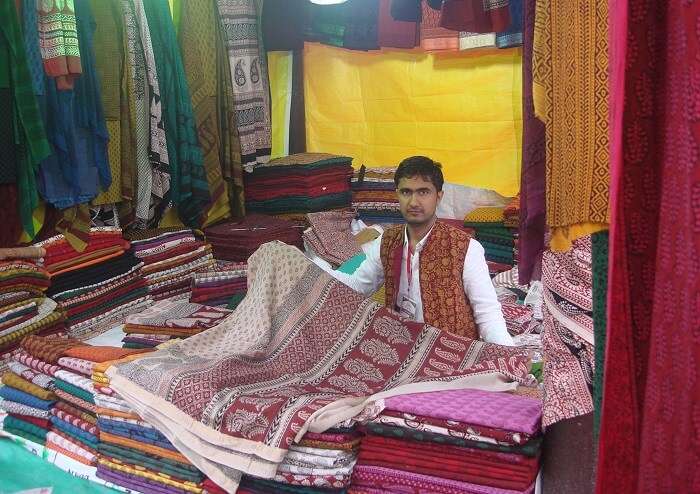 Very few know that Patan is the former capital of Gujarat in the medieval times. The city is mostly famous for the Hindu and Jain temples. The city is also famous for Patola sarees, made from one of the finest hand-made textiles. These are pretty costly sarees considering they take almost 4-6 months to create. 
Distance From Ahmedabad: 130 km
Tourist Attractions: Rani Ki Vav, Sahastraling Lake, Khan Sarovar, Patan City Museum, Gayatri Mandir
Best Hotels: The Grand Raveta, Hotel Tulsi, Marvel Hotel
How to reach: Trains, buses, cabs
9. Champaner-Pavagadh – An Archeological Site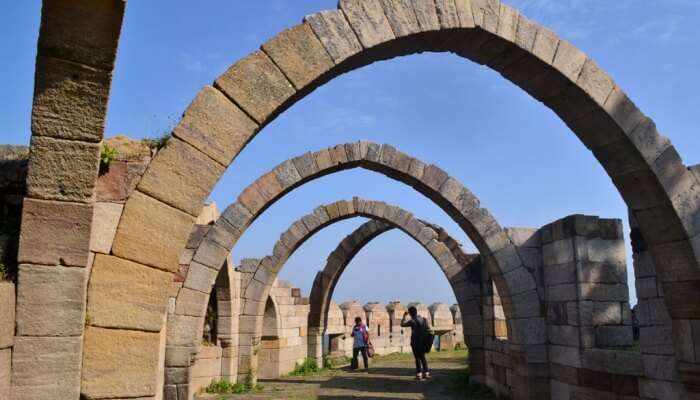 Champaner-Pavagadh Archaeological Park is one of the finest places nearby Ahmedabad. It is a priceless UNESCO World Heritage Site located in the historical city of Champaner. The site is made up of unexcavated archaeological and cultural heritage that will interest history lovers and tourists, alike. The impressive landscape includes prehistoric sites, a hill fortress which are the treasured remains of the 16th-century capital of Gujarat. 
Distance From Ahmedabad: 146 km
Nearby Attractions: Pavagadh Hills, The Jami Masjid, Kevada Masjid, Saat Kaman
Best Hotels: Champaner Hotel, Mount Heritage Resorts, Champaner Heritage Resort
How to reach: Airways, followed by buses and cabs
Suggested Read:Choose From These Top 3 Villas In Diu For Your Vacation
10. Bhuj – The City Preserving Heritage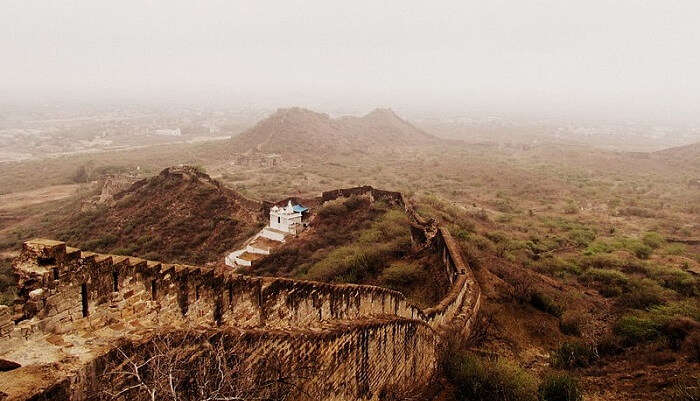 Bhuj is the westernmost city of India and preserves in itself a treasure trove of heritage. Bhuj is popular for its small and meandering streets, city palaces and a lot of temples. The city also has the oldest museum in Gujarat called the Kutch Museum. The villages around it are famous for their traditional handicrafts as well as embroidery.
Distance From Ahmedabad: 330 km
Tourist Attractions: Aaina Mahal Palace, Prag Mahal Palace, Bhujiyo Hill, Hamirsar Lake, Bhujia Fort
Best Hotels: Regenta Resort Bhuj, The Fern Residency, Hotel Shyam Palace
How to reach: Railways, airways, cabs, taxis
11. Kumbhalgarh – The Fort, Citadel And Wildlife Sanctuary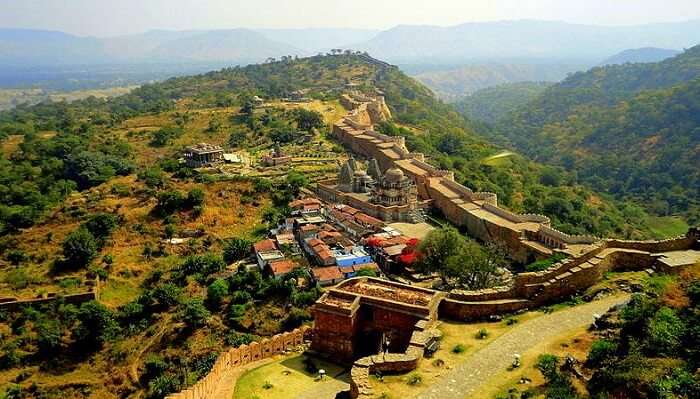 Kumbhalgarh is a fortress town known particularly for the grand fort situated at the heart of it. It might not top the list of weekend getaways from Ahmedabad but it surely is an eye-candy for history lovers. However, nature lovers might also come to love it because of the fine greenery around the fort. The town attracts domestic tourists as much as visitors from across the globe due to the massive citadel which was built 1443 A.D and the Kumbhalgarh Wildlife Sanctuary.
Distance From Ahmedabad: 314 km
Tourist Attractions: Kumbhalgarh Fort, Badal Mahal, Muchhal Mahavir Temple, Kumbha Palace
Best Hotels: Kumbhalgarh Forest Retreat, Rang Bhawan Inn, Sada Nira Resort
How to reach: Airways, railways, buses, cabs
Suggested Read:23 Gorgeous Places To Visit In Junagadh And Around It To Get To Know The Real Gujarat
12. Nal Sarovar Bird Sanctuary – Watch The Birds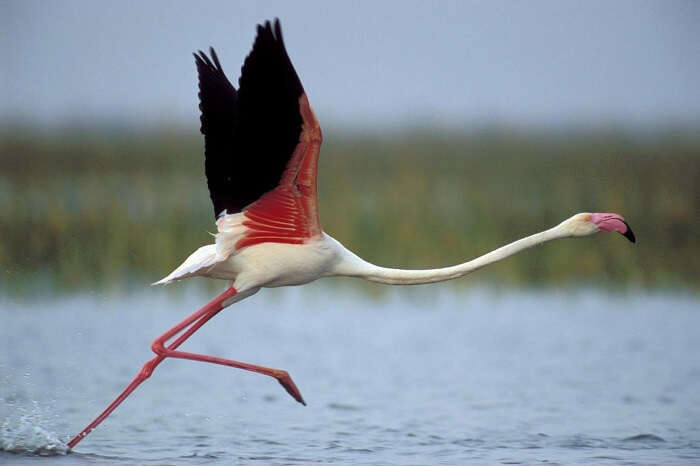 Nal Sarovar or 'Tap Lake' houses several kinds of bird species who are attracted by the lake. These birds in turn attract a lot of tourists who come to the 36 small islands that this sanctuary houses. Therefore, there are lots of greenery and nature to explore. Bird watchers will also love the 200 different species of birds which migrate from Siberia, Oman, UAE etc. 
Distance From Ahmedabad: 63 km
Tourist Attractions: Lothal, ISKCON Temple, Sarkhej Roza, Vechaar Utensils Museum
Best Hotels: Hotel Shine Stay, Hotel The Grand Aryakul
How to reach: Railways followed by buses and cabs
13. Anand – The Milk Legacy City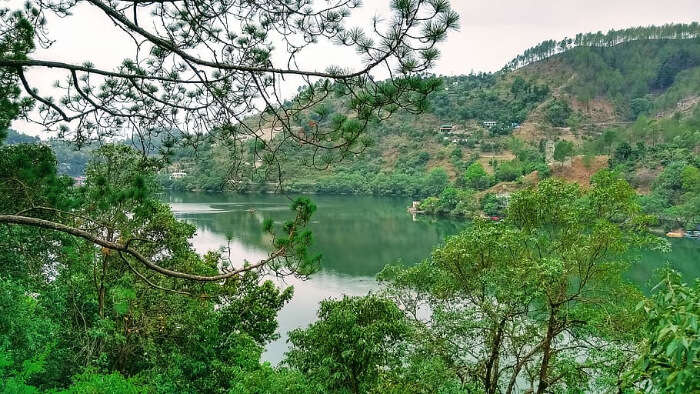 Anand might not feature in the top weekend getaways from Ahmedabad but for dairy farmers, it carries a distinctive legacy. Anand Milk Union Limited or AMUL is the brand that has been built here. A tour of the factory is a must when visiting this place apart from visiting all the religious sites and other attractions. 
Distance From Ahmedabad: 75 km
Tourist Attractions: BAPS Shri Swaminarayan Mandir, Hanumanji Temple, Goya Talav, Gomti Lake
Best Hotels: Hotel Arizona Inn, Viz Park Hotel, The Grand Hotel
How to reach: Railways, buses, cabs
Suggested Read:7 Best Adventure Sports In Ahmedabad Which Will Give You That Adrenaline Rush
14. Gir National Park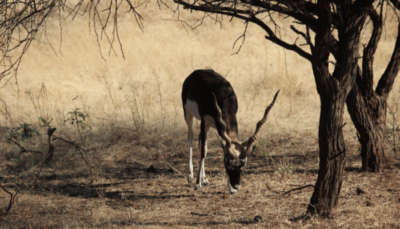 Gir, the illustrious realm of the Asiatic lions in the ideal abode for the vast majority of the untamed life animals and with the presence of extraordinary jeep experiences and a tour of the Kamleshwar Dam. Take a trip to the Crocodile Breeding Farm and Tulsi Shyam Temple to start your journey before you immerse yourself in wildlife with our guide to Gir National Park.
Distance From Ahmedabad: 319 km
Tourist Attractions: Crocodile Breeding Farm, Tulsi Shyam Temple
Best Hotels: Gir Jungle Lodge, Saavaj Resort in Gir National Park, Vanvaso Resort
How to reach: Railways, buses, cabs
15. Daman, Daman and Diu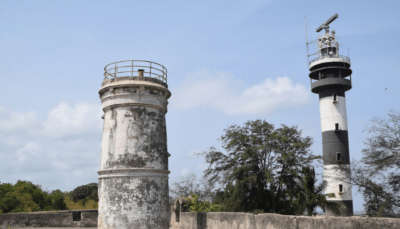 Nestled near the western coast, Daman is a city that can be personified as a breath of fresh air away from the cosmopolitan hustle where you can learn about the region's colonial past and historical tours that explain the timeless charm you're set to experience on your journey. Explore St. Jerome Fort, Jetty Garden, and Devka Beach if you're on a short getaway here from Ahemdabad. There are countless places to visit in Daman that will make for an engaging short trip.
Distance From Ahmedabad: 364 km
Tourist Attractions: Mirasol Lake Garden, Jampore Beach, Bom Jesus Church, Somnath Mahadev Temple, Devka Beach, Mirasol Water Park.
Best Hotels: Silver Sands Beach Resort, The Gold Beach Resort
How to reach: Railways, buses, cabs
Suggested Read:Guest Houses In Ahmedabad: Affordable, Comfortable & Truly Worthy Staying Option
Whether it's the city that is home to architectural marvels or the tranquil hill station of Rajasthan, this list of weekend getaways from Ahmedabad will help you out in making your weekend plans sorted. Make that call to your friends, apply those leaves, plan a trip to Ahmedabad and get ready to have a blast on your weekend. Do let us know in the comment section below how your weekend turned out to be. Travel safe and have a soul-stirring weekend!
For our editorial codes of conduct and copyright disclaimer, please click here.
Frequently Asked Questions About Weekend Getaways From Ahmedabad
Is Rajasthan safe for travelers?
Yes, Rajasthan is one of the most visited and the safest state in India for all travelers.
Which are some of the best restaurants in Vadodara?
The best restaurants in Vadodara are The Barbeque Grill, Sasumaa Gujarati Thali, Salsa Habanero, Azure and Peshwari.
Is there any beach near Ahmedabad?
Yes, Suvali Beach in Surat is the nearest beach from Ahmedabad.
Is there any wildlife place to explore near Ahmedabad?
Yes, you can visit Indian Wild Ass Sanctuary and Jambughoda Wildlife Sanctuary which are located near Ahmedabad.
Which are the most romantic weekend getaways from Ahmedabad?
If you are planning your weekend getaway with your beloved then you can visit destinations like Udaipur and Mount Abu.
People Also Read:
Weekend Getaways From Kolkata Weekend Getaways From Gurgaon Weekend Getaways From Mumbai