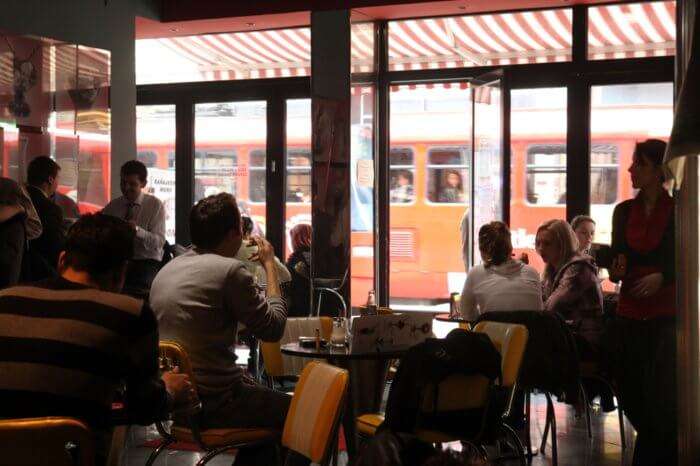 Bratislava, the capital city of Slovakia has a lot to offer. Be it the intriguing museums or the beautiful natural lakes, Bratislava is a mix of everything wonderful. There are lots and lots of sightseeing opportunities in this place and you will never run out of places to visit. So when you are tired shopping or exploring the art and culture of the city, you can find your respite in Bratislava's booming coffee culture.
Coffee culture is a big thing in Slovakia. Slovakians taste buds simply love this caffeine drink. During the communist ages, the only coffee available in the region was strong, black coffee, but in the present day, the city is practically a coffee heaven.
You can know how big this coffee phenomenon is by looking at the sheer number of cafes in Bratislava. The city center is beaming with a wide assortment of cafes. To make it more convenient for you, we have gathered a list of 10 best cafes in Bratislava, which you can visit and enjoy some of the best coffee in the world.
10 Best Cafes In Bratislava
The café culture in Bratislava is bustling and expanding every day. After the communism period and some questionable supply of coffee, the city is now down with a renewed vigor for quality coffee beans, resulting in some of the best, high-end cafes in Bratislava. Many new cafes are opening up every now and then, so don't think twice before heading into a nice looking café, or can also try any of our suggested cafes in Bratislava.
1. Urban House Café
Urban House in Bratislava, is one of the perfect cafes in the city. The café is located in Old Town area and you can find it in a building above a shopping center. If you are visiting Bratislava for the first time, this café is easy to miss, just look out for a big gorilla sign and you will find the café. Entering the café, you will be transported to a whole other world. The modern architecture of the place combined with a few rustic elements, exudes a very warm and cozy feeling. If you are one of the lucky visitors, you might even catch a movie screening or other events at the café.
Location: Laurinska, Bratislava, Slovakia
Must Read: 10 Impeccable Castles In Slovakia That You Must-Visit On Your Trip!
2. Zeppelin Café
Zeppelin café in Bratislava, is another of the great cafes in the city. This café is the best relaxing spot and you can enjoy some of the best, delicious treats here. The café is easy to locate. It is situated in the main town square with big boards above its windows. Entering the café, you will be extremely charmed looking at the wide assortment of cakes displayed inside the café. The interiors are quite spacious and very comfy. The combination of all the design elements inside the café creates a very cozy and comfortable ambience. If you are visiting Zeppelin café, you should definitely try out their cakes and it is also one of the rare places in Bratislava where you can buy traditional Bratislava rolls.
Location: Sedlarska, Stare Mesto, Slovakia
3. Stur Café
Stur Café in Bratislava is known for jump starting the café scenario in Bratislava. The coffee at this place is simply delicious. But this café has lots to offer other than coffee. You can also find that the café serves Breakfast items all day long and includes mouthwatering combination like bacon and eggs served in a potato in cheddar cup. Spinach quiche, waffles and cakes are some of the other must try delicacies of the Bratislava café.
Location: Sturova, Stare Mesto, Slovakia.
4. Konditorei Kormuth
Konditorei Kormuth in Bratislava offers a highly exceptional gastronomy experience. This historical patisserie combines history with extraordinary taste and elegance. The café interiors is very comfortable and warm. They have their own bakery and the cakes and desserts served from the bakery are like no other. Apart from the desserts, you will also find rare menu items like Italian Coffee, which is a must have if you are visiting this place.
Location: Sedlarska, Bratislava, Slovakia
Suggested Read: 13 Places To Visit In Slovakia In 2022 That Will Mesmerize You Immensely
5. Dobre & Dobre
This is another famous coffeehouse, located in Old Town Hall, in Bratislava. The location of the café makes it a perfect spot to enjoy a few relaxing moments with a nice cup of coffee or tea. The café has large and bright windows that brings in sunrays inside the café. The café is run by a local NGO, allowing homeless people to work in the place along with their regular employees. The coffee served here is totally fresh and the food extremely delicious.
Location: Nedbalova, Bratislava, Slovakia
6. Five Points
Five Points Café is a coffeehouse dedicated to serve the best coffee in Bratislava. The café interiors is large and spacious with high open windows and lots of seating spaces. Apart from high quality coffee, you will also find breakfast items like scrambled eggs, bacon and eggs and sausage and club sandwiches to go with your coffee. You can also try something different and daring like the espresso tonic.
Location: Panska, Bratislava, Slovakia.
Suggested Read: 12 Fun Things To Do In Slovakia That All Travelers Must Try ASAP
7. Foxford Martinus
Foxford Martinus is a café, which is a part of a bookstore. Located in the heart of Old Town, you can head to this café to enjoy some nice and relaxing time. The interiors of the café is vibrantly colored and exudes a very friendly vibe. The coexistence of the café with a bookstore makes it a perfect cozy respite. You turn the pages of your favorite volume along with some high quality coffee, here at Foxford.
Location: Obchodna, Bratislava, Slovakia
8. W Café Bratislava
Another beautiful café in Bratislava, this is the only café in the city that serves coffee roasted in San Francisco. The industrial interior of the place is mixed with tree branches and green leaves to give off a cozy vibe and entering the café you will immediately feel at home. The café is located only about a few minutes' walk from the main bus station in Bratislava and once you visit the café, you will always want to come back for more.
Location: Grosslingova, Bratislava, Slovakia.
Suggested Read: 12 Hostels In Slovakia For A Staysome Holiday In The Country Of Many Castles
9. Moods
Moods bakery and coffee shop is probably one of the best and most sought after breakfast places in Bratislava. From delicious roasted coffee to delicious American pancakes with maple syrup, you will find it all in this café in the heart of Bratislava. There are two moods café in Bratislava, one in Hviezdoslav Square and the other is in Kosicka Street. The café interiors are very tastefully furnished and are quite different as compared to the traditional cafes. Enjoy a nice, warm cup of coffee and an English breakfast, the best in Moods café, Bratislava.
Location: Kosicka, Bratislava, Slovakia.
10. Kafe Scherz
Kafe Scherz was once titled 'the best coffee shop in Bratislava'. The café is located in Old Town area and the unique atmosphere of the café attracts a lots of locals. Coffee is not the only delicacy offered here, many cultural events and specialized discussions are also hosted in this beautiful café. If you are an art lover, you can definitely learn something here at Kafe Scherz.
Location: Stare Mesto, Bratislava, Slovakia.
Further Read: 12 Restaurants In Slovakia That Will Make Your Vacation Flavorsome
There you go, a list of best cafes in Bratislava. Hop into one of these cafes on your visit to Bratislava and enjoy the delicious Slovak coffee. So, don't wait anymore, get packed and book your international vacation right away!
---
Looking To Book An International Holiday?
Book memorable holidays on TravelTriangle with 650+ verified travel agents for 65+ domestic and international destinations.
---