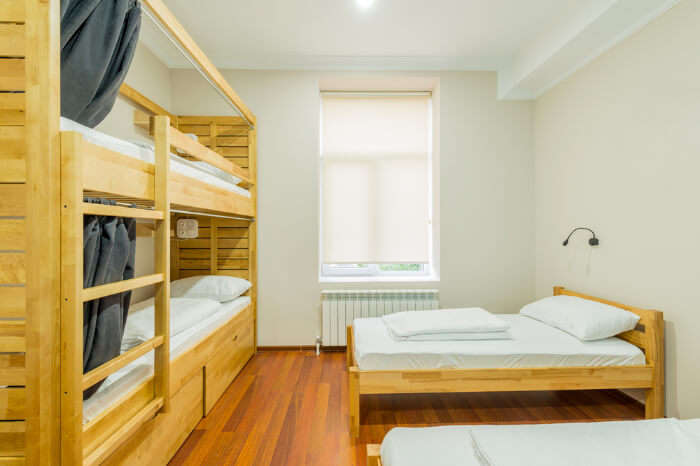 A land of magnificent castles, untouched nature, and rich cultural heritage, Slovakia is a jewel in the heart of Europe that's waiting to be discovered. Bratislava and Kosice are some of the larger cities of this place that are known for their magnificent architecture, awe-striking sightseeing opportunities, art galleries and villages. With excellent nightlife and the resplendent old towns and buildings, Slovakia is your paradise waiting to be uncovered and loved. Other interesting sights include the gingerbread styled villages and cultural festivities; thick forest, snow-capped mountains of the Tatra and the subterranean caves (largest in Europe). And while you come to explore this place, the hostels in Slovakia can make your stay experience really exciting.
12 Best Hostels In Slovakia
While you're here, finding the most ideal and well let's be honest, homely hostels to live will be one of your top priorities. So let us make things a little easier for you, here are the best of Best Hostels in Slovakia for you:
1. Ginger Monkey

This hotel was opened, in the picturesque village of Zdiar in the High Tatras Mountains, of Slovakia by a group of backpackers. The place is small, cozy and warm, making you instantly feeling like you're home. This place is a haven for winter sports where you can enjoy a number of activities like snowboarding, ice hockey, trekking, skiing and a lot more. You can also go for adventurous things like skydiving, paintballing or simply cycling in the beautiful narrow lanes of the village. If you please, you could just sit by the window reading a book, hot chocolate in hand, gazing by the unnerving beauty of the magnificent mountains. Great, traditional Slovakian food at your disposal and staff that will make you the priority through thick and thin.
Location: 294 Zdiar, High Tatras, Slovakia
Rating: ⅘
Must Read: Slovakia Nightlife: 12 Popular Clubs To Visit For A Hip Vacation
2. Hostel Blues

The Hostel Blues is at a distance of 300 meters from Bratislava's Old Town and is one of the best there could be. A 24 hour working front desk always ready to take you in and make you comfortable and a lively bar, for you and fellow travelers to bond over stories and tales. The place speaks volumes when it comes to hospitality and great accommodations, a dedicated service and a wonderful experience. So hurry up, they might just run out of rooms and that my friend is something you definitely do not want.
Location: Špitálska 2, 811 08 Bratislava
Rating: 4/5
3. Freddie next to Mercury

Exceptional stays and enduring sights. This hostel is absolutely wonderful. With lounges and summer terraces, for a night of light music and grilled specialties stories and tales of travels and adventure created over new friendships, you'll come to fall in love with this place. Intense security, positive accommodations and all of your needs being catered to, timely and efficiently! To get here from the main railway station, it's a 5-minute walk. Leave the station through the main road, on the first lights, turn left, walk 400 meters, take Third Street on the left and you're here.
Location: Jelenia 4, Bratislava, Slovakia
Rating: ⅘
Suggested Read: 13 Places To Visit In Slovakia In 2022 That Will Mesmerize You Immensely
4. Downtown Backpackers Hostel

The oldest hostel in Bratislava, situated in the depths of historical grounds in the place, it speaks to you through its archaic built and art. The rustic and artistic essence of this place can be reflected through all of its undertakings. It's aesthetically pleasing, but more so capable of making you feel the true spirit and soul of the place. Its walls tell you the historic stories and tales and its extraordinary services and food, show you warmth and love. Scrumptious delicacies and a wide array of places to see, this hostel won't disappoint you.
Location: Panenska 31, Bratislava, Slovakia
Rating: 4.5/5
5. Hostel Tale

The beautiful area of Bystra valley houses this hotel in the resort of Tale which is at a distance of 100m from the main road which connects Bystrá with Srdiecko that is on the south side of Chopok, this hostel is customer and budget friendly. Extremely close to the Low Tatras national park of Slovakia and other activities that will make your trip, one to remember. The place is beautiful and decorative, comfortable and satisfying in its form. It's great if you already have a hectic schedule and don't want to spend much time traveling around. Wonderful for you and your family to reside in, bonding over some great food and making memories that will always, always make you happy and yet nostalgic.
Location: Tále710, Brezno, Slovakia
Rating: ⅘
Suggested Read: 10 Impeccable Castles In Slovakia That You Must-Visit On Your Trip!
6. Wild Elephants Hostel

This is the only hostel in Bratislava which was built by some backpackers and is also operated by them. As some would say, 'mi casa es su casa',in the heart of this ancient city center you can comfortably chill and relax. This place is located just near about 10 steps from the Main Square of Bratislava. The best of all, the staff will do the best we can to make you feel at home, by offering different tours, movie nights, cooking events and all the enjoyable elephant activities. We mix hip eco furniture with some rustic parts to give a homely ambiance where you can simply crash on the couch and make yourselves feel comfortable.
Location: Frantiskanske namestie, 8, Bratislava
Rating: 4.5/5
7. Summer youth hostel Mlada

This is an inexpensive and convenient accommodation in Bratislava which is hosted and maintained by the student's dormitory of Slovak University of Technology. If you are traveling around Middle Europe and coming to the capital of Slovakia, they can offer you service and comfortable accommodation. Friendly in all of its ways and beautiful in all of its views! Make your trip cosy, secure and homely by choosing this hostel. They've got it all, just for you.
Location: SDaJ Mlada Garda, Bratislava, Slovakia
Rating: 4.5/5
Suggested Read: Christmas In Slovakia: 10 Incredible Places To Have A Heartwarming Christmas Eve
8. Aqualand

Located in the centre of Poprad, Aqualand is present at just the walking distance from all tourist attractions like spa, outdoor mineral hot springs, clubs, bars, restaurants and cafes. You can also go to the High Tatras by any of the convenient transports like bus, trains or cars. Freshly decorated with intricate interior art that will make your soul feel rewarded and blessed, this hostel has a vintage vibe yet quite a modern rendition of what your perfect place can be.
Location: Stefanikova 893, Poprad, Slovakia, Poprad, Slovakia
Rating: 4.5/5
9. Hostel 6

Located in the medieval mining town of Banska Stiavnica, it is situated on the slope above the main square. This is a small and peaceful hotel but well equipped and properly maintained. It is popular among the tourists as it made it to the list of World Cultural and Natural Heritage of UNESCO. This hotel features a terrace from where you can have an awe-inspiring view of the whole nearby places like the Trinity Square, Old Castle, New Castle and Calvaria. Overlooking the snow-laden streets and rooftops, beauty dripping down, soft and majestic, it's hard not to think about this place as the ultimate perfect destination. So don't just wait around, take your chance and come live some of your best days here.
Location: A. Sladkovica 6, Banska Stiavnica, Slovakia
Rating: ⅘
Suggested Read: Denmark Nightlife: Get Ready To Party Hard At These 10 Places In This European Country!
10. Penzion Partizan

This is located in the area of the highest mountains in Slovakia called the High Tatras. This place provides you with a great choice of hiking trails, ski slopes and cycle trips for everyone. You can start your hike right in front of the hostel! Adventurous activities or just some chilling time spent reading a book or listening to soft, calm music, you can do it all here. It's your very own mini paradise.
Location: Horný Smokovec 10/II, High Tatras, Slovakia, High Tatras, Slovakia
Rating: 4/5
11. Kiwi Hostel

Absolutely smashing hostel, located in the best of the best destinations and with immensely helpful and the sweetest staff at your disposal, the Kiwi hostel promises you days of intense happiness, some nervous excitement and memories that will hold onto you forever. Simply furnishes, it's not too fancy but just the right amount of everything. Balancing so many weights, this hostel is humbling and grounded. Pleasure is often found in the simplest of places. Well don't go anywhere then, the kiwi hostel is all for you, ready. For a simple, satisfying and splendid stay!
Location: Čajakova 4077/25, 811 05 Bratislava, Slovakia
Rating: 3.5/5
Suggested Read: Tour Du Mont Blanc: A Complete Guide To Trek Through The Magical Beauty Of Europe
12. Patio Hostel

Our final one for the list and thus, we've saved the best for last. The best of the best, this hostel is magical with its charm. The authentic Slovakian essence reeking through it, it's hard not to want to stay here forever. Artsy yet fashionably modern, it provides you with facilities to carry out adrenaline- junkie- favorite activities or beautiful hikes along winding paths opening you up to the transcending beauty. Benevolence at its peak, the staff is like your very own, at your service whenever you need them. Sometimes, they like to spice things up with their own tales and stories, much like the chefs. Spices and flavors of the tastes of this country, in the form of mouth-watering feasts, to make your day, perfect indeed! Coming to Slovakia? Book the patio hostel now!
Location: Spitalska 35, Bratislava, Slovakia
Rating: ⅘
Further Read: 10 Mountains In Europe That Will Put To Test All Adrenaline Junkies In 2022
Slovakia is the land of beauty. With its heavenly nature trails and scrumptious cuisines, tales are unfolded. It's your most awaited holiday destination. Well not anymore, take your chance and get on a plane. Plan a trip to Europe and head to Slovakia. Exciting things await you!
---
Looking To Book An International Holiday?
Book memorable holidays on TravelTriangle with 650+ verified travel agents for 65+ domestic and international destinations.
---