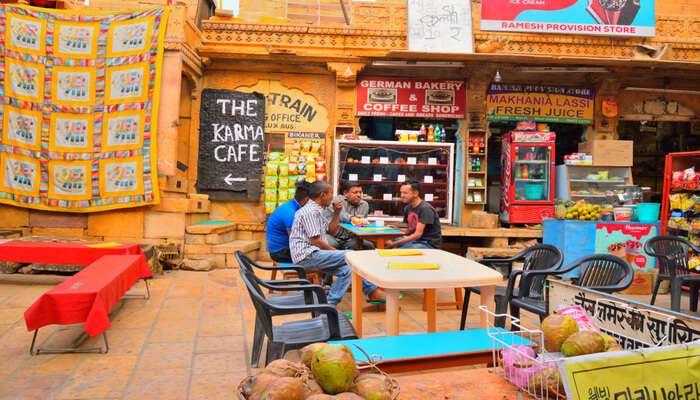 Jaisalmer, the royal city of Rajasthan, is famous for its camel rides through the glorious Thar Desert. One of the most popular tourist locations in Rajasthan, the city of Jaisalmer is also popularly known as the 'Golden City'. The city is famous for its forts and ancient architectural marvels. This enchanting royal city is equally popular with international tourists as well as Indians. The peak tourist time is during the winter months and it is that time when you can enjoy a hot cup of cappuccino at one of the cafes in Jaisalmer. The city has some chic cafes and eateries which are located at rooftops providing incredible views of the city.
7 Best Cafes in Jaisalmer
Here is the list of the top cafes in Jaisalmer offering some incredible hot beverages and snacks along with a very relaxed ambiance.
1. The Traveler's Cup Premium Coffee Shop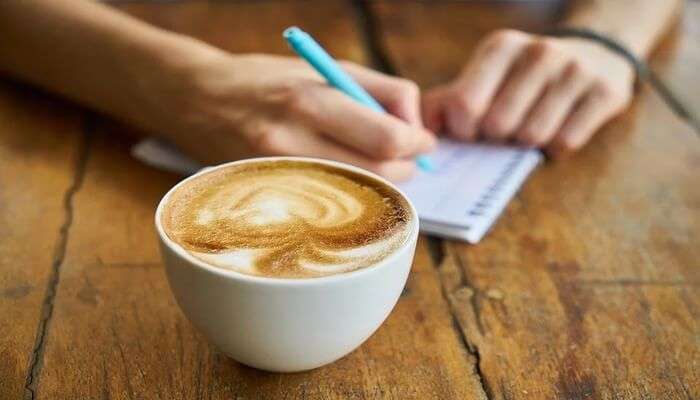 Situated inside the Jaisalmer Fort, this coffee shop specializes in the french press coffee. Prepared from freshly ground beans, this is a cute little place for a cup of coffee. Housed inside a book shop, the ambiance inside the cafe is quite ethereal. The atmosphere inside is quite laid back, serene and you can grab your favorite title to read along with a hot cup of coffee. The owner is an incredible host. The cafe also serves hot freshly cooked tawa parathas with coffee or tea.
Timings: 9:30 am – 9:30 pm
Location: Inside Dharan Book Store, Opposite Sun Temple,Vyasa Para,Inside Fort, Jaisalmer, Rajasthan 345001
Google Rating: 4.8/5 | TripAdvisor Rating: 5/5
Must Read: New Year's Eve 2022 Jaisalmer Guide Including Things To Do
2. KB Café Jaisalmer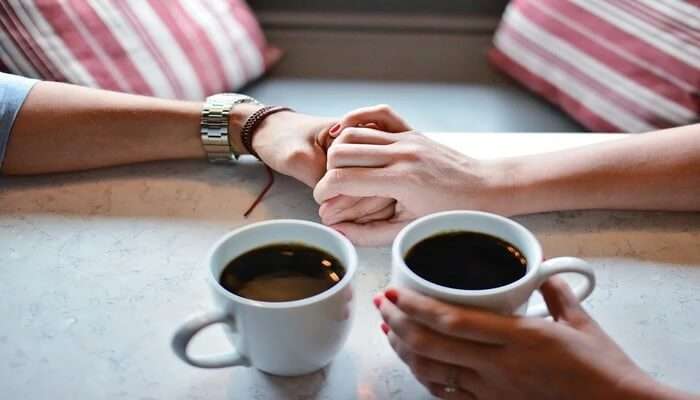 This is a rooftop cafe overlooking the bustling market below with some awesome views of the fort. One can also see Patwon Ki Haveli and the city views are incredible from this place. Along with coffee and snacks, this place also serves Rajasthani thali for those who want to enjoy the authentic food of Jaisalmer. The cafe is incredibly clean with a nice ambiance. Do try the pasta and thandai here.
Timings: 9 am – 9 pm
Location: Patwa Haveli, Near Amar Sagar Pol, Jaisalmer, Rajasthan
Google Rating: 4.2/5 | TripAdvisor Rating:4.5 /5
Suggested Read: Kumbhalgarh Fort: The Crowning Glory Of Rajasthan For A Perfect Trip In 2022!
3. Blues Cafe Jaisalmer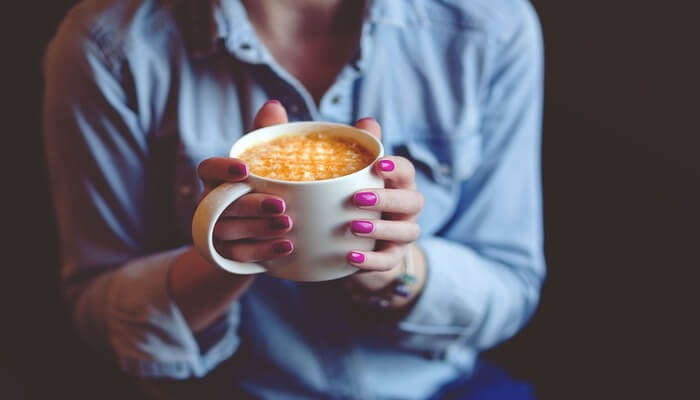 It is one of the best cafes to enjoy the nightlife at Jaisalmer. The vibes are incredibly chill. The place offers great drinks along with some wonderful music. One can also enjoy live music that is played here and is often of different genres keeping in mind the variety of tourists that visit this place from different regions of the world. You can also jam with your friends or with others here if you love singing. This cafe is located at the rooftop of Arya Haveli in main Pura Street and offers some stunning views of the city. The place offers blends of freshly brewed coffee which are a total treat.
Timings: 8 am – 11 pm
Location: Arya Haveli, Main pura Street, Gandhi Chowk Rd, Jaisalmer, Rajasthan 345001
Google Rating: 4/5 | TripAdvisor Rating: 4.5/5
Suggested Read: 9 Best Places To Visit Near Sikar To Get Closer To The Rajasthani Roots In 2022
4. Kuku Coffee House

This is one of the most popular cafes in town. Kuku Coffee House is popular for its incredible sunset views and is definitely one of the best places to enjoy the sunset in Jaisalmer. The staff and the ambiance here makes one feel at home. Do try out the unique pomegranate lassi here which is a specialty of this place. Along with coffee one can also order some delicious snacks here. The other must-try drink is Pistachio Latte at this place.
Timings: 9:30 am – 9:30 pm
Location: Inside Jaisalmer Fort, near Hari Om Jewellers, Chougen Para, Jaisalmer, Rajasthan
Google Rating: 4.6/5 | TripAdvisor Rating: 5/5
Suggested Read: 14 Places To Visit Near Alwar For An Enriching Rajasthan Trip In 2022
5. Cafe Cavalli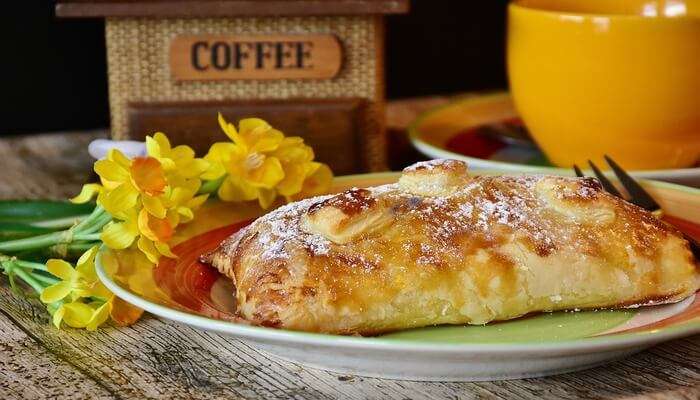 With an amazing fort view and cool music being played here, this cafe is a very chilled out place. The owner of this cafe is very welcoming and polite to the guests. The cafe serves amazing freshly brewed cappuccino. The place is popular for its vegetarian as well as non-vegetarian snacks and eating options.
Timings: 6 am – 11:30 pm
Location: Located near karan desert safari, Dhibba Para, Manak Chowk, Amar Sagar Lake, Jaisalmer, Rajasthan 345001
Google Rating: 5/5 | TripAdvisor Rating: 5/5
Suggested Read: Popular Cafes In Bikaner To Hangout With Your People On A Rajasthan Trip In 2022
6. Silk Route Coffee And Caravan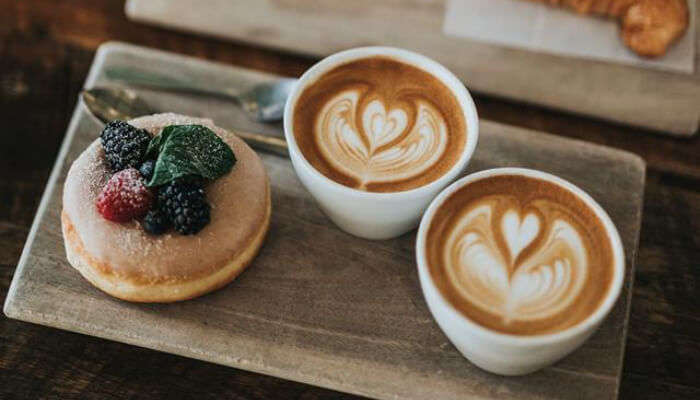 This is an incredible cafe situated near the popular Gadisar lake. This cafe with an outside seating option provides an awesome view of the lake. The whole surroundings around the cafe are quite surreal. The cafe is nicely decorated and has a decent menu. The cafe offers freshly baked pastries and delicious plates of pasta. The coffee served is freshly brewed and quite soothing. Do try out the garlic bread here with a hot cappuccino.
Timings: 9 am – 11 pm
Location: Gadisar lake, Postal Colony, Jaisalmer, Rajasthan 345001
Google Rating: 5/5 | TripAdvisor Rating: 5/5
Suggested Read: Find Out The Best Places To Visit In Sikar In 2022: Rajasthan's Hidden Gem!
7. German Bakery And Coffee Shop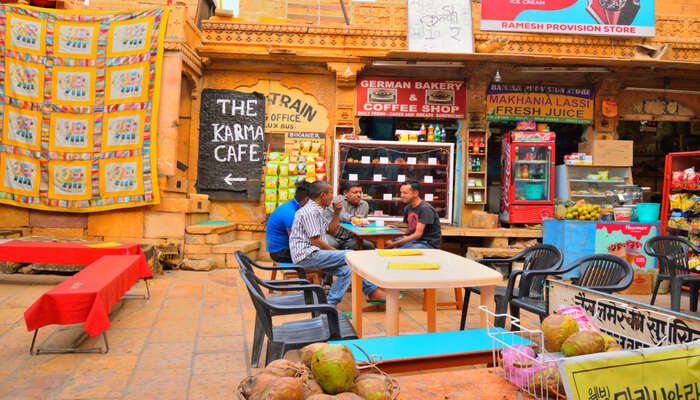 This riveting bakery cum cafe is situated inside the fort. This cafe is popular for its hot masala tea and some sumptuous breakfast items that it serves with tea and coffee. This place in Jaisalmer is known for its fresh bakery products including pastries and croissants with freshly brewed coffee. Do try the apple crumble cake and other pastries which is a specialty of this place. You will also love the Americano and Mocha coffee here. Cinnamon rolls are also unique and one should try those when in Jaisalmer.
Timings: 7:30 am – 10 pm (open only in the months of October to March)
Location: Khejer Para, Manak Chowk, Amar Sagar Pol, Jaisalmer, Rajasthan 345001
Google Rating: 3.9/5 | TripAdvisor Rating: 4.5/5
Further Read: Explore Top 13 Things To Do In Sikar: The Magnificent Desert City Of Rajasthan!
The Golden City of Rajasthan offers a unique experience of the incredible Thar desert and desert safari. This popular tourist destination also houses real good cafes for coffee and tea lovers. We hope the list above helps you find your right cup of hot drink as you explore these cafes in Jaisalmer. If you haven't planned a visit to this ravishing city then let TravelTriangle help you out in planning one. Book a holiday to Jaisalmer soon!
Frequently Asked Questions About Cafes In Jaisalmer
Is Starbuck cafe outlet present in Jaisalmer?
No, there is no Starbucks coffee outlet. But you can find some very good local coffee outlets serving amazing freshly brewed coffee in Jaisalmer.
What is Jaisalmer famous for?
Jaisalmer is famous for its incredible and royal architectural heritage spots. The town is famous for the desert safaris and sand dunes camps here.
What is the best time to visit Jaisalmer?
Winter season is the best to explore Jaisalmer. The maximum temperature during winters is 24-degree celsius here. Winters months are from November to mid-March.
Who founded the city of Jaisalmer?
Jaisalmer was founded by the Rajput King Raja Rawal Jaisal. The city was founded in the mid 12th century.
How far is Jaisalmer from Jaipur?
Jaisalmer is almost 556 km from Jaipur. It may take a drive time of more than 10 hours to reach Jaisalmer from Jaipur.
Which is the nearest airport to Jaisalmer?
Jaisalmer has a small airport which is around 17 km away from the main town. The other large airport is in Jodhpur city which is around 275 km from Jaisalmer.
People Also Read: