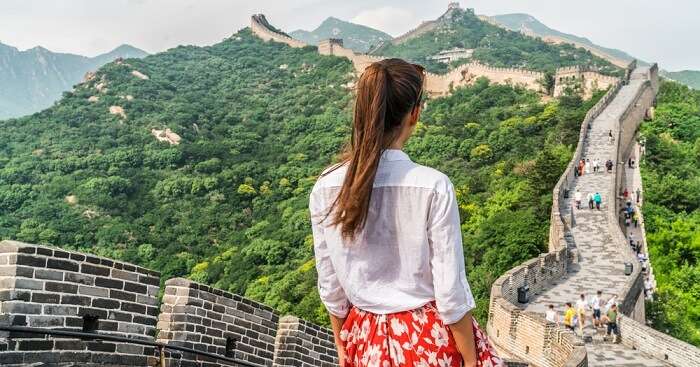 China has become a popular travel destination in recent years with more and more people heading there for a vacation. The juxtaposition of hi-tech lifestyle and ancient history makes it an interesting place to visit. If you too have a vacation in mind, then these China travel tips will help you plan a trip.
Travelling to China is nothing like traveling across Europe or India. China has its own set of rules which you will have to abide by when you are exploring around the country. Don't worry, it won't kill your fun in anyway. In fact, you will come to learn about the cultures and traditions that make this place so special. After all, isn't every vacation a new learning experience?
China Travel Tips
Here are some traveling tips to China for the first timers to make their vacation a hassle-free affair. Bookmark these for the next time you take a trip to China.
1. Carry cash
One thing you should know is that no currency other than Chinese Yuan is acceptable in the country. Also, most places in China make transaction in cash. So, make sure you exchange enough money from the bank ahead of your China trip. Another thing, you won't find many international ATMs around the country. If you have an HSBC card, you can make an exchange at foreign banks easily. Also, inform your bank ahead of your trip so that your transaction is not cancelled.
Must Read: Shopping In China: 10 Best Places For Buying Classic Souvenirs And Latest Products In 2022
2. Hygiene
Pack enough toilet paper, hand sanitizer, and soap in your toiletry kit because you won't find these things everywhere. Only hotels and nicer restaurants provide toilet paper. So, it is better to be safe than sorry.
Suggested Read: 10 Fun Things To Do In China That Will Let You Explore A Land Beyond The Great Wall!
3. Hotel booking
If you do not want to pay for the hotel straight up, then you should consider booking from booking.com that has a variety of properties all over China. Chinese websites like C-trip and eLong are more preferable for hotel bookings. You could also ask for extra bedding without any shame instead of booking an extra room for the kids. Chinese are very accommodating that way.
Suggested Read: Now You Can Win A Stay At The Great Wall Of China. Find Out How!
4. Visa
China does not offer visa on arrival. You would need an invitation letter from a friend or relative or submit your detailed itinerary that included you return ticket and hotel details. To apply for a visa, you will either have to meet a Chinese consulate in person or request it via post. Also, apply for Chinese visa way before your trip if you do not want any delays.
Suggested Read: 10 Best Restaurants In China To Indulge In A Dreamy Fine Dining Experience
---
Planning your holiday but confused about where to go? These travel stories help you find your best trip ever!
---
5. Communication Barrier
Err… You are going to have a hard time communicating in China unless you are in Beijing or Shanghai because most people are not fluent in English language. If you are going off road visiting small cities and villages, you would have a difficult time. You could either learn a few basic phrases in Madarin or download a language app (if it works in China) to translate sign boards for you.
Suggested Read: World's Largest Glass Skywalk Is High Up In China And We Can't Wait To Walk Down
6. Drinking Water
Whatever you do, do not drink tap water in China. It is filthy and will give you a case of food poisoning. Carry a water bottle with you which you should carry everywhere you travel to. Fill your water bottle from a healthy water source. This will cut down your use of plastic water bottles and hence, the pressure on the environment. This is the very least that you can do for your planet.
Suggested Read: Great Wall Of China: The Complete Travel Guide For First Time Visitors In 2022
7. Food
If you do not enjoy strong Asian flavours, then you will encounter a bit of a problem with food in China. Chinese food in China tastes a lot different than what you are accustomed to having in your own country. Also, menu in all the restaurants are written in Chinese with no translations. So, please check with your waiter before ordering.
As far as street food is concerned, head to those places where you find a long queue of locals to be on the safer side. Street food is quite popular in China. So, you must get a taste of it.
Suggested Read: Crazy Adventures You Need To Try At The Great Wall of China
8. Transportation
Prefer to travel by train during your vacation in China. You won't be able to thank Chinese enough for the service. If you want to get your train passes made, then you can get in touch with China DIY travel to assist you with the passes. It is run by an Australian-Chinese couple.
Taking taxis in China is another alternative since it is cheap and easily available. If you are thinking of renting a car, you must know that the traffic on the roads in China is chaotic and loud.
Suggested Read: Maglev Train China Is Planned For 2022 But The Driver Is Not. Surprised Much?
9. Packing list
You will need two different packing lists for summer and winter. So, it depends on what time you are visiting China. Winters in southern parts of China are extremely chilly. So, you would need layers to keep yourself warm. Carry a warm water bottle with you if you can. The weather during the summers in China is hot and humid. So, wear light colored cotton clothes and carry talcum powder with you to avoid chafing.
Further Read: 10 Tourist Places To Visit In China For An Epic Oriental Adventure!
Traveling to China is not as difficult as it seems if you just keep these China travel tips in mind. It can surprisingly be an amazing place to visit with so many unique experiences to have. If you are not yet fully comfortable with traveling to China, you could take a holiday in Hong Kong and have a rendezvous with Cantonese culture.
---
Looking To Book A Holiday Package?
---