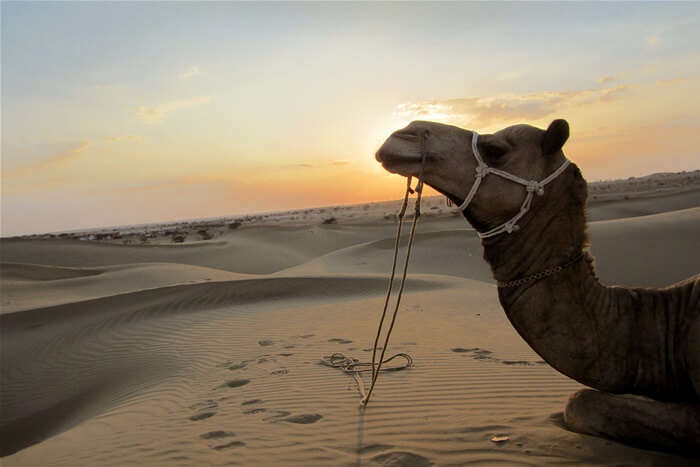 Located in the north-eastern part of Rajasthan, lies a magnificent historic place called Sikar, which is on everybody's wish list. Dotted with eye-catching ancient temples, fascinating museums, beautifully landscaped gardens, imposing forts and many more other spectacular attractions, Sikar is one of the best places to visit for a dream vacation. There is a huge list of places to visit in Sikar that have something to offer to everyone across all age groups.
Sikar is also an excellent place to experience the myriad shades of culture and heritage of India that has allured millions of travelers across the globe.
Places To Visit In Sikar To Unravel Rajasthan's Hidden Gems
Let's take a tour of the best places to visit in Sikar that are an epitome of the awe-inspiring architecture of Indian traditions.
1. Devgarh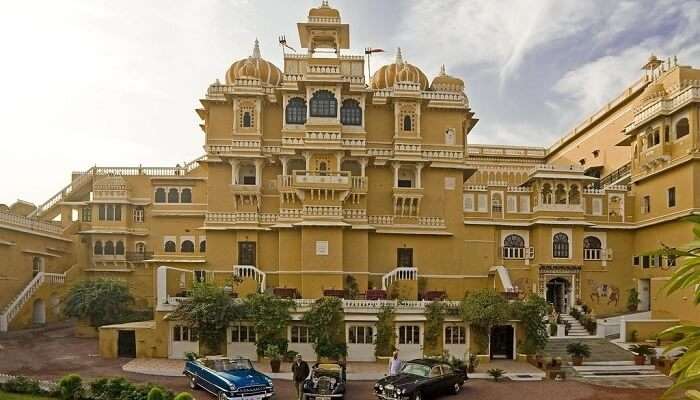 Located at an altitude of about 2100 feet above sea level, Deogarh or Devgarh is one of the coolest places in Rajasthan. One of the most popular attractions here is the gorgeous Deogarh Mahal perched on the hilltop of Aravalli mountain range. Set amidst pristine landscapes and serene lakes, Deogarh Mahal depicts the royal feel of Rajasthani architecture. Ornamented with shining mirrors and murals, this is a heritage site is one of the most visited tourist places in Sikar.
Highlights: Exquisitely designed Maharana Suite, Authentic Rajasthani cuisines.
Nearby attractions: Dashavatar Temple.
How to reach:
By Road: Deogarh is well connected by buses, available from all parts of Rajasthan
By Rail: Both Marwar and Udaipur Junction are equidistant from Devgarh
By Air: The nearest airport is at Udaipur, located 140 km from Devgarh
Must Read: Popular Cafes In Bikaner To Hangout With Your People On A Rajasthan Trip In 2020
2. Laxmangarh Fort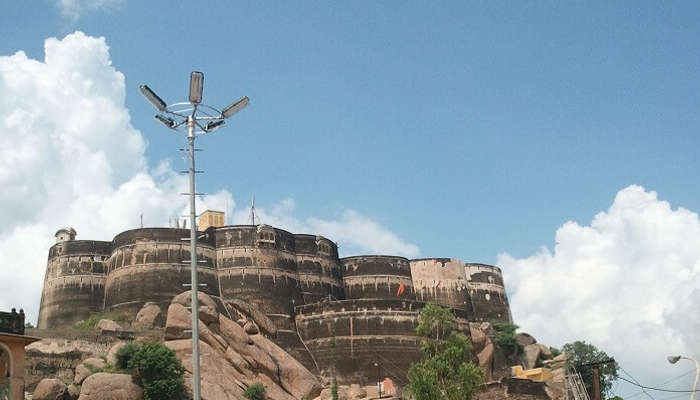 Built by Laxman Singh, the erstwhile Raja of Sikar, Laxmangarh Fort is an imposing monument that stands proudly on a hilltop. Situated just 30 km from Sikar, this 19th-century masterpiece is built upon scattered pieces of colossal rocks. People come here to capture the fascinating bird's eye view of the Laxmangarh town. The grandeur of the Laxmangarh Fort is another not to be missed while visiting places in Sikar.
Highlights: Majestic views Laxmangarh town.
Nearby attractions: Char Chowk Haveli, Clock Tower, Radhi Murlimanohar Temple, Sanganeria Haveli, Mirijam Kayla Haveli.
How to reach:
By Road: You can reach this place by availing a bus from Sikar
By Rail: The nearest train station is Mandawar Mahwa Road
By Air: The nearest airport is Kheria Airport, you can take a cab or bus from the airport to reach Laxmangarh Fort
Suggested Read: 5 Places To Visit In Rajasthan In January Which Has Something More Than Just The Palaces!
3. Harshnath Temple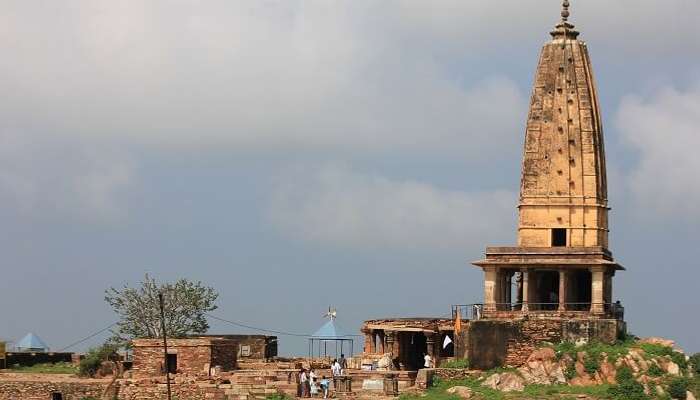 Located just 14 km away from Sikar, Harshnath Temple is a famous shrine dedicated to Hindu deity Lord Shiva. Embraced by the natural beauty of Aravalli Hills, this architectural marvel is said to be constructed in the 10th century during the reign of Chahamana King named Vigraharaja. The finely carved sculptures of different Hindu Gods and Goddesses within the temple, make it more breathtaking.
Every year during February and March, hundreds of devotees visit Harshnath Temple to offer prayer to the Lord on the occasion of Shiv Ratri. The spellbinding backdrop of the temple will leave mesmerized.
Highlights: Splendid backdrop views, intricately carved sculptures of Hindu deities.
Nearby attractions: Shyam Kund and Madho Niwas Kothi
How to reach:
By Road: One can conveniently reach the temple by bus from Sikar
By Rail: Sikar Junction railway station is close by
By Air: At 101 km, Jaipur International Airport is the closest airport to reach Sikar
Suggested Read: 7 Places To Visit Near Rajasthan For A Cultural Holiday Experience
4. Ganeshwar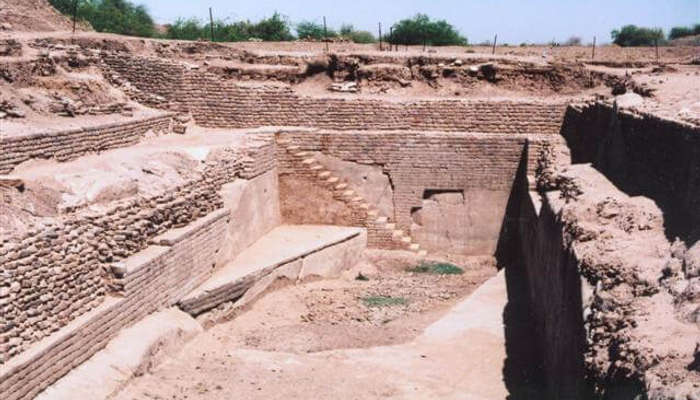 Ganeshwar is a famous picnic spot and one of the best places to visit in Sikar. This prime attraction is a village located close to the beautiful town of Neem ka Thana. Ganeshwar is also an excavation site, where the ruins of 4000 years old civilizations are the main crowd puller. Yet another major allurement of this village is the hot sulphur springs. People of the village believe that a dip in the spring cures all the skin ailments.
Highlights: Dip in the hot sulphur springs
Nearby attractions: Baleshwar City
How to reach:
By Road: One can avail buses or taxis from all parts of Rajasthan to Sikar
By Rail: You can hire a cab from Sikar railway station to reach Ganeshwar
By Air: Jaipur International Airport is located 101 km from Sikar
Suggested Read: Get The Rajasthani Bohemia On! 14 Amazing Shopping Places In Jaipur To Explore In 2020!
5. Jeenmata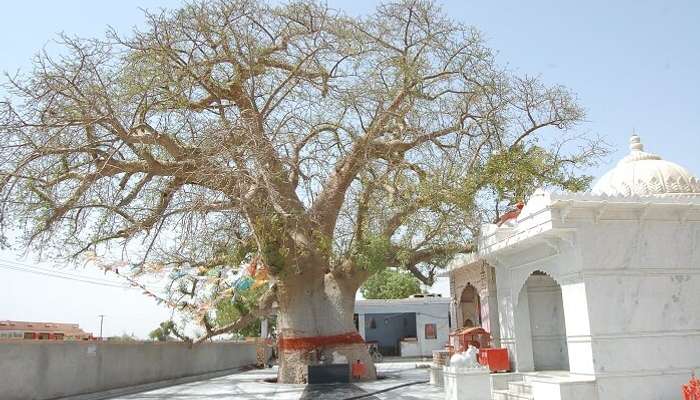 Regarded as one of the best visiting places in Sikar, Jeenmata is situated near the hill, 10 km from Rewasa, Sikar District. This main draw of this village is an ancient Temple dedicated to Jeen Mata (Goddess of Power). The holy statue of the Goddess is said to be 1000 years old. Jeen Mata has a huge gathering of devotees during Navratri. Just in close vicinity, there is yet another ancient temple dedicated to Harsh Bhairav Nath, brother of Goddess Jeen Mata.
Highlights: 1000 years old statue of the Goddess Jeen Mata.
Nearby attractions: Harsh Bhairav Nath Temple.
How to reach:
By Road: Jeen Mata Temple is well-connected by buses from every city of Rajasthan
By Rail: Hire a cab from Sikar Junction to comfortably reach Jeen Mata Temple
By Air: Jaipur International Airport is 110 km away from Fatehpur
Suggested Read: 14 Places To Visit In Rajasthan In Monsoon In 2020 For Those Who Love Rains!
Places to visit in Sikar Rajasthan within 100km
Located midway between Agra and Bikaner, Sikar is a city that is surrounded by major touristy cities of Rajasthan, let's have a look at the places you can visit near Sikar city that are marvellous to wander and explore around.
6. Jaipur, the Pink City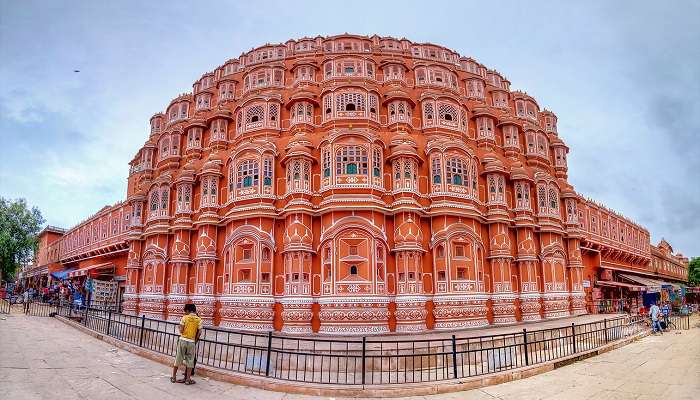 A vibrant amalgamation of Indian history and culture, Jaipur attracts a huge flock of tourists every year from all parts of the world. Strolling through the royal corridors and thriving markets of this Pink City is certainly an enjoyable experience for all kinds of travellers. Jaipur is one of the largest cities in India and is a highly sought-after honeymoon destination. Besides gleaming forts and palaces, this majestic city is famous for Camel Safari and shopping.
Some of the popular markets that will quench your thirst for shopping are Nehru Bazaar, Bapu Bazaar, Johari Bazaar, and Tripolia Bazar. When you are in Jaipur for a holiday, do savour some of the exotic Rajasthani dishes like Ghewar, Pyaaz Kachori, and Dal Baati Churma. One of the best things to do in Jaipur at night is to indulge yourself in the vibrant nightlife and groovy to some jazzy music. Jaipur has something for all travellers with different itineraries.
Highlights: Dal Baati Churma, Camel Safari, vibrant nightlife, bustling shopping areas.
Nearby attractions: Jantar Mantar, Amer Fort, Jaipur Palace Chokhi Dhani, Albert Museum, Hawa Mahal, Jaigarh Fort.
How to reach:
By Road: Jaipur is brilliantly connected with different national Highways. Buses are available regularly from all parts of Rajasthan
By Rail: Jaipur is connected through three main junctions, Gandhinagar, Durgapura and Jaipur
By Air: Sanganer Airport is 10 km from the main city and one can hire a cab from here to reach Jaipur
Suggested Read: Honeymoon In Rajasthan: 6 Things To Do And Attractions For Couple
7. Jodhpur, The Blue City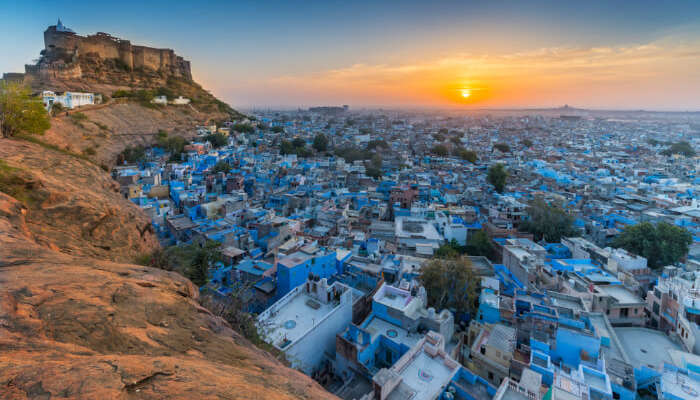 Crammed with a multitude of forts and palaces, Jodhpur is yet another royal city of Rajasthan. This is the second-largest city of Rajasthan and the 10th most visited place in the world. Appreciated for its sunny weather, this world-famous destination is thronged by visitors all around the year. Jodhpur houses some of the most fascinating attractions like Mehrangarh Fort, Umaid Bhawan Palace and Jaswant Thada (also known as the Taj Mahal of Marwar). Adventure lovers can enjoy a few heart-pumping activities like zip-lining and paragliding. Jodhpur also houses a huge number of restaurants that serve authentic Rajasthani delicacies such as Laal Maas and Dal Baati Churma.
Highlights: Umaid Bhawan Palace, Mehrangarh Fort, and Dal Baati Churma.
Nearby attractions: Jaswant Thada, Mandore Gardens, Kailana Lake, Chamunda Mata Temple.
How to reach:
By Road: Government-run buses like AC Goldline and Silver Line Express are available regularly
By Rail: The Blue City is well-connected by several train stations. Even the luxurious 'Palace on Wheels' visits this place
By Air: There are regular flights from Delhi, Mumbai, Udaipur and Jaipur to reach Jodhpur
Suggested Read: Nagaur Fort: Get Engrossed With The Beauty Of This Architecture In Rajasthan
8. Udaipur, The City of Lakes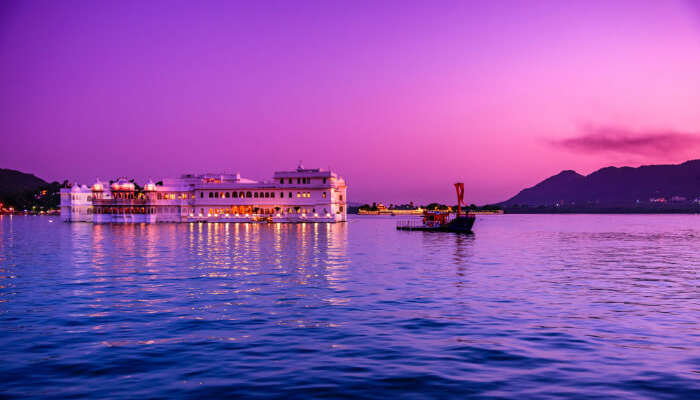 A dreamy honeymoon destination for newlyweds, Udaipur resonates with the aesthetic beauty and magnificent colours of Rajasthan. The city offers ample options for shopping, eating, and sightseeing. Also called the "Venice of the East", Udaipur firmly rests on the innumerable lakes that offer travellers astonishing views of sparkling waters against a glorious setting sun.
Fateh Sagar Lake, Udaisagar Lake, Rajsamand Lake, and Lake Pichola are some of the most picturesque lakes of the city that have enchanted travellers from every corner of the world. A perfect weekend getaway from the hustle and bustle of city life, Udaipur is one of Asia's most famous tourist destinations.
Highlights: Shimmering lakes against a glorious setting sun.
Nearby attractions: Fateh Sagar Lake, City Palace, Jag Mandir, Monsoon Palace, Jagdish Temple.
How to reach:
By Road: Several buses are available from Rajasthan to Udaipur
By Rail: From Udaipur Railway Station, you can take taxis or auto to reach different attractions of the city
Suggested Read: Monsoon In Jaipur 2020: A Guide To Explore The Pink City Of Rajasthan!
9. Jaisalmer, The Golden City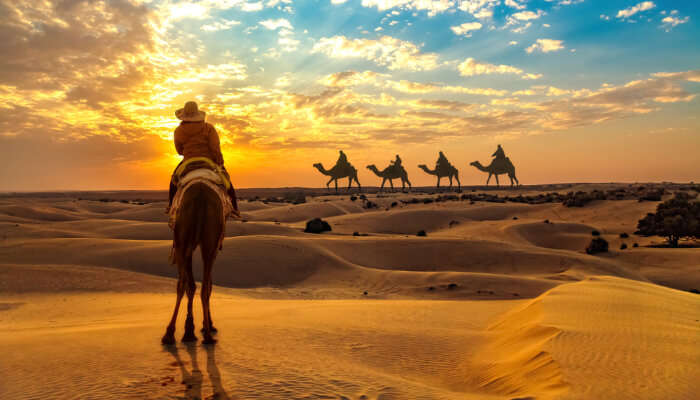 Jaisalmer is a jewel located in the heart of Thar Desert and is the most desired backpacker's destination. The Golden City is one of the rare gems that encapsulates the true meaning of Incredible India. The main crowd puller here is undeniably the huge fort that sits atop a hill right in the middle of the city center. Other famous attractions that tempt travelers to Jaisalmer are breathtaking sand dunes, camel safaris, and jeep tours. Made up of Yellowstone, the Jaisalmer Fort reflects the magnificent Rajasthani architectural style. For an extra dose of fun and excitement, you can for boating in the Gadisar Lake located near the fort.
Highlights: Sightseeing, Camel and jeep safari, rustic surroundings and Sand Dunes.
Nearby attractions: Thar Heritage Museum, Desert National Park, Patwon Ki Haveli, Shantinath Temple, Bhatia Bazaar and Chandraprabhu Temple.
How to reach:
By Road: From Jaipur, you can choose to travel by a sleeper bus
By Rail: One can avail direct trains from Jaipur and Jodhpur to reach Jaisalmer
By Air: Yet another option is to reach Jaisalmer is to hire a cab from Jodhpur Airport
Further Read: Monsoon In Jaisalmer: A Guide To See The Best Sights Of The Golden City Of Rajasthan In 2019!
Now that you know what are the most significant places to visit in Sikar, Rajasthan and within 100 kilometers we hope you plan a trip to this wonderful destination and get a glimpse of the rich and vibrant cultural heritage of Indian history. Make sure you add these places to your itinerary list on your trip to Rajasthan and and enhance your holiday experience.
Frequently Asked Questions About Places To Visit In Sikar
Q. What is Sikar famous for?
A. Sikar and its neighboring cities like Fatehpur, Ganeshwar, Devgarh and many more are famous for grand havelis with frescos, beautiful ancient temples, imposing forts and museums.
Q. How far is Sikar from Jaipur?
A. Sikar is 101 km from Jaipur, but it is well-connected through roadways, railways, and airlines. If you take a bus from Jaipur, it takes around 2 hours and 30 minutes to reach Sikar.
Q. How do I get to Sikar by train?
A. It takes around 6 hours if you have aboard a train from New Delhi to Sikar. This is one of the cheapest ways to reach the beautiful city of Sikar.
Q. Which is the best time to visit Rajasthan?
A. The best time to explore all the attractions of Rajasthan is between November to February, when the weather is pleasant and inviting.
Q. Which is the best city in Rajasthan?
A. Jaipur, Jodhpur, Udaipur, Kota, Jaisalmer, and Ajmer are some of the best cities in Rajasthan to plan a vacation with your family and friends. These places are best known for housing several architectural marvels like forts, museums, Havelis and temples.
Q. What can I buy in Rajasthan?
A. Jewelry, Gemstones, Paintings, Carpets, Pottery, Puppets, Toys, Fabric Work, Metal Work, Spices and Jodhpuri Juttis are some of the popular things you can buy in almost all cities of Rajasthan.
Q. What is the favourite food of Rajasthan?
A. Dal Bati Churma and Laal Maas are the two most popular dishes you must try when you are in Rajasthan. Ker Sangri, Gatte ki Khichdi, Dil Khushal, Boondi Raita, Rajasthani Kadi, Mawa Kachori, Pyaaz Kachori, and Gujia are some of the other unique dishes that will definitely want you to have more of it.
Comments
comments