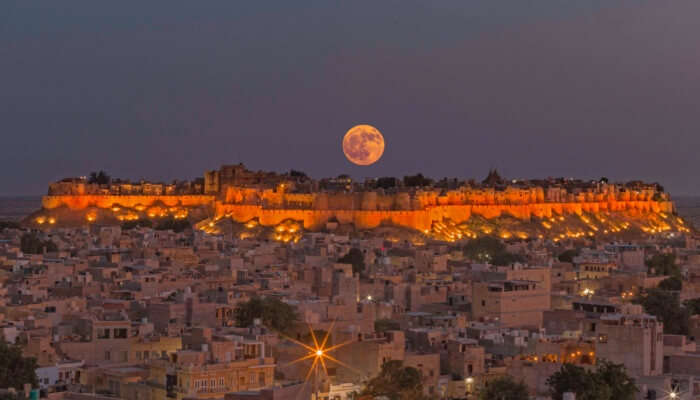 New Year is always considered to be a special time of the year. Obviously, you would like to spend this time with your near and dear ones, as it is the start of the year with new hope and energy. The best way to celebrate the arrival of New Year is by going for a trip to the Golden City of Rajasthan – Jaisalmer. This city remains the most preferred destination among the tourists because it has the perfect combination of wildlife biodiversity, historical heritage, religious places, and last but not the least its architectural excellence. New Year in Jaisalmer would be an experience you'd never forget, as no traveller would ever go home disappointed from a city that is infused with historical charms and traditional splendours.
Why Jaisalmer For New Year's Eve?
Plans for the New Year don't have to be limited to parties, loud music and dancing et al. What if you get a chance to be different and spend your New Year's Eve in the most unique manner? Well, Jaisalmer is a city that gives you this opportunity to celebrate your New Year's Eve with style and fervor. When it comes to activities to indulge on the New Year in Jaisalmer, there is no dearth of such activities to delve into. Right from camping amidst the sand dunes to relishing a traditional and folk music and dance program amongst others, the itinerary of things to do in Jaisalmer is something to look forward to.
Top 5 Places You Must Visit In Jaisalmer On New Year's Eve
Apart from the activities, you must have good knowledge about the places that you are to visit in Jaisalmer for exploration. This city is full of unique, beautiful and also appealing places whose visit can make your New Year full of life. Our listicle below have listed down top 5 places which you must not miss out when you are celebrating New Year in Jaisalmer:
1. Jaisalmer Fort

The architectural marvel of the region – the Sona Quilla or Jaisalmer Fort must be visited by you because it captures the historical essence of the city in the most marvelous manner. There is a whole new world inside this fort and which is home to lavish hotels, restaurants, local shops besides an exclusive museum that preserves much about the region's golden past.
How to Reach: Being a prime tourist spot, there are many autos and cabs available from all the main locations like the Railway Station.
Location: Near Gopa CHOCK, Khejer Para, Manak Chowk, Amar Sagar Pol, Jaisalmer, Rajasthan 345001
Places to Stay: Jaisalmer Marriott Resort & Spa, Sonaar Haveli, Gorbandh Palace

Duration of the Visit: It would approximately take 2 to 2.5 hours to roam around the fort.
Timings for the Visit: Preferably anytime between 9AM to 5PM.
Must-Visit for: The beautiful and out-of-the-box architecture
Must Read: Places To Visit Near Jaisalmer: 8 Spectacular Locations That Deserve To Be In Your Itinerary
2. Gadisar Lake

Image Source
Everything does not have to be about partying and dancing around on New Year's Eve. You can take a detour from all the noise and go and take pleasure in the serenity of the Gadisar Lake instead.
How to Reach: This lake is just 2 km from the railway station and you can hire a cab or an autorickshaw to reach the lake.
Location: Postal Colony, Jaisalmer, Rajasthan 345001
Places to Stay: Golden Marigold Hotel, The Gulaal, Hotel Lal Garh Fort And Palace
Activities to Do in Gadisar Lake: Bird watching and boating
Don't Miss: Sunset view which makes this lake and the surrounding areas turn an absolutely alluring scene to scintillate your presence.
Entry Fee: Free of cost. Only you will have to pay for boating according to your preferences.
Suggested Read: 38 Marvelous Places To Visit In Jaisalmer In 2023
3. Bada Bagh

Image Source
Boasting of a dam, garden, and tank, the Bada Garden is a good place to spend your time amid the beautifully carved and glamorous cenotaphs. The place is a significant one because the death of anyone from the Royal family was honored by a cenotaph here.
How to Reach: This place is located at a distance of 5 kilometers from the city and can be reached by hiring a tuk-tuk or bus from any station.
Location: Rajasthan 345001
Places to Stay: Gaji Hotel Jaisalmer, Hotel Heritage Inn (P) Ltd, 3 Palms Jaisal Vilas Hotel
Highlights: Cenotaphs, Garden, Picturesque Beauty, and Serenity
Duration of the Visit: Approximately one or two hours
Suggested Read: Nightlife In Jaisalmer: What Happens In The Golden City When The Sun Goes Down
4. Kuldhara

Image Source
Want to give an eerie and ghostly touch to your New Year trip to Jaisalmer? If yes, then you need to add a visit to Kuldhara to your itinerary. The ruins of this village are the witness of the Rajput honor and glory. If you are curious to know more, then do stop by this place.
How to Reach: Kuldhara Village is best accessed by your car or taxi.
Location: Kuldhara, Rajasthan 345001
Places to Stay: Hotel Jaisalkot, Samrat Resort, Damodra Desert Camp
Ruins worth Witnessing Here: Reconstructed houses, village shelters, wide streets, and step wells amongst others.
Suggested Read: 11 Best Romantic Things To Do For An Exciting Honeymoon In Jaisalmer In 2023
5. Desert National Park

Image Source
It is always a good idea to spend New Year's Eve doing something adventurous. What is more adventurous than visiting a National Park and enjoying your New Year with the beauty of nature and the vitality of the wildlife in the region?
How to Reach: RSRTC buses are the best way to reach this park or you can hire a cab directly to the destination.
Location: Myajlar Road, Jaisalmer, Rajasthan 345001
Places to Stay: Winds Desert Camp, Rajasthan Desert Safari Camp Pvt. Ltd., Mehar Adventure Safari Camp
Unique Species Found Here: Desert cat, wolf, blackbuck, chinkara, monitor lizard, gecko, hedgehog, falcons, bee-eaters, larks.
Things to Pack for the Visit: Camera, medical kit, comfortable clothes, sunscreen or sunglasses.
Suggested Read: 5 Jaisalmer Temples That Represent The City's Spirituality Beautifully
Things To Do In Jaisalmer During New Year
Your New Year trip to Jaisalmer can turn out to be a mesmerizing and alluring one if you tick off the following activities from your itinerary:
1. Camping

Image Source
Sand dunes, starry nights, rustic environment and the company of your loved ones help make the ideal combination for camping in the desert region of Jaisalmer in the Rajasthan state. Would it not be better if you go camping under the night sky, stargazing and welcome the New Year with the traditional Rajasthani food and delectable drinks from the rich cuisine?
Suggested Destinations for Camping: Sam Sand Dunes, Khuri Sand Dunes, Thar Desert.
Suggested Read: 10 Amazing Restaurants In Jaisalmer That Offer Great Food And Splendid Views
---
Planning your holiday in Rajasthan but confused about what to do? These Rajasthan travel stories help you find your best trip ever!
---
2. Parasailing

Add a bit of fun and thrill to your New Year Eve celebration in Jaisalmer by opting to try out parasailing across the desert. Something is fascinating about letting the wind get the free hand in guiding your way around the desert and allowing you to take in the beauty of the desert.
Duration: Parasailing takes around thirty minutes.
Things You Need to Pack for This Activity: Sunscreen lotion, extra clothing, sunglasses and camera.
Tips: Always wear the clothes which are comfortable and follow the instructions strictly.
Suggested Read: Monsoon In Jaisalmer: A Guide To See The Best Sights Of The Golden City Of Rajasthan In 2023!
3. Camel Safari

Image Source
Going on an adventurous camel ride through the desert to enjoying the sand dunes transforming in shapes besides your first-hand witnessing of the different changing hues of the blue sky to the wildlife of the desert running wild in your surroundings would all definitely make your New Year's Eve or day memorable for the next 12 months of the year or even imprint in mind for the whole life.
Suggestions: Couple your camel safari with camping and you are guaranteed to have an experience of a lifetime.
Suggested Read: 11 Jaisalmer Resorts To Stay In 2023 For Experiencing Rajasthani Lifestyle
4. Heritage Walks

Image Source
It would be a good idea to go for a heritage walk and take a trip down the memory lane while the New Year is here and you are in the celebration mode. Visiting the historically significant places situated in Jaisalmer will make your trip worthwhile.
Major Places to Tour During This Walk: Folklore Museum, The Thar Heritage Museum, Moti Mahal, Gopa Chowk, Jaisalmer Fort
Suggested Read: 8 Homestays In Jaisalmer To Get A Taste Of Rajasthani Hospitality
5. Watch Cultural Performances

Image Source
The unscathed culture of Rajasthan can truly be experienced while you watch the cultural dances and music shows conducted in different parts of the city. In fact, the colourful costumes, lively music and impeccable dancing make for the delightful performances which you should not miss out on the New Year's Eve and when celebrating this occasion with great zeal.
Suggested Read: Winter Is Coming And These 15 Places To Visit In Jaisalmer In December 2023 Are A Perfect Escape!
6. Dune Bashing

Image Source
It is one more adventurous and daring activity you can delve into while vacationing in Jaisalmer on the New Year's Eve. You must try it for a momentous experience. Dune bashing gives you an opportunity to explore the mystical desert region of the Jaisalmer region at its best.
Suggested Destination in Jaisalmer: Sam Sand Dunes
Suggested Read: Desert Safari In Jaisalmer: Experience The Thrill
7. Quad Biking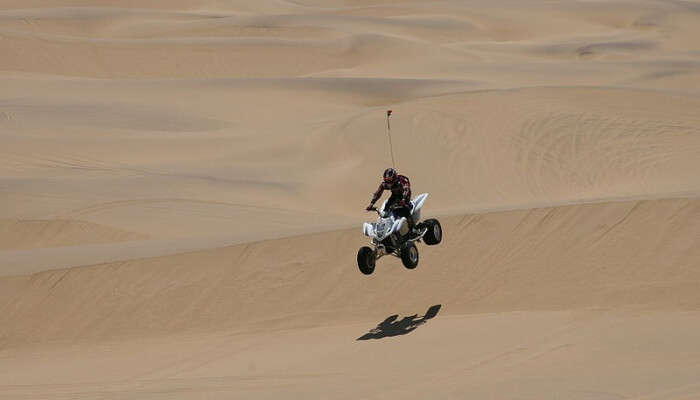 Image Source
Don't let the New Year's spirit as well as the adventurer's spirit inside you die down. Let unleash it with the help of the quad biking in Jaisalmer. This city is not just about the forts, havelis etc., but it has much to offer you if you are the one truly passionate for sports activities. Quad biking adventurous activity keeps the tourists well-entered and on the edge of their seats. You should enjoy it on the special occasion of New Year's beginning.
Duration of This Sport: Around twenty to twenty five minutes and is filled with excitement. It offers an unforgettable experience of adrenaline rush.
Further Read: Jaisalmer Fort In Rajasthan: A 2023 Guide For The Sonar Quila In The Golden Desert City!
Events During New Year's Eve In Jaisalmer
Since it remains a hot or most sought after New Year's Eve celebration destination in Rajasthan for the tourists, there are numerous events conducted in the city during that time. Some of these are listed below:
Desert New Year Festival
New Year Carnival
New Year's Eve Party
These are the ones organized by various hotels and the organizations of the city to ensure that travellers visiting this place don't ever feel isolated and bored during their New Year's Eve and away from their homes.
Where Can You Stay in Jaisalmer during the New Year's Eve?
Whenever you visit any city, accommodation is the first thing that comes to your mind. So when you are planning to go to Jaisalmer, especially during the New Year, it is advised that you make your accommodation arrangements beforehand to avoid any last-minute rush. Several hotels provide special New Year packages for the potential tourist visiting this city during this time of the year. So you must take full benefit of such packages to get the most out of the money you are investing.
Besides, the hotels usually have New Year parties, events, and performances planned out for your total entertainment. You don't have to worry about what to do on New Year as the hotels have your back.
The historic and beautiful city of Jaiselmer is  must-add to your bucket list, even if you can't make it for your New Year's celebration. There's a raw and real cultural impact of this city that often surprise travelers and opportunities to venture outside your comfort zone without being scared. This city is not just a destination, it is a uniue experience. It is hoped that you can plan out your blissful New Year vacation in Jaisalmer using the valuable suggestions listed above. New Year in Jaisalmer will definitely be a memory worth cherishing for a lifetime, as you'll get a fair chance to learn about the vibrant Rajasthani culture during this time. Make the most of it!
Frequently Asked Questions about New Year in Jaisalmer
What is the weather condition in Jaisalmer during New Year?
During the New Year, the city of Jaisalmer experiences mild winter which makes it a pleasant time to visit the city.
Are there good places to shop for New Year gifts/goodies in Jaisalmer?
Yes! The local markets in Jaisalmer are flooded with items such as paintings, leather goods, hand-made puppets, imitation jewelry, etc., which can turn out to be good gift items for New Years'.
How much budget is required for a New Year trip to Jaisalmer?
The budget entirely depends on your accommodation arrangements and the activities you have chosen for your New Year celebration in the city. However, for solo travelers, a budget of 10 to 15 thousand must suffice, while for a family trip 30-40 thousand will be enough provided things are planned accordingly.
Do I need to make bookings for the desert camping on New Year's Eve well in advance?
Yes! It is advised that bookings for not only the desert camping but also any other activities you want to involve on New Year's Eve are done well in advance. By doing so, you will get the chance to experience it to the fullest.
How many days are enough for a New Year trip to Jaisalmer?
To roam around the entire city and partake in all activities that the city has to offer, we suggest you plan your New Year trip to Jaisalmer for around 4 -5 days minimum.
---
Looking To Book A Holiday Package?
---
People Also Read:
New Year In Andaman New Year In Himachal New Year In Mumbai
Comments
comments