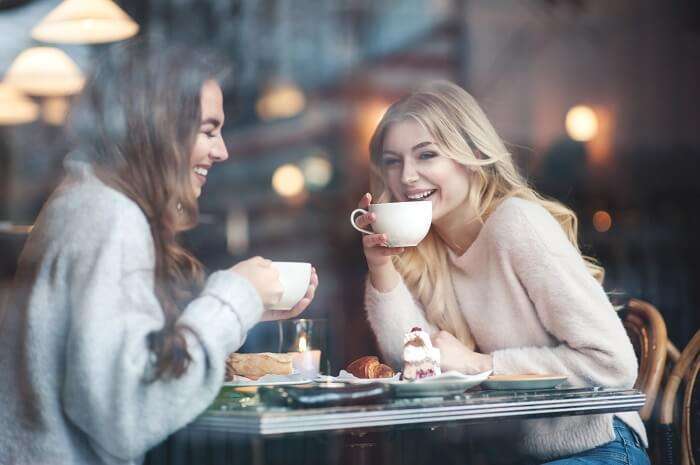 Melbourne is the coastal capital of the southeastern state of Victoria in Australia. The place has a lot of things to offer to its visitors. One can go to Yarra River to feel a sense of serenity or can spend some great time shopping at the local markets. The transportation of the city is very well connected, so it will not be a problem for you to reach your choice of location.
Cafes are a great way of spending some relaxing time. They are perfect when you are in a mood of having some light meals and caffeinate yourself. There are many cafes in Melbourne that welcome the guests with liveliness and maintain an amazing vibe.
14 Amazing Cafes In Melbourne
The varieties of cafes in Melbourne has increased over time. You will find cafes with different themes, décor, or any other factor which will add quirk to the place. Since cafes are such a great place to spend time at, we thought of compiling a list of some of the popular cafes that are there in Melbourne.
1. Higher Ground

We all know lighting can make a lot of difference and this place has to get ten on ten for its lighting as well as decor and that is what we need right? Great food and amazing decor.
Higher Ground is one of those cafes in Melbourne, Australia that is renowned for their mouthwatering cakes. So when you are here, do give them a try. The place is quite popular so be prepared to wait in long queues!
Address: 650 Little Bourke St, Melbourne VIC 3000, Australia
Phone: +61 3 8899 6219
Google rating: 4.2
Must Read: 11 Things To Do In Melbourne In Winter 2022 For A Perfect Oz 2022 Vacay
2. Auction Rooms

The Auction Rooms is known for its great coffee and breakfast menu. So while in Melbourne, you might want to head for breakfast here at Auction Rooms.
The entire place has a rustic touch to it, which adds to the beauty of the place. And if you are traveling with kids or babies, you will be happy to know that the place is kid friendly.
Address: 103-107 Errol St, North Melbourne VIC 3051, Australia
Phone: +61 3 9326 7749
Google rating: 4. 4
3. Kinfolk

How about we told you that there is café out there which addresses social issues and actively works towards them? The place is Kinfolk café in Melbourne. The place serves amazing coffee and if you have a sweet tooth, you will be delighted to know that the muffins of the Kinfolk café are mouthwatering!
There is another good thing about the place – if you bring your own cup, the coffee price will be less than what it originally is. So while you are heading to Kinfolk for some delicious meals, do not forget to bring your own cup!
Address: 673 Bourke St, Melbourne VIC 3000, Australia
Phone: +61 412 711 381
Google rating: 4.5
Suggested Read: The 19 Best Places To Go Shopping In Melbourne On Your Next Aussie Trip In 2022
4. The Kettle Black

One of the most beautiful cafes in Melbourne, The Kettle Black Café is known for its vintage décor; it gives the entire place a very rustic edge. The café is on a terrace. So, you can picture how beautiful this place is.
The menu at The Kettle Black has some of the best Australian dishes. The presentation of the food is so good that you will definitely be tempted to click some pictures of the food. The place is great if you are going with your family, as it not too noisy and neither is dull as compared to café standards!
Address: 50 Albert Rd, South Melbourne VIC 3205, Australia
Phone: +61 3 9088 0721
Google rating: 4.0
5. Hash Specialty Coffee

The place specializes in coffee and when we say specializes we are talking about some great brewed coffee. The staff here is very friendly and helpful. They know well about what they are serving.
So, if you have any qualms about anything, you can ask them and they will explain it to you. The place also has some delicious food apart from coffee.
Address: 113 Hardware St, Melbourne VIC 3000, Australia
Phone: +61 3 8529 0284
Google rating: 4.3
Suggested Read: New Year In Australia 2022: Welcome The Upcoming Year Before Anyone Else Only Here!
6. Krimper Cafe

If your choice of café includes a warm and cozy environment, then The Krimper Café has to be a café that you must visit. With its dim lights, brick walls, the place gets a really cozy and comfortable atmosphere.
It is such a place where even doing your office work will not seem like a huge task! The coffee and tea served here are good. For this place, you have to have a lot of time on hand to enjoy the place and your meal to the fullest.
Address: 20 Guildford Ln, Melbourne VIC 3000, Australia
Phone: +61 3 9043 8844
Google rating:4.3
7. Dukes Coffee Roasters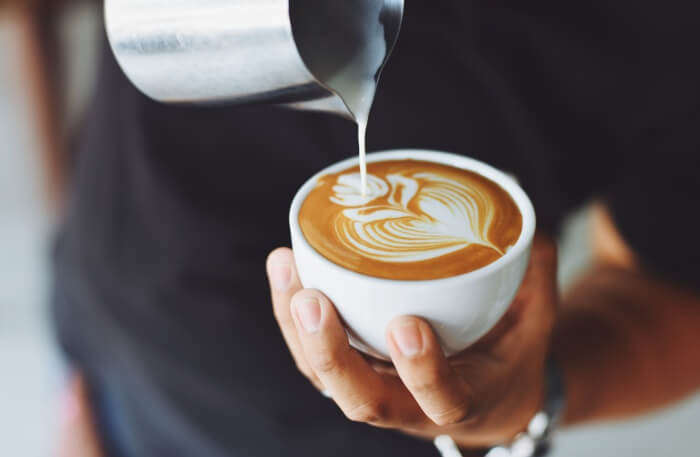 If you are in a mood for some crafted coffee, then Dukes Coffee Roasters should be on top priority. The place is known for serving some excellent crafted coffee.
From hot chocolate to ice coffee, you will find all variants here. The pastries are another dish that you must try here. They have many options to choose from.
Address: 247 Flinders Ln, Melbourne VIC 3000, Australia
Phone: +61 3 9417 5578
Google rating:4.6
Suggested Read: New Year Party In Melbourne: Head To Australia For A Celebration Like Never Before!
8. Cat Café Melbourne

For all the cat lovers, we have found a paradise for you! The Cat Café in Melbourne is a great place for having some delicious meals and playing with cute cats.
The cats that are here are rescue cats. So if you want to try a different approach to a café, then you must head here. You can play and even feed the cats!
Address: 30 Guildford Ln, Melbourne VIC 3000, Australia
Phone: +61 3 9642 8540
Google rating: 4.1
9. The Little Mule Café

The Little Mule Café is a cozy little café. The place is great if you are looking for some quaint café. The café serves great food at a reasonable price.
The place has nice music playing, but the music is quite subtle and will not be a hindrance in conversations. Also, you get free wifi service here.
Address: 19 Somerset Pl, Melbourne VIC 3000, Australia
Phone: +61 3 9670 4904
Google rating: 4.3
Suggested Read: 3 Best Airports In Melbourne That Are A Perfect Blend Of Stylish Infrastructure & Comfort!
10. Grain store

The Grain store is another popular café in the city of Melbourne. The place is very crowded; hence it is advisable to book your table in advance. The place serves some great coffee and juices.
The meals here have good portion. The interiors of the place are also very beautifully done. No wonder the place is very crowded most of the time!
Address: 517 Flinders Ln, Melbourne VIC 3000, Australia
Phone: +61 3 9972 6993
Google rating: 4.3
11. Self Preservation

The place has a touch of Italian atmosphere to it and is known for serving coffee and meals during the day and at night they serve drinks with some nibbles. So, this is a place you can visit to experience two different forms of the atmosphere at the same time!
The Self Preservation café is a place you might want to spend doing some work or catch up with friends! Overall, the place is really good with very friendly staff.
Address: 70 Bourke St, Melbourne VIC 3000, Australia
Phone: +61 3 9650 0523
Google rating: 4.4
Suggested Read: Snorkeling in Australia: 10 Best Spots For Enjoying The Aussie Snorkeling
12. Dead Man Espresso

The name of the café is quirky and so are its food and interiors. It is a very popular café in the city of Melbourne. The manner in which they present food is quite different.
Dead Man Espresso has a balcony area which looks very beautiful. If you plan on visiting the café, you must try out their waffles and coffee.
Address: 35 Market St, South Melbourne VIC 3205, Australia
Phone: +61 3 9696 3912
Google rating: 4.3
13. Marche Board Game Café

As a child, we have spent numerous days playing a lot of board games with our friends. Amongst all the best cafes in Melbourne, is Marche Board Game Café, which is the perfect place to relive those old memories and spend some quality time with friends and family playing the board games.
They have a great collection of board games you can choose from. Apart from the games, they have a separate room for karaoke. So you can even try your hand at singing while you are here. The food served is good, and you must try the bubble tea they serve here.
Address: 63 A'Beckett St, Melbourne VIC 3000, Australia
Phone: +61 3 9663 8898
Google rating: 4.3
14. 1932 Café and restaurant

The 1932 Café and restaurant is a place where the entire décor is inspired from the 1930's. So, the décor and the theme itself is tempting enough to visit this place.
The building in which the café is located, The Manchester Unity building, is itself one of the iconic buildings in the city of Melbourne. Some might find prices a bit steep, but the food served here is really lip smacking and the portions are also great.
Address: 220 Collins St, Melbourne VIC 3000, Australia
Phone: +61 3 9663 5494
Google rating: 4.1
Further Read: Top 10 Indian Restaurants In Melbourne For Those Who Miss Desi Flavors In The Foreign Land
This list of cafes has some of the top cafés in Melbourne. We have even included some quirky and different cafes that you might want to try while spending your vacation in Melbourne. We hope this list helps you in picking the café of your choice!
---
Looking To Book An International Honeymoon?
Book memorable honeymoon on TravelTriangle with 650+ verified travel agents for 65+ domestic and international destinations.
---